If you're looking for summer adventure, head to the Arkansas River. It's one of the most exciting landscapes to raft in Colorado, with numerous sections ranging in class and ability.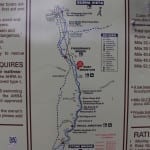 Browns Canyon, which recently became a national monument, offers a thrilling day on the water. There are numerous class III rapids, with a chance to stay on for some IVs. This stint of the river starts just south of Buena Vista in Nathrop and continues that way to Salida.
June 13th trip down the Arkansas River at Browns Canyon, flowing at 4000 CFS:
The USGS measures current water levels by Nathrop.
We entered at Ruby Hill Park, which doubles as a campground. The views of the Collegiate Peaks and riverside campsites make it a nice place to spend the night. It's part of the Arkansas Headwaters Recreation Area, which is also a state park.
Learn more about the Arkansas River's four main sections to raft.