The Colorado River is one of the most coveted waterways for kayaking and other human-powered watercraft. It's also a lifeline for millions of Americans and Mexicans. It begins high in the Rocky Mountains of Colorado and flows some 1,450 miles (2,334 kilometers) to to the Sea of Cortez (Gulf of California) in Northwest Mexico. Although the last 70 miles or so are dried up now, ending instead in Mexico's Morelos Dam.
According to researchers, the Colorado River that we see today is a far cry from what it looked like in John Wesley Powell's days. However, it's still magnificent and awe-inspiring. Back in 1869, Wesley sought out to explore sections of this river that were unchartered and alleged to be impassable.
It is his accounts that have inspired dreamers, conservationists, and adventure enthusiasts like you and I to explore the Colorado River. Thousands use these waters to kayak and camp alongside its banks each summer season. The relaxing effects are so profound and addictive that I can't think of any better place to explore than the Colorado River.
What makes these river trips even more interesting are the landscapes you'll encounter when floating. The vibrant cliffs, river-carved canyons and lush bottom lands are sites you'd never see anywhere else. If you're planning a kayaking trip on the Colorado River, here are a few of things you should keep in mind.
Kayaking the Whole Colorado River – Upper and Lower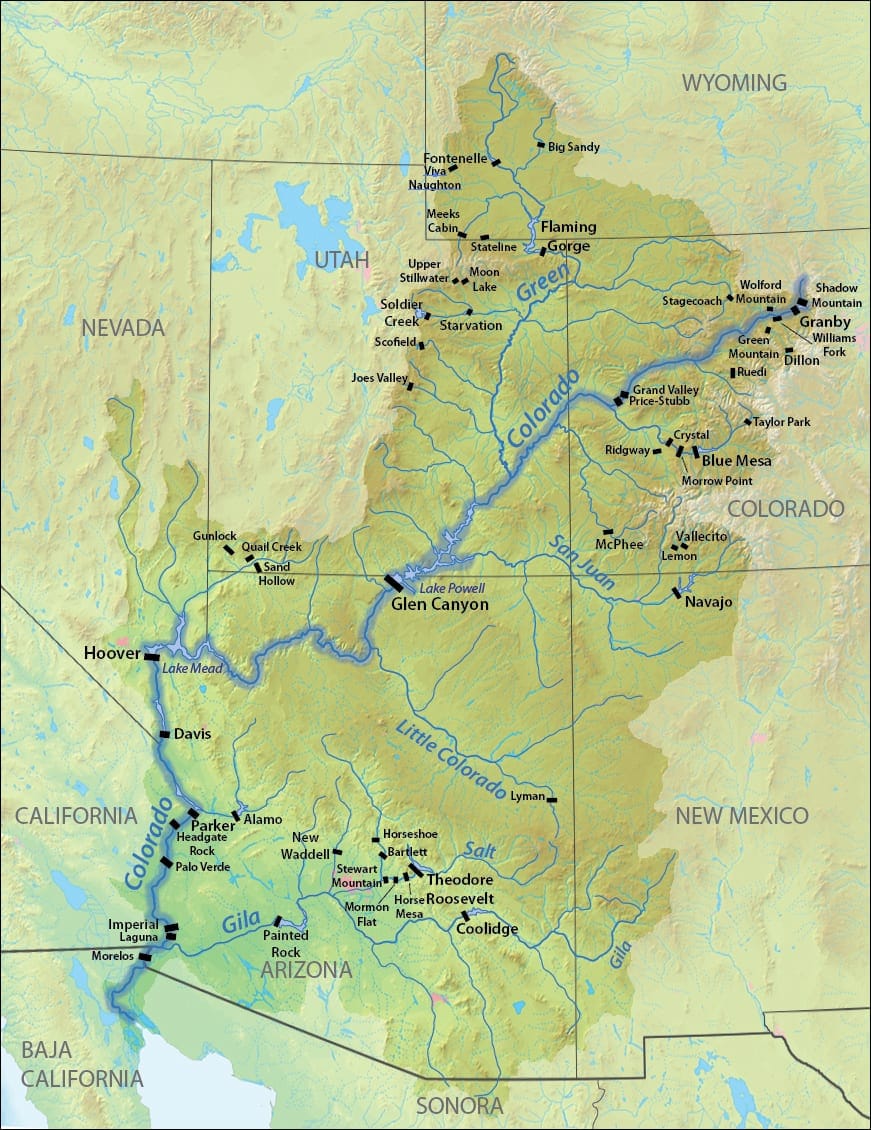 While you can't kayak the entire Colorado River from start to finish without exiting your boat and hiking a great deal, you can kayak most of it. Most people choose a popular section to kayak and park transportation at either end. Because it's all but dry in Mexico we will cover the most popular destinations for kayaking the Colorado River in the United States.
The Colorado River is divided into the Upper and Lower Basins, which is separated at Lee's Ferry. The Glen Canyon Dam is situated just upriver of Lee's Ferry. So Colorado, Utah and parts of Arizona contain the Upper Colorado River. While parts of Arizona, Nevada and California contain the Lower Colorado River.
Equip Yourself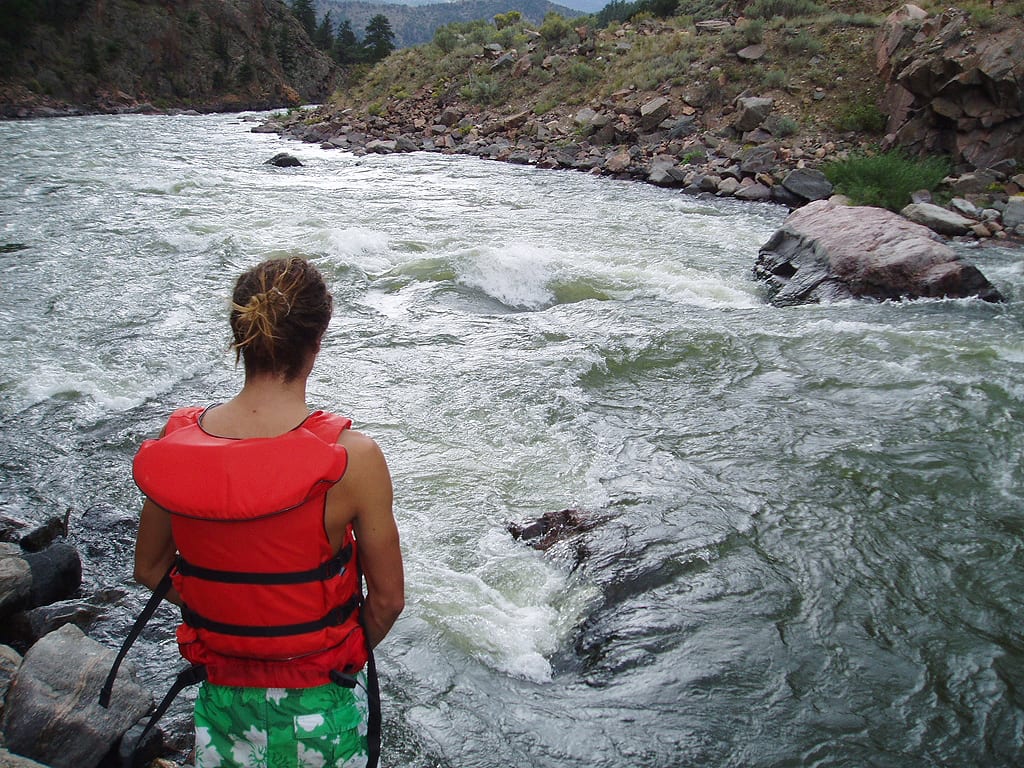 It's a no-brainer that the first thing you should invest in is a well-built, durable kayak. You have two main options to choose from: a sit-in kayak or sit-on-top kayak.
If your priorities are ease of use and stability, you should go for the best sit on top kayak. These watercraft are highly versatile, self-bailing and a great option for beginner kayakers. They're easy to get on and off, and provide a decent level of stability. Though you're probably going to get wet.
However, if you prefer to stay dry while paddling, a sit-inside kayak is a better option. This one features a traditional design consisting of a "cockpit". If the water's colder, this is the smart choice. It's trickier to get out of though, especially if you flip over, you'll have to deal with bailing water out.
Apart from the kayak, there is other essential gear to consider. These include signaling devices, spare paddles, a repair kit and a map of the Colorado River. Also, pack enough water for drinking. The silty Colorado River is too much for water filter systems.
Establish a Paddling Area
Before you head out, it's vital to establish the specific section of the river that you'll be paddling. You can check the American Whitewater's International Scale of River Difficulty , which rates different parts of the river based on the difficulty of paddling.
Usually, moving water falls under three classifications:
Class A means the water is flowing a speed of less than 2 mph
Class B means it's flowing at speeds of 2 to 4 mph
Class C means the river is flowing at a speed higher than 4 mph
On the other hand, whitewater has six classifications: Class I, II, III, IV, V and VI. The lowest class means the river is easy to navigate while the highest denomination represents the greatest difficulty in navigation. So if a stretch of the Colorado River is described as Class V or VI, it means there are very long and violent rapids. With this information, you can determine the most suitable area to paddle based on your kayaking skills.
Apart from checking the condition of the Colorado waters, also familiarize yourself with access/exit points. This way, if the difficulty ramps up as you go downstream, you will know the best place to exit and avoid dangerous sections.
Get a Permit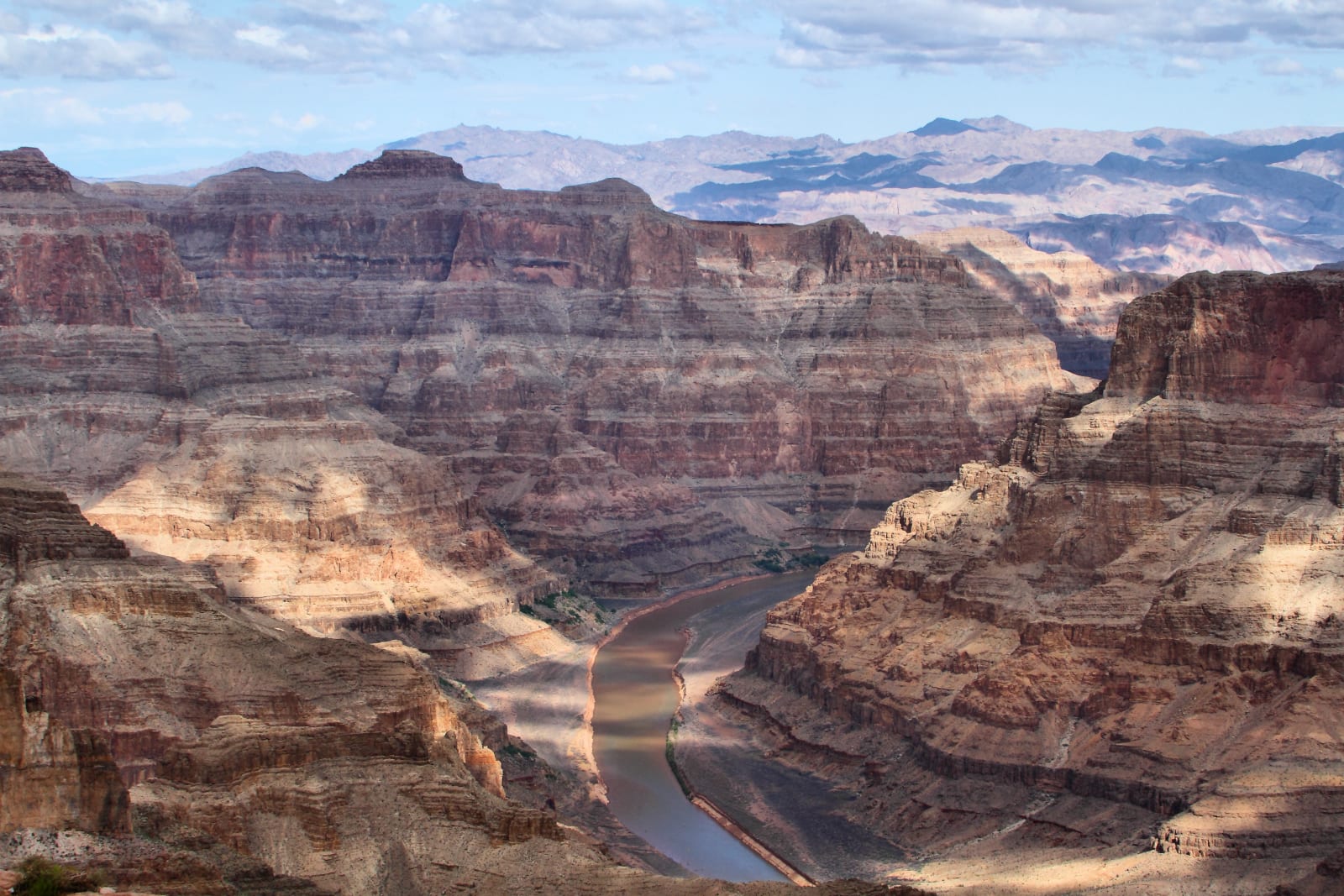 It's always fun to kayak through the remote areas of the Colorado River. But recently, some parts of the river have become so heavily populated with boaters that a permit system was invented. The purpose of this is to protect these sections of the river from excessive human impact.
For instance, you cannot kayak the Grand Canyon without a permit. To obtain this permit, the local authority usually holds a weighted lottery every February. All participants are required to pay a nominal fee to enter the lottery. You must also have class IV skills to paddle the Grand Canyon.
Parts of the Colorado River that require you to have a permit before kayaking are:
Colorado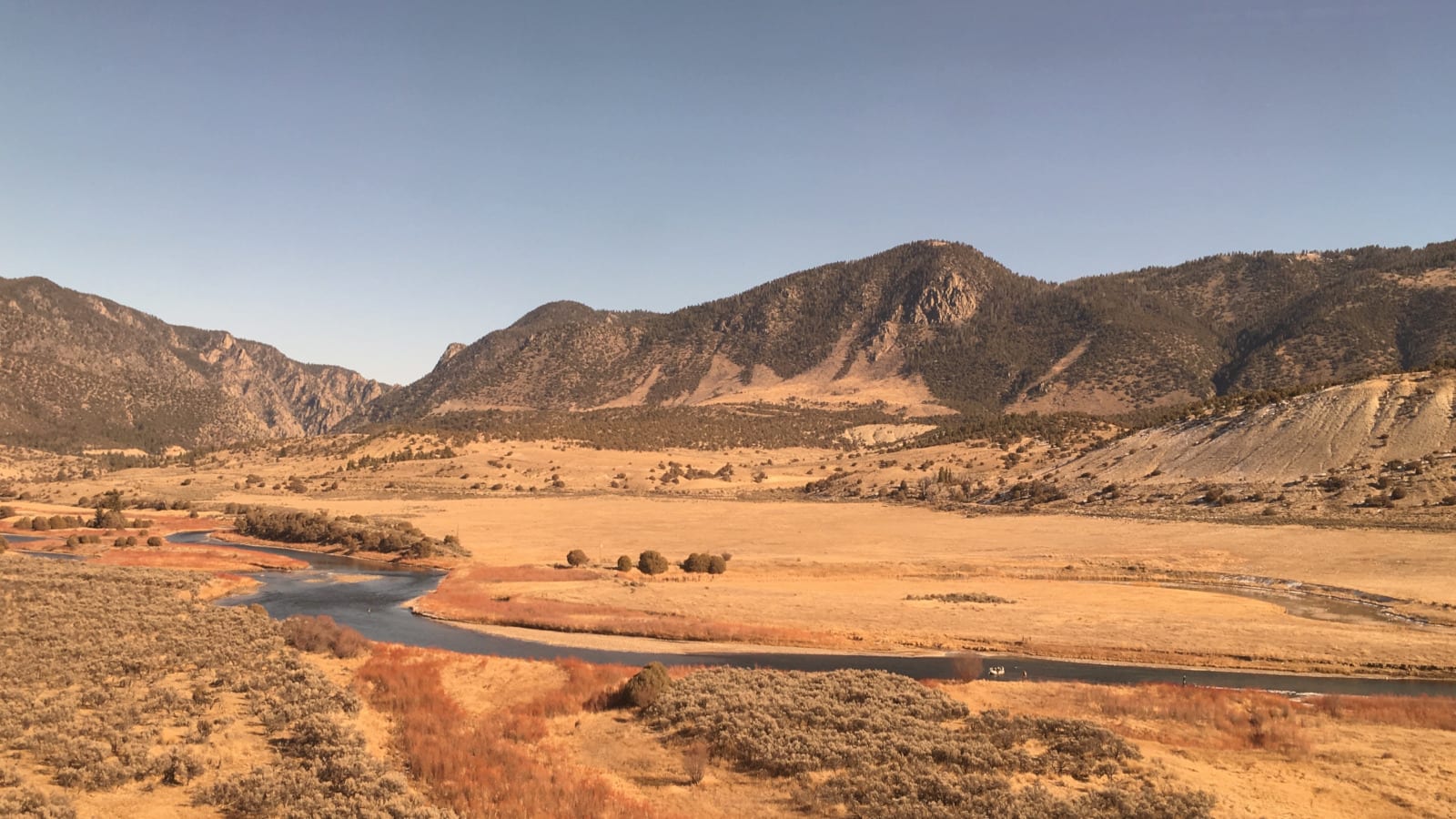 Most of Upper Colorado River in Colorado is suitable only for experienced kayakers. There are mostly intermediate and expert sections. Easy floats can be found near Grand Junction, as well as between South Canyon and Cameo. In addition to the Colorado River, there are numerous Colorado lakes and rivers to kayak, which are fine for beginners.
Gore Canyon – With Class V rapids this is probably Colorado's gnarliest kayaking and whitewater rafting spot. There is a video below under "Establish a Paddling Area" section showing off Gore Canyon. It's located just southwest Kremmling, not so far from the headwaters.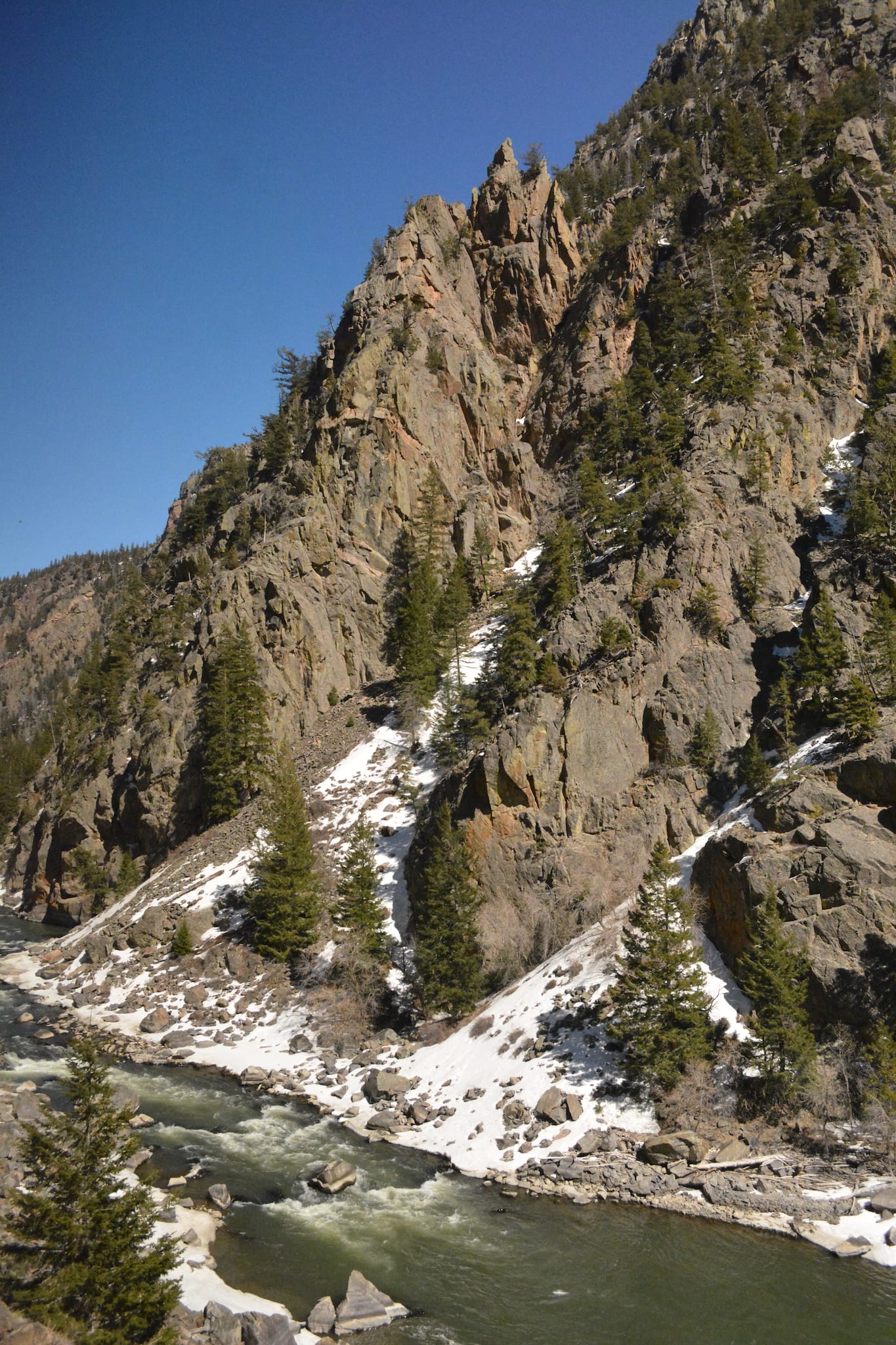 Rancho Del Rio to Dotsero Starting just downstream of Radium Hot Springs at Rancho Del Rio, you'll find a handful of sections perfect for an easier kayak trip. The first starts at Rancho Del Rio and the last section finishes just past Dotsero in Bair Ranch Rest Area.
Glenwood Springs – If you're looking for whitewater thrill in the heart of a fun mountain town, consider the Glenwood Springs Whitewater Park. The manmade whitewater park is popular between June and September.
Grand Junction – There are 5 pearls of the James M. Robb Colorado River State Park. Three of them, Corn Lake, Connected Lakes and Fruita offer boat launches for kayaks. The eastern section is by Palisade and the western most section is in Fruita.
Utah
Moab – The outdoor mecca of Utah showcases some of the grandest stretches of the Colorado River. Whatever your floating flavor, from wild to mild, you can find it nearby. The Fisher Towers section is best for families and beginner paddlers. Intense whitewater is found in Cataract and Westwater Canyons. There are single day and multi day trips available.
Arizona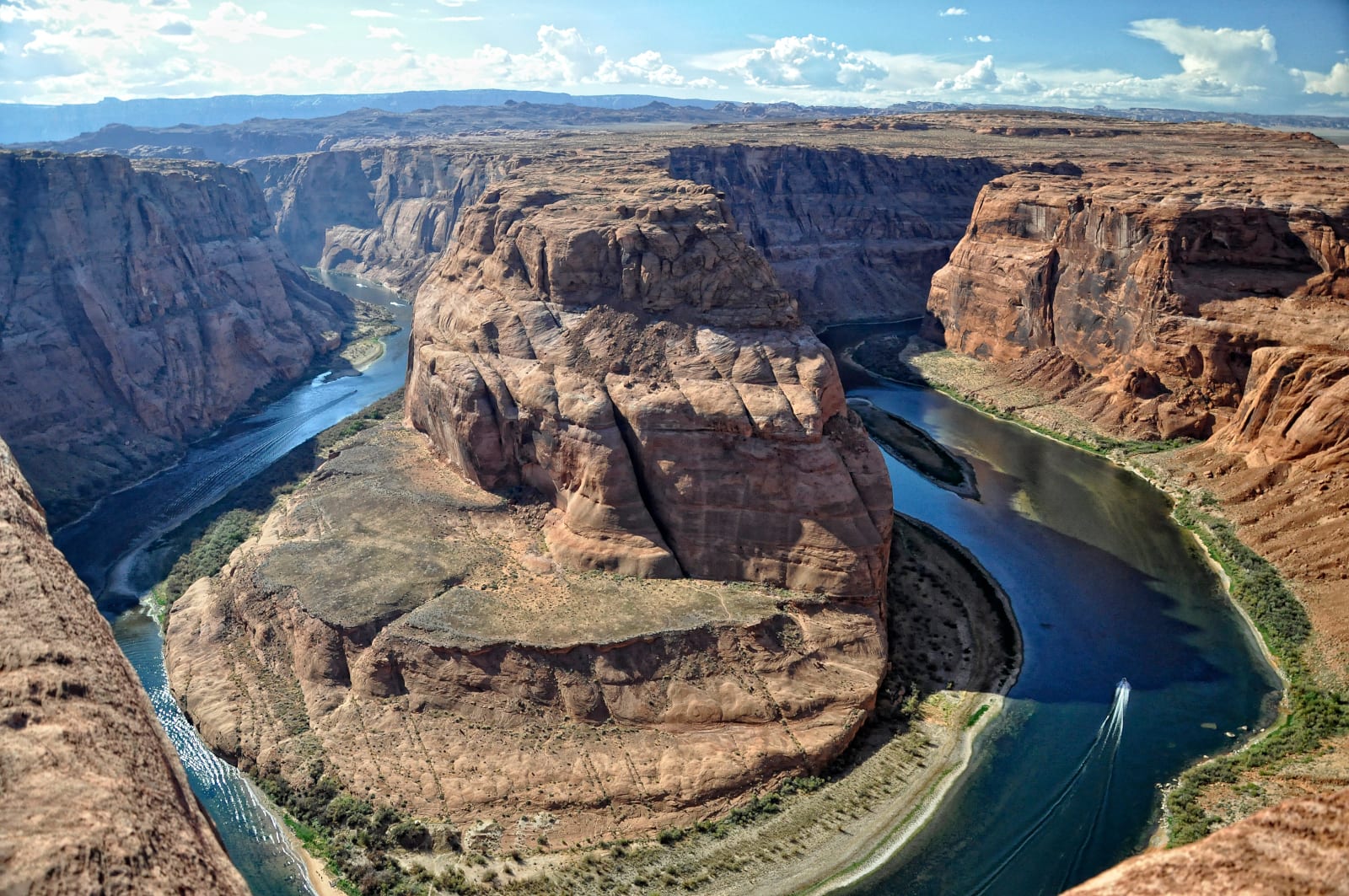 Glen Canyon – You don't need a permit for this relatively easy float to Lee's Ferry, below. However, you can't continue past Lee's without one. Some kayakers start at Lee's Ferry and paddle upstream too to Glen Canyon for a real workout.
Lee's Ferry – It's considered the official start to the Grand Canyon National Park in Arizona. Fishing is and boat launching is popular here. Both kayakers and rafters make us of Lee's Ferry. Due to the regional geography, it's the only place that one can access both side of the Colorado River easily in hundreds of miles. Trips through the Grand Canyon from here provide:
a trip backwards through time
Only the most skilled rapid runners should attempt it. Private trips use a lottery system to see who obtains a necessary permit. There are some commercial rafting trips that go 277 miles all the way to Lake Mead from here, which takes weeks.
Nevada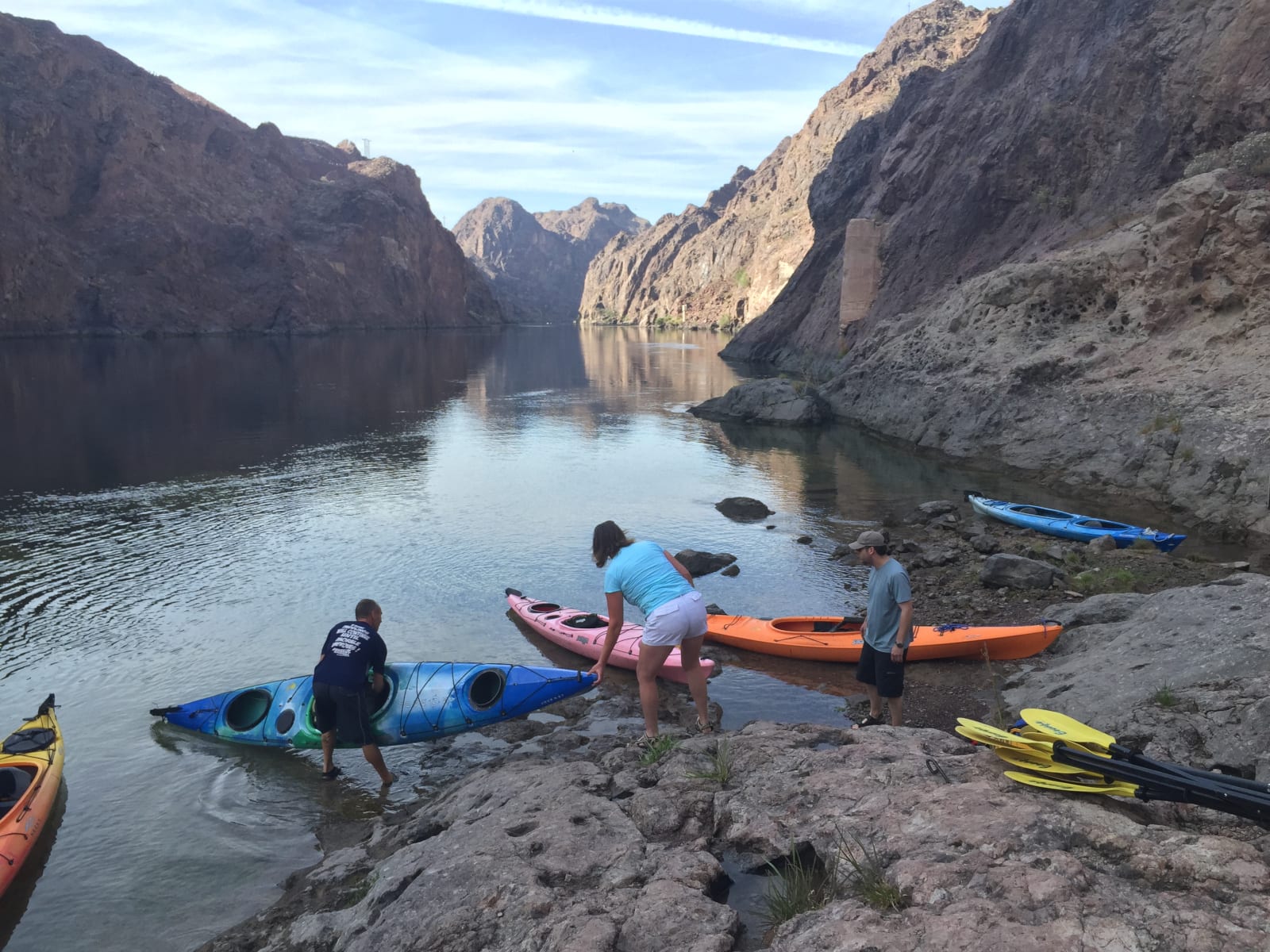 Hoover Dam The Black Canyon Water Trail was designated a National Water Trail in 2014. You can access the 30 mile stretch at the base of the Hoover Dam in Goldstrike Canyon, Nevada, from Eldorado Canyon in Nevada, as well as Willow Beach in Arizona. Situated between Boulder City, NV and the Hoover Dam, Goldstrike Canyon offers a chance to soak in the popular Gold Strike Hot Springs.
California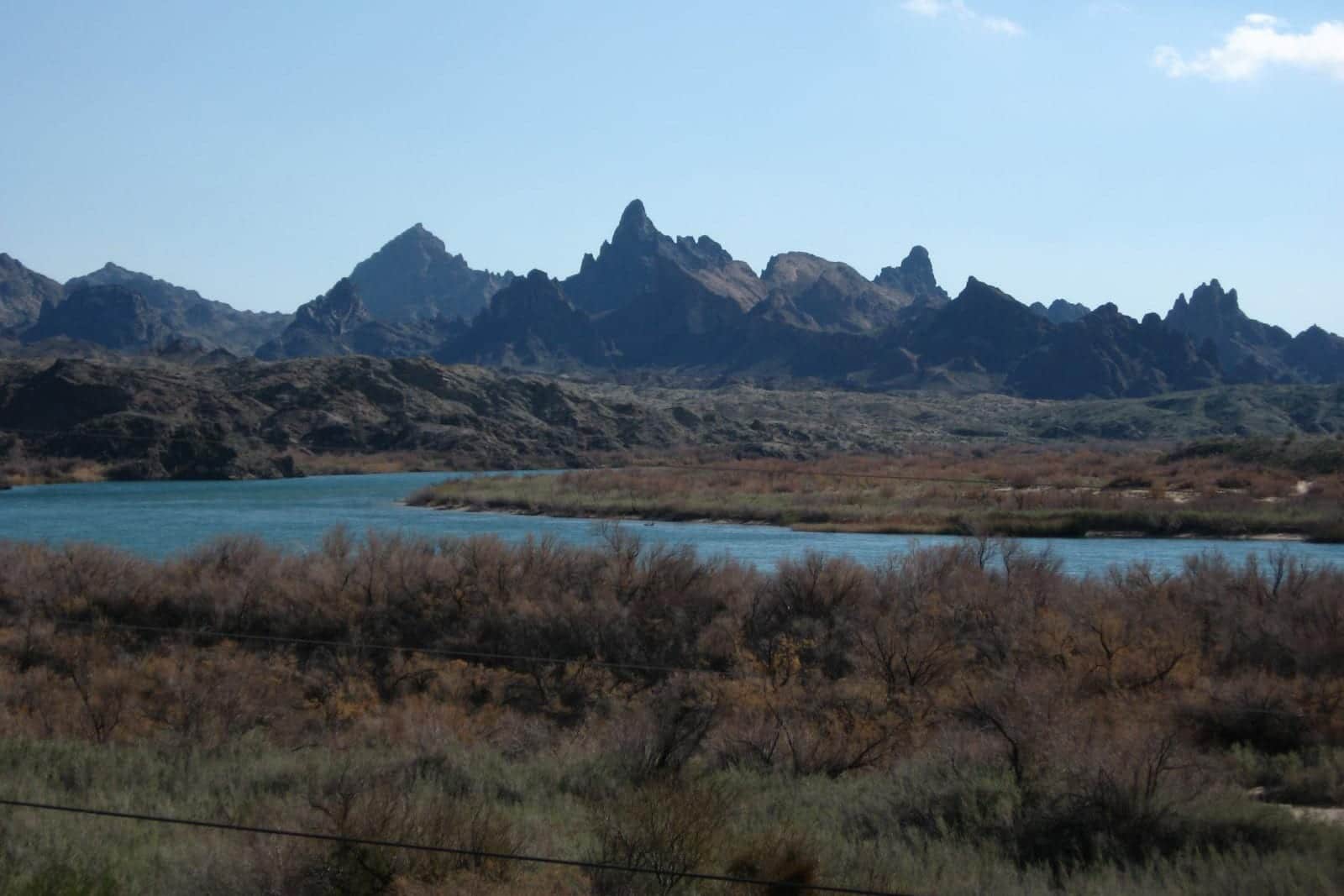 The journey into California is brief for the Colorado River. It actually forms Cali's eastern border with Arizona for much of its course into the Lower Colorado River Valley (LCRV). Interstate 40 crosses over the river at Needles (shown above). It flows into Lake Havasu, created by Parker Dam, which shares Arizona and California locations. There is boating here.
Mexico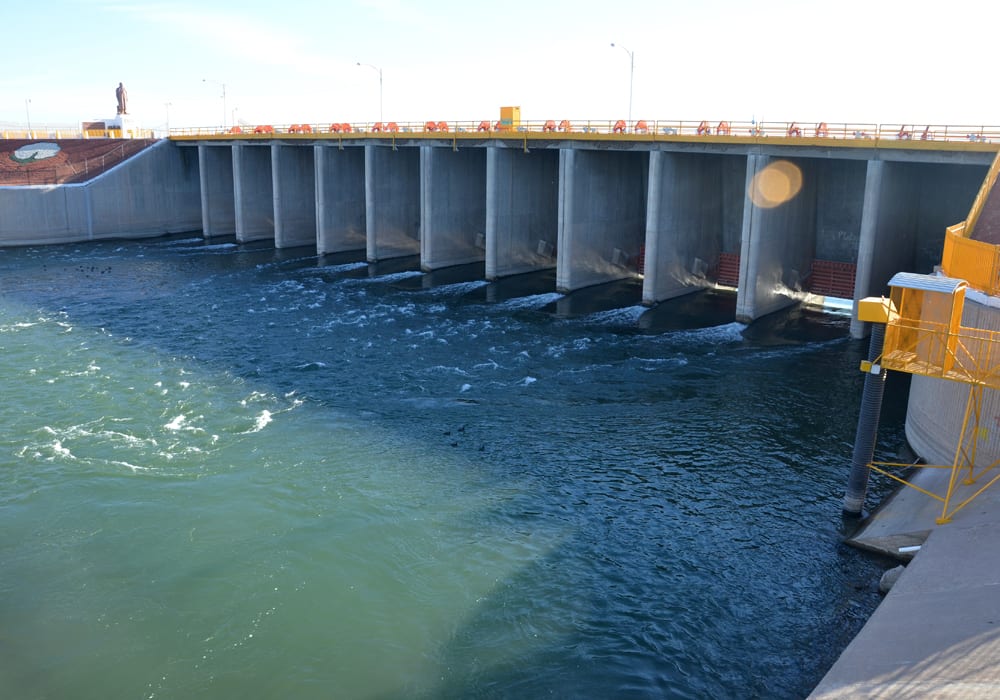 The last 70 miles through Mexico is all but bone dry. It has been for a couple decades now, with the exception of a manmade pulse flow in 2014. And a few marshlands supplied by irrigation water and kept alive by environmental groups. Canals and dams have since caused it to nearly all dry up. California uses an estimated half of it to supply water for half the state and water its crops. Generally the further south it gets the smaller the river.
The Colorado River flows into Mexico's Morelos Dam where it's diverted into a drainage ditch. Unless the dam is opened, the river is dry from here on. It's used to supply Mexican cities and water its crops. Mexico only uses a fraction (~10%) of the Colorado River, so it's not their fault. An estimated thirty-five million Americans use it for tap water. It irrigates millions of acres of U.S. farmland.
Key Takeaway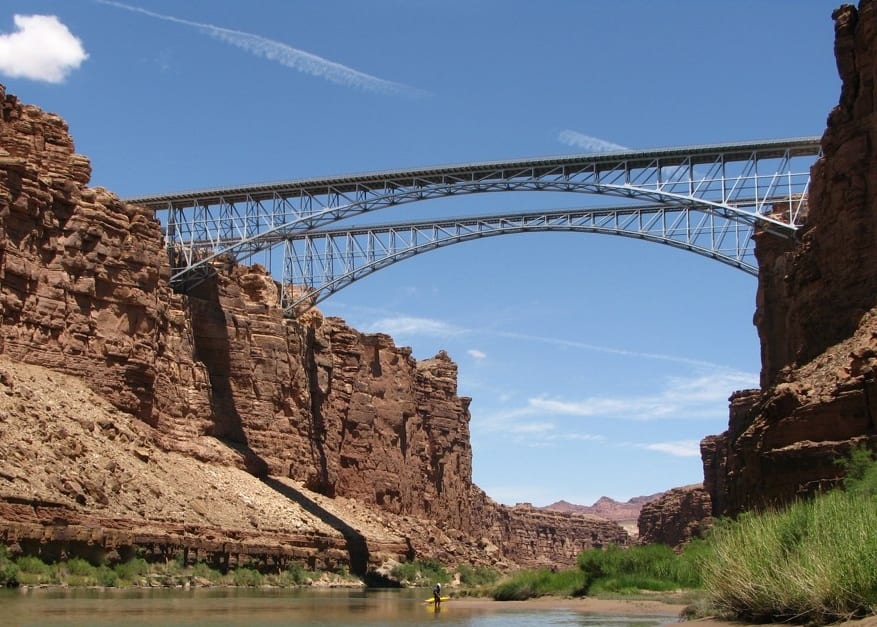 Rafting the Colorado River is one of the best river trips you can go on. If you have gone kayaking on these waters, then you know just what a life-changing experience it is. The sceneries that you encounter as you glide among the landmarks are stunning!
That said, there are a few things you should take into account before planning a kayaking adventure to this part of the world. For one, get all the equipment you'll need: paddles, floatation devices, sit on top kayak and more.
Secondly, determine the area where you'll paddle. Like any water body, the Colorado River has some sections that are more difficult to navigate than others. Once you've found the perfect kayaking spot, it's time to start planning!
Inform a friend or two, and let them know when you'll be back. Better still, ask a kayaking friend to join you, and still tell someone else where you're going. Also, depending on your chosen kayaking spot, you might have to apply for a permit. Safe kayaking!