Radium Hot Springs is a primitive warm springs pool located on the banks of the Colorado River. The closest city to Radium to the north is Kremmling and to the south is Eagle and Edwards.
The spring mixes with river water bringing the temperature down to about 80⁰ F. When the river is high, usually in the spring, the pool can be washed out.
There are rocks across the river from the springs that visitors occasionally jump off. Exercise caution if you choose to jump off the rocks. It is extremely dangerous and has resulted in injuries.
Primitive Hot Springs Pool by Colorado River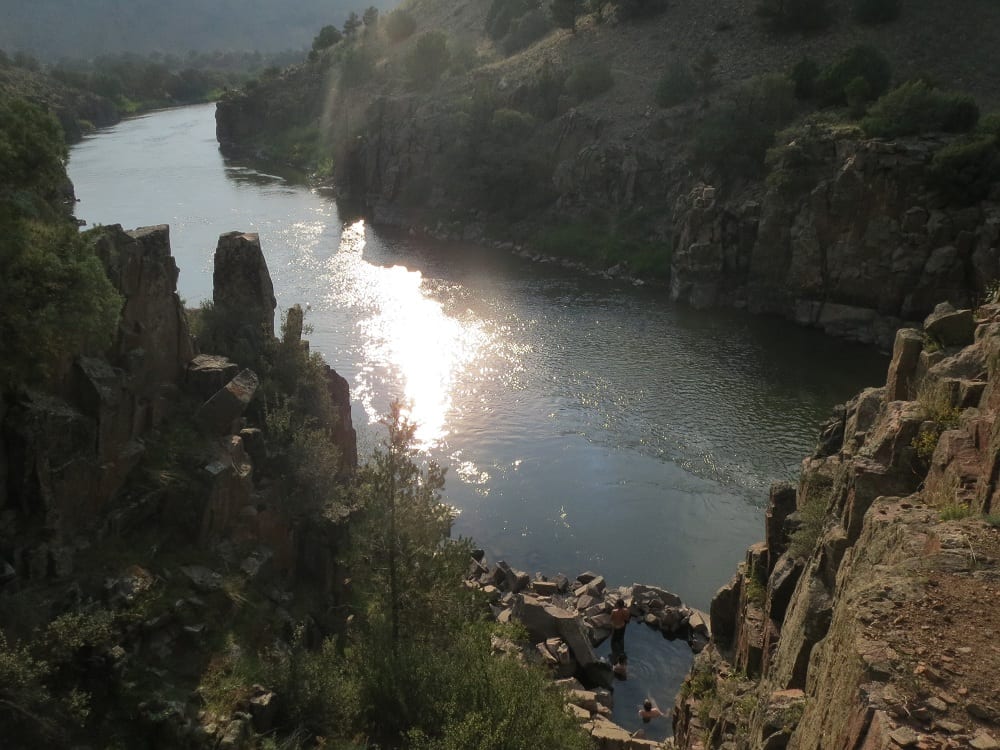 There is a short 1.1-mile hike to reach the springs. The hike to the springs from Mugrage Campground takes about 20 minutes. The quickest way is actually by raft or kayak.
Cliff jumping and tubing are popular on the Colorado River, as are commercial rafting trips, which make use of the springs during the summer season. Camping is permitted at the parking area at the base of the trail. It's also permitted in other areas that BLM manages. There's no fee to camp.
This primitive warm spring is located on the Colorado River. There is one main pool, about twenty feet in diameter. It is not uncommon to spot wildlife, rafters, and fishermen.
Radium hot springs combine hot mineral water
(affiliate) from underground, with cold Colorado River water, creating these unique warm springs.
Camping at Radium
There are primitive dispersed campsites at Mugrage Campground (free) which is state-owned and managed by the Bureau of Land Management.
There is also a developed fee campground at the Radium Recreation Site (1/2 mile from Mugrage) which offers a tent pad, picnic tables, fire rings, and toilets. Individual campsites (first come, first served) are $6 and include one vehicle. All other vehicles must pay $5 per vehicle, per day.
There are two group campsites (reservations can be made by calling 970-724-3000) which are $30 and include one vehicle.
Camping near the warm springs is allowed but if resource damage to the area continues, this area could become a no camping area.
Avoid building new fire rings. Use existing rings or bring firepans (a metal tray with sides used to contain a campfire and prevent the fire from blackening the soil- oil pans work great!). Transfer the cold ashes into a plastic bag or other container and pack them out.
Use only dead and down wood for campfires. DO NOT CUT LIMBS OFF TREES OR ENTIRE TREES DOWN FOR FIREWOOD! Please pack in firewood (there are around 70,000 visitors to this area each summer. So there is a VERY small chance that you will be able to find dead and down wood in this area!).
Make sure your campfire is completely out (Drown it!) before you leave.
Do not put cans, bottles, aluminum foil, or other non-burnable trash into a fire ring.
Dispose of human waste properly. Portable toilet systems (WAG bags/Rest Stop 2 are great for backpacking, car camping, rafting, etc. They are similar to dog poop bags but designed for humans.) are highly recommended and encouraged over 'cat holes' due to the high visitation along the river corridor. Toilet paper should be placed in a small plastic bag and put into your camp trash bag and packed out.
PEE IN THE RIVER! With most of the 70,000 visitors stopping at the warm springs, you can imagine how it smells when people don't pee in the river.
Pack out your trash (and a little extra).
Time to Go
The best time to visit is summer into fall. The river may be too high in the spring due to winter snow run-off. Grand County Road 11 (the main road going to Mugrage, Radium Recreation Site, and the town of Radium) is plowed during the winter so it could be worth a visit then.
During summer weekends the warm springs, camping around the area, and the river is VERY crowded. The best time to visit is midweek but there will still be plenty of people around.
Atmosphere
Natural & primitive setting; Rafting groups are expected during the peak season (Memorial Day to Labor Day). Can get very crowded at times.
Getting There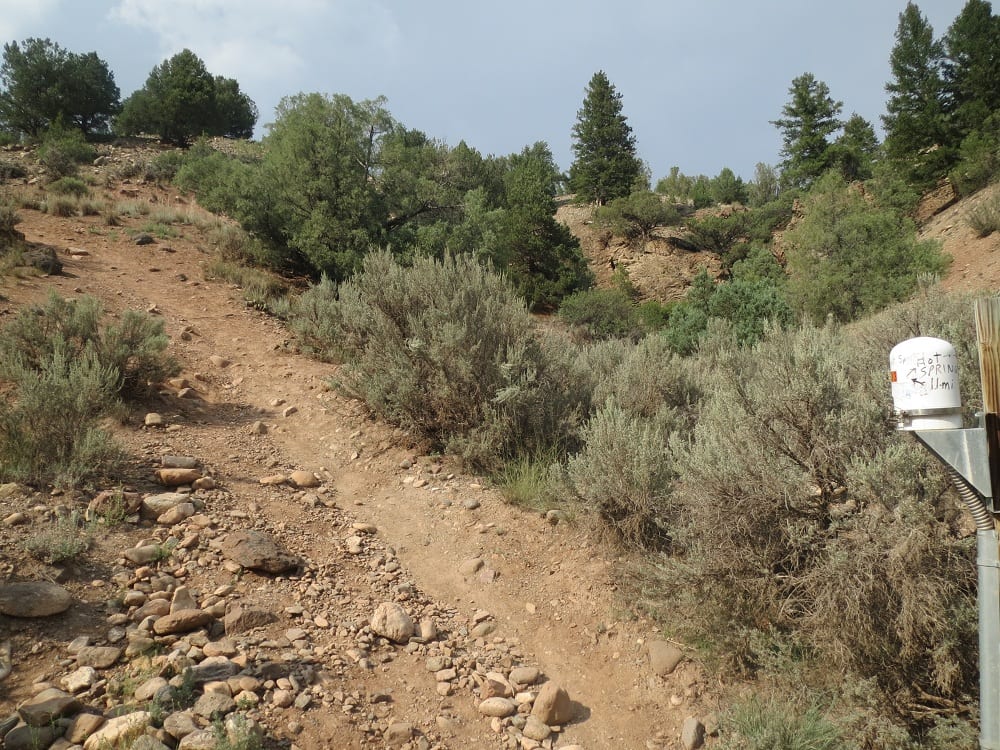 Kremmling is the closest town to the northwest, and Eagle and Edwards to the south. It's located just off Trough Rd/Co Rd 1 which connects CO Hwy 9 near Kremmling and CO Hwy 131 to the west near State Bridge.
If coming from Hwy 9, take Trough Rd for 13 miles to County Road 11. If coming from Hwy 131, go 9 miles on Trough Rd to Co Rd 11. It should be marked Radium. Take a right or left and follow for a mile or two to the parking area at the trailhead.
From Kremmling – Head south on Hwy 9 for 2 miles to Trough Road (Grand County Rd 1), and turn right. Follow this for 14 miles until you reach Grand County Rd 11 (BLM sign at the corner, go towards Radium), and make a right.
Follow the road for about a mile and you will see the Mugrage Campground on the left (which has a green Colorado Parks and Wildlife information sign). This is the largest parking area for the warm spring.
From Eagle/Edwards – Take 1-70 east (from Eagle) or west (from Edwards) to US 131 at Wolcott. Turn north to Steamboat Springs on US 131. Travel about 12 miles to State Bridge Lodge (small music venue) and turn right on Eagle County Rd 11 (Trough Road).
Travel on Trough Road for about ten miles to Grand County Rd 11 (BLM sign at the corner, go towards Radium). Follow the road for about a mile and you will see the Mugrage Campground on the left. Park here.
The hike is about a mile to the springs. A dirt trail starts across the county road from Mugrage Campground and goes up a steep hill.
Once at the top, it is a fairly flat trail until the descent down to the river where the warm springs are located. The climb down can be challenging for some.
Please respect these public hot springs. Pack out all garbage and leave the place cleaner than when you came. Thank you!
Details
Address: Country Rd 111, Radium, CO
GPS: N39.95993 W106.54072
Nearby Towns:
Season: Summer through fall, maybe winter, depending on snow
Type: Primitive, free, 1.1-mile hike access
Price: Free
Temp: ~80-90° F
Latest in Radium Hot Springs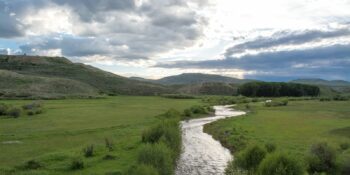 Between the irreverent animated TV show of its namesake and its closer proximity to populated cities…