Denver's most historic block and the place where it all began is Larimer Square. Lined with stunning Victorian architecture, the block has transformed into a busy neighborhood and one of the top social scenes in Lower Downtown Denver.
Before Larimer Square became the charming urban destination that it is today, the street was filled with some of Denver's first businesses. Having its ups and downs through the years, the square is now an iconic part of Denver.
Even though cars are permitted, Larimer Street is pedestrian-friendly to ensure that visitors can leisurely enjoy strolling past the numerous shops, restaurants, bars, and entertainment spaces. Most of Larimer Square is dedicated to commercial spaces for dining and shopping.
However, in the Lower Downtown area on Larimer Street, most of the residents are young professionals. Within the block, visitors of all ages enjoy gathering at Larimer Square, though the area has become particularly hip with the millennial crowds.
With lots to see and events year-round, there is always something worth exploring at Larimer Square. Consistently upbeat and lively, this historic block ensures that the party never stops for visitors, whether it's day or night.
Location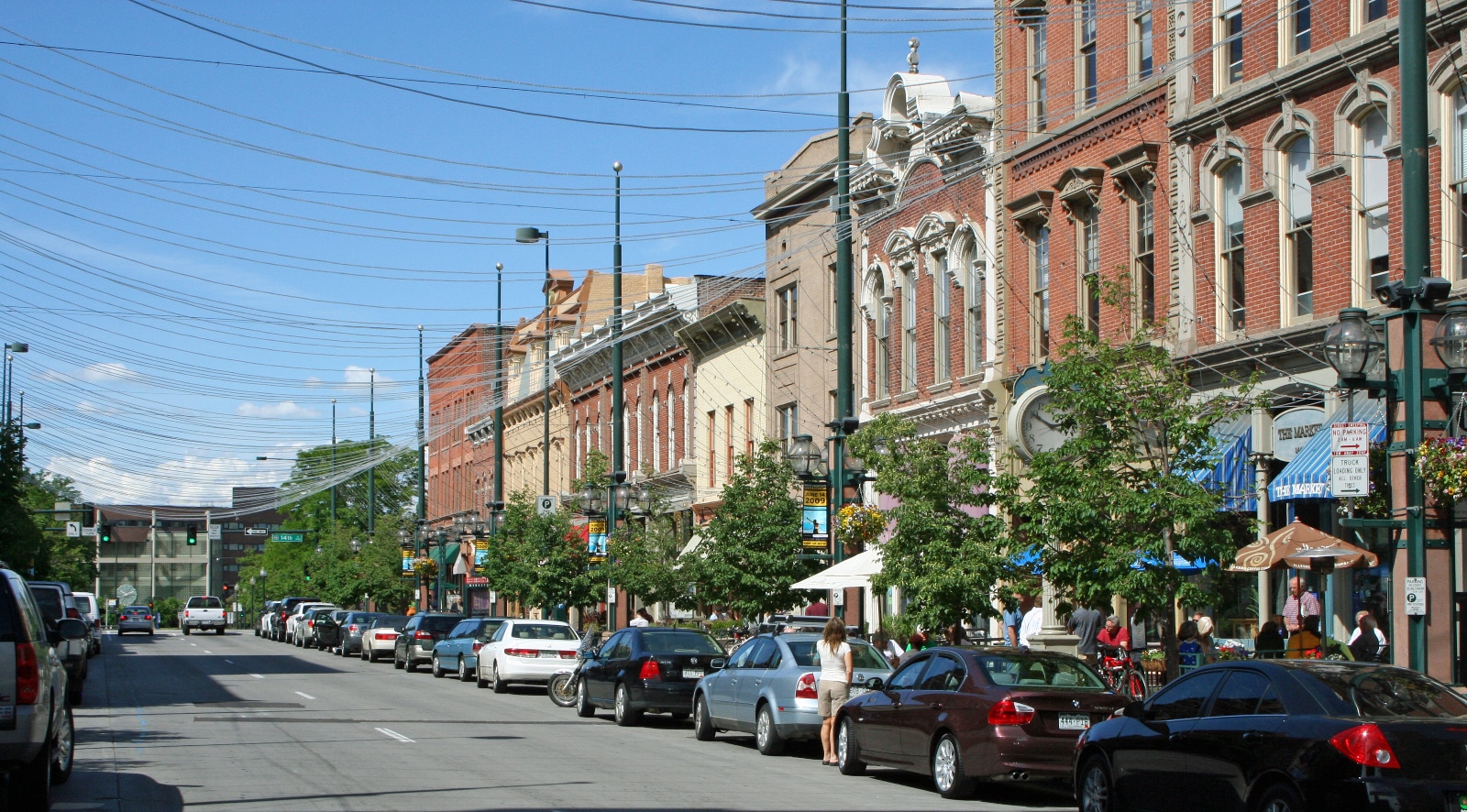 The entirety of Larimer Street is a one-way road that runs southwest through Downtown Denver. On the northeast end, the street runs through Denver's River North (RiNo) Art District, and on the southwest end, the street runs into the Metropolitan State University.
The full length of Larimer Street runs from 14th Street to N Downing Street. However, the most iconic part of the street, Larimer Square, only runs along the 1400 block of Larimer Street – between 14th Street and 15th Street. Many people consider Larimer Square to be the heart of Lower Downtown (LoDo) Denver.
History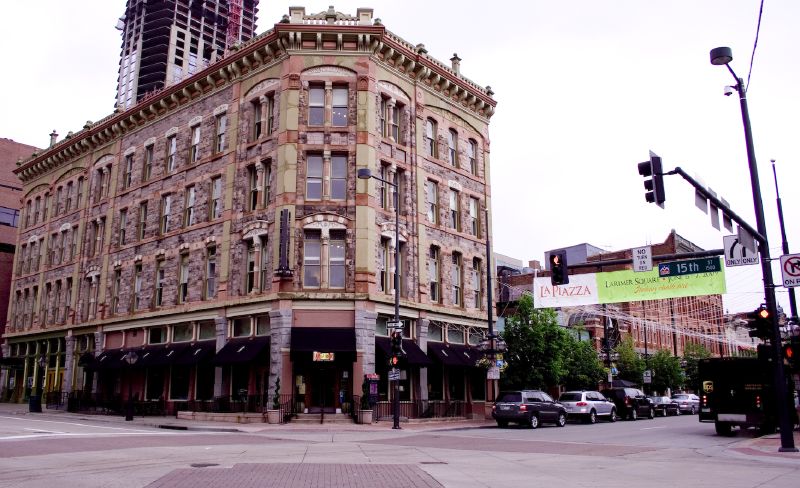 Before Larimer Square became known as the Denver icon it is today, the block set the foundation for the city of Denver. In 1858, William E Larimer laid out the plans for Larimer to become a business hub. The first building ever built on Larimer Square was a log cabin built by William E Larimer.
In 1859, Larimer sold the cabin to George Clayton, who replaced it with a frame structure. A few decades later, George Clayton built a stunning Victorian building using granite. The structure was used by the McNamara Dry Goods Company.
From its beginnings in the late 1850s, Larimer Square was the main area of business for Denver. In fact, it's Denver's oldest commercial block and it housed the city's first bookstore, dry goods store, bank, and photographer. As the years went by, Larimer Square's popularity waned.
Dominated by warehouses, the area suffered many disasters including floods and fires in the late 1800s. Business continued to boom through the early 1900s with many of the old warehouses converted into office spaces, shops, and hotels.
By the mid-1900s, Larimer Square had become a run-down area that was at risk of losing its former glory. Seeing the historical value of the block, Larimer Square Associates began to restore the block in 1965.
Dana Crawford, who pushed the city to save it, was rewarded in 1971 when the block became Denver's first protected historic district. As Larimer Square faces modernity, the historic protected status of the block ensures that the oldest treasures remain.
Larimer Square was previously owned by Larimer & Associates, but in December 2020, the block was sold to Asana Partners of North Carolina. Larimer & Associates had sought permits to build new high-rise buildings, which would have required the demolition of parts of the block to make room.
For three years, the future of Larimer Square was unknown. With the threat of historic buildings being demolished, Larimer Square was placed by the National Trust for Historic Preservation on their list of "11 Most Endangered Places".
Ultimately the plans to change Larimer Square never moved forward, which led to the sale of the block. Acknowledging the importance of Larimer Square's historic value, the new (poorly-reviewed) owners have stood by their plans to honor the building's existing footprints by taking on restoration and preservation projects.
What to Do
Although Larimer Square covers only one block, the area is jam-packed with dozens of businesses including shops, restaurants, bars, and entertainment spaces. There are even special events throughout the year, which bring large crowds down to the block.
As a tourist destination, you couldn't ask for anything better because Larimer Square brings it all. Oozing historic charm, the block is a fun place to spend the day or night. There is plenty to do there with activities geared toward being friendly to all ages.
Shopping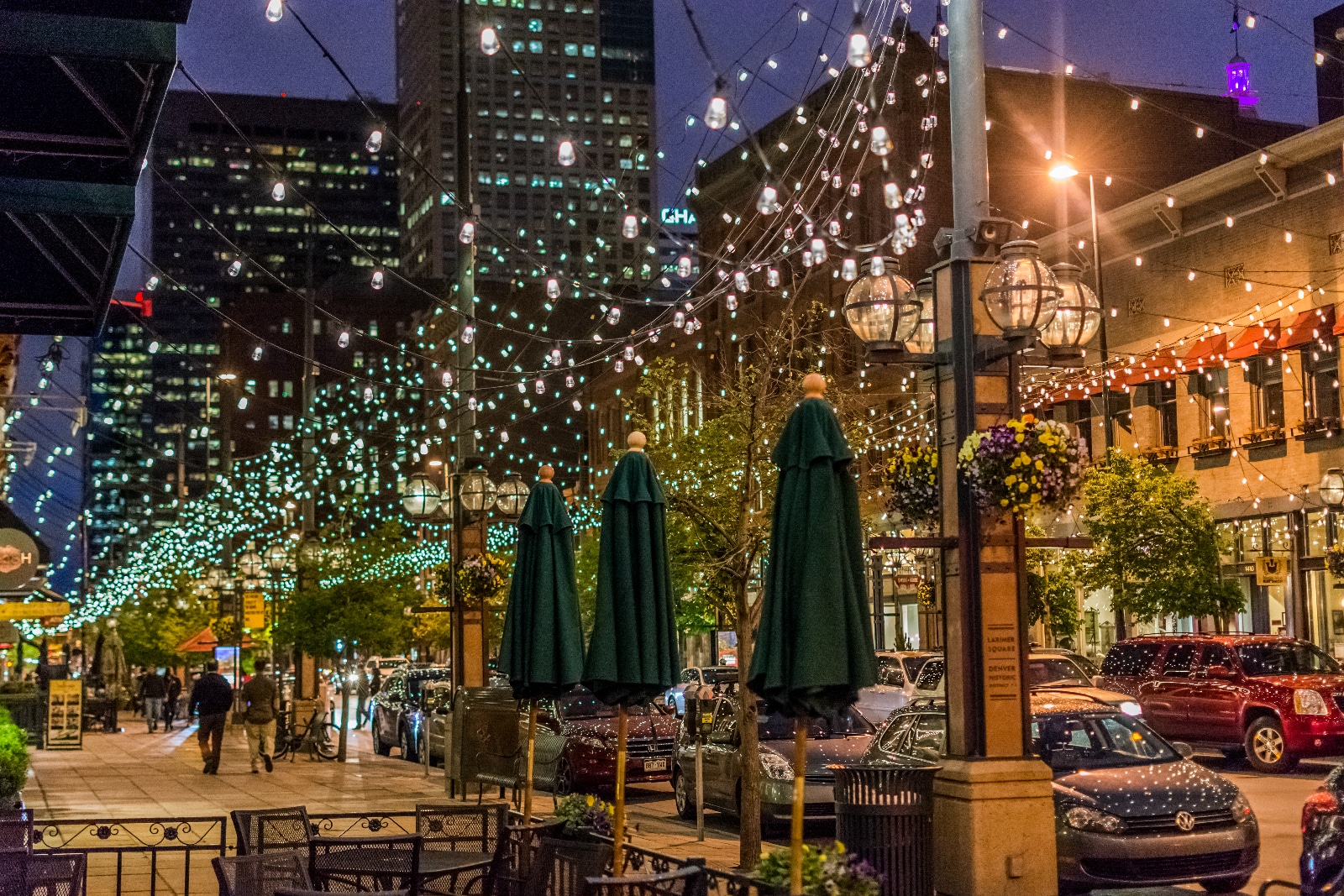 From international brands to locally owned shops, Larimer Square has plenty of diversity in its retail space. Shoppers can peruse anything from outdoor gear to pet supplies, vintage delights, and luxury goods.
A few of the best shops in Larimer Square are Cotopaxi, Dog Savvy, Garage Sale Vintage, Hailee Grace, and Pendleton.
Cotopaxi
A popular outdoor brand that uses sustainable materials and designs, Cotopaxi has become a top retailer in Larimer Square.
Typically using bright and bold colors, designs by Cotopaxi are unique and they are guaranteed to make you stand out from the crowd. Shoppers can find everything they need at Cotopaxi from clothing to bags and outdoor accessories.
Dog Savvy
Dogs deserve to be pampered and at Dog Savvy, you can shop for anything and everything that your pup might need. This dog boutique has got you covered with supplies, accessories, toys, foods, and treats to make your dog happy.
For further pampering, Dog Savvy also offers grooming services that are self-serve or done by professionals.
Garage Sale Vintage
Selecting the best of old things, Garage Sale Vintage is a fun shop where you're guaranteed to find something unique to buy. Definitely a unique retailer, this store has clothing, shoes, and accessories that are gathered from a variety of local vintage shops.
Hailee Grace
For the modern and relaxed woman, Hailee Grace is an upscale boutique that helps women effortlessly find their style. Specializing in fashion-forward pieces, this boutique has plenty of unique pieces to complete your wardrobe.
Pendleton
Pendleton is an iconic brand that is famous for its wool apparel and blankets. Luckily for Larimer Square visitors, there is a Pendleton store on the block.
Offering a full catalog of items, shoppers at the Pendleton store can peruse tons of items from wool and non-wool clothing, blankets, linens, and home decor.
Dining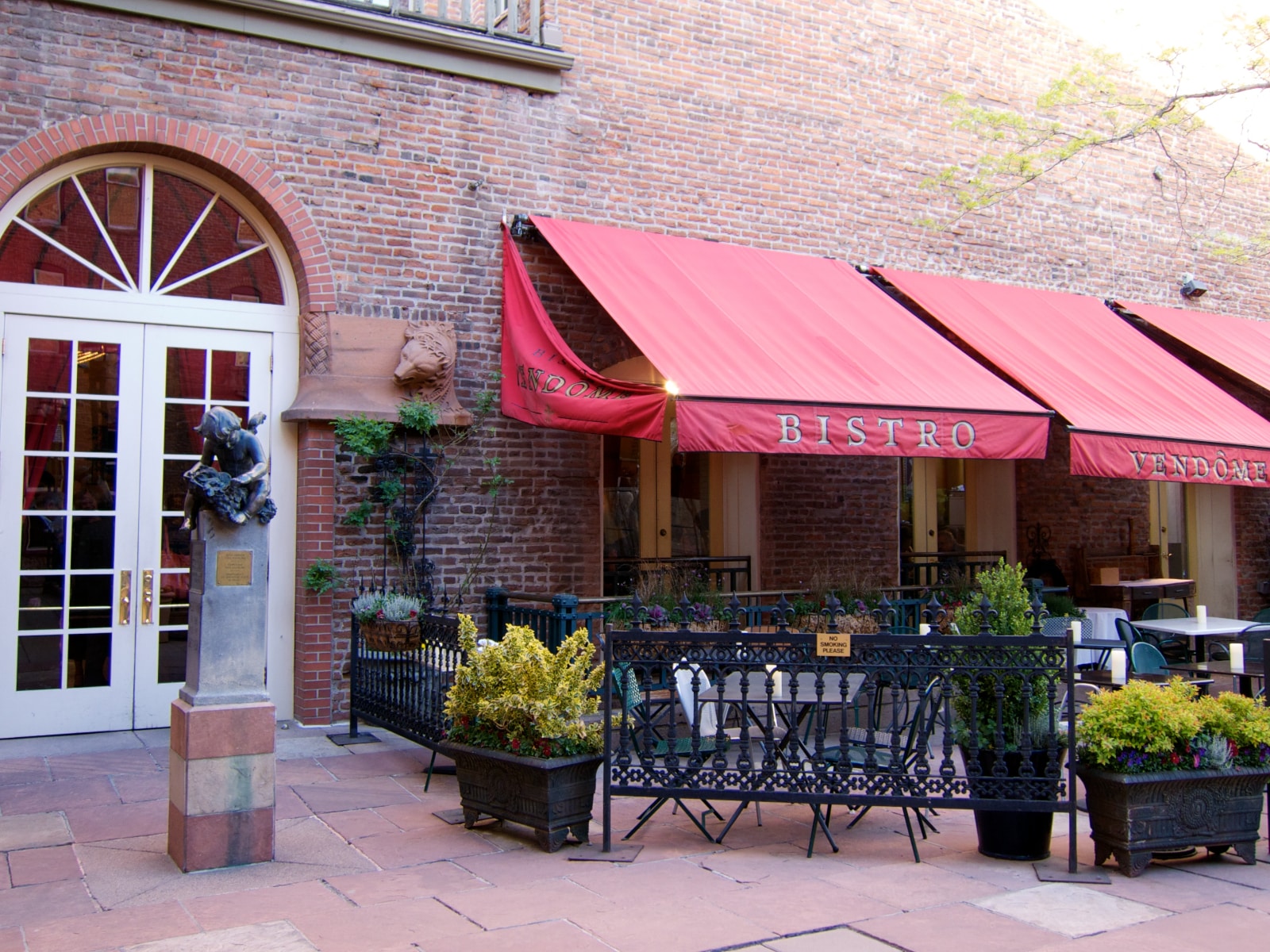 Boasting more than retail, Larimer Square has become a hub for world-class chefs to show off their skills as they dazzle your tastebuds with their carefully crafted menus. There are quite a few Mediterranean restaurants in Larimer Square, but diners will also find delicious steakhouses, seafood, and even ice cream.
For those who want to explore the tastier side of Larimer Square, the best places to go are Bistro Vendome, Corridor 44, Crú Food and Wine Bar, Ocean Prime, Rioja, Tamayo, Ted's Montana Grill, The Capital Grille, and Van Leeuwen Ice Cream.
Bistro Vendôme
Parisian-style, Bistro Vendôme brings the best of France to Denver's Larimer Square. Located in the Sussex building, this carefully curated cafe has an outdoor terrace and small garden where guests can sit to enjoy the summer and fall weather.
The menu changes with the season with many dishes featuring unique twists to make them even more flavorful. Chef Jennifer Jasinski has described her bistro as "French soul food".
Corridor 44
Corridor 44 is the only champagne bar in Denver. Serving a huge variety of champagne, the bar also offers specialized cocktails and appetizers.
Patrons can enjoy the bubbles as they sit out on the ultra-chic patio or inside Corridor 44's darkened interior. Open in the late afternoon, Corridor 44 entertains guests late into the night.
Crú Food & Wine Bar
For a taste of Napa, Crú Food & Wine Bar is the place to go to enjoy New American cuisine. With over 300 wines, guests at Crú can indulge in flavors from all over the world. To fill your belly, the bar offers stone-fired pizza and cheese plates.
Ocean Prime
High-class and ultra-sophisticated, Ocean Prime is one of Denver's best steak and seafood restaurants. Using the highest quality ingredients, the restaurant serves spectacular dishes like sushi rolls, tartare, filet mignon, and fresh fish.
For quick bites and cocktails, patrons can stay in the lounge or head to the main dining room for a formal meal.
Rioja
One of a few Mediterranean restaurants on Larimer Square, Rioja uses locally sourced ingredients that are changed with the season.
Dishes on the menu are described as "imaginative" and some of the most favorite meals are the ricotta gnocchi, Colorado lamb loin, and corn risotto. Rioja's high-energy atmosphere also makes it a great place to enjoy socializing with family or friends.
Tamayo
Chef Richard Sandoval was inspired by Mexico when he created his restaurant, Tamayo. However, using much more than traditional Latin flavors, Tamayo's menu uses ingredients from around the globe to enhance each dish.
For the full experience, you should visit Tamayo during the warmer months when you can enjoy views of Downtown Denver from the restaurant's rooftop deck.
The Capital Grille
An upscale steakhouse, The Capital Grille has been a favorite restaurant on Larimer Square for a long time. Featuring a menu of classic American cuisine, the grille makes patrons feel like royalty with its quality service and refined club-like setting.
Entertainment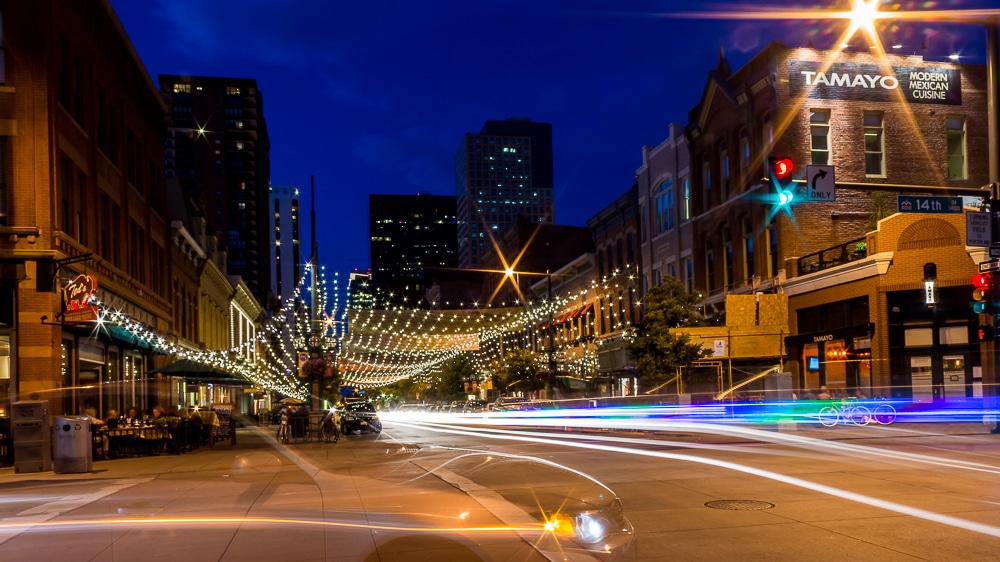 Larimer Square restaurants and bars are certainly prepared to entertain guests late into the night, but there are a few entertainment spaces on the block too. One of the most famous entertainment spaces at Larimer Square is Comedy Works, which is the city's premier spot for stand-up comedy.
To get your groove on and dance the night away, Disco Pig is the place to go. Bringing back the 70s with a tiki theme twist, Disco Pig is one of the newest additions to the block and it's already getting rave reviews.
Comedy Works
In operation on Larimer Square since 1981, Comedy Works is a famous club that specializes in stand-up comedy performances. Comedians from all around the world, famous and new, visit the club to perform for patrons and provide some laughs.
Located in the basement space of the Granite Building, Comedy Works is a small venue, so it's important to make your reservations beforehand.
Disco Pig
One of the newest additions to Larimer Square is Disco Pig – a tiki-themed dance club. Even though the club is new, it is getting rave reviews for its upbeat atmosphere, great service, and all-around fun times. Disco Pig is open every day of the week with special late-night hours on Saturdays.
Special Events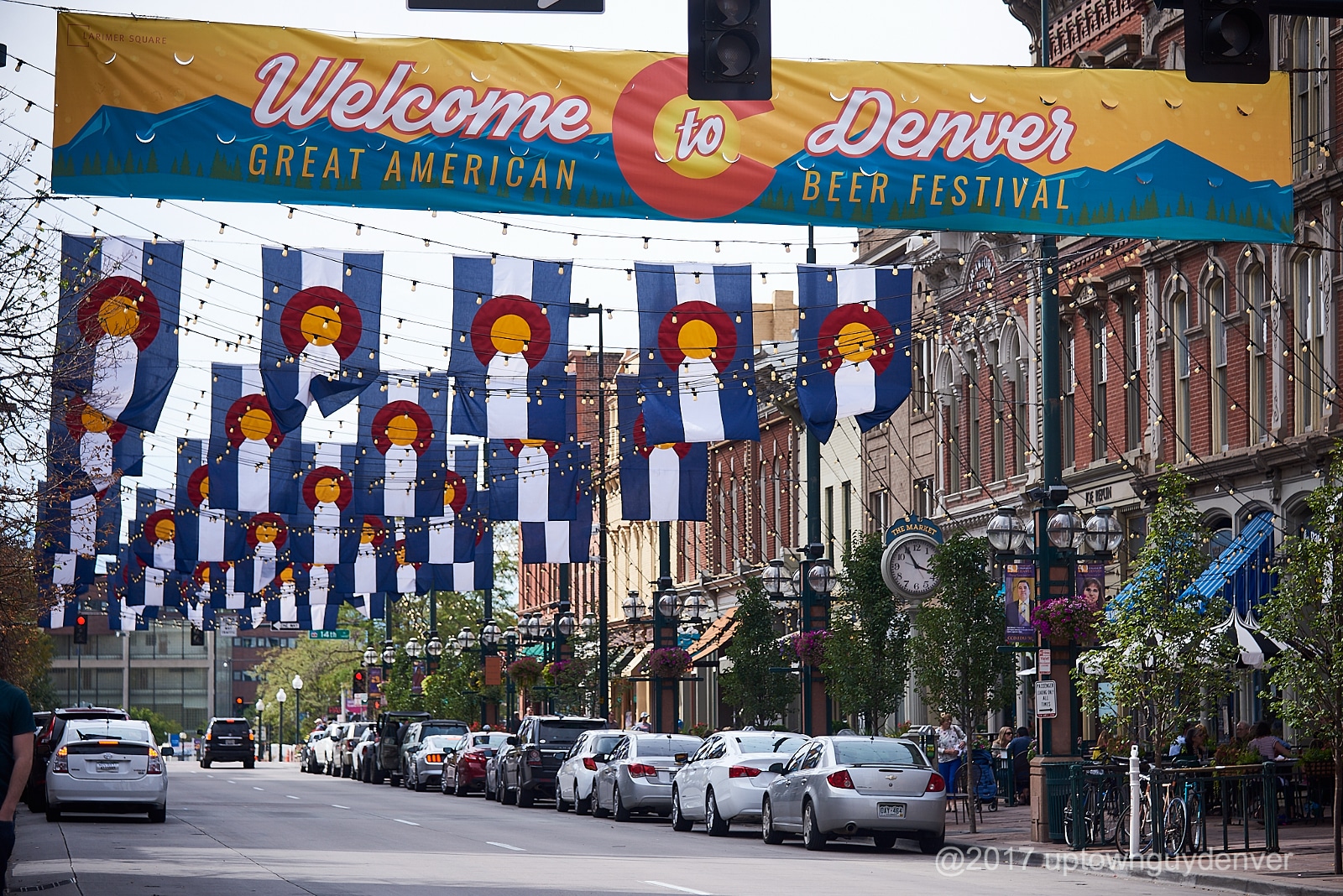 Entertainment at Larimer Square doesn't end with comedy and dancing. Throughout the summer, Larimer Square also hosts special events including live music, art, and food. To shelter visitors from the worst of Denver's winter weather, most of the square's special events run from summer to early fall.
One of the most popular events on the block is the Larimer Sessions. The newest special event that is likely to become a repeat is called A Taste of France.
Larimer Sessions
Hosted by Larimer Square, the Larimer Sessions is a summer concert series held weekly on Saturdays from 6-8 pm (June to October). Performances are held outdoors on the square. No type of music is off limits and plenty of genres pop up at the Larimer Sessions.
Visitors who are hoping to enjoy the Larimer Sessions are free, but they can get crowded so for the best seats, you should arrive early to the square.
A Taste of France
One of the newest events at Larimer Square is A Taste of France. Held to honor Brest, France (Denver's sister city), the festival is a celebration of anything and everything French. In 2022, the festival was held for 4 days in mid-July. Looking towards next year, Larimer Square will likely confirm dates for the 2023 summer soon.
Larimer Square is one-of-a-kind and you won't find anything else like it in Denver. A beloved attraction for both residents and tourists, this block is one place that you won't want to miss when visiting the Mile High City. As a one-stop shop, Larimer Square offers plenty to do from shopping to dining and year-round entertainment.