Vail is known for it's upscale amenities and massive ski resort, which is the largest in the state. The town is located on both sides of I-70, about two hours west of Denver. The Austrian-modeled ski village has a lot of charm and one of the nicest around.
The Vail Valley offers much to do and see year round. In addition to skiing, ice skating and snow tubing are available, as are family-friendly festivals filled with music, food, and fun.
Camping, rafting, hiking and fishing are all extremely popular activities during summer. There are several 4×4 trails around town which are great way to take in the beautiful Colorado landscape.
Main Attractions
Vail Ski Resort – With over 5000 acres to ski on, there's a new run or powder stash to find. Biking and hiking are popular on the mountain in the summer.
Recreation
Biking:
Traverse across Vail's epic back bowls on the Two Elk Trail. With two trailheads to start from, an East and West, this is one the best mountain biking trails in Eagle County. It's also a great hiking trail, though a bit long at 11.8 miles.
Ride the paved 9 mile trail from near the summit of Vail Pass down to Copper Mountain. It's called the Vail Pass Bike Path.
Camping:
Between Minturn and Red Cliff, take County Rd 707 to Halfmoon CG or primitive car camp anywhere on that road. It's a bumpy road though.
Take US 24 south of Vail just past Red Cliff, you'll see Hornsilver Campground.
Just after Hornsilver CG take a right on Homestake Rd to Gold Park CG or primitive car camp anywhere along that smooth road. It's ten miles back to the reservoir.
If you continue south on Hwy 24 past Hornsilver, you'll past Yoder Gulch Rd. Take a right and and pull over at any spot on that road.
Keep going on Hwy 24 and you'll hit Camp Hale Memorial CG just before Tennessee Pass.
There's also primitive camping in the wilderness north of Vail. Take exit 173 onto North Frontage Rd. At traffic circle, stay on N Frontage Rd. Turn left onto Davos Trail and a quick right on Cortina Ln. Follow that for 0.5 miles then stay slight right onto Buffehr. Follow that into the woods where camping is everywhere. Red and White Mountain is the area.
Fishing:
Gore Creek begins high above town in Vail Pass, and goes west past town. Although its not a big river, it does hold big fish. ​
Eagle River flows through Minturn, south of town.
Accommodations
Top 19 Cool Hotels in Vail – Modeled after an Austrian ski village, Vail is always known to delight. Travelers from around the world flock to this year round sports haven, so it certainly has some of the best hotels to accommodate. The Vail Valley is easily accessed on I-70…
Hotels and Lodging:
Specials Events
Apr – Taste of Vail – Premiere upscale food and wine with all the flair of Vail, held in early April.
Jun – GoPro Mountain Games – High-intensity celebration of sports, arts and music.
Jun-Aug – Bravo! Vail Music Festival – The best orchestras perform at various locations in the Vail Valley throughout the summer from late June to early August.
Dec – Vail Snow Days – Free music concert weekend to kick of the ski season in mid December.
Activities near Vail, CO
Biking/Hiking:
Ghost Towns:
Ice Skating:
Kayaking/SUP:
Museums:
National Lands:
Ski Areas:
Snow Tubing:
Towns:
Transportation:
Popular posts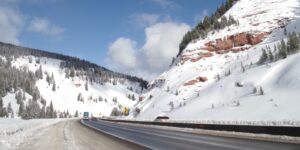 Wondrous Winter Road Trips In Colorado – Road tripping is an American pastime, and road tripping in Colorado should be too. Year round its seasons are changing, providing unique opportunities for cross-state travel. The winter brings with it some of the lightest…