One of the best known destinations in Colorado, Vail attracts adventurers from all over the world to its alpine valley at 8,150 ft. Winter or summer, there are terrific things to see and do in this part of Eagle County.
Located on both sides of interstate 70, the biggest draw in town is Vail Ski Resort. In the winter, snowboarders and skiers can access its most ski terrain of any resort in the state. In the summer, it turns into a high-elevation hiking and biking paradise, complete with games and attractions at the base. Away from the resort, there's still a lot of discover in Vail.
Year-round
All year long Vail knows how to entertain. This world-class playground puts recreation at your fingertips during four seasons.
Colorado Snowsports Museum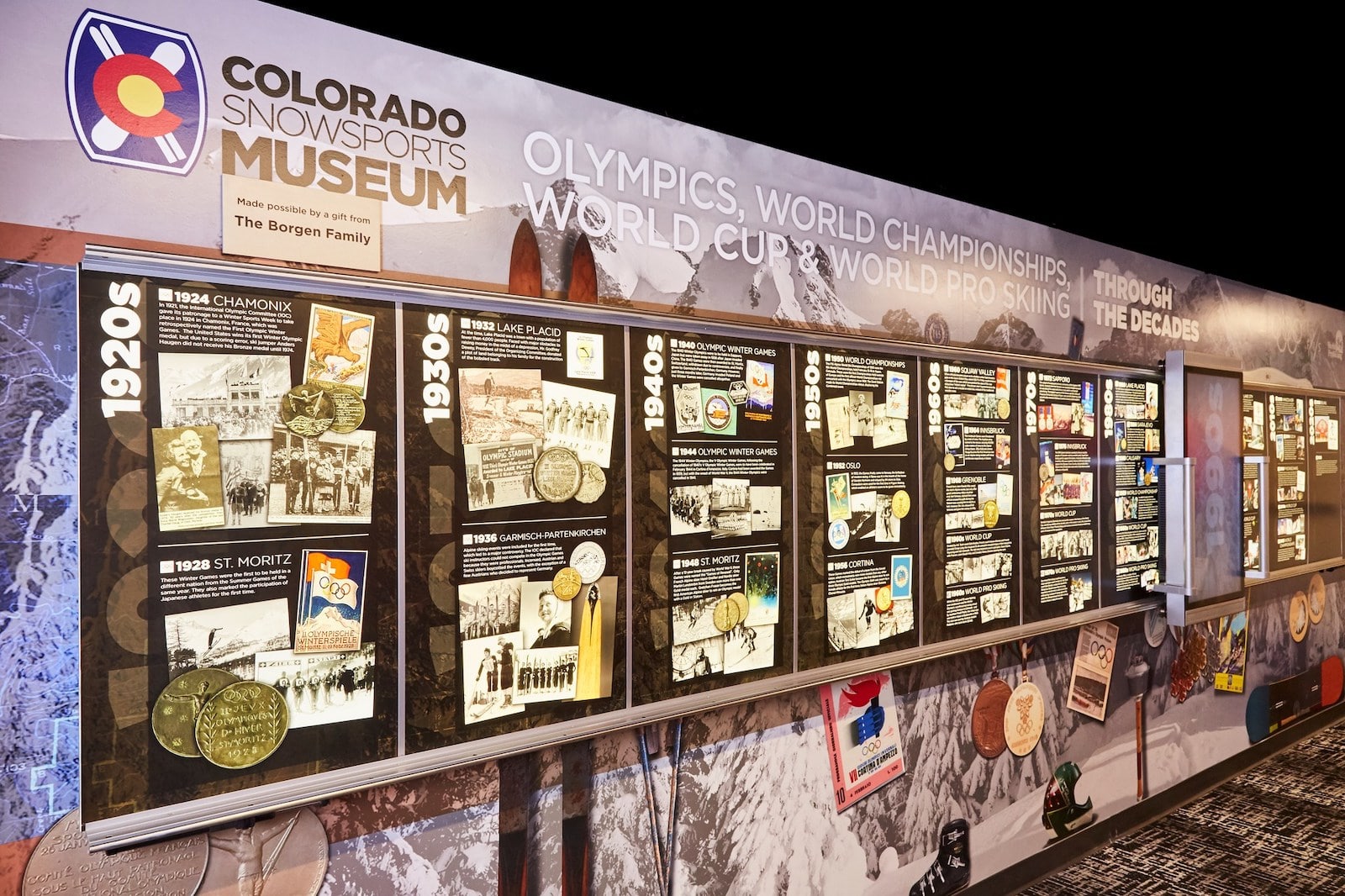 Free to the public and perfect for history buffs and hardcore skiers alike, the Colorado Snowsports Museum offers a number of exhibits documenting the rich history of snowsports in Colorado and beyond. One of the most interesting exhibits, named Climb to Glory, celebrates the achievements of the 10th Mountain Division, a famed group of soldiers from World War II. Other exhibits include "100 Years of Ski Fashion and Function" and "Skiing Through Time."
The museum is also home to the Colorado Snowsports Hall of Fame, which contains over 200 athletes and coaches inducted since the first class in 1977. The museum is situated on the 3rd level of the Vail Village Parking Structure, and parking is available on the lower levels.v
Forest Flyer Mountain Coaster
A great summer or winter activity for thrill seekers, the Forest Flyer Mountain Coaster is an exciting ride that takes visitors on a 3,400 foot long trip down the mountain. The coaster is rider-controlled, so hesitant riders can go slowly to enjoy the breathtaking views while daredevils can enjoy a speedy trip to the bottom.
Participants who are shorter than 54" must ride with a taller driver, and visitors should keep in mind that enclosed footwear is required for all riders. This alpine coaster is a popular activity, so be sure to book tickets online in advance. Tickets can be picked up on-site at the Lionshead Ticket Office.
Vail Village and Lionshead Village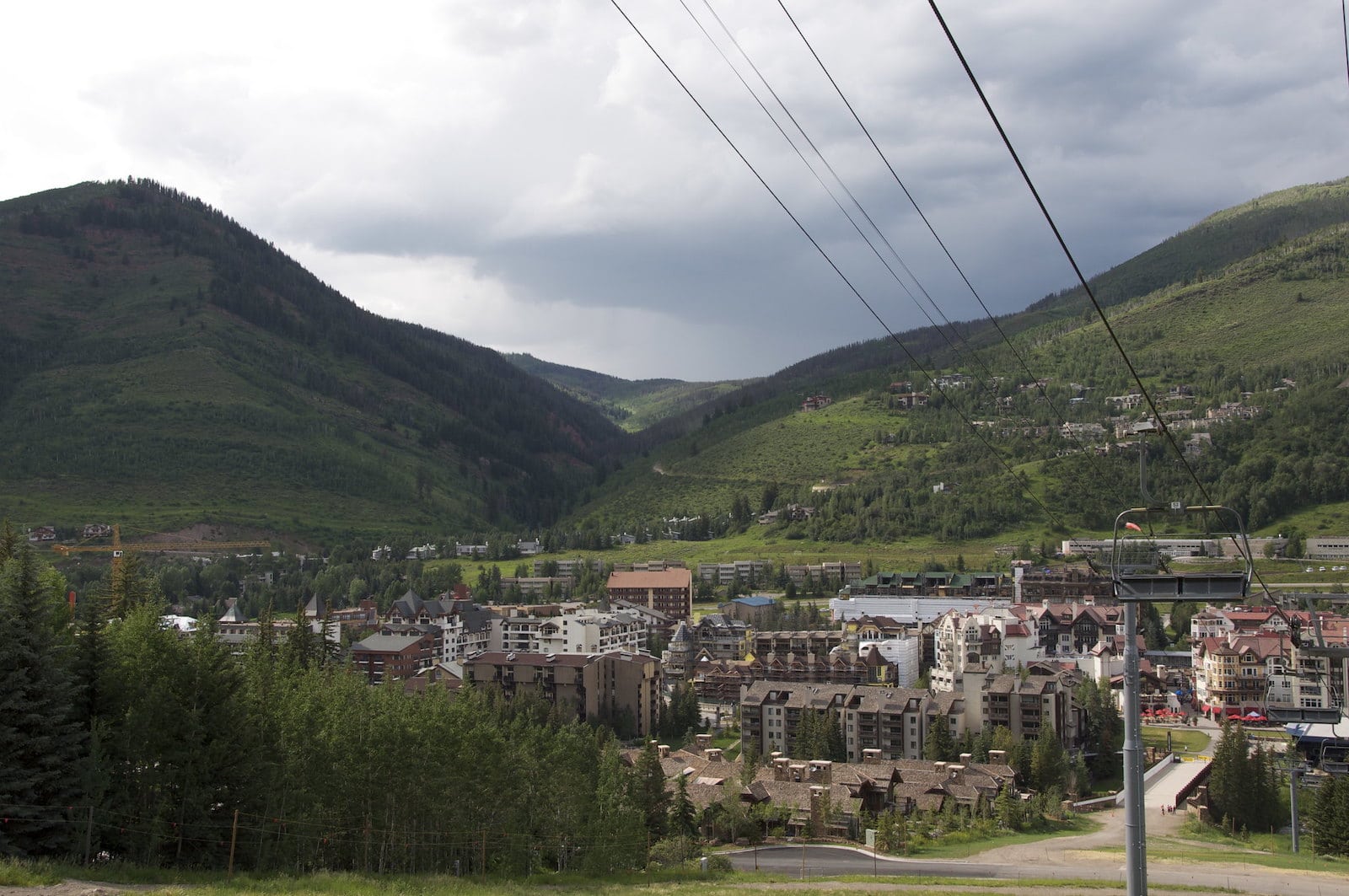 Inspired by European architecture and featuring quaint, walkable streets, Vail Village and Lionshead Village offer some of the best entertainment, shopping, and restaurants in the area. Lionshead Village is full of beautiful Bavarian-inspired architecture, and the entire village is closed off to car and bus traffic. Be sure to check out the Vail Square Ice Rink in this section of town.
Vail Village, located further to the east, is home to a number of the area's most popular restaurants and bars, and it's just steps away from Gondola One, which is one of the main access points to the mountain. Accommodations are available in both villages, and the free shuttle bus system makes travel around town seamless.
Ride the Gondola One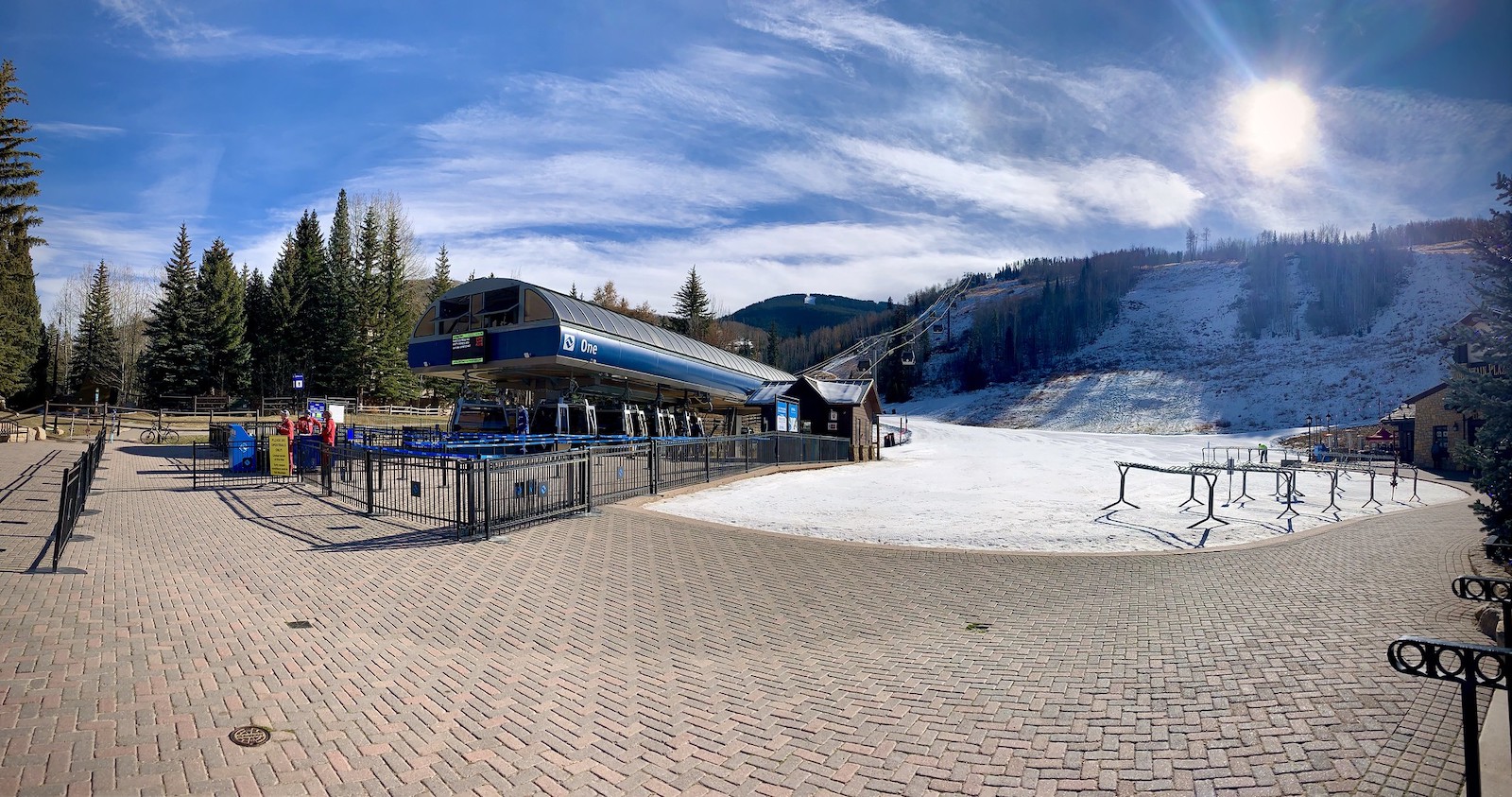 With 120 cabins featuring heated seats, Wi-Fi, and exterior bike and ski racks, Gondola One is one of the nicest ways to travel up the mountain. Leaving from Vail Village, the gondola carries passengers approximately 2,000 feet up the mountain to Mid-Vail.
At the top, consider stopping by one of the two restaurants located in an adjacent building. Terrace, which is on the lower level, offers pizza, salads, sandwiches, and other quick lunch items. Reservations for both restaurants are suggested, and they can be made online up to six days in advance.
Escape Room Vail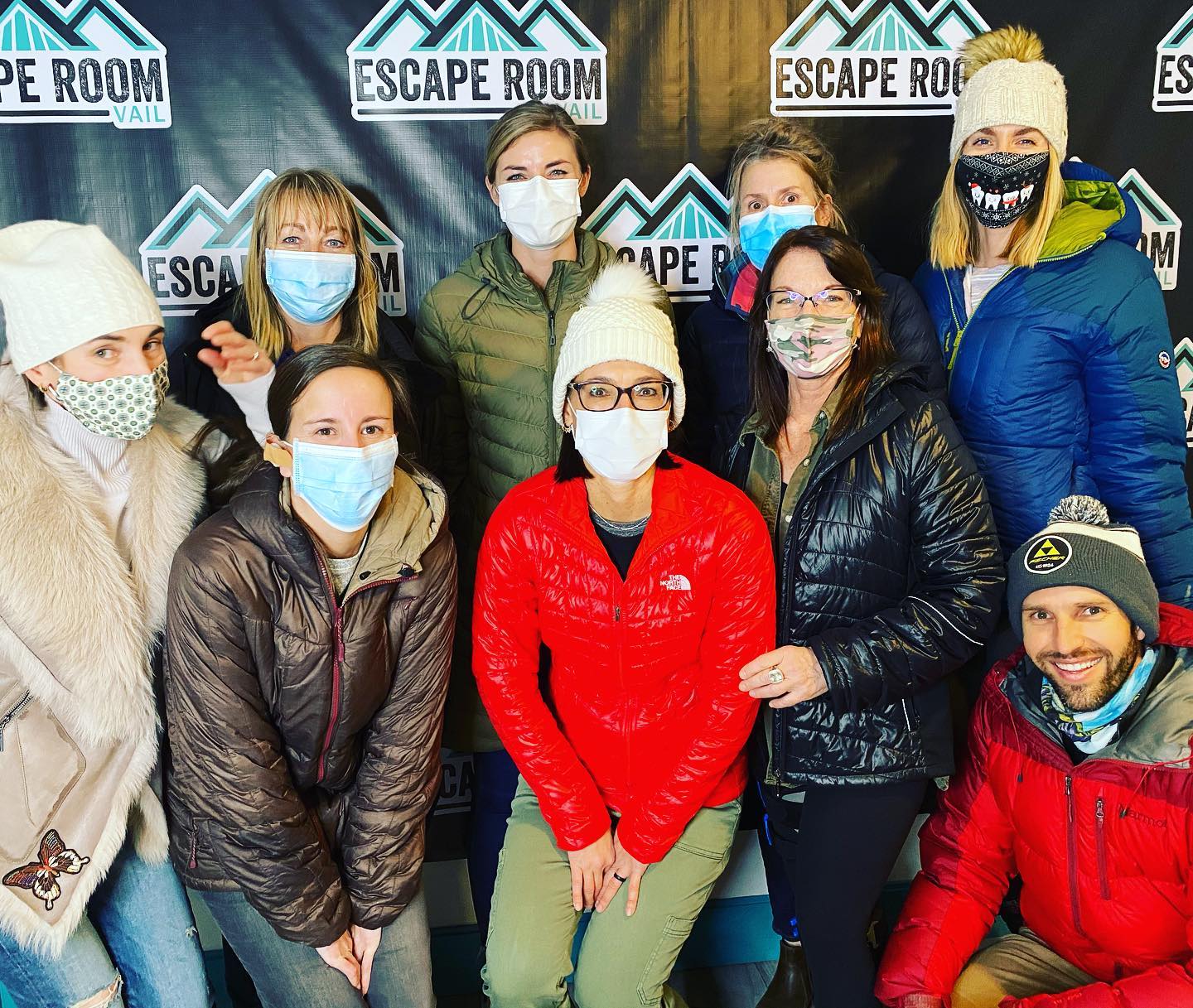 With rooms varying in difficulty and dedicated to wizards, pets, and even Santa Claus, Escape Room Vail is a fun, family-friendly activity that is ideal for days with bad weather. Unlike some escape rooms that put multiple groups into one room, Escape Room Vail ensures each group a private experience.
The games are made for groups of three to nine people, and visitors should arrive at least ten minutes prior to your reserved time. Escape games are growing in popularity, so be sure to book reservations in advance.
Summer
Vail's as good of place as any in Colorado to find fun in the summertime. From music, art and culinary festivals right in town, to a slew of outdoor recreation in the surrounding White River National Forest.
Attend a Summer Festival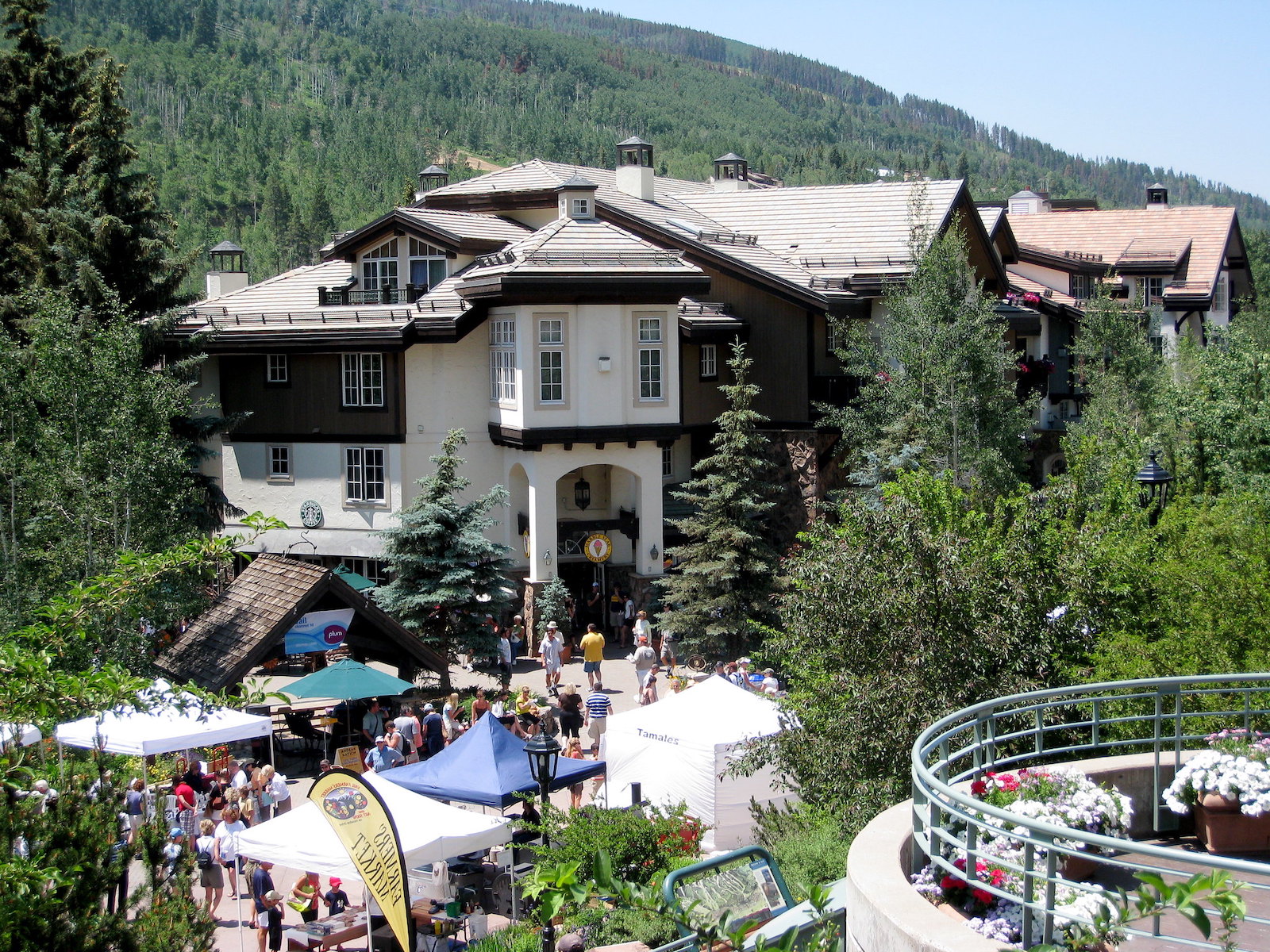 Besides the skiing and snowboarding that makes this town famous, it's is also home to a large number of diverse summer festivals. For example, the GoPro Mountain Games, taking place during one weekend in June, features live music, art, and thirty athletic competitions including kayaking, running, climbing, and much more. The Vail Dance Festival, which lasts for two-weeks each summer, is another popular event that draws visitors to Vail to see a broad selection of dance performances.
Others include Bravo! Vail Music Festival, a free event featuring orchestral performances, and Vail Oktoberfest, a fun, two-weekend affair at the end of summer full of bratwurst eating contests, traditional Bavarian music, and an abundance of German beer. A final option is the Vail Farmer's Market and Art Show, a recurring event lasting all summer featuring produce, handmade jewelry and crafts, live music, and art.
Eagle River Rafting
The Eagle River, which winds alongside I-70 west of Vail, features great whitewater rafting ranging in difficulty from Class II to Class IV. Most local guides provide half-day trips to a number of the best spots on the river like Dowd Chute, an approximately five-mile section of whitewater featuring exciting Class IV rapids.
One popular choice for outfitters running trips on the Eagle River is Arkansas Valley Adventures. Offering half-day outings to Dowd Chute and the less intense Lower Eagle section, visitors of all fitness and experience level can find a trip to suit their needs. Wetsuits and booties are provided, but be sure to bring sunscreen, water, and extra dry clothes to change into after the trip.
Hiking and Biking Trails
World-class hiking and biking is abundant in and around Vail. One of the most well-known hikes in the area is Booth Creek Falls, a four-mile round trip hike featuring around 1,300 feet of elevation gain. The highlight of the hike is a sixty-foot waterfall, but adventurous visitors can hike an additional 1.2 miles past the falls to reach Booth Lake. Keep in mind that this is a well-known summer hike, so start early to beat the crowds.
During the summer months, Vail Mountain features nearly fifty miles of winding downhill trails for mountain bikes. Visitors can access the best downhill routes via Gondola One and Lionshead Gondola. One of the most iconic routes is the Grand Traverse, a 5.6 mile trail that shows off some of the best views around. At the end, simply return the way you came or head towards the gondola and other trails at Mid-Vail on Mid-Vail Escape.
Vail Golf Club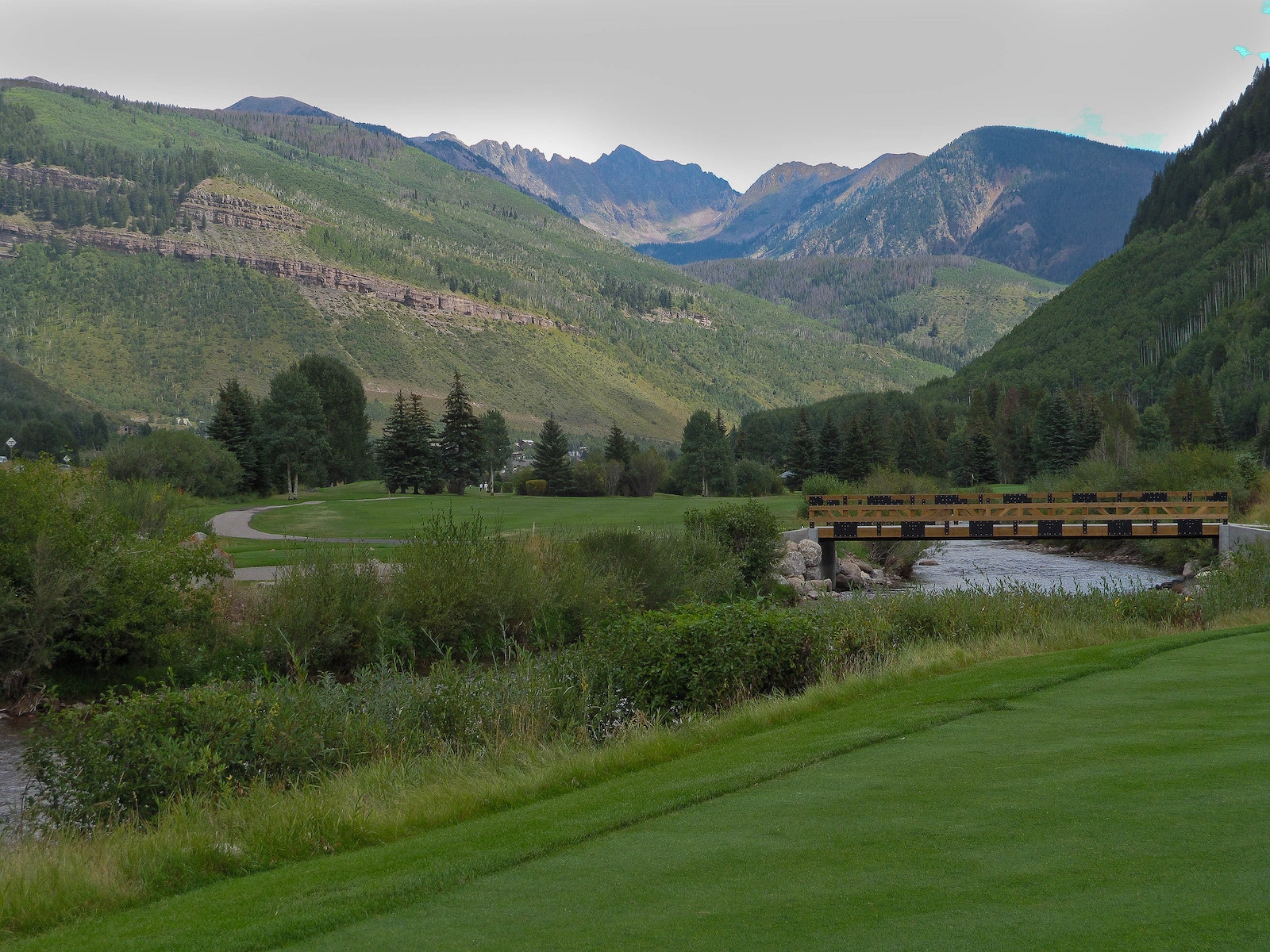 Home to a stunning 18-hole, par 71 course, the Vail Golf Club invites visitors to enjoy a round of golf while surrounded by beautiful views of the Gore Mountains. The club also features a number of practice facilities including a putting green, sand practice area, and a full-length driving range. Apparel, accessories, and golf equipment are for sale at the Pro Shop, and rentals are available for visitors travelling without clubs.
After a fun day on the course, consider stopping for a bite to eat at Grill on the Gore, a restaurant serving soups, salads, sandwiches, and a number of speciality cocktails and craft beers.
Winter
If the snow is falling during a winter evening in the Vail Valley, expect the slopes to be a wonderland the next day. And if skiing and snowboarding aren't your draw, there are plenty of other activities to try, even if it's just a spa day and shopping the Austrian-inspired village.
Vail Ski Resort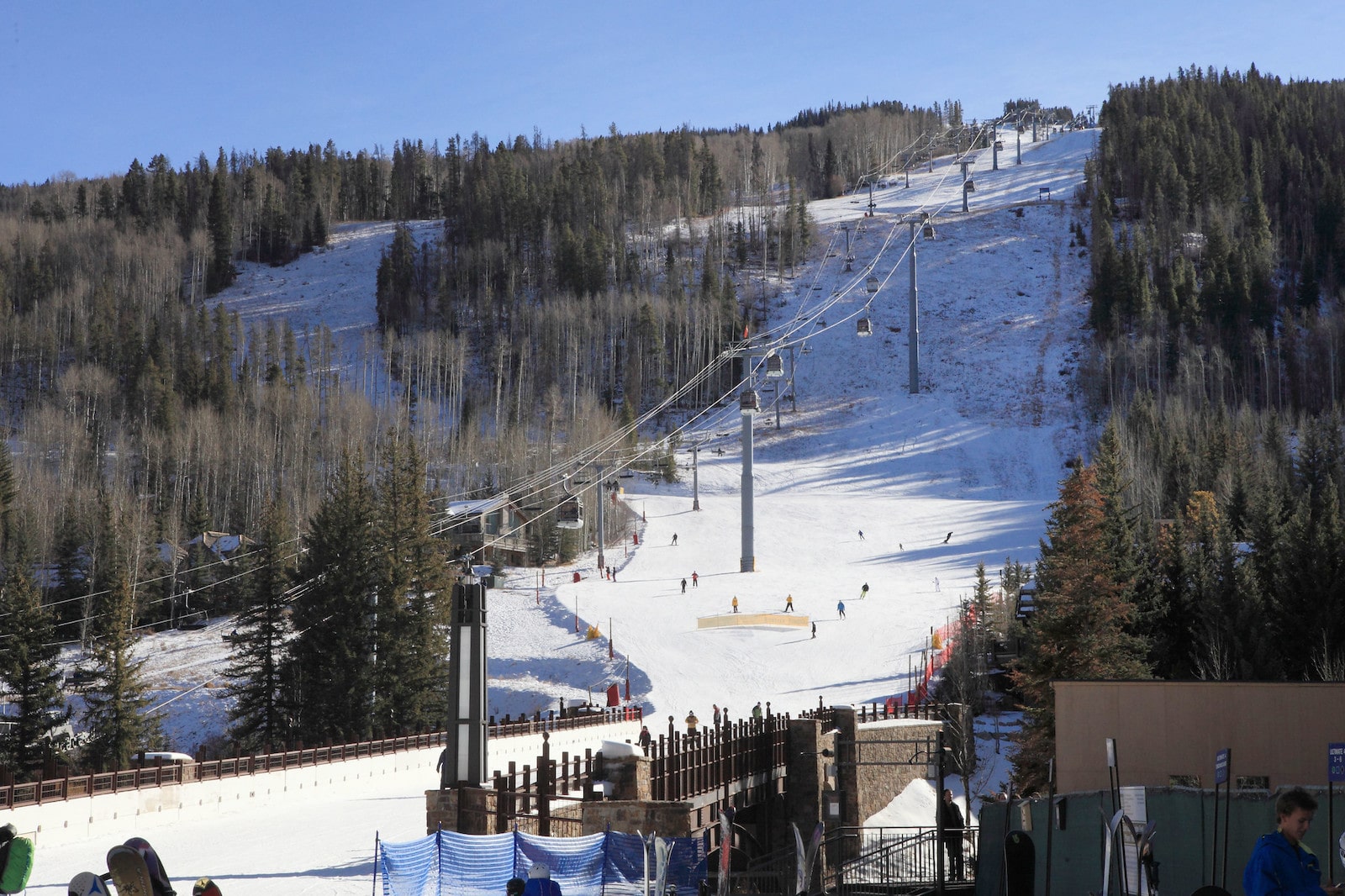 With over 5,000 skiable acres, Vail is the largest ski resort in Colorado, and its nearly 200 trails ensures that skiers of all types can find a run to suit their experience level. Beginners and those looking for a refresher should be sure to check out the Ski & Snowboard School, a service that is open to visitors of all ages and offers both group and private lessons. More advanced visitors should definitely ski the iconic Forever Trail in the Sun Up & Sun Down Bowl.
Great options for dining abounds both on and off the mountain. Quick service restaurants include Rocky's Roadhouse (located at the top of chair four) and The Coop (located at the bottom of chair two). For full-service dining, consider a trip to The 10th, an upscale restaurant with picturesque views. Reservations for dining can be made online.
Vail Nordic Center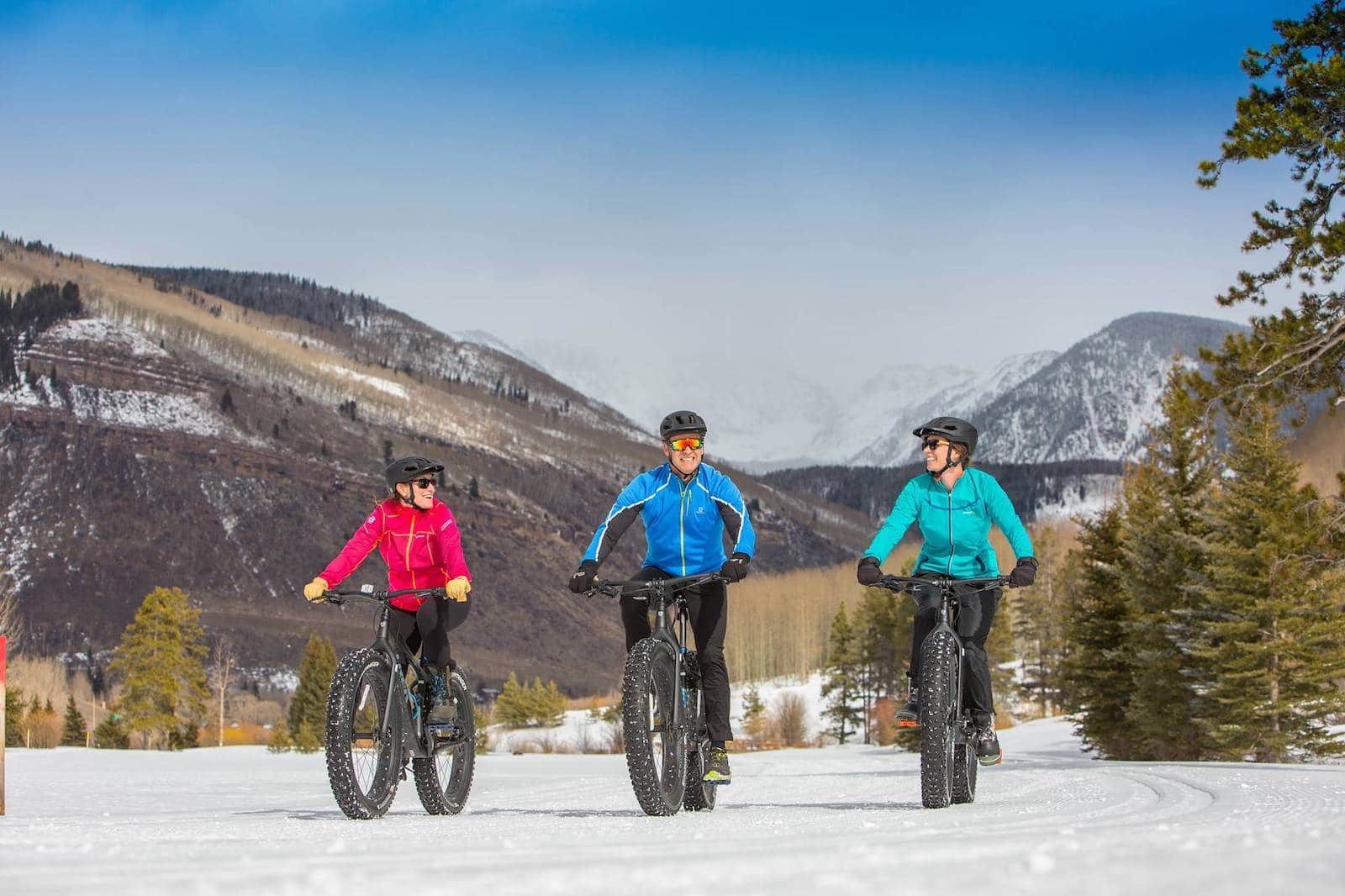 The Vail Nordic Center provides seventeen kilometers of groomed ski trails, ten kilometers of snowshoeing trails, and even thirteen kilometers of fat bike trails. Ski, snowshoe, and fat bike rentals are available on site, and beginners can even take advantage of daily cross country skiing lessons.
After a fun experience outside, consider stopping at the center's restaurant for hot soups, snacks, and hot drinks. Parking is available for free at the Vail Golf & Nordic Clubhouse, and the nordic center is also accessible through the town's bus system.
Vail's Eagle Nest Tubing
Part of the Epic Discovery section of the resort, Eagle's Nest Tubing is located at the top of Eagle Bahn Gondola. Open to all visitors over 42 inches in height, this is an exciting activity that sends participants soaring 900 feet down a hill on a provided tube. At the bottom, simply take the covered lift back to the top for another ride.
Note: Eagle's Nest Tubing is closed for the 2021-22 season.
Vail Square Ice Rink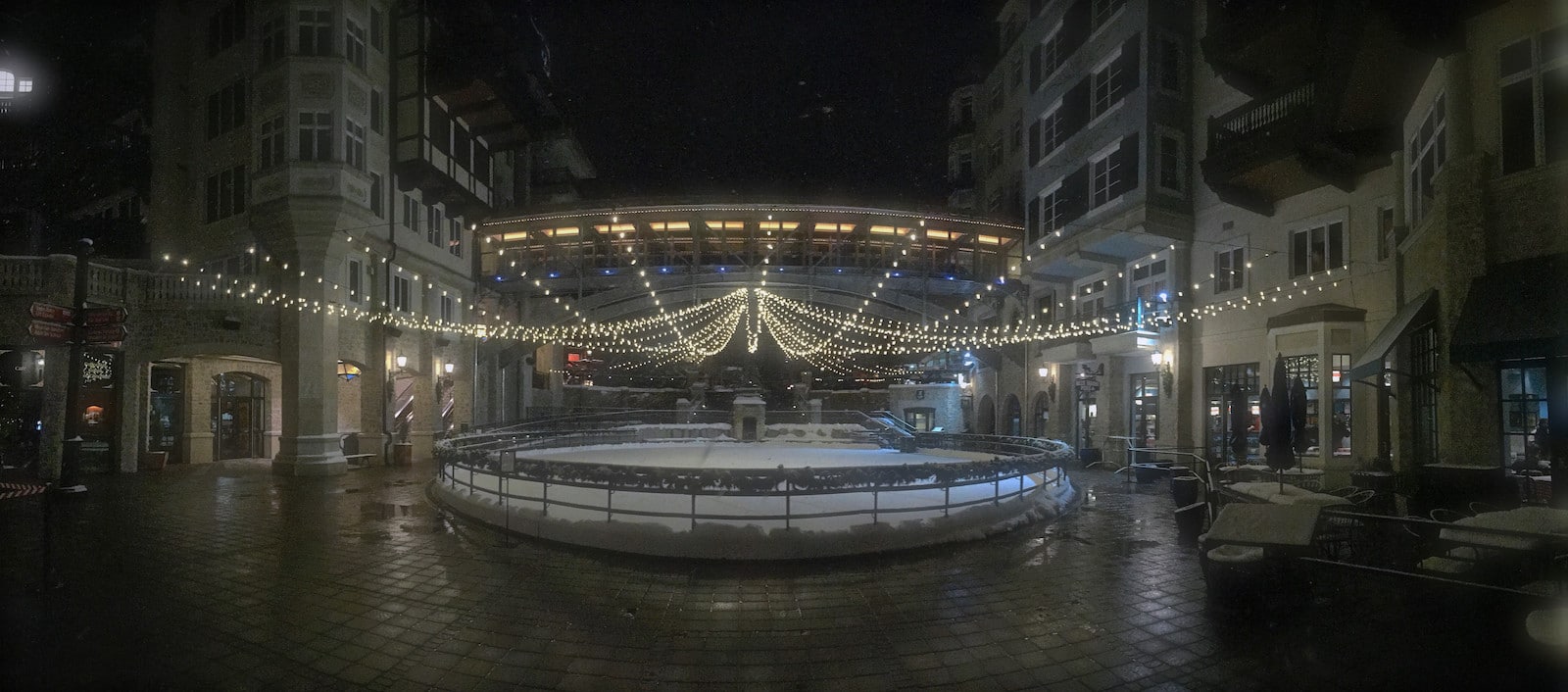 Picturesquely set in the middle of Lionshead Village, a pedestrian friendly section of town west of Vail Village, the Vail Square Ice Rink is a small, outdoor rink in a great location. Also known as Alderhof Ice Rink, this is a good choice for visitors who want a convenient, scenic spot for skating.
Skate rentals are available on-site. Another option for ice skating in town is the John A. Dobson Ice Arena, a large rink featuring hockey, figure skating, and plenty of open skating times. Public skating times vary, so check the online schedule before making plans to visit.
These are just some of the must-do activities in Vail. Add on these things to do in neighobr Minturn or activities in Beaver Creek for more things to do all year long.