As the second most populated town in Summit County, Silverthorne is a hub of outdoor activity and fun. From hiking and biking to shopping and dinging, Silverthorne is your home base for an action-packed vacation.
Discover these things to do in Silverthorne, CO, and start planning your trip today!
Year-round activities
No matter what time of year, Silverthorne offers something for everyone to enjoy. From shopping at the outlets to golfing, here are the top year-round activities in Silverthorne.
Raven at Three Peaks Golf Course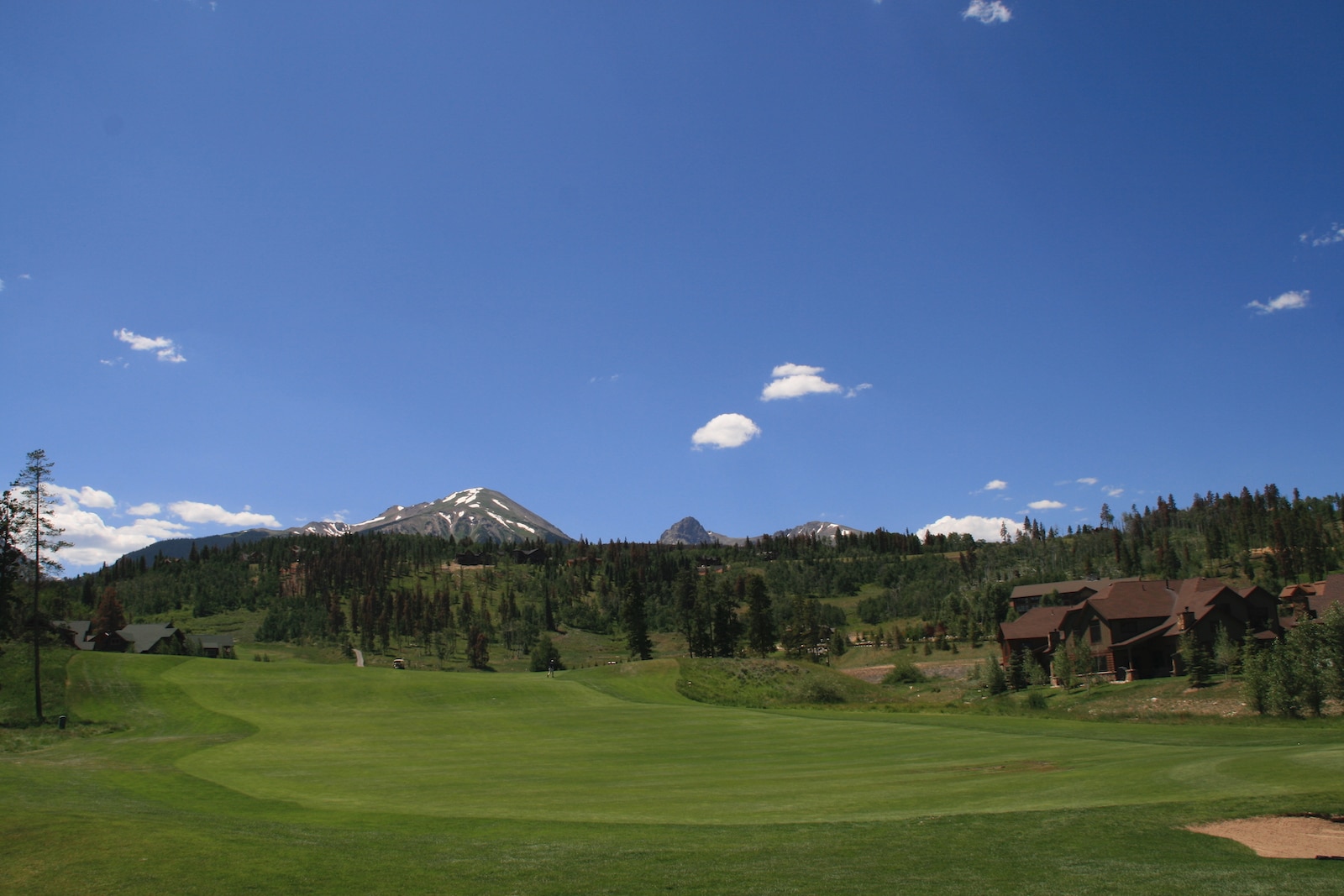 The Raven Golf Course is the #1 rated golf course in Colorado and is situated among massive pine trees and aspen groves, sparkling creeks, and fish-filled lakes. The perks of being located at 9,000 feet are the fantastic views of Buffalo Mountain and the surrounding countryside.
Despite plenty of elevation changes and some challenging holes, it's still a fun afternoon for beginners. The staff on-site offer lessons to brush up on your skills, and there is a Marshal who keeps things running smooth and quick.
The Raven Golf Course restaurant features a full bar and an outdoor terrace that offers spectacular views. They host local live musicians on the weekends and have a long menu of American cuisine.
Lake Dillon Theatre Company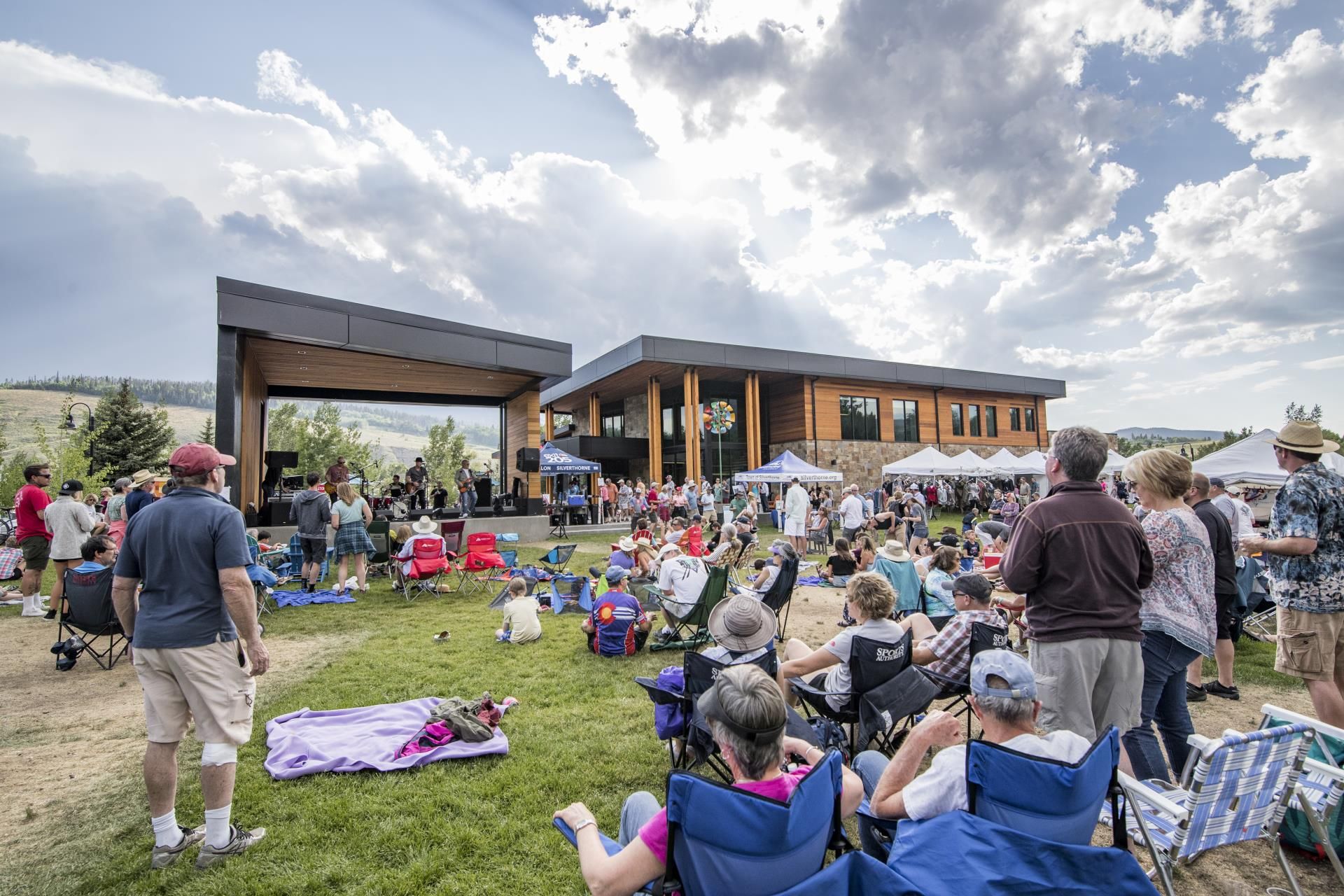 The Lake Dillon Theatre Company was started to raise funds for the Lake Dillon Amphitheater and a free summer concert series. After finding so much success during their crowdfunding campaign, they expanded to include a youth theatre workshop, a chamber concert series, and an amateur theater company that has since been upgraded to a professional, regional theatre.
Located within a historic building built in 1899 that was once the Dillon Town Hall, the theater is small, and this intimacy plays a big part in the success of its performances.
They regularly host live performances, such as Shout! The Mod Musical, and plenty of dance parties. They have recently begun to host outdoor musicals at the Silverthorne Performing Arts Center, where visitors can watch and laugh along to actors singing and dancing while resting in the grass.
Outlet Shopping in Silverthorne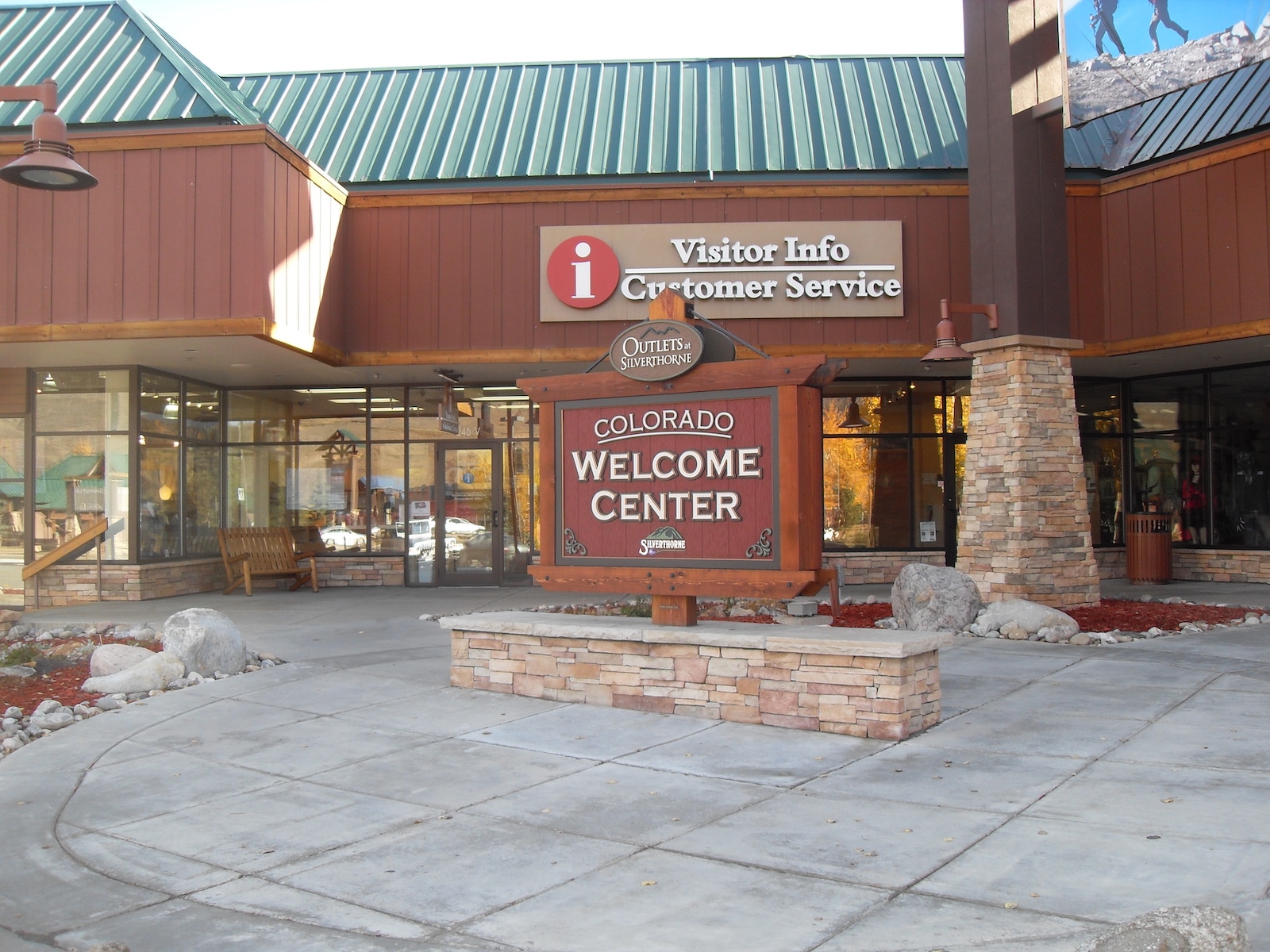 For those who love to shop, Silverthorne will have you in a daze. The Outlets at Silverthorne are divided into three villages and have over 50 different stores for you to browse in. From American Eagle Outfitters and Coach to Williams Sonoma and Le Creuset, you can get a new wardrobe and new kitchen appliances! With these being outlet stores, you will save 30-70%, which means more money to spend on delicious dinners and lift tickets!
Mint Steakhouse restaurant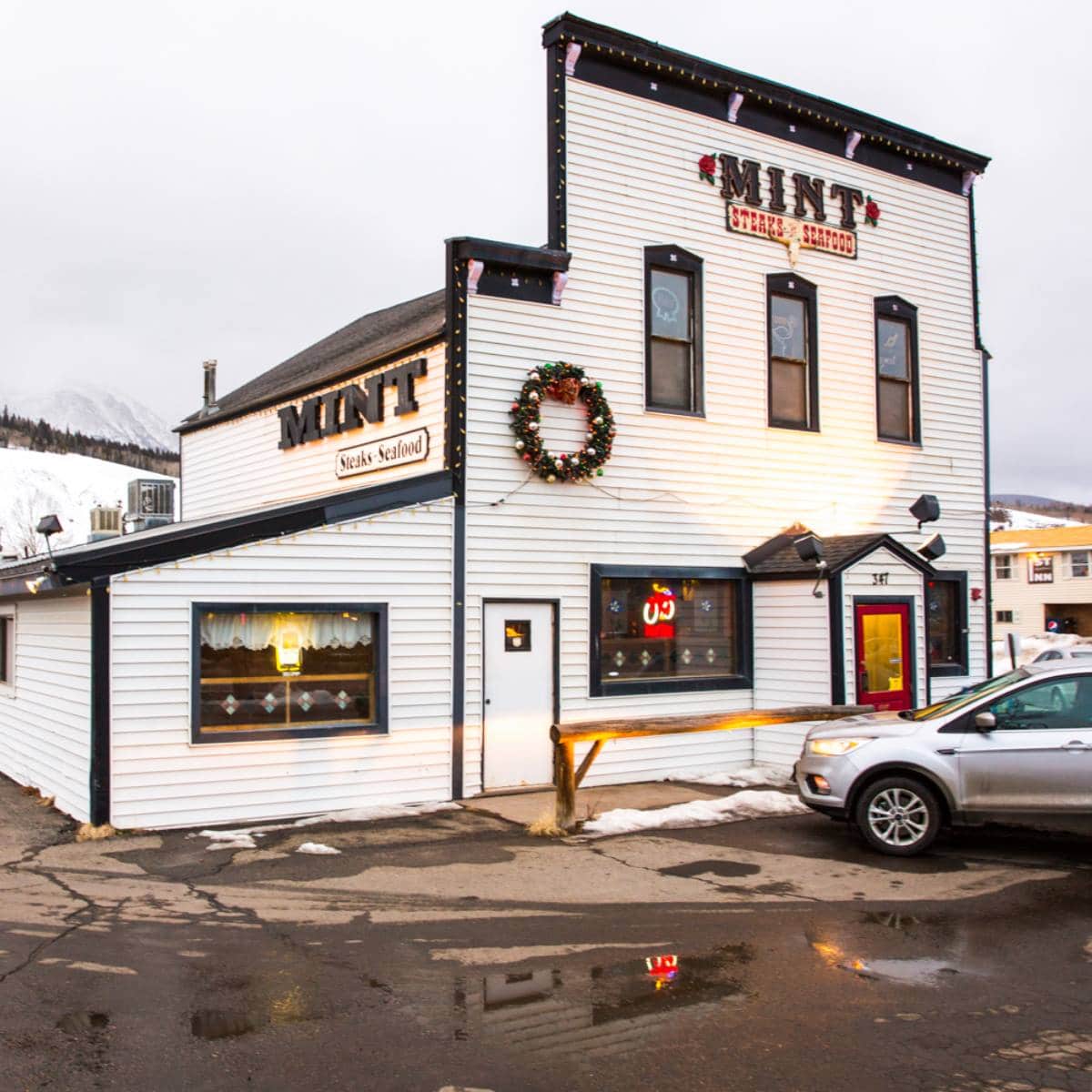 The Mint Steakhouse Restaurant has a unique business model: You grill your own steak! Using their specially seasoned lava-rock grill, you get to choose how to prepare and grill your own steak. In business since 1862, this is a local favorite and proudly stands as Colorado's oldest restaurant.
In a building that used to be a saloon, it is now filled with the mouth-watering smell of high-grade steak, sizzling to perfection. To go with their delicious menu is a long list of thirst-quenching drinks, tap beer, specialty cocktails, and wine.
Summer activities
Summer in Silverthorne is packed with adventure and scenery. The Blue River through town provides first class fly fishing opportunities, with local guides willing to show you the ropes. Discover how you can enjoy your vacation with these summer activities in Silverthorne.
Hiking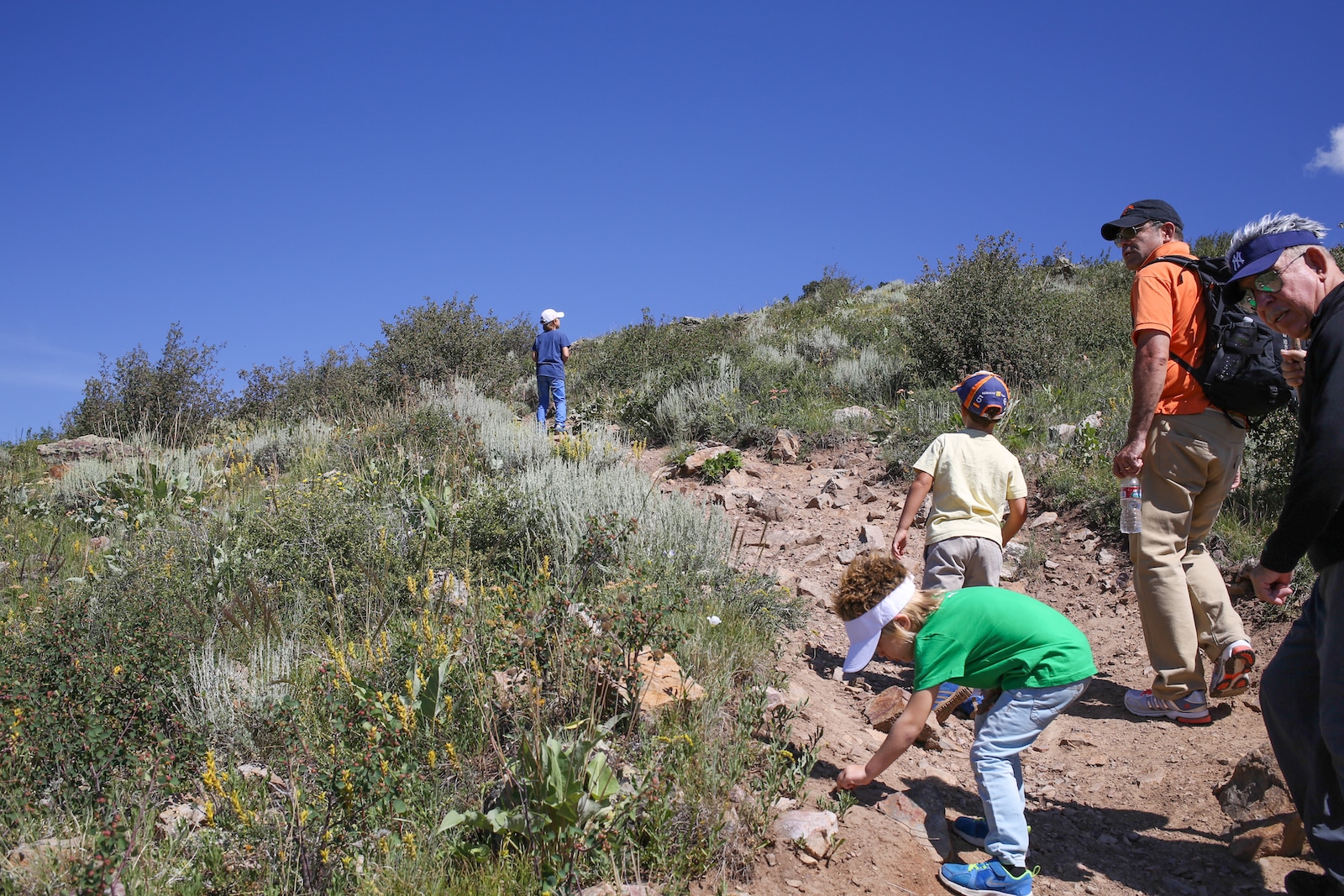 Silverthorne is surrounded by evergreen forests, mountain peaks, and a beautiful natural landscape, which of course, makes hiking a necessity for those visiting. Some of the best hiking trails are located around Silverthorne, including the famous Continental Divide Trail.
The White River National Forest has nearly 300 hiking trails running throughout. So, whether you are looking for an easy day hike that ends in a picnic, or a heart-pumping, leg tiring adventure up the side of a mountain, you will find it here.
While there are many hiking options near Silverthorne, the Blue River Trail is one of the most popular in the area. The trail is for hikers and bikers and connects the towns of Silverthorne to Dillon, Keystone, Frisco, and Breckenridge, all the way to Glenwood Springs. The paved path runs 3.5 miles through downtown to the Dillon Dam.
Another great option is the B&B to Reiling Dredge to Minnie Mine trail. The 3-mile loop is an excellent option if you are looking for a 1–2-hour hike and want to see some great views while also visiting some old mining areas. Along the way, you will pass abandoned mining camps and possibly even a bear!
Biking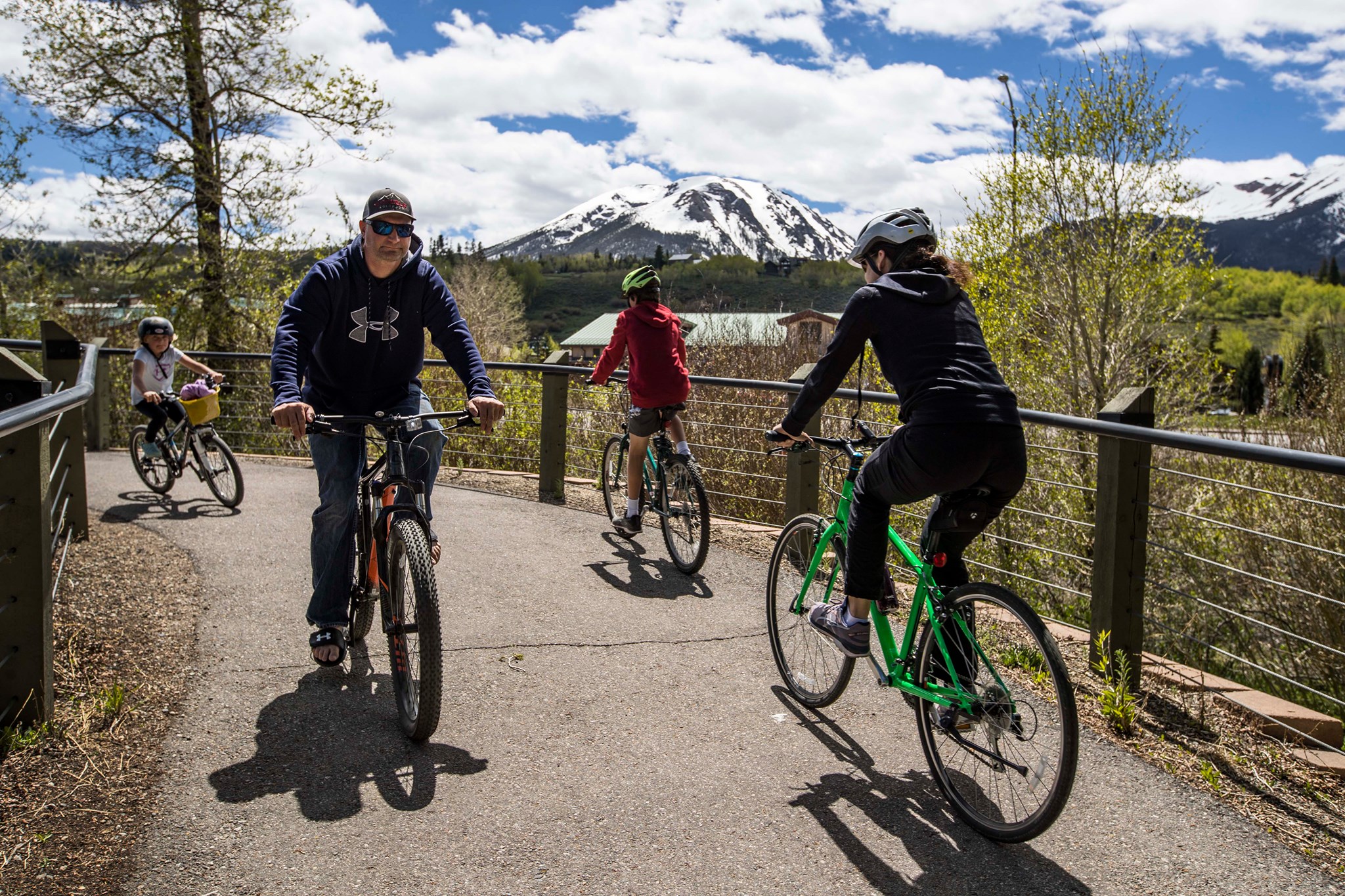 In 2020, Silverthorne was designated by the League of American Bicyclists as a Silver Bicycle Friendly Community. This was due to the improvements around Silverthorne made to help it become a more bike-friendly place. They also host many bike events and encourage people to choose biking over driving.
Fortunately, for those visiting Summit County, there is an extensive Recreational Pathway System, known as the Recpath. This is used by dog walkers, runners, bikers, and many others who enjoy a well-paved path. Whether you want to take a leisurely ride to work or a challenging trek to the top of Vail Pass, the Recpath has many routes and difficulty levels to choose from.
As mentioned previously, the Blue River Trail is an excellent way for bikers to get to Dillon, Keystone, Frisco, and the other local communities. The long continuous paved path is perfect for exploring Silverthorne and summit county.
For those who are looking for a more serious ride, the Silverthorne to Ute Pass trail is a 31-mile round-trip journey with a 2000' elevation gain. You start in Silverthorne and head north on Highway 9 for 10 miles. Once you get to Ute pass, the climb really starts to pick up, and after 5 miles, the view opens up, and you will be able to enjoy the picturesque mountain views.
Dillon Marina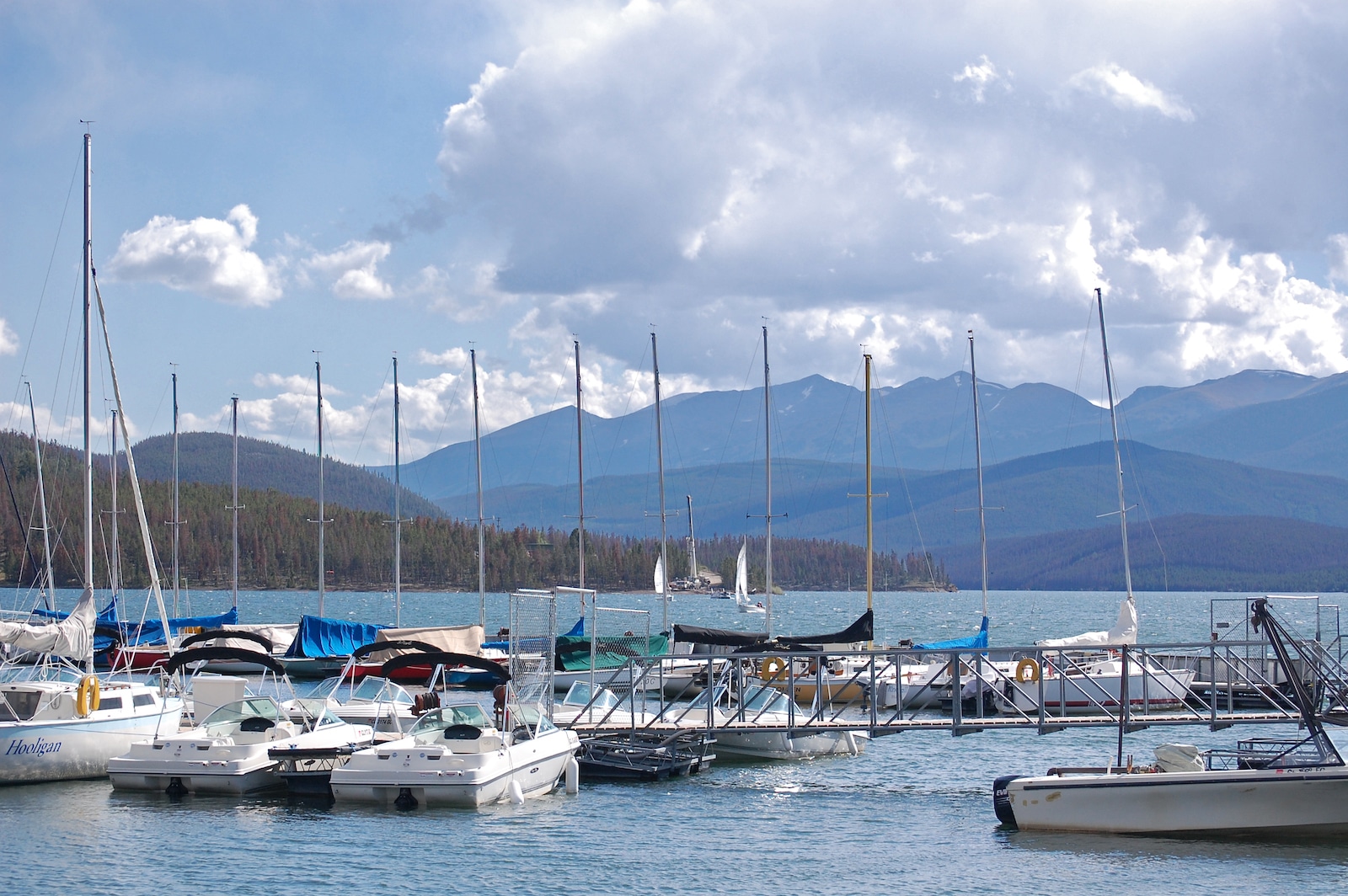 The Dillon Marina is a hub of activity in the summer, with plenty of water sports to enjoy and a sandy beach to relax on. With over 27 miles of shoreline and multiple access points, one in Frisco and the other in Dillon, there's also a handful of places to rent boats, paddleboards, kayaks, and sign up for tours and classes. In addition, there are group kayak tours that will take you around the marina, stand-up paddleboard yoga classes, and sailing classes for those who want to be captain on a sailboat on their own!
The Dillon Marina is also a hotspot for those who love to fish, and you will find many different species swimming around in the clear water. A fishing license is required if you are 16 and older, but these can be easily purchased online or at many locations in Summit County. So whether you are fishing from a boat or the shoreline, you can reel in rainbow trout, salmon char, catfish and proudly snap some selfies of your catch.
Located around the marina are several different campsites, all offering a variety of amenities. Most have picnic tables, restrooms, and cooking areas, and there is a good mix of rustic sites and glamping spots. Unfortunately, swimming is not allowed at the Dillon Marina since this is a reservoir that provides drinking water for the area.
If you get hungry or need an afternoon margarita, check out the Lakeside Tiki Bar, which overlooks Lake Dillon. From its spacious deck, you will get a beautiful view of the marina, and they have a delicious menu that caters to an afternoon at the beach. Hot dogs, hamburgers, and chicken fingers take the prize, and they have plenty of tasty cocktails and craft beers to bring on that summer glow.
Winter activities
From some of the best skiing in the country to snowmobiling through the backcountry, discover these top winter activities in Silverthorne.
Skiing at A-Basin, Keystone, Breckenridge, and Copper Mountain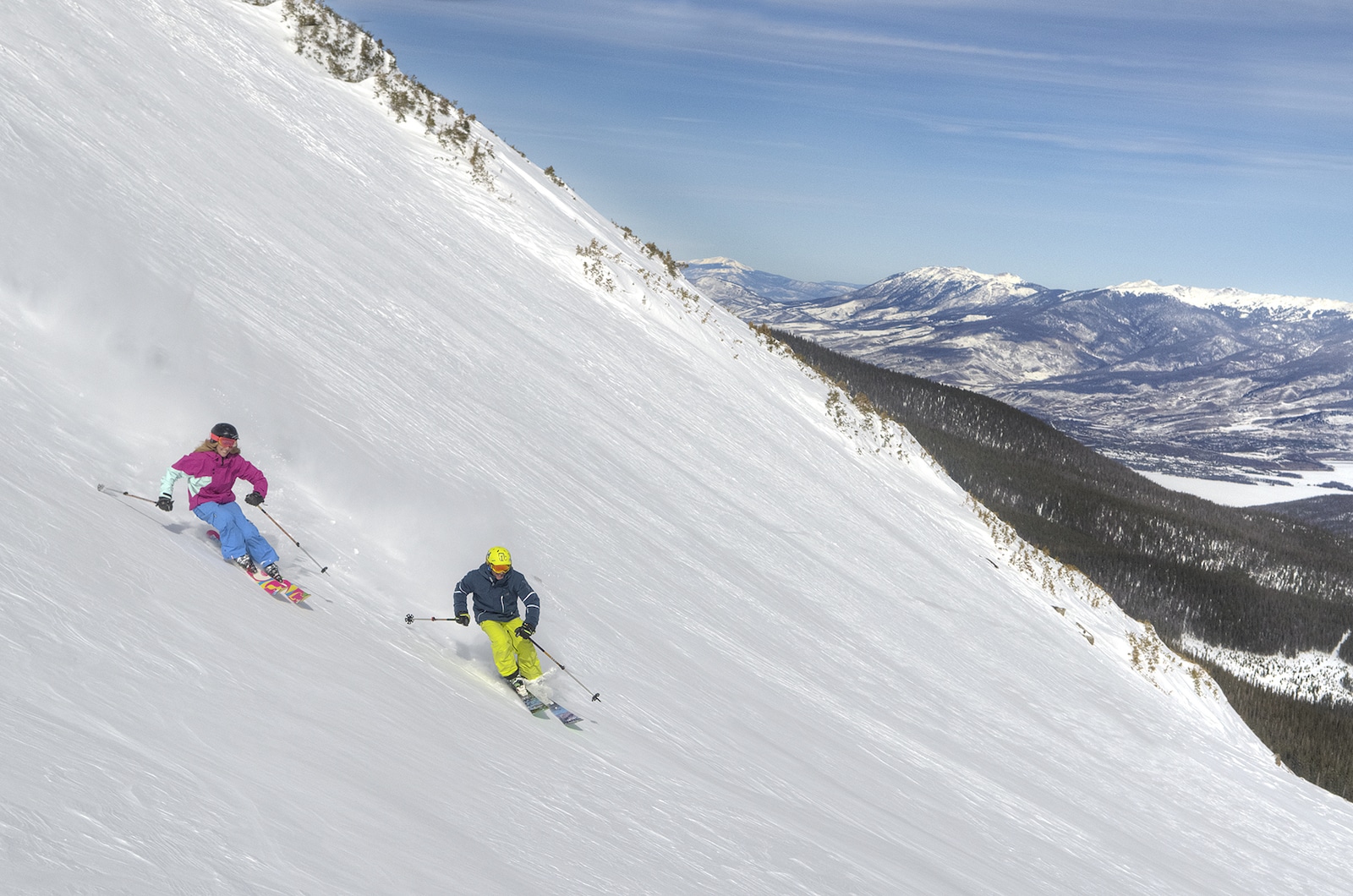 Downhill Skiing at Area Resorts: Arapahoe Basin, Keystone, Breckenridge, Copper Mountain
Arapahoe Basin is the mountain that skiers go to who want a head start on the ski season. Usually the first ski mountain to open and the last to close, it is known for its rugged terrain and is a favorite amongst top-tier snow enthusiasts. It's also one of the more relaxed mountains, with a very laid-back vibe, and it's not uncommon to come across tail-gate BBQs after a day on the slopes.
With an elevation of over 13,000 feet, there are plenty of trails to explore, regardless of skill level. With its high altitude, the snow is top-quality, and nine lifts will take you back to the top. The upper half of the mountain is above the tree line and offers fantastic views, and there are many open bowls, chutes, and steep moguls to glide down on your way back to your hot tub.
Keystone is made up of three different mountains – Dercum Mountain, North Peak, and the Outback. Whichever mountain you choose to spend the day at, you won't be disappointed. There are 20 lifts and over 120 runs split between these three, and plenty of fun for skiers of any skill level. One of the perks of visiting Keystone is the opportunity to night ski, so if you are looking for an all-day experience, here it is!
Well known for its family-friendly atmosphere, there are special kid-designated areas where youngsters can learn the in's-and-out's of skiing, get their face painted, and play around in a massive snow fort. Keystone also has a tubing mountain, Adventure Point, one of the few resorts to offer daily and night activities.
Around Keystone, you will find a bustling community filled with shops, restaurants, and other winter activities like sleigh rides and ice skating. There is plenty of mountain-side lodging, and if you want to travel light, all your equipment can be rented at one of the many rental shops.
Breckenridge is one of the most popular resorts in Colorado, and between its five peaks and historic downtown, it's impossible to run out of things to do. The summit stands at nearly 13,000 feet, and out of 187 runs, the longest is over 3.5 miles long! In addition, there are four award-winning terrain parks, perfect for skiers and snowboarders who want to test out new tricks, and a 22-foot superpipe. Most of the runs are for advanced skiers, with 60% single or double black diamond, but there is still plenty left for beginners.
Located on the mountain are 11 restaurants, and when you want to take a break from all that downhill wind-in-your-face, the historic downtown is full of excitement. There are many boutiques, eateries, and bars, and you can even take a walking tour and learn about the local lore.
What sets Copper Mountain apart from the other resorts is that rather than defining different mountain areas by difficulty, they mix them all. On any side of the mountain, you will find runs for both beginner and expert levels, which means that the views are available for everyone!
As a family-friendly resort, there are many ski-and-ride school programs that help both kids and adults improve their skills. With both group and private lessons available, this is a great mountain to get newcomers introduced to skiing. Copper Mountain also has zip lines, snow tubing, snowshoeing, ice skating, and other fun activities to mix in with your days on the slopes.
There are a few distinct areas around Copper Mountain which have different features. Center Village is where the off-mountain action happens, and you will find many outlet shops, restaurants, and activities here. East Village is where the experts go, with its tricky terrain and the Super Bee Lift. Finally, West village is where the ski school can be found and where beginners learn all about how to make it down the mountain in one piece.
Cross Country Skiing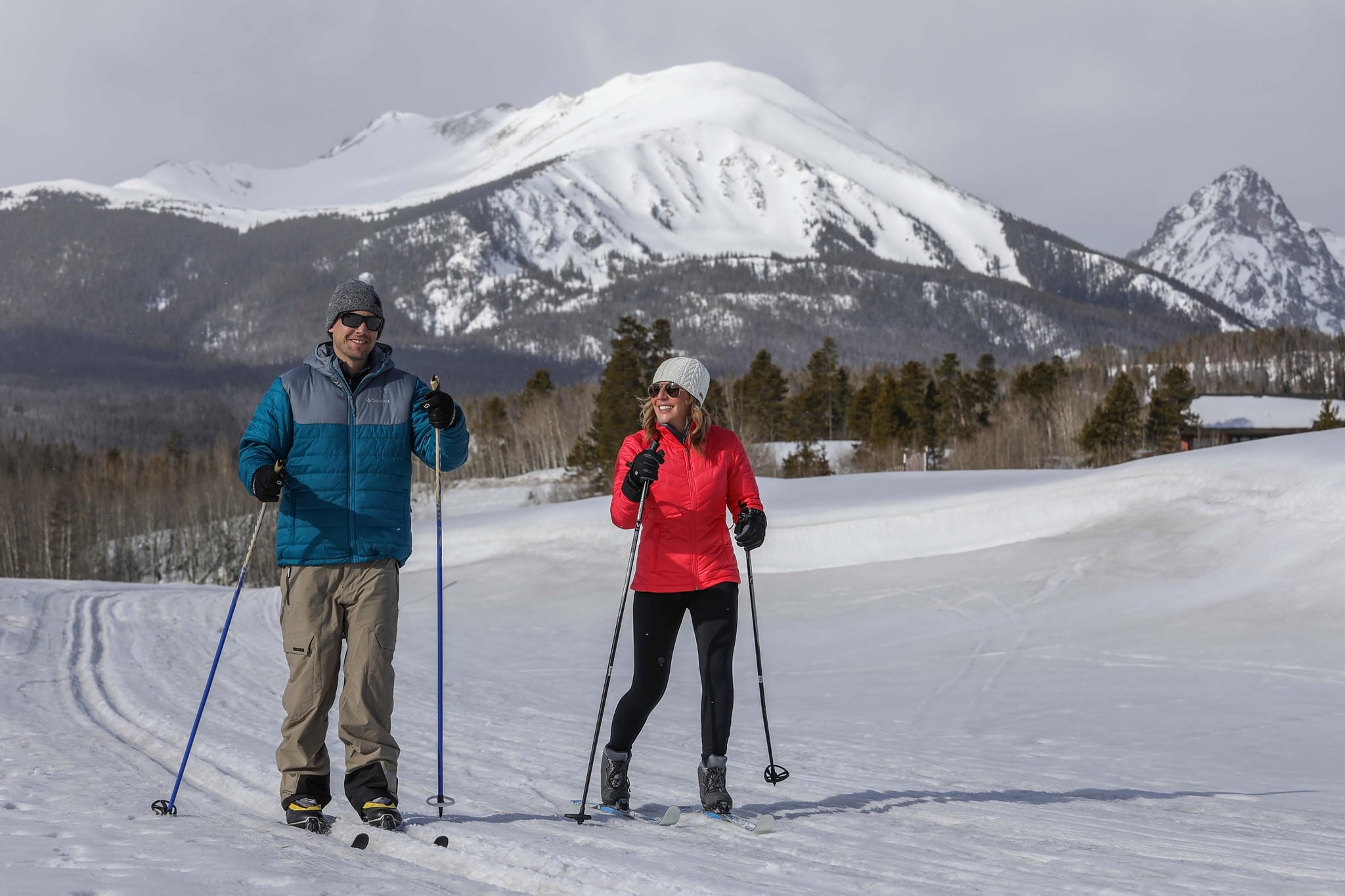 The Silverthorne Nordic Center is located at the Raven Golf Course, and you can enjoy cross-country ski or snowshoe adventures on the front and back nines. You must provide your own gear, but you can get rentals at the nearby Frisco Nordic Center.
Another popular area for cross-country skiing is the Mesa-Cortina Trail to South Willow Creek Falls. This is 9.5 miles out and back trail that is very close to Silverthorne and features a beautiful waterfall. Enter at the Eagles Nest Wilderness and trek through aspen groves before making your way across an open meadow.
With amazing views of the Williams Fork Range and Dillon Reservoir, you will be able to take plenty of postcard-perfect pics. You will continue up a gorge between Buffalo Mountain and Red Peak before coming to the South Willow Falls waterfall.
If you want a quicker adventure, the Boulder Fields Loop is only 2.1 miles, with an elevation gain of 324 feet. This is a great trail to start out on if you are a beginner and should take you about an hour. However, this trail is not marked, so it is essential to have a map with you to make sure you stay on course!
Snowmobiling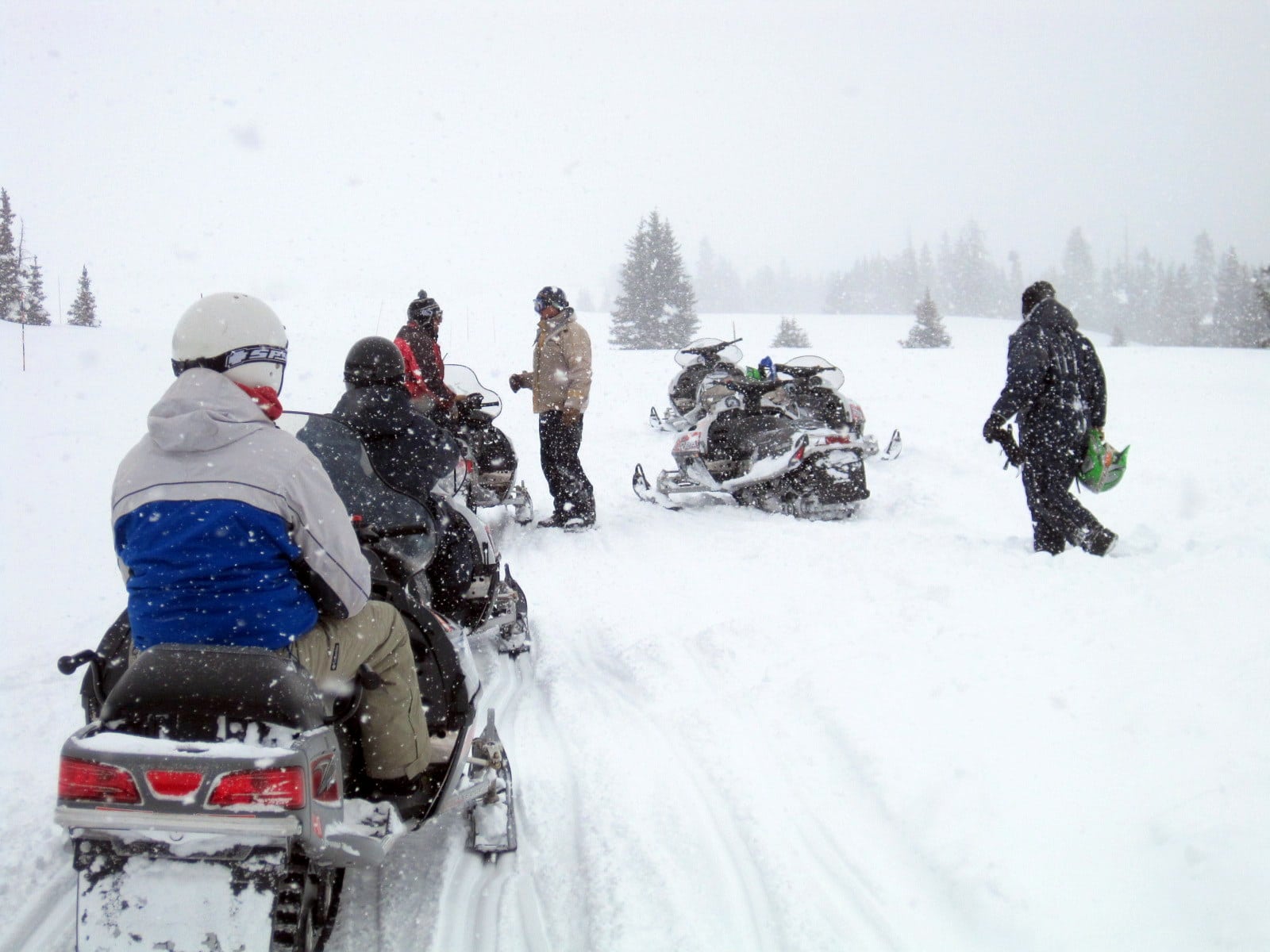 Snowmobiling in Summit County is an enjoyable way to spend an afternoon, and you have plenty of options for rentals and trails. The many companies that service this area offer operating lessons, full and half-day tours, and a wide variety of machines that you can take out. So, whether you want to go out on a sight-seeing adventure, rush up the side of a mountain as fast as possible, or meander around with a large group, Silverthorne is the perfect place to start!
High Country Activities offers a variety of snowmobile tours and machines. From 2 hour guided tours that are perfect for families to 6-hour high-speed journeys for adrenaline junkies, they will take you all around Dillon, Frisco, and Silverthorne on well-groomed paths and through snowy meadows.
Adventure awaits you in Colorado with these things to do in Silverthorne.