Known for its dinosaur remnants and Mike the Headless Chicken, Fruita is an interesting Western Colorado destination. This unique region, surrounded by mesas, features an abundance of things to do during every season.
Visitors to Fruita will come across a charming downtown and friendly, welcoming locals. The vibe here is laid-back, and the summers are hot, but the winters are mild. But with an elevation of 4,514 feet, you'll still get those cool Colorado nights during any time of year. The town boasts plenty of top hotels to accommodate weary, adventurous travelers.
Year-round
With 246 sunny days and only 16 inches of snow per year on average, most of the activities in Fruita are available year-round. Its backyard happens to be a big national monument, which connects with the largest town on the western slope, Grand Junction. GJ provides even more things to see and do, as does its neighbor Palisade, home to Colorado's wine country.
Colorado National Monument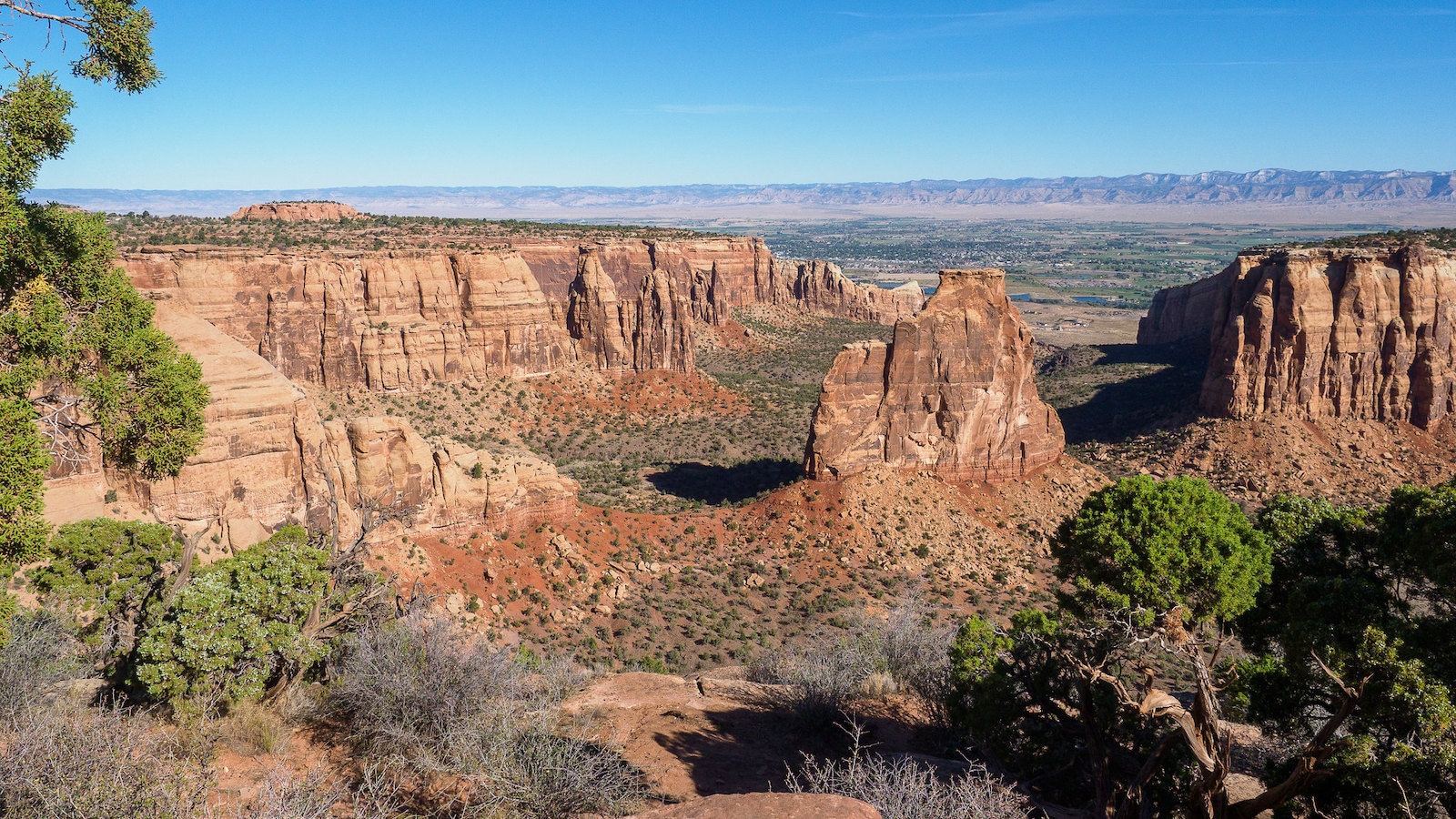 Located south of town, the Colorado National Monument is a beautiful park that should be on every visitor's itinerary. With tall sandstone towers and stunning vistas around nearly every corner, this is a great year-round destination.
The highlight of the Monument is the 23-mile Rim Rock Drive, which winds through the park and features a number of scenic lookouts. The drive takes approximately 45 minutes to an hour to complete without stops, but plan to spend at least 2 hours after accounting for stops.
For an easy hike, walk .5 miles round-trip on the Window Rock Trail. For those looking for a longer hike, link up any number of trails in the backcountry. One option is the three-mile Corkscrew Trail Loop.
Camping is available at Saddlehorn Campground, where restrooms with running water are available during the summer. However, its A-Loop is open year-round for campers Each site contains a picnic table and grill, and reservations can be made online up to six months in advance from late-March to mid-October both A and B Loops.
Dinosaur Diamond Byway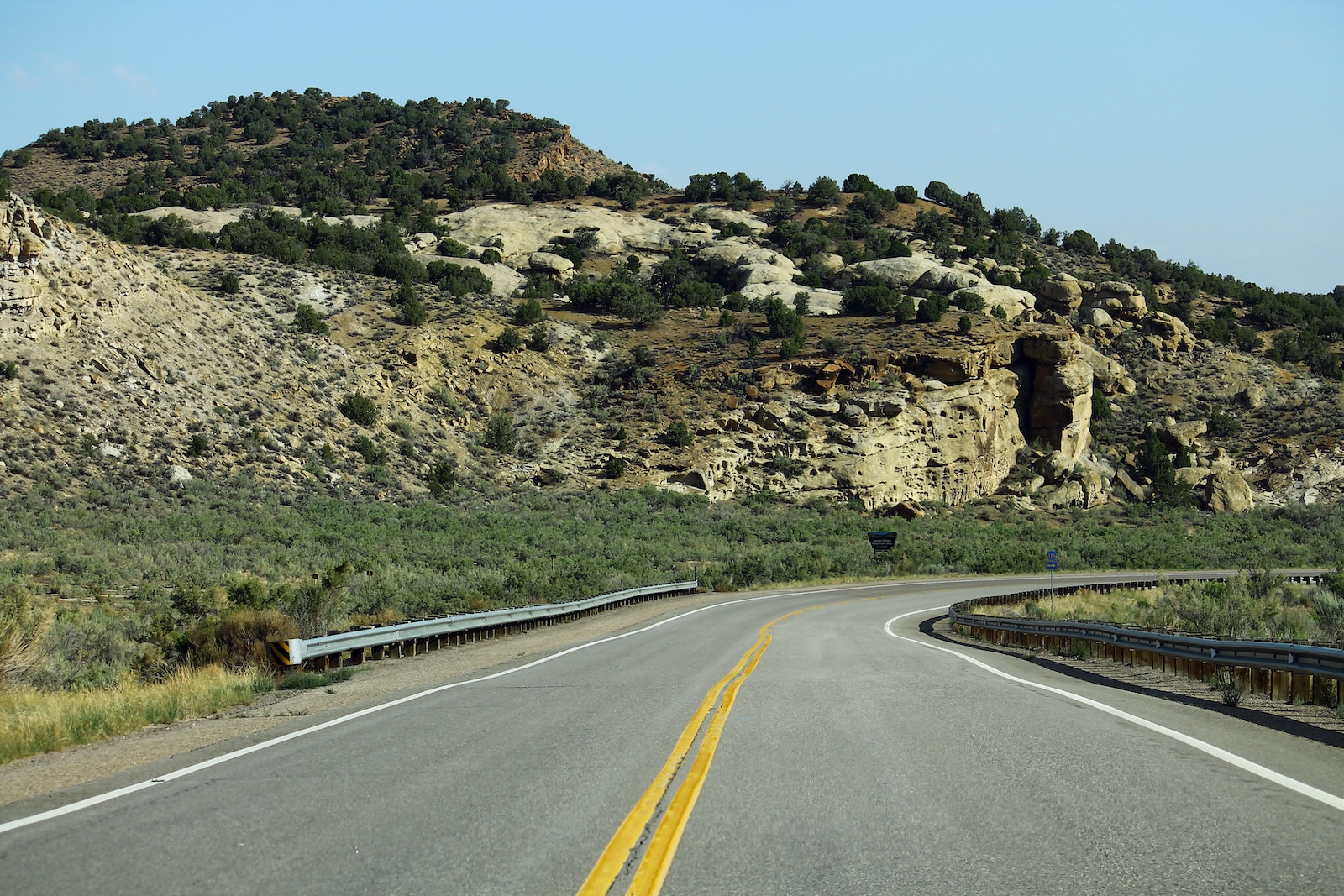 Spanning two states and nearly five hundred miles, the Dinosaur Diamond is a scenic drive offering museums, archaeological dig sites, and quarries dedicated to dinosaur remains and research. Plan to spend at least two days traversing the entire route through Colorado and Utah, but consider only embarking on the 134 miles that are in Colorado for a shorter trip.
Highlights include Canyon Pintado National Historic District, which is located south of Rangely and features petroglyphs and pictographs from the Fremont and Ute Native Americans, and the Dinosaur Journey Museum at the start of the route in Fruita. The byway also goes through Dinosaur, Colorado, a small, fun town with dinosaur statues and a Colorado Welcome Center.
Dinosaur Journey Museum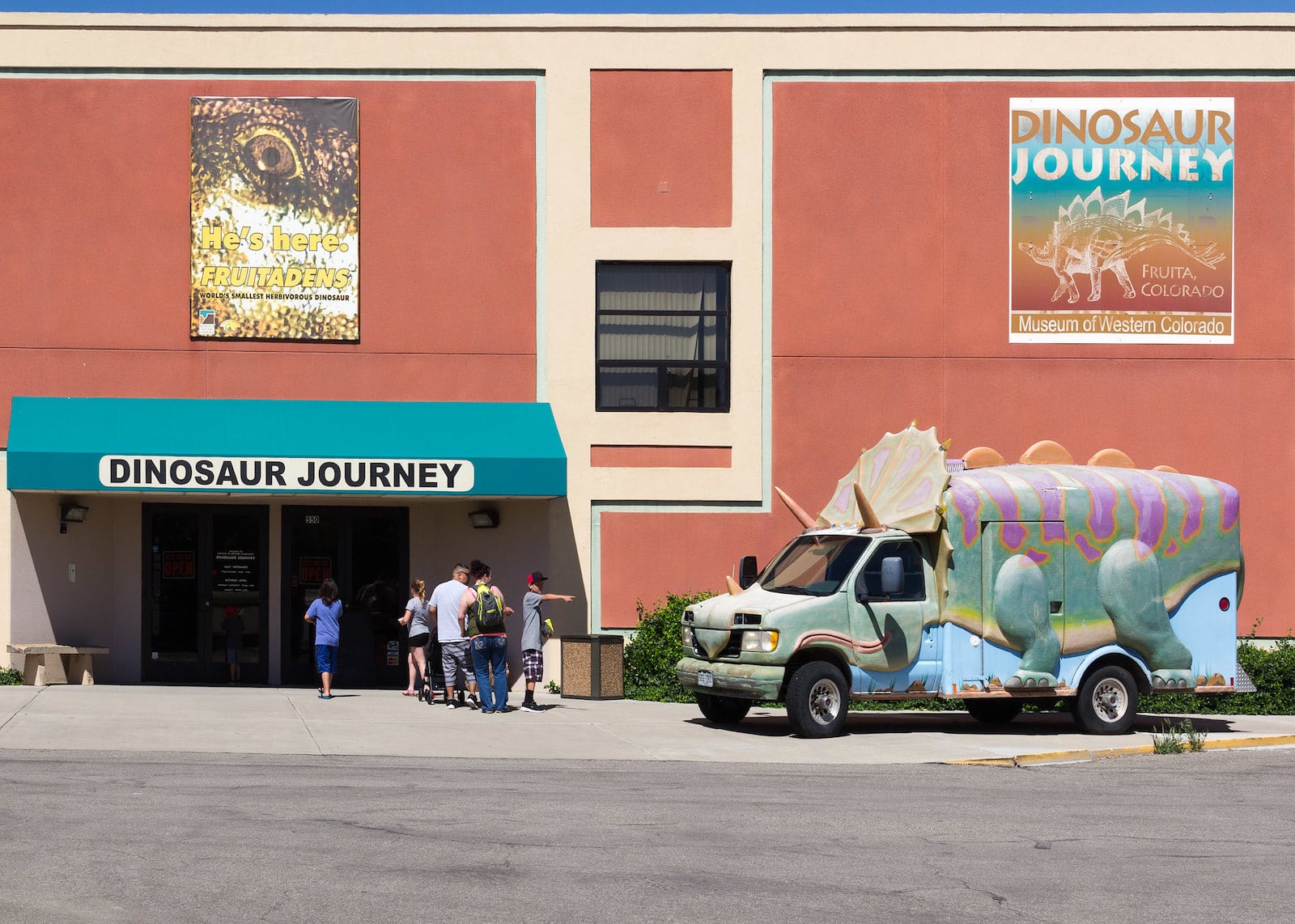 With over 15,000 fossil specimens in its collection, the Dinosaur Journey Museum is a must-see for anyone interested in learning about the giants that roamed around this part of Colorado and beyond. Some of the highlights of the collection are a large Triceratops skull, robot reconstructions of classic dinosaurs like Stegosaurus and Tyrannosaurus rex, and countless other bones and prints.
Perfect for children, much of the museum is hands-on, and there is even an earthquake simulator and artificial quarry site where kids can unearth real dino bones. After exploring the exhibits, be sure to stop at the gift shop for a souvenir. The museum is open seven days a week.
Explore Downtown Fruita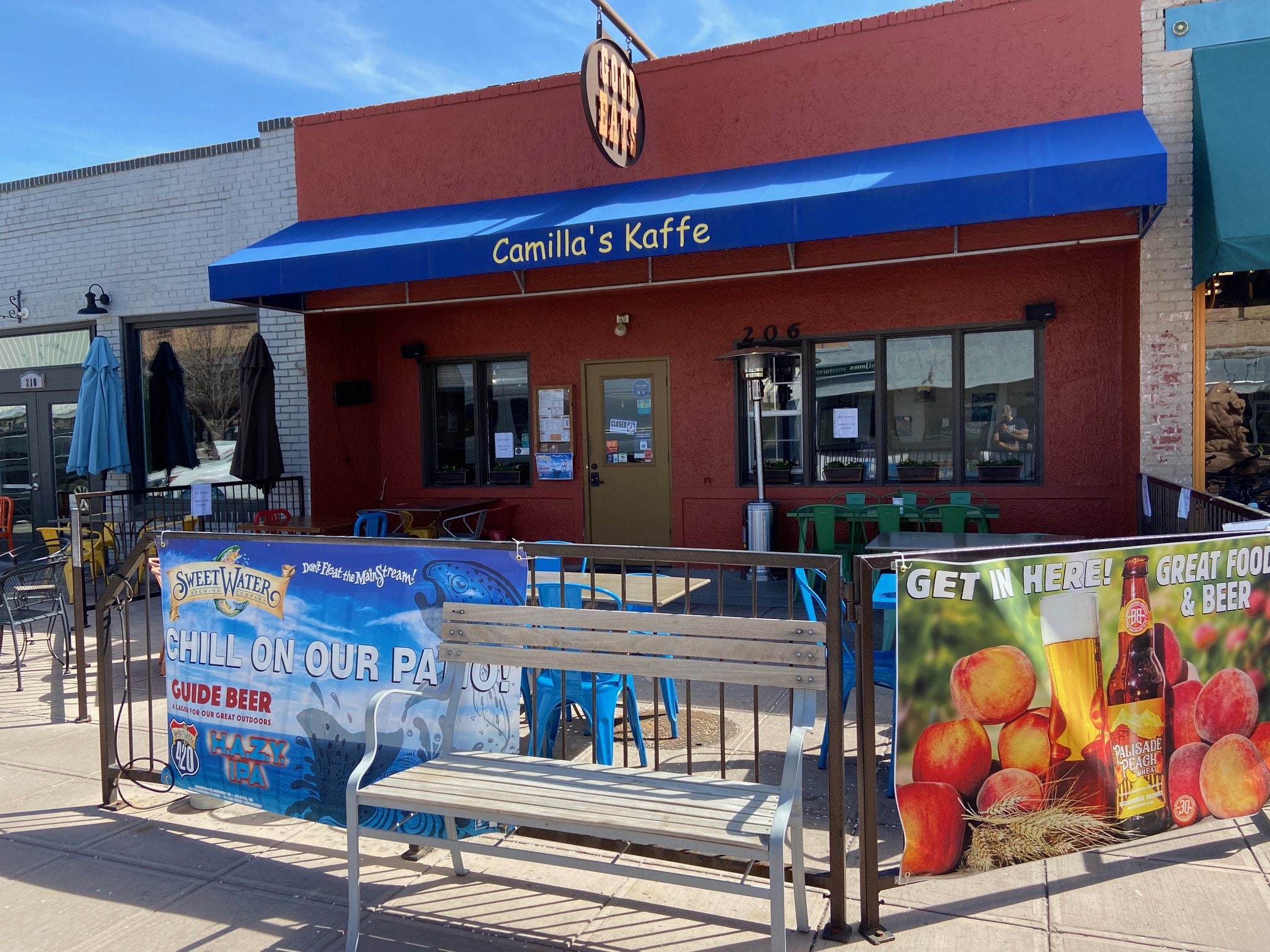 Downtown Fruita is compact and full of life, and it's easily explorable by foot. Stop at Lithic Bookstore & Gallery for an interesting selection of books, or head to Fruita Thrift Shop across the street to browse any number of eclectic items. For food, consider Camilla's Kaffe, a low-key restaurant serving burgers, sandwiches, salads, and more.
Downtown is also home to a couple of breweries like Suds Brothers, a local brewpub with house-made beers as well as a full menu with pizza, burgers, salads, and soups. While exploring, stop by Circle Park to see a large, green dinosaur statue, or head to Civic Center Park for a fun statue of a dinosaur skeleton riding a bike.
Highline Lake State Park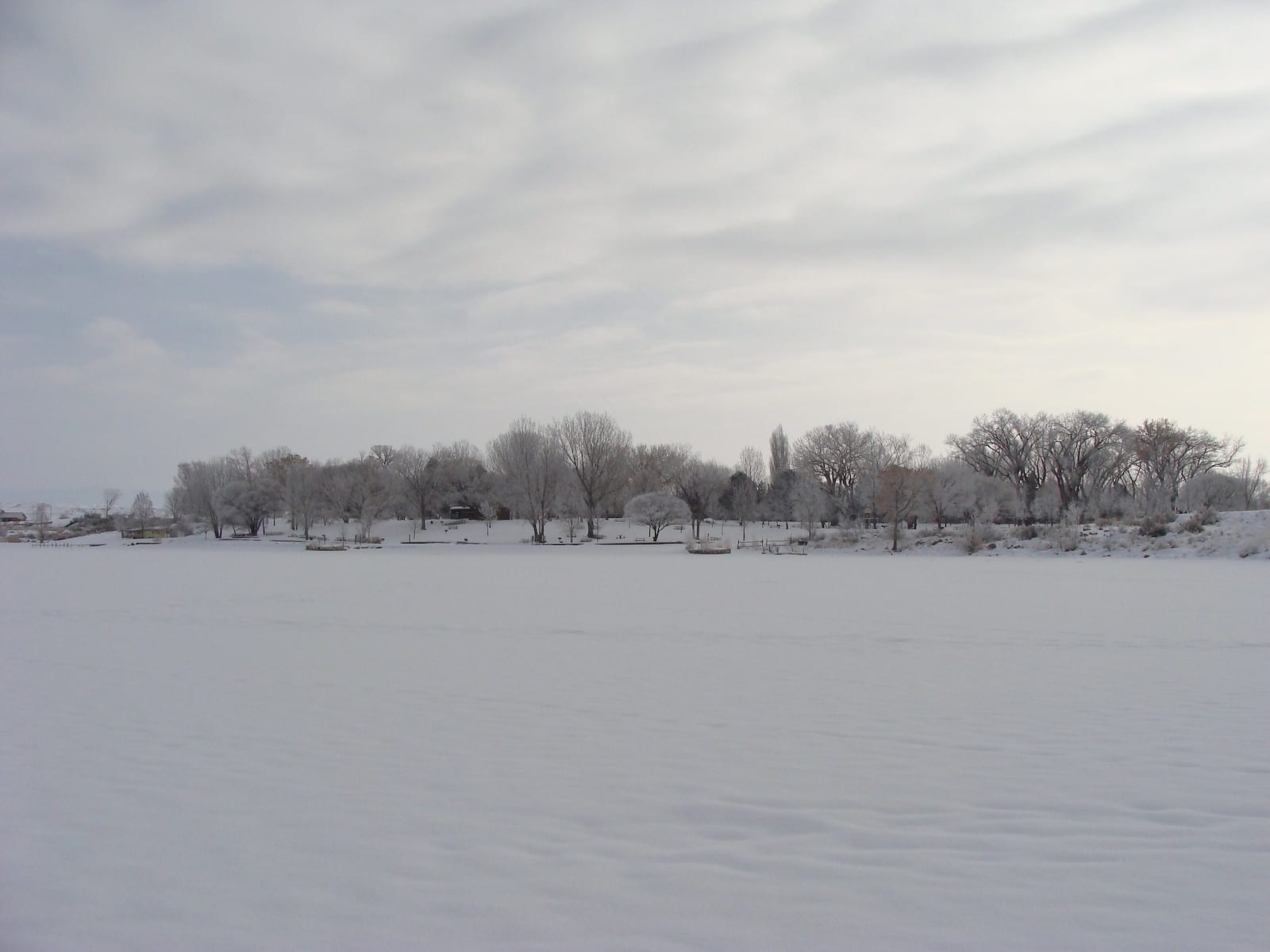 Located northwest of town, Highline Lake State Park is a popular summer destination with two lakes, a campground, and a number of multi-use trails. Highline Lake, which is the larger of the two, is open to boating from March 1 through the end of September. The smaller of the two lakes, Mack Mesa only permits paddleboards and boats with electric motors. Fishing is also available, and visitors can hope to catch largemouth bass, catfish, and trout.
Multiple hiking and biking trails wind through the park, and there are 44 family picnic sites featuring tables and grills. The campground has 31 sites, and there is potable water, restrooms, and laundry available. Sites fill up quickly during the summer months, so make sure to book reservations as soon as possible. Sites can be reserved up to six months in advance.
Colorado River State Park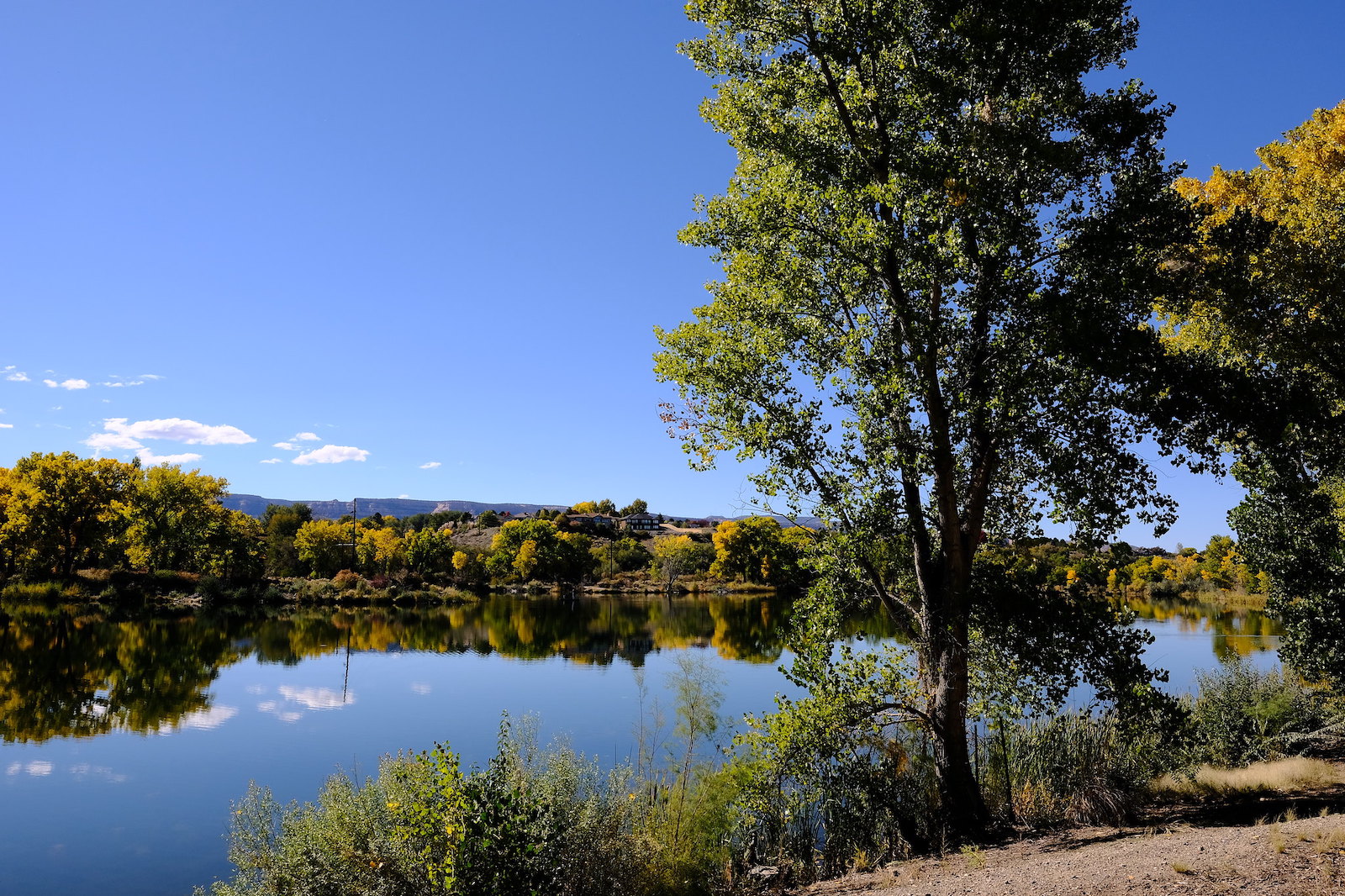 This Western Colorado state park has 5 unique locations, each with the Colorado River as its centerpiece. Known as the "string of pearls" of the James M. Robb Colorado River State Park, these gems include (from east to west):
Island Acres
Corn Lake
Colorado River Wildlife Area
Connected Lakes
Fruita
The fifth pearl is located right in the town of Fruita, just a few minutes' drive from downtown. There you'll find a wonderful park open year-round for recreation, including a terrific campground that's well equipped for RVs and travel trailers looking to set up a basecamp during cooler months in Colorado.
Discover some other campgrounds near Fruita, Grand Junction, and Palisade.
Hiking in McInnis Canyons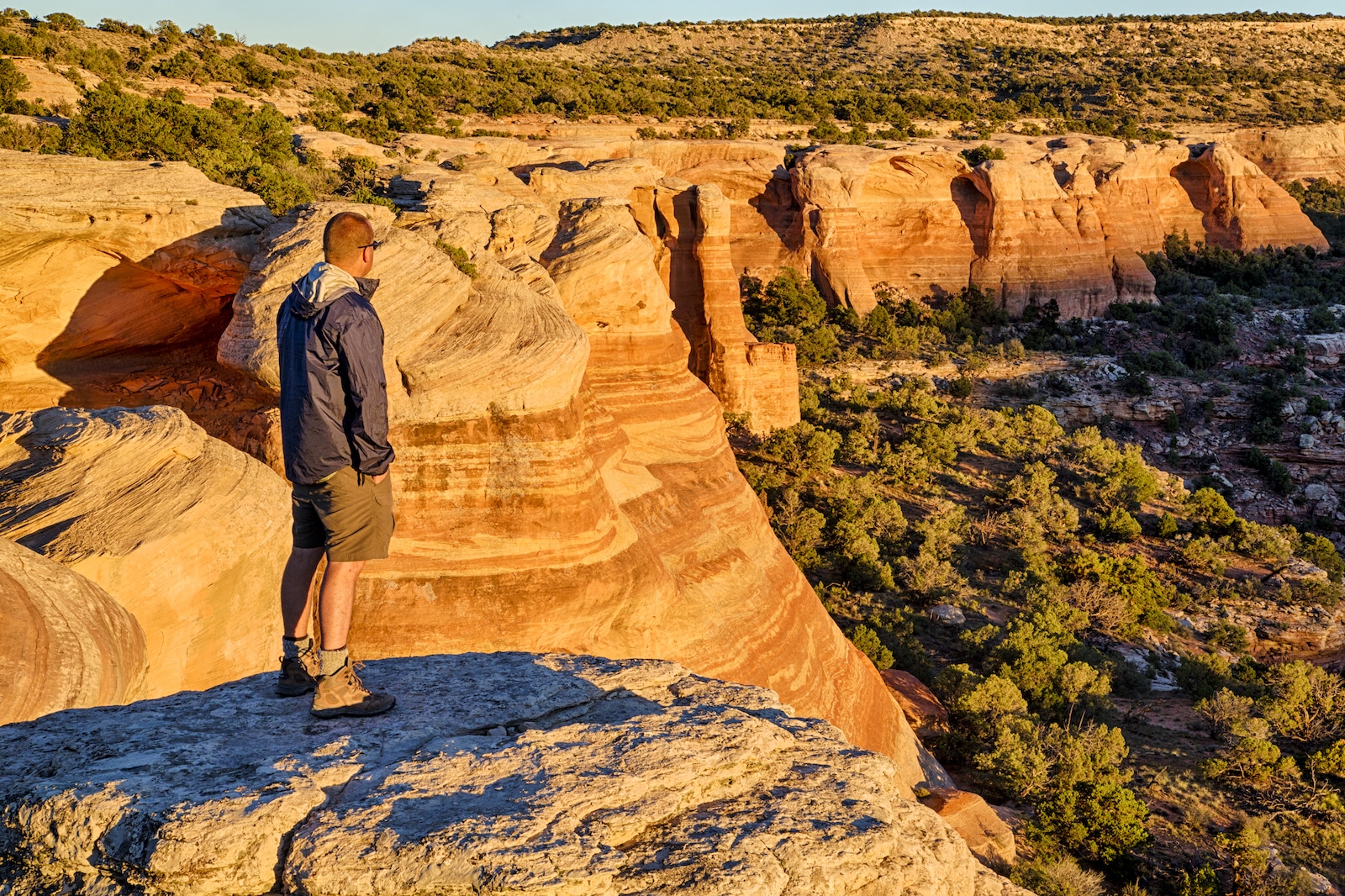 Fruita is situated in close proximity to a huge number of world-class hiking areas. One popular spot is McInnis Canyons National Conservation Area, a huge swath of public land (over 75,000 acres of wilderness) that is home to the 2nd highest concentration of natural arches in the country.
For a decent hike, try the Macks Ridge Trail, which is seven miles long with around 1,000 feet of elevation gain. Another attractive hike in the area is the much longer walk to Rattlesnake Arches. At 14 miles round-trip, this difficult hike rewards visitors with up-close looks at a number of beautiful arches.
For an easier hike closer to town, consider the one-mile Dinosaur Hill loop. Despite being short and close to civilization, this fun hike brings visitors to the site where a famous Brontosaurus was first discovered. Restrooms and ample parking are available at the trailhead.
Mountain Biking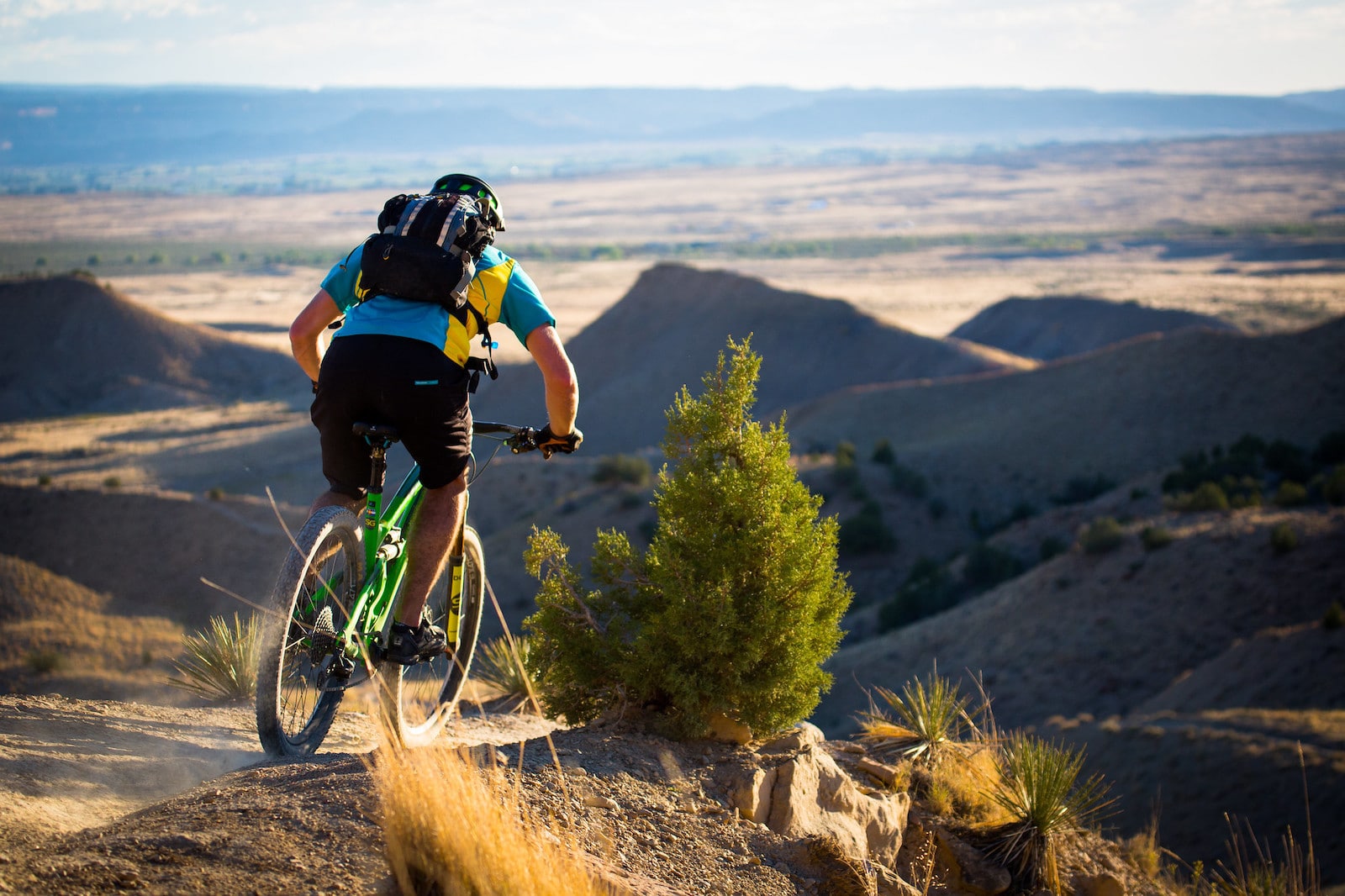 Fruita is famous for its top-tier mountain biking, so there are plenty of places to choose from when looking for a good ride near town. For a small area located in town, head to Fruita Bike Park, which features jumps, two pump tracks, and a skill trail.
Lunch Loop Bike Park in nearby Grand Junction offers similar facilities on a much larger scale. With over 20 miles of trails in the entire Lunch Loop Trail System including two downhill only trails, this is one of the most popular spots for biking in the area.
Mountain biking isn't allowed in the Colorado National Monument, but road biking on the 23-mile Rim Rock Drive is a fun alternative. It requires a challenging climb up from the town's base, whether starting in Fruita or Grand Junction. You'll want to either park a car on the other end to get home or plan to have to ride back for 46 miles, an exhausting full day of riding.
More world-class mountain biking is found in the North Fruita Desert Recreation Area, specifically in the 18 Road Trails section. Here, ambitious riders should consider biking the nearly 30-mile Edge Loop for a solitary and beautiful ride through the desert on a combination of singletrack and dirt roads, but shorter rides are also available.
Summer
With an average July high of 93°F and 91°F in August, these are the two hottest months in Fruita, as they are in the rest of Colorado. Come nighttime though, the average lows drop down to 58°F and 56°F, respectively, so it's quite nice after dark. Either way, it's a "dry heat", so stay hydrated, and keep the fun going all summer long on the Western Slope.
Imondi Wake Zone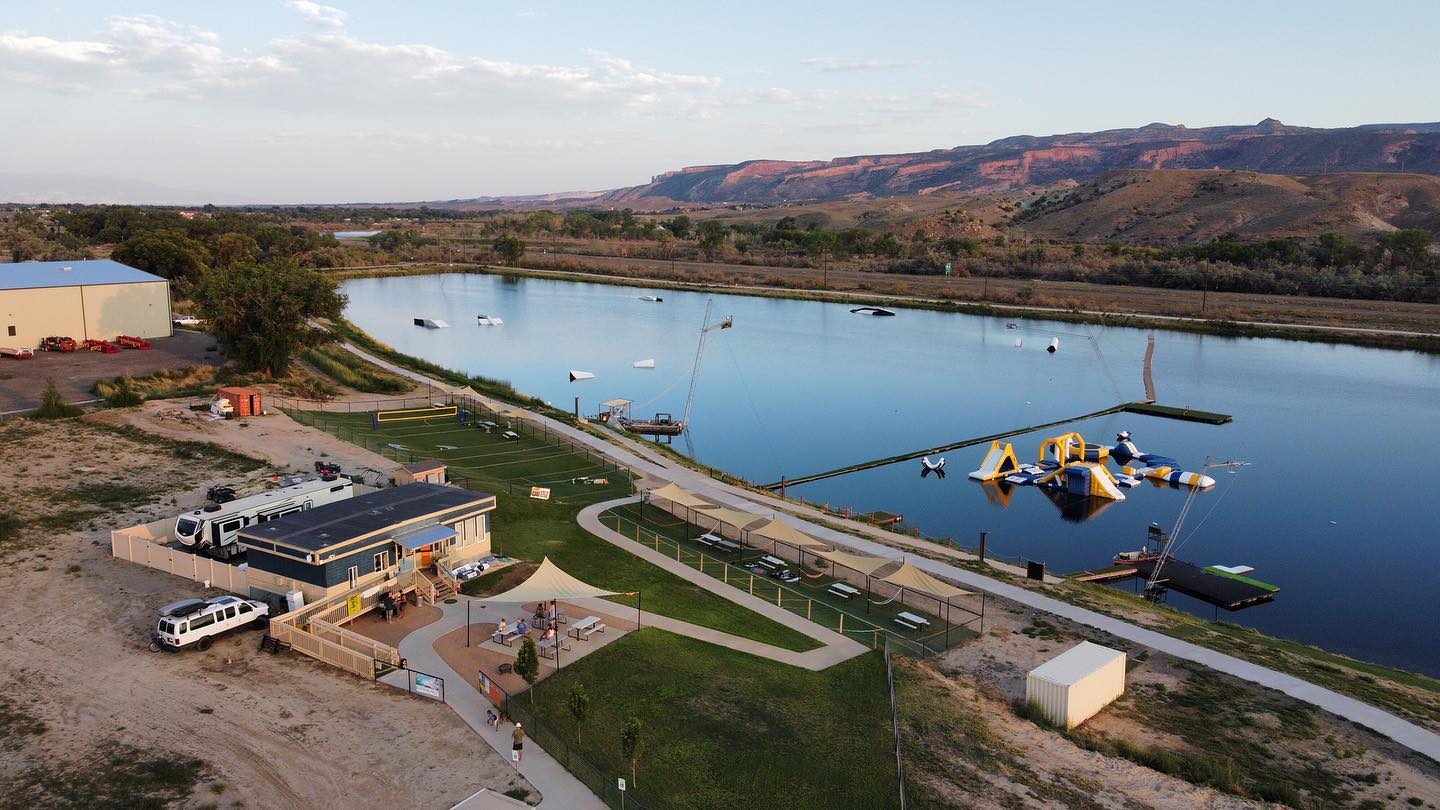 This is dubbed the 'ultimate summertime experience', and one of the best ways to beat the intense summer heat of Western Colorado. It's located only 2 miles west of downtown Fruita, so it's super easy to reach. Once guests sign the waiver, they have access to four main activities, including cable wakeboarding, the Aqua Park, stand-up paddleboarding, and Blue Mind Yoga CO.
All of the attractions are centered around water, so it's sure to be both a relaxing and thrilling time. Add the Imondi Wake Zone to your literary for ages 6 and up. The best part about wakeboarding here is that you don't need a boat to participate. Stand-up paddleboards can be rented on-site. There's even a Kids Camp in the summertime for ages 7-15.
With its mild winters and natural beauty, Fruita makes a terrific basecamp during any time of year. Explore the many unique attractions of this wonderful region of Western Colorado soon.