If Colorado's recreational offerings on or near the front range are becoming too crowded for your taste, look no further than the state's Western Slope region. Despite accounting for 38% of Colorado's land, the Western Slope holds just over 10% of the state's population.
From dwellings constructed by indigenous Americans dating back well over 1,000 years to picturesque natural hot springs destinations, world-class skiing, and even its own thriving wine country, the Western Slope has so much to offer that it can't all possibly be summed up into one concise list.
However, if you're itching to explore this remarkable and lesser-known part of Colorado and have no idea where to begin, this list will be a great place to start.
Where is the Western Slope of Colorado?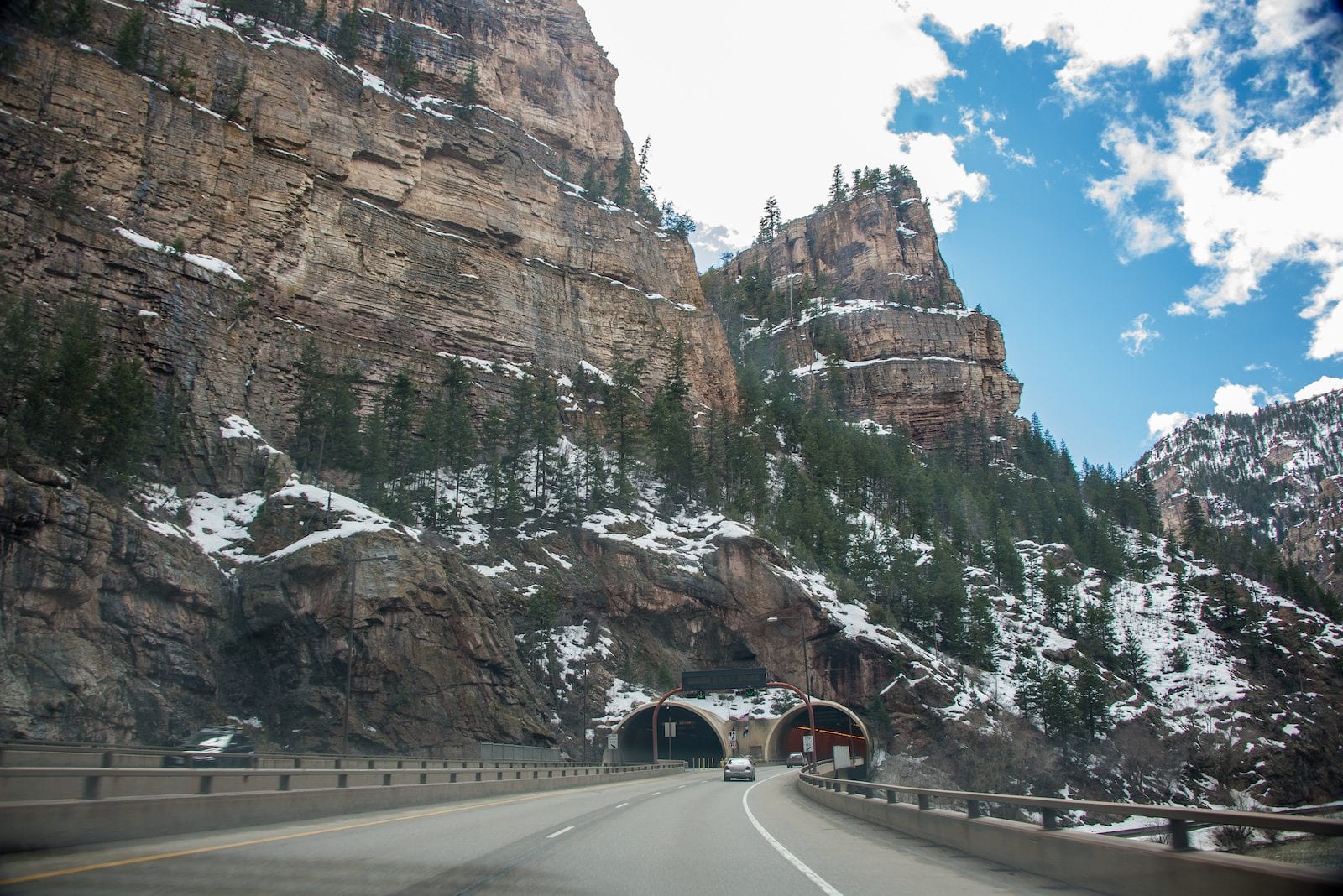 Colorado's Rocky Mountains are divided into two broad sections by the Great Divide. Technically speaking, the "Western Slope" covers all of Colorado's terrain west of the Continental Divide. While the "Front Range" refers to the mountains and land east of the Continental Divide.
Western Slope – Cities like Grand Junction, Delta, and Montrose lie toward the west of Colorado's Western Slope. They seem to lie along the rolling plains at the base of Colorado's Rockies, only on the western side. However, the whole region contains popular destinations as far east as Summit County, which is just through the Eisenhower Tunnel on the west side of the C.D.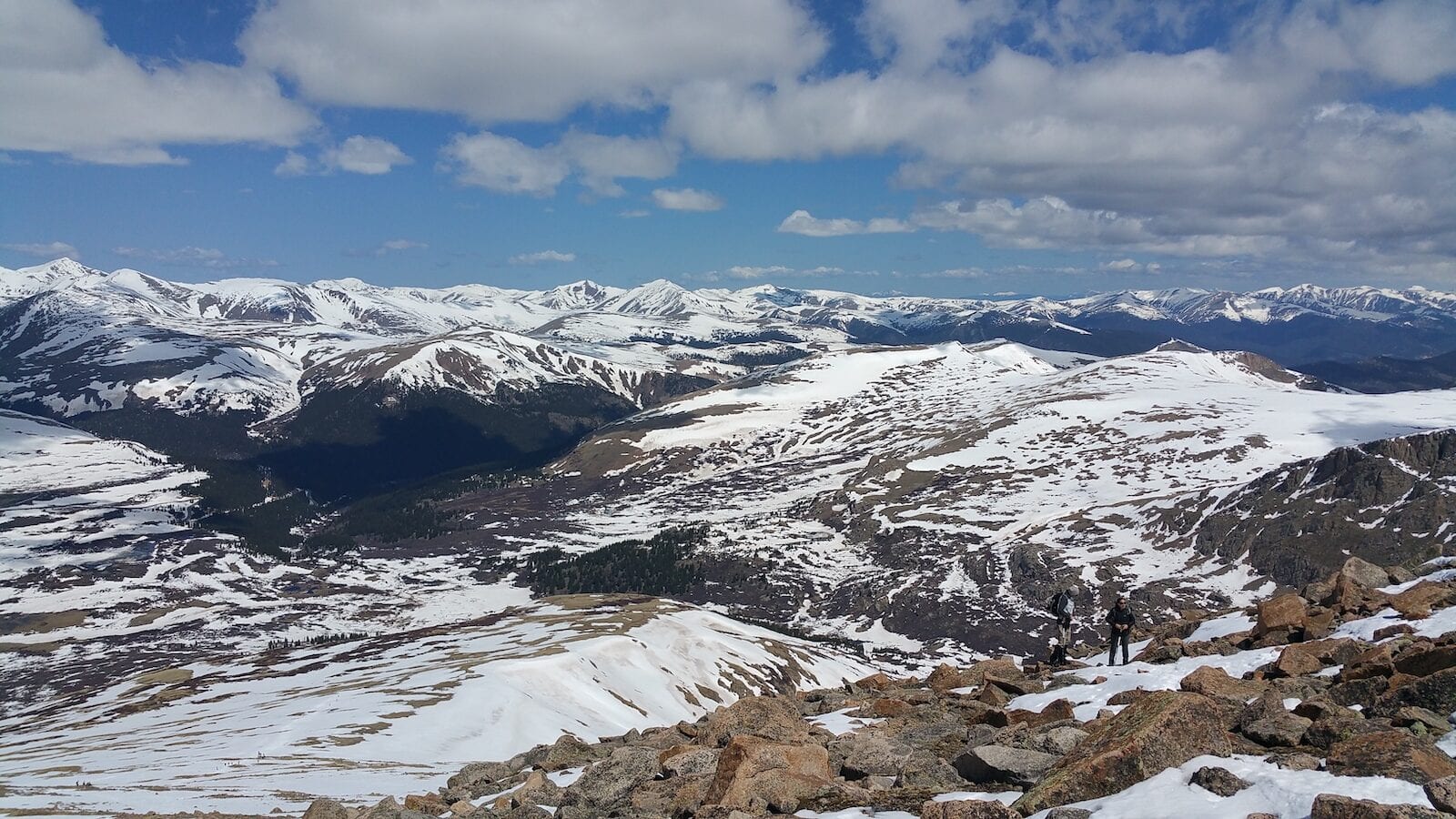 Front Range – Most consider the plains area by the foothills, stretching from north of Fort Collins down south past Pueblo, to be on the Front Range. The mountains directly west of these cities is also called the Front Range. Mountain towns like Salida, Georgetown, and Nederland lie within the Front Range. It's a vast region comprising of most of Colorado's population.
What is the Western Slope of Colorado?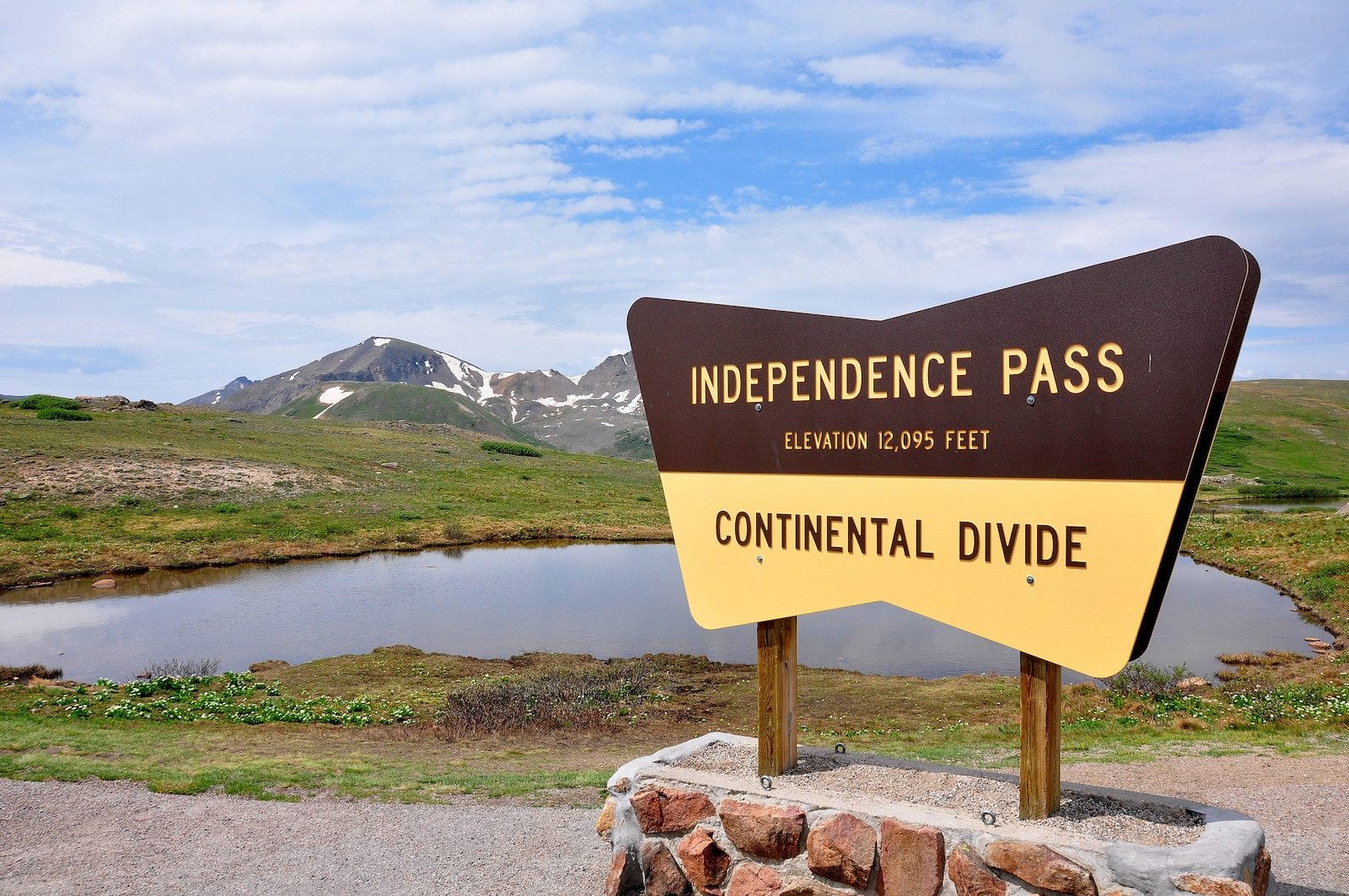 The United States has two watersheds or drainage basins. They are split by the Continental Divide, which runs north to south thru Colorado, although it doesn't run in a straight line. It weaves a little east, a little west, back and forth, etc. It's also referred to as the Continental Divide of the Americas.
All the water anywhere on the west side of the C.D. will drain into the Pacific Ocean, or get used up trying. All the streams, rivers, and meandering tributaries on the east side will empty into the Atlantic Ocean.
Top Destinations on the Western Slope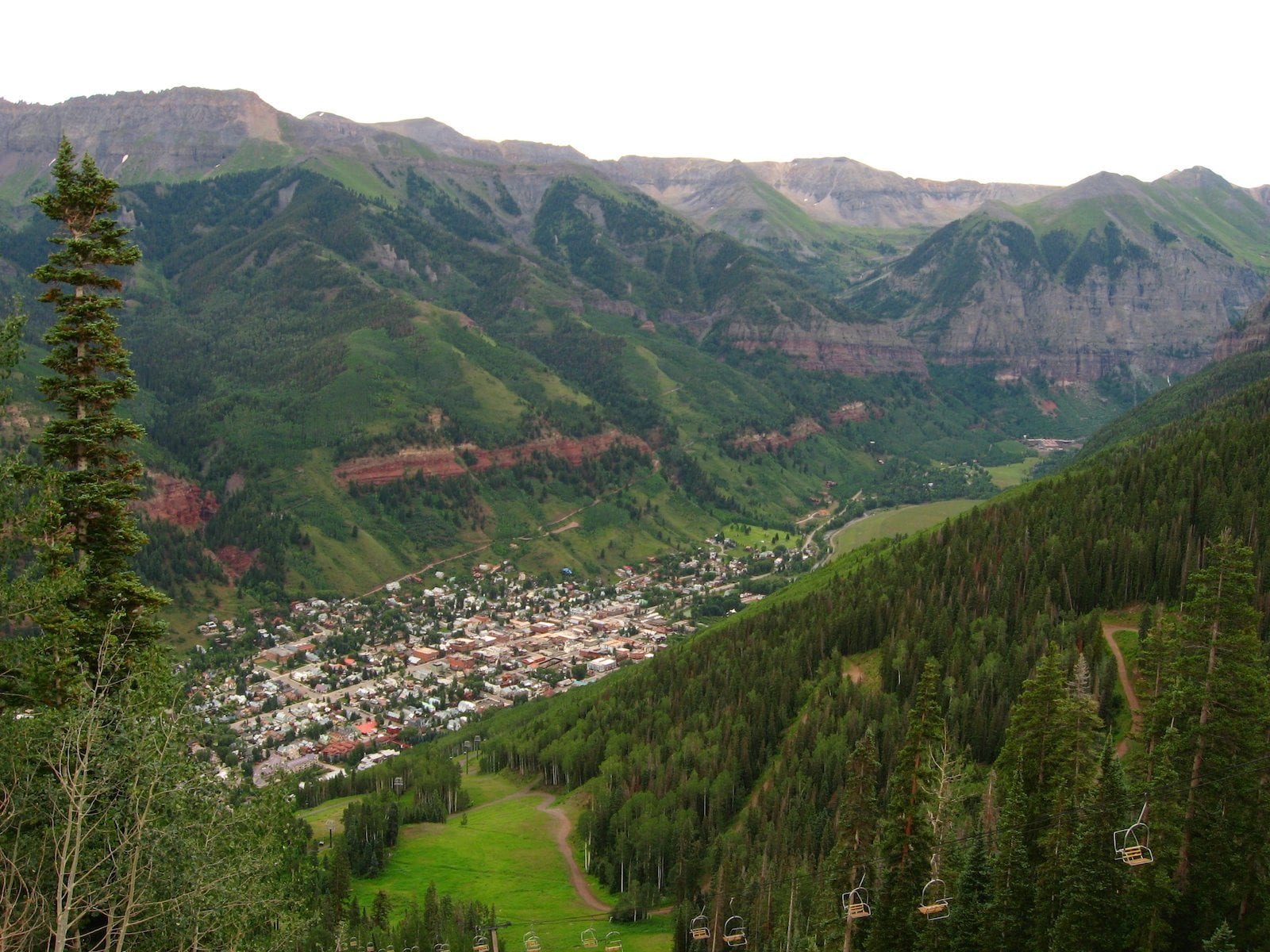 It's more or less common knowledge to locals along the Front Range that if they want to escape the crowds they just have to keep driving west. Usually, two hours will put you over to the Western Slope from Denver or Colorado Springs, though sometimes well longer, all depending on the direction traveled.
Generally, if you're willing to put in at least two hours behind the wheel from Denver or Colorado Springs, the state's two largest cities, you should finally find some seclusion. This eliminates the closest Western Slope towns like Frisco, Breckenridge, and Winter Park from really escaping the crowds, since they are an easy hour and a half drive or less.
For those ready to go the distance and uncover the western side of the Rockies, we've assembled a hodgepodge of popular destinations. Once west, if you want to find even more peace and quiet, just duck outside the town you're in and within minutes you can usually be by yourself.
Here are some of the best places to visit on Colorado's Western Slope, in no particular order:
Black Canyon Central Western Slope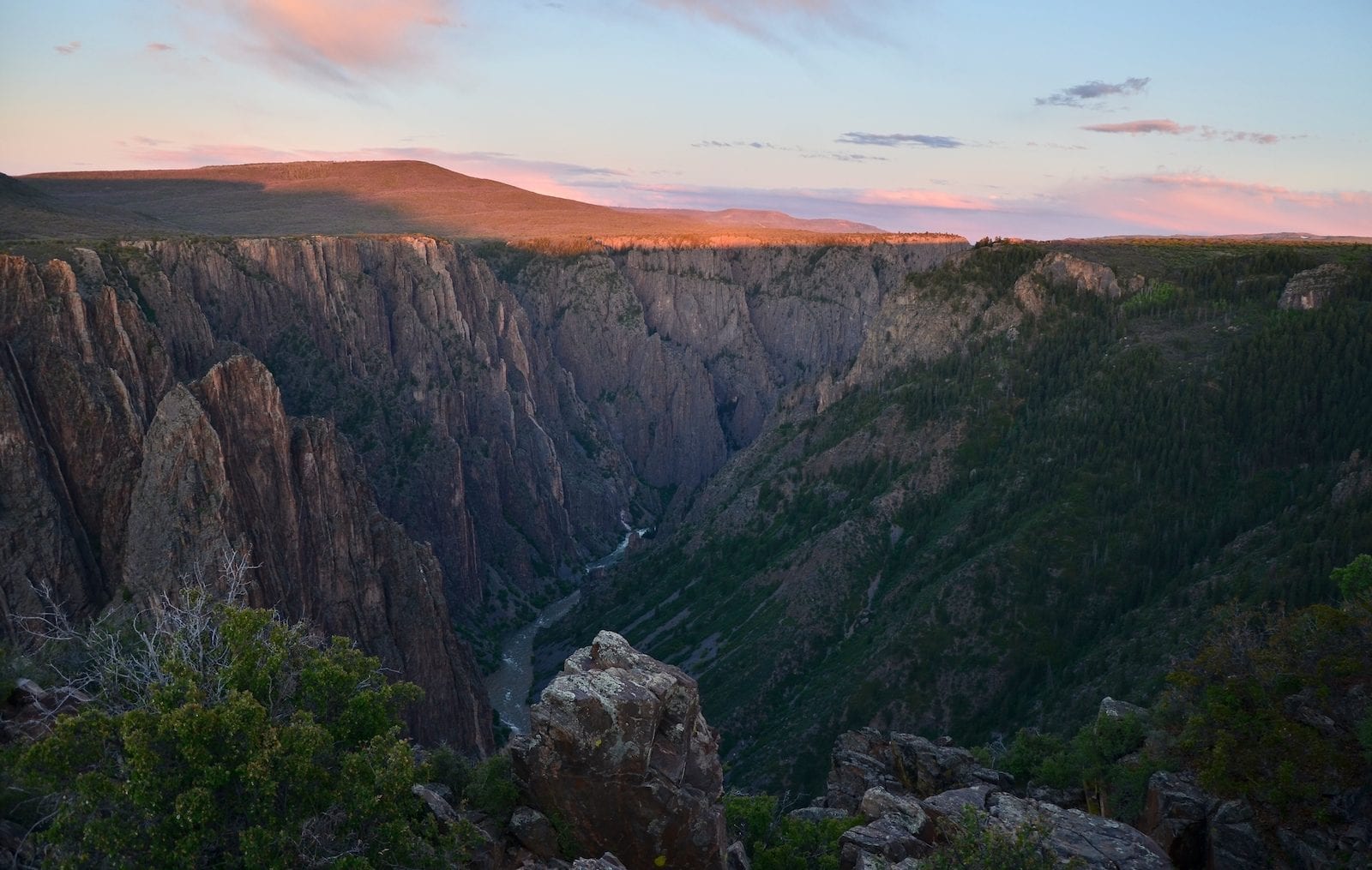 Home to the counties of Delta, Gunnison, Hinsdale, Montrose, Ouray, and San Miguel, Colorado's Central Western Slope region boasts the incredible natural scenery and outdoor recreational offerings you'd expect. But also a whole lot more that will probably surprise you.
For example, this Colorado region showcases the highest concentration of organic farms in the entire state, a priceless asset for Central Western Slope's burgeoning restaurant scene. Gigabit broadband internet connects the region's small communities, which include stellar towns and cities like Telluride, Ouray, Ridgway, Gunnison, Montrose, and others.
We can't talk about this region without championing Black Canyon of the Gunnison National Park, which boasts some of the steepest cliff faces and most sublime scenery in all of the US. Proving that great things often take lots of time to happen, the Black Canyon of the Gunnison is said two have been created over a 2 million-year period through natural elements like wind, rain, and gravity.
Whether you take a hike around the rim of this astounding natural wonder or camp in the area under a star-packed night sky, it's safe to say that a trip to the Black Canyon of the Gunnison will result in an experience you'll never forget.
Further upstream from the Black Canyon, the Gunnison River that famously runs through that area also forms one of the top water destinations in Colorado, Blue Mesa Reservoir. It has everything from excellent fishing and hiking to bird watching and boat tours.
The protected Curecanti National Recreation Area surrounding Blue Mesa Reservoir is a massive, gorgeous spot, which would make for a perfect vacation or day-trip excursion if you're traveling through the Central Western Slope.
Telluride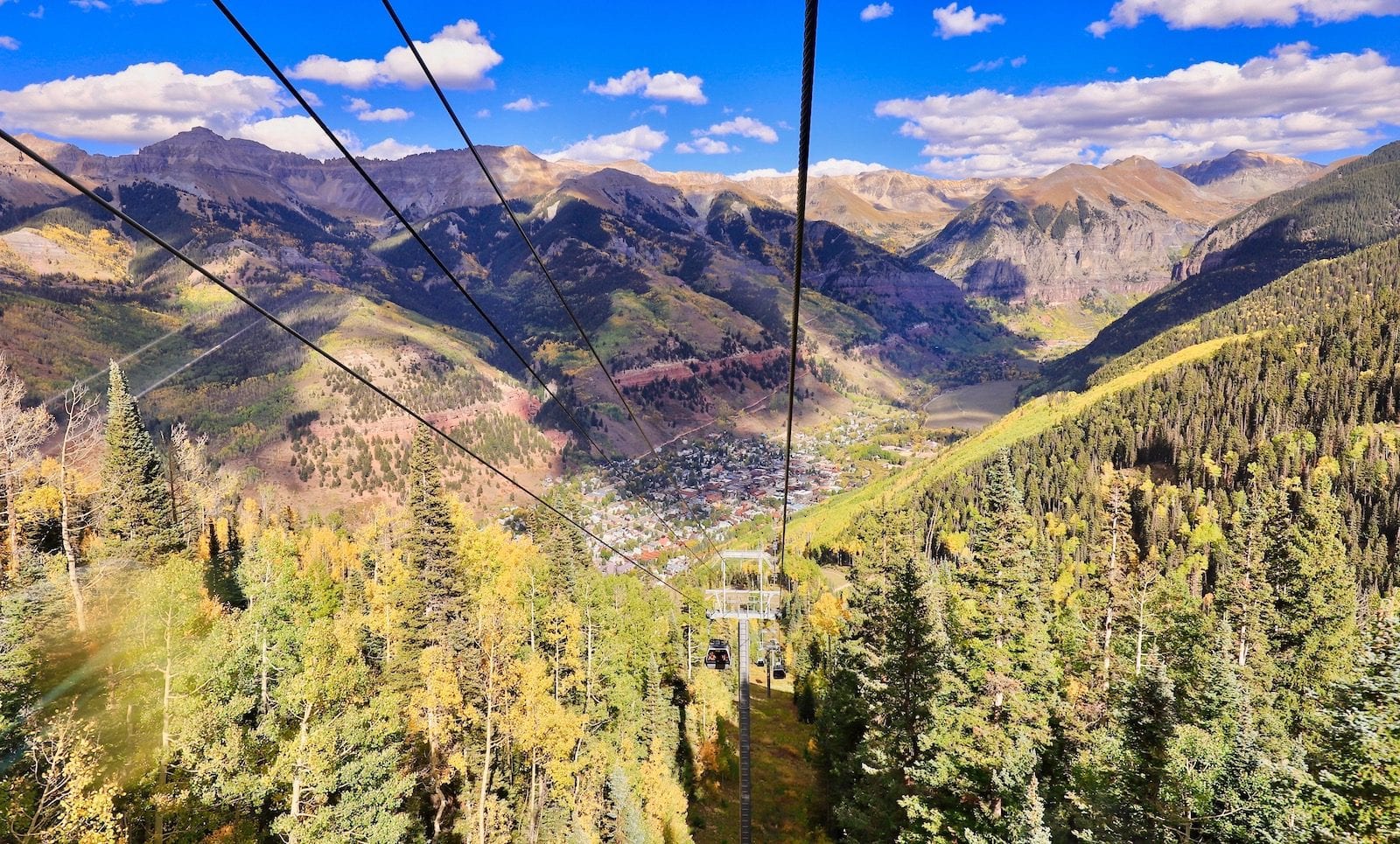 From an internationally beloved bluegrass music festival to sublime hikes and outstanding fishing, Telluride is not only one of the best mountain destinations in southwestern Colorado, but in the entire country. Telluride's humble origins date back to Colorado's mining boom in the late 1800s.
Originally a silver mining camp, word spread regionally that gold was found in the area, and the town of "Columbia" was soon established before being renamed Telluride in 1887. Today, Telluride offers some of the best mountain recreations in the US, from off-roading adventures to hiking, wildlife viewing, and camping.
But if you consider yourself something of a thrillseeker, Telluride's Via Ferrata is a beast of a climbing route you should check out. Located on the east and south-facing walls of the box canyon surrounding Telluride, this newly legal climbing route demands a great deal of technical climbing prowess. It delivers some of the most sublime panoramic views the area has to offer.
At the end of the canyon, you'll find one of the most gorgeous waterfalls in the state, Bridal Veil Falls. As Colorado's tallest free-falling falls, most people access the area through an established hike, but every winter, ambitious climbers get a closer look by climbing the frozen falls.
Host to great spas, restaurants, and a rotating cast of retreats, Colorado natives and out-of-state visitors alike love the town of Telluride and the ski resort that shares its name. According to lofty travel publications such as Conde Nast Traveler, a combination of sparse crowds, phenomenal skiing conditions, and Telluride's authentic, unforced western feel are reasons why it consistently ranks as the best ski town in the nation.
Crested Butte

For this writer's money, there's not a place in all of Colorado more heart-achingly beautiful than Crested Butte. Unlike many Colorado destinations that shine the most during specific seasons, there is no bad time to visit this pristine section of the Western Slope.
Skiing is obviously Crested Butte's premier winter activity, but between one of the quaintest mountain towns in the state and the unbelievable hiking, fishing, and scenery to be found in the area, this part of the West should be a place you plan to visit during any time of the year.
To get the best views of the town and surrounding areas of Crested Butte, you'll have to hike up the mountain of the same name. Ranging from intermediate to difficult depending on who you ask, this hike is a Colorado favorite for its stellar wildflower and golden-leaved fall foliage views.
If camping is what you're after, Crested Butte has got something special for you whether you're traveling with a big RV and young kids in tow or are looking for free dispersed camping. This Western Slope gem is packed with thousands of national forest acres you can camp in and access from your car.
The Slate River and surrounding creeks are considered to be prime fly fishing spots, and there are even opportunities to take guided expert fishing tours in the area if you're eager to learn. At more than four hours from Denver, Crested Butte's remote location and small size are natural checks on overcrowding that maintain its charm, accessibility, and natural beauty.
Aspen/Snowmass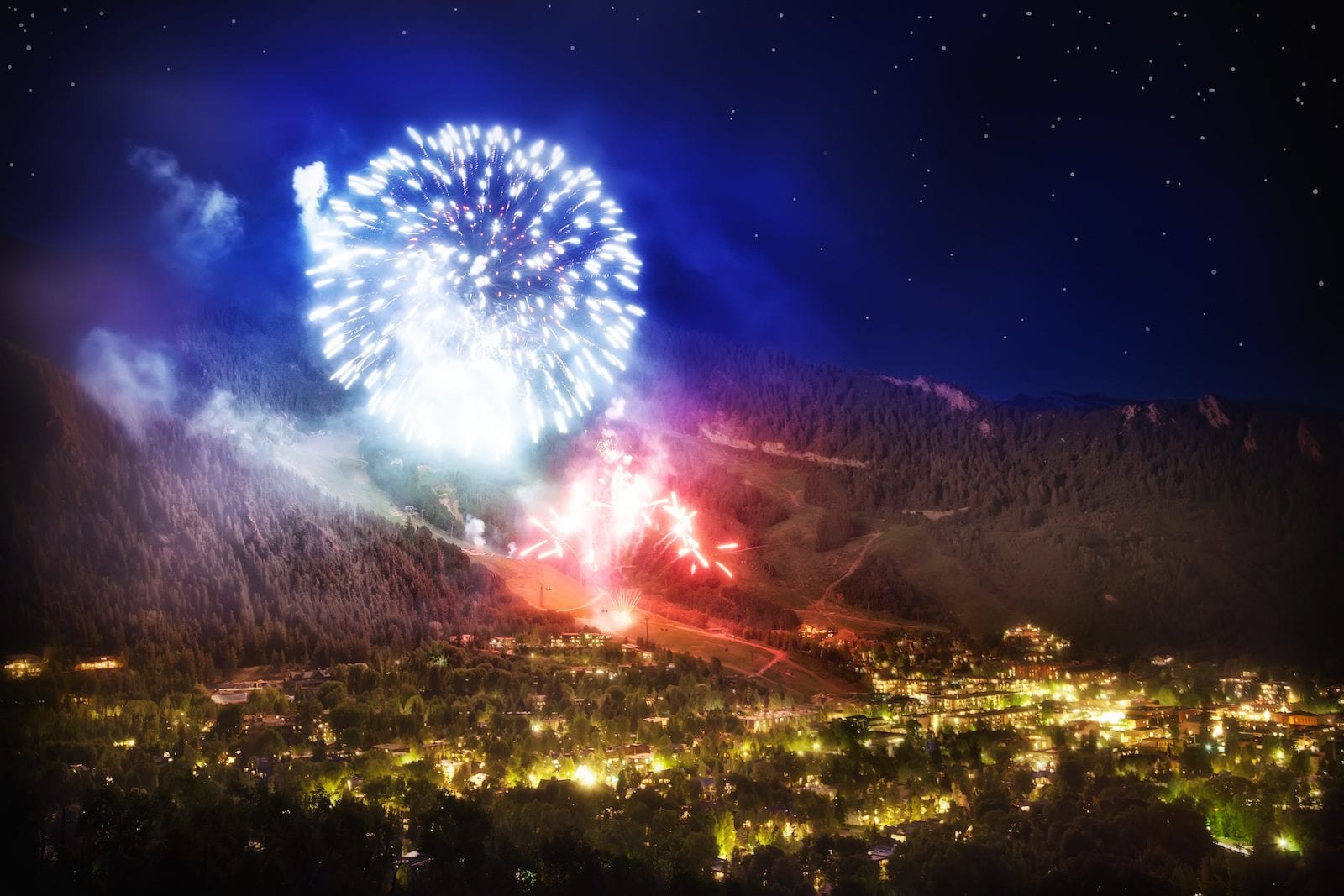 Ever since industrialist and philanthropist Walter Paepcke founded the Aspen Mountain ski area shortly after the second world war, the Aspen/Snowmass area has been an internationally famous skiing destination. Today, the area is home to four phenomenal ski resorts: Snowmass, Aspen Mountain, Aspen Highlands, and Buttermilk.
From thrilling off-piste offerings to popular runs that are beloved for being friendly for beginners and families, the Aspen/Snowmass area is diverse enough to thrill skiers of every age and experience level. However, skiing in this gorgeous part of the state isn't cheap.
But while Aspen and Snowmass have become synonymous with great skiing, this destination offers much more than that. Southwest of the town of Aspen, you'll find one of the most stunning scenic destinations in the continental US: The Maroon Bells.
Immersed in the natural glory of 14,000-ft peaks, Maroon Lake is often surrounded by fields of wildflowers or golden fall foliage. This area is one of the most photographed scenic spots in the nation, and it's not hard to see why.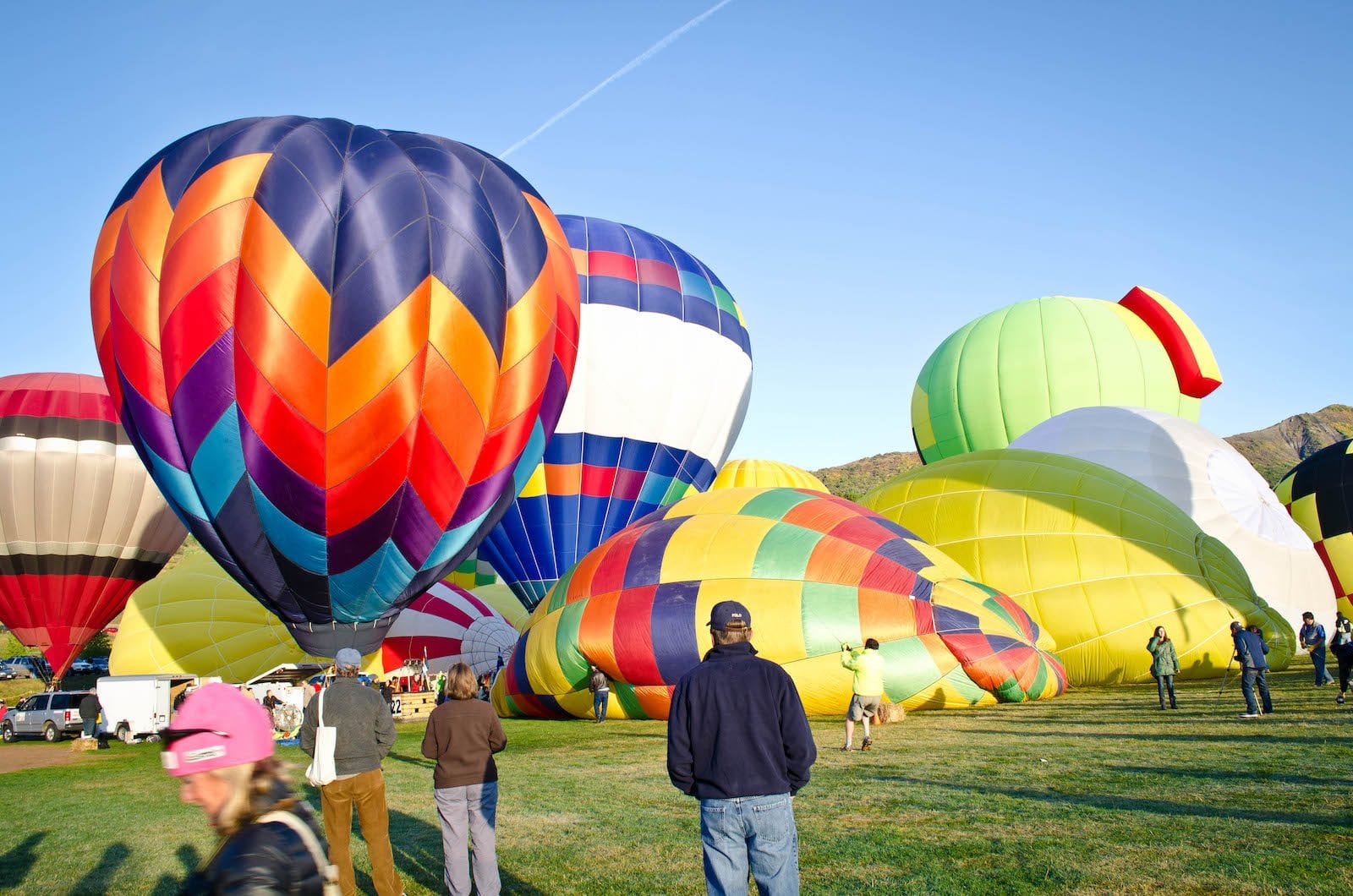 Aspen and Snowmass are both charming mountain towns, but establishments like the Aspen Music Festival and School, the Aspen Institute, and the Aspen Center for Physics have transformed the city of Aspen into a bona fide cultural powerhouse over the years. Founded in 1949, the Aspen Music Festival & School features five orchestral concerts, opera productions, master classes, and more.
If rock, pop, country, blues, or standup comedy is more your style, check out Belly Up, a locally loved music venue located in the heart of Aspen. The Aspen Institute is a thought-leadership organization, and the Aspen Center for Physics is devoted to promoting the cross-fertilization of ideas between scientists working in a diverse set of fields.
Glenwood Springs/Rifle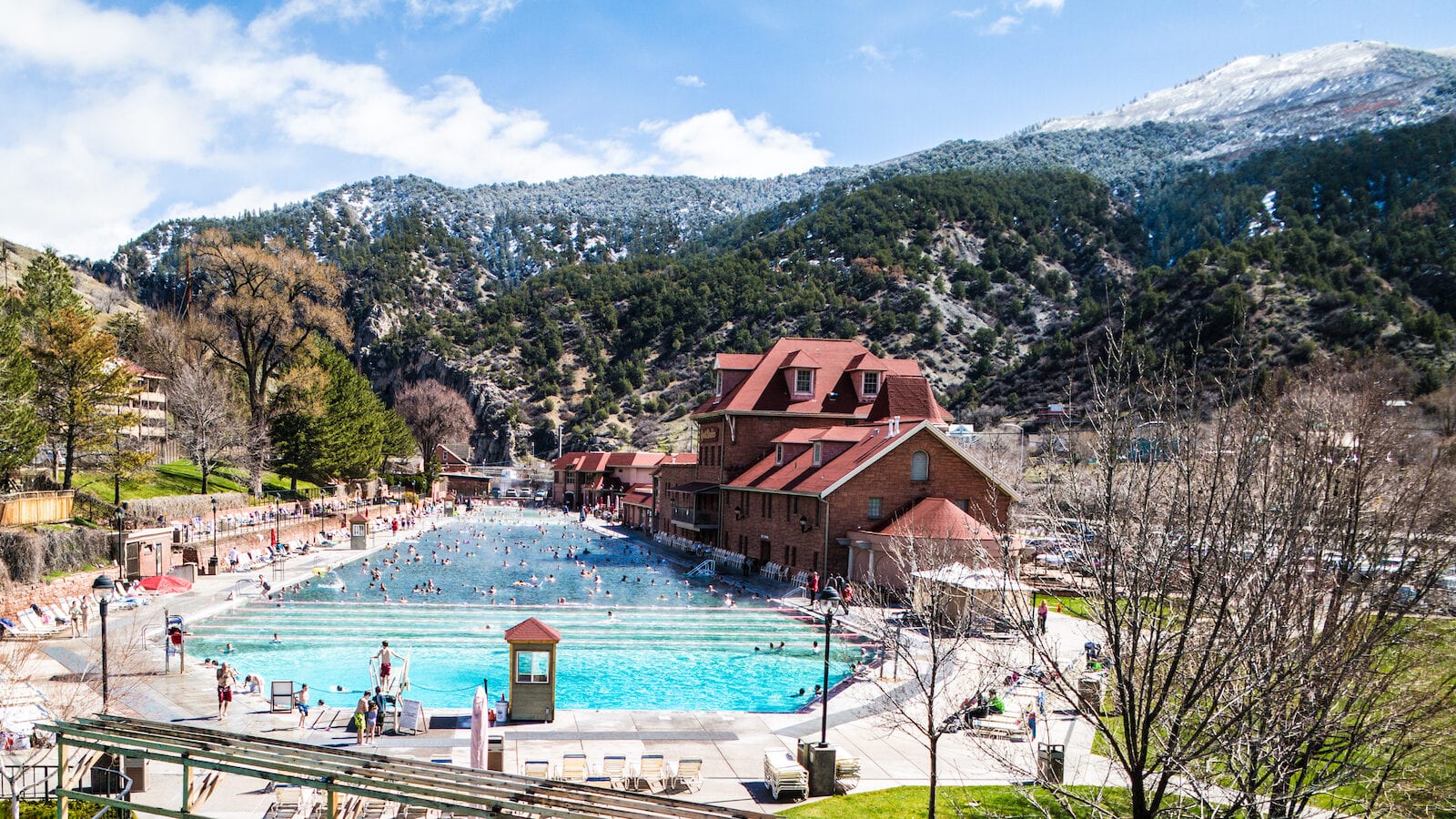 When most Coloradans think of this area of the Western Slope, the fun town of Glenwood Springs usually comes to mind. But while most of us agree that Glenwood Springs is an excellent place, it by no means is all this part of Colorado has to offer.
Named after US President James A. Garfield, this county is home to some of Colorado's most iconic natural sites. These include the now-protected Hanging Lake area, Glenwood Canyon, and what many argue are the best views and access to the Colorado River in all of the Centennial State.
This county might not host any of Colorado's 14ers, but it is home to some of the state's most scenic and least crowded peaks. If you're looking for an incredible waterfall experience in a setting that's considerably less crowded than some of Colorado's other natural destinations, check out Rifle Falls.
It's a sublime spot with a triple waterfall, limestone caves, and plenty of conventional and RV-friendly camping spots. Featuring a pristine alpine lake perfect for fishing, boating, and swimming, Rifle Gap State Park is another uncrowded spot worth checking out.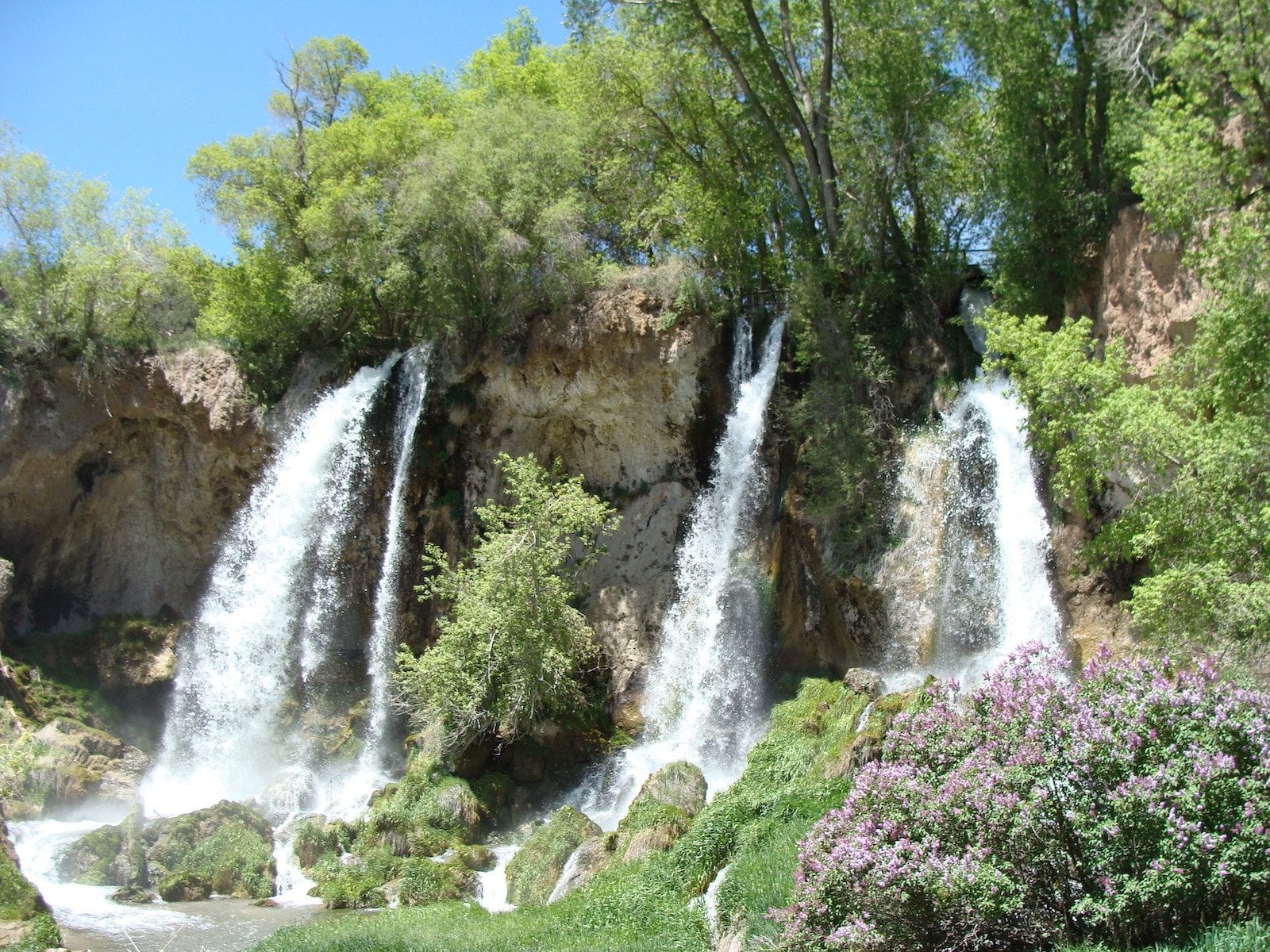 And of course, we can't forget this county's towns and cities, which include Glenwood Springs, Rifle, Carbondale, New Castle, Silt, and Parachute. Hosting just one ski resort, the cities and towns in Garfield County aren't the polished, celebrity-friendly mountain destinations other places in the state are known for, but they are uncompromisingly authentic.
They are ideal for history buffs and those wanting to check out a part of Colorado that runs at a slower pace than the rest of the state.
Vail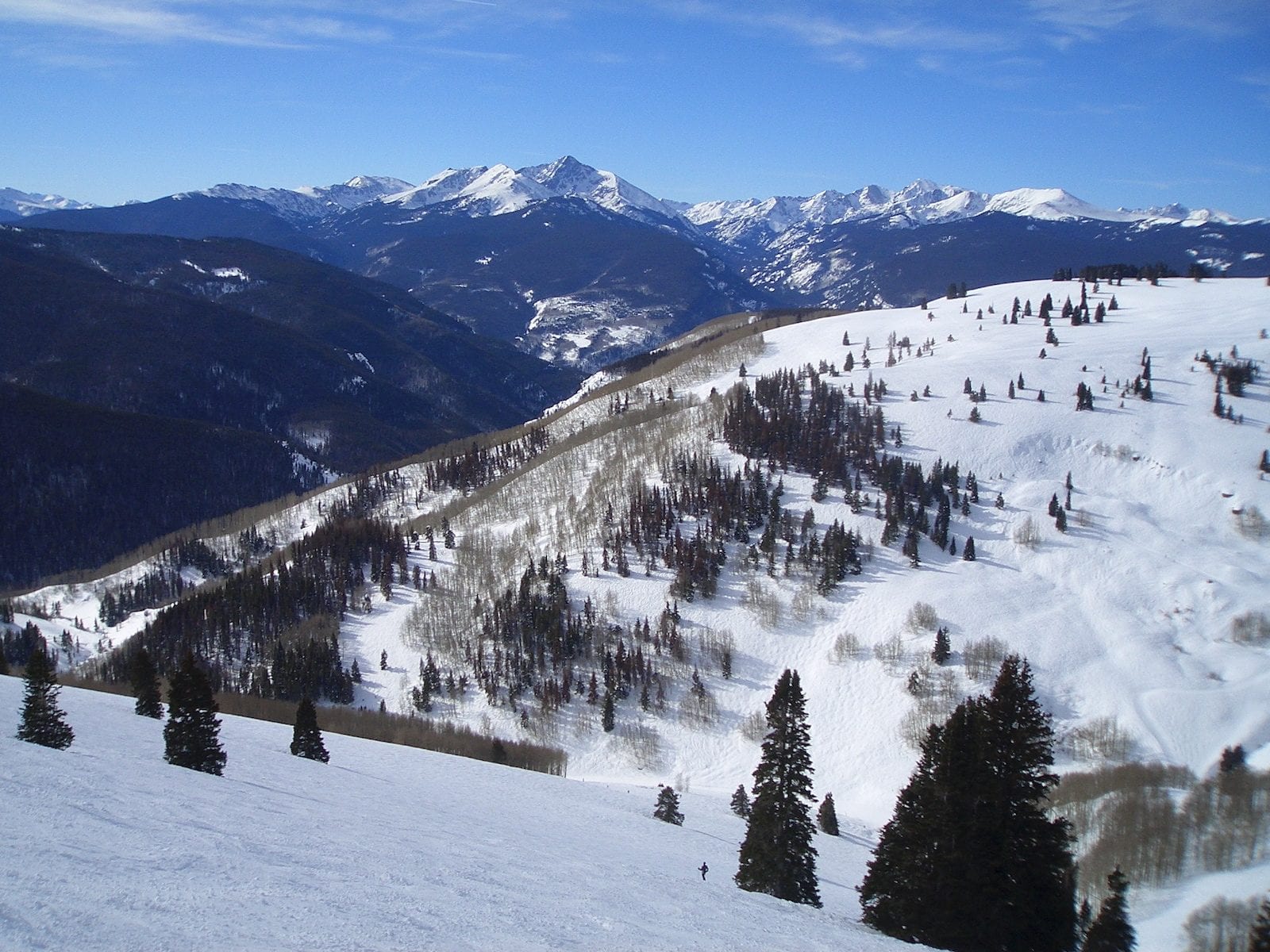 Alongside Aspen, Vail is one of the best-known ski towns in Colorado and all of the United States. During the winter, Vail is pretty much what you'd expect from an iconic mountain town constructed around skiing.
It has towering snow-packed peaks surrounded by a vast terrain of 5,317 skiable acres that most skiers and snowboarders would eat their shoes to explore on a powder day. Vail's cobblestone streets give it a European vibe, though to some it's one that feels a bit more Disney-esque than that of a charming village in the Alps.
During the summer months, Vail offers up plenty of fun things to do for families, thrillseekers, and music lovers. From zipline tours to a raised alpine coaster that sends passengers flying 3,400 feet down the mountain, Vail has plenty of activities designed to get your heart pumping in the midst of an incredible mountain setting.
And because Vail has the deep pockets you'd expect from a posh mountain destination, they're able to host big concerts during the summer and winter seasons.
Vail is a great place to visit if you're looking for easy fun and great skiing, and though there are Western Slope destinations with more culture and history to offer, this ski town is home to a massive annual film festival, gorgeous gardens, the Colorado Ski Museum, and a world-renowned clinic for knee injuries.
Durango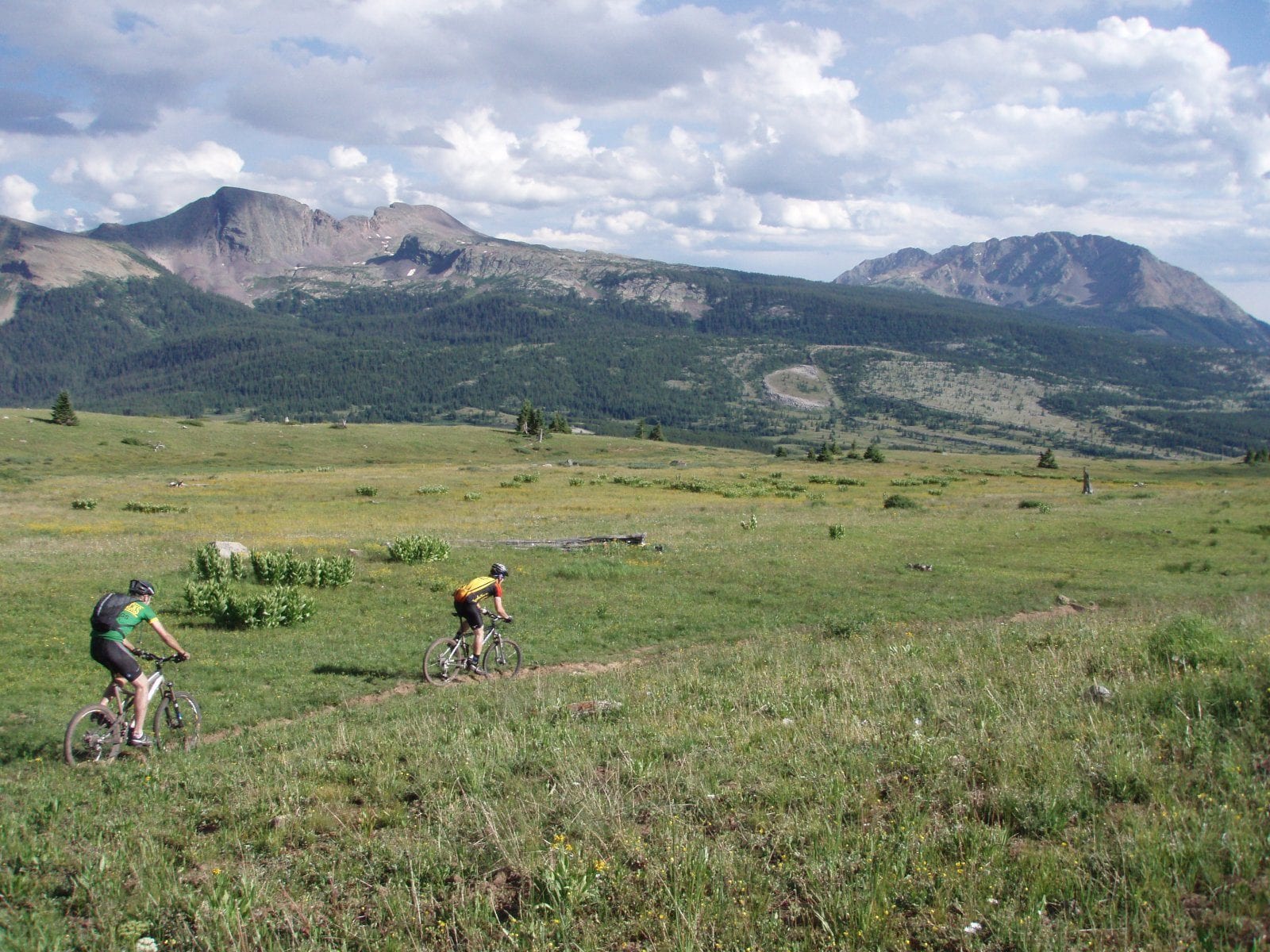 Durango is a small southwestern Colorado city that means something different to everyone who travels there. For students attending Fort Lewis College, the city provides conventional educational opportunities as well as those that can only be acquired by living in a location immersed in nature.
For others, it's a great place to enjoy an internationally fawned-over beer or to take a breather after a day of mountain biking, rafting, or rock climbing. Between its close proximity to astounding natural beauty and its affordability and unpretentious charm, many consider Durango to be a near-perfect mountain town, and they're not wrong.
At only half an hour's drive to the New Mexico border and just 40 minutes outside of Mesa Verde National Park, Durango is a perfect place to stay while taking in everything this part of the Western Slope has to offer, which can't possibly be fully experienced in a day or even a weekend trip. With a historic downtown and loads of fascinating museums to explore, Durango is a great place to learn about Colorado's fascinating western legacy.
But while Durango's old western past is fun to learn about in town, nothing is quite as exciting as riding on the Durango & Silverton Narrow Gauge Railroad on a historic train. This authentic steam train transports passengers through some of the most stunning canyons and forest wilderness areas in all of Colorado.
Animas River, the southern Colorado river that flows through the heart of the city, is a notably solid destination for fly fishing as well as whitewater rafting. Depending on the season, you can find anywhere from Class 2 to Class 5+ rapids on the river outside of Durango.
Grand Junction/Palisade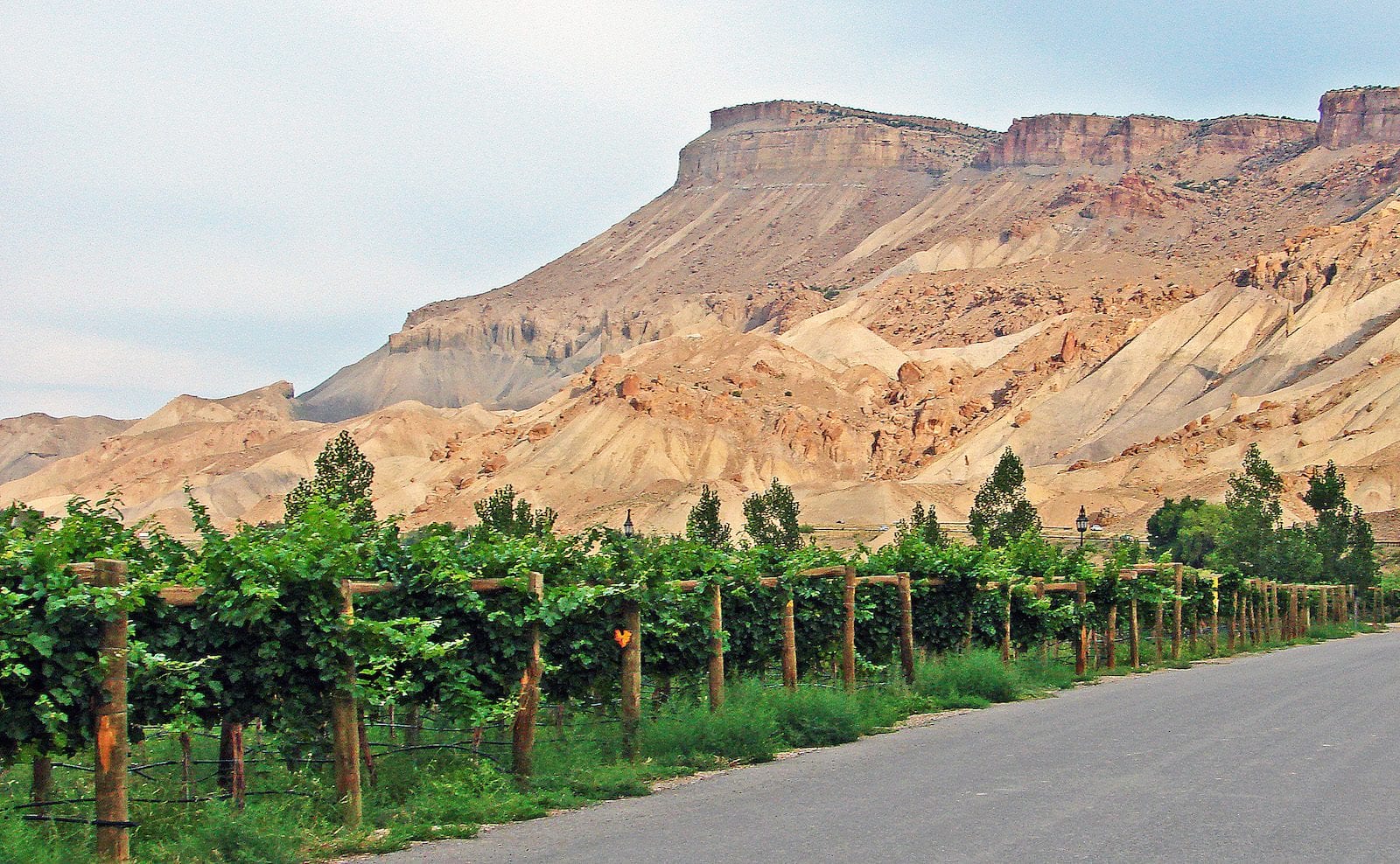 Many Coloradans' experience with this part of the Western Slope is limited to traveling back and forth to Moab or Vegas via Interstate 70, but there's much more to this part of the state than that. You might be surprised to learn that this area is home to a growing number of excellent wineries such as Mesa Park Vineyards and Greystone Winery, which specializes in Port.
In addition to this region's fantastic grapes, it's internationally known as a place that produces phenomenal peaches and other varieties of fruit. Those interested in checking out authentic, unpretentious agrotourism experiences in a gorgeous mountain setting should consider heading to Palisade for their next trip.
Affectionately nicknamed "The Heart of the World," the Colorado National Monument is located just minutes away from Grand Junction and offers otherworldly panoramic canyon views, abundant wildlife like eagles and bighorn sheep, gorgeous campsites, and over 40 miles of maintained hiking trails. President Taft established this incredible monument in 1911 under the authority of the Antiquities Act.
Right next door to the Colorado National Monument along the Colorado River, the McInnis Canyons National Conservation Area boasts 123,430 acres of pristine rocky wilderness. This area features some of the most scenic and uncrowded hiking trails in the state. Dispersed camping is permitted here, but only in designated areas marked with signs. Portable toilets and fire pans are required.
Like Durango, Grand Junction is another college mountain town suited best for students with a keen interest in nature. From shopping and spas to a nearby golf course, Grand Junction has much to offer visitors, as it should. It is the most populous city in western Colorado, after all.
Four Corners Region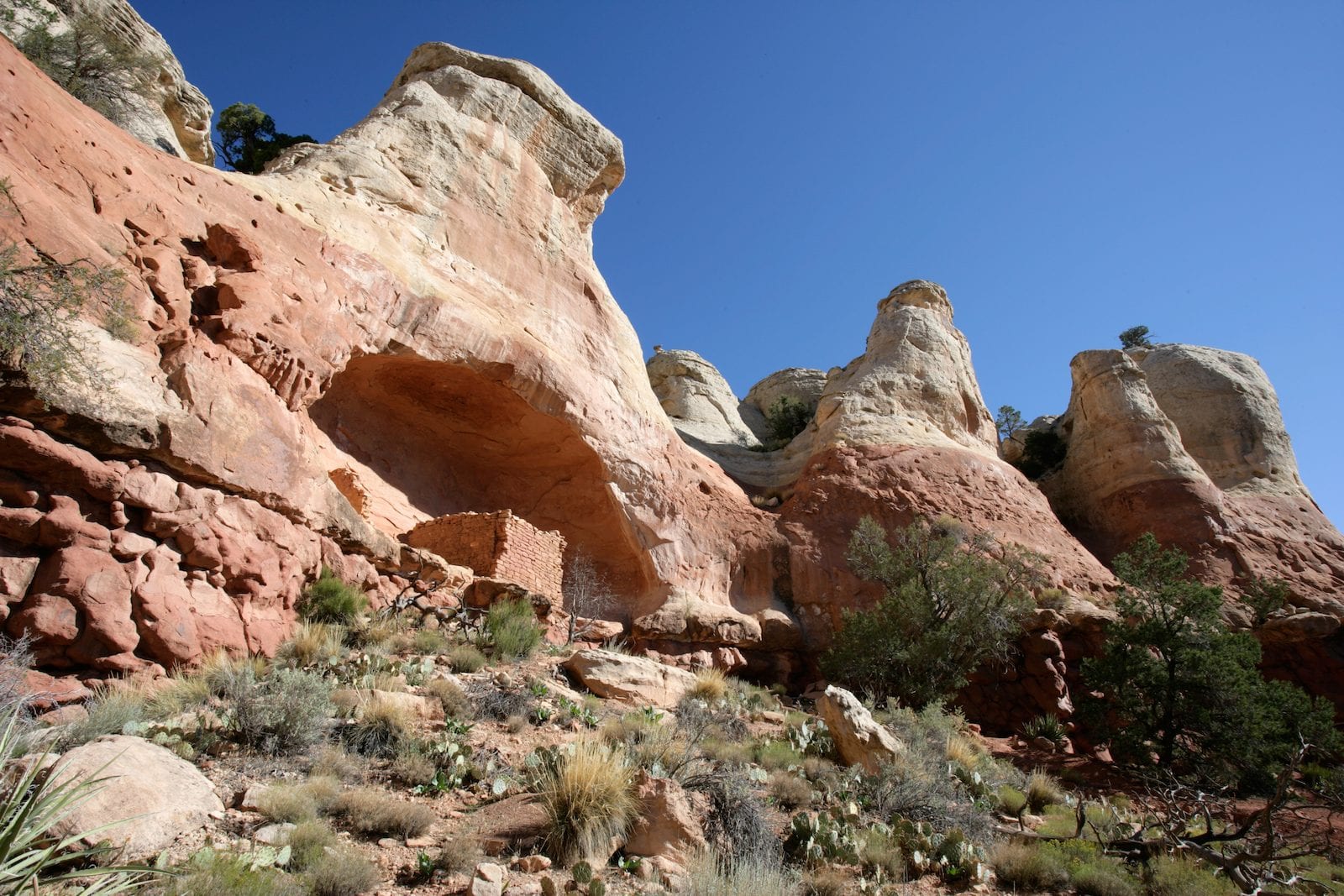 The southwestern section of Colorado's Western Slope region boasts some of the most remarkable prehistoric sites in America and the World. With sites said to be constructed as early as 1200 AD, Hovenweep National Monument consists of six prehistoric villages that were built with remarkable skill and craftsmanship, which have stood the test of time.
If you're looking for a massive area to view stunning prehistoric sites like ancient field houses, dams, reservoirs, kivas, cliff dwellings, and shrines, the Canyons of the Ancients National Monument features 176,000 acres of incredible archeological-dense grounds to explore.
Established in 1906 with the goal of preserving important Pueblo heritage, Mesa Verde National Park protects an astounding 5,000 archeological sites, 600 of which are ancient cliff dwellings. Sites like the Spruce Tree House, a city of stone buildings built into the rock opening of a cliffside, are stunning almost beyond belief. Western Slope prehistoric sites like these renew your sense of wonder and impart deep respect for America's first inhabitants.
In comparison to southwestern Colorado's unparalleled prehistoric sites, being able to stand in four states at once seems a little bland, but it's something many road-trippers get a kick out of. And if you're passing through Cortez, you'll be able to check out important cultural and historical offerings without leaving town like the Trail of the Ancients and the Old Spanish National Historic Trail.
This part of the Western Slope is a can't-miss destination if you're obsessed with prehistoric sites and archeological history.
Dinosaur Country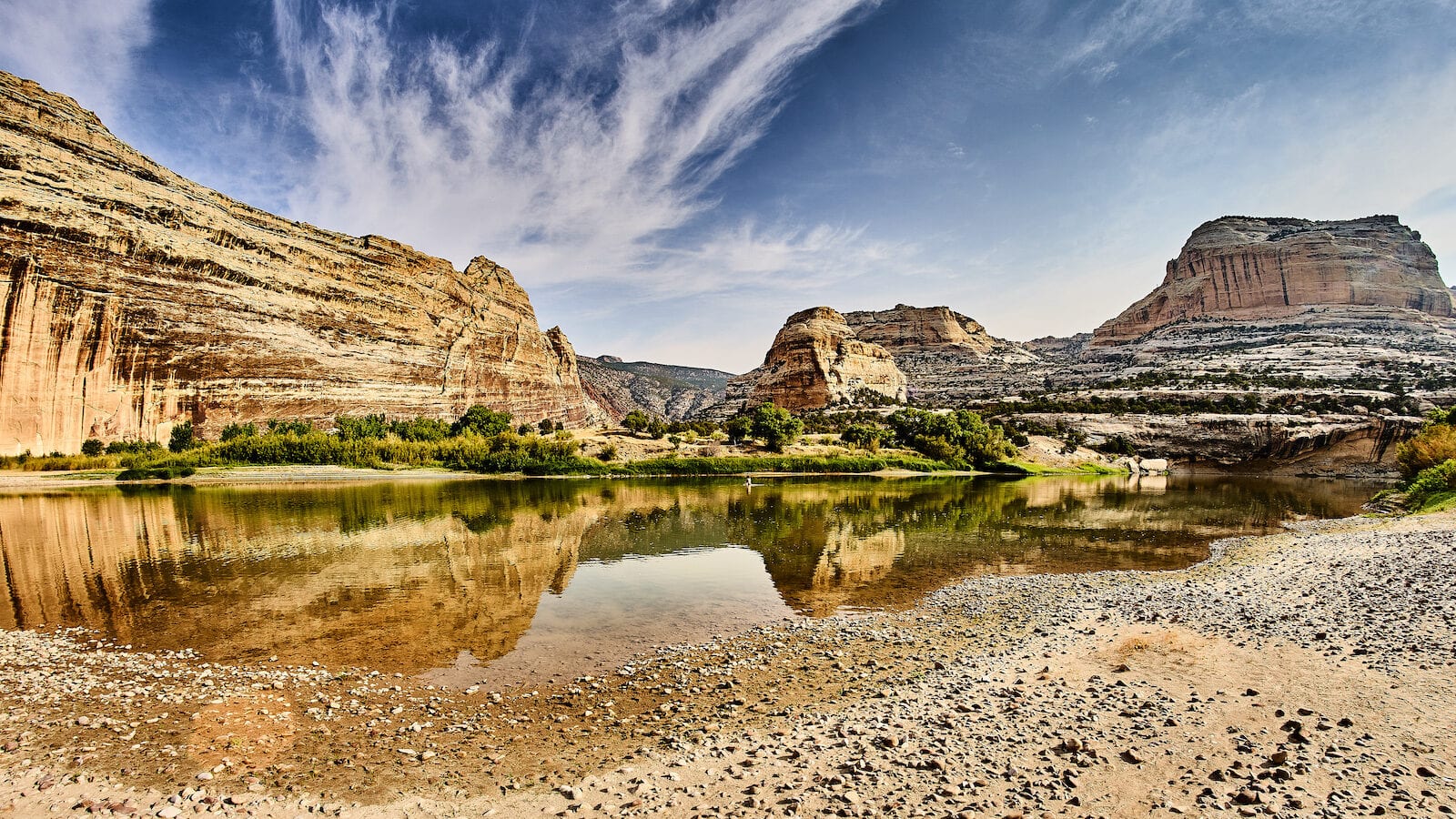 The northwest corner of Colorado's Western Slope is a region frequented by visitors not nearly as much as other parts of the state. But for those who make the trek, Colorado's "Dinosaur Country" offers vast rewards in the scenery, prehistoric bounties, and loads to do.
With a population of under 350, Dinosaur, Colorado earned its peculiar name in 1966 for its close proximity to the Dinosaur National Monument. Featuring a vast cliff-side boasting over 1,500 exposed fossils, Dinosaur National Monument offers a remarkable experience that you can't find in conventional museums.
Deep inside Dinosaur National Monument, the confluence of the Yampa and Green Rivers and surrounding towering rock faces are worth traveling to. And if you're interested in getting a front-row seat to one of the best panoramic views in all of Colorado, the 32-mile drive to the Harpers Corner Area is packed with steep river canyon views, insane vistas, and three great hikes to choose from.
Further north, Browns Park National Wildlife Refuge is an oasis for all manner of wildlife, from owls and migrating waterfowl to adorable river otters and not-so-adorable species of moose. Hiking, hunting, and fishing are popular attractions at Browns Park, but this remote section of the Western Slope is best known for its abundant wildlife viewing offerings.
Hot Springs: Glenwood, Steamboat, Pagosa, and Ouray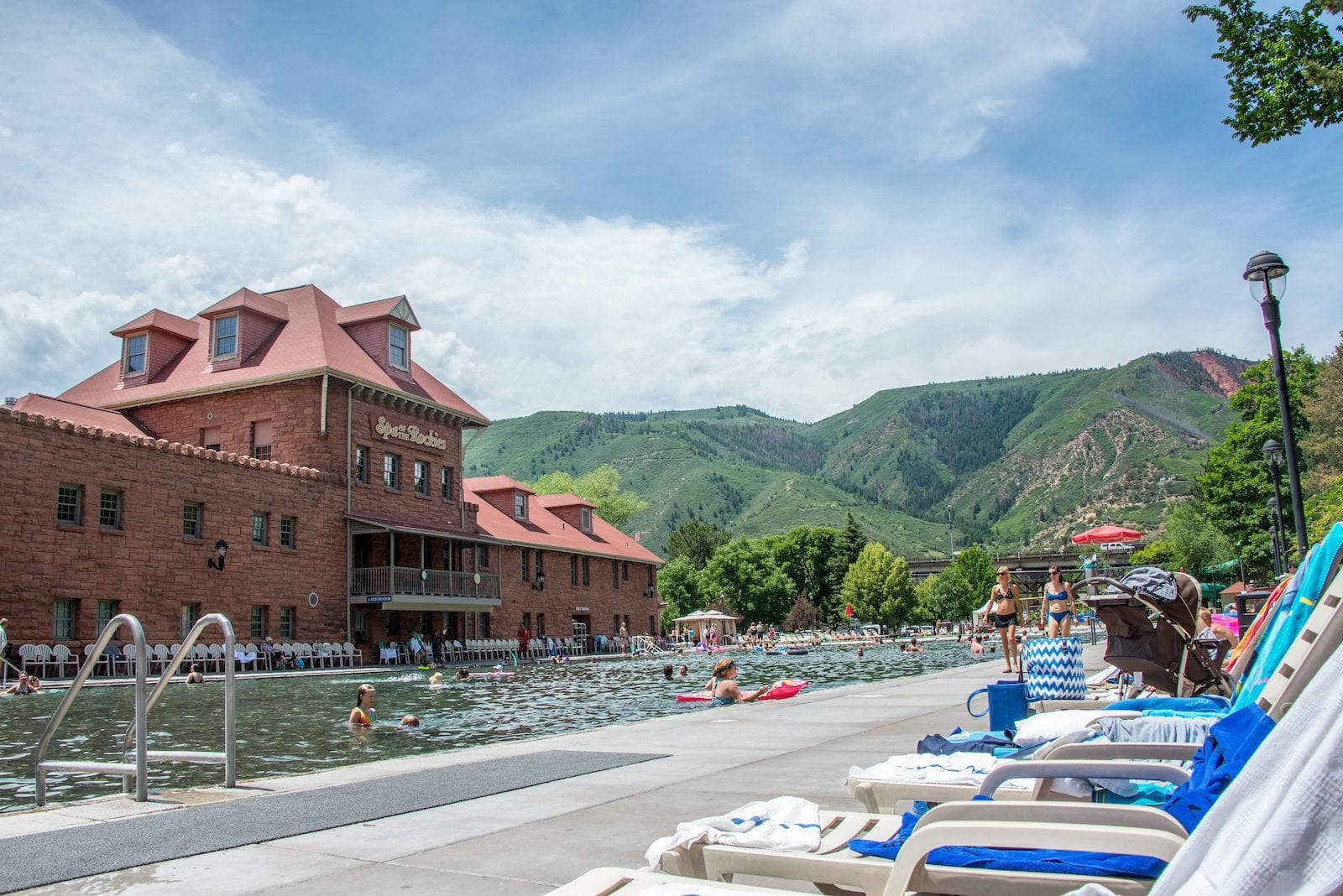 Colorado's Western Slope region is home to some of the most stunning, rejuvenating, and toasty hot springs destinations in America, and most are set in mountain locations of astounding beauty and grandeur. Flanking the Colorado River, the town of Glenwood Springs holds a special place in the hearts of many Coloradans, mainly because it happens to be the place that's home to the largest mineral hot springs pool in the world.
Glenwood Springs is an excellent place to check out whether you're interested in soaking in some world-famous hot springs or are interested in being creeped out by ghosts at the Hotel Colorado, which is said to be haunted by many accounts.
Steamboat Springs is a place where you can ski all day on fantastic sought-after Champagne-powdered terrain by day and soak in some of America's most picturesque hot springs by night. With temperatures reaching 104 degrees Fahrenheit, the natural mineral pools at Strawberry Park Hot Springs are immersed in an unforgettable forest setting of aspen trees, craggy rock faces, and palatial mountains.
Steamboat Springs also happens to be an excellent little mountain town even without great skiing and hot springs, so if you can't be happy on vacation there, you probably aren't capable of being content vacationing anywhere.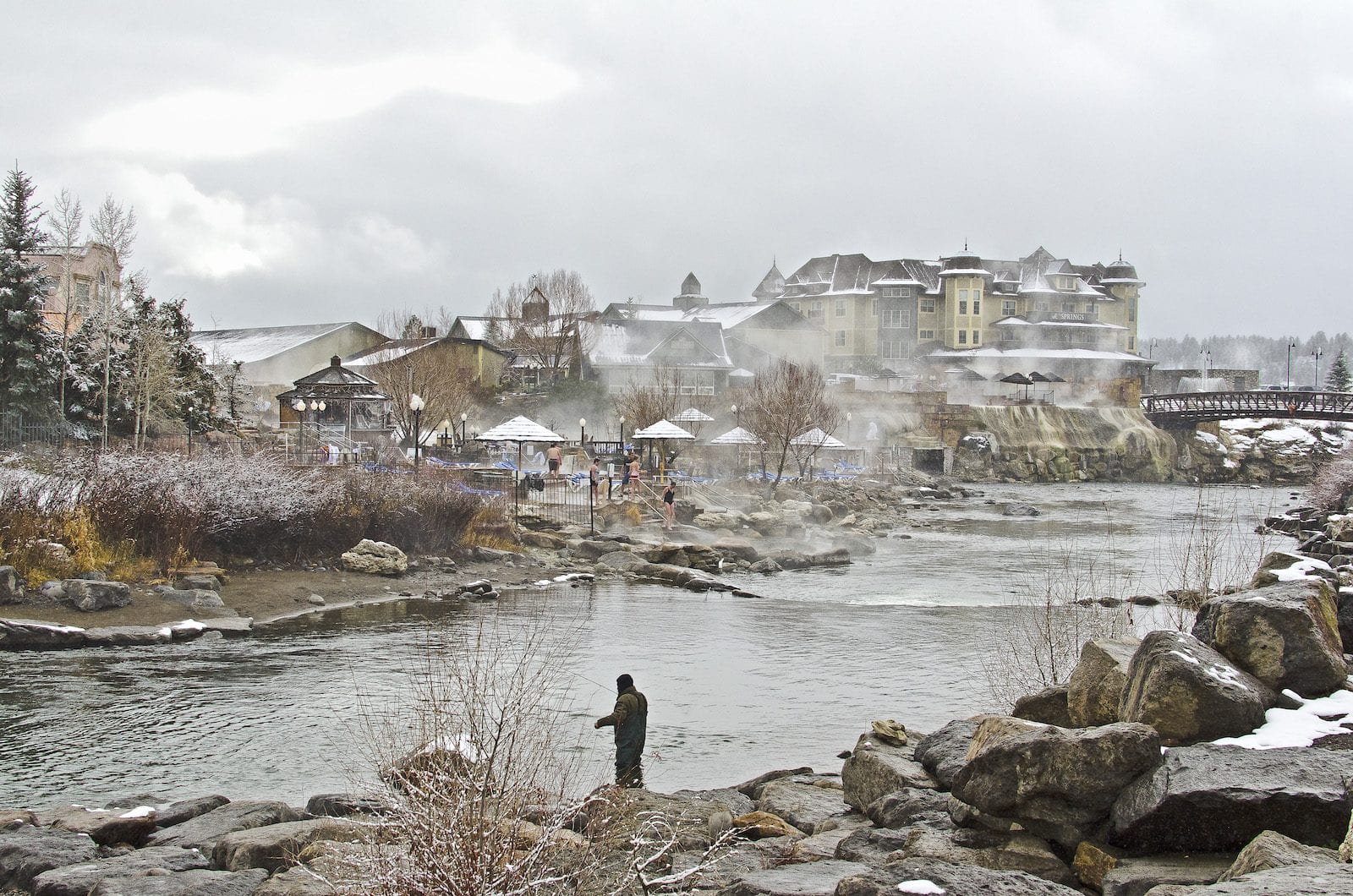 Located in the southeastern region of the Western Slope (and southwestern region of Colorado), Pagosa Springs is home to the "Great Pagosah Spring," which, according to the Guinness Book of World Records, is the deepest geothermal hot spring on the planet.
But world records aside, between relaxing hot springs, enticing breweries, ice skating, hot air ballooning, and miles of pristine, uncrowded hiking trails to lose yourself in (not literally), Pagosa Springs is a stellar Western Slope destination not to be missed.
And last but certainly not least, located deep in the San Juan Mountains, you'll find the town of Ouray. It boasts mountain views so stunning and steep that it's a part of the Western Slope many refer to as the "Switzerland of America".
The natural hot springs in Ouray delight visitors from all over the world today, and are said to have been a favored destination for indigenous people living in the area for many centuries.
Rivers: Colorado, Animas, Gunnison, and Yampa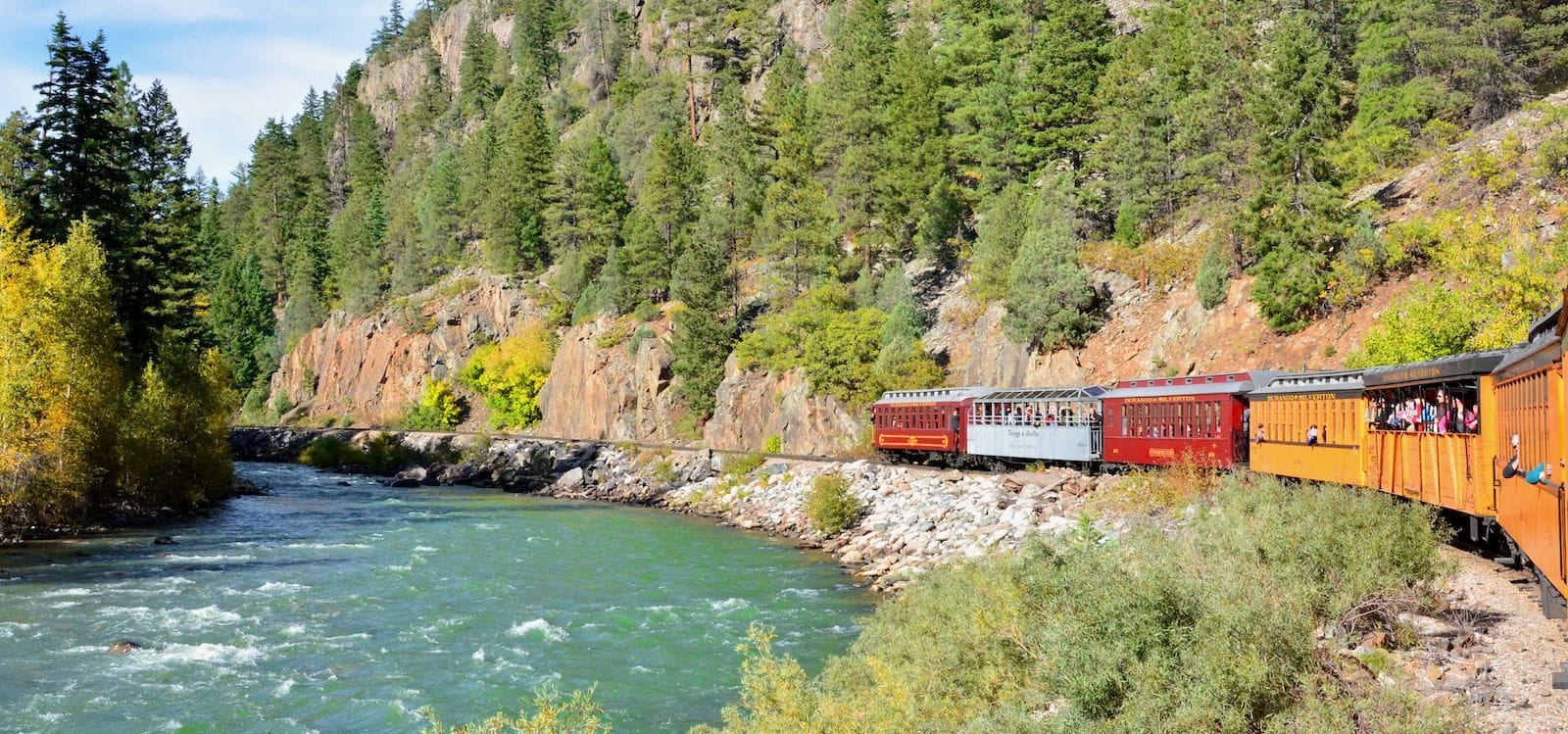 This article wouldn't be complete without mentioning the epic, earth-shaping rivers that flow through Colorado's Western Slope region. As mentioned above, all the creeks, rivers, and waterways west of the Continental Divide flow to the west.
The 1,450-mile-long Colorado River is one of the most significant riverways in the world. Born high up in the central Colorado Rocky Mountains, this river winds through the Western Slope region before dramatically cutting through the Grand Canyon and eventually emptying out into the Gulf of California in Mexico.
This means that if you were ambitious and insane enough, you could try to take a boat from the mountains of Colorado all the way down to Mexico, though we certainly don't recommend it (permits and hiking required). There are loads of opportunities for world-class fishing and whitewater rafting on the Colorado River throughout the Western Slope.
At 126 miles long, the Animas River isn't nearly as dramatic or famous as Colorado, but it still offers lush scenery and rainbow and brown trout that are said to average between 10-15 inches. Sadly, the Animas River has been badly damaged by pollution in recent years. It's most widely used recreationally in the area around Durango.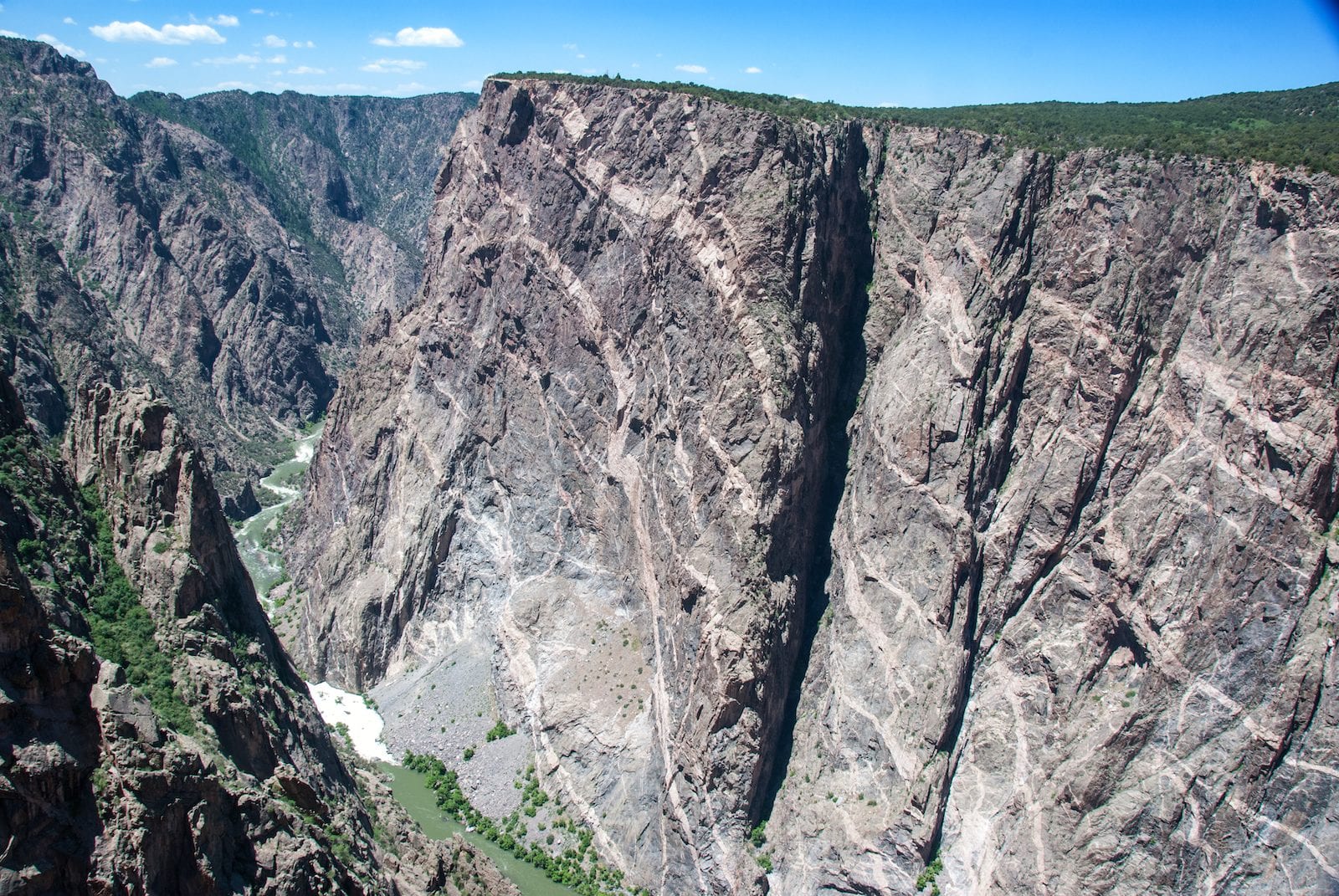 The Gunnison is a beautiful beast of a river that cuts through 2,000-ft rock wall canyons in some sections. It flows through or near some of Colorado's most iconic and beloved locations, including Blue Mesa Reservoir, the Black Canyon of the Gunnison, and mile after mile of heritage ranchland.
The 250-mile-long Yampa River flows through the northwestern section of Colorado's Western Slope and empties out into the Green River just before the Utah border. Unlike most western rivers, most of the Yampa River isn't impacted by dams and levees, making it one of the most natural waterways in the region.
Evidence of human habitation dating back to 7,000 BC has been found near the Yampa, but today visitors love the river for its natural beauty and ideal floating conditions.
Discover the Western Slope Year Round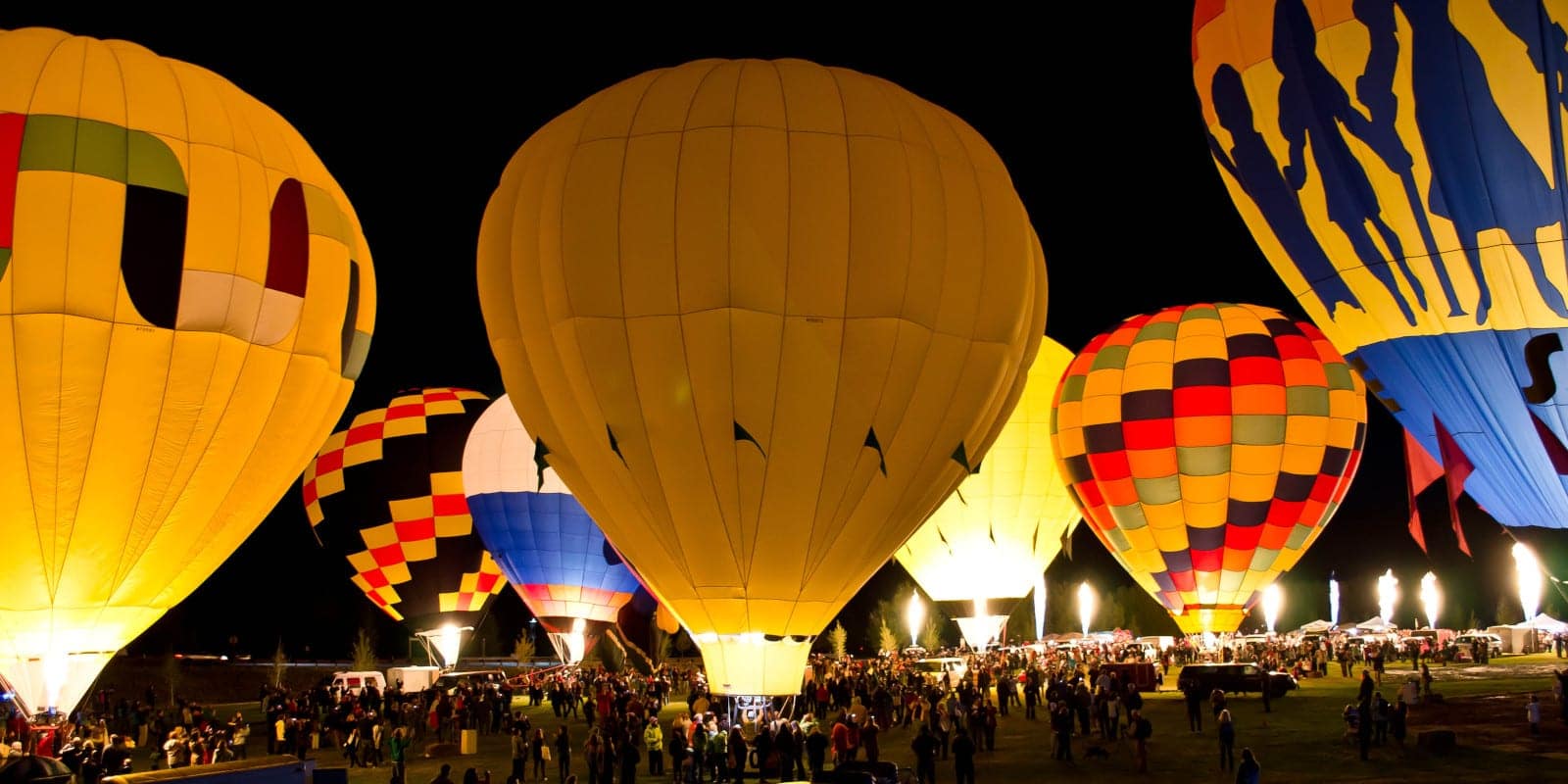 Year-round the western side of the Continental Divide holds dazzling destinations and towns that await your visit. From the internationally known ski resorts and dazzling winter destinations to the exceptional nature trails, it's a playground during all four seasons. Each one brings out something special in each of its treasures.
The aforementioned list of comm on the Western Slope is only a hint at the countless number of gems this region hides. From the largest flat top mountain in the world, Grand Mesa, to the fascinating mesa peaks of the Flat Top Mountains, you'll discover a true western vibe out here.
Be sure to take your time and enjoy the journey! And stop by little random unmentioned towns and get off the beaten path. Thanks for reading and please consider sharing this article with your friends.