The Colorado Western Slope boasts a gorgeous winter wonderland filled with challenging and exciting activities for the avid sport enthusiast. Make Grand Junction your base and ski, skate, sled and swim all season long in Western Colorado!
Once you're up and over the Continental Divide on its western side you're officially on Colorado's Western Slope. Although vast in size it contains the minority of the state's population. This creates gems that are mostly away from the crowds.
Most of the destinations can be reached in 4-6 hours from Denver. Grand Junction is about a 5 hour drive. You can also fly closer to these gems via Colorado's regional commercial airports.
If you're looking for one of the more unusual winter experiences, off-the-beaten path than definitely considering basing in Grand Junction for a few days. You can experience the largest flat topped mountain in the world, Grand Mesa, a variety of winter ways, from snowshoeing to downhill skiing. Or just take a scenic auto tour from one side to the other.
Some distances for reference (using Google Maps estimated drive time):
Western Colorado is seldom visited in comparison to the Front Range and Summit County, but the natural beauty is expansive. We'll focus mainly on the Central Western Slope destinations, or the region around Grand Junction, but also include other western gems worth visiting or staying at altogether.
Winter Activities near Grand Junction, CO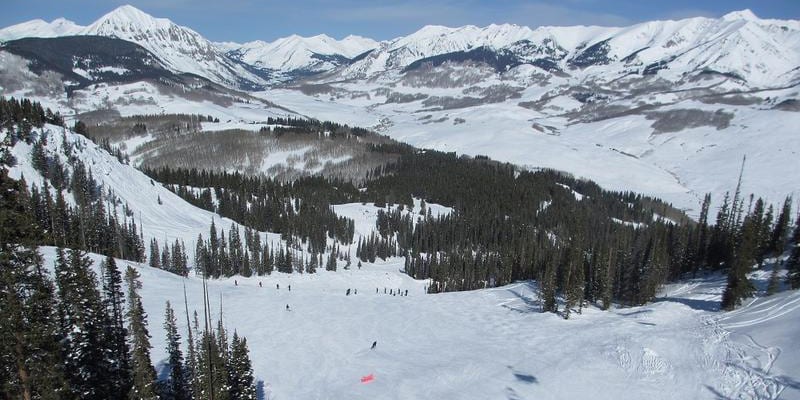 We left the Southwest Colorado hot spots of Durango and Pagosa Springs off this list because we had to draw the line somewhere and they are the furtherest south and not in the realm of Grand Junction. But they both make incredible winter destinations, with skiing at Purgatory and Wolf Creek, respectively.
You'll find that for most snow based winter activities you'll get out of Grand Junction's lower 4,583′ elevation up into the high country. Much like most people don't stick around Denver for snow sports, but instead road trip it up into the mountains. Although GJ makes a fine vantage point for soaking up Colorado National Monument, which is open year round.
Here are some things to do in winter in Western Colorado:
1. Downhill Skiing & Snowboarding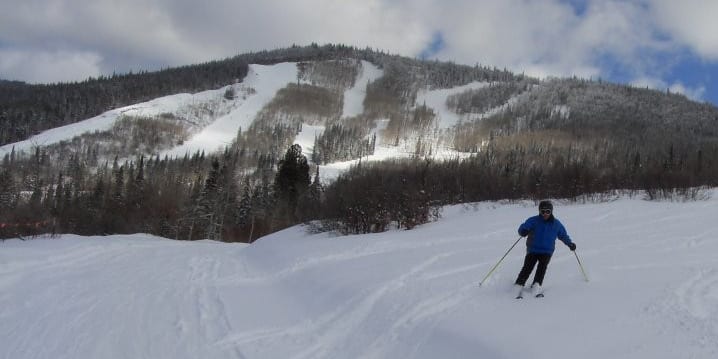 Whoosh! this adrenaline-charged experience is plentiful throughout the region. With 250 inches of average snowfall each year, Powderhorn Resort in Mesa provides the closest ski resort to Grand Junction. From novice to expert, this is a great destination for downhill skiing and snowboarding, notably because of its 1600 acres of trails and light dry snow. The views from atop the Grand Mesa, which you are skiing down, are exception. Snowshoeing and cross country skiing can also be found nearby.
Downhill skiing and snowboarding is extraordinary at Crested Butte Mountain Resort in Gunnison County. It's perfect for everyone, including individuals, couples, families and large groups. The town is lovely and the people are friendly and laid-back. There's also excellent backcountry skiing.
Enjoy some of the deepest, steepest terrain for skiers at Telluride Ski Resort in San Miguel County. This one's tucked way in the southwest part of the state in the steep and Swiss-like San Juan Mountains. Anyone from experts to family will find terrain and memories that'll last a lifetime.
For probably the best beginner skiing, as well as some of the best tree skiing in the state, consider Sunlight Mountain Resort in Garfield County. It offers 67 trails for downhill fun, and presents you with one of the longest trails in ski country. Like Powderhorn, it's known for its drier snow, which is always better to ski on. There are a myriad of other activities nearby like snowmobiling, and the heavenly hot springs that Glenwood Springs is famous for.
Aspen features four ski resorts, all under the same Aspen/Snowmass lift ticket. Beginners go to Buttermilk or Snowmass, while experts will be amongst other skill levels at Aspen Mountain and Aspen Highlands.
The most gnarly expert skiers can take backcountry-like guided powder turns at a resort. That resort being Silverton Mountain. This one-of-a-kind ski area has only 1 chairlift to the top, requires all riders to wear a pack with backcountry safety gear (you can rent it here), and go out with a guide during peak season.
2. Nordic Skiing & Snowshoeing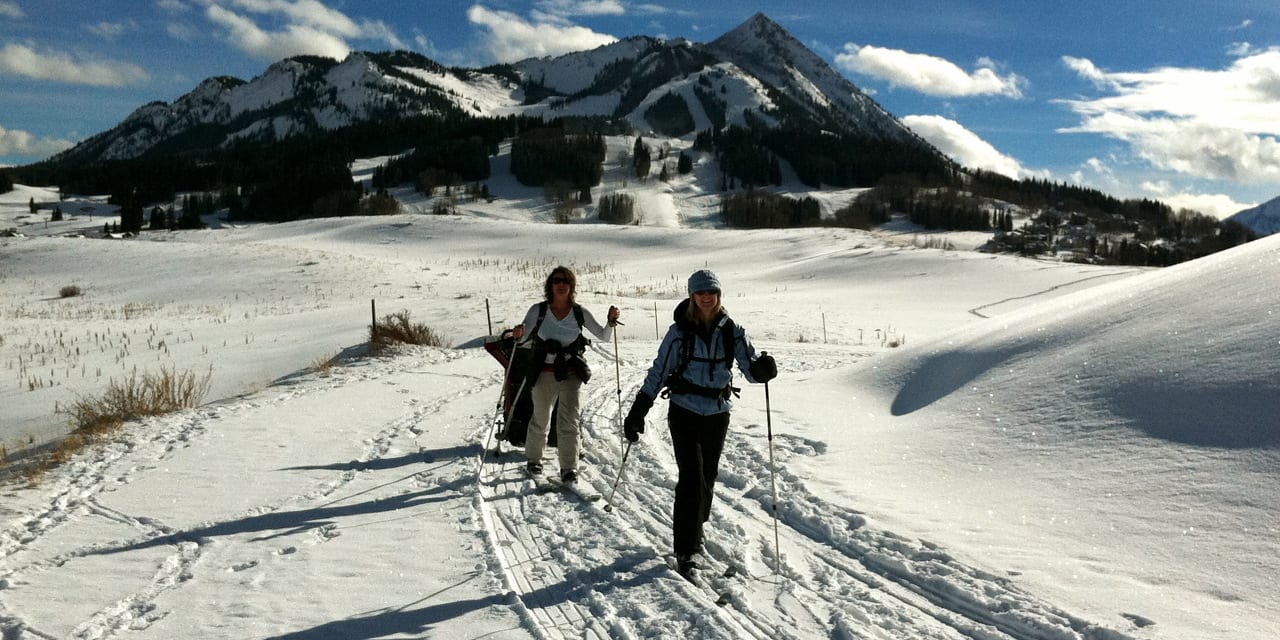 Delta County is the site of more than 30 miles of trails for cross country skiing and snowshoeing on the Grand Mesa. The Grand Mesa Nordic Council grooms these trails, which are open for public use all winter long.
Glenwood Springs' Sunlight Mountain Resort offers up cross country skiing for all levels of Nordic fans in Babbish Gulch valley. You can rent both Nordic skis and snowshoes, to be used on the shared trails.
Crested Butte offers so much for the winter activity enthusiast, and only 30 minutes north of Gunnison, which has an airport, and under 5 hours from Denver. It prides itself on being the "Nordic Ski Capital of Colorado" with 55 kilometers of trails available for the cross country skier. There's also snowshoeing for a great workout and wildlife watching.
In winter, Black Canyon of Gunnison is a great spot for cross country skiing and snowshoeing. Visit Colorado's most least visited national park during its least visited season for a winter wonderland all to yourself.
You can also go snowshoeing and cross country skiing in the San Juan Mountains by Ouray. The Ouray County Nordic Council donates their time and resources to grooming multi-use trails for your enjoyment all winter long. Just up Highway 550 from Ouray lies Ridgway and Nordic skiing at Top of the Pines.
Farther south on the Million Dollar Highway from Ouray lies the sleepy town of Silverton. Mostly locals and some warmly welcomed visitors take to the uncrowded trails at Ski Kendall Nordic for shared cross country skiing and snowshoeing fun. It's also a tiny ski area too, perfect for true beginners.
At the southern end of the Roaring Fork Valley lies the Aspen Cross Country Center. It's the only full service cross country ski and snowshoe resort in town.
3. Snowmobiling
There are hundreds of miles to explore in the Grand Mesa National Forest. Snowmobiles are permitted on several trails throughout. The trails connect to Vega State Park, Powderhorn, the Sunlight Mountain Resort, and 180 miles of additional trail. It's amazing riding!
Enjoy this exhilarating sport in several locations throughout the Western Slope. Go barreling through the White River National Forest with the Sunlight Mountain Snowmobile Tours in Glenwood Springs. This fun filled trek is a crowd pleaser in one of the most well equipped towns for snow sports (thanks to its apres-sport hot springs).
Ouray is a solid spot for snowmobiling too, in the "Switzerland of America", with both groomed and ungroomed trails. Telluride is another snowmobiling destination on the Western Slope, providing some special adventures. Unique guided tours are hosted by Telluride Outfitters, including both a ghost town tour and hot springs tour via snowmobile.
Gunnison, Hinsdale and Montrose Counties also offer snowmobiling trails, with Lake City being a low key world class snowmobile destination. There are more than 100 miles of groomed trails linking the expansive backcountry between Lake City and Creede in the middle of the Rocky Mountain emptiness. You can rent snowmobiles in town at Lake City Auto Sports Center. There's also a tiny ski hill in town if you'd like to feel what skiing used to be like.
Gunnison County makes for a splendid snowmobiling holiday. Go on tours through CB Motorsports in Crested Butte and Colorado Adventure Rentals in Almont. Both dash through the gorgeous Gunnison National Forest.
Just like its 4×4 trails, Ouray and Silverton's snowmobiling trails are world class. About forty-five minutes apart on Highway 550, either of these two towns make a great base for winter recreation. Ouray's San Juan Scenic features its Snow Adventures, which include both snowmobiling and snowcat skiing. Silverton boasts a number of outfitters, including Ice Pirates and San Juan Backcountry.
The oldest working ranch in Aspen features three special tours. T-Lazy-7 Snowmobiles features the Klondike Cabin, Maroon Bells, and Independence Pass guided snowmobile excursions.
4. Ice Climbing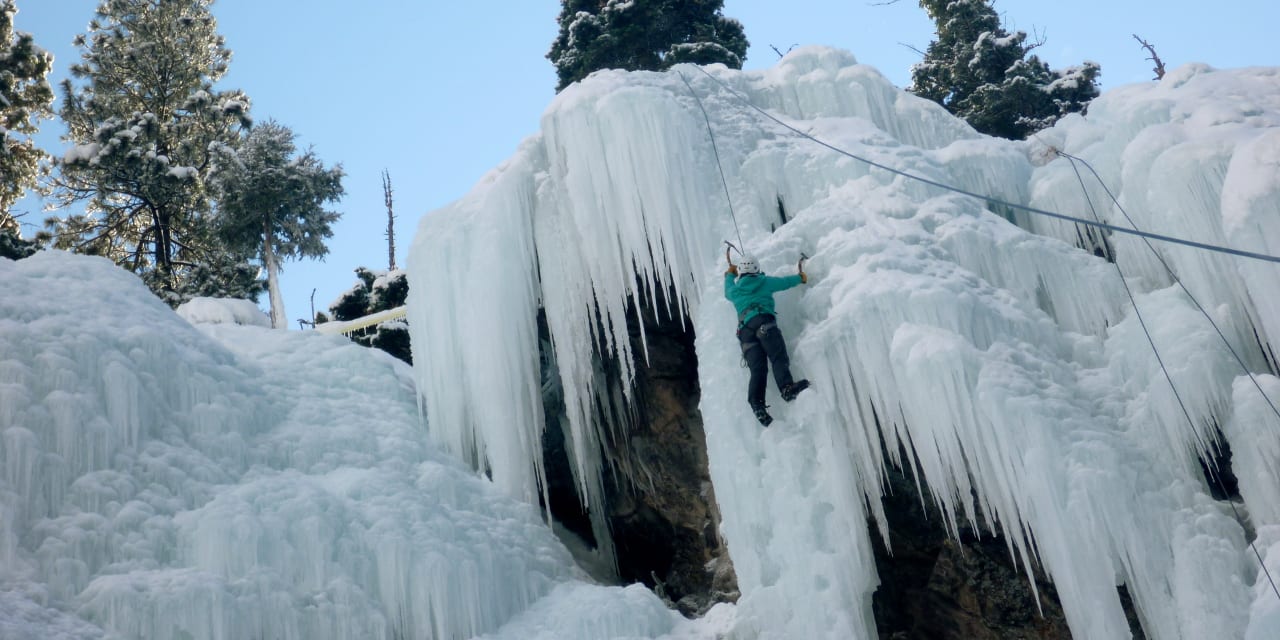 Does climbing a frozen waterfall appeal to you? Then you probably heard that Ouray is home to one of the world's favorite ice parks, Ouray Ice Park. This free manmade attraction offers more than 200 ice and mixed climbs. Come to participate, or watch others scale the icy walls positioned in a natural gorge. Held in early January, the Ouray Ice Fest draws in the best international ice climbers to compete.
Seasoned expert ice climbers can try their crampons and axes at the Black Canyon near Montrose. Popular routes include Gandalf's Beard, Shadowfax, Train Route and Curecanti Monster. Most are rated between WI3 and WI 5, with WI6 being the most difficult on the Water Ice scale.
With its magnificent waterfalls, Telluride makes a popular ice climbing destination. There are a few frozen waterfalls that people like to climb, including Bridal Veil Falls, Bear Creek Falls, and Cornet Creek Falls. A couple of guides in town, Mountain Trip and San Juan Outdoor Adventures provide ice climbing services for all levels.
An off-the-beaten path destination for ice climbing is the Lake City Ice Park. It offers routes for all levels of climbers in a secluded charming mountain village. They celebrate their Ice Climbing Festival in early February, which is a fun weekend to explore Lake City's winter landscapes.
5. Ice Skating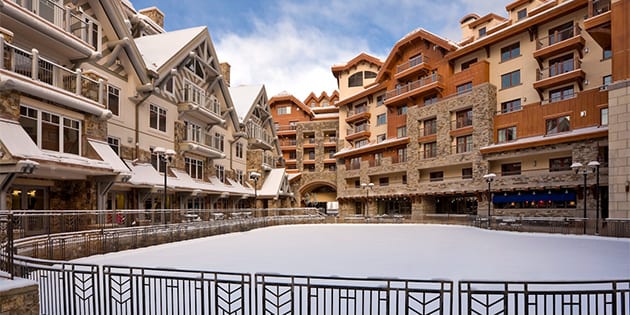 Locations abound in Gunnison County, from hockey rinks to outdoor skating ponds. Crested Butte features the large Big Mine Ice Arena, which is an outdoor covered ice rink. You can drop south to Gunnison and skate at the outdoor Jorgensen Ice Rink. There's both an indoor and outdoor ice rink, as well as a small frozen over pond that's used for ice skating.
And if you're in Lake City, take a break from backcountry skiing, ice climbing and snowmobiling for some leisurely ice skating in the Town Park between December and March. It's located at Bluff and 3rd streets and maintained by the Town of Lake City. There's also Zamboni-groomed ice skating by the boat dock on Lake San Cristobal, one of Colorado's biggest natural lakes.
Telluride showcases three outdoor ice rinks spread around town. For a charming early evening skate, definitely try the Mountain Village Ice Rink. It's open daily from 12 to 8pm through February, and even boasts a free hour skate starting at noon. Boasting a longer season to April, the big venue in town is Hanley Ice Rink. It has a full NHL-sized ice rink, easily accessible in downtown at Telluride Town Park. Plus an outdoor pond that's open to mid February.
Ouray also boasts seasonal ice skating at the Rotary Park Ice Rink. It's open December through February, weather permitting. Head south on 550 to Silverton to access its Kendall Mountain Ice Rink, which also provides outdoor winter ice skating.
6. Hot Springs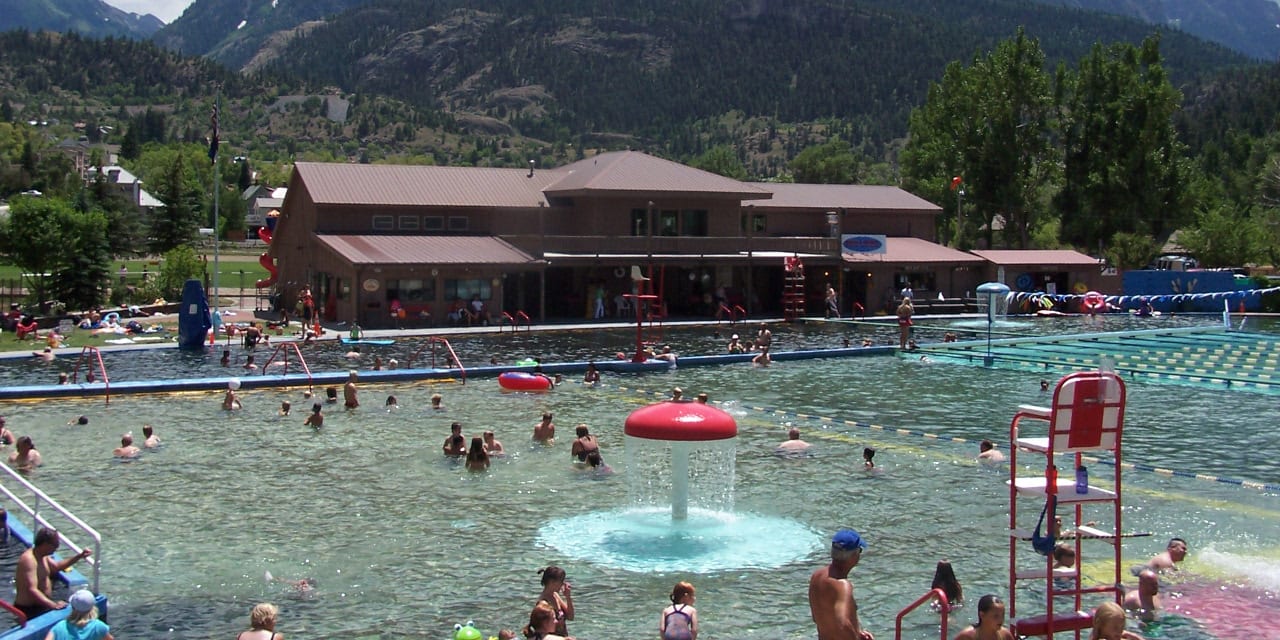 Hot springs aren't just summer destinations. In fact, there's not much better than relaxing in a hot mineral pool with snow falling in the high country. Especially after a long day of adventuring. And what better place to do it than in Switzerland…of America. Ouray County boasts a number of hot springs, with the locals' favorite being Orvis Hot Springs in Ridgway. It's clothing optional so keep that in mind.
Fifteen minutes south of Ridgway, the town of Ouray is the real mecca of springs, showcasing its signature resort the Ouray Hot Springs Pool. This outdoor swimming pool is supplied by seven different springs. There's also some hot soaking pools. Wind down after a day of winter sports while enjoying the San Juan Mountains scenery. There are also a few hot springs hotels in town, including: Twin Peaks Lodge, Wiesbaden Spa, and Box Canyon Lodge.
For more mineral hot springs, visit the Glenwood Hot Springs in Garfield County to enjoy their world-renowned historic landmark. The Ute Native Americans called these springs Big Medicine. It's got a full swimming pool and separate hot springs pool for soaking. The new kid in town though is Iron Mountain Hot Springs, which is more adult-focused (think less kids running), overlooking the Colorado River.
Last, but certainly not least, is the private Dunton Hot Springs. If you're fortunate enough to have the kind of expendable cash to stay any place you'd like, then put this one on your bucket list. This rustic but luxurious resort sits in the former town of Dunton, and was used in the filming of Quentin Tarantino's The Hateful Eight. Rent a cabin with your own personal hot springs pool.
Snow Tubing & Alpine Coaster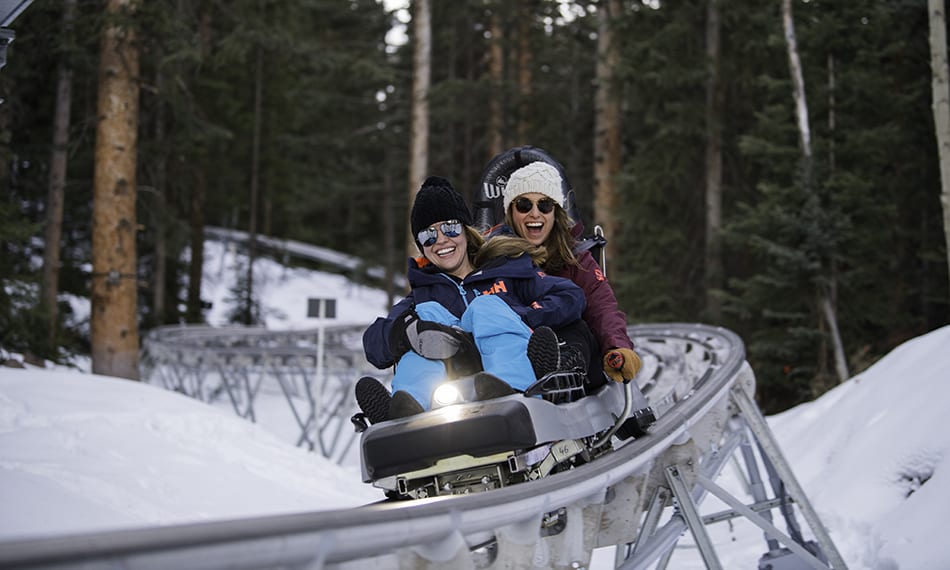 The closest resort to Grand Junction offering snow tubing is probably Aspen, which is a two drive. The Snowmass Tubing Hill provides multiple lanes of snow tubing fun all winter long. There's also a Breathtaker Alpine Coaster at Snowmass to double the adrenaline dose. It's open daily from late December to early April.
Colorado's last great ski town, Crested Butte, also has a tubing hill on mountain. The Crested Butte Adventure Park features snow tubing, bungee trampoline, rock climbing wall and miniature golf. It brings a lot of fun activities to CB's base area.
7. Winter Activities Out of the Ordinary
Snow Biking – In places like Crested Butte, Colorado's bicycle capital, you'll see people biking all year round. There's two kinds to try. Fat biking are the bikes with the big a$$ tires, that grip and shred thru the snow better. They aren't meant for deep powder, just getting around on groomed trails. You can rent fat bikes at Powderhorn. Another is snow biking, which is down the mountain like snowboarding or skiing. You'll see this strange form of transportation at several ski resorts out west.
Sleigh Rides – Sleigh rides are available both day and night all winter long. Towns like Telluride, Crested Butte and Aspen all host sleigh rides, some even paired with a romantic western dinner. For those looking for a nice date idea that's low impact, see the sparkling landscapes via horse drawn wagon.
Dog Sledding – Embark on a dog sledding journey in wondrous Western Colorado. Telluride, Aspen, and Gunnison all have dog sled tours that you'll cherish for years to come. It's one of the most unique winter activities, so take advantage when you can.
Ice Fishing – If ice fishing is something you'd like to try you'll need a valid fishing license and equipment (which can be rented). Ice fishermen can try their skill and luck in the Blue Mesa reservoir, which is west of Gunnison. Nearby to Rifle, Harvey Gap State Park offers some good ice fishing options as well. Another alternative for ice fishing on the Western Slope is Lake San Cristobel in Lake City.
Sledding – Go sledding with your kids on Firecracker Hill in Telluride Town Park. It's free to use and open all season. Rentals are available at the local Nordic Center. Ouray also hosts a free sledding opportunity at Vinegar Hill. Both aforementioned hills require a short hike to reach the top, no chair lift here!
Yurts – Enjoy the Magic Meadows Yurt Dinners in Crested Butte. It offers delicious dining in the beautiful backcountry. Or delight in an overnight stay at the Hinsdale Haute Route, a backcountry hut system. It's splendid for some rest and relaxation on a cross country winter adventure. There are two yurts open for reservation year round.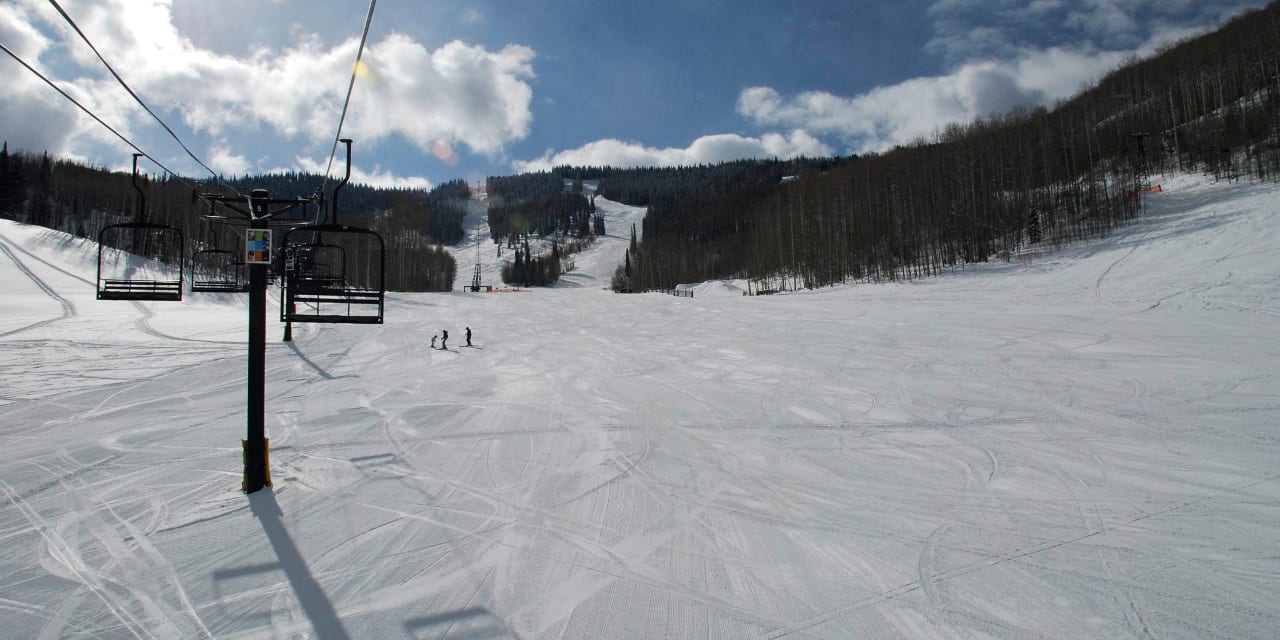 Thanks for checking out our list of winter activities in Western Colorado! Consider making Grand Junction or any one of the Western Slope's lovely, secluded towns your holiday vacation base. And chances are you'll be driving around, some read up on these winter driving tips for Colorado's slick alpine roads.