[Dog sled team. Photo: Jasen Miller] Dog sledding is a fun way to explore the Colorado mountains. Winter tours are offered at a variety of reliable outfits across the state. Both driving and riding-only options can be found from Thanksgiving through March. Read our dog sledding blog.
Dog Sled Tours in Colorado
Escape to nature and run your own dog sled. They range in length, but most run an hour or two, with plenty of hot cocoa to drink after. Dress warmly, with waterproof winter boots, hat and gloves. Most tours still operate during snowfall, as this adds to the experience.
Guide to Dog Sledding in Colorado
Dog sledding began and still is, an important form of transportation in snow-covered areas. In arctic areas that were inaccessible to other means of travel, dog teams were used to haul supplies. They still used in rural Alaska, Canada and Greenland.
Everyone should consider driving their own team of huskies. Some tours allow you to "mush" your own team of dogs, while others are just a passenger trip through the forest. It's easier to do than you might think and experienced guides are always there to help.
Where to go dog sledding
There are dog sled tours located across the Rockies and near most major ski towns. Depending on location, the season generally runs from late November until mid April. Most sleds fit two adults, up to 400lb.
If available, tours through the woods are always fun on a dog sled. The paths are curvy and mysterious, truly unique in the winter on a dog sled. Scenery is also important, and there's no shortage of that in Colorado.
What to bring dog sledding
Dress in layers – water/windproof jacket and pants (whatever you'd go skiing in)
Winter waterproof snow boots
Hat, and gloves or mittens
Neck warmer
Sunglasses or ski goggles
Sunscreen and lip balm
Camera with case and extra batteries
Popular posts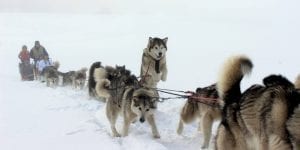 Pagosa Dogsled Adventures: Get Your Mush On! – Can you imagine celebrating an engagement, anniversary, or birthday under the full, January moon, racing across fresh snow on a sled pulled by 12 Alaskan Malamutes? The mushers and Malamutes…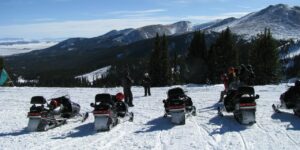 Let the Good Time Adventures Roll in Breck – For over 30 years, Good Times Adventures has given Breckenridge residents and visitors the exhilarating time of their lives, racing across 40 miles of trails in some of the most gorgeous terrain in the state…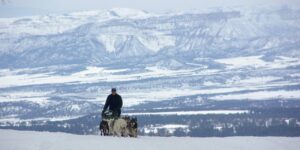 Dogs With Heart: Durango Dog Ranch Sled Tours – Gregg and Gretchen Dubit have been running the snowy Southwestern trails with their sled dogs for over 20 years. Their Durango Dog Ranch is located in Hesperus, 20 minutes west of the county seat…
Related activities
Most winter trips center around skiing and snowboarding. Snow tubing hills are another activity in the snow. Guided and unguided snowmobile tours & rentals can be found.