The Rockies offer some of the best and most varied climbing terrain in the country. Rock climbing is found all around Colorado, both indoors and out. For those new to rock climbing, lessons and guides are available to ensure you have a safe and fun time.
Rock Climbing Guides in Colorado
Whether it's your first time outdoor climbing or you've done it for years, having a guide to show you the ropes and best routes, is invaluable. Experience rock climbing tours are available year round throughout Colorado, with some guides taking trips into eastern Utah.
Indoor Rock Climbing Gyms in Colorado
Rain or snow won't slow you down at these great indoor climbing gyms. Learn the basics of bouldering and rock climbing, and perfect your skills at indoor venues around the state. Lessons and equipment rentals are available at each location.
Colorado State Parks with Rock Climbing
A number of state parks permit rock climbing. You can check with the visitor center for current conditions. You'll need your own rock climbing equipment to climb at a state park, as just the routes are provided.
Guide to Rock Climbing in Colorado
Colorado's mountainous terrain provides a world class play ground for rock climbers. And thanks to it's varied landscape, you can rock climb year round in places, when the weather's right.
You can learn to rock climb at indoor climbing gyms across the state. Take lessons or just go out there and do your best. Routes are numbered for difficulty, so it's easy to follow these color coded routes. Get in top climbing shape inside and then head outdoors for the real thing.
Where to Rock Climb
You can rock climb nearly everywhere west of Colorado's plains. Federal lands, such as national parks and forests are great places, as well as in state, county and city parks, all permit climbing in places. Public parks with rock climbing include:
Equipment for Rock Climbing
Guided rock climbing trips will provide all the necessary equipment for you to use. And if you go indoor climbing at a local gym, they will have equipment for you to rent. So rest assured, rock climbing is simple to try, and a fun sport for all ages and abilities. Routes range from easy to expert.
When you're ready and you know you'll be sticking with it, you can buy all the gear necessary, or just start with a pair of shoes, harness and belay. This is enough to get you by at the local indoor climbing gyms.
Rock climbing shoes
Climbing harness
Belay device
Carabiners
Chalk pouch and chalk
Climbing helmet
Climbing rope
Popular Posts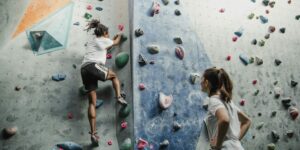 Best Indoor Climbing Gyms near Denver – When it comes to rock climbing near Denver, there are plenty of opportunities to reach new heights, both outdoor and indoor. Whether you are looking to add to your winter fitness routine, join a local climbing community, or…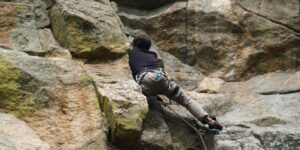 Vertical Adventures: Top Climbing Spots in Boulder, CO – When you hear the name, Boulder, Colo., you can't help but conjure up thoughts of larger rock formations of staggering heights, both smoothed and carved – perfect for climbing. Well, that's just what the town of…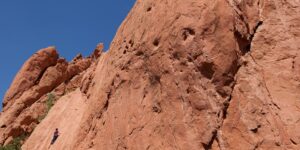 5 Renowned Rock Climbing Spots in Colorado – Colorado is revered for its mountain views and stunning scenery so it's really no wonder that its landscape attracts the best rock climbing enthusiasts from around the world on a regular basis. Its natural rock…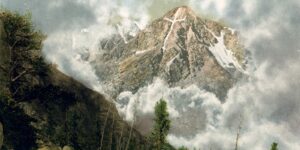 Can't Miss Colorado Mountains – Without a doubt, Colorado boasts some of the best mountain recreation and scenery in the world. From the historic Sangre de Cristo Mountains of the south to more than 50 peaks scattered around the state that tower above 14,000…
Related Activities
Never leave the ground on a hike in the Rockies. Guided rafting trips are available at rivers across the state.