Hunting exists all over the state, with opportunities for deer, duck, elk, moose, and more, depending on season and tags. Experience the rugged beauty of the land as you're on your quest.
Hunting in Colorado State Parks
Fifteen of forty-two state parks permit hunting during appropriate seasons in certain sections of their park. Campgrounds are available on-site at these parks.
Hunting in Colorado State Wildlife Area
With a valid hunting or fishing license, you can access more than 348 state wildlife areas.
Hunting in Colorado's Federal Lands
Colorado's national forests and BLM land provide various opportunities to hunt in designated areas.
Guide to Hunting Wildlife in Colorado
The opportunities for hunting in Colorado are endless. With roughly 23 million acres of unspoiled public land, hunters are able to find areas to participate in this activity with little disruption.
Unless specified otherwise, state parks, state forests, and BLM land are included in the open land for hunting. Always check with the appropriate agencies before heading out on a trip, as areas can experience closures that change by the day or hour.
Public vs. Private Land
Public land has the most space to hunt, but private areas are more secluded and can have advantages like fewer people using them and more animals. Some private spaces are just undeveloped open areas that you need to ask permission to use, but there are also private ranches that offer total package hunting experiences.
These typically have limited spaces per season and cost thousands of dollars, on top of purchasing permits and tags. Many hunting ranches have lodging or camping amenities and can be more productive since users are limited.
Permits & Licenses
Before even being able to buy a license, Colorado law requires anyone born after January 1, 1949, to take and finish an approved hunting education course. After completion, the next step is to buy the correct license for the person based on age and residency.
Youth, veterans, seniors, people with disabilities, and military who are residents and non-residents have their own type of license. Residents and non-residents must buy a Habitat Stamp for their documentation, which is good for the license year.
There are many categories for additional hunting permits and licenses in Colorado, the same as any other state. Depending on the type of hunting that you want to do requires the appropriate permit, and if you're going to apply for specific animal tags, it will cost more.
Additionally, only a certain number of people will be able to hunt particular animals during the open season based on applications and name drawings. This protects the animals from being overhunted.
Where to Hunt in Colorado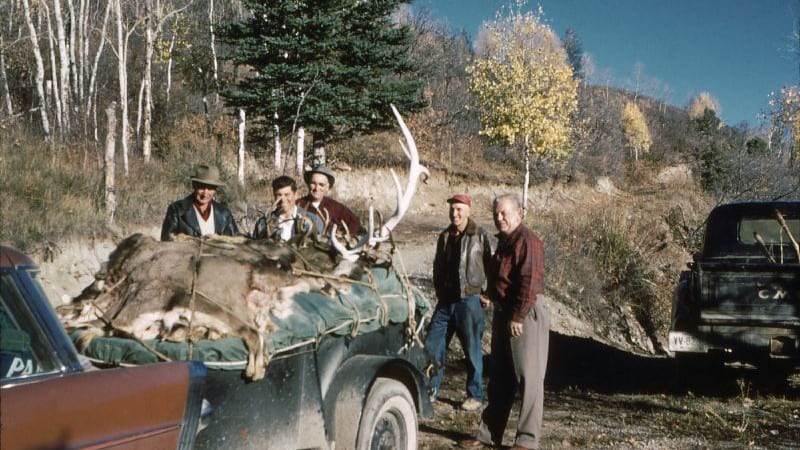 Colorado has world-class wilderness and lots of it, so it can be challenging to figure out where to go for a hunting trip. The Colorado Parks & Wildlife agency, among others, offers maps that are divided up into "Units," or zones, displaying where to hunt by animal and permit.
Depending on the season and type of hunting license you get will determine where you should scout out your next trip. Many hunters enjoy camping while hunting but consider that fees may apply at certain campgrounds.
A variety of state parks and federal land permit hunting, all based on seasons and tags. Here are the public parks that permit hunting during the season.
State parks:
State wildlife areas:
Prewitt Reservoir – Merino; Northeast Colorado lake with fishing, hunting, and camping. Waterfowl, Pheasant, Bobwhite Quail, Deer.
San Luis – Mosca; big game, small game, and waterfowl.
Many more state wildlife areas.
Guided Hunts
Newcomers to hunting or people that don't want to spend too much time scouting can arrange a guided hunt. Guides are locals who are experts in the topography of the area and know about the animals' patterns and can help make a hunting trip more effective.
Booking a guided or semi-guided trip is possible on public and private lands. Even though this service can cost thousands of dollars, some people find it worthwhile to get the most out of their hunt.
Both single-day and multi-day guided hunts are available across the state. Experienced guides are a sure-fire way to up your chances of bagging that trophy, Here are a few choices:
Ripple Creek Lodge – Guided elk and deer hunts, fishing trips, log cabin rentals, and horseback riding. Located on the Flat Tops Scenic Byway in Meeker.
Trappers Lake Lodge & Resort – Trappers Lake Lodge is located on the Flat Tops Byway in Meeker. It's open from late May through October. They offer hunting and fishing trips, both day and overnight, as well as horse and cabin rentals. There is also a restaurant with a bar.
Big Game Animals
Colorado's big game animals include:
white-tailed deer and mule deer,
elk,
mountain lions,
moose,
pronghorn antelope,
bighorn sheep,
mountain goats, and
black bears.
Most animals' season dates are finalized in January of each year.
All types of animals have their own license fee based on residency and availability. Hunters have to purchase an application for every animal they would like to hunt. Due to limited licenses being issued, drawings happen to see who gets the opportunity to buy one per animal species.
Small Game Animals
Small game animals include:
coyotes,
foxes,
cottontail rabbits,
marmots,
Abert's squirrel, and
badgers.
This category also has many birds like the Canada goose, pheasant, white-winged dove, mallard, and ptarmigan.
The small-game season usually starts on September 1 with doves. Public land has a wide range of challenging terrains like river bottoms, plains, and the mountainous slopes of the Rockies that can be good places to stake out hunting spots. After purchasing the basic license, small game hunters may have to buy duck and waterfowl stamps if they plan to hunt a species in that category.
To hunt furbearer animals like coyotes, it is required to purchase an additional license. Afterward, it's mandatory to sign up with the Harvest Information Program (HIP) online or by phone to record your document number.
Turkey Hunting
Turkey hunting in Colorado has its own separate license and drawing system. The two turkey seasons, spring and fall, have application deadlines months in advance. Hunters can buy their licenses well ahead of time, and if any spots are left open, they will be available to purchase weeks later.
Firearms
There are strict rules on what weapons you can use to hunt particular animals. Each category of a rifle, handgun, musket, shotgun, hand-held bow, and crossbow has its limitations and requirements to be eligible for hunting. Barrel length, caliber, and how many bullets can be loaded at once are all taken into consideration.
Many attachments and technology features are prohibited too.
Fully automatic rifles are banned altogether. Explosive arrows or any device that automatically loads arrows are also illegal. While mechanical and mouth calls are lawful, electronic calls are not.
Hunting Safety
As previously noted, anyone born after January 1, 1949, must take a hunter education and safety course before being allowed to buy a license. Colorado residents are required to carry their hunter education card with them unless it's noted on the permit itself. Out-of-state hunters are encouraged to bring their verification.
It's also mandated for hunters in Colorado to wear above the waist 500 square inches of blaze orange or fluorescent pink clothing if they are using a firearm license and hunting big game in a field. A hat in the same colors is also required and must be seen from 360 degrees.
Hunting is an exciting way to experience the true essence of Colorado's wilderness. After you've got all the correct documentation and gear ready to go, enjoy the journey to finding the perfect spot for your next hunting trip.
Local hunting resources
Colorado Parks & Wildlife – Official resource for hunting in Colorado. Find season dates & fees, get your license online and learn about hunting.
With a valid hunting or fishing license, guests can access more than 348 state wildlife areas in addition to the numerous state parks, national forests, and BLM lands. With people all over the world venturing to Colorado to hunt big game, it's important to note that there are three main seasons depending on your firearm: archery, muzzleloading (draw only), and rifle.
Latest in Hunting
Related Activities
Camping and fishing can be found throughout the state on state and federal lands. National forests and wildlife refuges permit hunting in places.