If you don't have a suitable 4×4, there are a number of great rentals located near exciting routes. Rent a Jeep and take to the high clearance, backcountry roads.
Guide to Off-Road Jeeping in Colorado
You can go 4x4ing year round in Colorado, but the unofficial season kicks off Memorial Day weekend. Jeep, ATV, dirtbikes and other 4×4's often share the road.
Old mining roads make the perfect trail for your off road vehicle. Explore Colorado's forgotten towns and ruins by 4×4. Jeep rentals are available around the state.
Swing by Lake City Auto in the scenic San Juan Mountains for full and half day rentals. Take the scenic Alpine Loop Backcountry Byway over to Ouray and Silverton and back. There are several Jeep models to chose from.
Featured off-road Jeep articles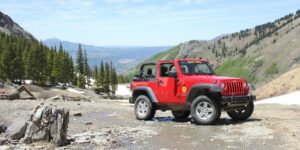 14 Unbeatable 4×4 Jeep Trails in Colorado – The Colorado Rockies are an off-road driver's dream. There are so many trailheads to explore — it's a perfect mix of top-grade topography, well-kept trails and gorgeous Colorado scenery. The state has long touted its backcountry trails for their challenging uphill drives and…
Some off-road Jeep related activities
Jeeps often share the off highway roads with ATVs and dirtbikes. Many of these lead by ghost towns and historic mines.