When the winter snow melts, the rivers in Colorado rise, creating some of the best whitewater in the country. The rafting season runs from later spring through summer, and varies on location.
Guide to Whitewater Rafting in Colorado
Most of the major rivers in Colorado are rafted, with the Arkansas River being the most popular. The Arkansas is known for the Royal Gorge and serious whitewater. Depending on snow melt and location, the rafting season runs mid April through September.
Clear Creek is the closest to Denver, making it a great day trip. For a more tranquil experience, try a multi-day trip on the Yampa River to Dinosaur. For the exact opposite, try Gore Canyon in August.
What to bring
If you're going on a commercial rafting trip, wet suits, booties and a helmet are usually provided. Otherwise if it's a private trip, plan to bring your own. Also bring:
​Sunglasses – with retainer loop or bring cheap ones
Sunscreen – very important
Water shoes or sneakers, booties may be provided
Waterproof camera if you can manage it
Featured whitewater rafting articles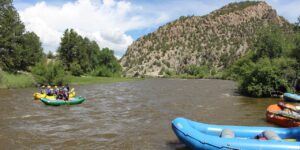 Arkansas River Rafting in Browns Canyon – If you're looking for summer adventure, head to the Arkansas River. It's one of the most exciting landscapes to raft in Colorado, with numerous sections ranging in class and ability. Browns Canyon, which recently became a national monument, offers a thrilling…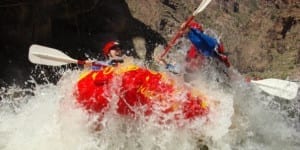 Whitewater Raft 4 Sections of Arkansas River – Whitewater rafting in Colorado has never been more popular or more exciting. And you can do it nearly anywhere in the Rocky Mountains! Due to its close proximity to the Front Range, the Arkansas River…
Some rafting related activities