When the winter snow melts, the rivers in Colorado rise, creating some of the best whitewater in the country. The rafting season runs from late spring through summer, dependent on weather and location. A wide array of guided tours are offered throughout the state's Rocky Mountain region.
List of Commercially Rafted Rivers in Colorado
There's rafting for all ages and thrill levels, from lazy floats to multi-day raging whitewater adventures. The Arkansas River is the most commercially rafted river in the state, with the Royal Gorge its most notorious section, followed up by Browns Canyon.
Map of Whitewater Rafting Rivers in Colorado
List of Whitewater Parks in Colorado
Colorado is also home to several Whitewater Parks, which offer exciting opportunities for kayaking, rafting, and other water sports. These parks are designed with features like waves, holes, and eddies that mimic natural river conditions and provide a challenging and dynamic experience for paddlers of all skill levels.
Some of the most popular ones in the Centennial State include the Salida Whitewater Park, the Durango Whitewater Park, and the Buena Vista Whitewater Park.
Guide to Whitewater Rafting in Colorado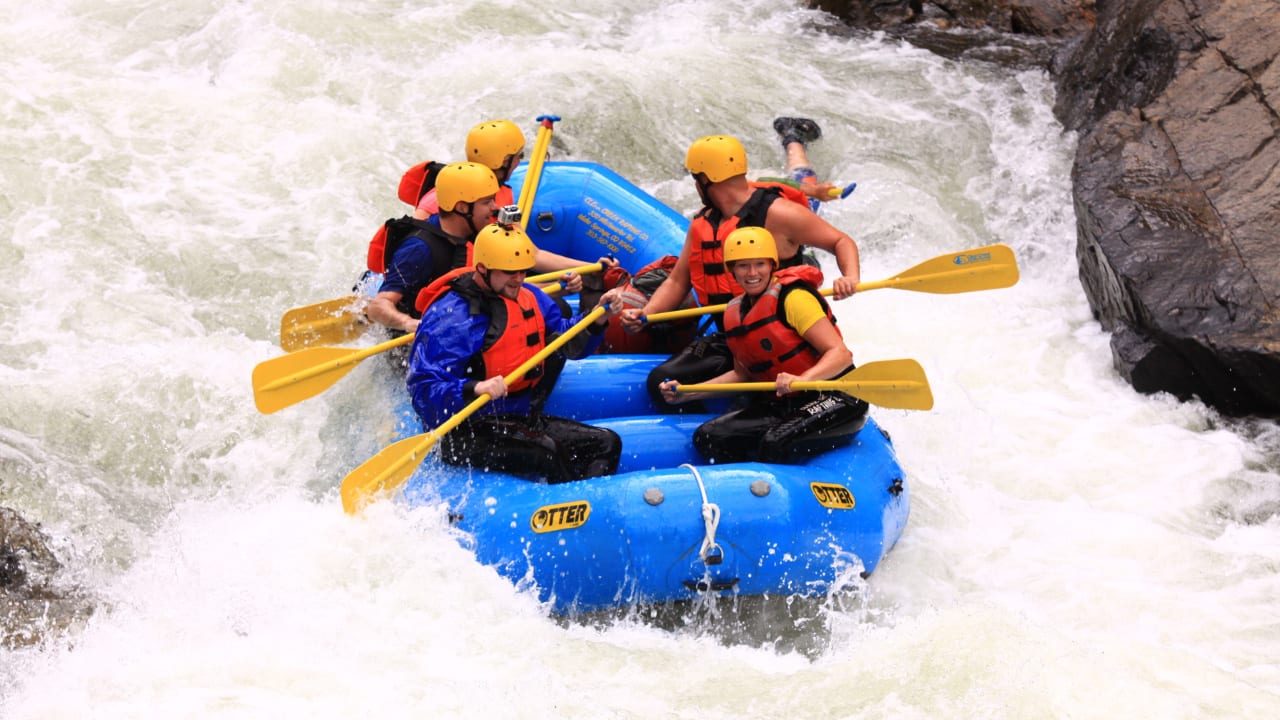 Whitewater rafting in Colorado has never been more popular or more exciting. Luckily, you can do it nearly anywhere in the Rocky Mountains and beyond, from Idaho Springs to Aspen. Most of the major rivers in Colorado are rafted, with the Arkansas River being the most diverse and well-traveled.
Other notable options are Clear Creek, the Yampa River, and the Colorado River. Each one has its own unique characteristics, making it ideal for some rafters and not others. Of course, there are numerous other waterways throughout the state to raft on, but here's a rundown of the most popular ones:
Rafting the Arkansas River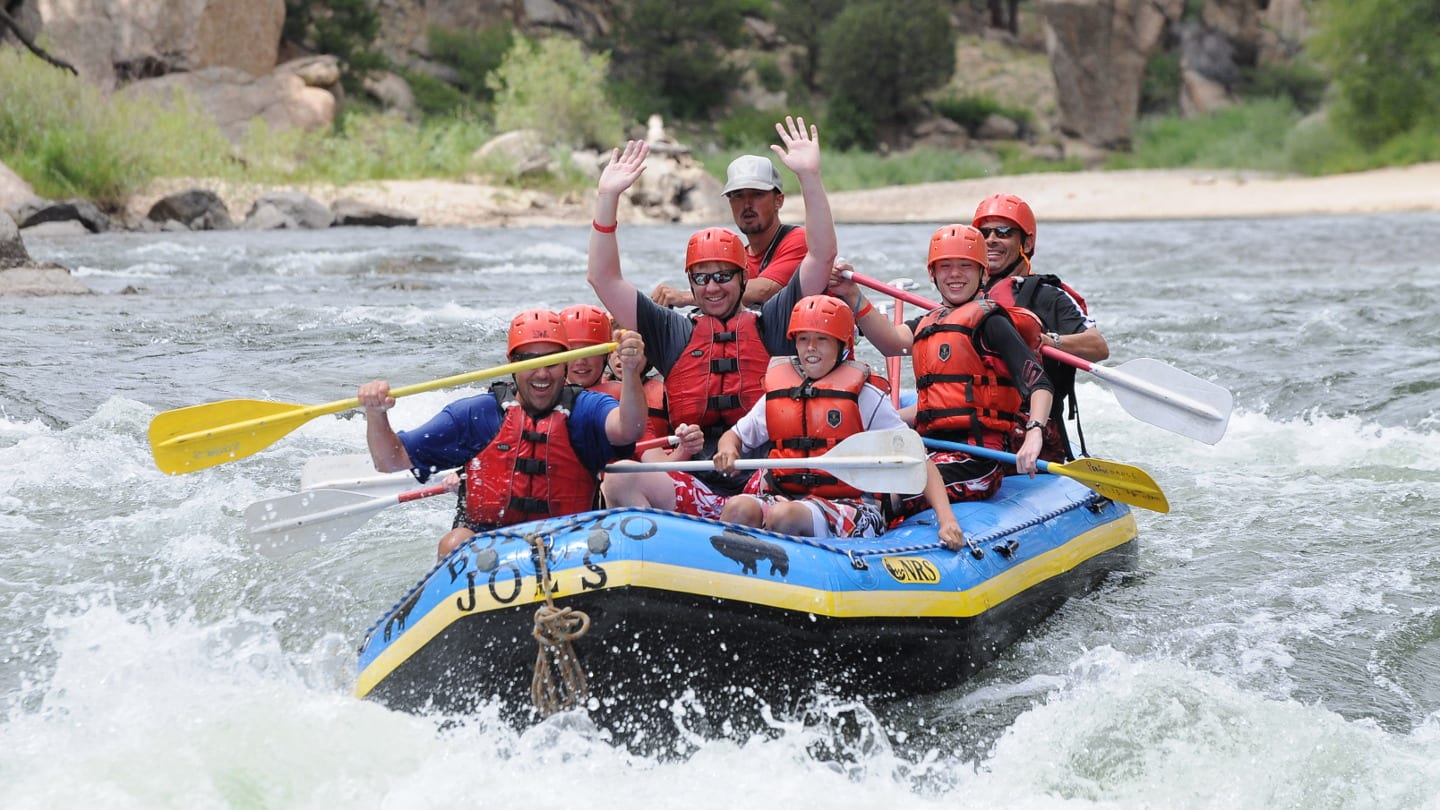 The Arkansas is known for being home to the Royal Gorge, serious whitewater, and family-friendly float trips. Depending on snow melt and location, the rafting season generally runs from May through September. Water levels are at their highest earlier in spring and gradually calm down throughout the summer.
With over 100 miles to explore surrounded by beautiful mountainous terrain, this is the place to go for any level of rafter. Tackle the tumultuous water of the Royal Gorge or opt for a more moderate challenge in Bighorn Sheep Canyon. Brown's Canyon is another frequented spot on the river that is great for families and scenic floats.
Outfitters for this river will typically be in south-central Colorado, around Buena Vista, Cañon City, and Cotopaxi. It's about a 2 hour drive from both Denver and Colorado Springs. There are also three whitewater parks on the river to check out in Pueblo, Buena Vista, and Salida.
Rafting the Colorado River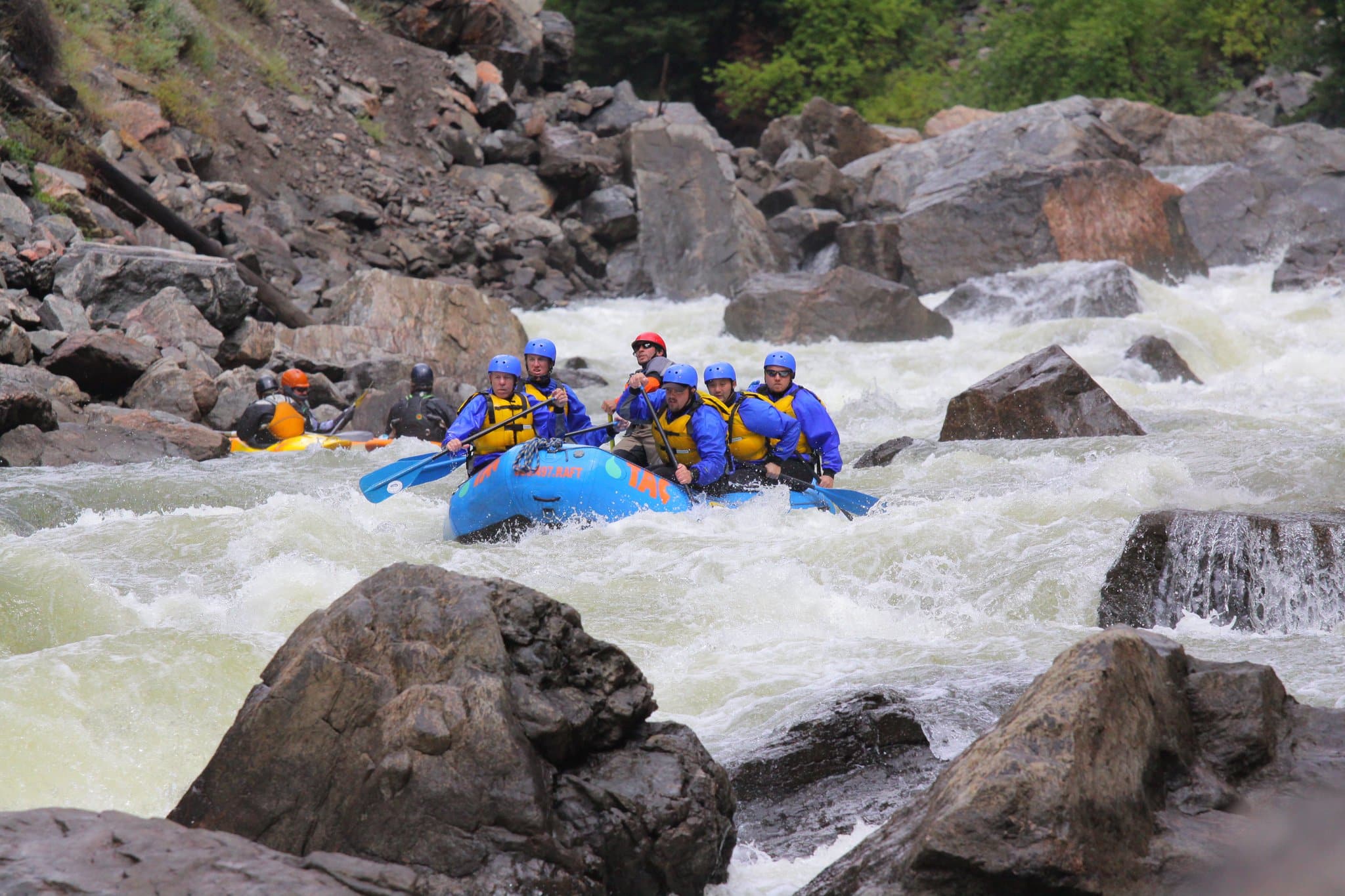 For the exact opposite of tranquil, try Gore Canyon in August. This epic section of the Colorado River near Kremmling is the most gnarly in the state with a long run of Class V rapids. Only experienced visitors should tackle this section of the river.
If you aren't quite ready to take on the canyon but still want to hone in on your rafting skills, check out the whitewater park in Glenwood Springs. As the first manmade whitewater on the river, it allows all types of watercraft and has two main water features to explore.
There are also a few Class II and III rapids downstream from Gore Canyon near the Pumphouse Recreation Site. This is a nice, calmer stretch of the Upper Colorado River and features a campground, three boat launches, and is quite close to Radium Hot Springs.
Rafting Clear Creek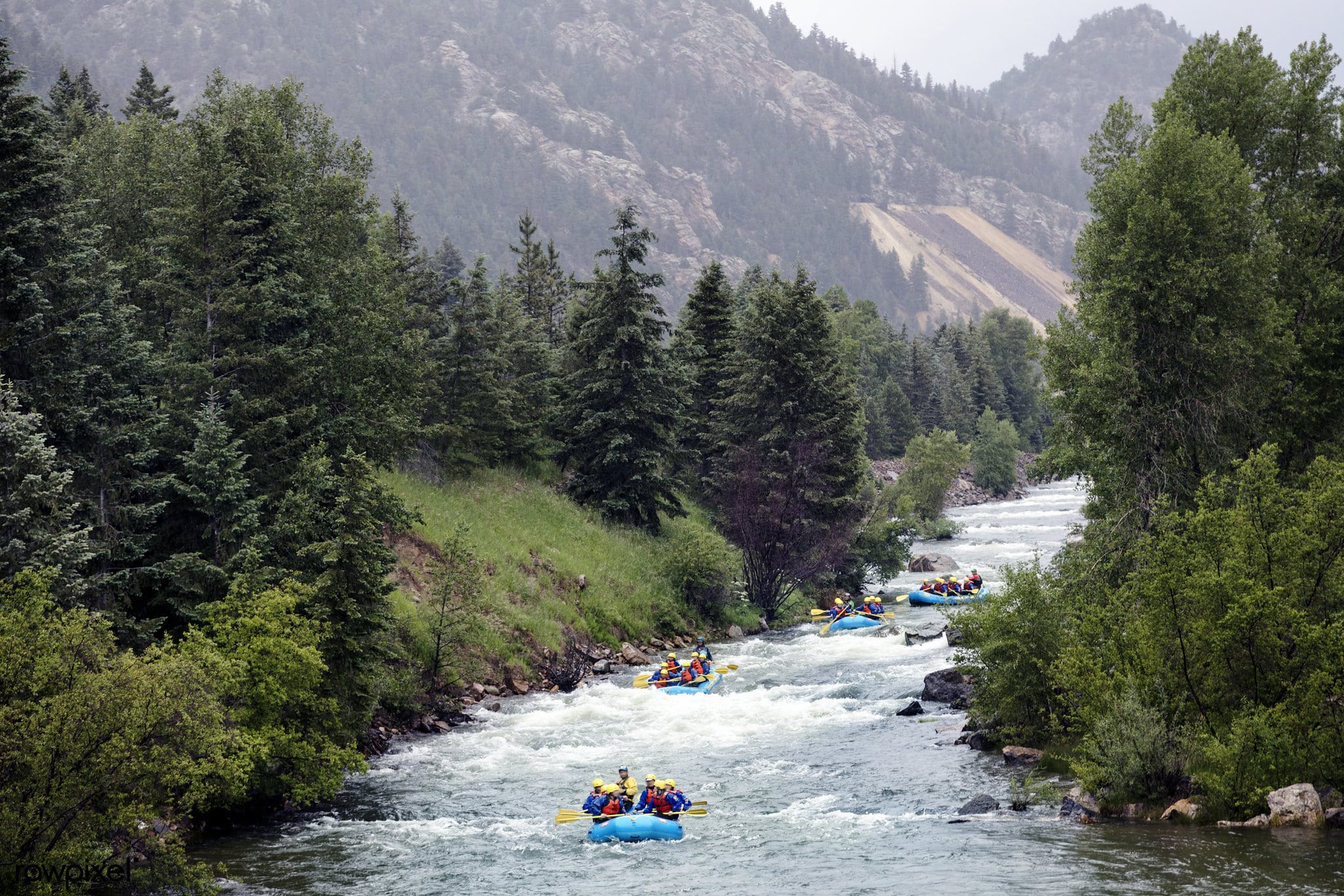 Clear Creek is the closest river rafting to Denver, making it a great day trip. It's also surprisingly intense due to its narrow width, with plenty of class III and IV rapids. You can often find discounted rafting trips here, making it the best bet for a quick, last-minute adventure from the capital.
The river winds through the Rockies and past several old mining towns, perfect for a history buff. Outfitters typically offer longer trips for more experienced or thrill-seeking guests and half-day ones for calm family floats or beginners.
Rafting the Yampa River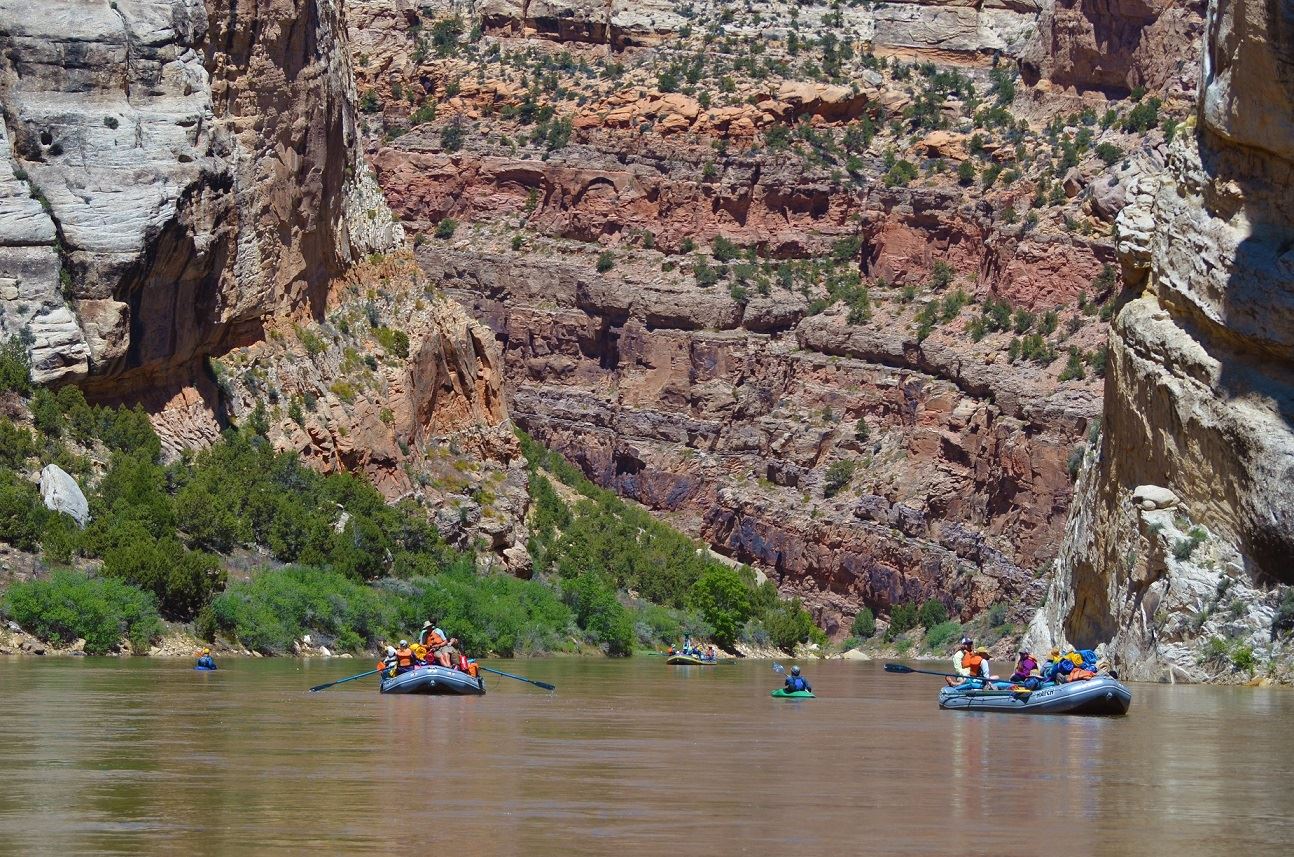 For a more tranquil experience, try a multi-day trip on the Yampa River to Dinosaur. Overnight rafting trips are available from various outfitters but only for a short window of time each year. As the only free-flowing river in the state, the Yampa will guide you through Class III and IV rapids under steep cliff faces and dramatic scenery.
On your way to Dinosaur National Monument, you'll sleep in beautiful riverside campsites near caves filled with archeological wonders. Enjoy the beauty of this unobstructed waterway while you immerse yourself in nature for a few days.
Tips for your trip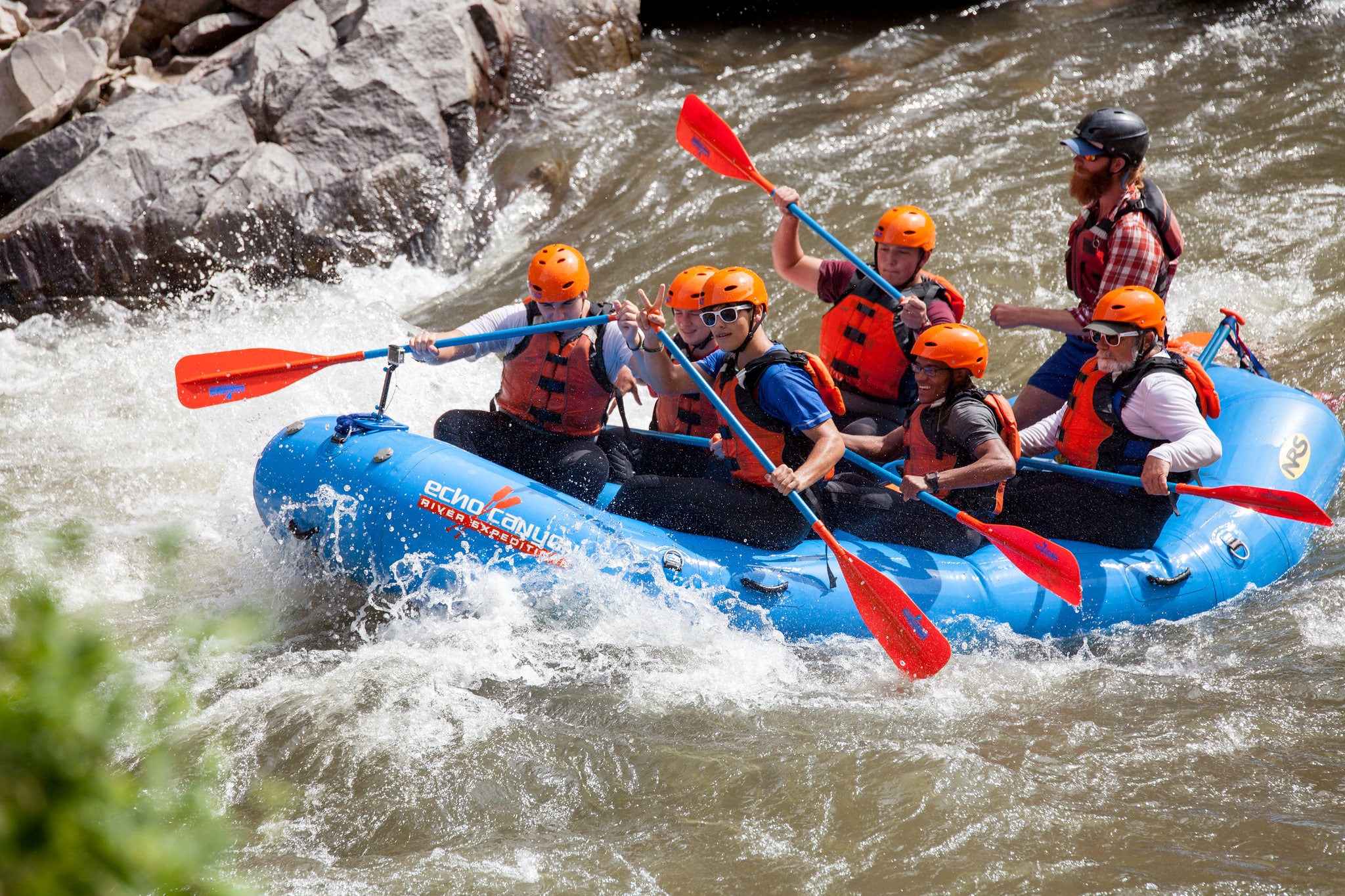 Plan ahead during the summer months, sometimes the most popular outfitters will be fully booked on weekends and holidays. Be sure to take into account all members of your group before picking the length and difficulty of your trip.
Bring a change of clothes and a bag to hold the damp ones. No one wants to sit in soggy shorts on the car ride home!
Lather up the sunscreen before you head out. Time flies when you're having fun in the raft, but your shoulders and ears will get very sunburnt if you leave them exposed for a few hours.
Leave your valuables in the car. If the river is feeling feisty and you get flipped out of your raft, you don't want to worry about your phone flying out of your pocket. Most outfitters have photographers throughout the trip that will snap some pictures of your group to purchase once you're back on land.
Whitewater Rafting Gear Checklist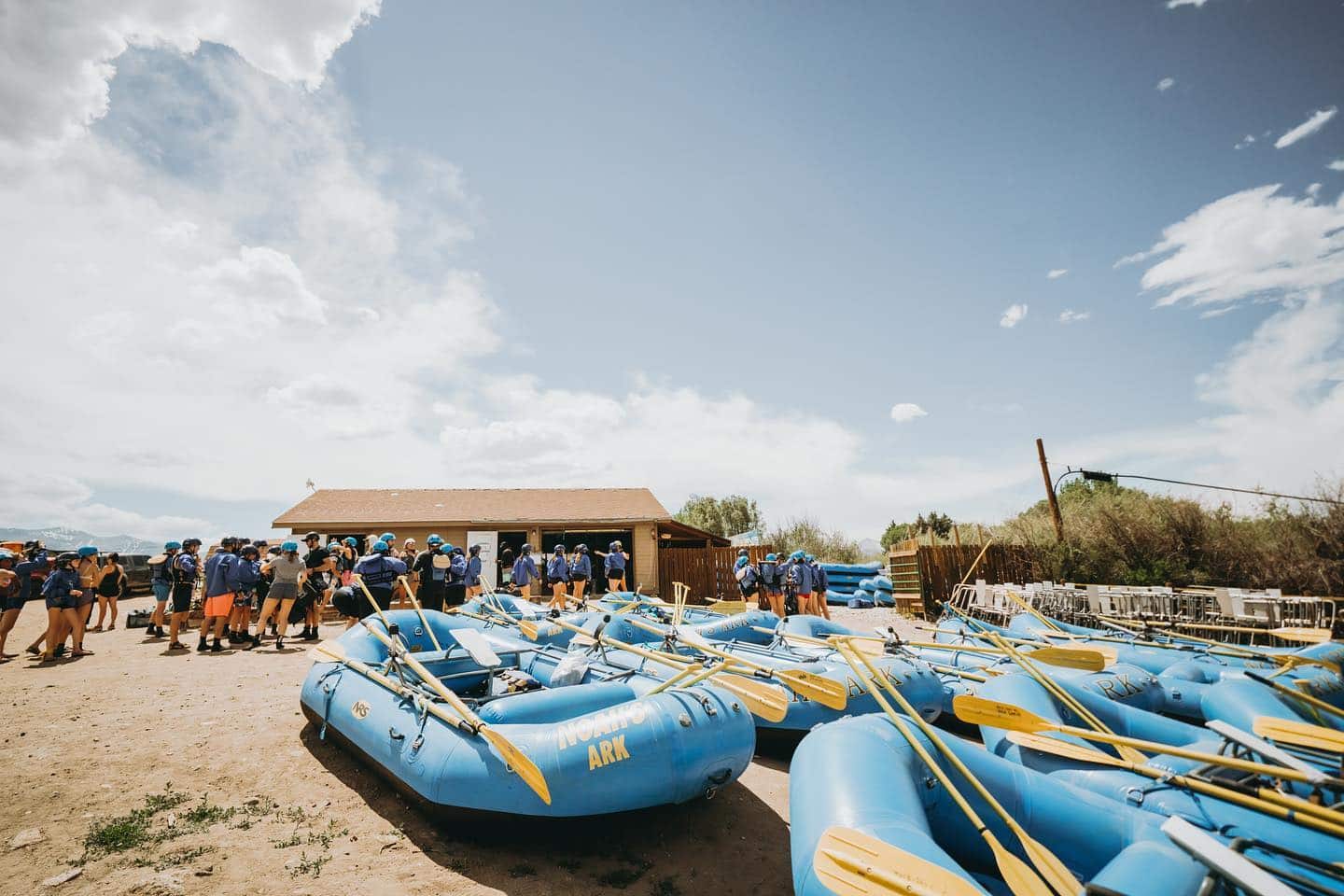 If you're going on a commercial rafting trip, wet suits, booties, and a helmet are usually provided. Otherwise, if it's a private trip, plan to bring your own. Also, bring:
​Sunglasses with a retainer loop or cheap ones you don't mind potentially losing.
Sunscreen is very important, as mentioned above.
Water shoes or sneakers that are securely attached to your feet. Booties may be provided, but it's ideal to wear a shoe that will dry quickly.
Bathing suit or quick-drying clothing with extra layers if it's still chilly outside. A full wet suit may be provided early or late in the season if the weather is cold.
Waterproof camera if you can manage it.
Water and snacks for after the trip. There's usually a small bit of storage on commercial trips if you want to take water in the raft.
Latest in Whitewater Rafting
View more whitewater rafting articles
Related Activities