No matter when or where you go in Colorado, the landscapes are usually beautiful. Some roads in Colorado are designated as scenic byways and are particularly outstanding. Read our scenic drives blog.
Guide to Scenic Drives in Colorado
Late spring through fall is the best time to travel, though some of these scenic drives are open year round. Located along many of them are outstanding attractions, from spooky ghost towns to world-class fishing, and majestic waterfalls to alpine peaks.
Colorado features twenty-five designated national scenic byways. These are the safest bet for a guaranteed glorious views and well maintained roads. However, it's often best to get off the beaten path and explore the hidden side of the Colorado Rockies. Choice is yours. Carry a detailed map and play it by ear!
Colorado driving tips
Always be sure to fuel up, towns are often far apart in the mountains, and cell phone reception is spotty.
Carry a map. They are free at visitor centers and usually any place with a rack of brochures.
Better than a free map is a Colorado road atlas, showing all the little roads that the more you travel the more you need to know.
Good tires, air pressure, keep a well maintained vehicle.
Colorado's 25 scenic and historic byways (CDOT)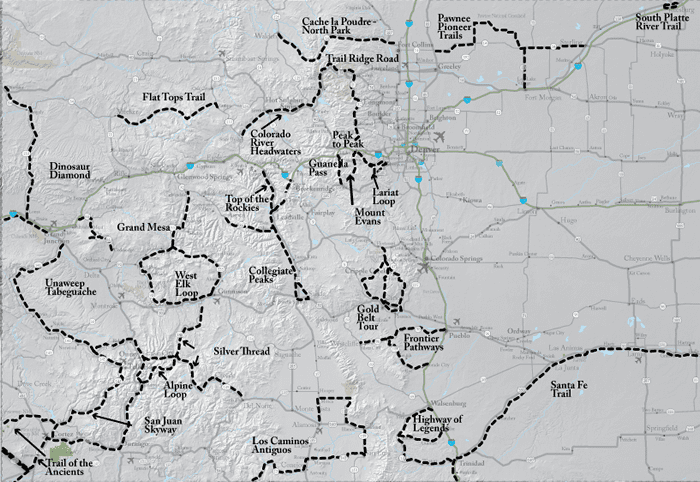 More information on scenic byways can be found at coloradodot.info.
Featured scenic driving articles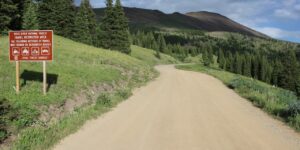 Driving over Boreas Pass to Breckenridge – Pronounced Bore-ays, Boreas Pass is a stunning 22-mile drive through Colorado's central Rockies, connecting Park and Summit counties. It links the historic village of Como to the thriving resort town of Breckenridge.
Some scenic driving related activities
Places like Black Canyon of the Gunnison and Mesa Verde National Parks have stunning auto tours. Or see the countryside the way the settlers did, by train. Railroads can be found in many mountain towns.