Great biking exists all over Colorado, from the plains to the peaks. Trails and parks are are set up for a variety of biking styles and experience levels. Many of the ski resorts open to mountain bikers each summer.
Bike Parks in Colorado
Many ski resorts offer lift access in the summer, accessing a mix of high mountain trails. You can also find city-run bike parks in towns.
Where else to Mountain Bike in Colorado
Public Lands
Find local trails to ride in city and county parks. Ride by unbelievable landmarks in national parks and monuments. Most state parks offer numerous bike trails in a variety of settings.
Guide to Mountain Biking in Colorado
From the Front Range through the Rockies to the Western Slope, you'll find fantastic bike trails the whole way. Coloradans love to mountain bike and soak in the incredible aerial views you gain from the ascent.
State parks host a variety of multi-use trails, as do most city and county parks. Many of the best ski resorts turn into downhill mountain bike parks in the summer.
Bike rentals are easy to find in most bigger cities and tourist towns. Denver manages over eighty B-Cycle stations across many neighborhoods.
Featured mountain biking articles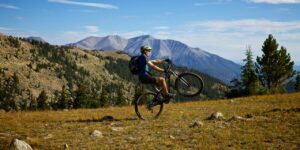 Colorado's 8 Best Mountain Biking Trails – Colorado has so many places that mountain bikers enjoy riding in and absolutely love it. There are some really interesting trails to choose from and you can be confused on which one to explore and which one…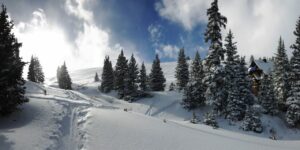 Adventure Year Round to a 10th Mountain Backcountry Hut – Plan your next mountain adventure with the 10th Mountain Division Hut Association. Choose from 34 backcountry huts connected by over 350 miles of trails accessible to hikers, mountain bikers…
Some biking related activities
Many mountain biking trails are surrounded by great camping. Fishing is always close by in the Rocky Mountains. ​See the countryside by foot on an endless number of hikes.