Majestic waterfalls are located all around the Rocky Mountains, many only a short walk from your car. They're usually at their most explosive between April and May when the snow is melting fast. Some of the falls freeze up in the winter, providing unique recreation for climbers.
Guide to Waterfalls in Colorado
Nearly everywhere west of the Front Range, you can find exquisite waterfalls due to Colorado's mountainous terrain and slopes. The best time to go is spring when the winter snow is beginning to melt off and fuel the rivers.
Most waterfalls are located in free, federal lands, which anyone can visit with usually only a short walk from the parking area. Some falls are privately owned or in a state park, and require a day fee.
Where to find the best waterfalls
Colorado Springs is home to a few notable waterfalls, including the colorful, dazzling Seven Falls, the graffiti-tagged Rainbow Falls or peaceful Helen Hunt Falls. Each of these waterfalls requires a short trek to reach, with Seven Falls being the tallest and most touristy.
Between Lake City and Creede, the secluded Silver Thread Scenic Byway winds you past two major waterfalls: North Clear Creek Falls and South Clear Creek Falls. The northern one is much larger and awe-inspiring, but you can get up close the southern one.
Two more southwest waterfalls include Telluride's Bridal Veil Falls and Pagosa Springs' Treasure Falls. Each of these free waterfalls is easy to reach from the road, and worthy stop if you're in the area.
Situated in a unique state park, Rifle Falls actually combines a waterfall experience with caves that you can meander through. Tucked away in Northwest Colorado is Fish Creek Falls, which is popular year round and known for its great ice climbing during winter.
Overlooking the vast San Luis Valley, Zapata Falls requires a half mile hike to the cascades and has picturesque campsites back at the trailhead. Ages Vaille Falls is tucked away in Chalk Creek Canyon, not far from Buena Vista. It's another short hike from the parking lot that you won't regret.
There are many more waterfalls throughout the Rockies that aren't listed. Go exploring enough and you're bound to find a few. Take time to stop and enjoy the sights and sounds!
Featured waterfalls blog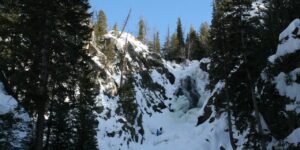 Winter Walk to Steamboat's Fish Creek Falls – Steamboat Springs is well known throughout Colorado for its champagne powder skiing, natural hot springs and sensational shopping & dining. Over the winter months, most travelers miss out on the opportunity…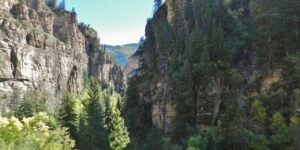 Hiking along Hanging Lake Trail – One mile up within the rugged terrain of Glenwood Canyon lies the Hanging Lake. This National Natural Landmark is a geologic wonder: waterfalls that spill into a crystal turquoise lake suspended on the edge of a cliff…
Some waterfall related activities
Colorado is full of natural beauty, preserved at places like federal lands, landmarks and state parks.