Thanks to great snow, Colorado has many great lakes, lots of which allow boating. Some locations like the Dillon Reservoir have rental boats. If you're looking for more adrenaline filled floats, then go tubing or whitewater rafting. Read our boating blog.
Where to Boat in Colorado
Public Lands
Most of the boatable lakes are owned by city, state or federal governments. Please explore these sections for boat-friendly lakes.
Guide to Boating in Colorado
Whether you own a boat or not, sailing on Colorado's pristine waters is easy to do. From the Colorado's eastern plains to the highest alpine lakes, you'll find what you're looking for in the Centennial State.
The primary boating season occurs between May and October while the warm weather makes for perfect conditions. Boating can be found year round in places like Navajo Lake, which runs south into New Mexico for the majority of the lake.
Boats can be rented at most major lakes and marinas. Daily and multi-day rentals are available in everything from wakeless canoes and row boats, to pontoon and high powered speed boats.
Learn more about boating regulations from the Colorado State and Wildlife.
Featured boating articles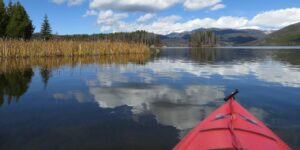 11 Best Places to Kayak in Colorado – While Colorado is best known for its mountains, there are plenty of beautiful lakes and rivers where you can go kayaking. If you're looking for more than just views, and also a little excitement, then you'll be able to find that in the Centennial State as well…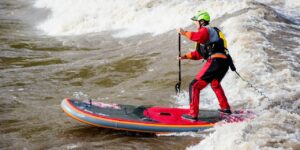 7 Fun Places to Stand Up Paddleboat – Stand Up Paddle-boarding is becoming an increasingly popular water based activity, especially in coastal areas. But you needn't move to California, bleach your teeth and boast a bikini tan-line to enjoy paddle-boarding. In fact, wherever…
Some boating related activities
Fishing and boating go well together.