Surrounded by wilderness in Northwest Colorado, Pearl Lake State Park is a true escape from hustle and bustle. It's located about 30 minutes north of Steamboat Springs and across County Road 129 from Steamboat Lake State Park.
Activities
Boating: Open May 1 through November 1 each year. The 167 acre reservoir is open to wakeless-only boating.
Camping: Yes, 36 sites, snowy conditions usually permit camping from late May through mid-October. Winter camping is closed, yurts are still available for rent.
$18/night (May through Sept), $16/night (Oct thru April)
Yurts- 2 available for rent for $70/night, electric heat and power, ceiling fan and light, 2 sets of bunk beds.
Nearby Steamboat Lake keeps 14 electrical sites open in winter.
Fishing: ​Restricted to flies and artificial lures.Fishing, no bait fishing. 2 fish bag limit, must be over 18 inches. Cutthroat trout common.

Hiking: Hike from boat ramp to the dam, then connect with Coulton Creek Trail on the Routt National Forest.
Pearl Lake Connection Trail (0.6mi) – A nice short, 1 hour round-trip hike from the boat ramp to the damn and back. Excellent views of Pearl Lake and Farewell Mountain; Possibility of connecting with Coulton Creek Trail for up to 6 miles one way.
Winter Recreation: Park and facilities are only accessible by snowshoe, cross-country ski or snowmobile in winter. Area gets over 300 inches of snow each year.
Cross-Country Skiing – Permitted, but no groomed trails.
Ice Fishing – Available during winter months, conditions permitting.
Snowshoeing – Plenty of places to snowshoe around.
Snowmobiling – Permitted during winter season.
Winter Camping (Yurts) – Trail to yurts is about 1/2 mile long and only accessible by snowshoe, ski, snowmobile.
Details
Address: County Rd 129, Clark
Phone: 970-879-3922
Season: Year round
Pets: Yes, on leash
Fees: $7/day, $70/annual (vehicle)
Map: Pearl Lake​ (PDF)
Campground: Reservations
Website: cpw.state.co.us/…
Popular Posts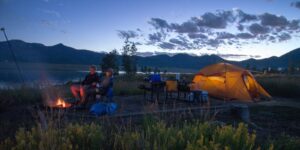 Camping at 34 of Colorado's Stunning State Parks – Before Jack Frost bedecks the punkin and fodder sheaves into shocks, there's still time left this year to camp at Colorado's state parks. With summer crowds now gone, you'll likely find more flexibility to schedule your…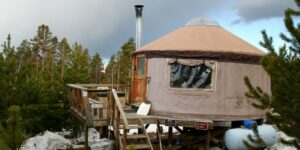 Affordable Rustic Retreats Year Round Colorado State Park Cabin & Yurt Rentals – When it comes to rustic retreats, there is certainly no shortage here in Colorado. From cozy cabins to backcountry huts and yurts, there are a plethora of options for creating…