About 14 miles south of Telluride, Trout Lake is not only one of the most scenic but also easily accessible alpine lakes in Colorado. Trout Lake is found at 9,716 feet in elevation within the Uncompahgre National Forest.
Throughout the year, Trout Lake is a popular spot for fishing, boating, hiking, cross country skiing, and incredible photo opportunities just off of the San Juan Skyway (Colorado State Highway 145). Trout Lake is frequented due to its breathtaking scenery as well as the famous "Trout Lake Trestle" relic of the Rio Grande Southern Railroad.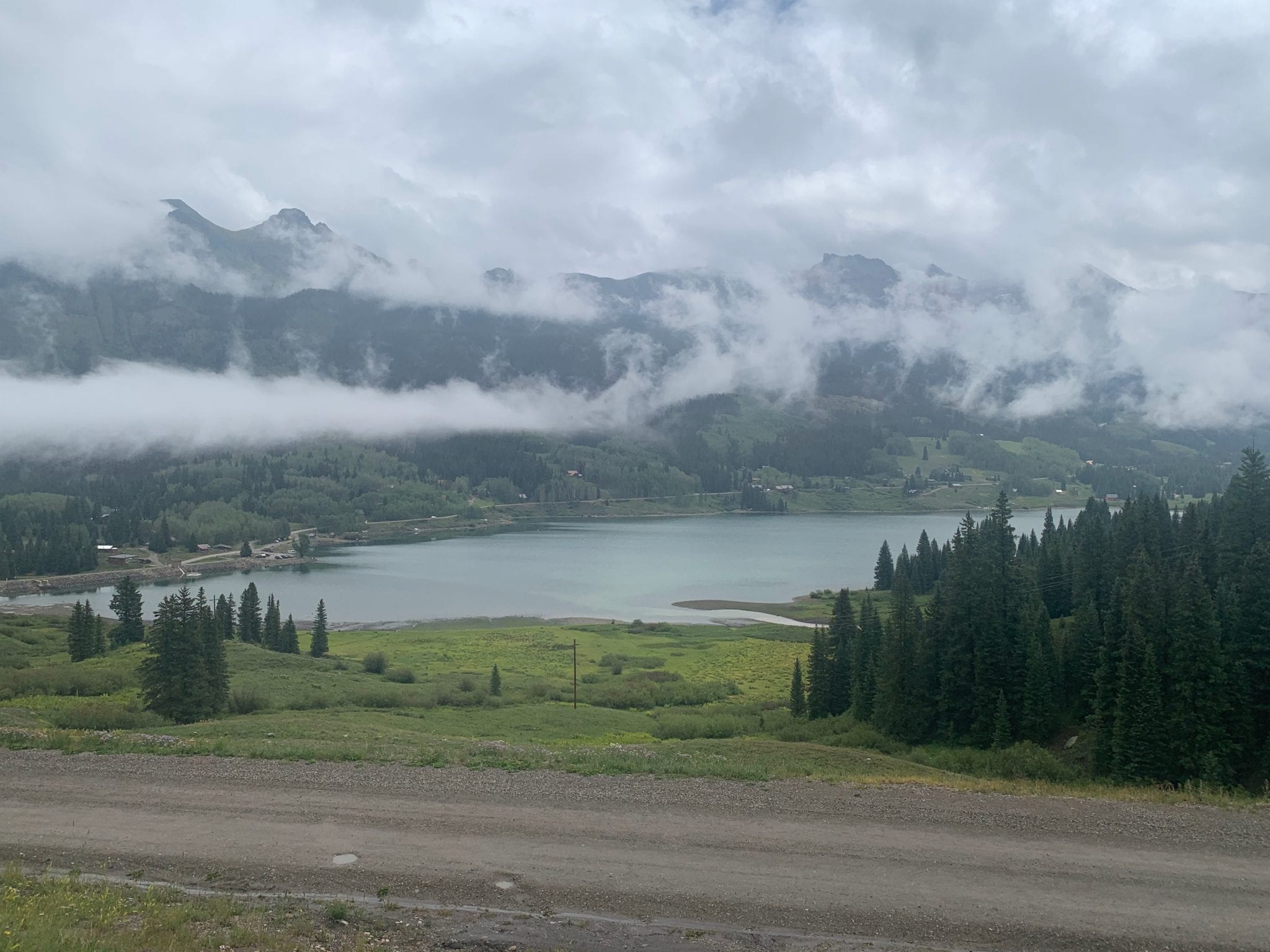 Located near Ophir, in San Miguel County, just north of Lizard Head Pass, the drive south from Telluride is about 14.5 miles over 25 minutes. To avoid confusion, it is important to note that there are two "Trout Lakes" in southwest Colorado. The second, lesser-seen Trout Lake is located in the Weminuche Wilderness adjacent to the Continental Divide Trail near the famous "Knife's Edge."
History
Trout Lake is a natural body of water with use and visitation dating back to the French fur trapping expeditions of the early 19th century. With the introduction of the railroad, a small community of hopeful prospectors developed around Trout Lake, with a post office operating on and off for several decades beginning in 1882.
Starting in 1891, Trout Lake was used as a refueling station for steam-powered railroad trains in need of water along the Rio Grande Southern Railroad. A large wood tank from this era can still be seen today, near the Trout Lake Trestle, which was added to Colorado's Register of Historic Properties in 1997.
In 1894, the construction of the Trout Lake dam began to expand the water storage capacity for the nearby Ames Hydroelectric Plant. In the fall of 1909, the timber dam at Trout Lake flooded and was replaced with a rock and soil dam the following year. In 1954, the dam's spillway was reinforced to divert excess water to the nearby Lake Fork.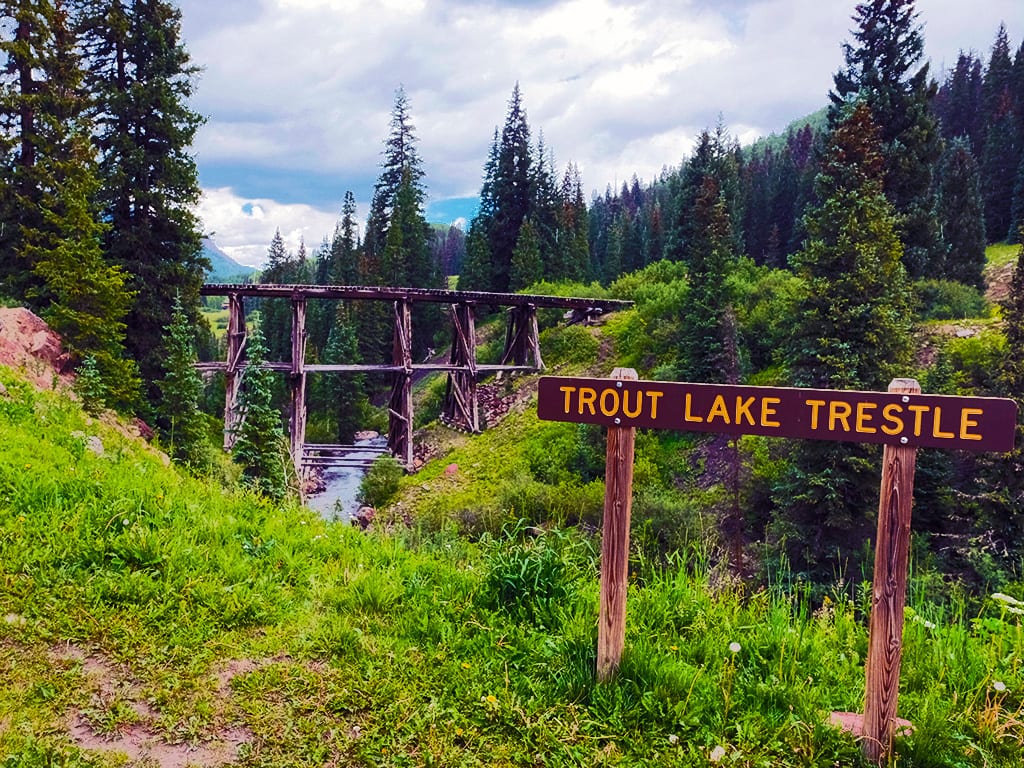 Activities
With towering peaks set behind clear waters, green forests, and exceptional wildflowers, Trout Lake is a great place to enjoy the fresh air and pristine scenery of the Rocky Mountains. Although it is just off of the highway, visitors are still likely to encounter bird and wildlife species in the designated outdoor recreation area around Trout Lake.
Nearby is outdoor recreation within the Uncompahgre National Forest.
Boating: Non-motorized boats are permitted for wakeless travel on Trout Lake. The lake is popular for kayaks, canoes, and stand-up paddleboards.
Camping: Camping is not permitted at Trout Lake, but visitors have the opportunity for both dispersed and developed camping nearby. Just north of Trout Lake, overnight camping is possible in the Matterhorn and Priest Lake Campground.
Fishing: As may be expected from its name, Trout Lake is a very popular spot for anglers with a valid state fishing license. The deep clear water of Trout Lake generally yields good fishing conditions for native brook, rainbow, and cutthroat trout.
Trails: In the summer, the Trout Lake Recreation Area offers a network of hiking trails perfect for scenic strolls or challenging climbs. Nearby, the Lake Hope Trail is a popular mountain biking and hiking route which offers views of Trout Lake from above.
In the winter, the Telluride Nordic Association maintains groomed cross-country trails for snowshoeing and cross country skiing south of Trout Lake. The Trout Lake / Old Railroad Grade Trail travels between the Trout Lake Trestle and Lizards Head Pass.
Picnicking: Trout Lake is a great place for a picnic lunch, although there are limited facilities available onsite. Restrooms are open seasonally just a short distance away, at both Lizard Head Pass and nearby campgrounds.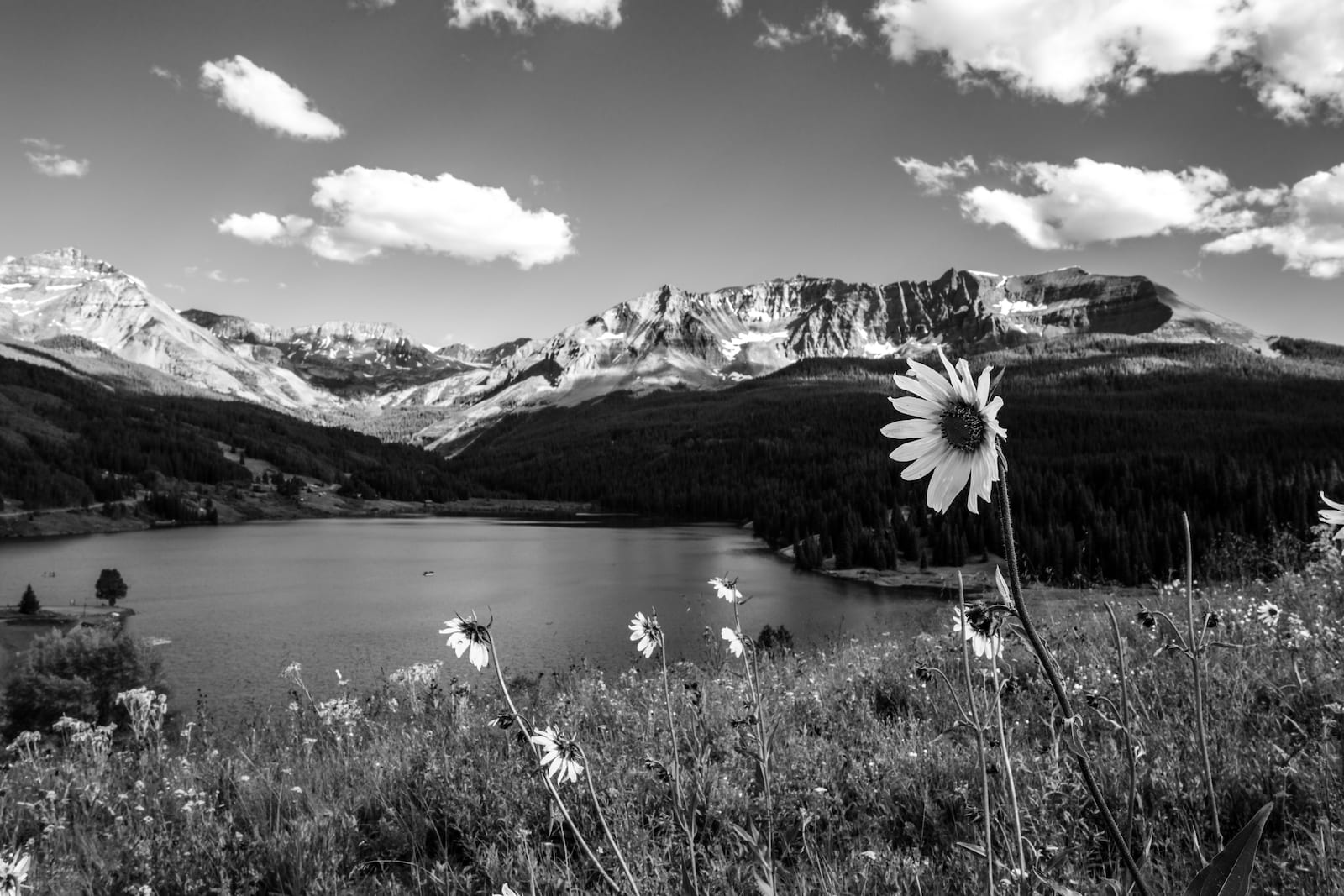 Details
Address: Trout Lake, Ophir, CO 81426
Phone: 970-874-6600
Season: Year-round
Hours: Daylight hours
Requirements: State fishing license
Trail Map: fs.usda.gov… (PDF)