At nearly 11,000 feet in elevation, Little Molas Lake is a small body of water found along the Colorado Trail and the Million Dollar Highway, south of Silverton. It's s found about two miles west of the larger Molas Lake (sometimes referred to as Big Molas Lake) in the San Juan National Forest.
Little Molas Lake is located adjacent to Molas Pass. From Molas Overlook, travelers must cross the highway and travel up a 1 mile long, unpaved road. During good weather conditions, the lake can be reached by most cars, including 2WD and lower-clearance vehicles. In the winter, access via snowshoe is possible.
There are separate parking areas for the water and trail access near Little Molas Lake. Trailhead parking is located just past the campground, which has approximately 20 parking spots, many of which can accommodate a horse trailer. Additional day-use parking is available closer to the water.
Activities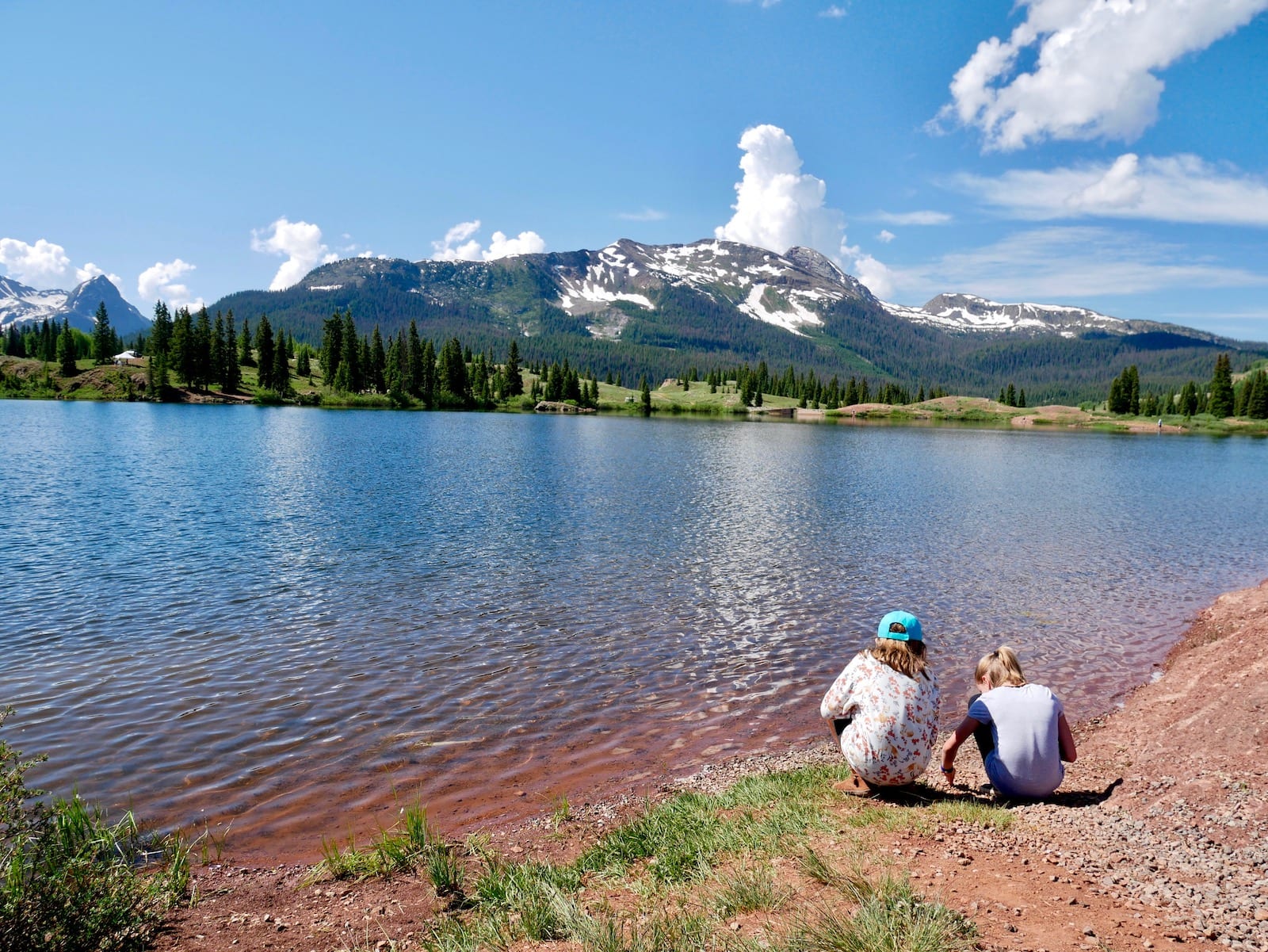 Little Molas Lake offers tremendous views of the San Juan National Forest and the neighboring Weminuche Wilderness, with easy access from the highway. Despite its growing popularity, Little Molas Lake still generally ensures a peaceful getaway, even if the campground is full.
Birding & Wildlife: Little Molas Lake is a popular birding destination, with the chance to spot waterfowl, jays, and multiple species of woodpecker in the dense spruce-fir forest. On the ground, visitors typically spot small critters such as squirrels and snowshoe hare around the lake.
Boating: Non-motorized boating is permitted in Little Molas Lake, and all watercrafts are required to be hand-launched. The lake is ideal for kayaks, canoes, and stand-up paddleboards.
Two miles to the east is "Big" Molas Lake. It consists of a beautiful lakeside campground, one of the nicest in the state. The lake is also open to non-motorized watercrafts.
Camping: There is a no-fee, primitive campsite at Little Molas Lake with 10 designated spots available. While there are picnic tables, water, or trash facilities, the campsites do include fire pits with grills and access to vault toilets. About half of the sites can accommodate RVs or horse trailers and the campground is typically open unless covered in snow.
All campsites are first-come, first-served and campers may stay a maximum amount of 14 days at the Little Molas Lake campground. If all of the designated sites are taken, dispersed camping is available in the surrounding national forest.
Read about the camping near Silverton.
Fishing: Although the water access can be a bit muddy, Little Molas Lake is a popular fishing destination. Here, a state fishing license is required, and visiting anglers have the opportunity to catch a variety of fish stocked by Colorado Parks and Wildlife including brook and golden trout.
Trails: Little Molas Lake is located right along the Colorado Trail, which makes the campground a great jumping-off point for exploring the area. Along the Colorado Trail, hiking, mountain biking, and horseback riding are permitted. In the winter, the area's trails are also popular for snowshoes and snowmobiling.
Swimming: Swimming is not permitted in Little Molas Lake.
Details
Address: Little Molas Lake, San Juan National Forest, US-550, Silverton, CO 81433
Phone: 970-387-5530
Season: Typically June – the end of September | Closed for snow
Hours: 24/7
Fees: None
Map: Federal Lands Area Map (PF)