Along the Million Dollar Highway, north of Molas Pass, Molas Lake is a scenic 25-acre body of water that is located about 6 miles south of Silverton, Colorado. Featuring a popular private campground owned by the town of Silverton, Molas Lake is widely regarded as one of the most scenic developed camping sites in Colorado.
With stunning panoramic views and ample opportunities for exploring the area, Molas is the largest lake in San Juan County and is situated on the edge of the Weminuche Wilderness. The lake is currently being stocked with fish provided by Colorado Parks and Wildlife.
Activities

Birding & Wildlife: Molas Lake is home to ducks, warblers, migratory geese, and several species of hummingbird. On the ground, lucky visitors often spot foxes around the lakeshore.
Boating: Non-motorized boating is permitted on Molas Lake. At the campground office, there are stand-up paddleboards and kayaks available to rent for a small daily fee.
Little Molas Lake also is open to non-motorized watercraft-like canoes. It's located 2 miles to the southwest across the highway.
Camping: The Molas Lake Campground has been in operation for nearly 100 years, with the amenities recently updated in 2008. Here, there are 50 campsites of varying sizes with room for tent camping, trailers, and both small and large RVs. Restrooms, drinking water, and showers are available.
Due to its limited season and stunning scenery, reservations for the Molas Lake Campground fill up quickly each year. Typically, reservations open on January 1st, and campers can book sites between June and September.
Read about the camping near Silverton.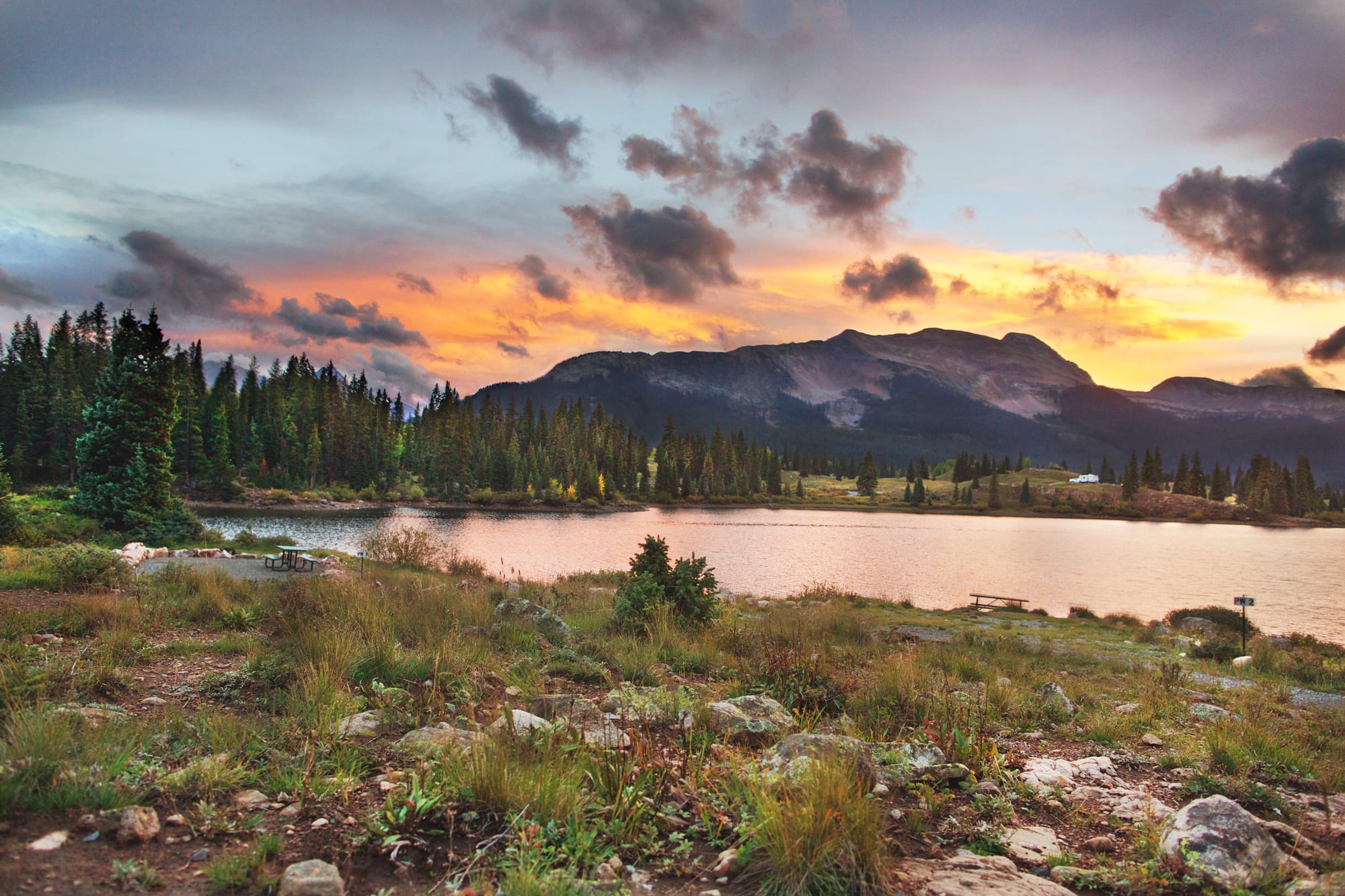 Fishing: A valid Colorado fishing license is required to fish in Molas Lake. Anglers have their chance of catching a variety of stocked species, typically bagging rainbow or brown trout. Cleaning fish is only permitted in the designated area and a limit of 4 fish is enforced per person.
Picnicking: There is no day-use charge to visit Molas Lake, so visitors are free to use the area's bathrooms, picnic tables, BBQ grills, and trash facilities. A small store is also located at the campground, where picnickers can also access potable water.
Swimming: Swimming is not allowed in Molas Lake.
Trails: Molas Lake is located adjacent to the Colorado Trail, and the Molas Lake Campground is a popular location for thru-hikers mailing resupply packages. If you are just visiting overnight, Molas Lake Campground is an incredible jumping-off point for exploring the area via the Colorado Trail on foot, mountain bike, or horseback.
In the winter, there is also a snowmobile operator located next to Molas Lake.
Details
Address: Big Molas Lake, U.S. Highway 550, Silverton, CO 81433
Phone: 970‐403-4145
Season: Year-round | Camping (June – September)
Hours: Day-use (dawn to dusk)
Fees: Camping
Map: Molas Lake Campground Map (JPG)
Website: molaslake.com