Situated next to the foothills in Littleton, Chatfield State Park is an outdoor haven for the Denver metro. It's nestled southwest of the capital city and centered around the 1,500-acre Chatfield Reservoir. You'll find a variety of activities at any time of the year.
The reservoir is larger than nearby Cherry Creek Lake and is open to most types of boats including powerboats, sailboats, jet skis, and water skis. Fishing is also popular year-round, with opportunities for ice fishing in the winter. There are a whopping 197 campsites and 10 group campsites, many with full hookups.
Scenic Sanctuary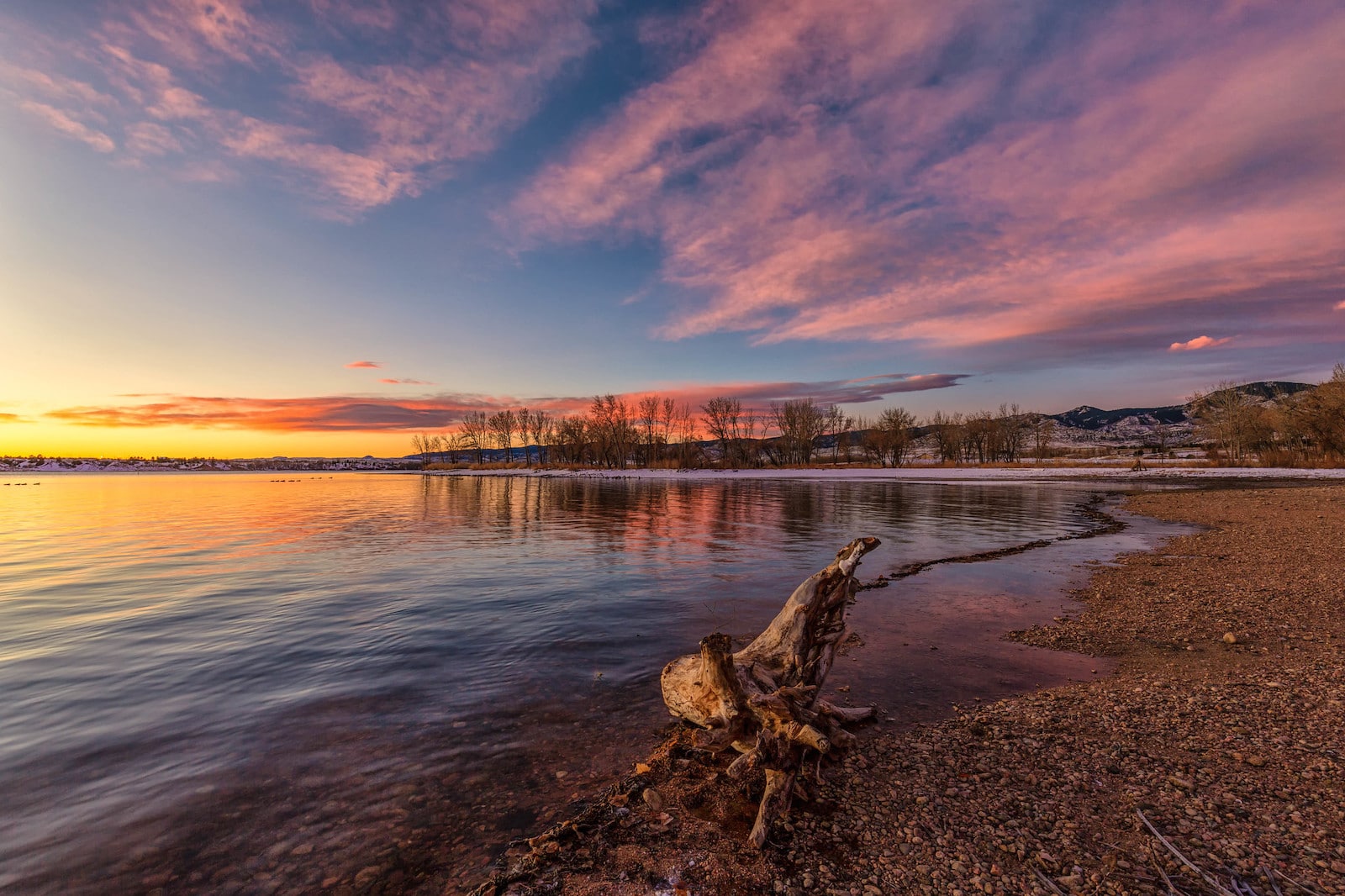 If you're looking for a one-stop shop for any and all recreational activities, Chatfield is the place to be. With over 5,380 acres spread across three counties, close proximity to Denver, and the ability to host any size group, it's a lovely place for a weekend adventure. The state park is also dog-friendly, boasting a 69-acre off-leash dog area.
The state park was developed in 1973 after authorities realized the need for a dam to control local flooding. The Army Corp of Engineers began working on the dam and surrounding recreational area, and it opened to the public in 1975. Today, Chatfield welcomes over 1.7 million visitors annually as one of the most popular parks in the Denver metro area.
Activities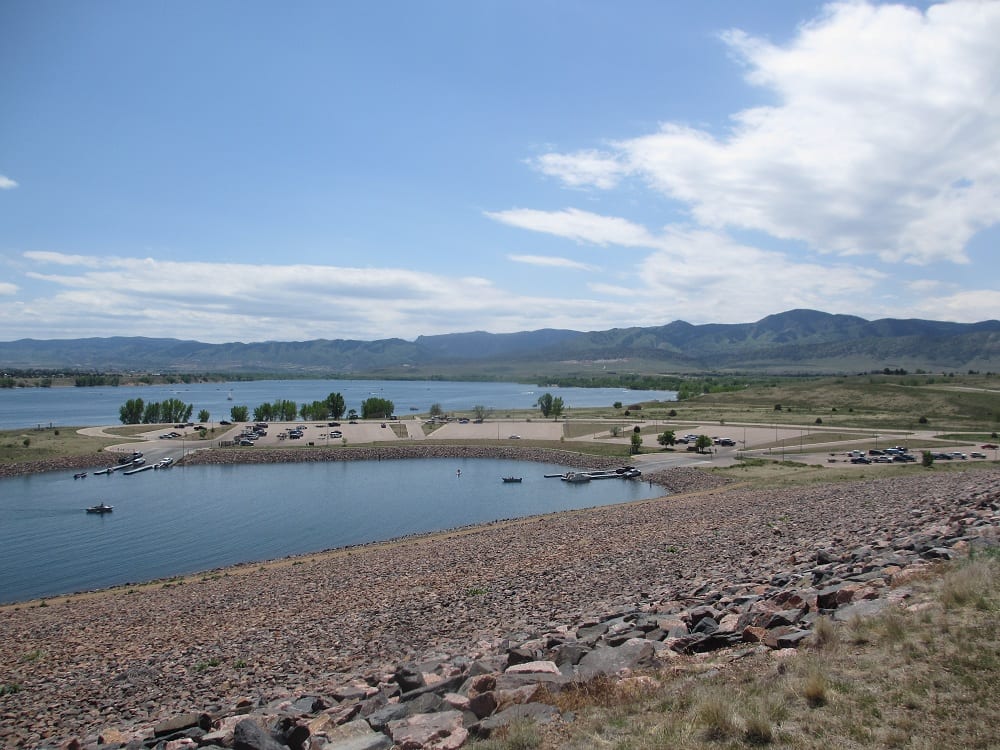 Biking: There are 26 miles of trails, 12 of which are paved. Biking is one of the most popular activities in the park, and for good reason. The trails interconnect trails and are suitable for all abilities either on a road bike or mountain bike.
Boating: The reservoir spans an impressive 1,500 acres and is open to powerboats, water skiing, sailing, and jet skiing. There are 2 boat ramps and all boats must undergo an Aquatic Nuisance Species inspection before launching.
The Chatfield Marina rents out boats during the season. They offer 6-person fishing pontoons and larger 10-person pontoon boats. Reservations are required.
Non-motorized watercraft, such as canoes, stand-up paddle boards, and kayaks can be rented through 2 Colorado Watersports locations. They are both located within the park at Roxborough Cove and the Swim Beach.
Camping: There are four campground loops with a total of 197 sites. All have year-round electrical hookups, and many also have seasonal full hookups. There are 10 group camp areas, which can be reserved through a third-party phone number or their online reservation system.
Fishing: Aside from bass and trout, bluegill, carp, channel catfish, crappie, sunfish, walleye and yellow perch are common. There are even ice fishermen found from time to time when the front range winter conditions will allow. Campers are allowed 24-hour boat access to the lake, as long as they have proper lighting on their vessels.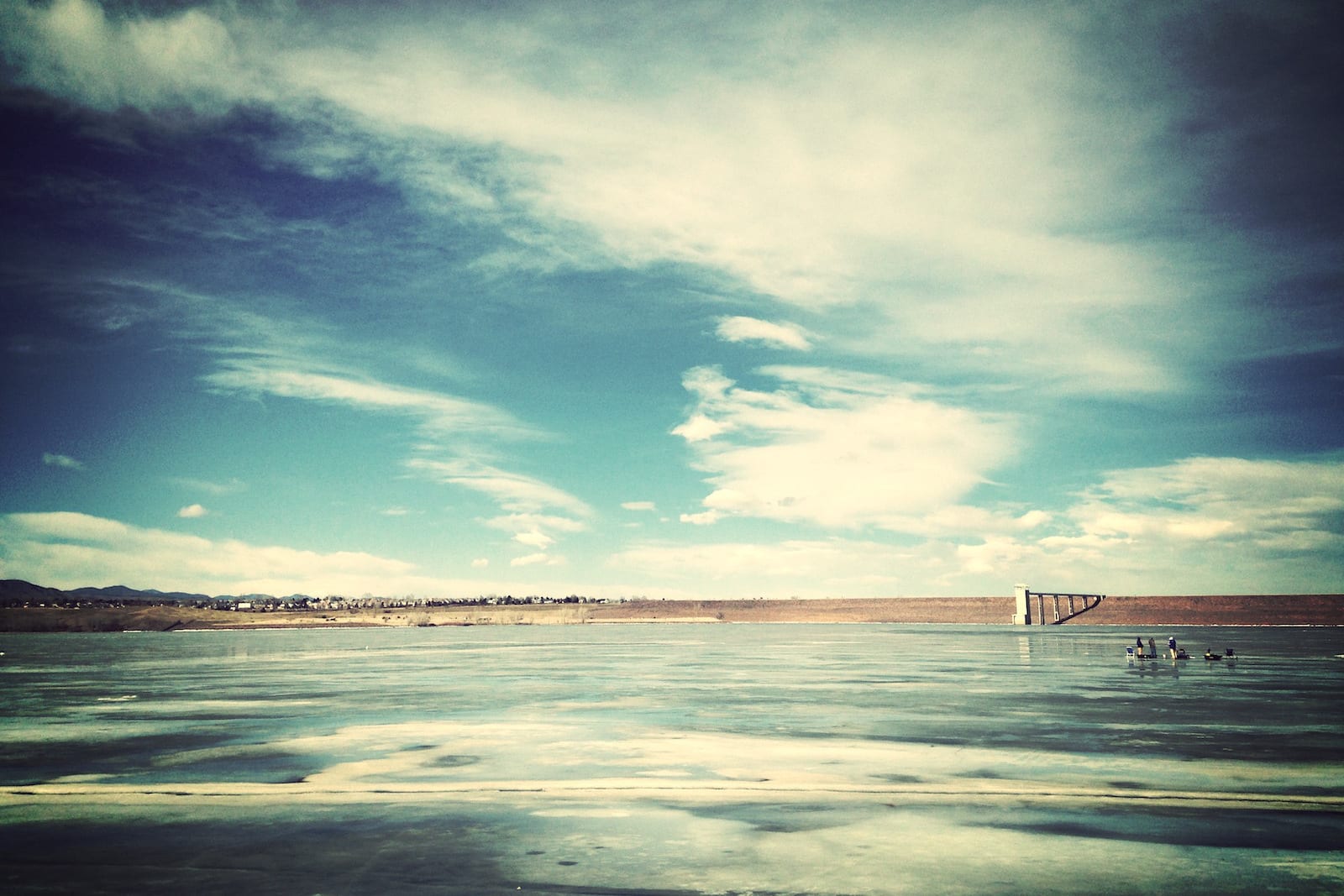 Hiking: There are several interconnected paved trails, most of which are ADA accessible. All paths allow leashed dogs.
Horseback Riding: About 24 miles of trails are open for horseback riding. Chatfield Stables offers guided rides and group outings at the park as well. Be aware that most equestrian trails are also shared by pedestrians.
Hot Air Ballooning: Licensed balloon pilots can launch from Chatfield with a requested permit. If you are just visiting and want to go up in a balloon, a quick Google search will help connect you with one of the commercial pilots that launch from the park. You can go on a high-flying adventure for a fee.
Model Airplane Flying: There is a model airfield known as the Chatfield Aerodrome, complete with 2 paved runways, frequency posts, and a windsock all located south of the campgrounds. The runways are 575 and 690 feet long and there are also concrete pit areas and several workbenches if you need to make adjustments.
Off-Leash Dog Area: The park has a 69-acre off-leash dog park for an extra fee in the form of a self-serve day pass or an annual pass. It is completely fenced in and features miles of paved and unpaved walking trails and 2 ponds. There is a limit of 3 dogs per handler, and you must carry a leash and waste bags for each one.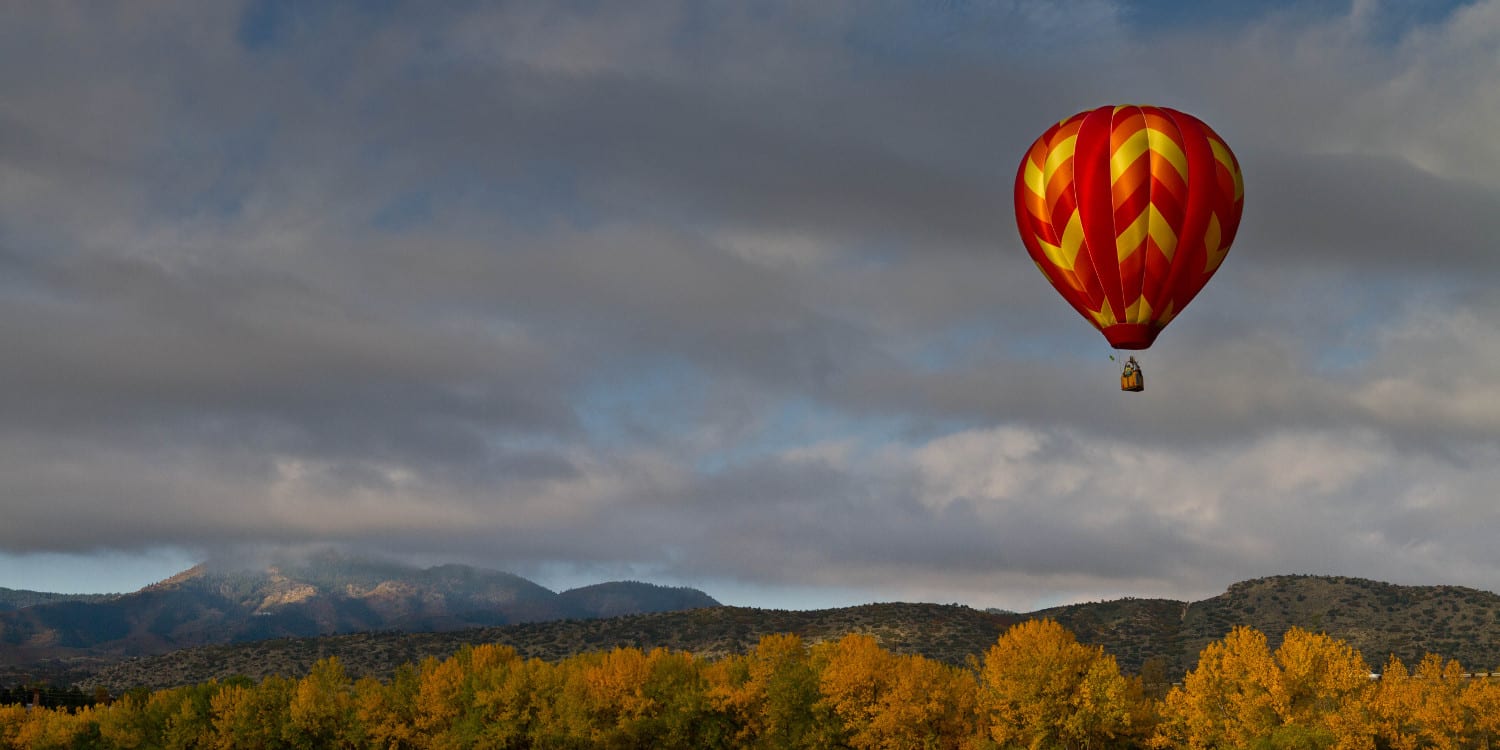 Picnicking: You'll find plenty of picnic sites throughout the park, all with tables and grills. Sites available first-come, first-serve. Group sites may be reserved over the phone for a fee.
Swimming: The Swim Beach is open Memorial Day weekend through Labor Day, from sunrise to sunset. There is no lifeguard on duty and swimmers under the age of 13 must be under adult supervision.
Volleyball: Courts and horseshoe pits are located in the campground, at the group picnic areas, and at the swim beach. Visitors need to bring their own net and ball to play.
Winter Recreation: Camping, ice fishing, and snowshoeing are popular activities in the colder months. The only area open to camping is the C-Loop, and facilities in the D-Loop will remain available for guest use.
Two other parks in the area include Jefferson County Open Space and Roxborough State Park.
Getting There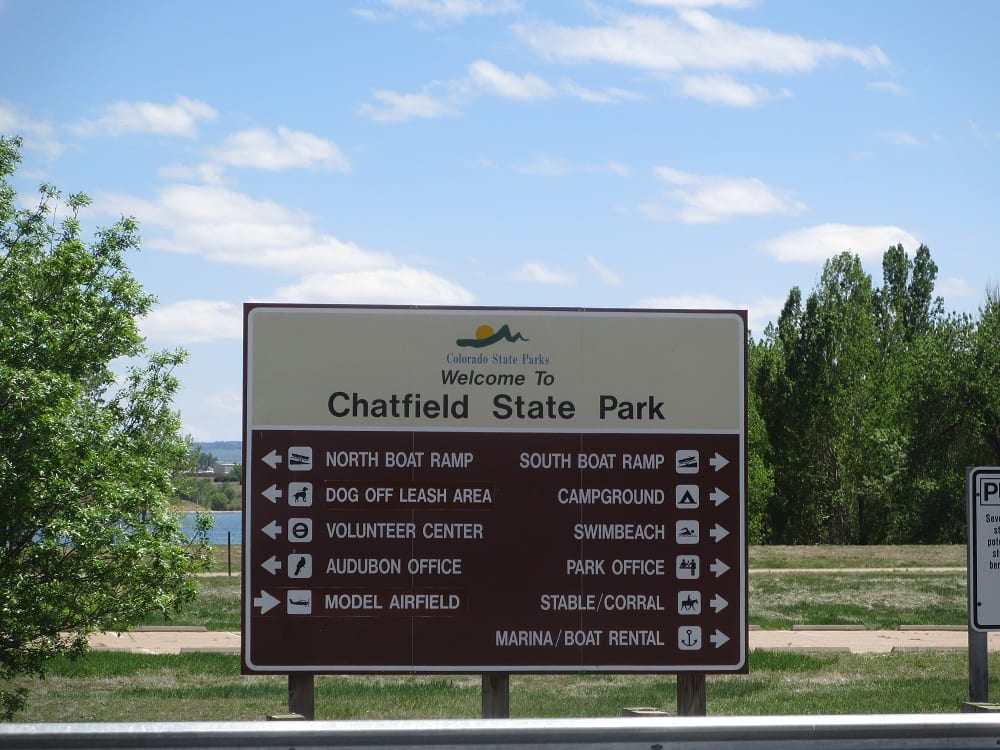 From downtown Denver, get on I-25 South until exit 207B to US-85. After 10 miles, merge onto CO-470 West. You'll hug the northern perimeter of the park for about 3 miles before taking a left onto S Wadsworth Boulevard, where the entrance will be shortly on your left.
If you're headed to the park from the south, take I-25 until exit 185 toward Castle Rock Parkway. Take a right-hand turn after the exit onto US-85 North. Head left onto Titan Parkway and then soon after take the first right exit at the traffic circle onto Chatfield Lake Road, which will bring you straight into the park.
Details
Address: 11500 North Roxborough Park Rd, Littleton, CO 80125
Phone: 303-791-7275
Season: Year-round
Hours: 5 am-10 pm
Fees: Vehicle entry (per day)
Maps: Chatfield (PDF) | Camping (PDF)
Pets: Yes, on-leash
Campground: Reservations
Website: cpw.state.co.us/…
Latest in Chatfield Reservoir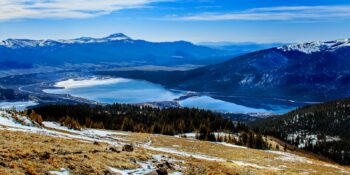 When most people think about nature in Colorado, their minds usually conjure vast mountain landscapes. Sure,…