Red Rocks is one of the metropolitan front range area's biggest draws. Morrison is home to this beautiful park and amphitheatre, nestled at the edge of the Rocky Mountains and Great Plains. There are surrounding camping options in Morrison, Lakewood and Littleton, CO, for those looking to experience nature close to Denver.
The following campgrounds put you within great proximity to Red Rocks  Park and Amphitheatre. They are also very convenient to access from the greater Denver Metro. Choices for camping in Littleton, Lakewood and Morrison, include a state park, city park, and private campground with tent sites and glamping, respectively. Read our article on other campgrounds around Denver for additional state parks in the metropolitan area.
List of campgrounds by Morrison and Red Rocks, CO, in order of proximity:
Camping by Red Rocks near Morrison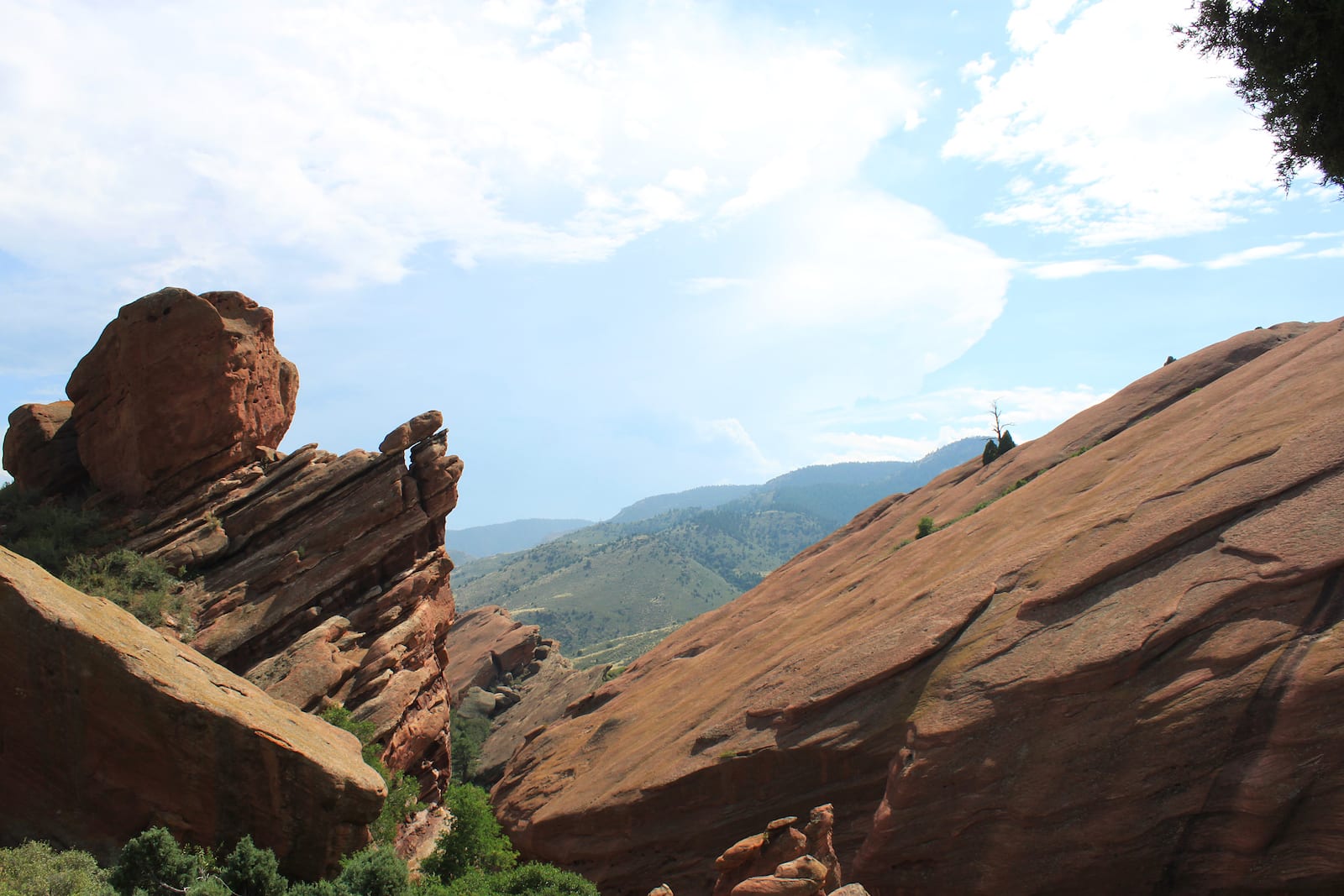 Morrison is a neat little foothills town located just a little bit into the Rocky Mountains. There's a small historic downtown with several restaurants and local shops. During the summer many folks are in town for a concert at the famous Red Rocks Amphitheatre. Those looking for camping nearby have a few options. If you can score a spot in Bear Creek Lake Park managed by the City of Lakewood, that's a solid option.
A unique camping experience within view of the picturesque, and historic Red Rocks Amphitheatre. This campground has tent sites available along with fully equipped luxury tents, and yurts. Come for a concert, stay for the ambiance.
Closest town: Morrison (1mi)
Specs: Tent sites, luxury furnished tents, and yurts, restrooms, water, open Thursday – Sunday,
Amenities: Air-conditioned restrooms, community grill, shaded lounge, views of Red Rocks
Recreation: Hiking, concerts, fishing at nearby Bear Creek Lake
Reservations: call (720) 432-7409 or  at redrocksglamping.com 
Address:  18022 Colorado Highway 8, Morrison, CO 80465 (Map)
Directions:  From Morrison take Bear Creek Avenue .2 miles. Turn left on Colorado Highway 8, go 1 mile, the campground will be on the left.
Camping at Bear Creek Lake near Lakewood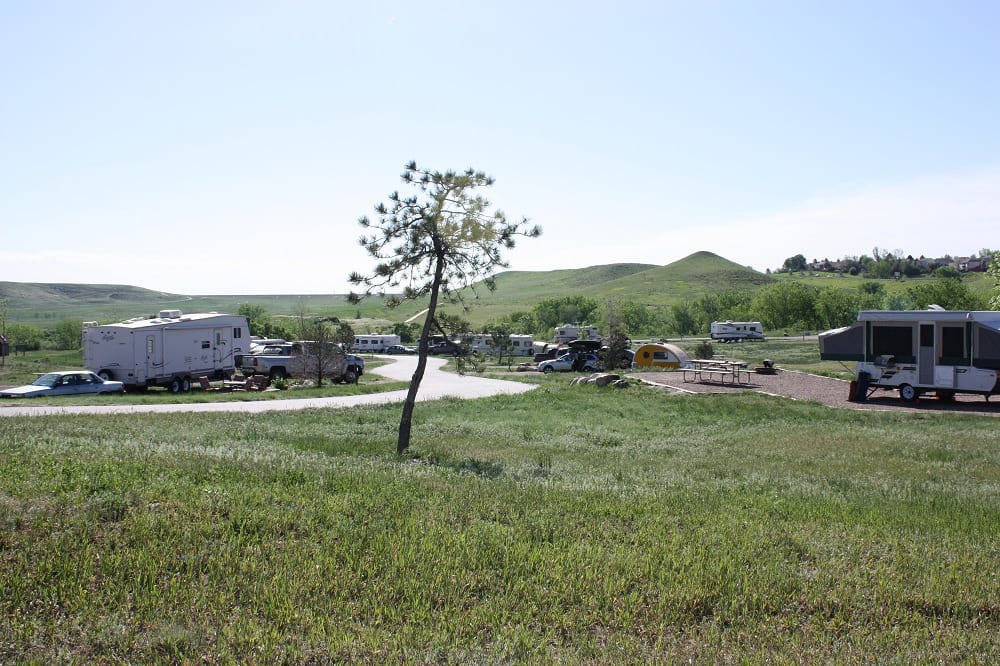 The area between Lakewood and Morrison share some pretty cool public parks, one of them being Green Mountain, and the other Bear Creek Lake Park. The former has a nice network of hiking trails, which summit the mountain at 6,857′. The latter has a campground with sites good for RVs and tents. You can also rent a yurt or cabin to add some luxury.
The scenic waters of Bear Creek Lake provide the perfect backdrop to the majestic mountain vistas to the west of this campground. A popular, basic campsite within minutes of the Denver Metro this is a haven for weekend campers from the late spring to autumn.
Closest town: Morrison (3mi)
Specs: 47 RV / tent sites, 3 cabins, 2 yurts, water, restrooms, open April 1 to October 31
Amenities: Showers, dump station, group camping
Recreation: Boating, fishing at Bear Creek Lake, hiking, biking, horseback riding
Reservations: at rec.lakewood.org
Address:  15600 West Morrison Road, Morrison, CO 80465 (Map)
Directions:  From Morrison take Colorado Highway 8 East .8 miles. Turn right on Kumpfmiller Drive go .2 miles. Go 1.8 miles turn right. Turn right on West Hampden Avenue, go .1 miles. Turn left go .2 miles to the campground.
Camping at Chatfield Reservoir near Littleton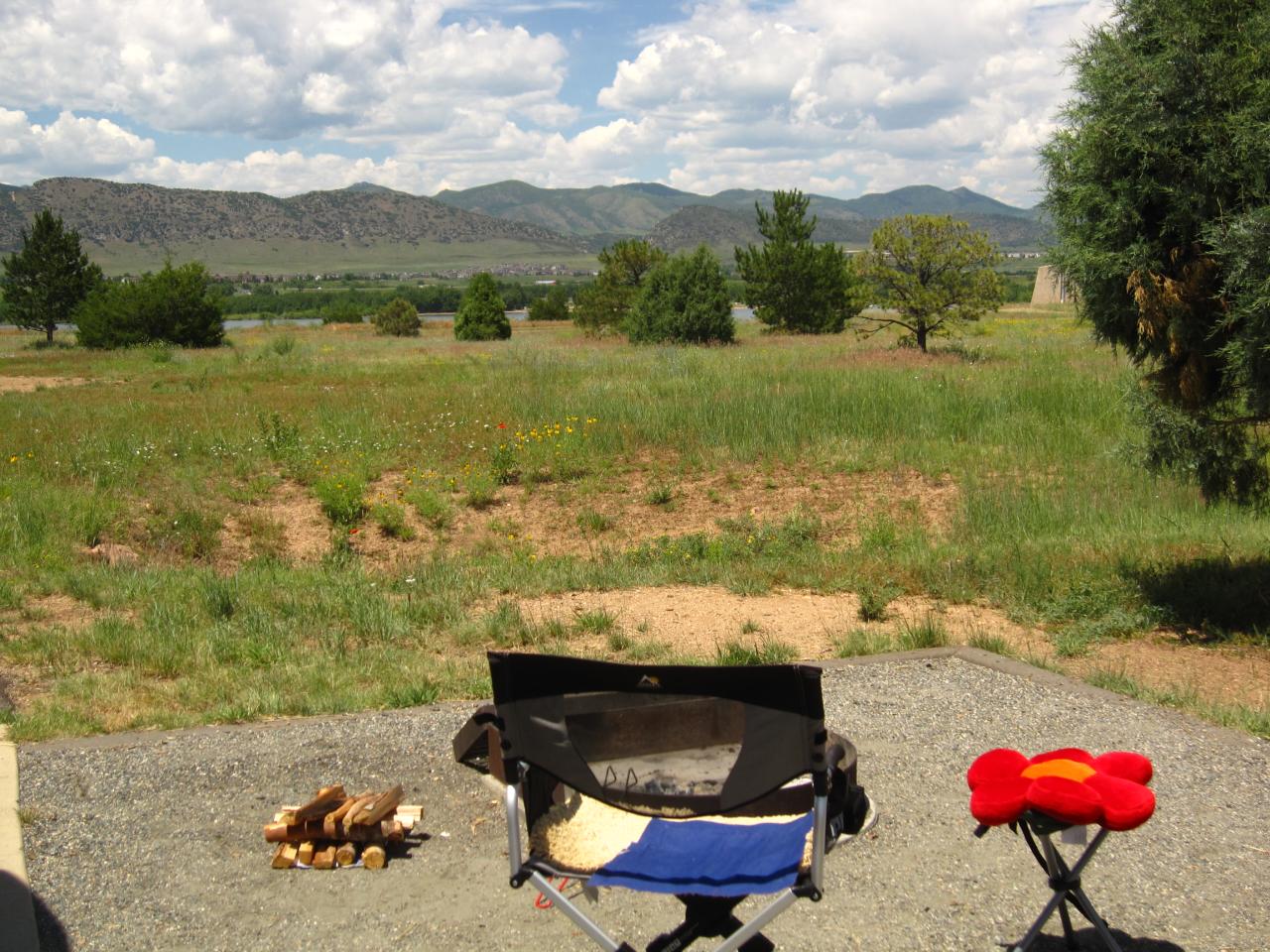 The favorite place to camp in Littleton, and among the best in the metropolitan area is Chatfield Reservoir. if you're looking for amenities and activities on-site, this year round state park is a good choice. It's located only twenty minutes south of Red Rocks, accessed from Highway CO-470 W.
A full-service campground, loaded with amenities, activities, and a clear mountain lake just a few miles from the Denver Metro awaits the weekend camper, or the visitor looking to stay for a few days or weeks. This campground is the perfect launchpad for your next adventure in the mountains.
Closest town: Morrison (11mi), Littleton (12mi)
Specs: 197 sites, 145 full hookup RV sites, tent sites, restrooms, water, open year-round
Amenities: Boat ramp, 10 group sites, showers, marina, stables, beach
Recreation: Hiking, biking, boating, swimming, horseback riding, model aircraft flying
Reservations: at cpwshop.com
Address:  11500 Roxborough Park Road, Littleton, CO 80125 (Map)
Directions:  From Littleton take Prince Street and Church Avenue to South Santa Fe Drive 3 miles. Continue on U.S. 85 / Santa Fe 7.4 miles to Titan Parkway Exit. Take West Titan Road 4.5 miles to the campground.
Consider Evergreen or Golden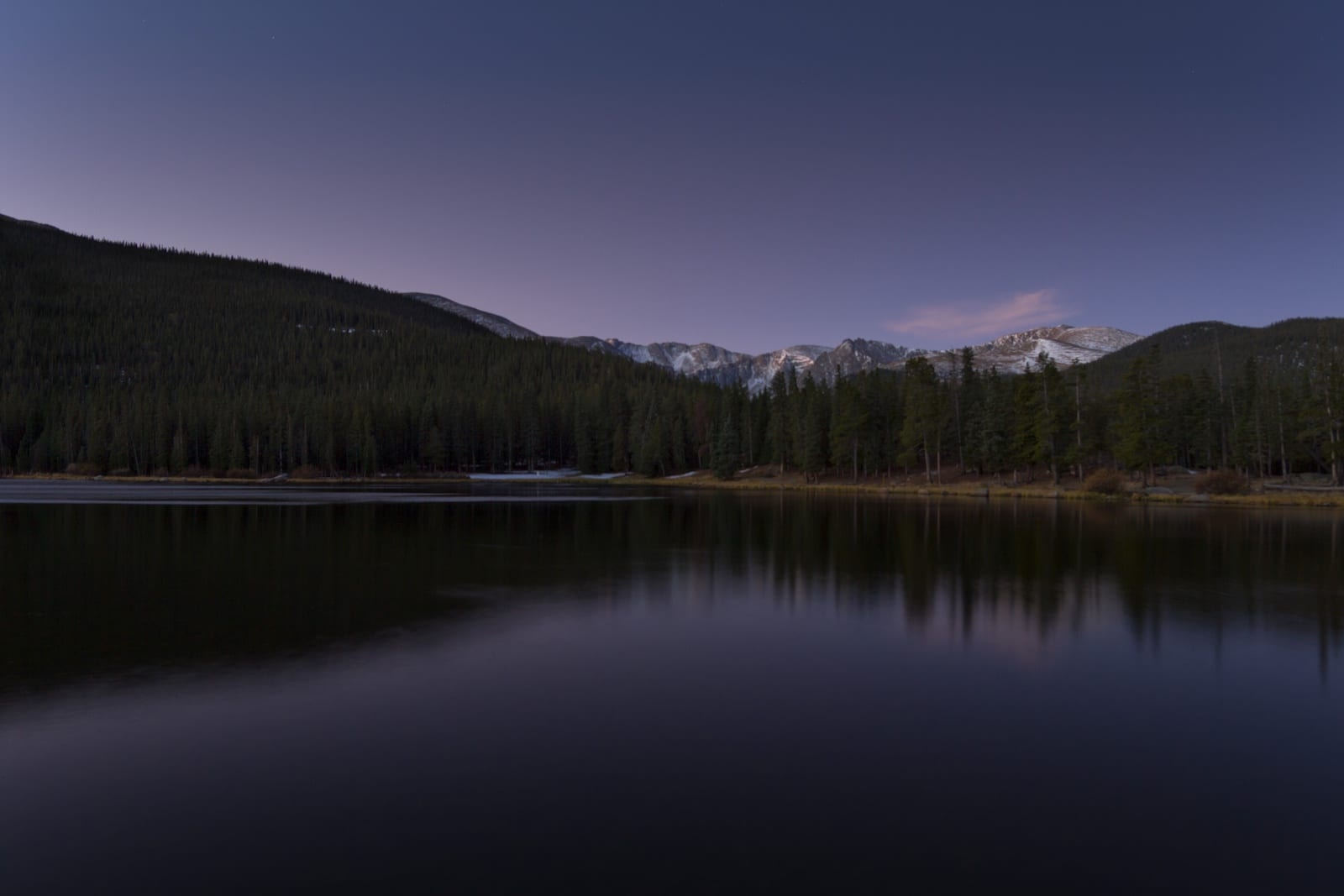 Further west of Morrison leads you to the charming mountain town of Evergreen. It offers nearby access to the Arapaho National Forest and camping by Mt. Evans. These will put you within an hour drive of Morrison and Red Rocks. The town of Evergreen has plenty of places to shop, eat and recreation. Stroll by Evergreen Lake, or cast a fishing line. Evergreen is also host to several of the magnificent Jefferson County Open Space parks.
Super convenient to Morrison is Golden. In fact, they are located on the same Lariat Loop Byway, which also circles Evergreen above. There are a few RV campgrounds closer to Golden, plus some excellent forest camping in Golden Gate Canyon State Park. If you feel like gambling one evening, there's Black Hawk and Central City located in that vicinity.
There's a lot of great camping in Denver's own back yard. Lakewood, Littleton and Morrison all hold some special campgrounds. Enjoy your stay around the red rocks!