People flock to Colorado's far western slope for a variety of reasons and recreation. One of the highlights around the Montrose and Delta region is the South Rim of the Black Canyon of the Gunnison National Park. And to take it all in, there are plenty of campsites to accommodate.
Most of the campgrounds are easily accessible along Highway 50, a stunning drive leading from Grand Junction all the way south to Durango. The South Rim of the Black Canyon of the Gunnison NP is the larger, more developed side, with far more campsites than found opposite on the North Rim.
By camping near Delta and Montrose, you'll have quick access to a wide array of attractions, from the Colorado National Monument to the Grand Mesa. All directions lead to amazing gems and campsites.
List of campgrounds by Delta and Montrose, CO, in order of proximity:
Camping near Montrose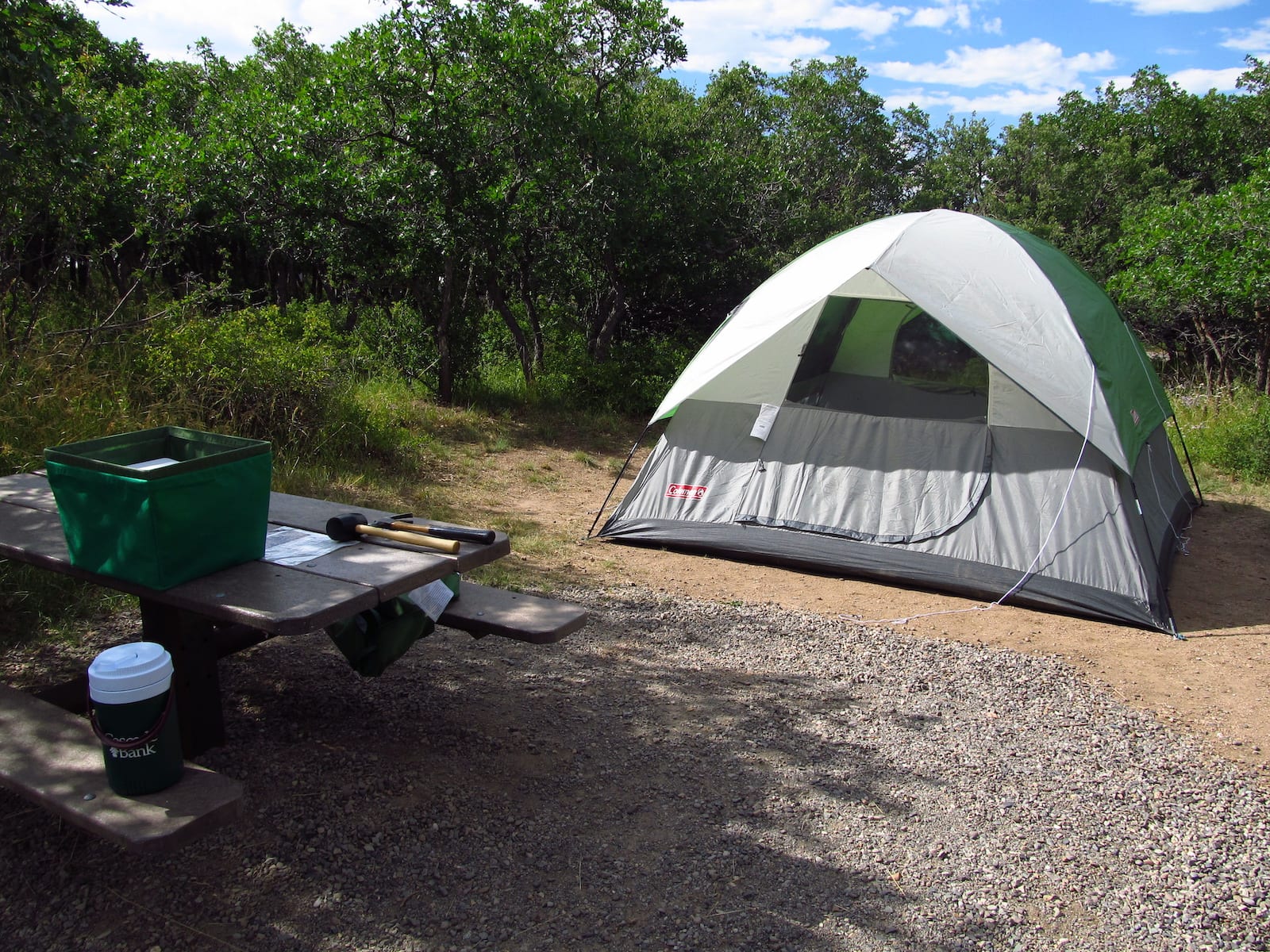 If you're looking to get as close to the South Rim as possible, the town of Montrose is the gateway. There are RV parks located right in this fairly large community of 20,000 people. You'll find 88 campsites open year round at the South Rim Campground. If you're a fisherman consider the East Portal, which provides fast access to the Gunnison River and its Gold Medal Waters.
All the amenities of a KOA set in downtown Montrose, but just a few minutes away from the attractions of the Colorado wilderness. This KOA features pull-thru spaces for big rigs up to 75' long, has a dog park for your pups to run in along with cabins and deluxe cabins mixed in with the RV and tent sites. A summertime pool and close proximity to restaurants, stores, and entertainment make this the perfect launching pad for your stay in Colorado.
A full-service RV park, loaded with amenities in an ideal location, who could ask for more? The folks at Cedar Creek did in providing a flurry of activities and services right in the park. Play a little miniature golf on the 18 hole course, camp along the creek flowing through the park, do a little laundry, or just relax before taking off to visit a nearby attraction. The entire family will enjoy the stay.
If you're looking for a quiet campground with fishing right in the camp, you've found it. Three ponds on the grounds, with the Uncompahgre River flowing through the park and Chipeta Lake on the south side of the property, provide all the aquatic fun you can desire. The park is spread out with many drive-thru sites for large and small RVs alike. The location just 3 miles south of Montrose is a perfect combination of convenience and isolation.
Akin to an oasis in the desert, this massive RV park has everything you need for an overnight or long term stay. With 140 RV berths, some pull-through, some back-in, this park has accommodations for just about any recreational vehicle. Packed with amenities, a great location, shade trees, and close proximity to Montrose and the exciting activities available near the area, this is the perfect launch pad for your outdoor adventures.
Views of the San Juan mountains, with Colorado farmland stretching as far as the eye can see highlight this RV park. The rural setting creates a quiet atmosphere for easy early morning startups or relaxing evenings after adventures in the nearby wilderness. This family-friendly park is a great central location to visit the landmarks and attractions available for the visitor.
Set in a spacious cottonwood grove along the shore of the Uncompahgre River with farm fields adjacent to the property, this is a quiet relaxing RV park, full of modern amenities in a quaint nostalgic setting. Wildlife, local wineries, many golf courses with a half-hour of the park, and outstanding fishing await guests at this park. This is an age-restricted park for adults over 50 only.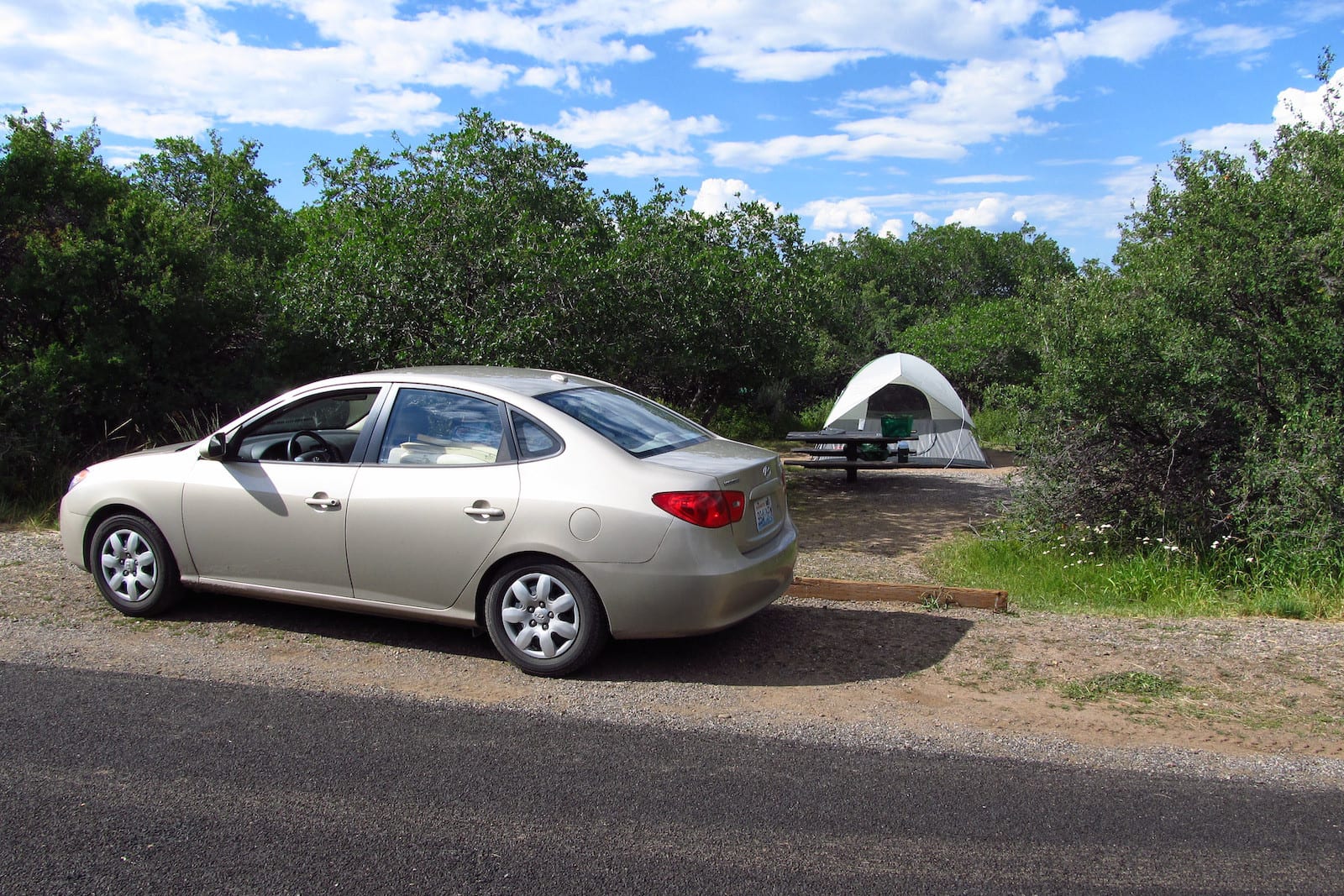 This campground located inside Black Canyon of the Gunnison River National Park is the only one open year-round, and the only NPS operated facility that takes reservations in the park. There are larger sites that can handle RV lengths up to 55'. The site is set in juniper and pinyon pine, creating a great opportunity to view wildlife. Deer are common walking through the campground and black bears are frequent visitors to the area.
Located adjacent to the Black Canyon of the Gunnison National Park at the Curecanti National Recreation Area, this small campground features tent-only camping. It's in a heavily shaded grove of box elder trees. It's accessible after a short drive from the national park. Campers will enjoy the close proximity of the Gunnison River at the base of Black Canyon.
Camping near Delta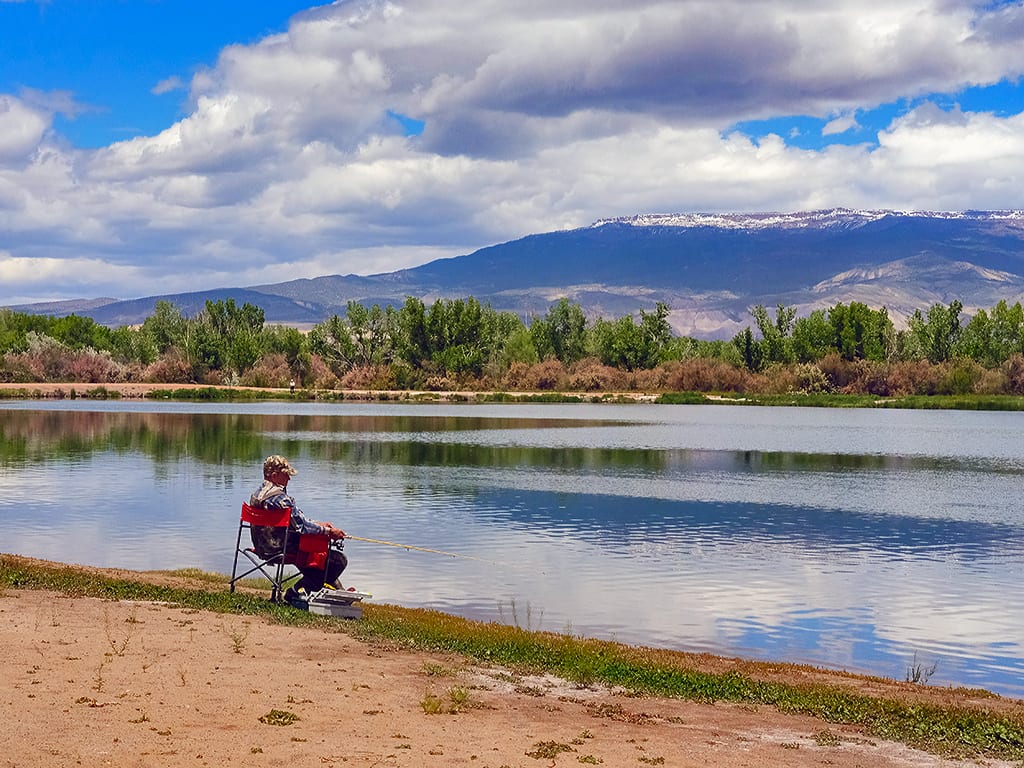 At nearly 9,000 people the town of Delta is about half the size of Montrose, but still plenty big. The two towns are only twenty-two miles apart, so either option accesses similar activities quickly. There a lot of campsites suitable for RVs in Delta, with fewer options for tent camping, but still some good ones. Delta is also the closer town to Grand Junction and Denver, if that matters at all.
A quarter-mile of the Gunnison River flows along the frontage of this well kept RV park. Located in Delta, there is easy access to restaurants, shopping, and other amenities. Campers can enjoy the private, well-defined camping sites, providing a sense of privacy while giving access to the amenities of a well-developed campground.
Located on 19 acres of Colorado wilderness with access to the Gunnison River, this RV park is perfectly situated for the avid outdoor adventurist or the weekend-camper. With full amenities and a location within a few minute's walk of restaurants, shopping, and entertainment, this is the place to stay in Delta. For a trip down memory lane, a Drive Inn movie theater is just a short two-minute drive from the campground.
This USFS campground is geared towards the equestrian camper. There are five sites on a loop set aside exclusively for horses with paddocks, hay racks, and watering troughs. The campground is also popular with hikers to the Lizard Head Wilderness Area via Lone Cone or Woods Lake Trail. Mountain bikers and motorcycle riders can use Wilson Mesa Trail just a few hundred yards from camp. Woods lake provides good fishing opportunities and the picturesque campground is set in a grove of quaking aspens.
A family-owned RV park with spaces large enough for the biggest RV. This park has a touch of everything for an overnight stay or a long term Colorado vacation. Activities abound close by the campground with opportunities to fish, hunt, ski, whitewater raft, ride horses, ride bikes or just hike. Festivals are exciting activities to attend in later summer and fall. Its location just a few minutes from downtown Delta adds to the allure.
This BLM campground is located on the edge of the Dominguez-Escalante NCA and Dominguez Canyon Wilderness Area. As a wilderness area, more stringent rules apply than other public areas. This area is rich in wildlife, fossils, and indigenous people's artifacts. You must leave what you find, where you find it.
Hiking opportunities abound, but no wheeled vehicles are allowed inside the wilderness area. The campground is primitive, with no water, so plan ahead. The road into the campground is gravel and dirt, but turns to exclusively dirt in the last portion and may have washouts and potholes. A four-wheel-drive vehicle is recommended.
Consider Cedaredge, Crawford, Ridgway or GJ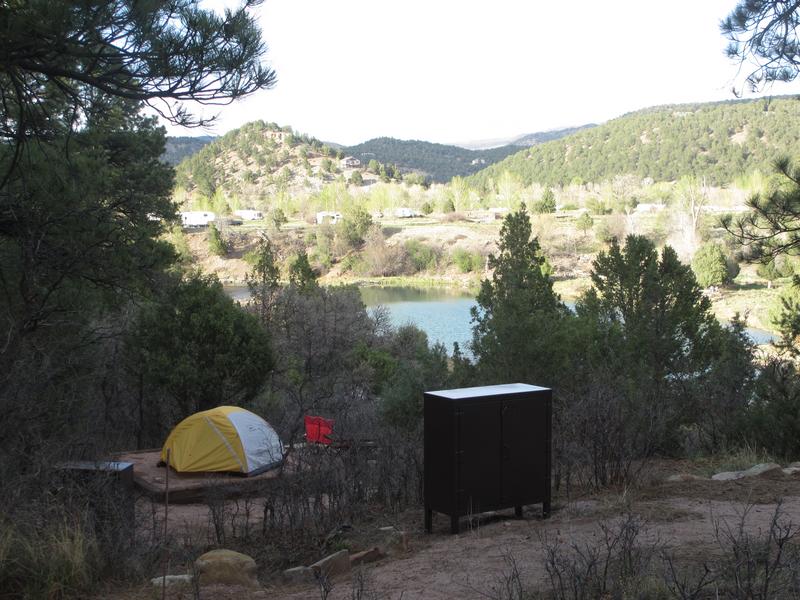 Because of Delta and Montrose's convenience to a myriad of destinations, you could consider camping directly at any number of them. Cedaredge is the gateway to Grand Mesa and only fifteen miles northeast of Delta. The campgrounds near Grand Mesa are a terrific base for those looking to explore a vast alpine wilderness.
On the opposite side of the Black Canyon of the Gunnison is the gateway to the North Rim, Crawford. This smaller mountain town of 500 has a couple of awesome campgrounds by Crawford Reservoir, the local state park, as well as a really unique spot for off-grid campers at the North Rim. Crawford is located on the West Elk Loop National Scenic Byway, so you know the journey in will be stellar.
Thirty minutes south of Montrose leads you to the sleepy town of Ridgway, at the base of the San Juan Mountains. Consider the lakeside camping by Ridgway Reservoir, one of Colorado's best state parks. There's also a hot spring resort in town, Orvis, so you can relax and recover after a day of hiking or water sports.
Those looking to keep it closest to Denver can camp by Grand Junction. It's the largest town on the Western Slope with approximately 65,000 people. It's home to the Colorado National Monument, as well as world class mountain biking trails. From Grand Junction you can reach both Montrose and Crawford in a little over an hour, so you'll be able to play on both rims of the Black Canyon.
Wherever you choose to camp out by Delta, Montrose and the Black Canyon, you'll be delighted you did. The beautiful, peaceful surroundings always give you the proper recuperation you come to nature looking for! Remember to pack-in and pack-out all your stuff.