Take Highway 285 southwest out of the Mile High metropolitan sprawl and you'll quickly be driving up, then down, and up the rolling Rocky Mountains. You'll pass several mountain communities, starting with Conifer, until you finally head up over Kenosha Pass and drop into South Park.
This covers the best camping from Kenosha Pass back northeast to Conifer, giving you a plethora of campsites within an hour of Denver. You can find both dispersed camping and campgrounds along the drive on Highway 285 South after Conifer.
Some of closest free camping to Denver is in Bailey. In less than an hour from the capital city you can be pitching your tent or unpacking your RV in beautiful Rocky Mountain front range. You'll find plenty of opportunities to access the Pike National Forest on Highway 285.
List of campgrounds by Conifer, Pine and Bailey, CO, in order of proximity:
Camping near Conifer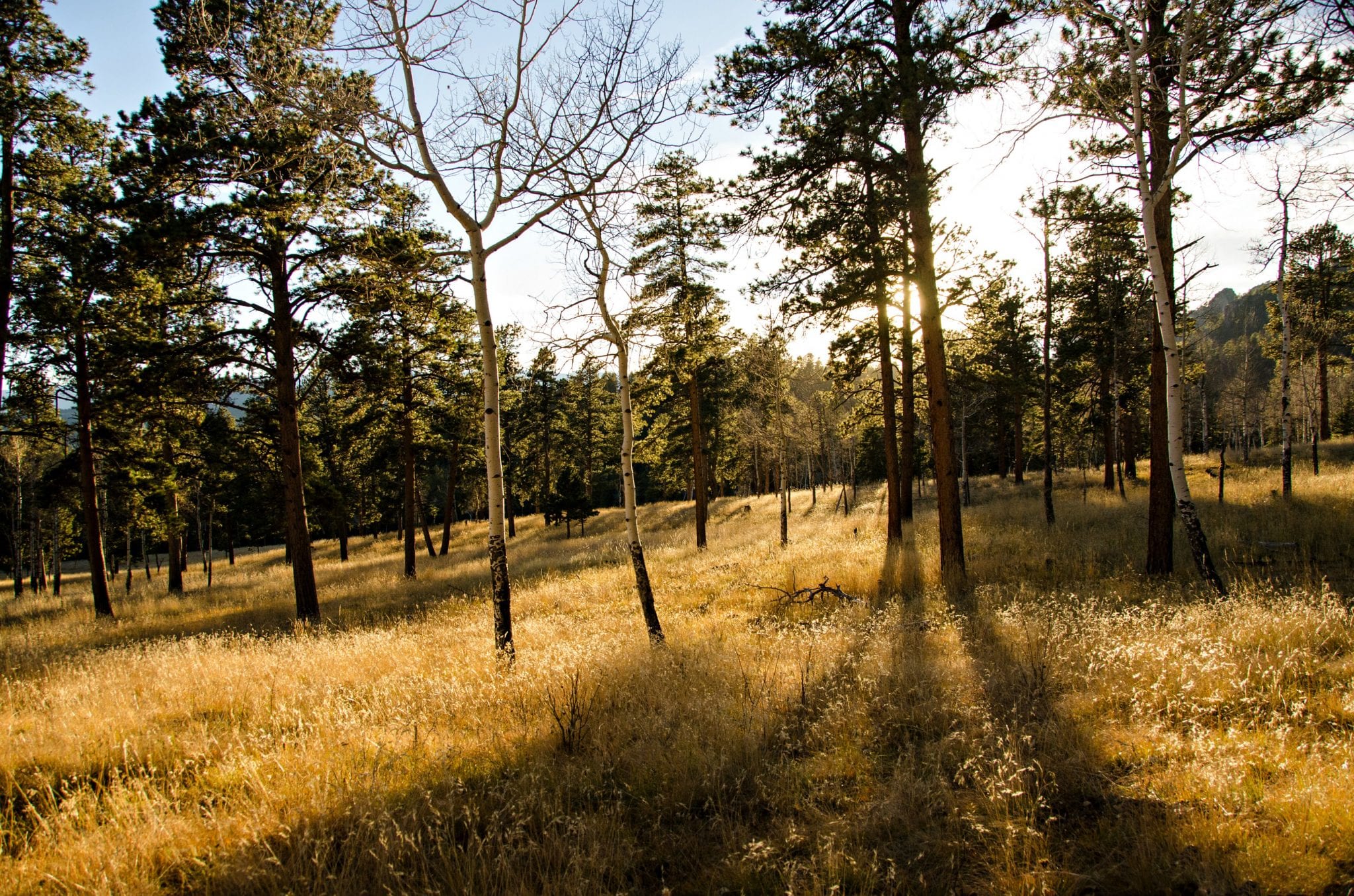 The first commercial community you'll come to on Highway 285 from the plains is Aspen Park and then very shortly after Conifer. They are essentially the same town. It's about 30 minutes drive from Denver. There are a few camping options near town, with the best one for tent campers being Staunton State Park. It requires at least a few hundred yards hike to reach your designated campsite though.
Looking for a place with a little extra excitement high in the Colorado Rockies?  Beaver Ranch Park could be just what you're looking for. A zipline, disc golf course set near the campground offers something for everyone in the family. A popular site for weddings, reunions and other social gatherings the staff can make your event a memorable one.
There isn't much in the recreational world of the Colorado Rockies that you can't do at this campground.  From riding horses to geocaching and rock climbing you can find it all at this spacious site with just a short drive. Operated by Colorado Parks and Wildlife it's a haven for weekend campers from all over the Golden State.
One of the newest campgrounds in Colorado continues to grow and improve with permanent restrooms replacing portables soon. Located a mile from Staunton State Park it is the perfect launch for a day's adventure in the mountains. It is one of the most popular fishing spots in the area.
Camping near Pine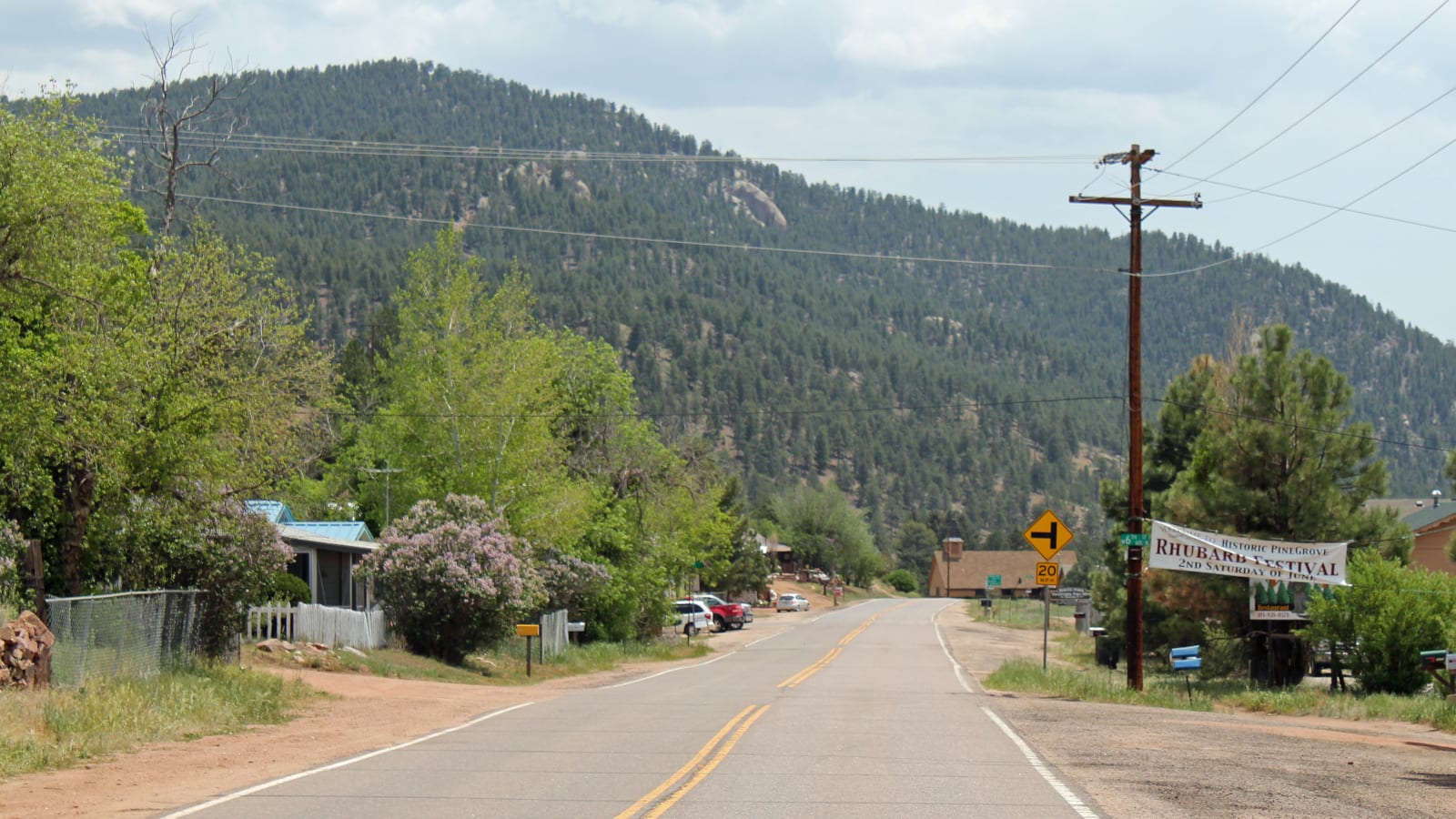 Shortly after Conifer you'll reach Pine Junction on Highway 285. At the traffic light there you'll see the Pine Junction Country Store, Crossroads Restaurant and an opportunity to go south (left) on Pine Valley Road down to the neat little town of Pine. It's a neat area home to some cool sightseeing in the form of creekside houses and natural landmarks. If you continue south of Pine you'll come to more camping near Deckers and epic fishing on the South Platte River.
Mild summer temperatures make this campground a perfect place for overnight camping or just a day trip. The nearby Kelsey Overlook on County Road 126 offers beautiful, scenic views of this iconic mountain valley.
It's just far enough away to escape the rigors of urban life and still close enough to get there quickly. Near Buffalo Creek at 7,400′ elevation, the nights are cool and the days are warm during the summer season, creating the perfect climate for camping in the spectacular Colorado wilderness.
The campground offers a wonderful experience for picnicking, fishing, and exploring by daytime visitors and established campsites for those staying a few days.  The campground is located a few hundred yards from the parking lot and you'll cross several wooden bridges over the creeks flowing around the area.
Camping near Bailey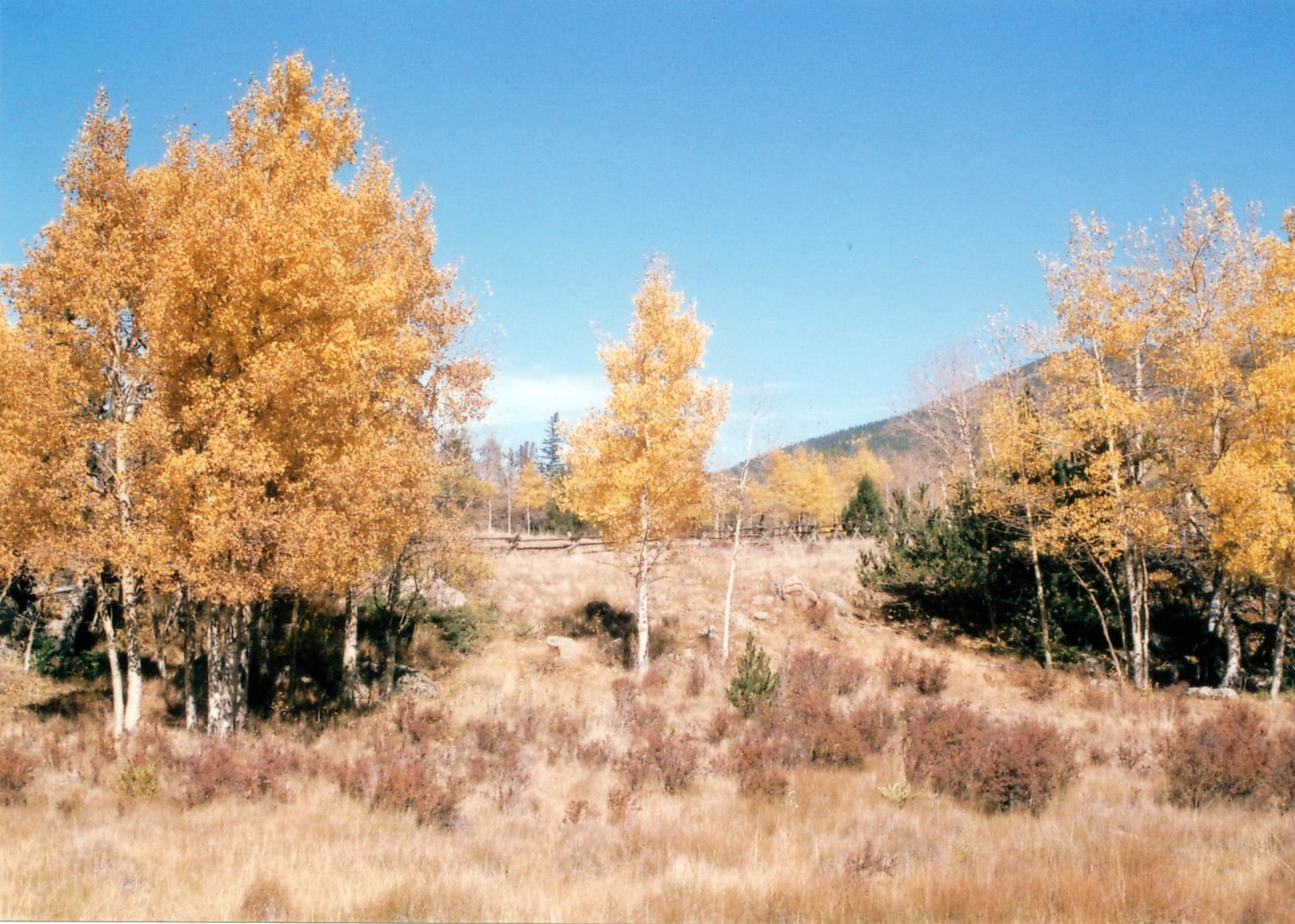 Bailey is a small highway 285 community surrounded by mountain forests. There is a brief downtown section of shops and restaurants, as well as other businesses on Highway 285. Bailey is blessed with a lot of camping opportunities close to town, with some of the closest free dispersed camping to the Mile High City.
This award-winning resort is approaching its centennial celebration.  Rustic cabins, a large events center, and a rustic lodge highlight the 150-acre expanse with the clear presence of historical ambiance.  It is a  perfect setting for weddings, family reunions, or corporate getaways. Cabins are spread out across the evergreen laden property along a fast-moving stream, adding nature's own soundtrack to the background during your stay.
This private year round campgrounds gives you access to private Wellington Lake, which is also available for day use. The campsites are pet friendly and very popular during summer weekends, so reserve well in advance. Choose from 75 sites between Lakeside, Hillside, and Mountain Road campsites, 12 of which group campgrounds, plus 2 even larger group camping areas.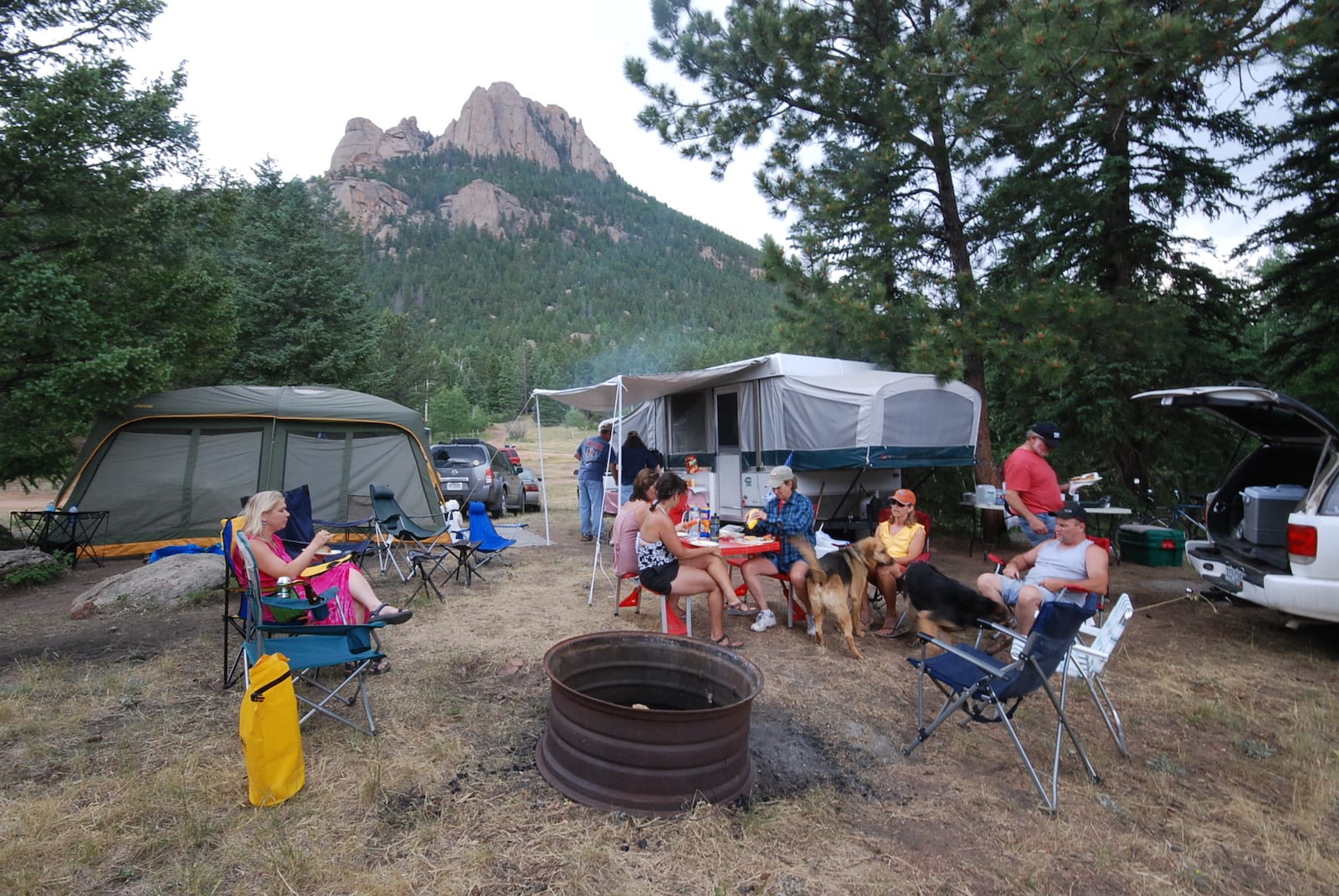 Quiet, cool evenings and sunny, summer afternoons at 9,000 feet above sea level greet visitors to this campground. The Colorado peaks stretch to the sky above the campground with abundant wildlife in easy view.  Trails to explore, fish to catch and scenery to soothe the weary soul are all attractions to this forested area.
The bubbling water of Deer Creek and Camp Creek as they merge near the camp fills the air with the relaxing sounds of nature.  Nearby trails offer views of wildlife and majestic scenery in the Pike and San Isabel National Forests.
Camping near Grant on Guanella Pass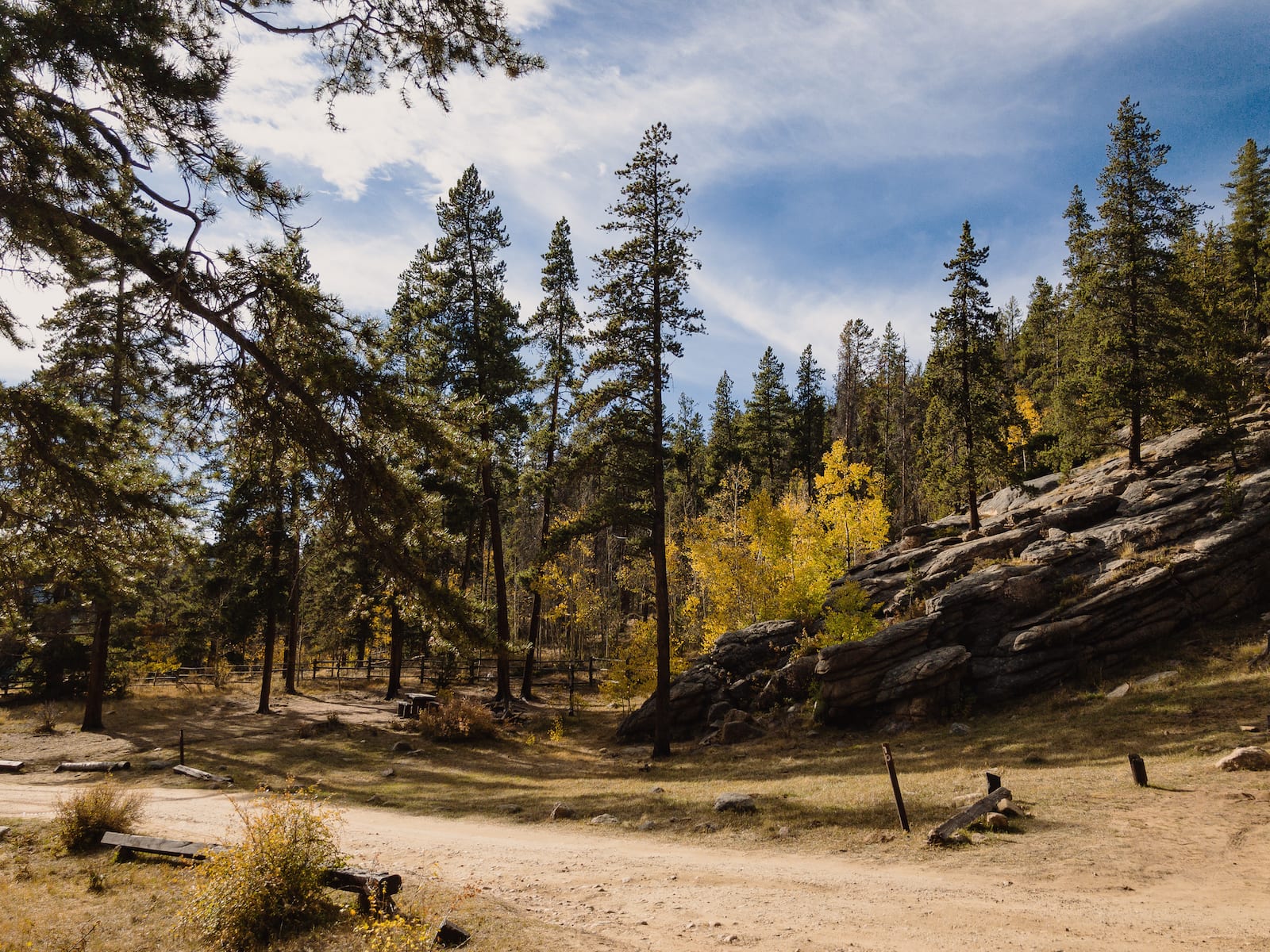 Just 11 miles west of Bailey lies the tiny town of Grant and the junction for Forest Service Road 381 north to Guanella Pass. This is a seasonal drive to Georgetown and Interstate 70. Only the Park County side of the pass allows free dispersed campsites, although both sides (including Clear Creek County) have USFS campgrounds. We'll cover the ones on the Highway 285 side of Guanella Pass. One of the biggest attractions to the pass, aside from the stunning auto tour, is hiking the 14er, Mt Bierstadt.
Cool temperatures, scenic landscapes at an elevation of 9,813'.  Wildlife is abundant for hikers and sightseers alike. Mount Bierstadt, soaring to 14,060 feet is nearby, named for 19th century western landscape artist Albert Bierstadt.
At 9,815 feet above sea level, this campground offers cooler temperatures in the summer months. Sitting along the Guanella Pass Scenic Byway it is the perfect location for wildlife and landscape photography or just sitting and viewing the pristine Rocky Mountain wilderness.
Camping near Grant on Kenosha Pass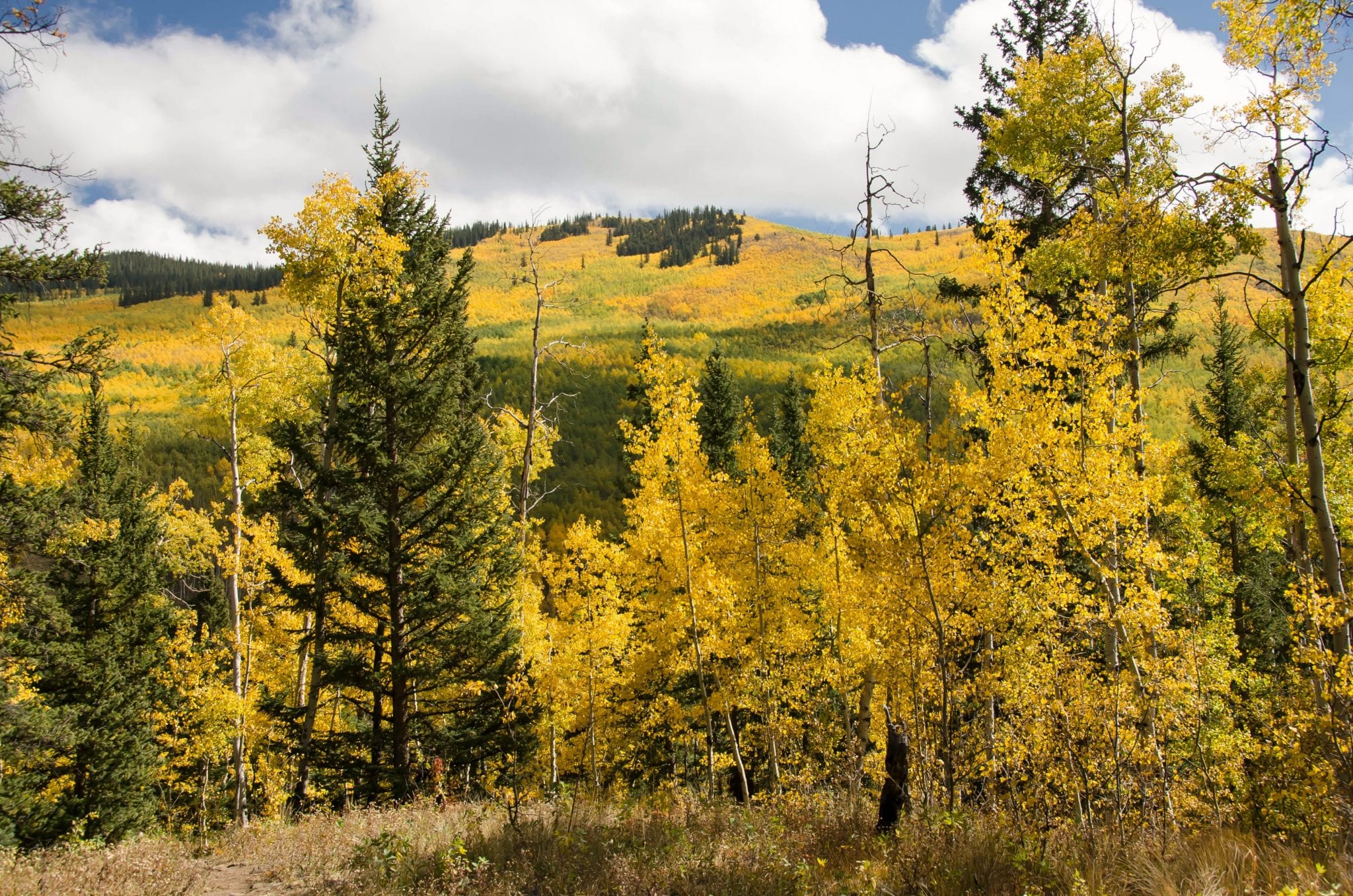 Continuing past Grant on Highway 285 leads you up Kenosha Pass. It's a gorgeous drive in the fall when the colors are changing. There are a couple of campgrounds at the 10,000 foot high summit, as well as another one on the way up the pass off in the national forest. The opposite side of Kenosha Pass leads down in the South Park basin, and onto Jefferson and Fairplay.
Groves of aspens bring music on the breeze to the summer evenings and spectacular arrays of color during the autumn. Wildlife abounds in the area including golden eagles, porcupines, chipmunks, moose, mule deer, and elk.
The reddish tint to Hall Creek is evidence of an active mine near the campground. While this is a pack-it-in, pack-it-out campground, it remains a favorite of off road vehicle enthusiasts. The campground is set in a dense grove of lodgepole pine.
Groves of aspen and lodgepole pine surround this high altitude campground. At 10,000 this is "High Country" camping at its best. Historic Kenosha pass was once the site of the South Park and Pacific railroads as they traversed the backbone of the Rockies. Spectacular views of Mount Evans and Mount Bierstadt are available throughout the campground.
The now-defunct South Park and Pacific Railroads once dragged trains up the mountainous slopes nearby with helper engines from Webster on the east side to Como on the west side of Kenosha Pass.  A wetland interpretive area is adjacent to the campground creating an interesting meeting of different biomes.
Those are among the best places to camp near the Highway 285 towns of: Conifer, Pine, Bailey and Grant. Have a great time out there and leave no trace.