The scenery from below or on atop of the largest flat topped mountain the world make for some dramatic campsites. The towns of Mesa and Collbran reside on the northern base of Grand Mesa, while Cedaredge sits on its southern start.
Full of lakes and endless alpine wilderness, the landscape atop and surrounding Grand Mesa resides in the Grand Mesa National Forest. This provides numerous public amenities like forest service campgrounds, hiking trails and other recreational sites. In addition to all the private and public campgrounds we'll cover below, there are ample opportunities for free, dispersed camping within the national forest.
List of campgrounds by Cedaredge, Mesa and Collbran, CO, in no particular order:
Camping near Cedaredge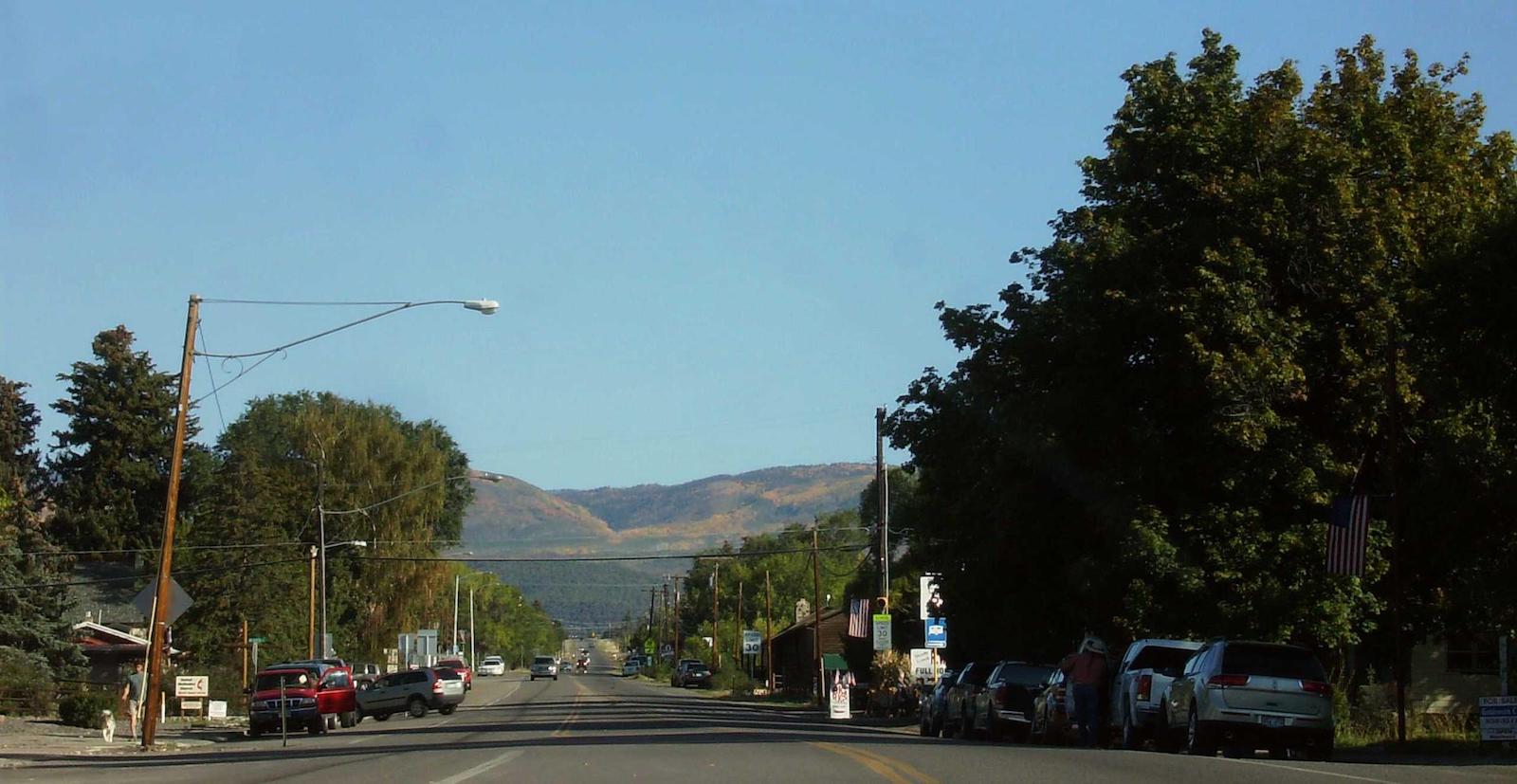 Cedaredge is a beautiful mountainside town at the southern base of Grand Mesa. It's a gateway to all the adventure awaiting above, with a few campgrounds of its own to satisfy campers looking to stay closer to town. There are plenty of places to eat and shop in downtown Cedaredge, a town of more than 2,200 people.
Small town RV camping has its perks, and Shady Creek RV Park represents the best of quiet and scenic sites close to the heart of Cedaredge. With 17 full hookup sites and just a short drive to the scenic views at the top of Grand Mesa, you'll want to check out this campground.
Close by Cedaredge and only 20 minutes from Grand Mesa, Aspen Trails Campground is in a prime location. Along with that, you'll find rare amenities like an onsite restaurant, plenty of recreational activities onsite, and access to the greater Grand Mesa area.
Big Spruce may not have hundreds of RV sites to choose from, but you will find it centrally-located and well-stocked with recreational activities, including plenty of space for events and family reunions. While you're there, check out their gorgeous indoor and outdoor chapels–might be time to get hitched on your next camping trip!
Camping near Grand Mesa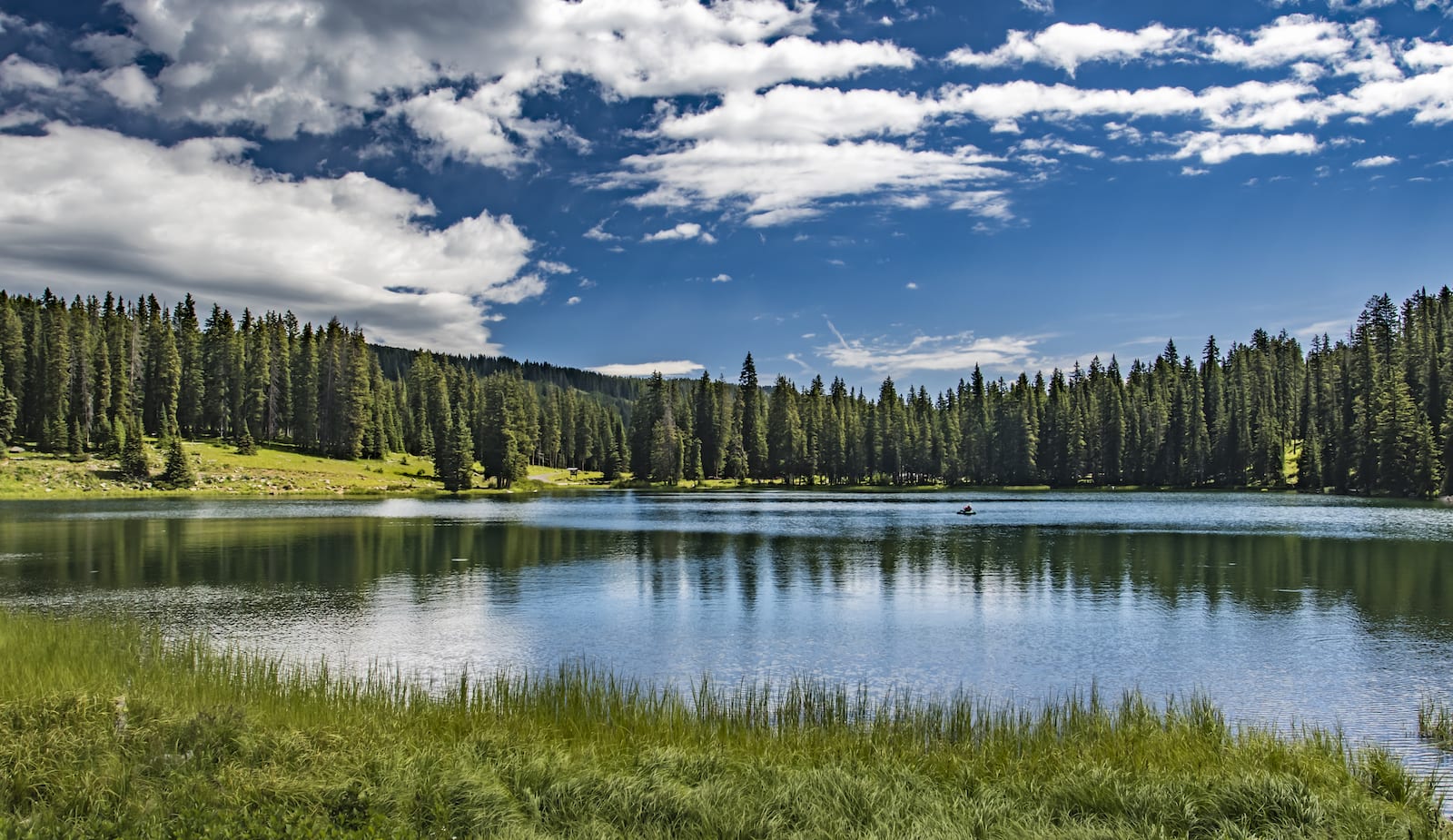 This giant flat topped mountain is accessed by CO-65, aka the Grand Mesa Byway. The stunning scenic drive is open year round, weather pending, and provides endless opportunities for outdoor recreation. From the numerous alpine lakes and overlooks, to rugged forest roads and primitive camping, you'll love exploring up here. The summit resides at 11,330 feet of elevation. The towns of Mesa (north) and Cedaredge (south) are the closest towns to Grand Mesa, providing places to eat and get supplies.
If are looking to camp as close to the scenic views that Grand Mesa has to offer, Crag Crest Campground cannot be beat. Many of the sites are located on the shore of Eggleston Lake, offering water recreation close at hand. For those looking to escape civilization, Crag Crest is a great choice.


On the shores of Ward Lake, you'll find a gorgeous campground with campsites dotting the shore for easy access to water recreation. Ward Lake Campground is a hub for summertime exploration near Grand Mesa, being just 2 miles from town, but be prepared for high-altitude camping in this locale.
At over 10,000 feet of elevation, Cobbett Lake Campground is not for the faint of heart. But for those wanting to soak in as much of the Land O' Lakes area as possible, this campground is the perfect place to stay a few nights.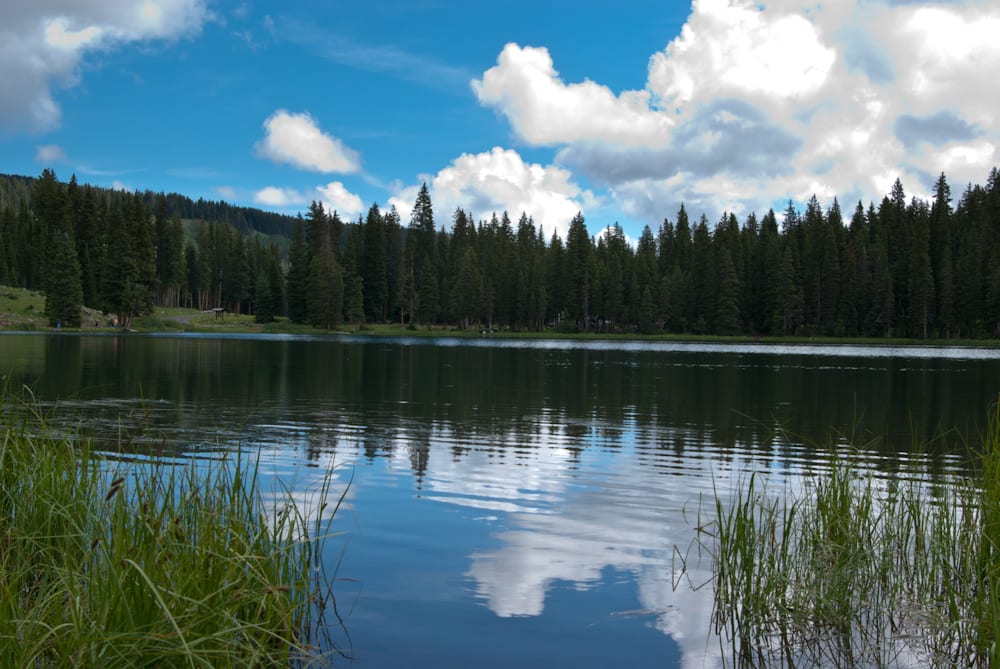 Can't go without a flush toilet on your camping adventures in Grand Mesa? Little Bear Campground is one of the few in the area that offers flush toilets, in addition to ample-sized RV and tent camping sites.
Don't want to give up the amenities of an RV park while staying close to Grand Mesa? Island Lake Campground is a rare gem to find with a free spot, due to the electric sites that populate the campground. Make your reservation ASAP because spots fill up quick.
Looking for a shady sanctuary to spend a few days? Big Creek Campground offers over 2 dozen shady sites with easy access to the hiking, wildlife viewing, and water recreation that are popular in the area.
If you want a true primitive camping experience, check out Twin Lake Dispersed Area. You won't find any amenities at the recreation and camping area, but you will find gorgeous views and a way to get away from civilization for a little while.
In the Land O' Lakes area, it can sometimes be difficult to choose between the gorgeous campgrounds that offers views of one or another of these. At the Weir and Johnson Campground, you'll have a view of and access to both the Weir and Johnson and Sackett reservoirs.
Located between Jumbo and Sunset lakes, Jumbo Campground offers ample RV and tent camping sites as well as easy access to the lakes for fishing, boating, and water recreation. Check out the nearby Mesa Lakes Ranger Station, built by the Civilian Conservation Corps in 1941.
Free camping abounds in this area of Colorado, but one particularly beautiful spot is located at the end of Lands End Rd. Perched on a windy hilltop, this campsite has incredible views of the surrounding areas and very little traffic.
Camping near Collbran and Mesa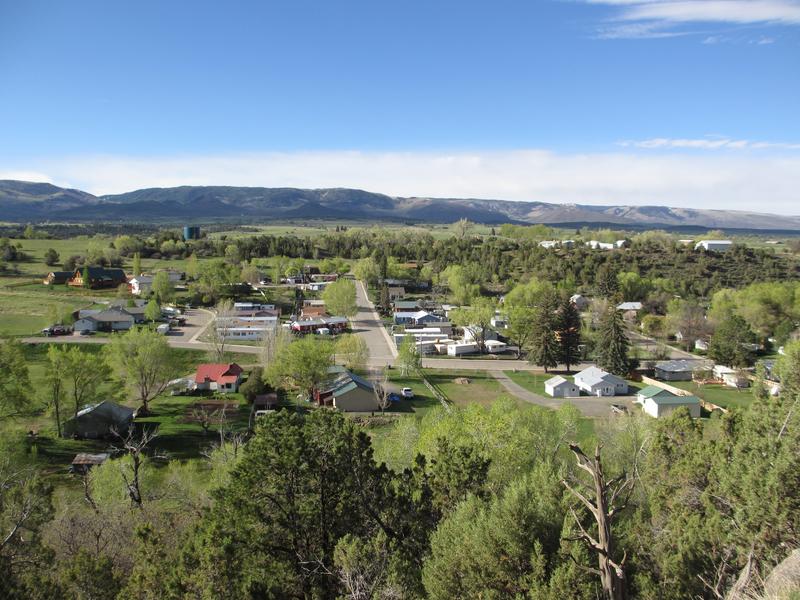 The little towns of Collbran and Mesa lie just 13 miles apart at the northern base of Grand Mesa. Collbran is the gateway to Vega State Park, which a phenomenal place to get away from the crowds and still experience one of Colorado's best state parks. It's centered around the massive Vega Reservoir, with its great fishing, boating and lakeside camping. Mesa is the north gateway to the Grand Mesa Byway, along with all the gems on top. It's also the town closest to Powderhorn Mountain Resort, which sits on the side of the flat topped mountain.
Vega State Park Campgrounds
Vega State Park surrounds the gorgeous Vega Reservoir, which was constructed in the late 1950s and continues to provide necessary water to this area of Colorado. Choose from four campgrounds with a variety of amenities, each with easy access to the reservoir for water recreation.
If you absolutely need electric and water hookups while you're camping, Early Settlers Campground offers spots with hookups to make camping a bit easier for you and your family. Book your site here ASAP, as this campground fills up fast.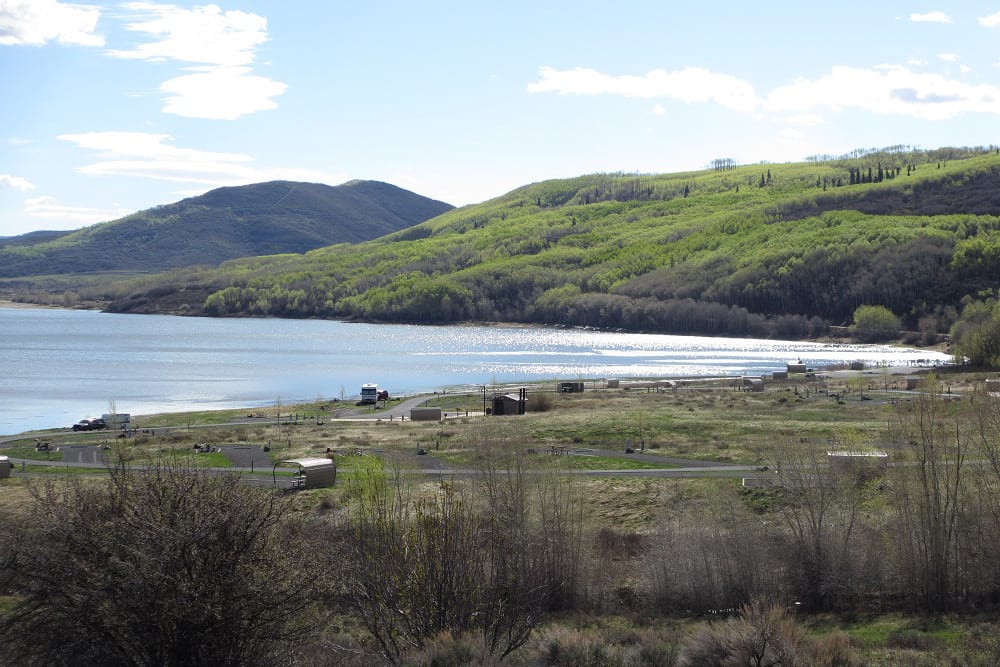 Oak Point Campground is perfect for boaters and water-lovers, just on the shore of Vega Reservoir. Close to the boat ramp, this campground offers easy access for boaters and those looking to enjoy water recreation in the reservoir.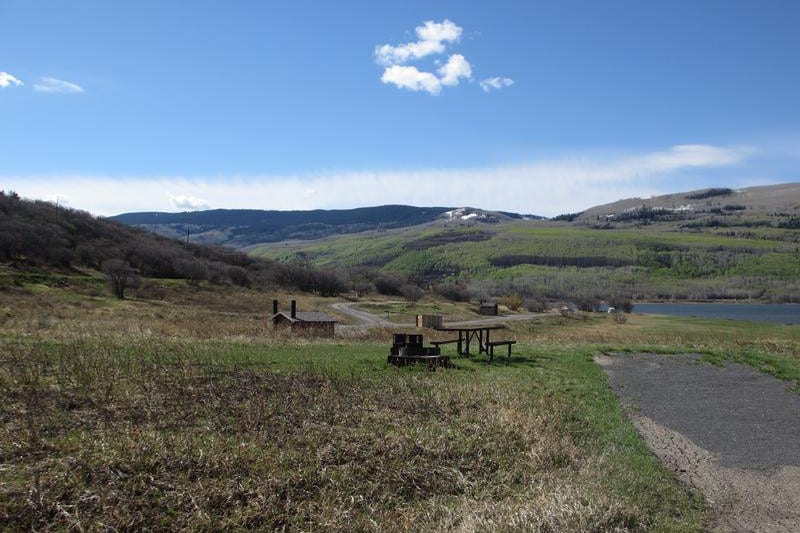 Private tree-lined sites and wildflower fields await you when you pull into Aspen Grove Campground. For those looking to plan larger gatherings, this site also offers access to the Group Picnic Area that is perfect for special events and reunions.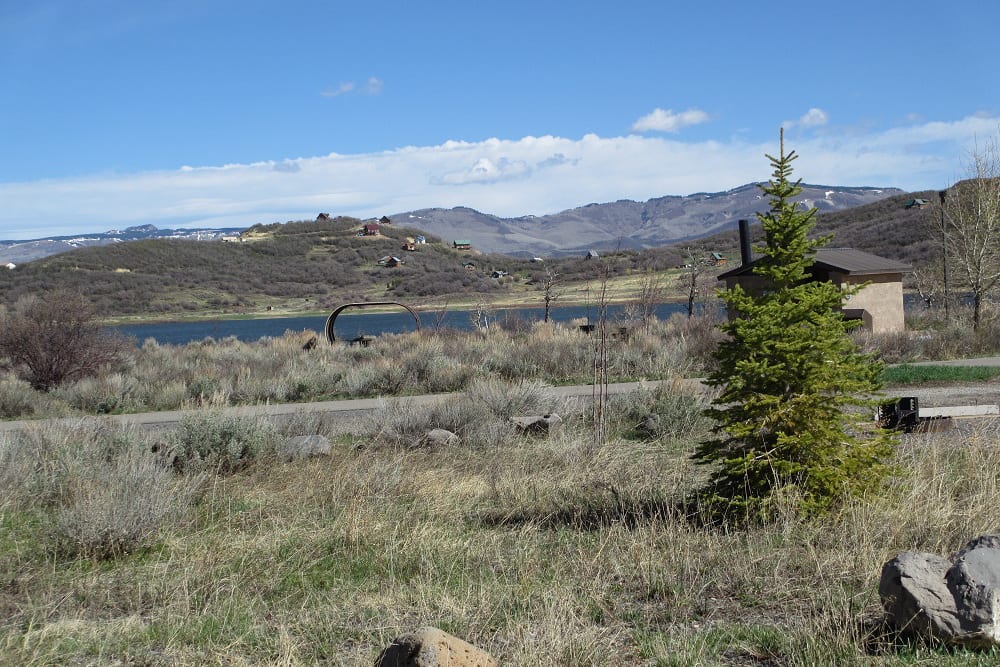 If you enjoy primitive camping, Pioneer Campground has 10 gorgeous walk-in campsites for visitors to choose from. Those looking for something a bit more rustic will enjoy the cabin rentals offered in this campground as well.
Grand Mesa RV Park
Mesa, Colorado may be a bit far from most big towns and cities in Colorado, but Grand Mesa RV Park provides the same offerings you will find in much larger places. With an onsite general store to fit your fuel and food needs, this RV park is a gem.
Consider Grand Junction or Rifle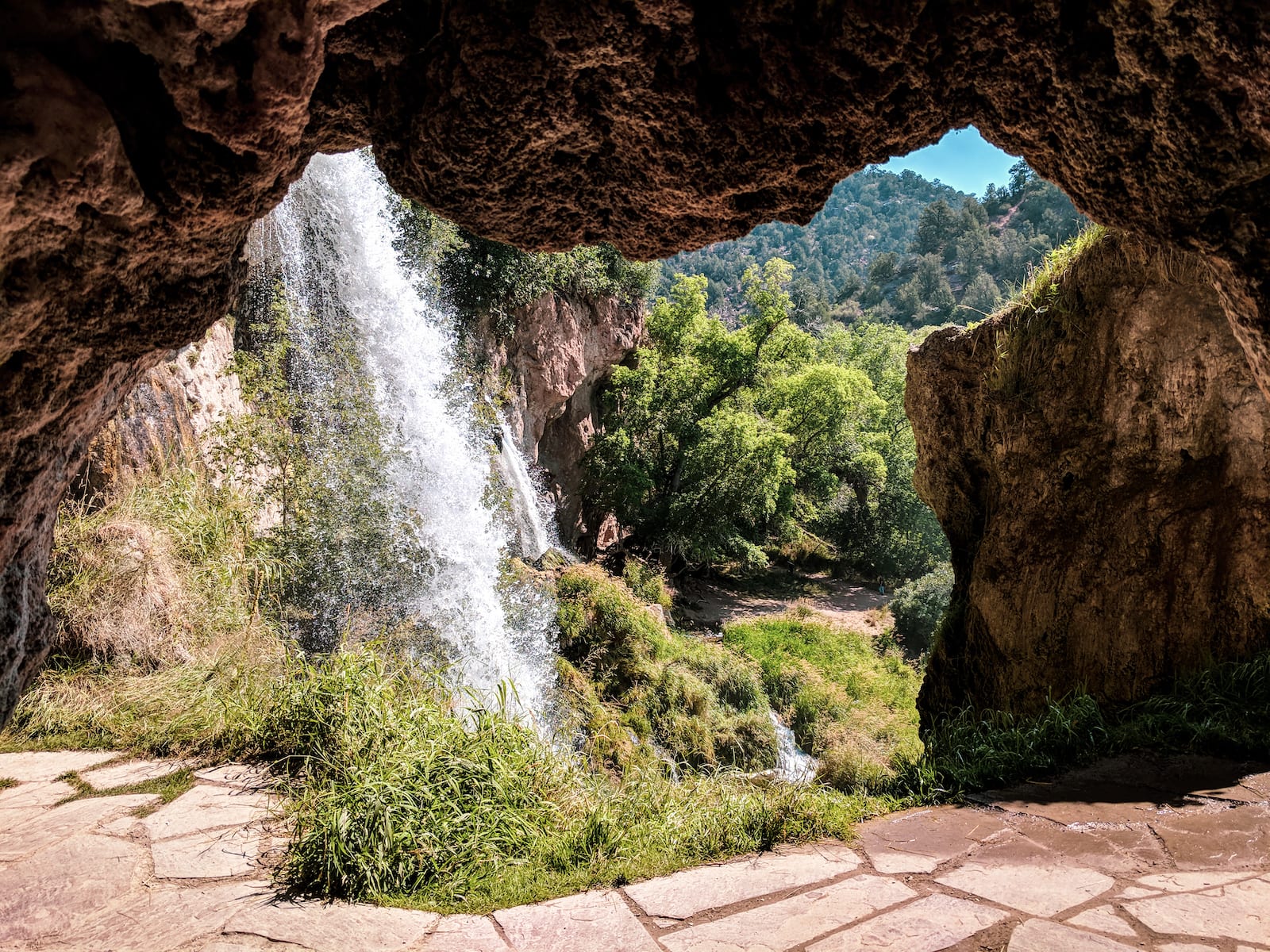 Located only 45 minutes from the northern start of the Grand Mesa Byway, Grand Junction (GJ) makes a terrific base for those looking to be near a big city of 60,000+. It has its own world class attractions like the Colorado National Monument, which offers rock climbing, hiking, camping and a scenic auto tour. There are plenty of cool campgrounds near Grand Junction to choose from for your stay.
About an hour northeast of Grand Mesa, Rifle is another cool choice for basecamp. You can easily day trip to the mesa top, have some crazy adventures, then retreat to the laid back, western town of Rifle. Like GJ, Rifle has some terrific natural landmarks to explore. There are three state parks close to town, two of which have reservoirs and the third with waterfalls and caves. You can find a lot off camping near Rifle, from free to paid.
That's a roundup of the camping close to Grand Mesa, Colorado. Enjoy your time exploring the mountain towns of Mesa, Collbran and Cedaredge. Remember to practice leave no trace.