Rifle is western town that caters to the outdoorsman. The area around Rifle is especially popular for hunting. Downtown is fairly big, with a few blocks of shops and restaurants.
Main Attractions
State Parks – Three local parks, Rifle Gap, Rifle Falls and Harvey Gap all our within a short distance from downtown.
Recreation
Camping:
Rifle Falls and Rifle Gap state parks have well maintained campgrounds.
Fishing:
Colorado River has excellent trout fishing and runs past Rifle.
Rifle Pond is also open to fishing.
Rifle Gap and Harvey Gap state parks provide large reservoirs for fishing.
Accommodations
Things To Do near Rifle, CO
Amusement:
Hot Springs:
Museums:
National Lands:
Ski Areas:
State Parks​:
Towns:
Transportation:
Popular Posts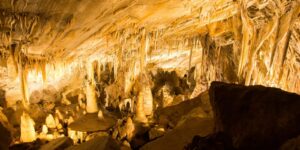 Exploring the Caves and Caverns of Colorado" – Some of the most stunning landscapes on Earth are found in Colorado, and for good reason. This amazing state is home to so many different microclimates, ecosystems, and geological marvels that it…