Towering above the towns of Rifle and Parachute, the Roan Plateau is a large beige and brown flat-top mountain that occupies roughly 70 square miles of scenic terrain in Garfield County. With a high point of 9,290 feet in elevation, this public land is owned and operated by the Bureau of Land Management (BLM).
It's primarily used for outdoor recreation, hunting, and fishing. Featuring many deep valleys, dense foliage, and dramatic canyons, the Roan Plateau is home to a mix of arid desert scrublands, aspen groves, and conifer forests filled with streams and diverse wildlife.
Looking north from Rifle, spectators can see the plateau's famous Roan Cliffs which rise nearly 4,000 feet above the Colorado River Valley. With a high clearance 4WD vehicle, visitors can drive to the top of the plateau to explore the scenery and enjoy panoramic views of western Colorado.
Not Just an Ordinary Plateau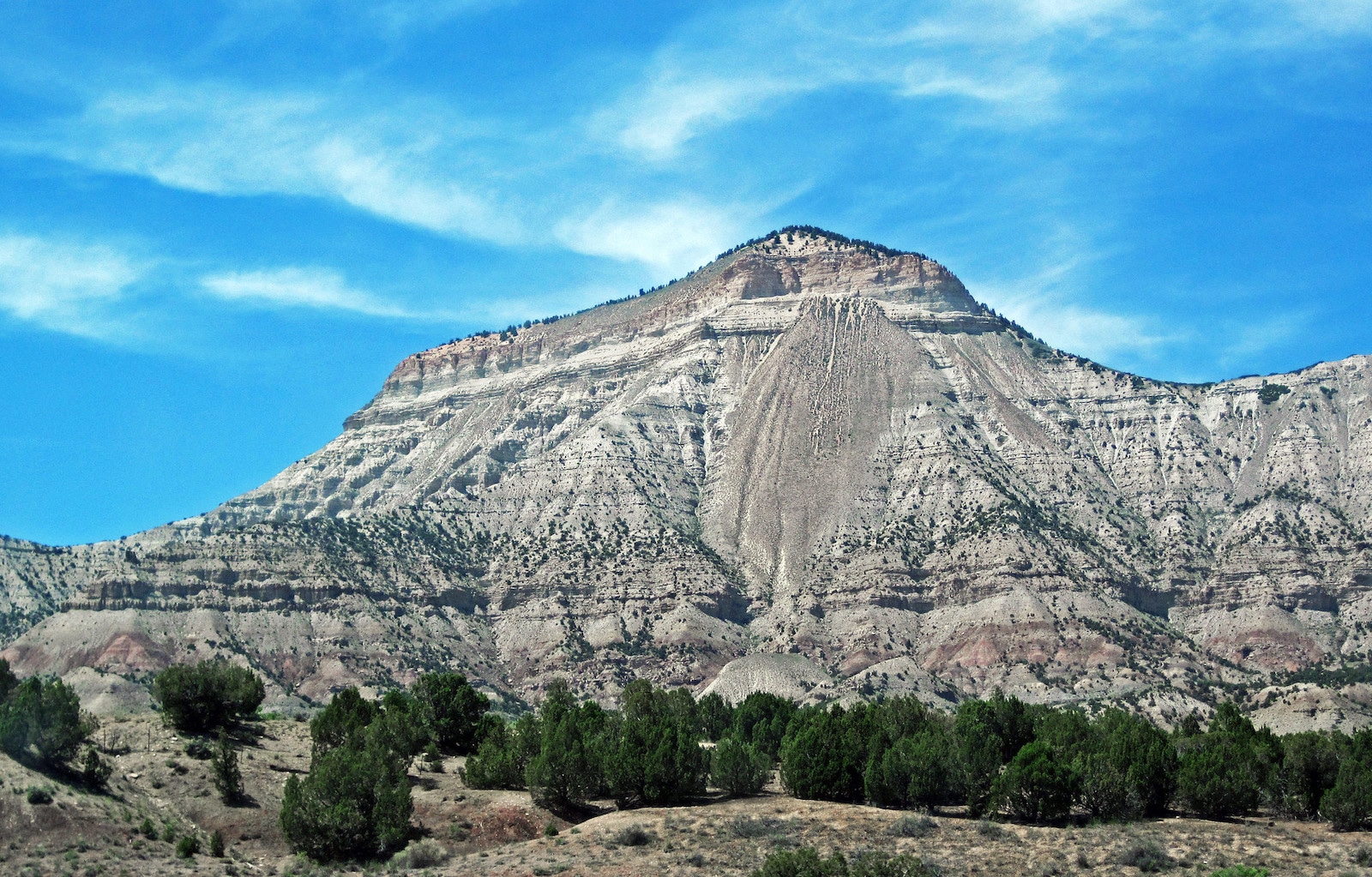 Although it may appear unsuspecting from the valley below, the Roan Plateau is one of the most biologically diverse environments in the state. It's home to several species that are not found anywhere else in the world.
Situated on top of the Piceance Basin, the Roan Plateau's oil-rich shale soils create unique conditions for rare plants to thrive. Species include the hanging garden sullivantia, ​​Parachute penstemon, sun-loving meadowrue, and the Roan Cliffs blazing star.
In 2008, approximately 54,631 acres (221.08 square kilometers) of the Roan Plateau was leased for oil and natural gas development. At a total bid of $113.9 million in bonuses, the contract became the highest federal onshore lease agreement in the contiguous 48 states.
After years of public scrutiny, federal officials agreed to cancel 17 of the 19 new energy leases on the Roan Plateau in 2014. The agreement between oil and gas companies, environmental groups, and the BLM was the largest settlement ever of its kind, with roughly about a dozen energy leases still in place at the top and base of the plateau.
Accessibility & How to Get There
When navigating to the top of the Roan Plateau, high clearance is recommended and four-wheel drive is strongly encouraged. There are two main points of access: via Cow Creek Rd. or along the historic JQS Trail that zig-zags directly up the picturesque Book Cliffs.
To reach the JQS Trail, look for the turn onto County Rd 242 about one mile north of Rifle along Highway 13. Turn left to head west towards the plateau and continue 2.5 miles past the Hubbard Mesa Open Area parking lot. The road eventually reaches a T, where you can go left to begin climbing up the cliff face.
Most suitable for Jeeps, mountain bikes, and off-road vehicles, the JQS Trail is a narrow, heart-pumping route that features many tight switchbacks and steep slopes. Trailers are not recommended, and parts of the road may become damaged or impassable during and after rainy or snowy conditions.
Alternatively, Cow Creek Rd. offers a much more accessible route up to the top of the Roan Plateau. To get there, travel about 20 minutes north of Rifle along Government Rd (Highway 13) towards Meeker. Take a left onto Piceance Creek Road (County Road 5) towards Rangely and look for the left turn onto Cow Creek Rd in 4.5 miles. From there, it's about 30 to 40 minutes to the junction with the JQS Trail.
Activities near Roan Plateau
While the journey is the destination for most, there are many other outdoor activities besides appreciating the spectacular scenery that can be enjoyed on the Roan Plateau during single and multi-day trips. As a land of many uses, visitors should be prepared to witness livestock grazing and energy development, as well as a high probability of wildlife encounters.
All connected by a network of mountain-top roads, popular destinations on the Roan Plateau include the Project Rio Blanco Nuclear Test Site, Parachute Creek Canyon, East Fork Falls, and the Anvil Points, which are great for both sunrises and sunsets.
Birdwatching: Throughout the diverse set of environments, the Roan Plateau is home to many different bird species living at various elevations. At the top of the plateau, visitors may be able to spot golden eagles, vultures, and peregrine falcons flying around or nesting in the cliffs, while the area's forests house boreal owls, tanagers, mountain bluebirds, sage grouse, flycatchers, warblers, jays, three-toed woodpeckers, swifts, and more.
Camping: Although there are no established facilities available, the Roan Plateau features many dispersed campsites that are free to use, first-come-first-served, and available all year long. Campers can stay no more than 14 days within a 28-day period and all personal belongings must be packed in and out without leaving a trace.
Read about the camping near Rifle, Glenwood Springs, and Carbondale.
Fishing: With a valid Colorado fishing license, anglers can enjoy open access to many small creeks in scenic and generally uncrowded locations across the plateau. The area is great for catching native cutthroat and brook trout, and visitors should familiarize themselves with local fishing regulations and bag limits prior to their trip.
Hiking & horseback riding: With plenty of options for all ability levels, the Roan Plateau is filled with many hiking and equestrian trails to explore the area on foot or on horseback. Along the JQS Road, visitors can use trails of various conditions to reach Yellowjacket Creek, Northwater Creek, Parachute Creek Falls, and many other backcountry destinations.
Hunting: The Roan Plateau is a very popular spot for both hunting and target shooting. When in season, big and small game hunting is permitted with a proper license and designated tags. The area is known for great opportunities to bag elk, mountain lions, and other large Rocky Mountain animals.
OHV: Between Rifle and the Roan Plateau, the Hubbard Mesa OHV Open Area offers 2,460 acres containing 50 miles of single track, ATV, and jeep trails nestled up against the dramatic cliffs. In both the Open Area and on top of the plateau, recreation vehicles are required to secure an up-to-date OHV permit with Colorado Parks and Wildlife.
Picnicking: While many guests enjoy lunch from on top of the plateau, visitors can also utilize the parking area in Hubbard Mesa, which contains vault restrooms and picnic tables open to the public, free of charge.
Wildlife viewing: Including some endangered and threatened species, the Roan Plateau is full of wildlife found throughout the thick forests and arid open landscapes. Visitors may encounter deer, black bears, elk, mountain lions, lynx, back-footed ferrets, rattlesnakes, spade-foot toads, and more. To protect native species, never approach or feed a wild animal under any circumstances.
Details
Address: Roan Plateau, Rifle, Colorado 81635
Coordinates: 39°35'05.7″N 107°57'29.3″W
County: Garfield County
Phone:  970-947-2800 (Glenwood Springs Field Office)
Season: Year-round (vehicle access may be closed if roads are impassable)
Hours: 24/7
Fee: None
Recreation information: recreation.gov/camping/poi/269134
Map: blm.gov/documents/colorado/public-room/map/roan-plateau-recreation-map
Satellite image from NASA: earthobservatory.nasa.gov/images/35518/roan-plateau-colorado