Colorado's established campgrounds are great for families with young kids and anyone else looking for a quick, relatively painless way to experience the state's beautiful outdoor spaces for a night or two. But if you're hellbent on ditching the crowds, enjoying a more authentic nature experience, and potentially camping in the same area for an extended period of time, dispersed camping is something you'll want to seriously consider.
In this guide, we'll answer your questions about free, dispersed camping in Colorado, from how long the state lets you camp out, to how to find a spot. These are the rules to follow when occupying a primitive campsite in the Rockies.
Established campgrounds vs dispersed camping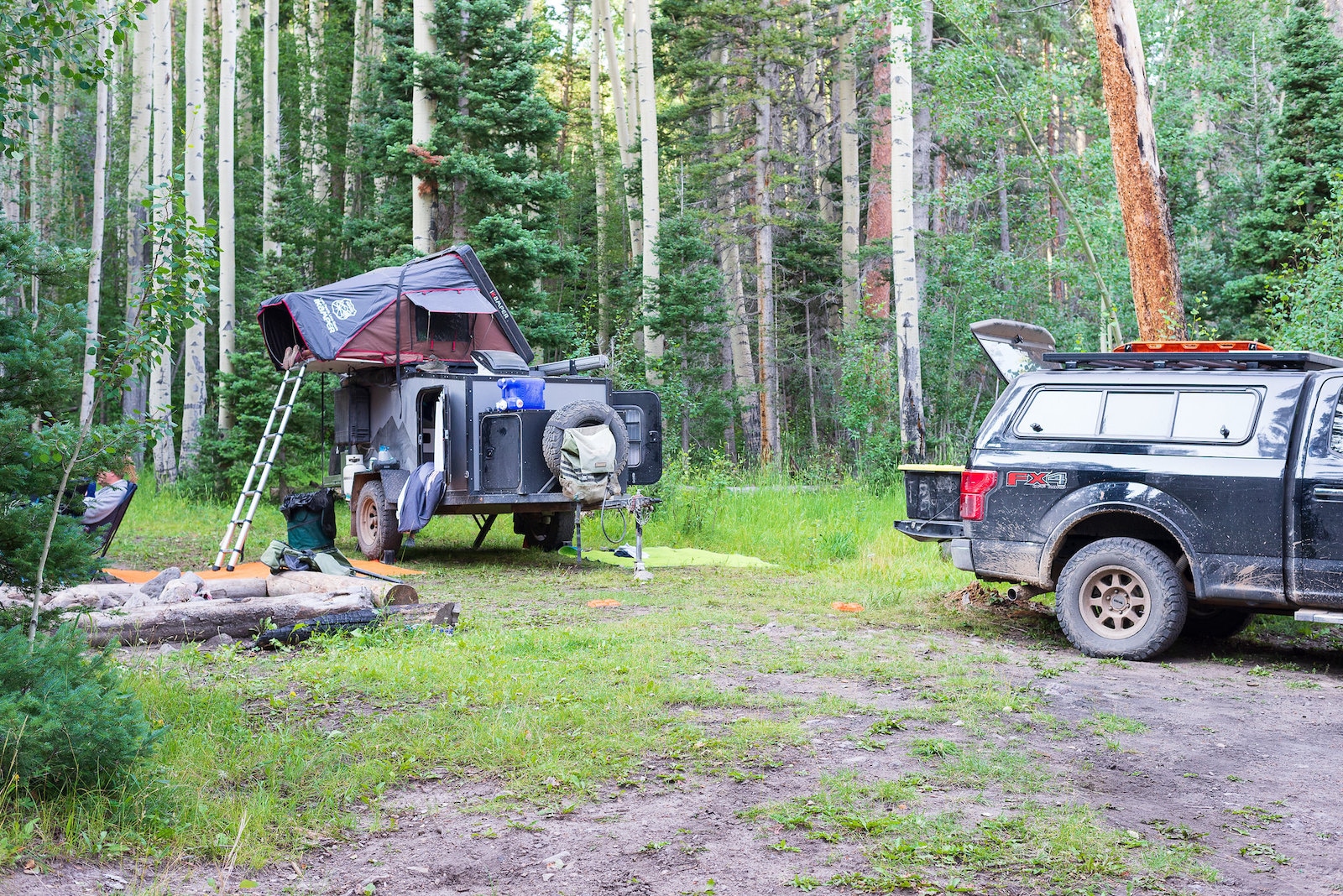 Established camping in Colorado and other U.S. states is essentially camping on easy mode. You typically get a helpful set of amenities, like a parking space, table, fire ring, shared bathroom, and sometimes a storage locker for supplies (safe from wildlife). Plus, there's typically a flat, square piece of land that's ideal for pitching a tent on, called a tent pad, or a place to pull up your travel trailer or RV.
Extra amenities sometimes seen are hookups, in the form of electric, potable water, and sewer. Some campsites even offer showers, laundry, and wifi these days.
The headline pros and cons of conventional camping are that a lot of campsites are reservable in advance so you can ensure you get a spot, but it requires you to camp in close proximity to lots of other people and often in natural spaces that aren't particularly interesting or remote. However, campgrounds are typically more convenient and closer to the general population and towns, than dispersed campsites.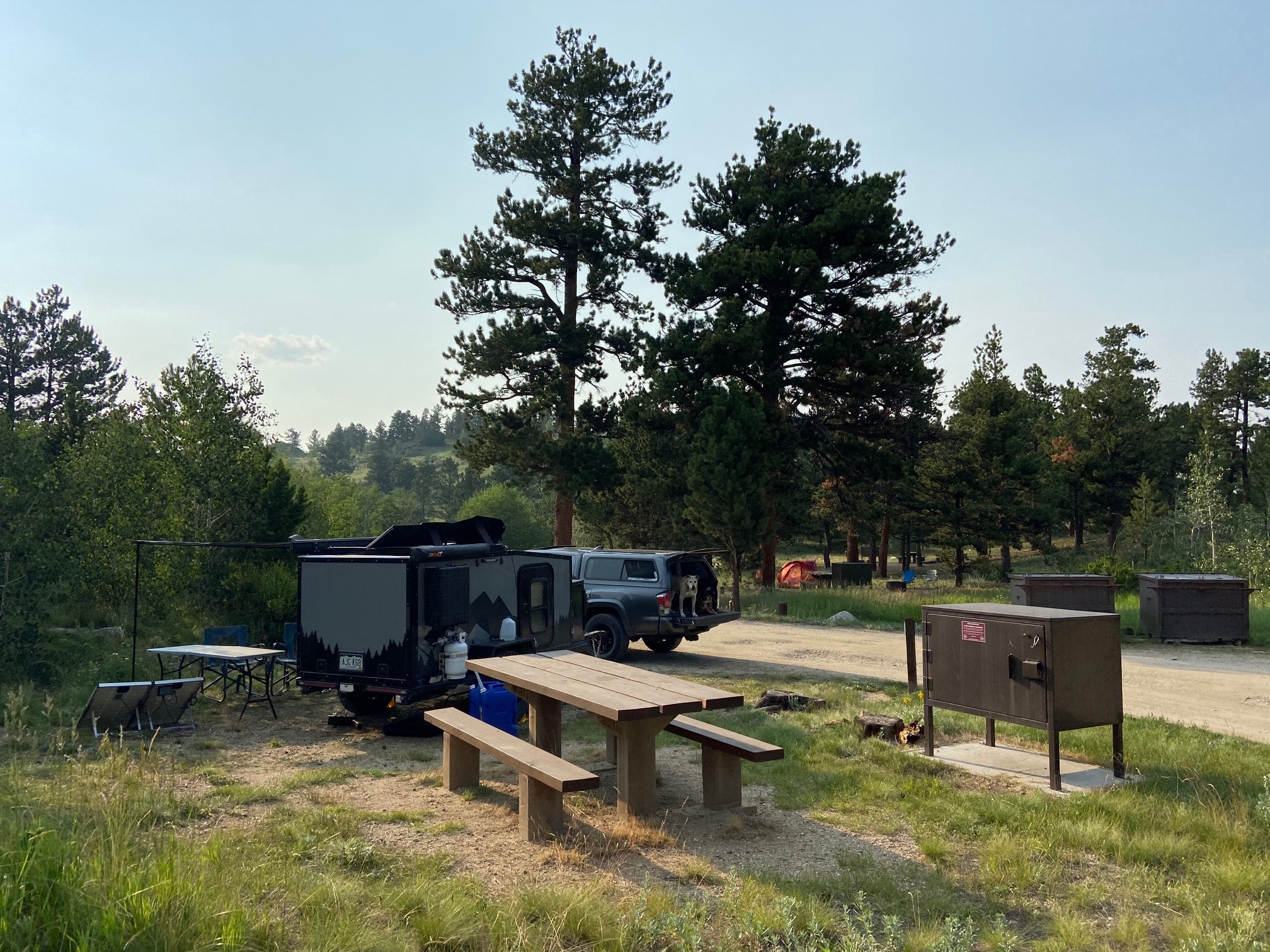 A huge caveat for some, using campgrounds almost always costs money, and they can get pricy, but at least they are still less expensive than a hotel room. Some popular sites have to be reserved months ahead of time online, which makes last-minute "let's get out of the city" camping trips almost impossible to pull off in many Colorado campgrounds.
However, on the flip-side, dispersed camping spots that are first-come, first-serve go quickly in prized locations.
Dispersed camping is another animal entirely, and it's very much a "you're on your own," type of deal. This is any sort of camping that happens outside of established sites. It could be anything from hiking to a remote location and staying there for a night, to setting up your RV on a spot next to a forest access road for a couple of weeks.
From seeking out a spot to forgoing amenities like established bathrooms and garbage dumpsters, dispersed camping is usually a lot more work, but it's free, (usually) far less crowded, and a fun way to experience gorgeous parts of Colorado that most people don't ever get to see.
Depending on where you camp, it's possible to find spots where you're the only person/people around for miles. This privacy benefit makes dispersed camping highly desirable in a state with natural spaces that are growing more crowded and less wild every year.
Finding free primitive car camping sites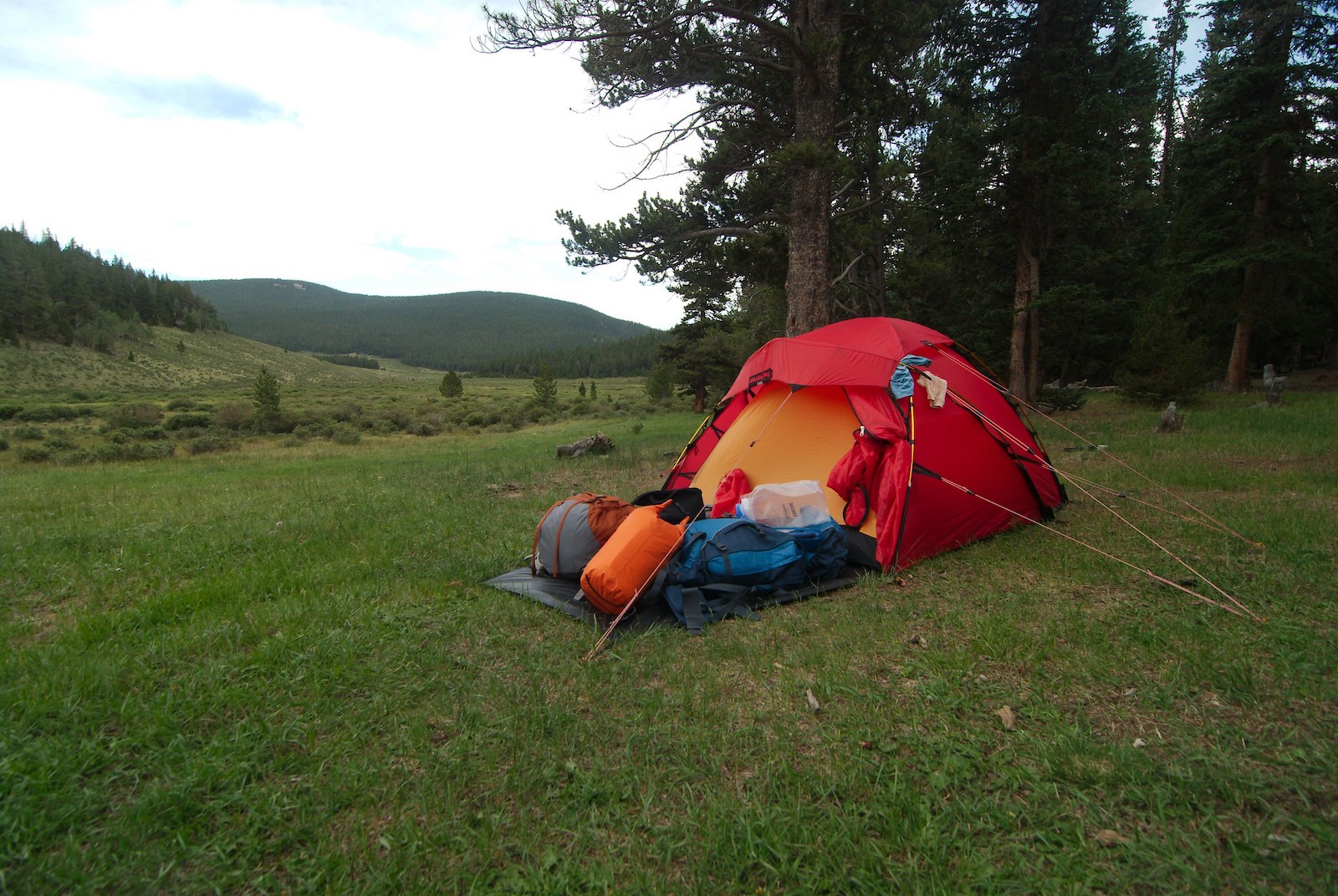 This handy map provided by the Forest Service shows which areas in Colorado are legal for dispersed camping. A stunning amount of terrain is open for free camping in Colorado, including 11 national forests and 2 national grassland areas. Plus Borough of Land Management (BLM) land. But here's where things get a bit complicated.
You'll need to pick out an area to camp in and do your research ahead of time because every forest and grassland has specific regulations and requirements for dispersed camping. For example, the dispersed camping rules in Pike National Forest only allow for camping on designated sites, and their website lists other rules to follow.
This is much different than the Arapaho and Roosevelt National Forests, for example, where dispersed camping is allowed on most national forest lands except in highly developed areas, like trailheads, established campgrounds, and picnic sites. This means that as tempting as it is to just drive to one of these areas and pitch your tent, that's not a good idea if you're completely unfamiliar with the area and its unique rules.
If you want to stay 100% compliant with local rules and make sure you won't be booted off your spot, do some research ahead of time, check out the local regulations, and then head out to camp. Always aim to use a preexisting site as marked by a fire ring made of rocks. If you start seeing fire rings and places to park your car along forest service roads, you're probably A-OK if you're on federal land, which is 1/3 of the land in Colorado.
If you have the ability to ditch the car and hike to your camping spot, the possibilities are endless. Some of the state's most popular outdoor destinations allow backpacking, but only with permits and reservations. Backcountry camping is allowed in Rocky Mountain National Park, for example, but only with a permit that grants access from May 1st through October 31st.
What's the dispersed camping limit?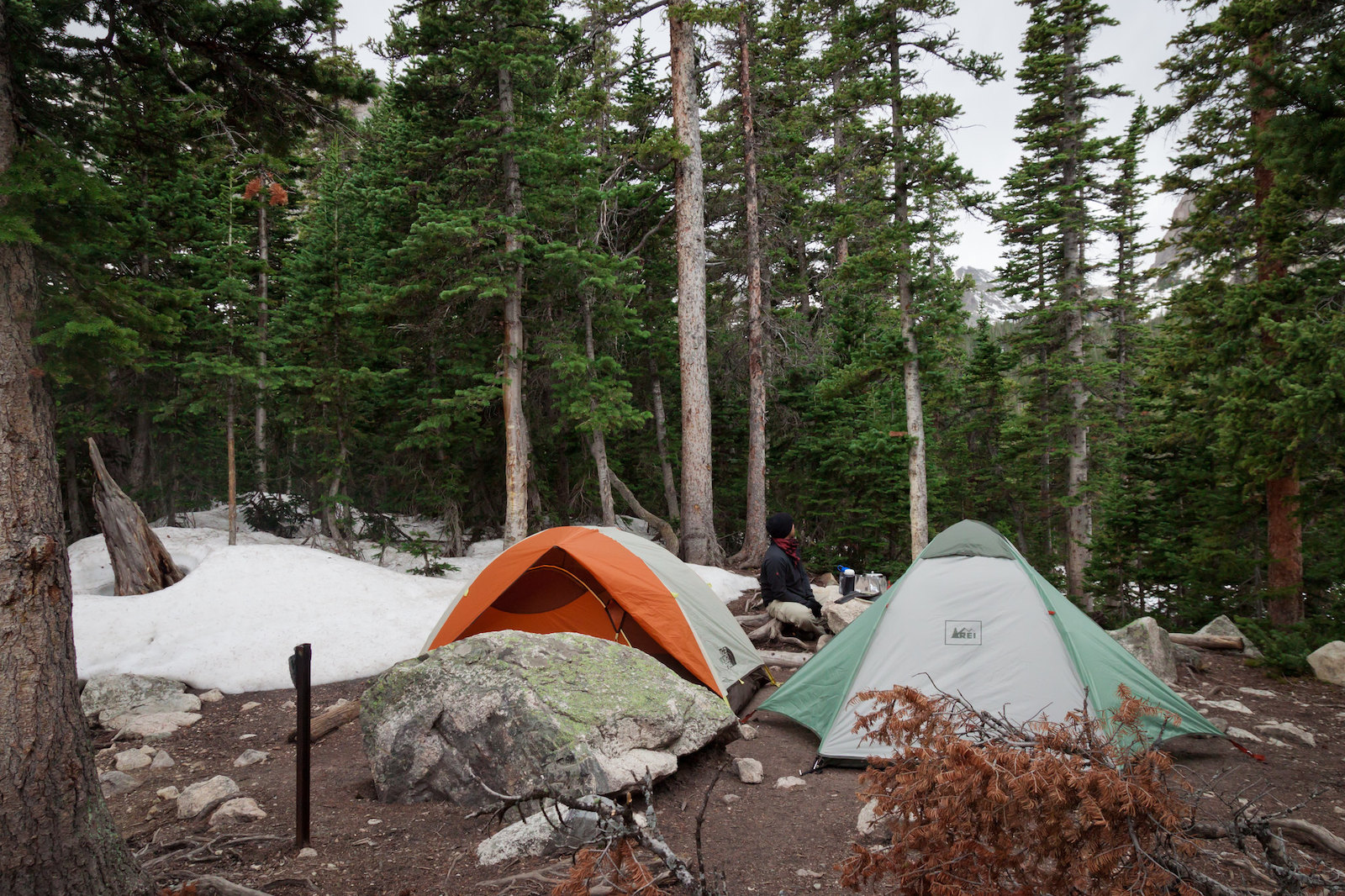 This depends on where you pitch your tent or park your RV, but the rules are mostly the same across Colorado. In most national forests and national grasslands, you can camp at the same location for up to two weeks (14 days at a time within a 30-day period within a 20-mile radius.
There are a small minority of spots that have different stay limits posted, such as Nederland's West Magnolia, which allows 30-day stays, but good luck finding a spot because of this. Campers tend to be more long-term there and desirable locations like it.
In Bureau of Land Management areas, you can typically stay for two weeks (14 days) at a time within a 28-day period within a 30-mile radius. When these month-long periods end, you're asked to pack up and let other campers enjoy the area.
What are the dispersed camping rules to follow?

As we mentioned previously, every national forest, grassland, and BLM-managed land in Colorado may have a unique set of rules to follow, so you'll need to pick a spot and look up the area's requirements before camping. However, there are a couple of important universal rules and best practices that are good to follow and adopt no matter where you camp.
Leave No Trace
Following this principle means making as little of an impact on Colorado's natural spaces as possible. If you bring something into the wilderness with you, take it with you when you leave whether it's trash or a bent tent stake, or leftover food. If you bathe during your camping drips, use biodegradable soap.
And resist the temptation to take rocks, plants, tree branches, and other things you find in the wild with you. When you defecate, Colorado.com recommends walking at least 70 steps from trails, water sources, and people (your campsite). Dig a hole six inches deep or more, cover it, and pack out your toilet paper. A wag bag can be used to pack out your waste, and these can be found in most sporting goods and outdoor stores.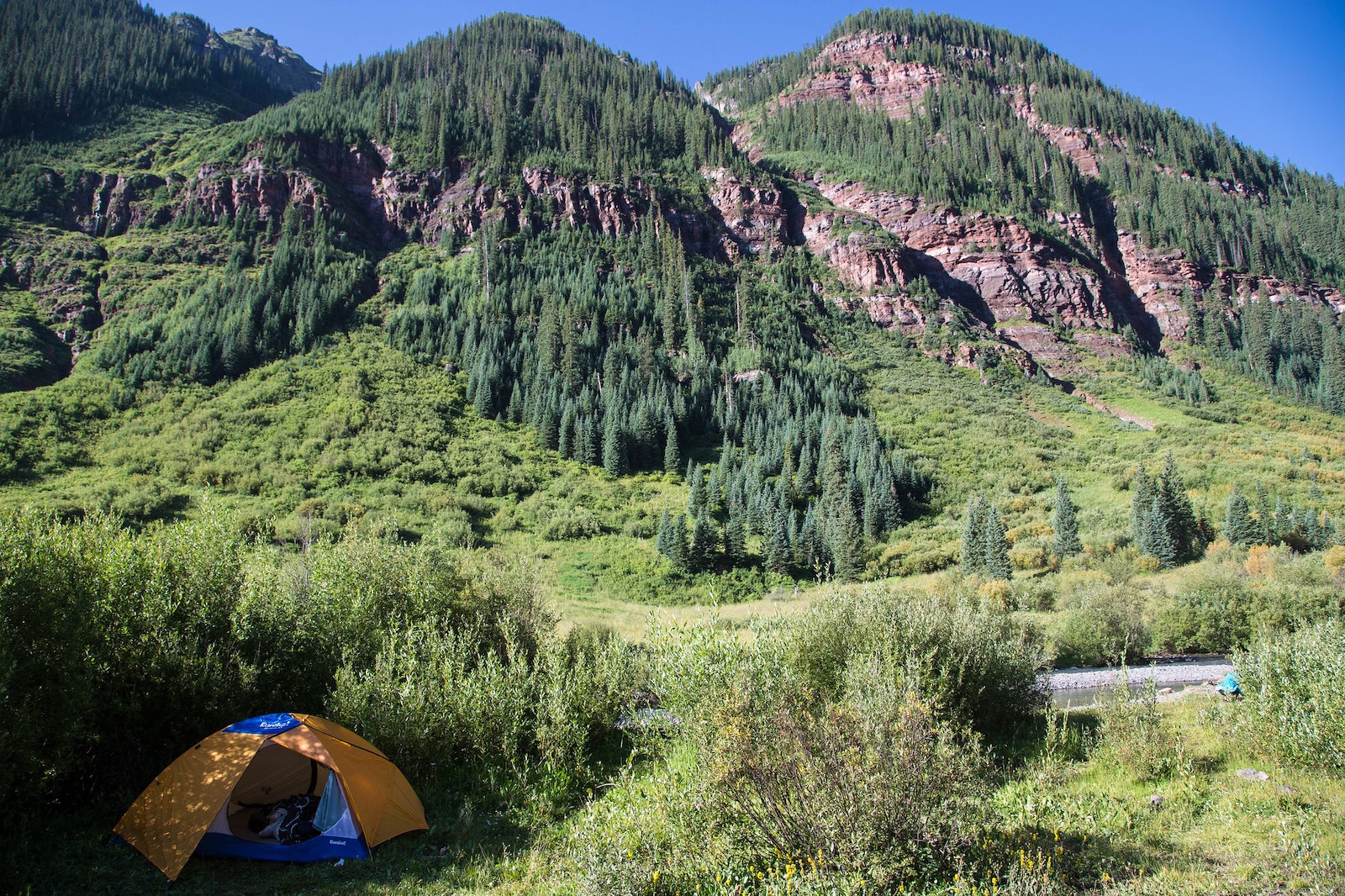 Take extreme caution with fires
It's absolutely crucial that you follow local fire regulations, and these often change throughout the year depending on the weather. Open fires are often not permitted in some locations during especially dry and dangerous weather conditions.
Colorado.com instructs campers to put out fires with so much water that they're able to handle the embers with their hands. Smokers need to extinguish their cigarette butts completely and not leave them behind. Never, under any circumstances, leave a fire burning unattended.
In most instances, you're better off skipping the open fire entirely and using something like a storm cooker, which is typically permitted to use even during restrictions. They also make propane fire grills that are permitted during a fire ban.
Choosing a spot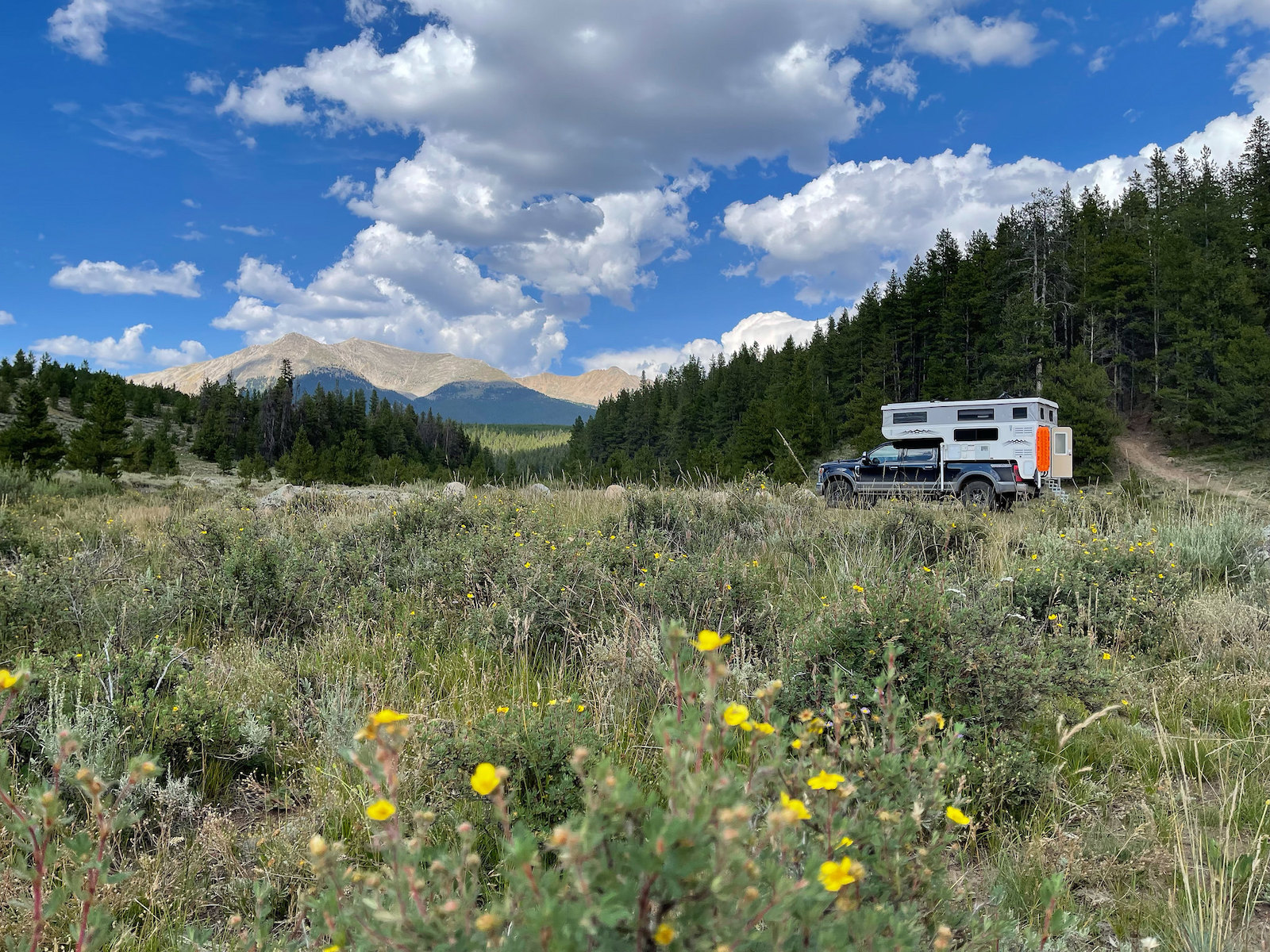 You'll need to select a spot that's at least one mile away from paid campsites, trailheads, creeks, rivers, and lakes. It's recommended to camp in areas that are not open and clearly visible because it could impact the outdoor experience of others. Local regulations will state which areas are open for camping and which are restricted.
Colorado has some of the best dispersed camping areas in the nation, and many are located within an hour or two of Front Range cities like Denver, Colorado Springs, and Boulder. With so many spots to choose from, you'll have the option to keep returning to the ones you love or to find new ones when you like.