Free camping is easy to come by, as long as you know where to look. National forests hold most of the free camping in Colorado, followed up by BLM land (Bureau of Land Management).
Camping for free is generally referred to as dispersed camping, which is camping in approved areas other than campgrounds. The best part about primitive campsites, aside from the cost, is the privacy. The campsites are often wider apart than in a campground. And sites are usually right next to the road, so it's perfect for car camping.
The downside to dispersed camping is a lack of amenities. You are not going to have running water or restrooms nearby. If you need a little bit of luxury, consider renting an RV around Denver before you head out.
How To Find A Free Campsite for Tent or Boondock RV
Campsites are generally marked by a fire ring, and located on county and forest access roads.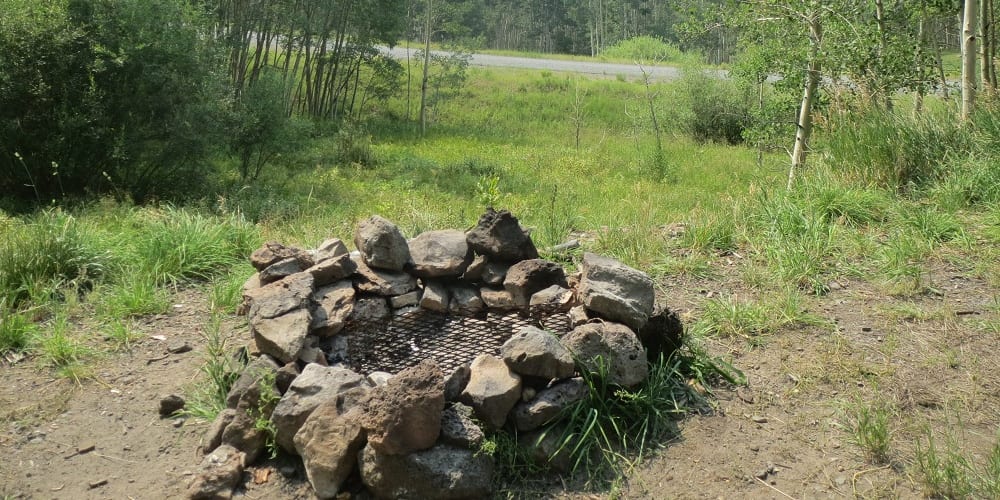 Always use a pre-existing site if available and leave no trace.
Survey the roadside
When driving around Colorado, look for signs that let you know you're entering a national forest. Then any county/forest service roads could potentially allow dispersed camping. Regulations vary and are sometimes marked. BLM Land is often marked as well as such.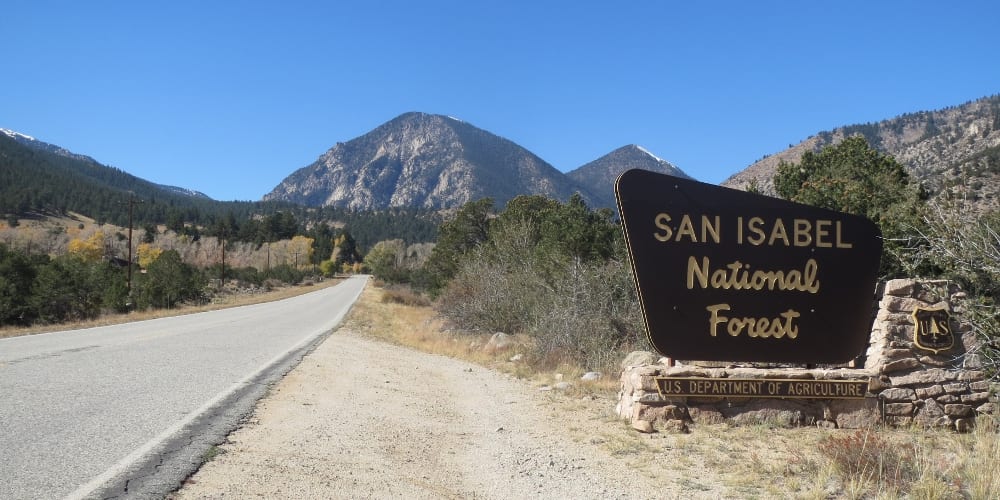 Some highways signal national forest access with brown signs stating just that. From the national forest access signs, it's usually a few miles back to the forest, where free camping could be allowed. A map or info station is commonly at the beginning, letting you know the rules.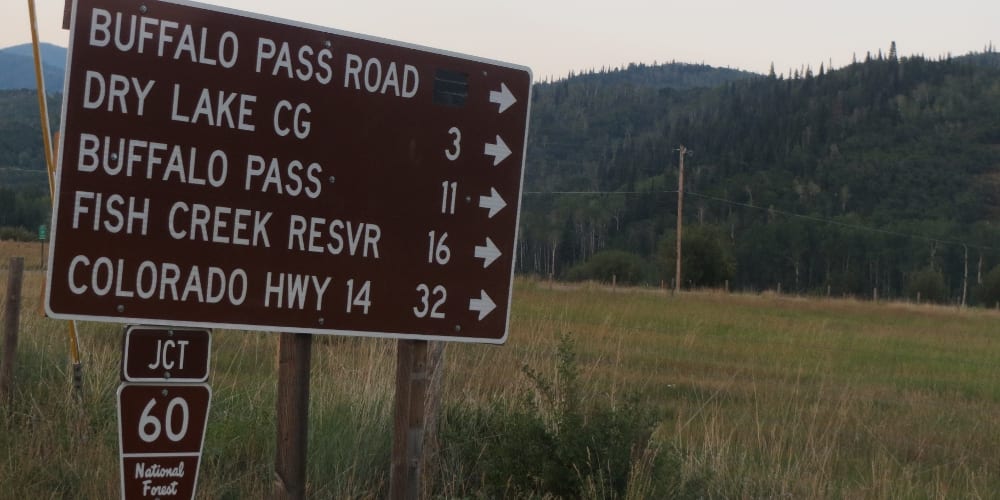 Guessing which roads contain dispersed camping can lead to wasted time and gas, but you could also find some cool stuff. It's usually no more than ten minutes before you know if camping exists. Follow these dispersed camping rules when you set up shop, such as you'll typically be permitted to stay for 14 days before being required to move.
Research known campsites
Find campsites ahead of time and know where you're going. One of the best tools for finding potential campsites are Motor Vehicle Use Maps by the U.S. Forest Service. Google is another useful tool.
READ: Best Camping In Colorado for a few dispersed camping gems.
READ: Where To Camp In Colorado for a larger list of dispersed campsites and campgrounds.
Freecampsites.net also has a nice list of free campgrounds in Colorado and around the U.S.
Motor Vehicle Use Maps
These are large PDFs made available from the Forest Service.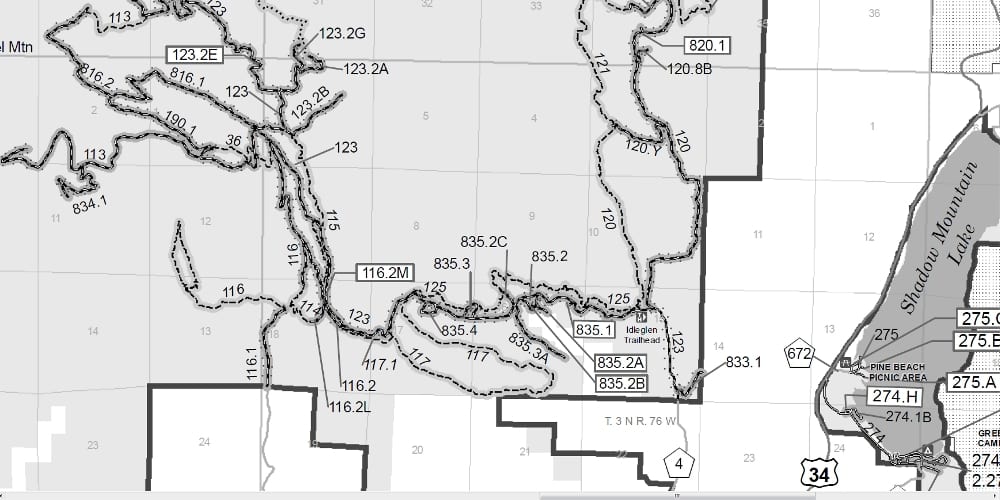 Many, but not all, of these maps show where dispersed camping is permitted. Roads with dots on either side represent free campsites. Each map has a legend.
It's best to download them for an easier time viewing, and so you have them with you if bring a computer on the road. I haven't tried viewing them on a cell phone, but they are very large and it would be a headache.
To Print – (a small section) Open the map (in Adobe Acrobat Reader) and find the area you need to print. Go to File, Print, and under Pages to Print, select More Options and Current view. Next under Page Sizing & Handling choose Fit. Select Orientation and then Print.
Tip – Bring up the location in Google Maps too, so you can get more street names and info.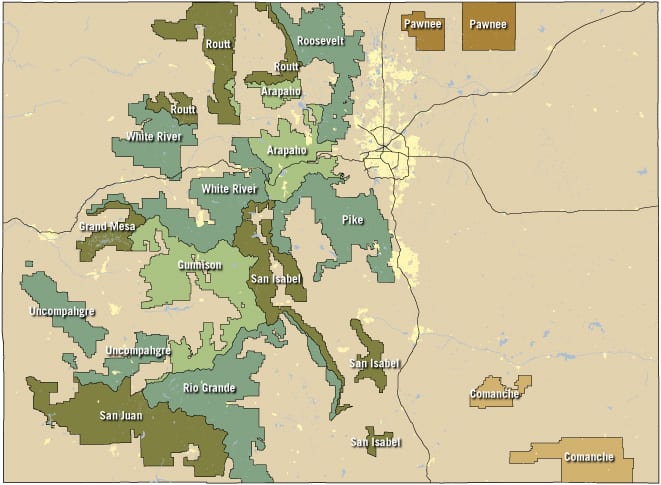 MVUM National Forests
Arapaho: Shows dispersed camping
Clear Creek – Loveland Pass, Empire, Georgetown, Idaho Springs
Sulphur North – Grand Lake, Granby
Sulphur South – Hot Sulphur Springs, Fraser, Winter Park
Grand Mesa: Shows dispersed camping
Grand Mesa Division – Cedaredge, Collbran
Gunnison: Shows dispersed camping
Paonia – Paonia, Crawford
Gunnison North – Crested Butte
Gunnison South – Almont, Pitkin, Gunnison, Lake City
Pike: Does not show dispersed camping
Pikes Peak – Monument, Colorado Springs
South Platte East – Bailey, Deckers
South Platte East Inset – Deckers
South Platte West – Grant
South Park East – Lake George
South Park West – Alma, Fairplay, Hartsel
Rio Grande: Shows dispersed camping
Conejos Peak East – Alamosa
Conejos Peak West – Monte Vista, Alamosa
Divide East – Saguache, Creede, South Fork, Del Norte, Monte Vista
Divide West – Creede
Saguache East – Poncha Springs
Saguache West – Poncha Springs
Roosevelt: Shows dispersed camping
Boulder – Boulder, Nederland
Canyon Lakes North – Red Feather Lakes
Canyon Lakes South – Fort Collins, Loveland
Canyon Lakes Errata 1 – Walden
Canyon Lakes Errata 2 – Fort Collins
Routt: Shows dispersed camping
Hahns Peak/Bear Ears – Hahns Peak, Clark, Steamboat Springs
Hahns Peak/Bear Ears Inset – Hahns Peak
Parks – Clark, Steamboat Springs, Walden
Parks Inset – Steamboat Springs
Yampa – Steamboat Springs, Oak Creek, Yampa
San Isabel: Does not show dispersed camping
Leadville – Leadville, Buena Vista
Salida – Buena Vista, Poncha Springs, Salida
San Carlos North – Cañon City
San Carlos South – Walsenburg
San Juan: Shows dispersed camping
Columbine – Silverton, Durango, Bayfield
Columbine Back – Silverton, Durango, Bayfield
Columbine Beaver Meadows Sauls Creek – Bayfield
Columbine HD Mountains and Lakes – Bayfield
Columbine – Lakes Area – Bayfield, Durango
Mancos & Cortez – Dolores, Cortez, Mancos
Pagosa – Pagosa Springs
Uncompahgre: Shows dispersed camping
Plateau Division – Grand Junction Delta, Montrose
Mountain Division – Telluride, Ridgway, Ouray, Silverton, Lake City
White River: Shows dispersed camping
Aspen & Sopris – Glenwood Springs, Carbondale, Redstone, Aspen
Dillon – Keystone, Dillon, Silverthorne, Frisco, Breckenridge
Eagle & Holy Cross East – Edwards, Avon, Minturn, Red Cliff
Eagle & Holy Cross West – Eagle
Flat Tops (Blanco, Eagle, Rifle) – Meeker
Rifle – Rifle
MVUM Grasslands
Comanche: Does not show dispersed camping
Comanche East – La Junta
Comanche East Inset – La Junta
Comanche West – Springfield, Trinidad
Pawnee: Shows dispersed camping
Pawnee East – Sterling
Pawnee West – Fort Collins, Greeley
Dispersed Camping Checklist
Without the amenities of a campground, you'll probably need a few more things.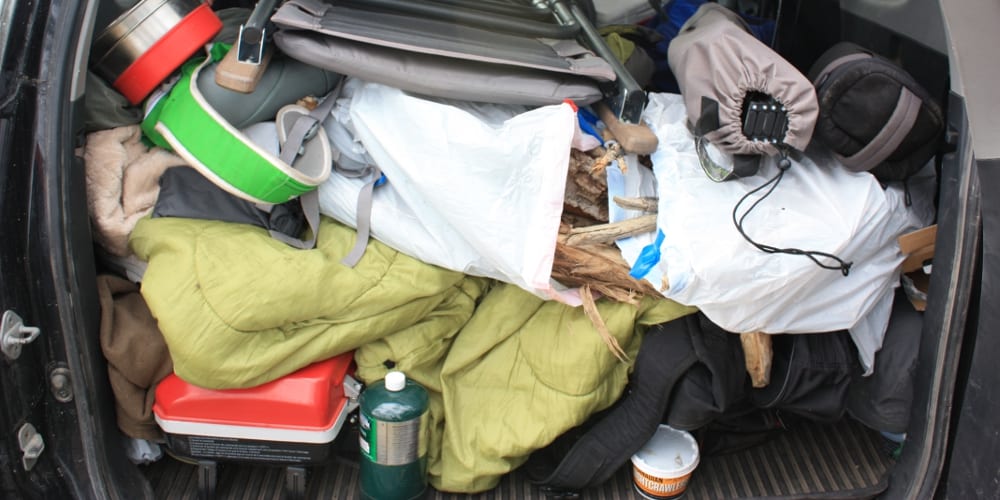 Tent, rod, stakes, pad or tarp
Sleeping bag and pad
Fire supplies – tinder, sticks, logs, matches/lighter
Flashlights
T.P. – backcountry rule is to bury it or pack it out
Gardening Trowel – small shovel good for preparing the fire pit & digging holes
Food and Water
READ: 20 Car Camping Essentials for a complete gear checklist.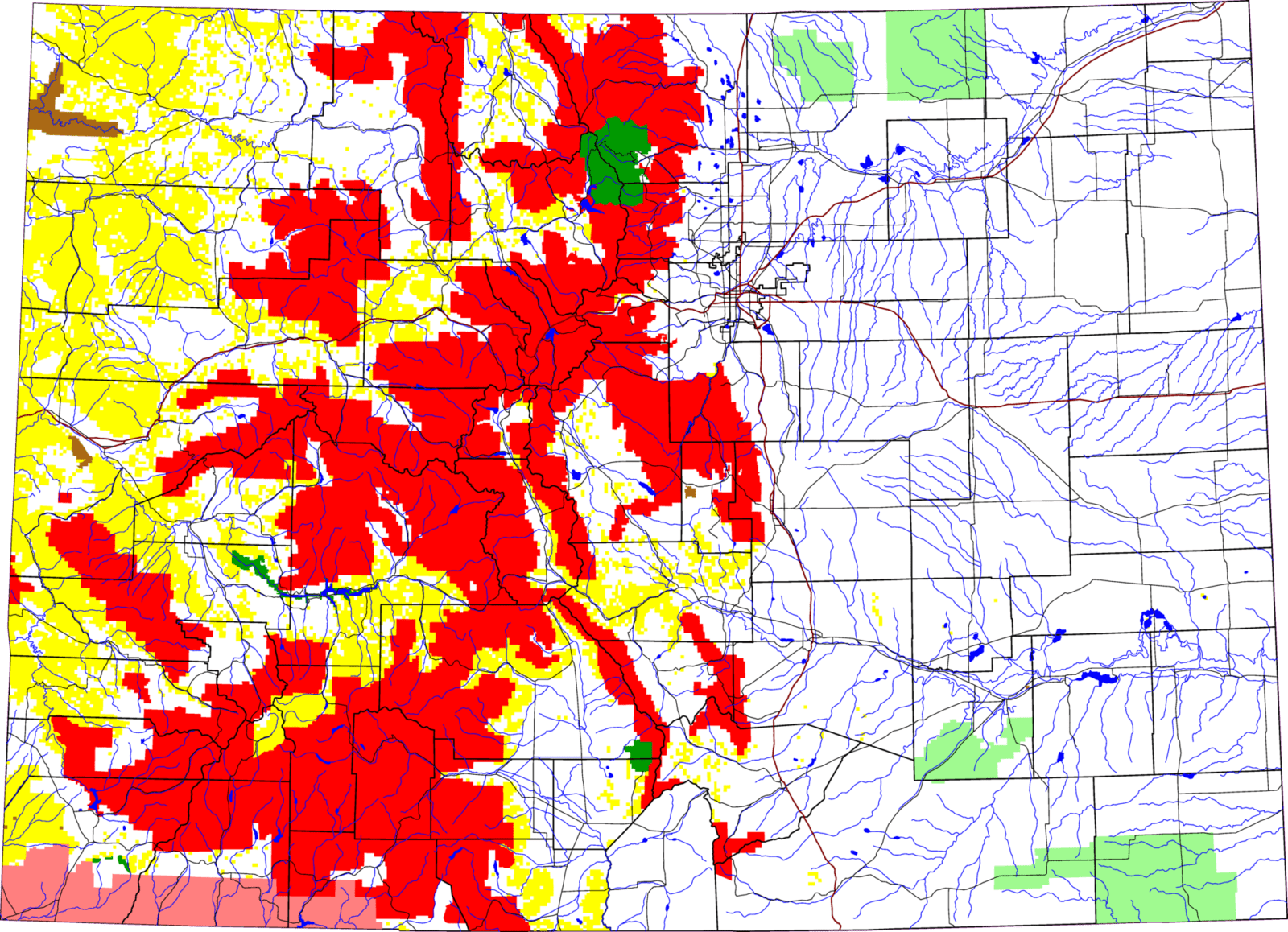 Please share any other methods for finding free camping.