[View from Pikes Peak Barr Trail. Photo: Miguel Vieira] Colorado's vast national forests are probably its biggest asset. They preserve, protect and promote the responsible use of millions of acres of public land in this state only. Read our federal lands blog. View all federal lands.
National Forests in Colorado
Eleven national forests cover millions of acres throughout the Rocky Mountains. They are spread across the state, west of the plains. Year round outdoor recreation can be found in these free, federal lands, from fishing and camping, to snowmobiling and Nordic skiing.
Main Attractions to Visit in National Forests
Each of the eleven nation forests in Colorado are unique, with similar, yet different landscapes and ecosystems. Whether you're out west exploring the mesa tops or in the San Juans marveling at the steepest, you'll love exploring these national forest highlights:
in Arapaho National Forest
in Gunnison National Forest
in Pike National Forest
Rio Grande National Forest
in Roosevelt National Forest
Cache La Poudre-North Park Byway – A 101-mile journey from Fort Collins to the vast valley of North Park, near Walden. Numerous camping, fishing and hiking opportunities along the drive.
Gould – Those there are no business in Gould, there's a national forest access road and lots to do. Take Co Rd 21 from "downtown" and follow for recreation. Dispersed camping is everywhere and there are two campgrounds, Aspen and Pines a couple miles. Off highway vehicles are the most draw to this remote location. The ghost town of Teller City lies 8 miles back.
West Magnolia – Located two miles south of Nederland, West Magnolia features over twenty free campsites and miles of biking, hiking and horseback trails.
in Routt National Forest
Buffalo Pass – Known locally as Buffs Pass, this dirt road connects Steamboat with Walden. In the summer, 2WD cars can access numerous primitive camping sites on the front side of the pass just out of Steamboat. The pass closes due to snow in the winter, but it's still accessed for snowshoeing, snowmobiling and backcountry skiing.
Fish Creek Falls – A series of nature trails lead to a remarkable waterfall. It's open year round, with snowshoeing and ice climbing common in winter.
Flat Tops Trail Scenic Byway – A remote and picturesque, 82-mile drive through the Flat Tops Wilderness in NW Colorado. It connects Yampa and Meeker.
Hahns Peak Lake – More secluded and smaller than neighbor Steamboat Lake, Hahns Peak Lake is located north of Steamboat in Clark. Hahns Peak Lake Campground is $10 a day. Free primitive camping can be found in the surrounding Routt N.F.
Rabbit Ears Pass – Named for the rabbit-ear-shaped buttes visible from the top of the pass. Year round people use the pass for it's great system of biking, hiking, and 4×4 trails. Primitive campsites and campgrounds are easy to find. In the winter, it's a wonderland for snowmobiles, with lots of deep, dry snow.
Clear Creek Canyon – Located on County Road 162, southwest of Buena Vista. A number of sights including Agnes Vaille Falls, Mount Princeton, Saint Elmo ghost town and Tincup Pass (4×4). There is a campground situated near Chalk Lake, but primitive, car camping does not exist in the canyon.
Clear Creek Reservoir – Located between Leadville and Buena Vista on US 24. The reservoir is located very close to the US 24, with a campground. There's also countless primitive sites along the county road. The ghost town of Winfield lies 12 miles down at the end of the road.
Cottonwood Pass – This scenic highway connects Buena Vista and the San Isabel NF to the east, with the town of Almont (near Gunnison) and the Gunnison NF to the west. Primitive car camping is easy to find.
Independence Pass – A scenic, summer short-cut to Aspen. The drive is 36 miles from Twin Lakes. Camping is easy to find near the pass. Twin Lakes has 3 campgrounds available with 104 campsites (no RV hook-ups or shower facilities).
in San Juan National Forest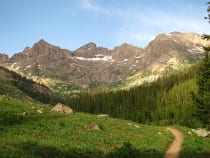 Weminuche
Durango
San Juan Skyway – Over 200 miles of scenery are passed on this loop between Ridgway, Cortez and Durango.
Silver Thread Scenic Byway – The Uncompahgre National Forest hugs the the west side of this byway near Lake City.
Guide to National Forests in Colorado