What does summertime in Colorado mean? To many, it's the break between ski season, but to others, it means hiking season and a chance to see wildflowers beginning to show themselves to us after a long cold winter. This colorful display takes place at different times during the summer depending on factors like elevation and location.
While some might be more recognizable than others, like the state flower, the Columbine, some might be harder to spot. So, to help use our guide to common wildflowers in Colorado and be sure to keep your eyes peeled during your next outdoor adventure. Let's discover the common native wildflowers in Colorado and the best places to see them.
When to find wildflowers
You can find wildflowers throughout Colorado, but when you see them depends on the elevation you are at. The higher you go in elevation wildflowers are best seen in July and August. In lower elevation, wildflowers are best seen during late spring or early summer.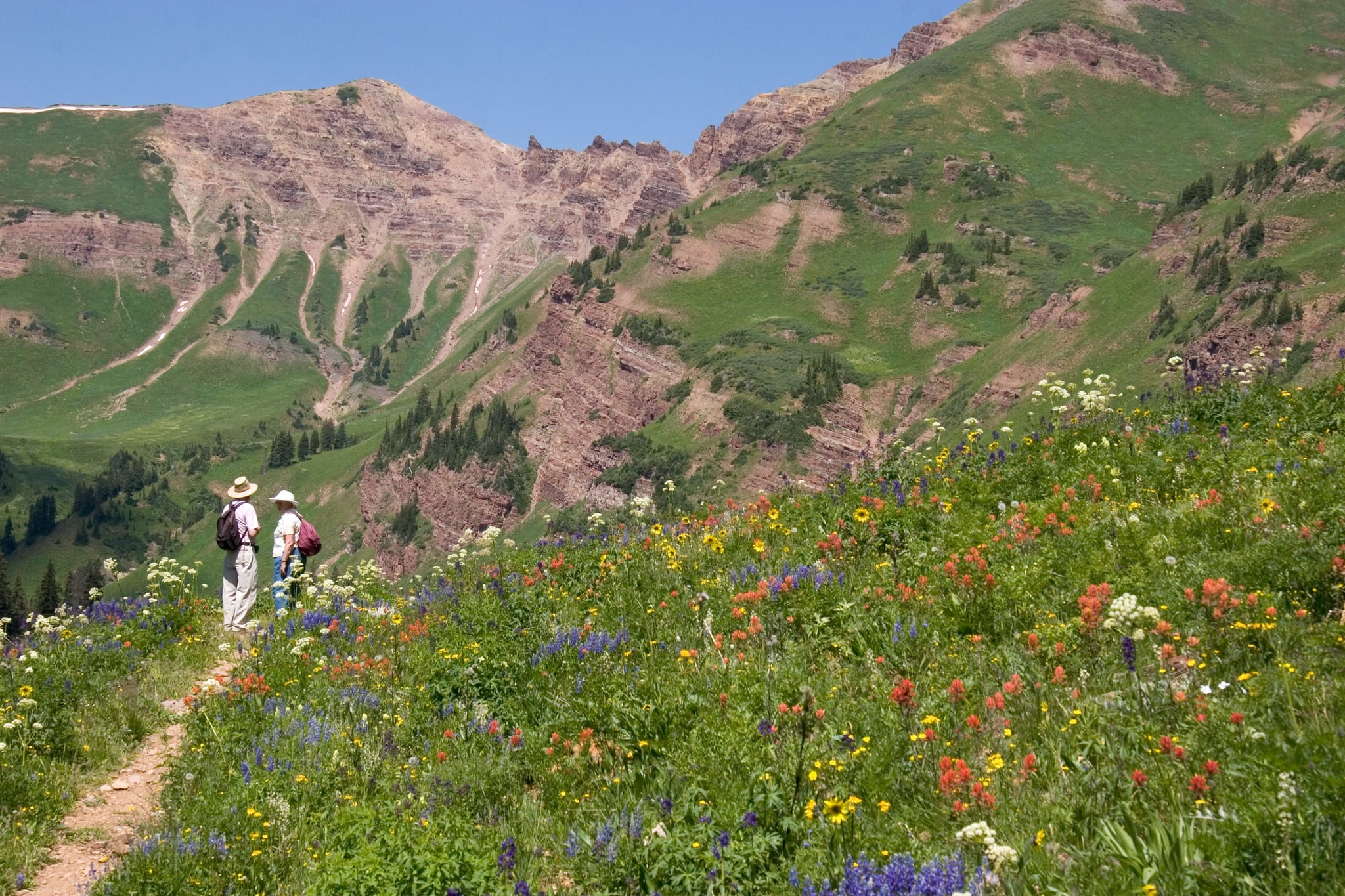 Where to see wildflowers in Colorado
While you find native wildflowers growing all over the state, some places are known to have an abundance of color. To help you get started, here are some of the best places to see wildflowers in Colorado – from the eastern plains to the western slope, and some wildflower-rich hiking trails to go along with them.
Pawnee Buttes
Head out to Colorado's eastern plains to the Pawnee Buttes. The two massive rock formations provide the focal point to this otherwise flat part of the state. But come early spring and beginning of summer, the area comes alive with an abundance of wildflowers. It's located within the Pawnee National Grassland, so consider camping at a nearby campground or  free dispersed camping.
Rocky Mountain National Park
Visit Colorado's most popular national Park to find easily accessible wildflower hikes. Ouzel Fall through Wild Basin is a great hike to start with. Or head up even higher to find clusters of alpine wildflowers near the Alpine Visitor Center. For a bit of a longer hike try, the Green Mountain-Onahu Loop. This eight-mile stretch shows off the classics with paintbrush, sunflower, and columbines.
Crested Butte
Crested Butte has rightfully been given the name, the Wildflower Capital of Colorado. No matter what trail you take you are bound to spot blooming flowers, but most popular include Rustler Gulch, the famous route from Aspen to Crested Butte, and Copley Lake. The best time to visit is early to mid-July.
Indian Peaks Wilderness
Make Nederland your jumping-off point for exploring the beautiful wildflowers of the Indian Peaks Wilderness. The Hessie Trail to Devil's Thumb Lake is the perfect place to start your wildflower exploration. Another popular moderate hike is Diamond Lake where Fireweed is abundant.
Alpine Loop
For a scenic drive with plentiful wildflowers, take the 63-mile Alpine Loop near Ouray. This scenic byway brings passengers near wildflower fields near Engineer Pass or hike to the popular American Basin for a stunning view of wildflowers, waterfalls, alpine lakes, with the San Juan Mountains in the background.
Here are some of the native wildflowers to Colorado, in no particular order:
Colorado Blue Columbine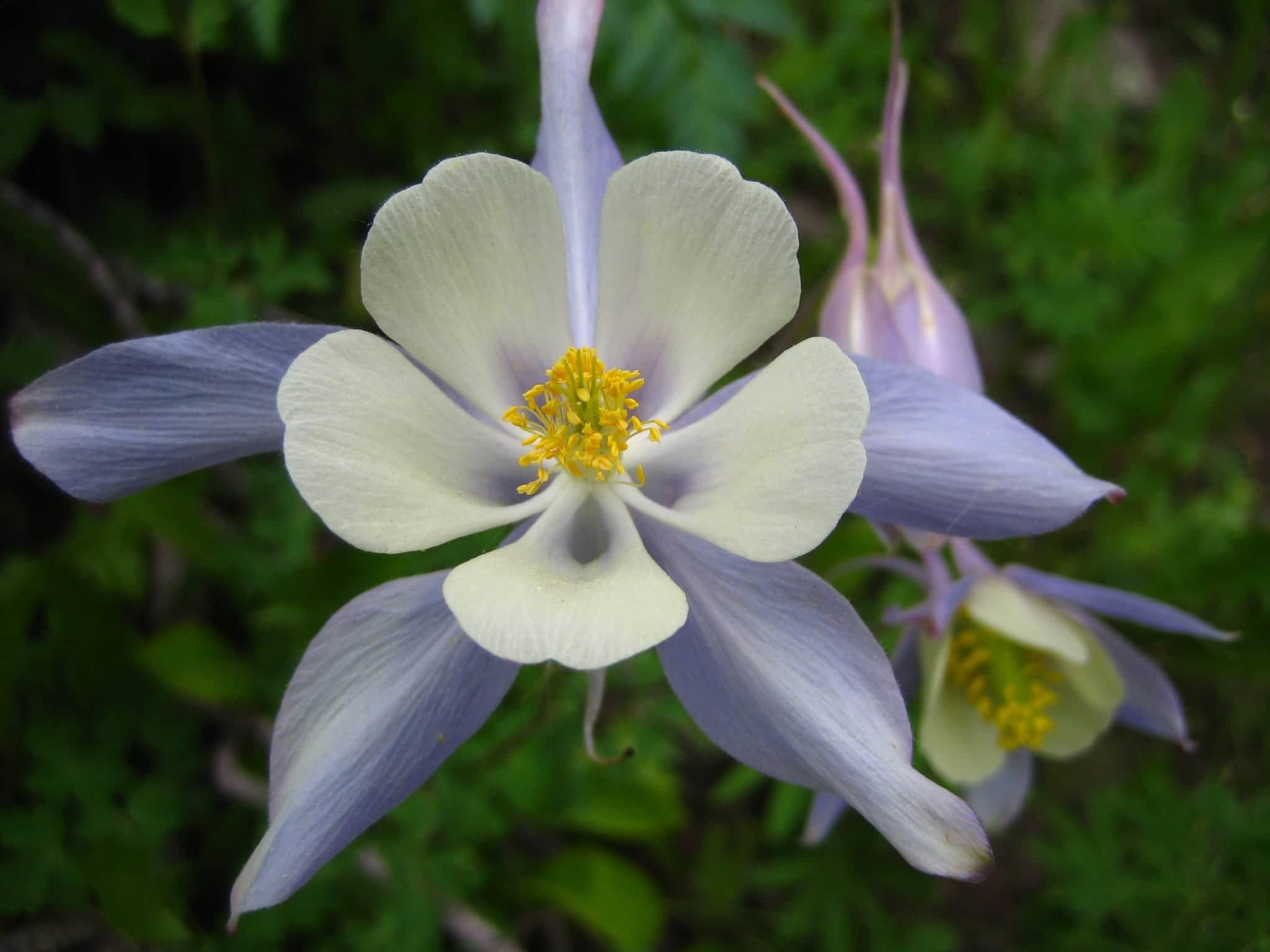 The official state flower, the Colorado Blue Columbine, is a beautiful blue and white star-shaped flower with a yellow center. The flower is found throughout the state almost anywhere in the spring and early summer. As it ages, the flower turns white – typically after 25 years.
Fun fact: The Colorado Blue Columbine is Colorado's state flower.
Where to see: Also known as the Rocky Mountain Columbine, the Blue Colorado Columbine can be found mainly in montane and alpine regions. They grow in a range of conditions, along the banks of streams, damp woodlands, and under the shade of Ponderosa pine trees.
Western Columbine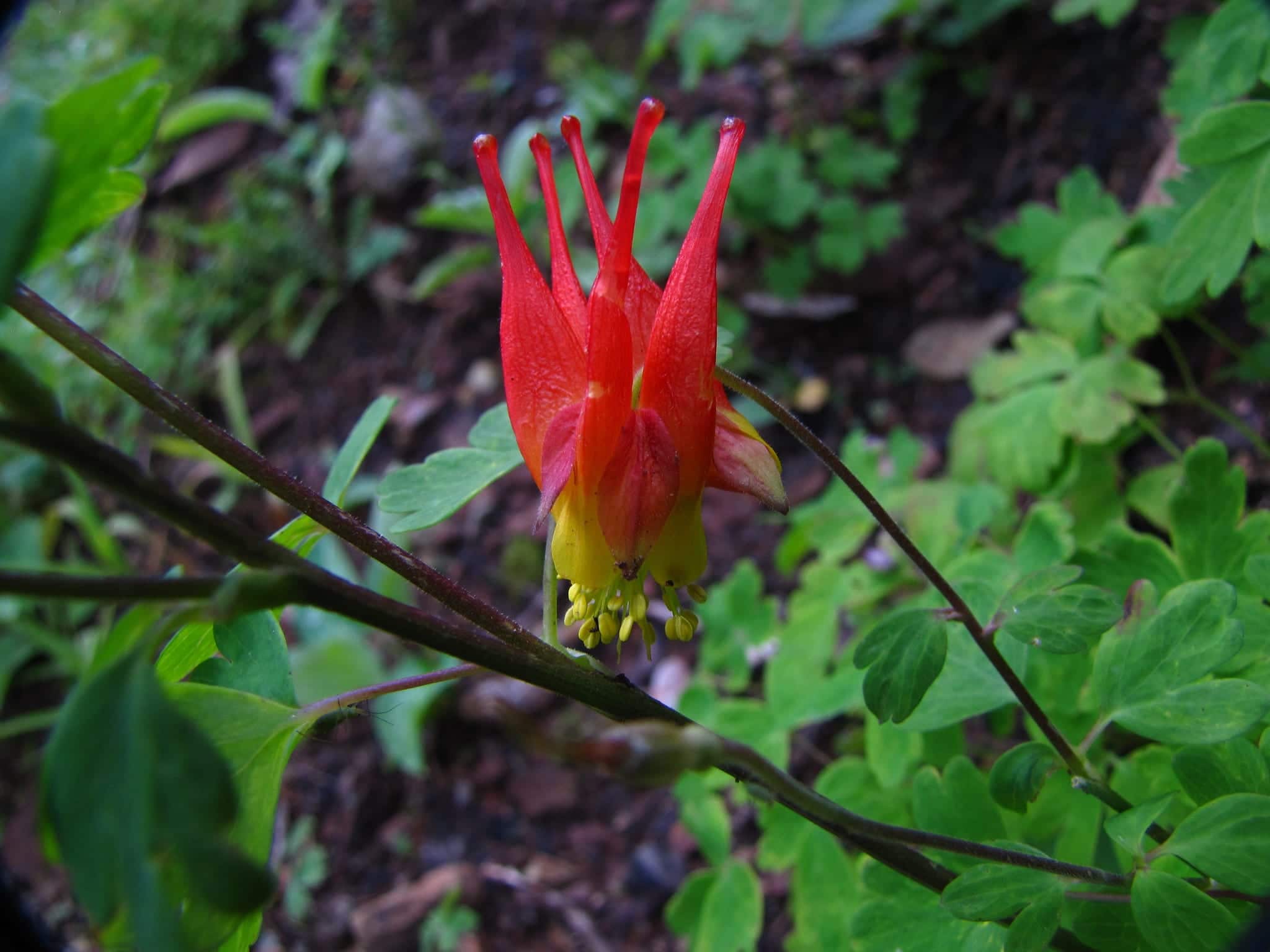 While certainly not as common as its cousin, the Colorado Blue Columbine, the Western Columbine is a fun wildflower to spot along the trails. Its red and yellowish coloring stands out as the star shape droops downwards, with spike-like extensions. While this flower is edible, the seeds can be poisonous.
Where to see: Mostly found in the forest, wooded areas with tons of moisture and grows in montane and subalpine regions throughout the state.
Indian Paintbrush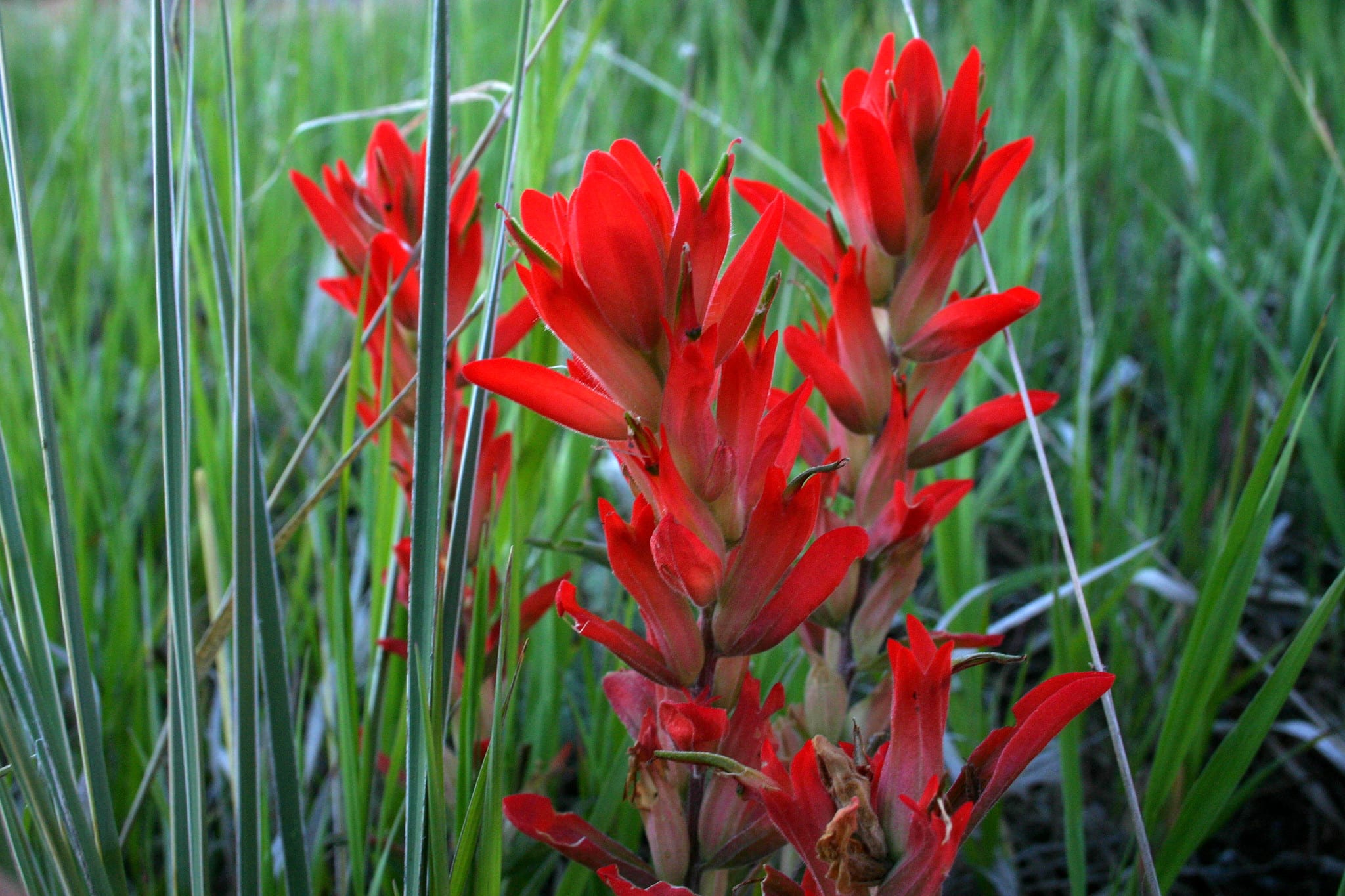 The Indian Paintbrush, also known as Castilleja, is named for the clusters of spiky blooms that resemble paintbrushes, with vivid colors that look as though they have been dipped in paint. They grow in forest clearings and grasslands across the Western and Southwestern United States. While the Indian Paintbrush comes in a variety of colors and over 100 species, you'll most likely see the red and orange varieties in Colorado. Its bloom period is from May to July.
Fun fact: the flower is edible and was consumed in small amounts by several Native American tribes as a condiment with other foods.
Where to see: The Indian Paintbrush can be found from the plains to the mountains amongst large meadows, sagebrush, and woodlands.
Bluebell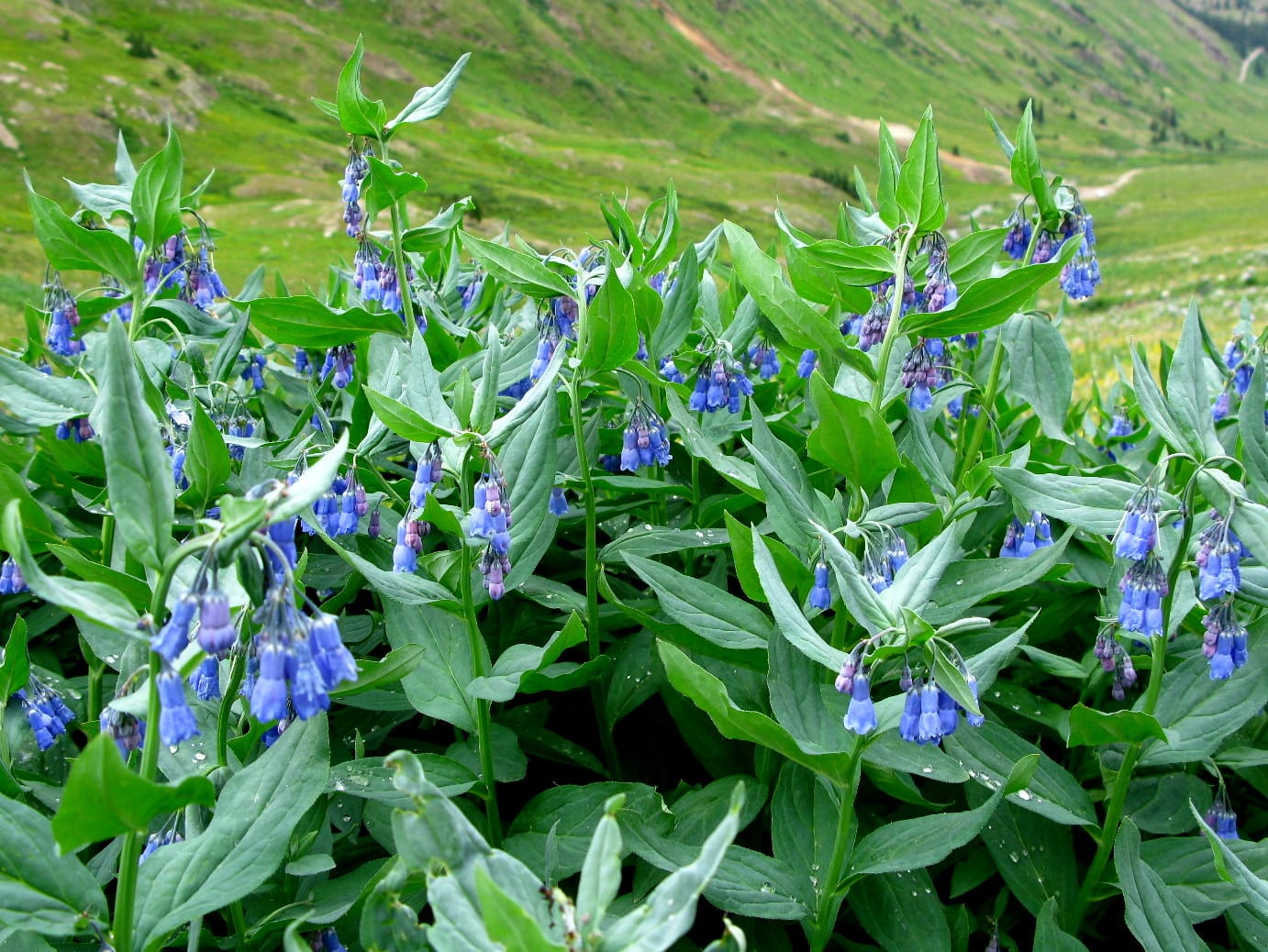 The Bluebell, or Mertensia, are delicate flowers that look just as the name implies, a tiny blue bell. The drooping bells pale in comparison with their large blue-green leaves, producing massive clusters of stems with a lot of flowers. The color varies from purples and blues to even a very light pink.
Where to see: Bluebells are abundant during the blooming season in the Four Corners area of the state. The San Juan and nearby mountain ranges are another popular place to spot plenty of Bluebells – found as short plants in open meadows and woods in the spring months. The most prominent display of Bluebells is along mountain streams where they flourish in large dense colonies.
Rocky Mountain Bee Plant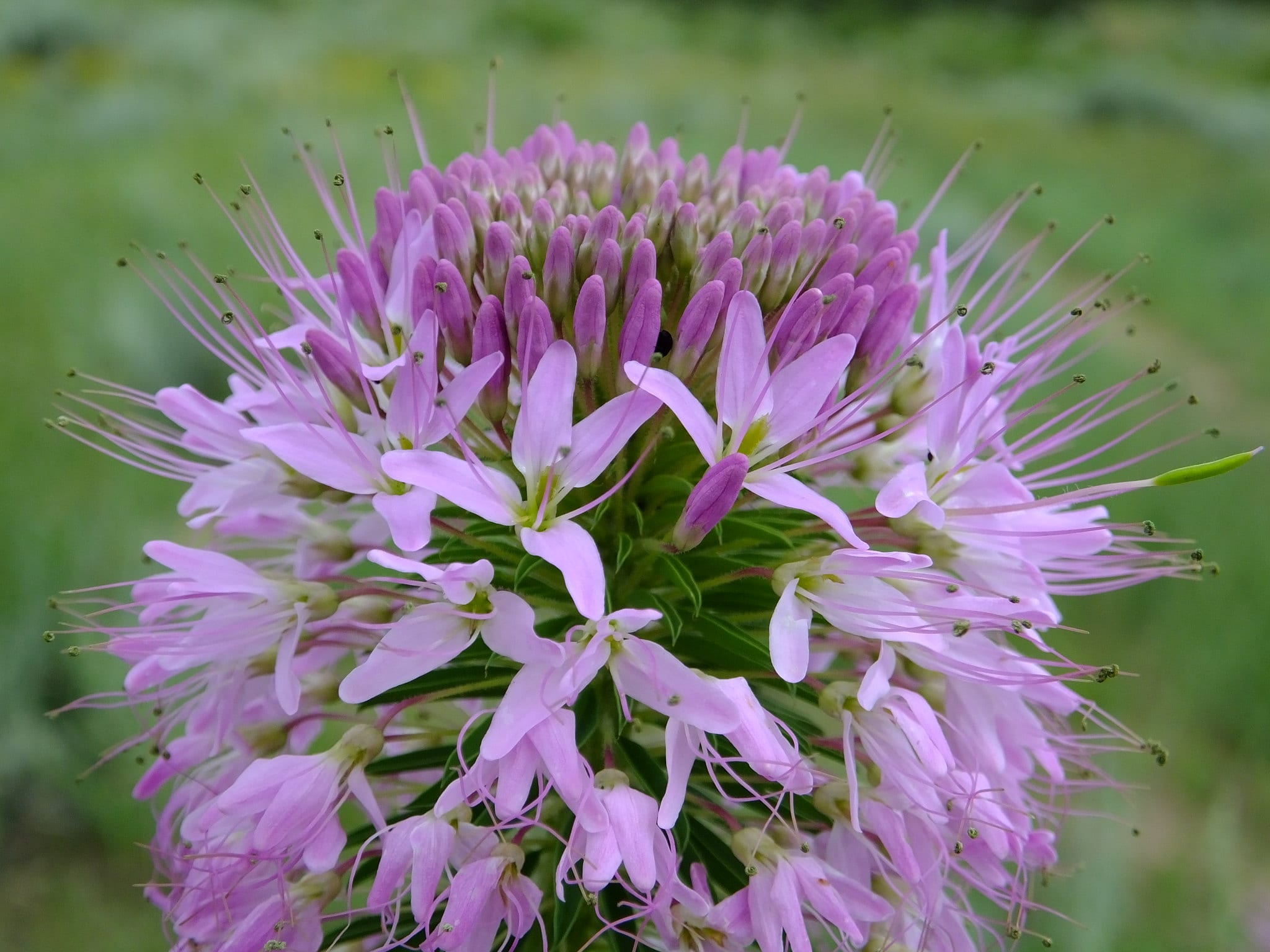 Making a bright and showy appearance, the Rocky Mountain Bee Plant captures your attention with its large bushy clusters and its long and lustrous stamens. It can grow up to four feet tall and grows from spring through summer. Attracting many pollinators, another common name for this flower is Stinkweed.
Where to see: The Rocky Mountain Bee Plant is found in open sunny areas, mostly along roadsides. A popular place to spot this fanciful flower is along the eastern plains of Colorado at the Pawnee Buttes.
Arrowleaf Balsomroot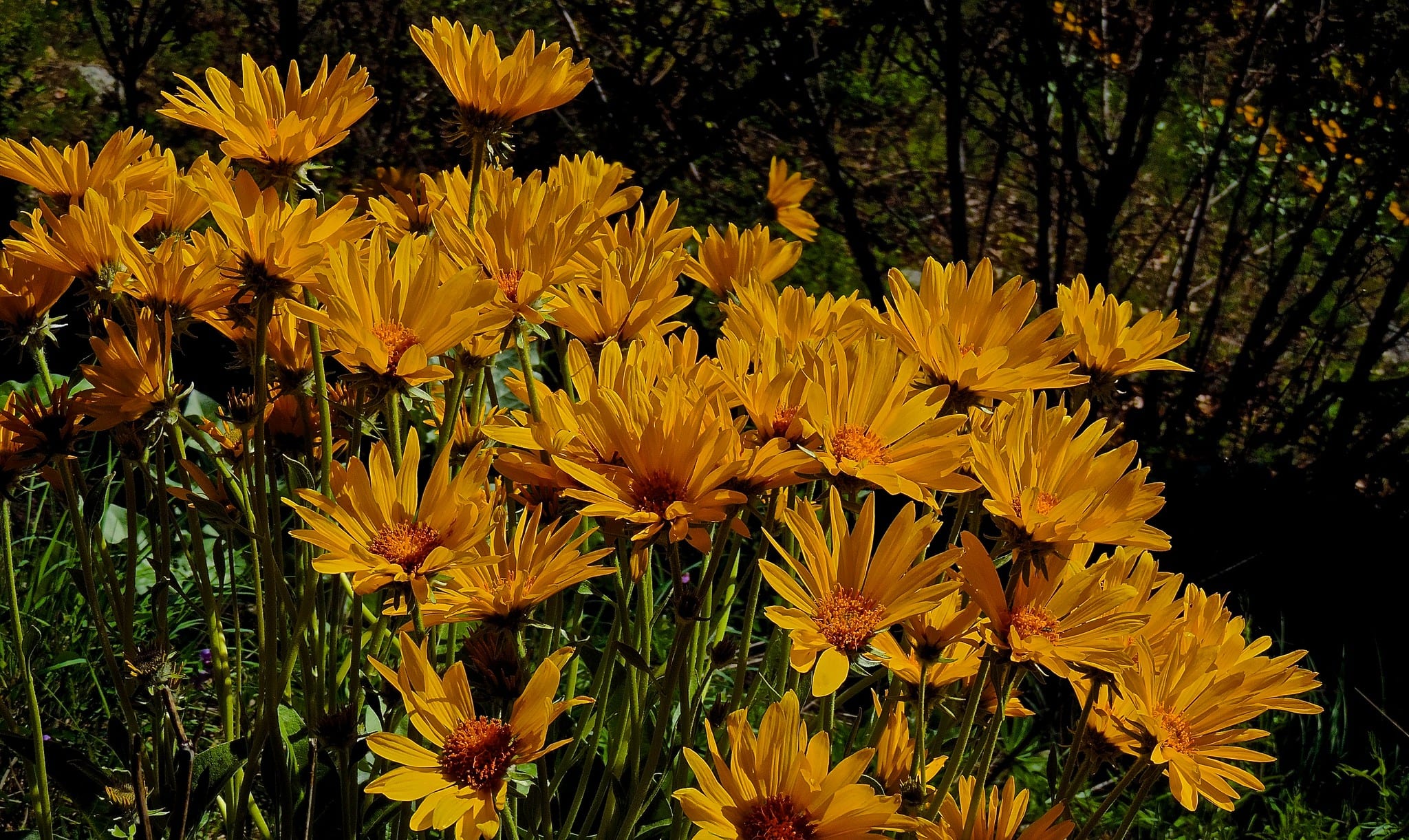 From the sunflower family, the Arrowleaf Balsomroot is a bright yellow flower with a yellow-orange center. The leaves are shaped like an arrowhead, thus the name Arrowleaf. Nearly the entire plant is edible and can be used for medicinal purposes.
Where to see: The Arrowleaf Balsomroot is mainly found in woodlands and open areas, from the foothills to the mountains. If enough light, in some areas the flower will cover an entire hillside.
Subalpine Larkspur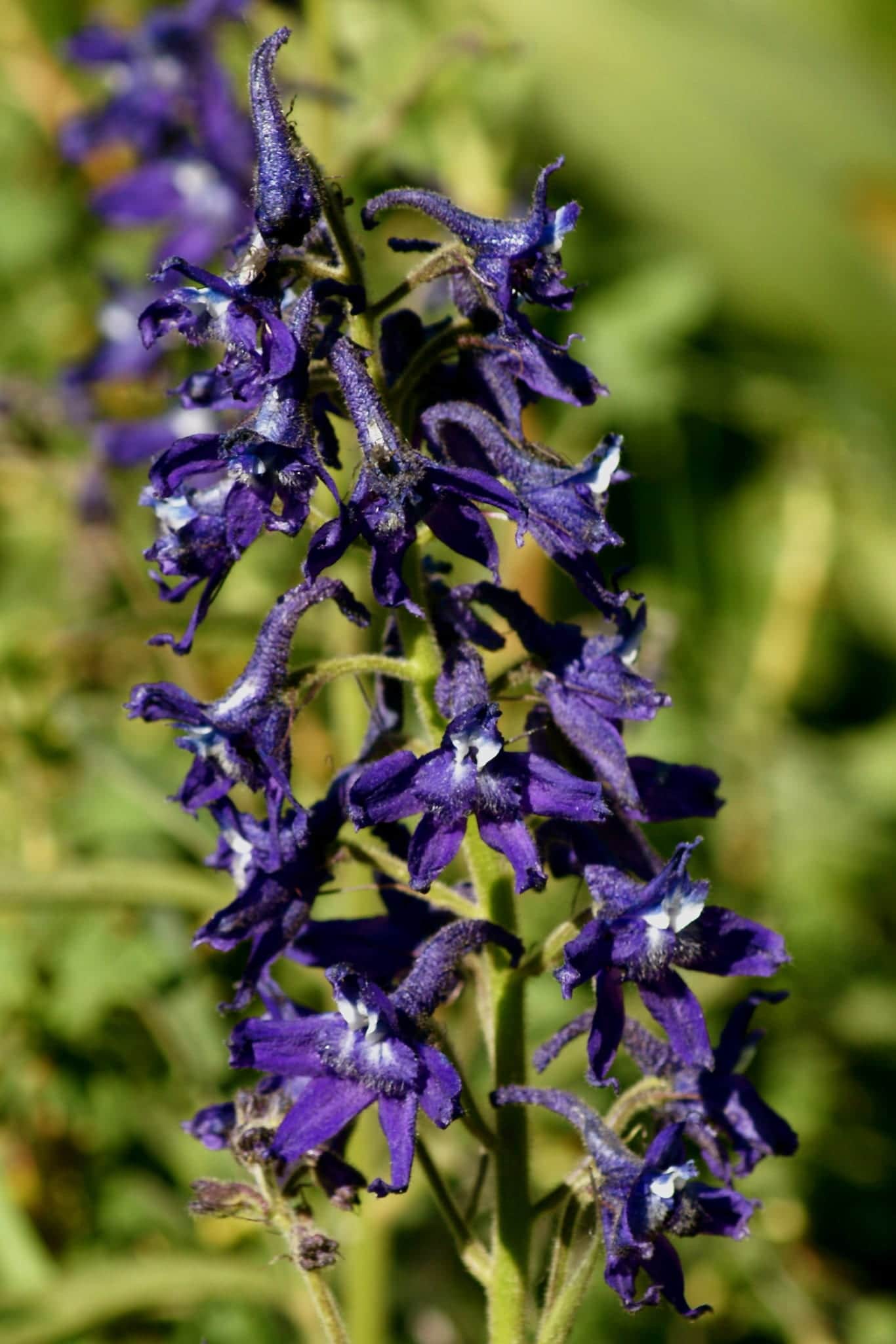 The Subalpine Larkspur, Delphinium (from the Latin "Delphinus" meaning dolphin), gets its name for resembling a pod of dolphins leaping. Its colorful flowers range from ink-like blue to deep purples, and with its towering stalks of up to seven feet, this wildflower is truly eye-catching.
Where to see: Most prominent in July and August, the Subalpine Larkspur is commonly found in subalpine Aspen woods throughout most of Colorado's high country, between 8,200 and 13,400 feet in elevation. Crested Butte, Colorado's wildflower capital, hikers practically wade through a sea of Subalpine Larkspur.
Western Wallflower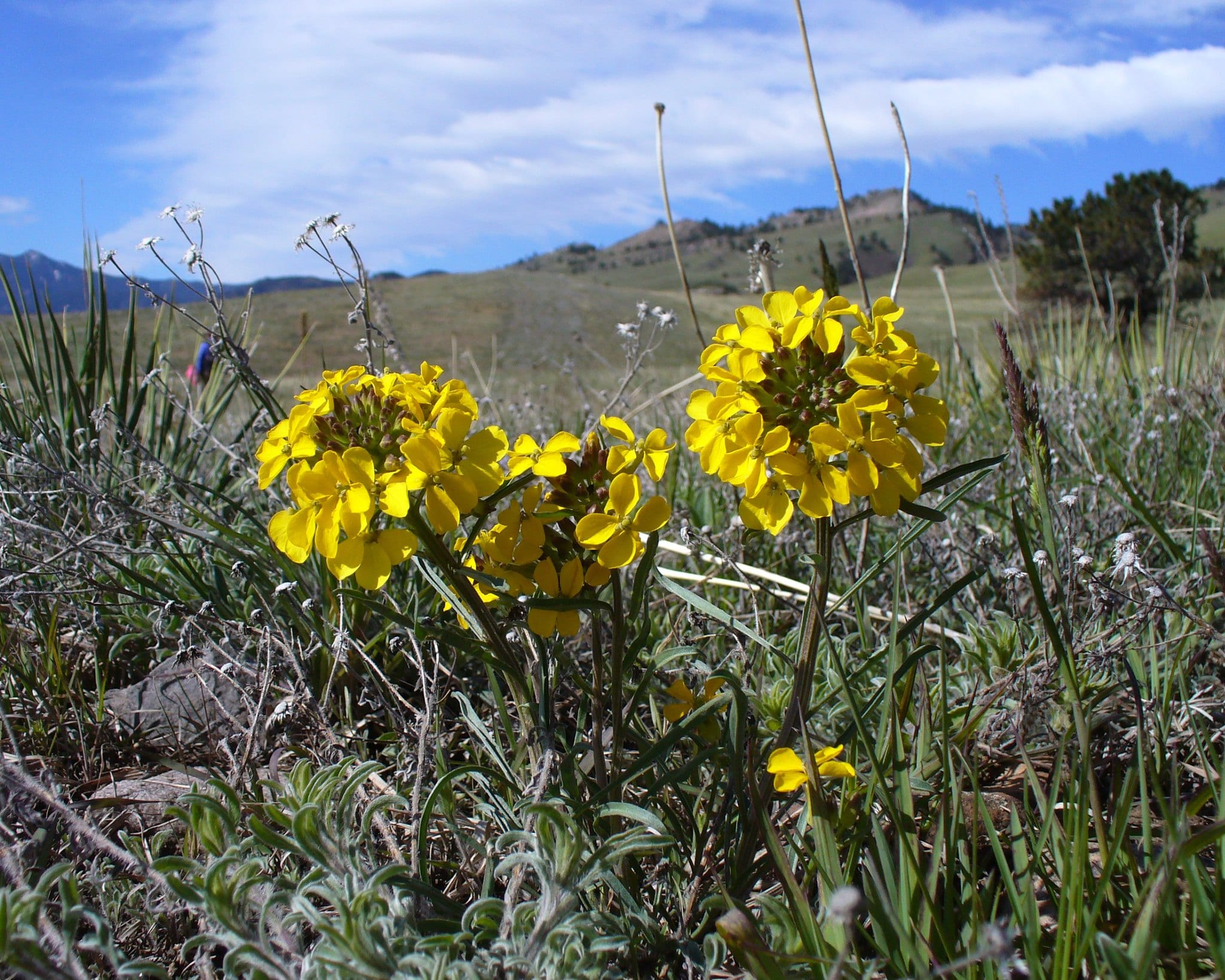 The Sand-dune Wallflower, also known as "prairie rocket," tend to stay low to the ground and produce a range of colors from a light yellow to deep orange. Its ball-like flower clusters can reach up to two feet tall, while some only grow a few inches.
Where to see: The Western Wallflower is found anywhere from the lowest to highest elevations in Colorado. At lower elevations, the flower blooms in early spring, while at higher elevations, the flower blooms later in the summer. A great example of the Western Wallflower can be seen out east at Picket Wire Canyon.
Fireweed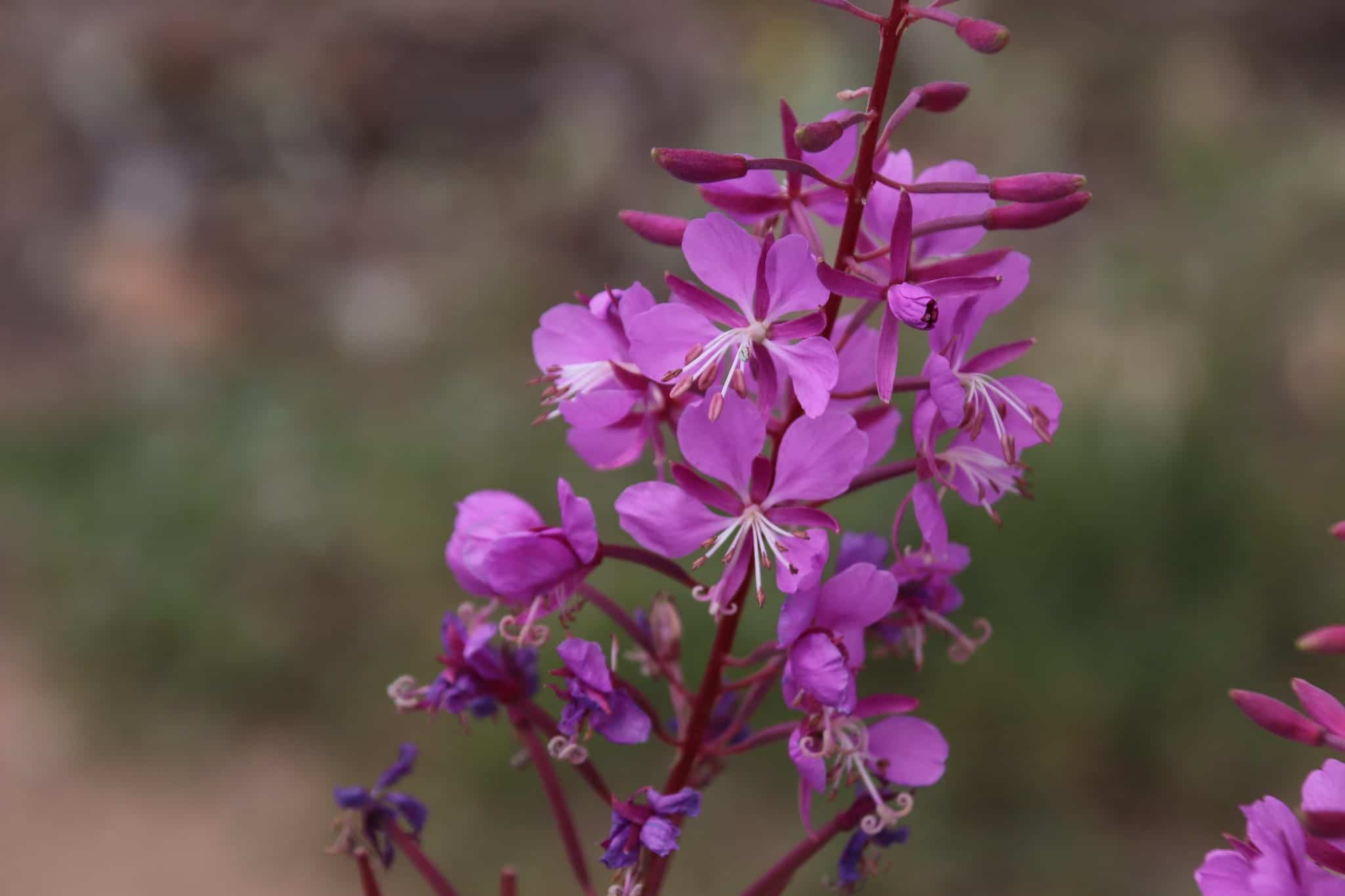 Known to grow quickly and abundantly in areas scorned by wildfires, Fireweed can grow as high as six feet and spread into thick patches, covering large areas. Also commonly found along mountain streams, forest edges, and even roadsides, Fireweed is easily recognized for its bright pink colored flowers.
Fun fact: A single Firewood can produce up to 80,000 seeds.
Where to see: Most bountiful during the summer and fall months, Fireweed is commonly found throughout the state. Notable trails include the Flat Top Wilderness, Indian Peaks Wilderness, and in the San Juan mountain range. And because it can survive in the subalpine level of elevation, it covers the ground on many trails in Colorado.
Blanketflower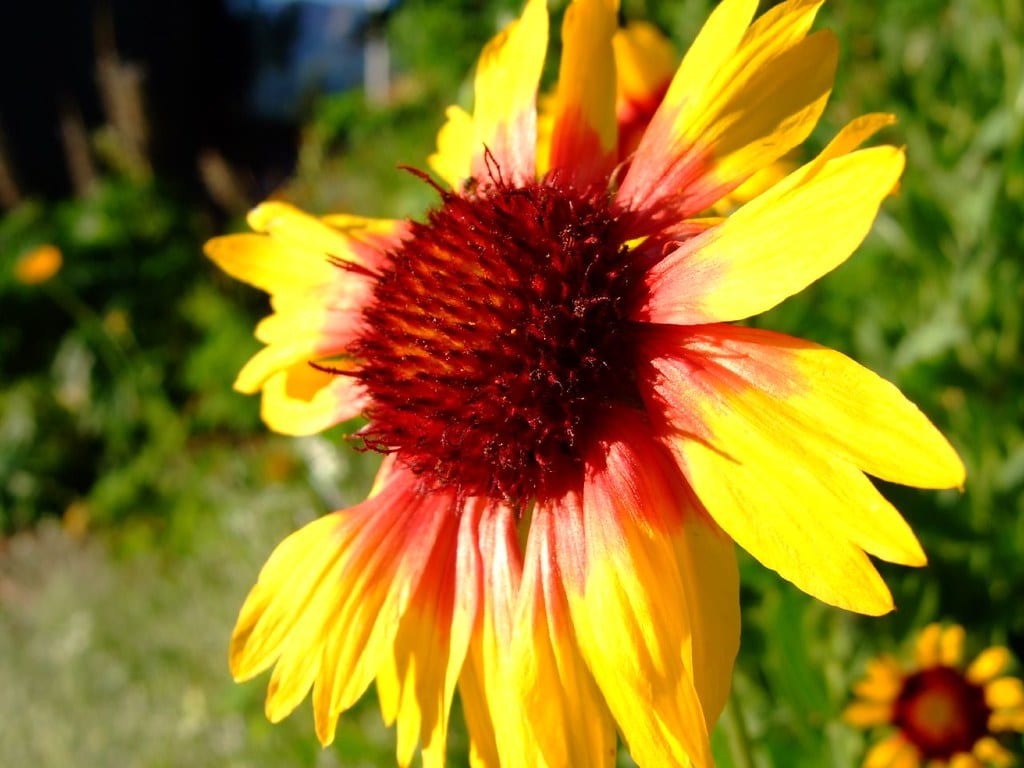 A popular choice in most Colorado flower gardens, the Blanketflower easily re-grows from old root stock, flowering from June through September. It is recognized by its fuzzy light green leaves and bright shades of yellow, orange, and red – almost like a psychedelic sunflower.
Where to see: Because Blanketflowers need plenty of light to grow, you will most likely find them in open areas with little shade, like the foothills of Colorado. Commonly found in dry areas and roadside, they do well in rocky soil and with little moisture.
Scarlet Gilia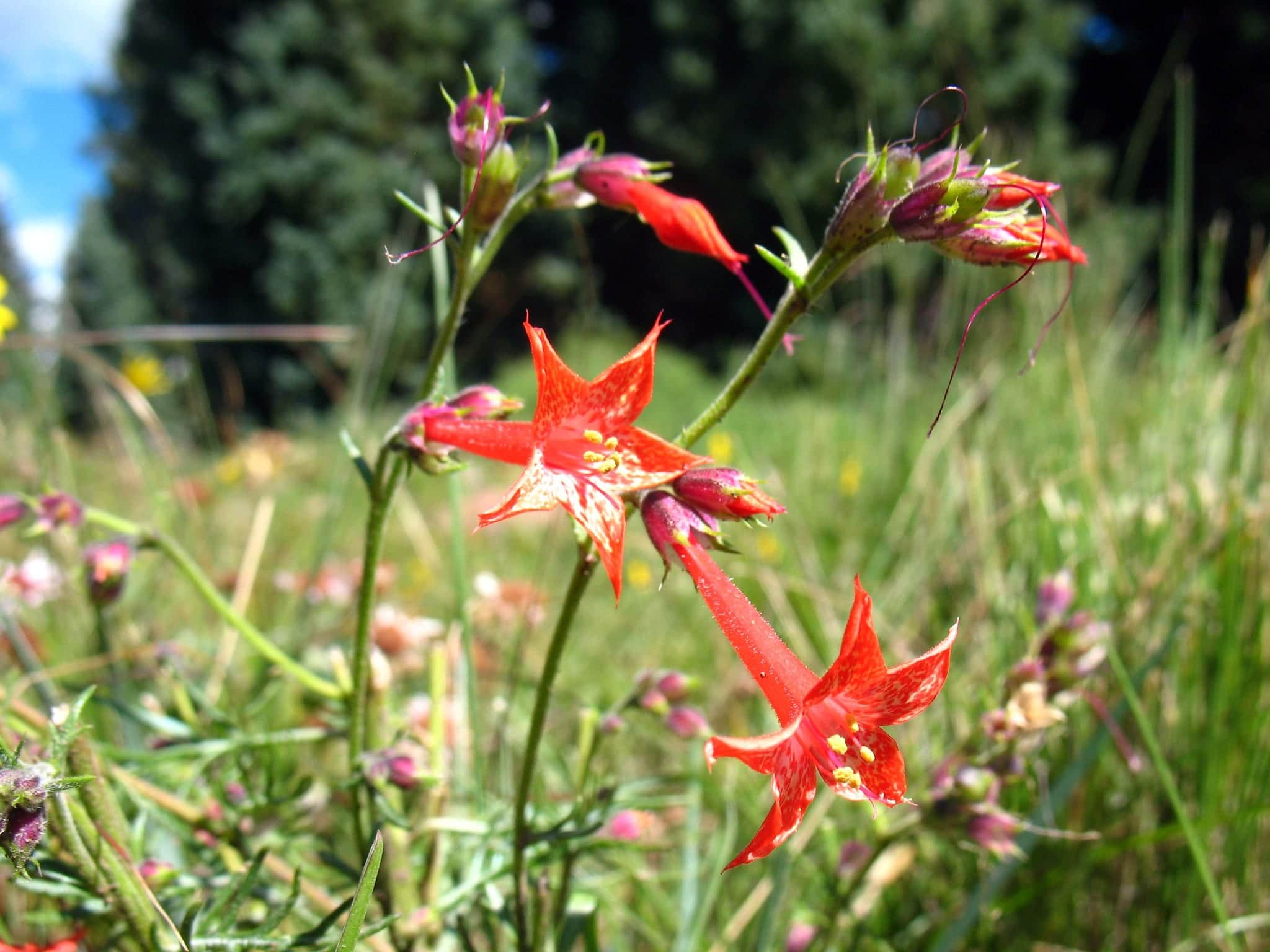 Native to Colorado, Scarlet Gilia blooms all summer long with its red and white freckled, trumpet-like flowers. Not only enjoyed by hikers, but this flower is also a favorite amongst hummingbirds. Other common names for the flower include Fairy Trumpet and Scarlet Skyrocket.
Where to see: The Scarlet Gilia grows mainly in semi-desert climates, meadow openings, woodlands, and in mountainous regions in Colorado.
Silvery Lupine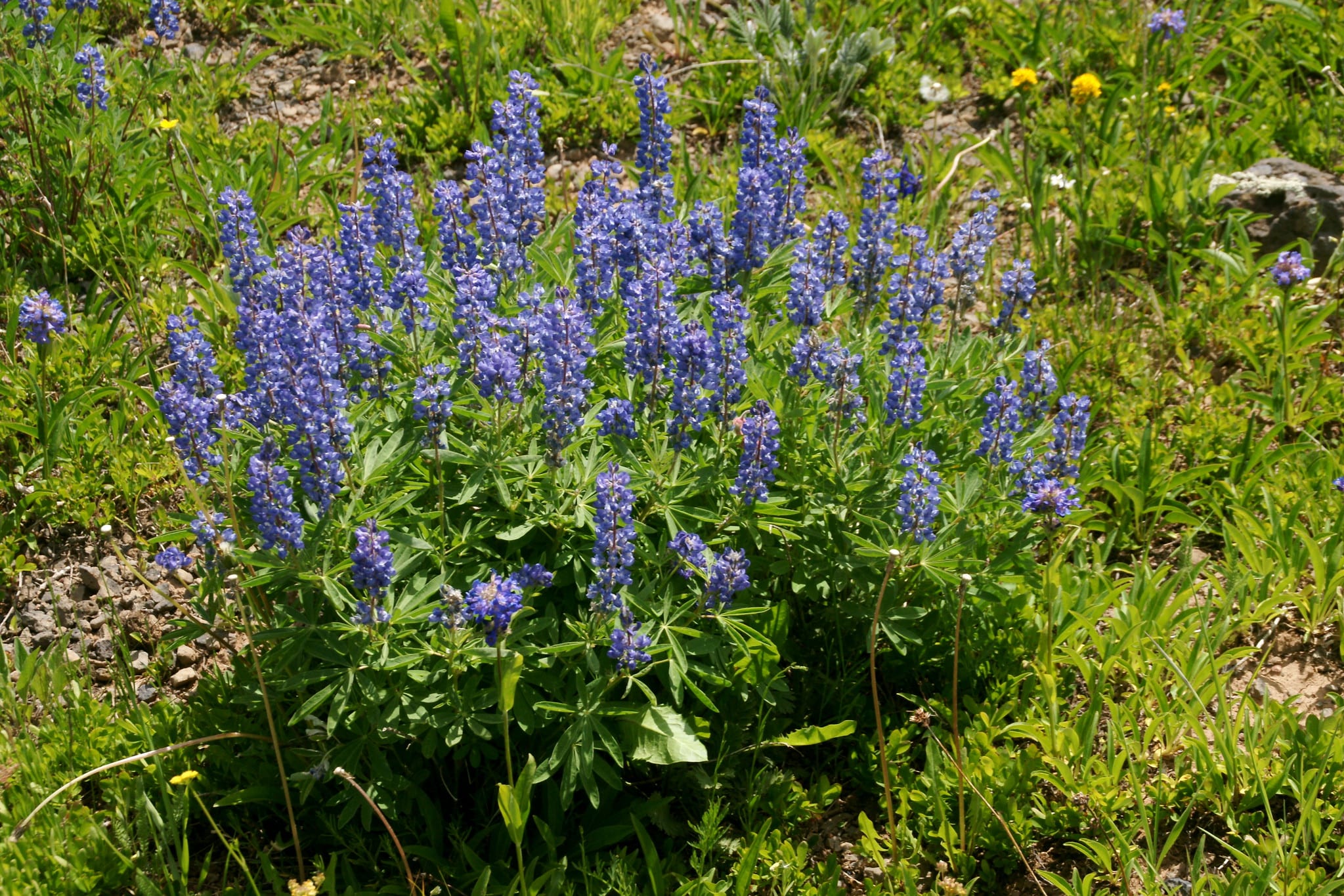 From the Pea family, the Silvery Lupine is a small blue and white pea-shaped flower that grows all summer on a long stem, sometimes reaching as high as three feet tall. Silvery Lupine, when found in moist wooded areas, are bushy, tall, and bloom numerous flowers.
Where to find: They most often found in large meadows and open areas in montane to subalpine regions.
Prairie Flax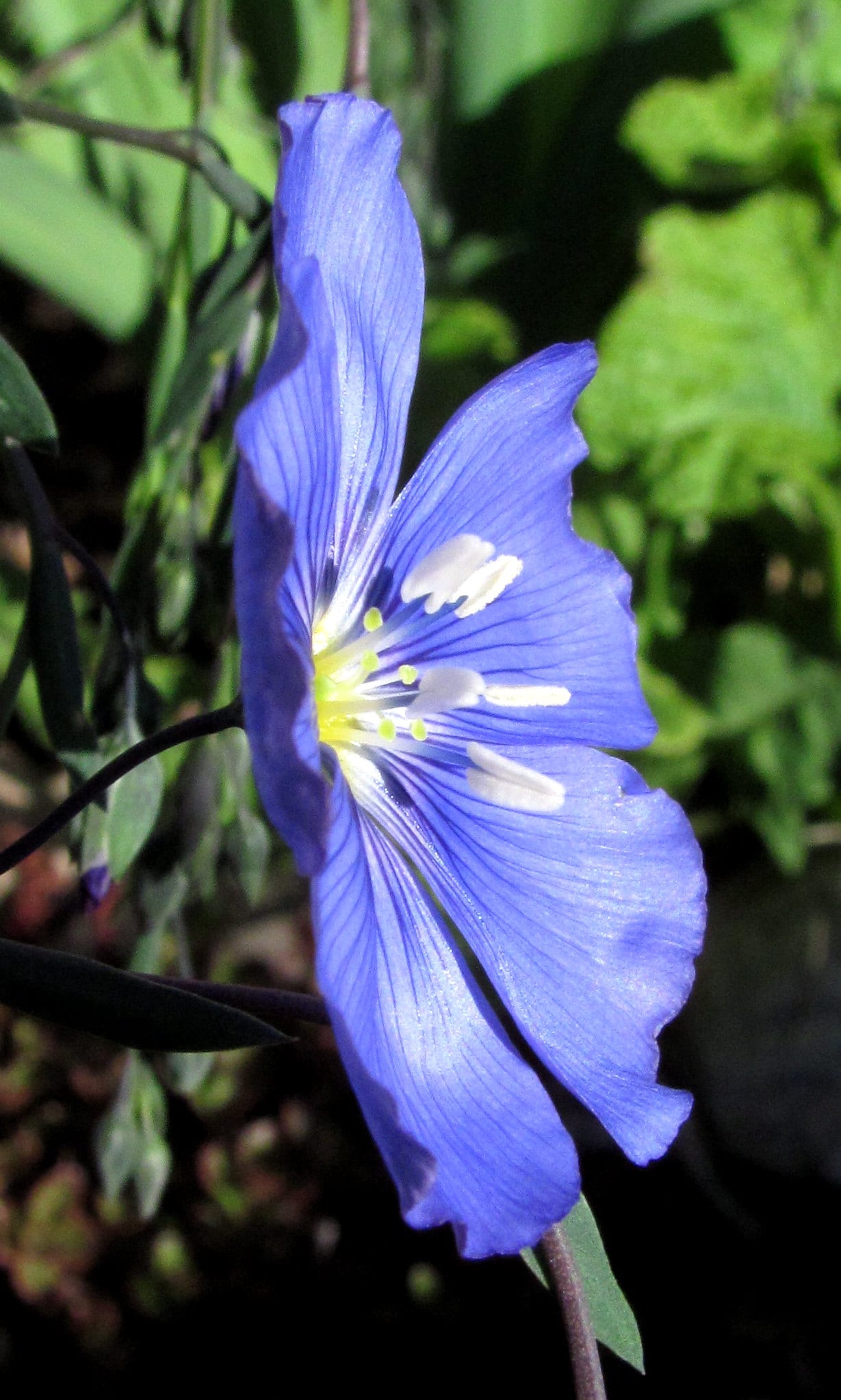 Also known as the Wild Blue Flax, the Prairie Flax is noticeable with its small vibrant blue flower. With five petals, the flowers sit atop a thin stem and can grow up to two feet tall. The flowers form open clusters with multiple heads and because of its thin stem, the flower heads are often found drooping. Its growing season runs from spring to early fall.
Where to see: The Prairie Flax grows well in meadows and open areas within semi-desert, mountainous and subalpine terrain – up to 12,000 feet.
Elephant Head Lousewort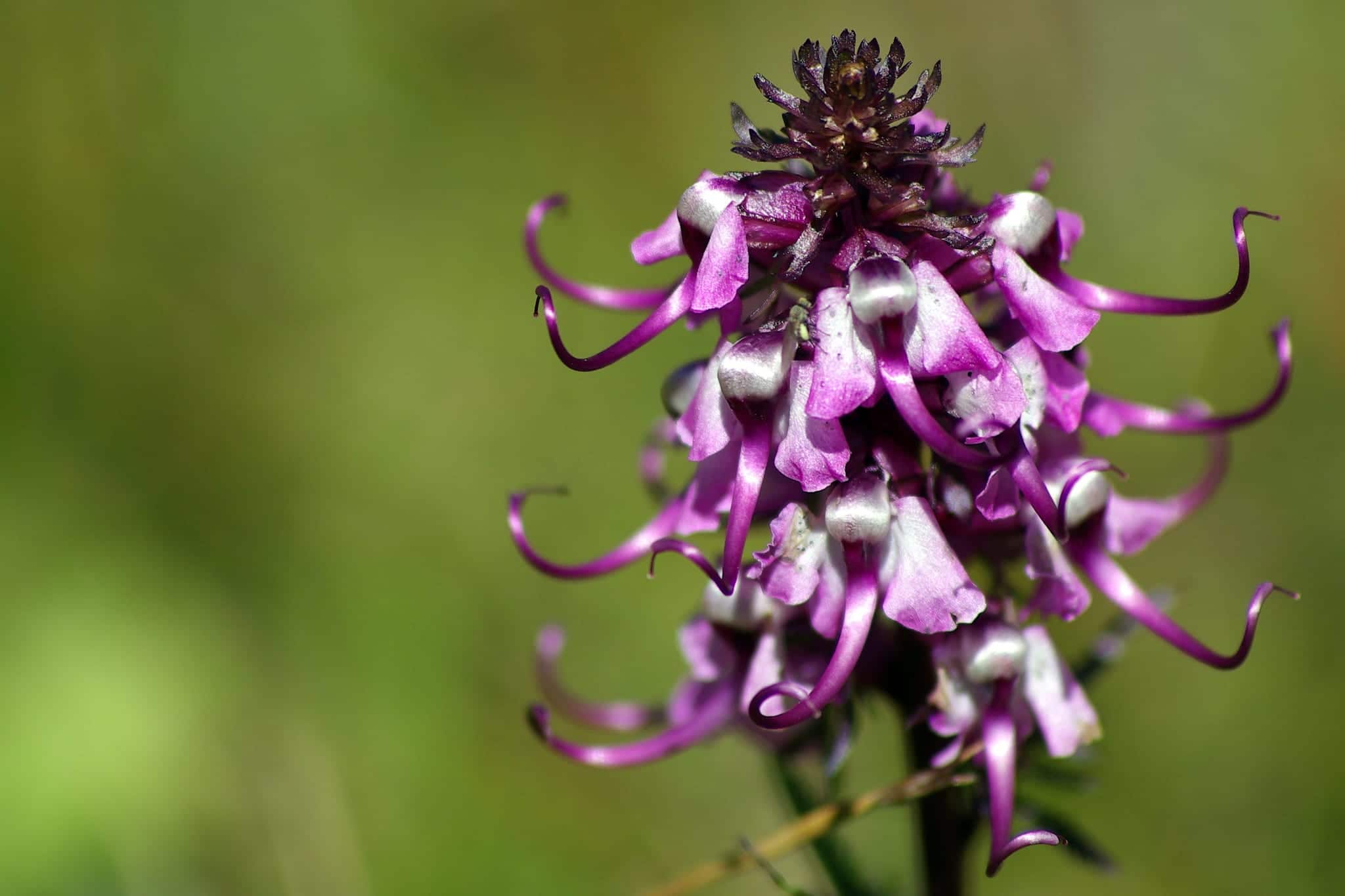 When viewed from a certain angle, the Elephant Head Lousewort looks like the head of an elephant with a trunk, ears, and all. The bright pink flowers with petals that bulge, then taper to a curve similar to an elephant trunk. The tiny flowers are packed together up and down the main portion of the stem. They grow all summer and bloom for weeks, making this flower spotted along trails.
Where to see: Elephant Heads are common along streams and boggy mountain meadows within montane and subalpine regions. With enough moisture and sunlight, they grow in the thousands.
That's a roundup of the common native wildflowers in Colorado and the best places to see them. Happy hiking!