Rocky Mountain National Park is the most visited recreation area in the state, headquartered in Estes Park. The park's 415 square miles encompass a variety of alpine terrain, with at least 60 mountains exceeding 12,000 ft. Longs Peak is the biggest at 14,259 ft and can be seen from nearly anywhere.
Summer is when most people visit the park and for good reason. The main route through the park typically closes in mid-October and reopens the following Memorial Day weekend. There are a lot of winter recreation activities going on but they occur closer to the entrances.
The drive takes about two hours to three-plus depending on how many stops you take. The nearly fifty-mile route peaks at 12,183 feet in elevation and travels above tree line high in the alpine tundra for eleven miles.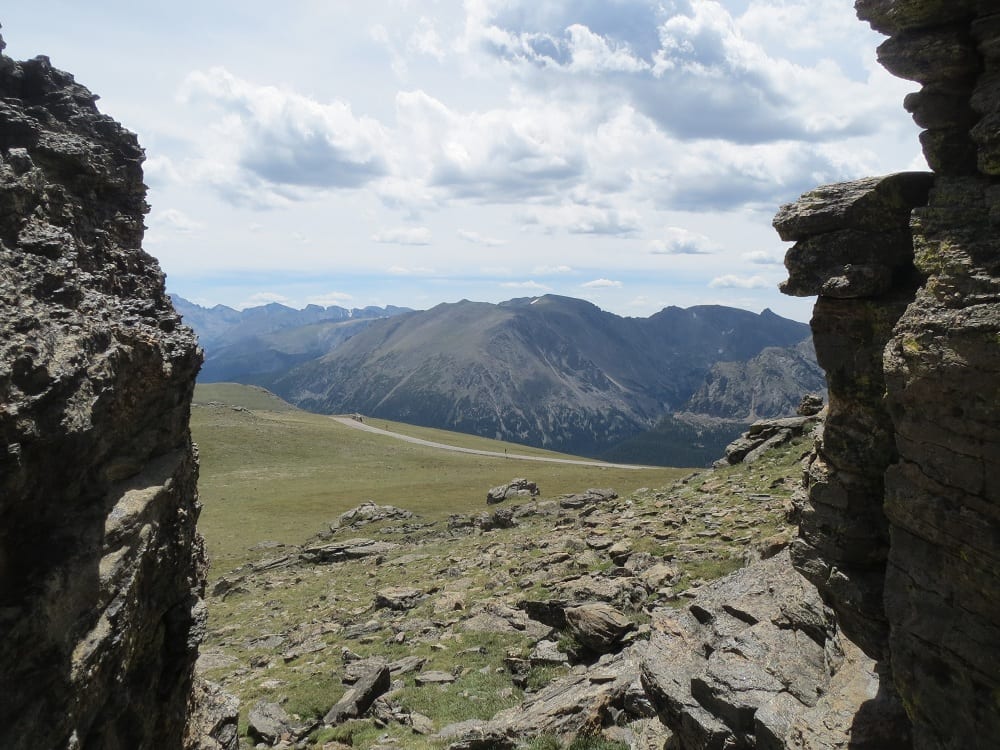 Estes Park East Side – There are two main entrances on the east side of the park, both near Estes Park. One enters near the Fall River Visitor Center and the other near Beaver Meadows Visitor Center.
Grand Lake West Side  – On the west side there is only one entrance near the town of Grand Lake and the Kawuneeche Visitor Center. There are also a few other entry points that only access trailheads.
There are fees for entry. You can purchase passes per vehicle good for 1 day, or per person, which applies to walk-ins and bicycles. There is a separate fee for motorcycles. If you're sticking around for a while you can buy an annual pass good at only RMNP or better yet the Interagency Pass good at all the federal parks.
Read about the top things to do in Rocky Mountain National Park.
Activities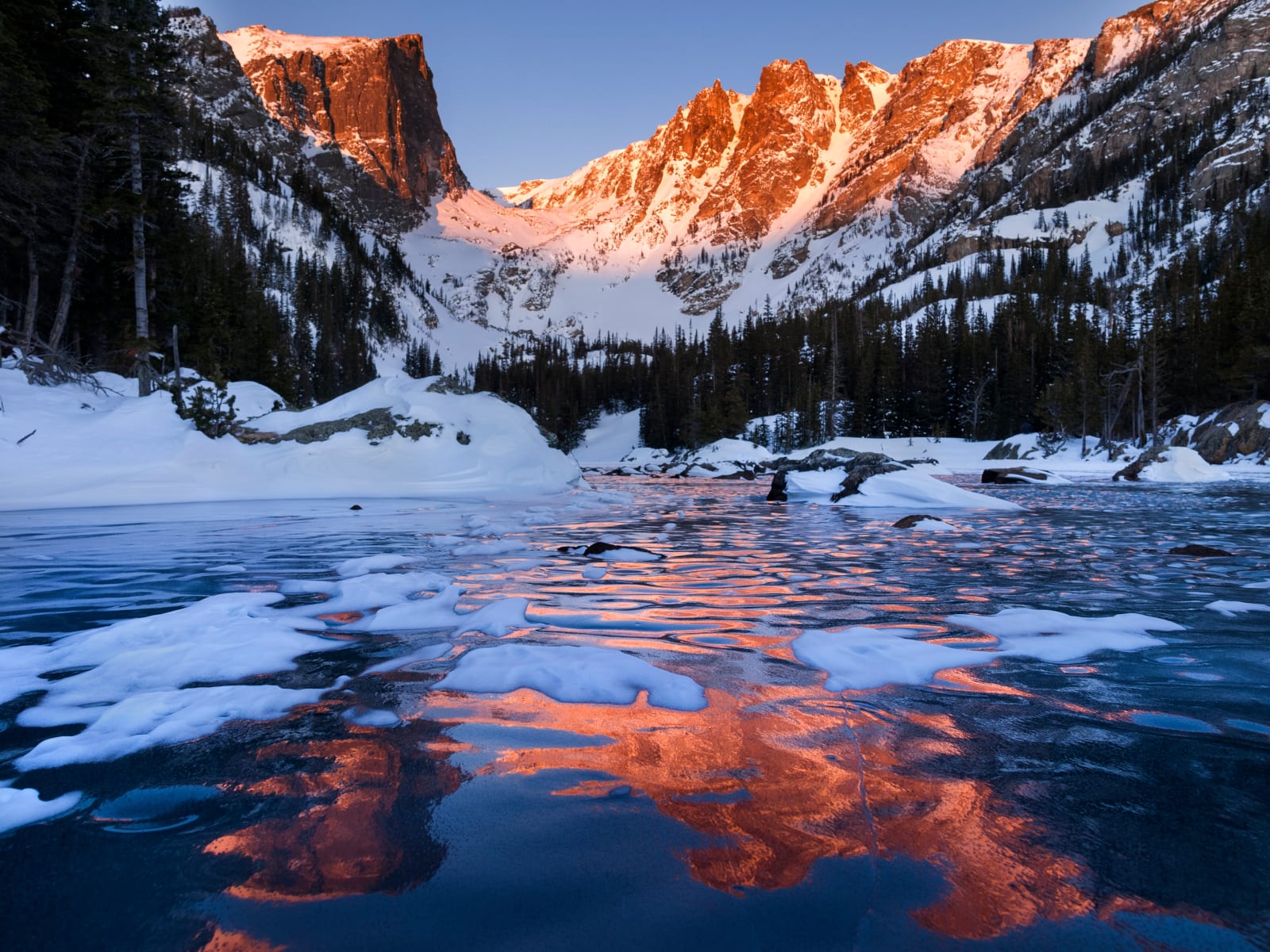 Biking: Not permitted off established roads in the park. Bikes may use paved roads. Nearby Roosevelt National Forest offers mountain biking.
Camping: Yes, 5 drive-in campgrounds, 1 drive-in group campground. Most are located on the Estes Park eastern side of the park. Only 1 campground, Timber Creek, is on the Grand Lake side. Moraine Park has the most sites at 245 and is located nearby Big Thompson River.
Aspenglen – (8200 ft) 54 reservable sites; Located just west of the Fall River Entrance Station on U.S. Highway 34.
Glacier Basin – (8500 ft) 150 reservable sites; Located about 6 miles south of Beaver Meadows Entrance Station on Bear Lake Road. There is shuttle bus access.
Longs Peak – (9500 ft) 26 first-come-first-serve tent sites, year-round; Located 9 miles south of downtown Estes Park on Route 7. $20/night/peak
Moraine Park – (8160 ft) 245 reservable sites, year-round. Located 2.5 miles south of Beaver Meadows Entrance Station on Bear Lake Rd. The campground, although lacking water, is situated in a beautiful ponderosa pine forest above the Moraine Park meadows. There is shuttle bus access and the sites have a picnic table, fire grate, tent pad, and parking for 1 vehicle.
Timber Creek – (8900 ft) 98 first-come-first-serve sites, year-round. Located 10 miles north of Grand Lake on US Highway 34. There is no water.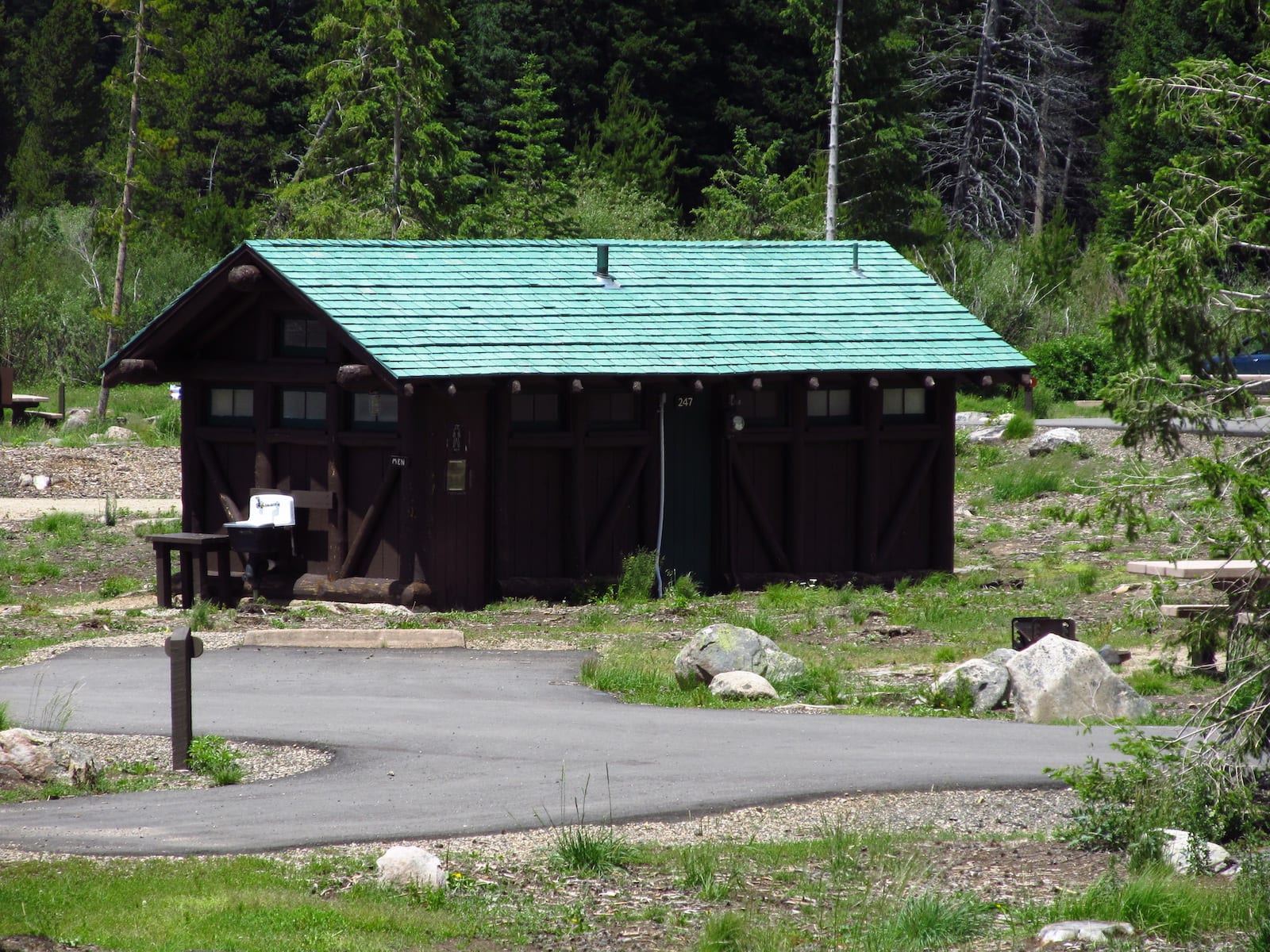 Campgrounds regularly fill during the peak summer season. Firewood is sold at all campgrounds during summer. Ice is sold all but Timber Creek. Checkout is at noon. You can stay in the campground for up to 7 nights from June through September; and up to 21 days the rest of the year. Campsites are limited to 8 people and 2 tents, or 1 tent and a wheeled camping unit.
Cabins – These cabins aren't affiliated with RMNP, but if you need a cool place to stay nearby, they will do nicely.
Here's some other lodging on both sides of the continental divide:
Fishing: Alpine lakes and streams occur throughout the park. Anglers must have a CO fishing permit for those over 15 and use artificial flies and lures only. Poudre Lake is easy to access on Trail Ridge Rd. It's at Milner Pass west of the Alpine Visitor Center.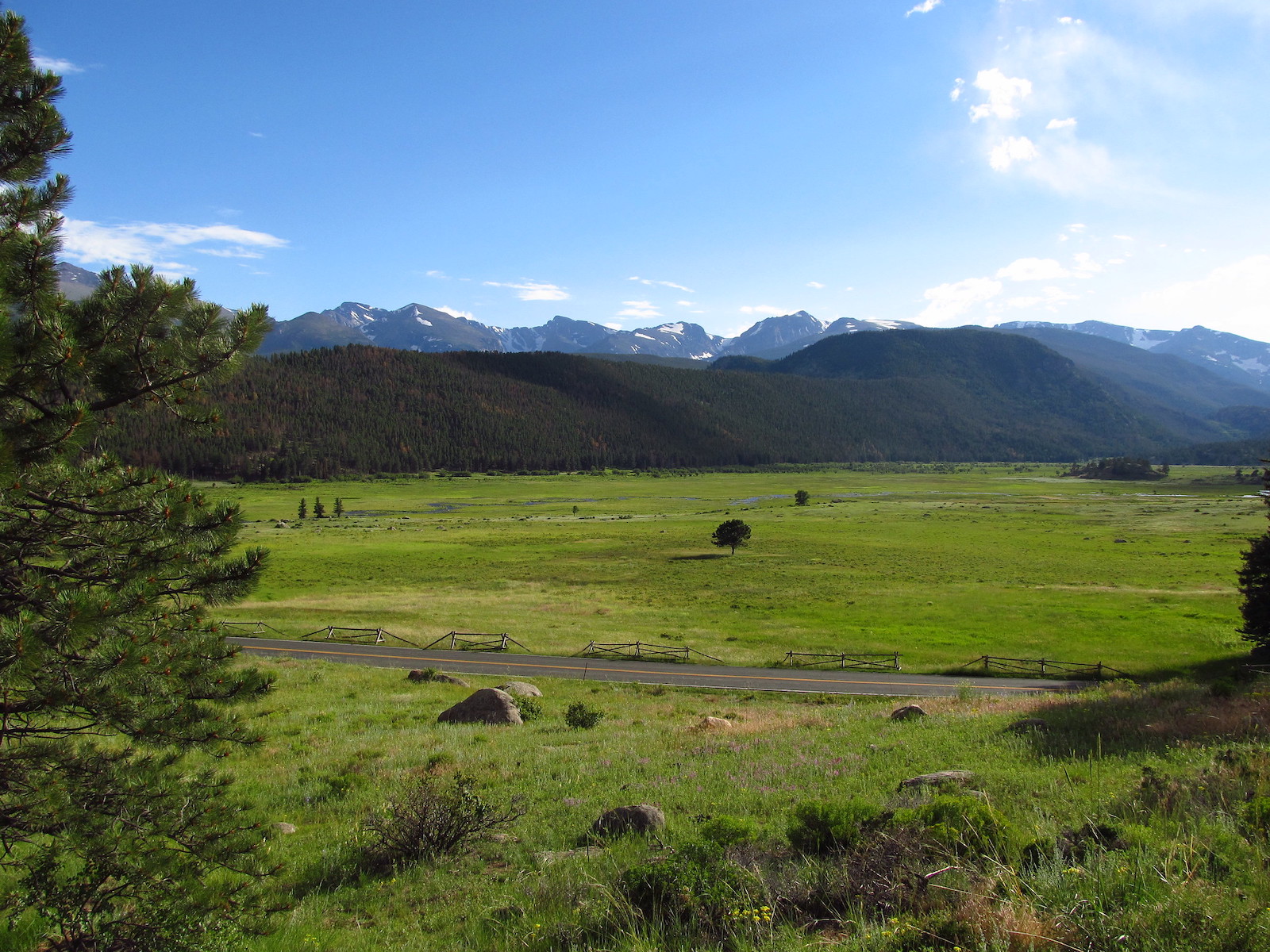 Hiking: There are a lot of chances to hike in RMNP, for all levels and durations, including many waterfall hikes.
The Tundra Communities Trail, just east of the Alpine Visitor Center, is a popular 1-mile round trip trek at high elevation. It's situated above the tree line, located about mid-way through the Trail Ridge Road drive.
On the Grand Lake side of the Great Divide, the Holzwarth Historic Site is a short hike to and around a former dude ranch that opened in the 1920s. The Holtzwarth Trout Lodge is open to the public for tours. You can go inside several of the old cabins, blacksmith and taxidermy shops.
Residing within the RMNP is the Rocky Mountain National Park Wilderness. It encompasses 250,000 diverse acres of backcountry terrain on both sides of the Divide.
A popular trek is out around Sprague Lake Trail.
Read about waterfalls around Estes Park and Rocky Mountain National Park.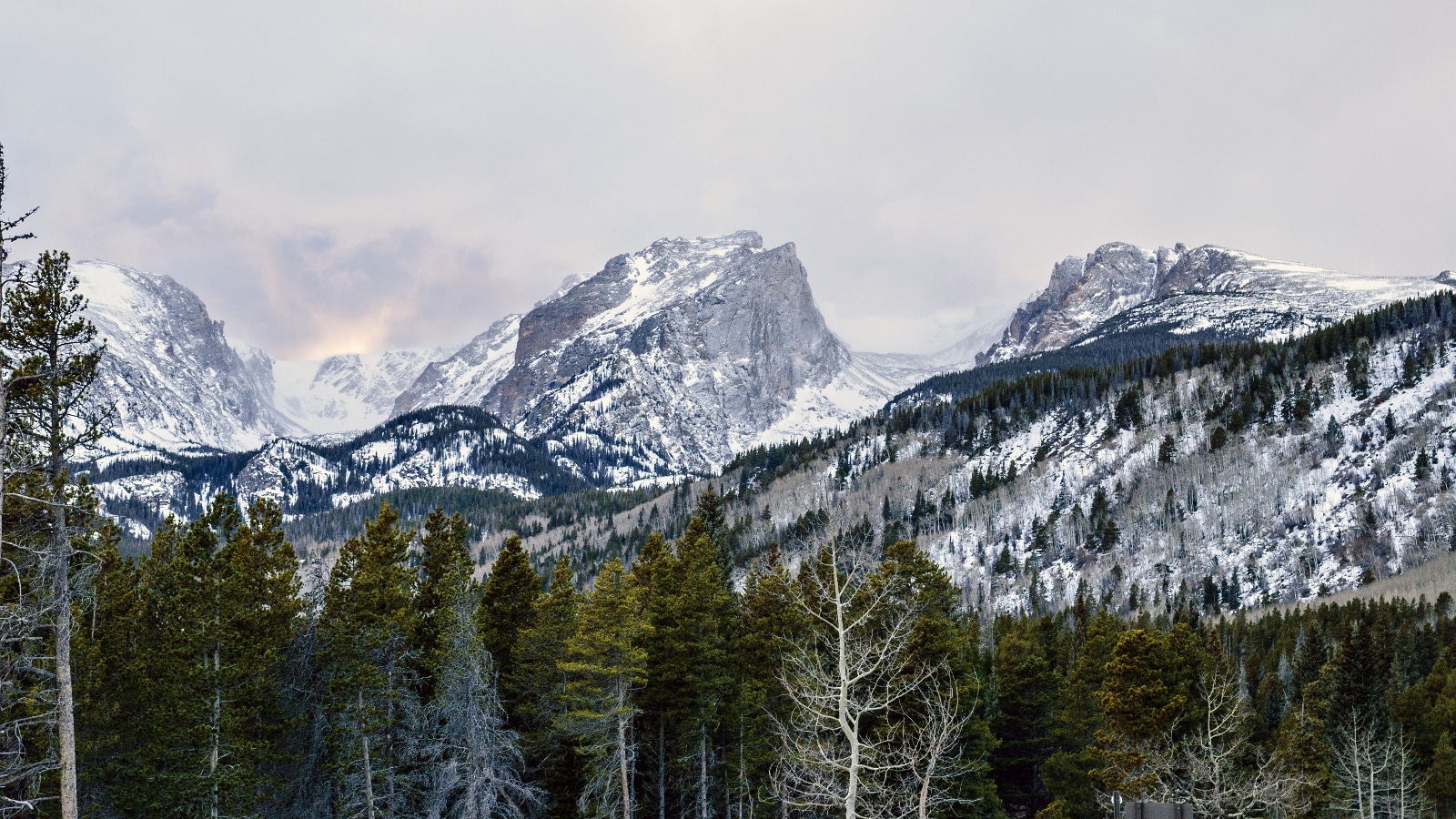 Horseback Riding: About 260 miles of trails are open to horse use, which accounts for about 80% of the park's trail system. There are 2 stables within the park and dozens more outside.
Scenic Drives: Whether you start on the western side in Grand Lake or east in Estes Park, the 2 routes through the park are dramatic and memorable. Note that the Old River Road is one way so you can take it from Estes Park and return from Grand Lake on Trail Ridge Road.
Old Fall River Road – This is the original wagon trail earlier visitors used. It's a windy road, located more in the forest. This road is one-way up only from Estes Park and is closed in the winter.
Trail Ridge Road – A national designated All American Road and one of America's Byways, this 48-mile road/US-34 hugs the mountainside, offering many overlooks as you pass from lowland meadows up into alpine tundra. This is the fastest route and closes in mid-October.Winding up and through a unique high alpine environment, it's a designated national scenic byway. It crosses several mountain passes, Milner Pass at 10,759 feet in elevation, which is over the continental divide, as well as Fall River Pass at 11,796 feet, and Iceberg Pass at 11,827 feet.
Winter Recreation: The western side of the park is best for snowshoeing and cross country skiing. There is a 2-mile trail for snowmobiling that connects the town of Grand Lake with trails in the Arapaho Nat'l Forest.​
As one of the most visited attractions in the state, Rocky Mountain National Park sure lives up to the hype. It's a great one to visit year-round, especially in the quiet off-season.
Details
Address: 1000 U.S. 36 Estes Park, CO 80517
Address: Trail Ridge Rd, | Grand Lake, CO 80447
Phone: 970-627-3471
Season: Year-round
Pets: Yes, on-leash, but only allowed on paved areas and campgrounds, not permitted on trails.
Fees: Day entry per vehicle, pedestrian, bike, motorcycle
Maps & Brochures:
Website: nps.gov/romo
Latest in RMNP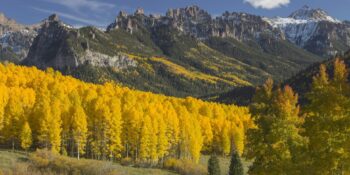 View more RMNP articles