Fort Collins is a northern Colorado gateway to the great outdoors, with numerous comfortable cabins nearby to rent. Both Red Feather Lakes and Estes Park are an hour's drive, northwest and southwest, from Fort Collins, respectively.
One of the best ways to experience the great outdoors of Larimer County is with a stay in a cozy mountain cabin. From rustic and basic to modern and updated, there are a variety of cabin rentals to choose from. Complete your Rocky Mountain experience with these cabins to rent near Fort Collins.
This section contains referral links. If you click through and take action, we may receive a commission, at no additional cost to you. Rates listed below are subject to change.
Cabins in Fort Collins
Fort Collins rests along Colorado's Front Range, 63 miles north of Denver, and is a premier destination for outdoor recreation, shopping, delicious cuisine and breweries. With its proximity to Rocky Mountain National Park, the Cache La Poudre River, and other natural landmarks like the Horsetooth Reservoir, Fort Collins offers easy access to some of Colorado's best outdoor activities.
Horsetooth Reservoir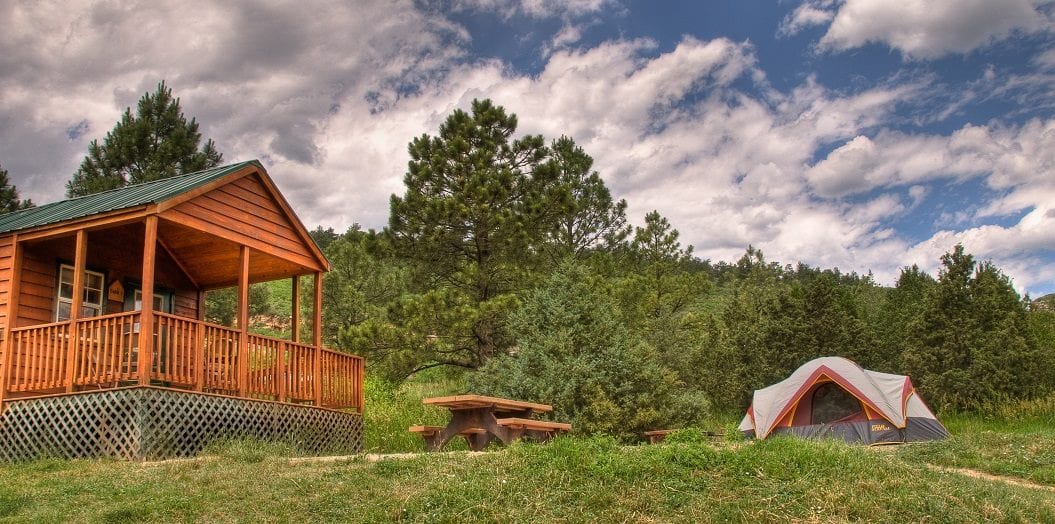 The Horsetooth Reservoir area is a popular recreation destination for those in Fort Collins. The alternative to camping at the reservoir is booking one of the available rustic cabins. Guests can choose from seven cabins located on the water's edge on the west side of the South Bay campground at the reservoir.
The one-bedroom cabins feature a covered front porch, three padded bed surfaces, one tent spot, picnic table, electricity, heat and air, table with chairs, and access to water and restrooms at the nearby campground. Cabins are open year-round and can be rented below.
Note that you must bring your own linens or sleeping bag. It's pet friendly and can house up to five  people in cabin and three at a tent campsite.
Hermit Park Open Space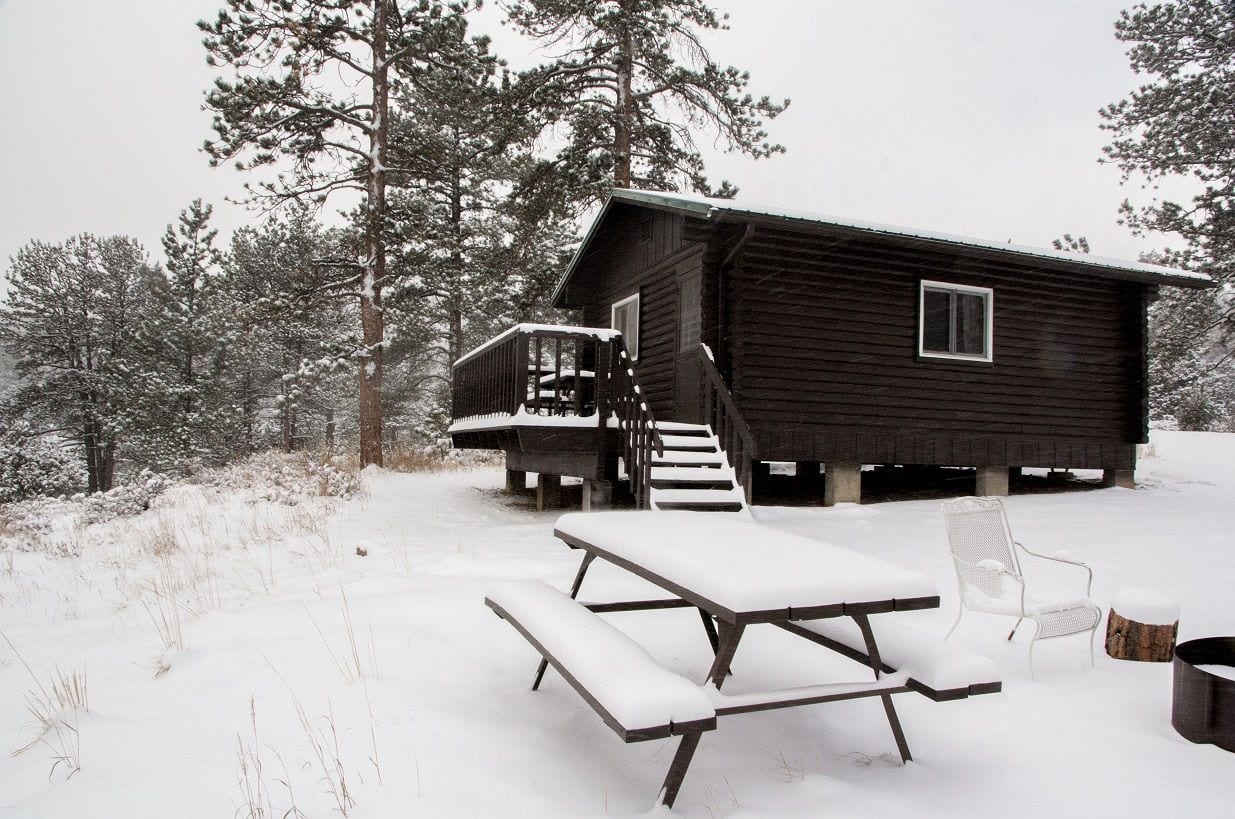 Located two miles southeast of Estes Park, the Hermit Park Open Space features 1,362 acres of trails, open meadows, pine forests, mountain wildlife, and so much more. For those who want to stay and enjoy, the recreation area features campgrounds and 13 semi-secluded cabins in the woods for rent.
The one-bedroom cabins offer padded bed surfaces, a table with benches, a picnic table, a fire pit, a vault toilet, and a two-burner propane cook stove. Year-round reservations can be made at larimercamping.com.
Note that there is minimal water available, so consider bringing your own. There isn't electricity either, so consider bringing some flashlights. If cooking bring kitchenware. And you must bring your own linens or sleeping bag.
Cabins in Red Feather Lakes
In just under an hour from Fort Collins, the Red Feather Lakes area provides outdoor enthusiasts with ample activities including, fishing, hiking, biking, cross-country skiing, snowmobiling, and snowshoeing. Surrounded by hundreds of thousands of acres of the Roosevelt National Forest, the Red Feather Lakes scenic area is also home to 14 lakes (hence the name), eight of which are privately owned by Red Feather Storage & Irrigation.
Make a weekend of it and rent one of the cabins for a Colorado mountain vacation, not far from the city!
Ramona Lake Cabins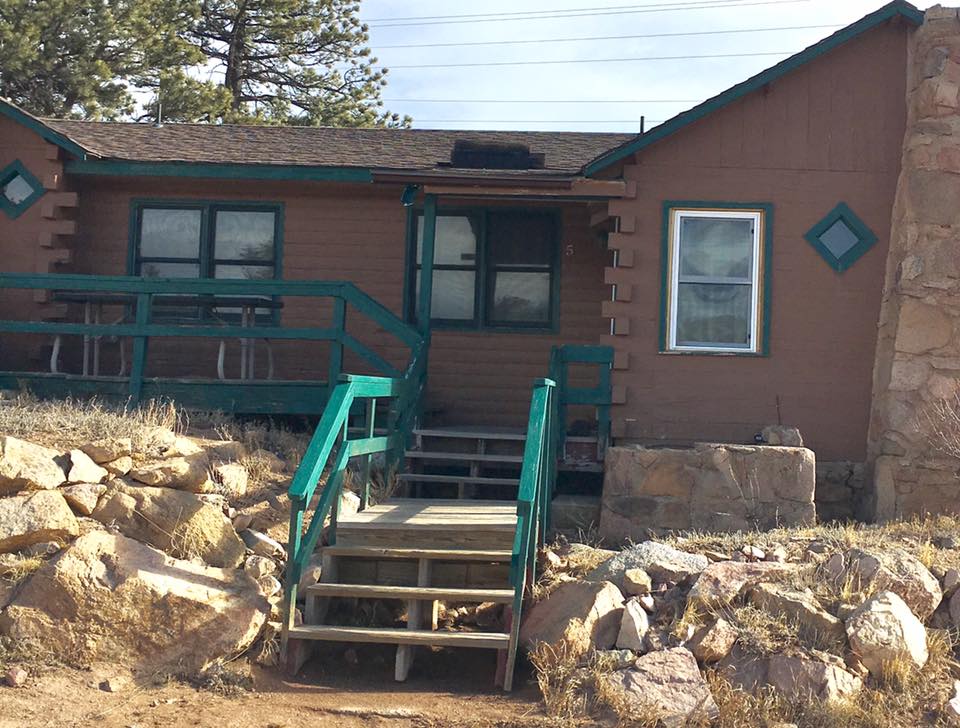 Find your quiet escape at the Ramona Lake Cabins year round. Nestled at the edge of Ramona Lake in the small village of Red Feather Lakes, Ramona Lake Cabins have offered area residents and visitors vacation rentals since 1930. Ramona Lake Cabins sits on 1.5 acres of land, one of eight privately-owned lakes in the area.
Guests can choose from six historic log cabins, ranging in size with a studio cabin, one-bedroom, and two-bedroom cabins. The largest cabin sleeps up to eight people, and each provides a single bath.
Cabins are equipped with a full kitchen and major appliances, flat-screen T.V.s, one bathroom with toiletries and towels, bed linens, picnic tables, and spacious outdoor decks.
Note that maid service is not provided and you cannot fish at the private lakes, like Ramona Lake. Two cabins are pet-friendly. There is no camping allowed on the grounds.
Beaver Meadows Resort Ranch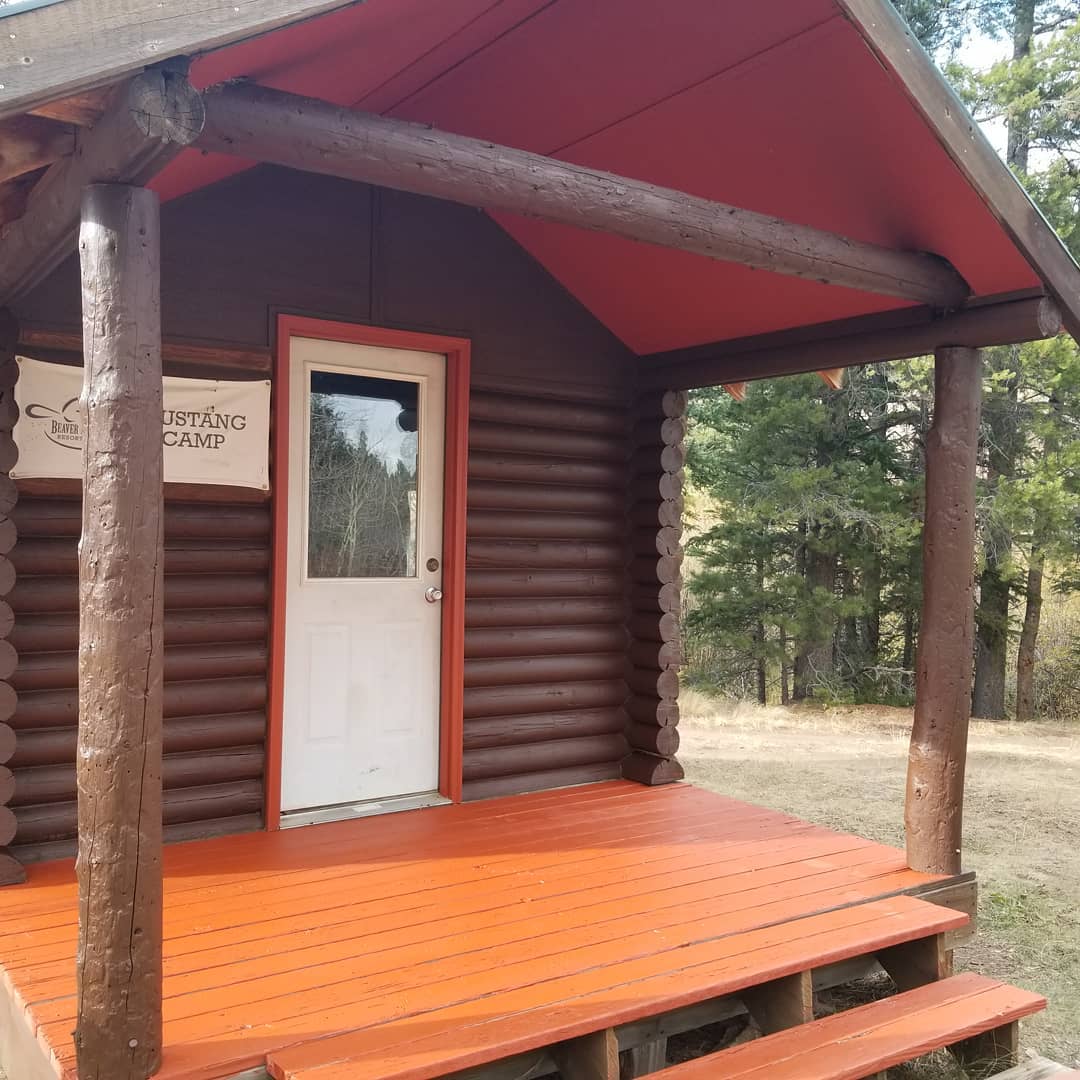 Stay at the Beaver Meadows Resort Ranch and rent one of their Beaver Log Cottages or the camper cabins for a rustic mountain experience. The cottages offer a bit of seclusion on the ranch with walking access to the main resort base area. Overlooking the North Fork of the Cache La Poudre River Valley, the cottages offer scenic views and easy access to outdoor activities.
Cottages provide the comforts of home with a full kitchen, living area, full bath, and comfortable bedding. The camper cabins are basic cabins equipped with wood-burning stoves, padded bed surfaces, and outdoor picnic tables. They range from two to six-person occupancy and are pet-friendly. Reservations can be made year-round.
Note the cabins do not feature cookware, linens, or electricity, or running water. Potable water is available at the base area.
Alpine Lodge at Red Feather Lakes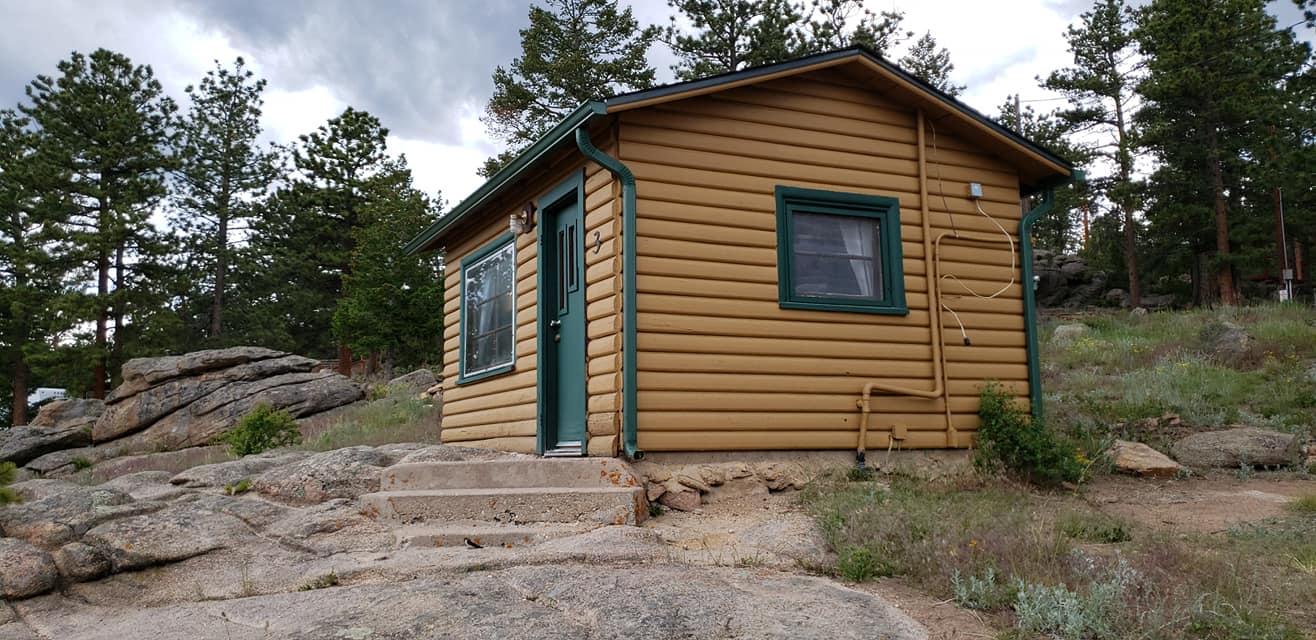 The Alpine Lodge is a scenic campground found in the Red Feather Lakes area that features four rustic cabins for rent. Family-owned and operated, the Alpine Lodge offers an inviting and friendly atmosphere, perfect for the entire family. Enjoy convenient access to area lakes such as Dowdy Lake, Parvin Lake, West Lake, and Bellaire Lake, plus a whole host of trails waiting to be explored.
The cabins range in size from a small studio-style layout to a larger one-bedroom cabin sleeping up to eight people. Each offers its own unique amenities including a kitchen, living area, dining area, bathroom, and outdoor space. Cabin and tent sites are available to book year-round.
Sundance Trail Guest Ranch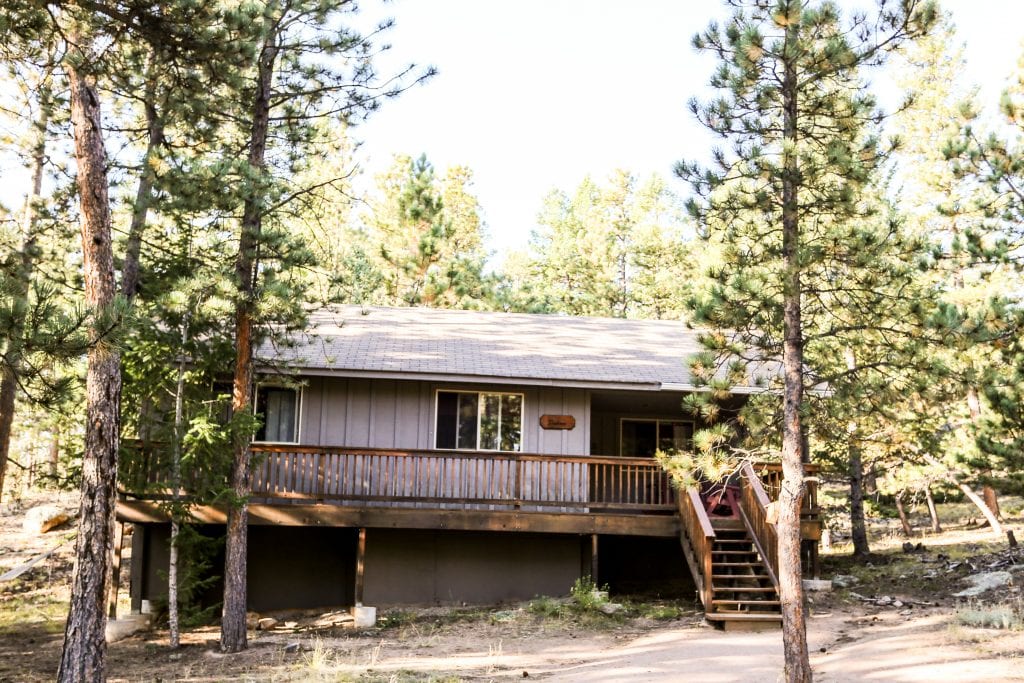 Enjoy the Colorado lifestyle with a stay at a classic dude ranch at the Sundance Trail Guest Ranch. Families can't get enough of the endless outdoor activities available during their stay including, hiking, biking, horseback riding, and rafting. Rest and relax after a full day of adventure with a stay in one of their mountain cabins.
Choose from three different cabins; the Montana Cabin, Woodside Cabin, and the Wyoming Cabin. The Montana Cabin is their largest, sleeping up to nine people and featuring two bathrooms, a spacious living area, three bedrooms, and a large porch. Dude ranch reservations are available during the summer season.
There are no kitchens available in cabins but guests have access to the Main Lodge with dining. Linens and towels are included. Cabins are pet-friendly.
Bighorn Cabins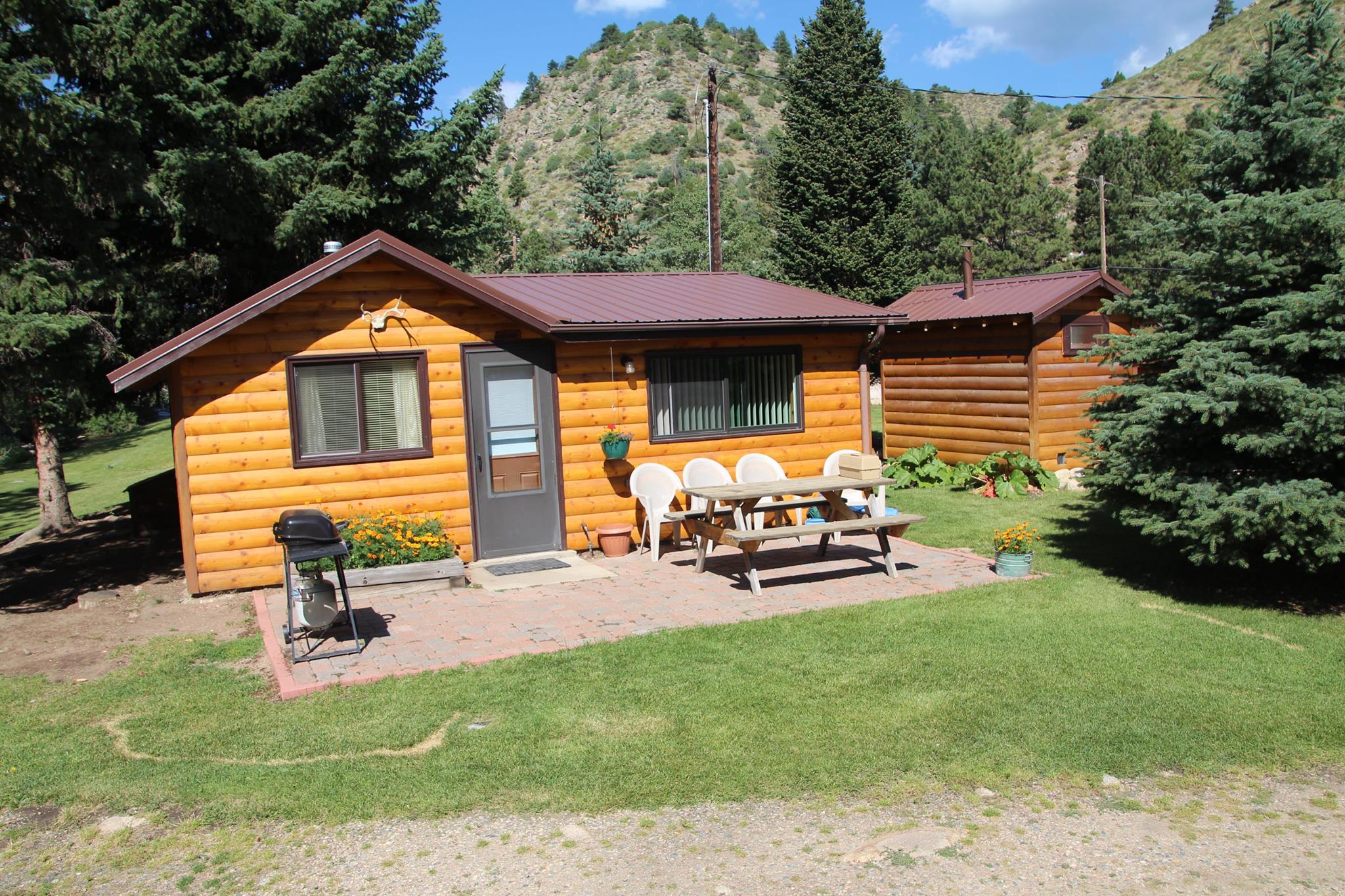 Located in the nearby area known as Rustic, the Bighorn Cabins rest along the banks of the Cache La Poudre River, offering scenic cabins for rent near Fort Collins. The family-owned and operated property welcomes those who are looking for an outdoor experience with cozy accommodations.
All cabin rentals are equipped with a full kitchen, King-size or Queen-size beds, bathrooms with showers, T.V., Wi-Fi, gas grills, and picnic areas. Choose from one, two, and three-bedroom cabins with spacious outdoor space overlooking the river. Cabins are available for rent from April 1st through October 31st. Make reservations online.
Cabins In Estes Park
With Estes Park only an hour away from Fort Collins, cozy cabin rentals aren't far away if you are staying or live in Fort Collins. As the gateway to Rocky Mountain National Park, Estes Park makes the perfect mountain weekend retreat with these cabin rentals.
Valhalla Resort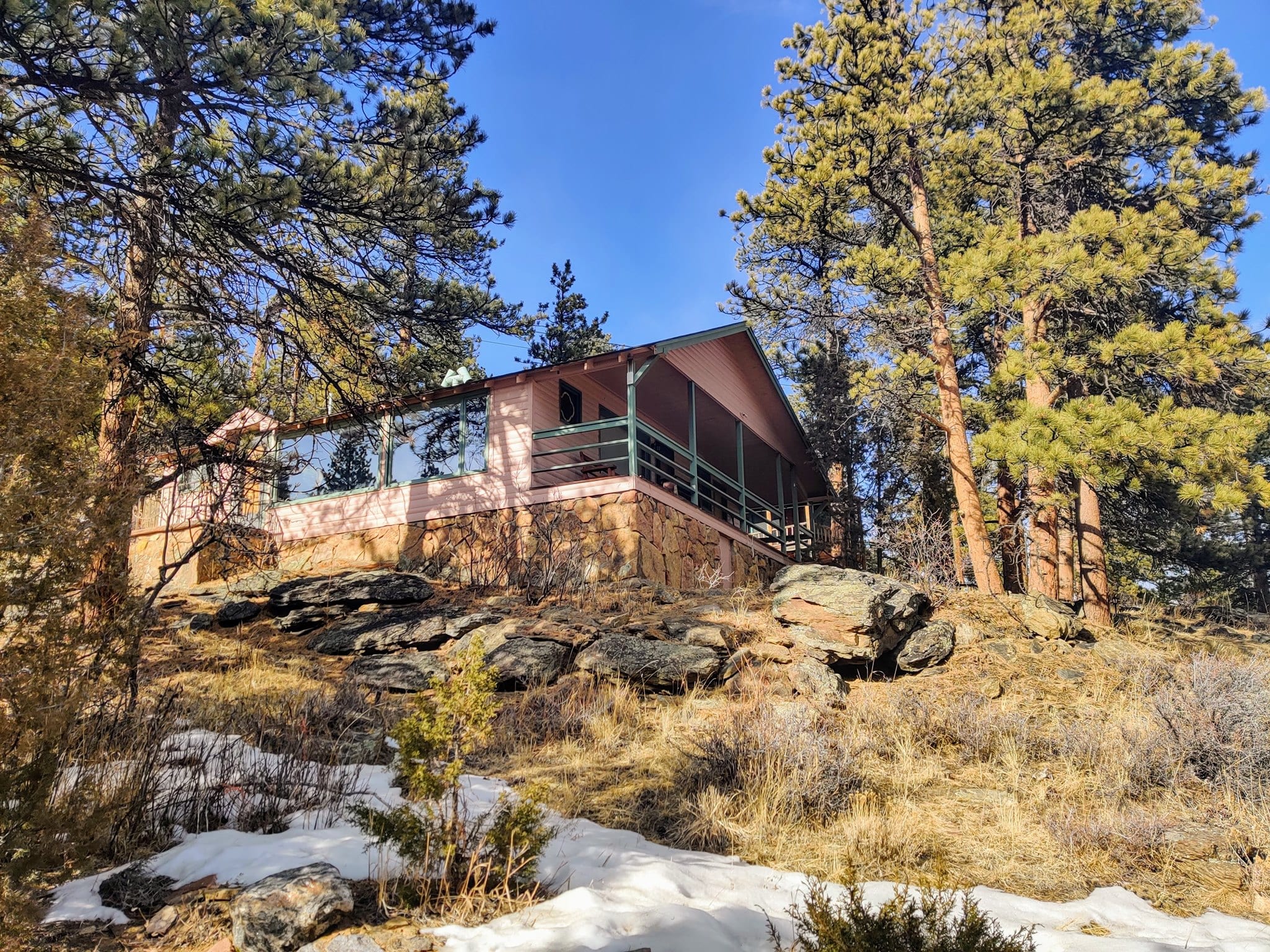 Offering one of the biggest selections of cabins to rent near Fort Collins, Valhalla Resort features one, two, three, and four-bedroom cabins at their property. Set amongst 15 acres of pines and aspen, near the entrance to Rocky Mountain National Park, guests enjoy direct access to trails and wildlife viewing right from their doorstep.
Their rustic-style cabins provide a mountain-cabin experience while still enjoying the conveniences of modern amenities. Choose from 29 cabins that offer full kitchens, spacious living areas, outdoor space, and scenic views. Property amenities include a rec center, mini-golf, hot tub, pool, and more! Book online for year-round availability.
Byrnwood on the River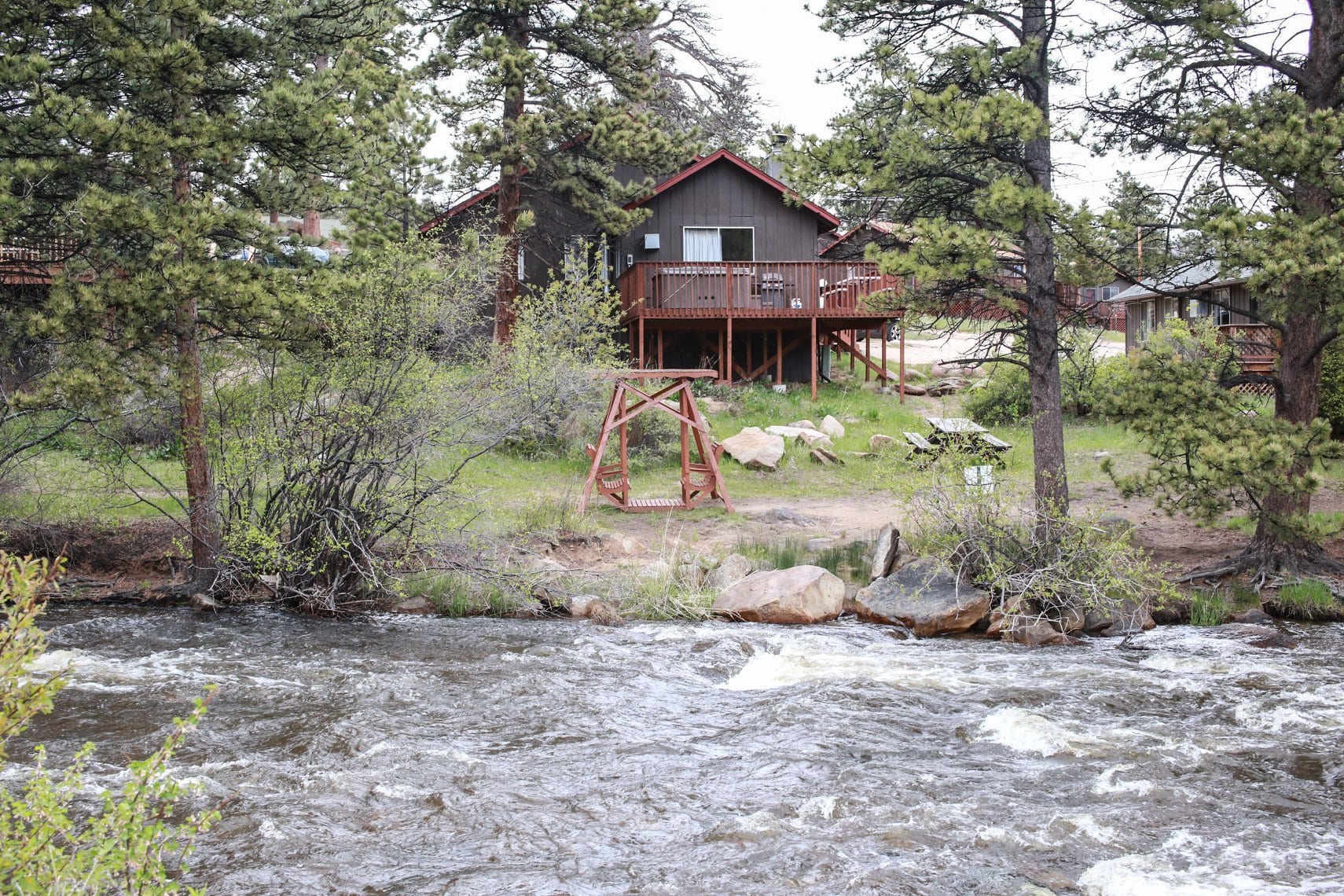 Located just a few minutes from the entrance to Rocky Mountain National Park, Brynwood on the River makes a great home base for exploring the park and town. Brynwood on the River features a variety of cabins, from themed cabins to cabins on the river. Their river cabins sit quietly along the Big Thompson River and offer peaceful scenic surroundings.
Or book one of their themed cabins with unique home décor focused on a single theme. All river and themed cabins include a private deck, full kitchens, picnic tables, hot tub, fireplace, scenic views, and Wi-Fi. Reservations are available year-round.
Trout Haven Resorts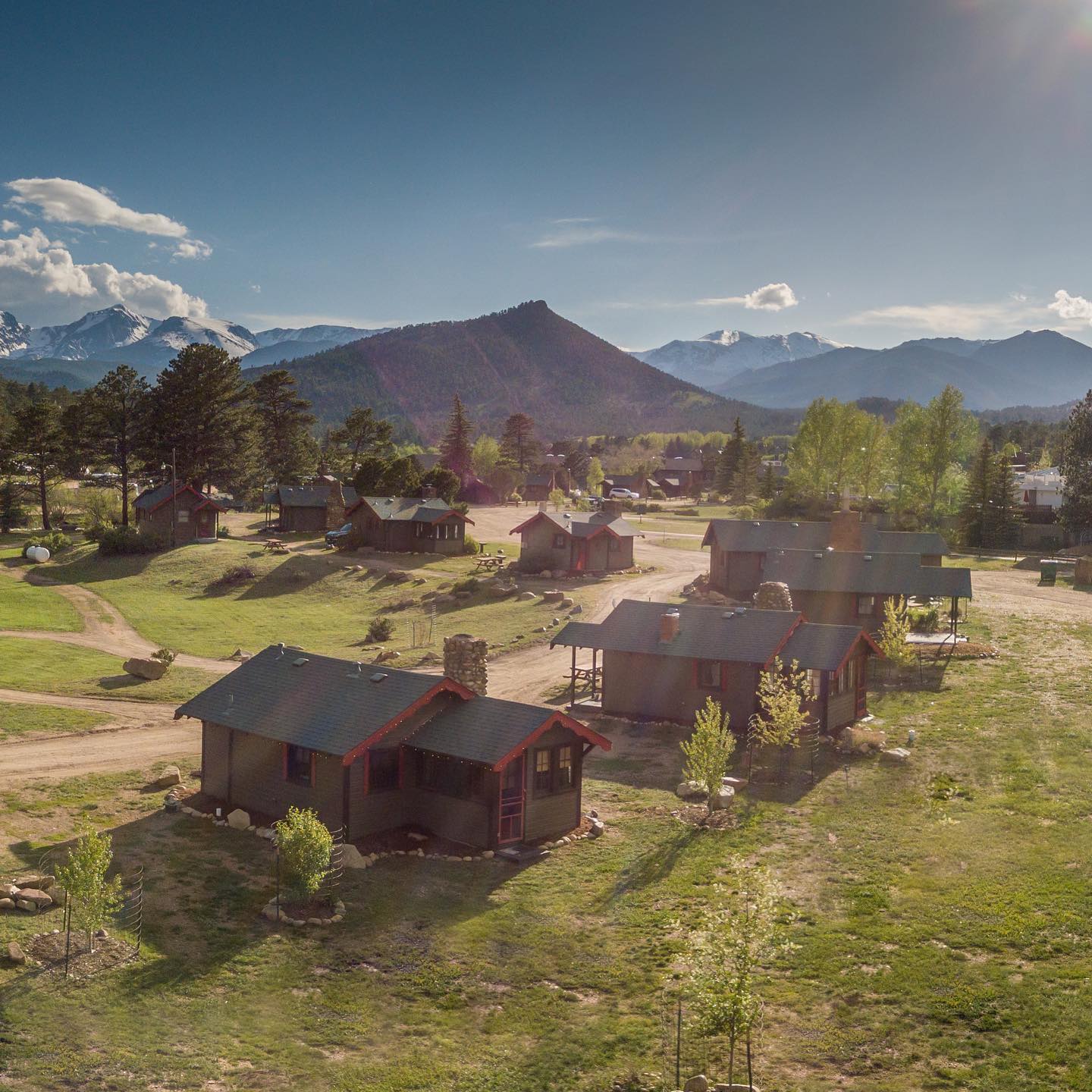 For those who love fishing, book your stay at the Trout Haven Resort. The main feature of this resort is the well-stocked pond on the property that is filled throughout the season with Rainbow Trout (no fishing license is required). For a cozy cabin getaway, spend the evening resting up in one of their Tiny Town Cabins.
Choose from 19 rustic cabins featuring historic details, modern amenities, and scenic views, with some accommodations located along the Big Thompson River. Amenities include a wood-burning fireplace, outdoor picnic table, grill, fully equipped kitchens, Wi-Fi, and some pet-friendly options. Reservations can be made year-round.
River Spruce Cabins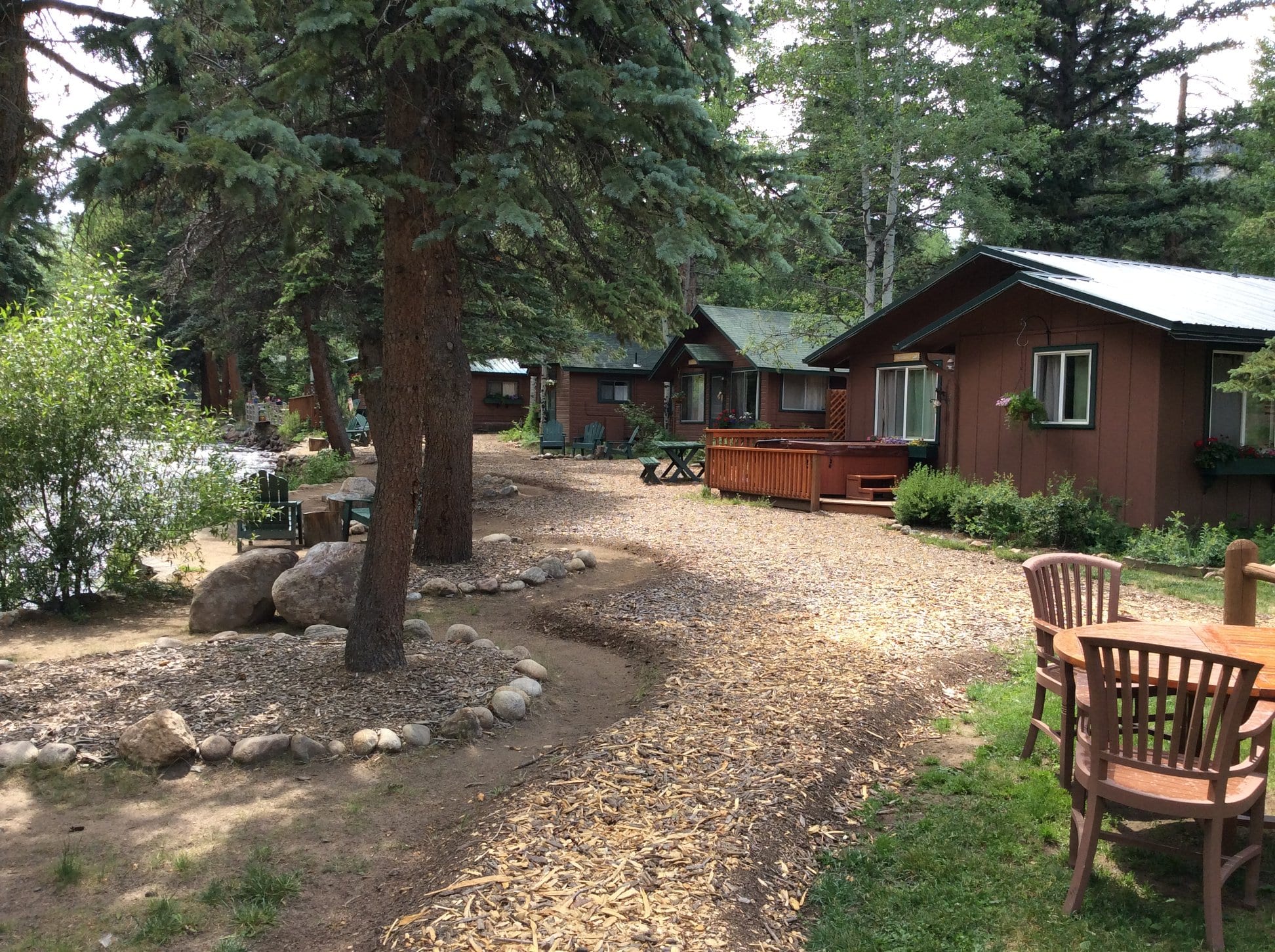 The River Spruce Cabins rest beautifully along the Big Thompson River, less than five miles from the Rocky Mountain National Park entrance. Just steps from the river, the cozy modern cabins offer incredible scenic views, ample outdoor space for enjoying Colorado at its best, and all the amenities of home for your comfort.
Choose from 10 different cabins, each featuring a private hot tub, rock-ring firepits, fully equipped kitchens, full baths, Wi-Fi, and hot breakfast muffins delivered to your front door. Now, who can beat that? Reservations can be made year-round.
Rocky Mountain Resorts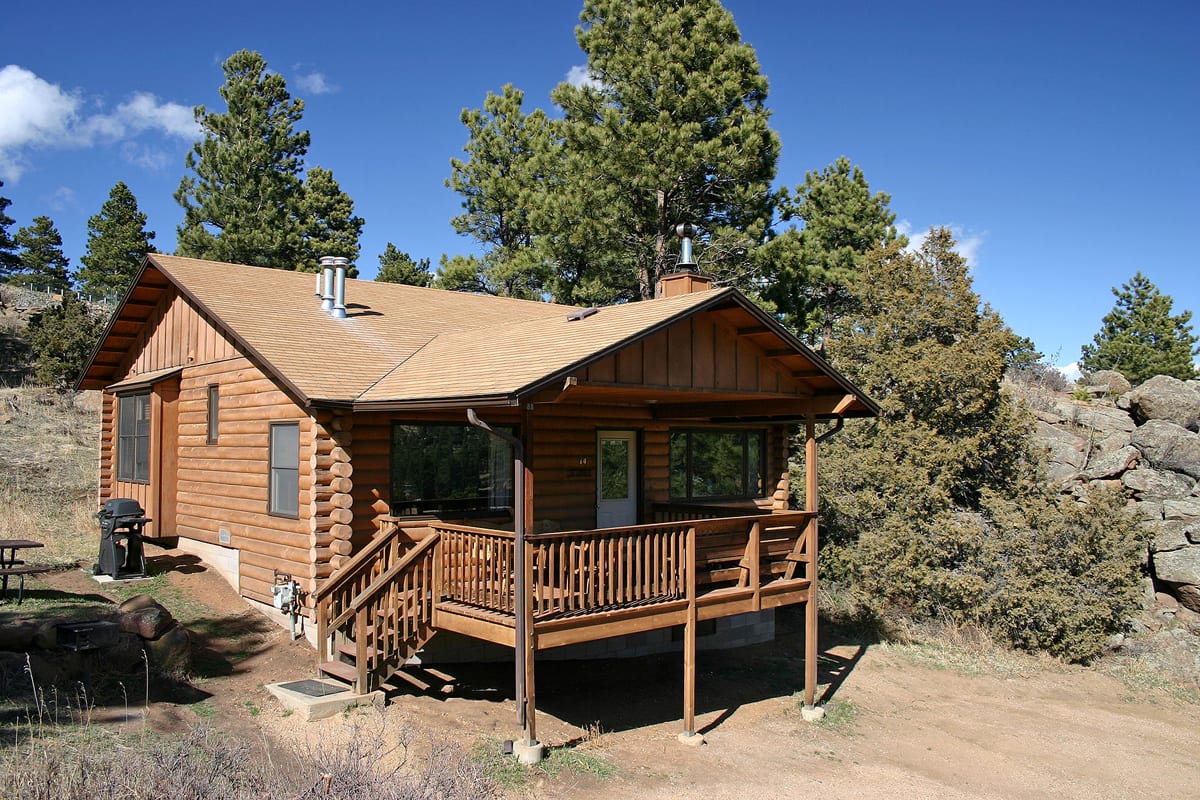 Rocky Mountain Resorts features a wide variety of cabins and vacation rentals in Estes Park. Choose from the Fawn Valley Inn, Lazy R Cottages, Timber Creek Chalets, and the Triple R Cottages for a true Rocky Mountain getaway.
Fawn Valley Inn includes jetted-tub suites, hot tub suites, mountain views, and one, two, and three-bedroom layouts. Cabins rest along the scenic Fall River where you can enjoy beautiful views.
The cabins at Lazy R Cottages feature hot tubs, full kitchens or kitchenettes, fireplaces, and outdoor decks.
The cabins at Triple R Cottages offer the same amenities but range in size from the rustic two-person cabins up to the large, remodeled eight-person cabin. Reservations for each of these properties can be made year-round.
The Inn on Fall River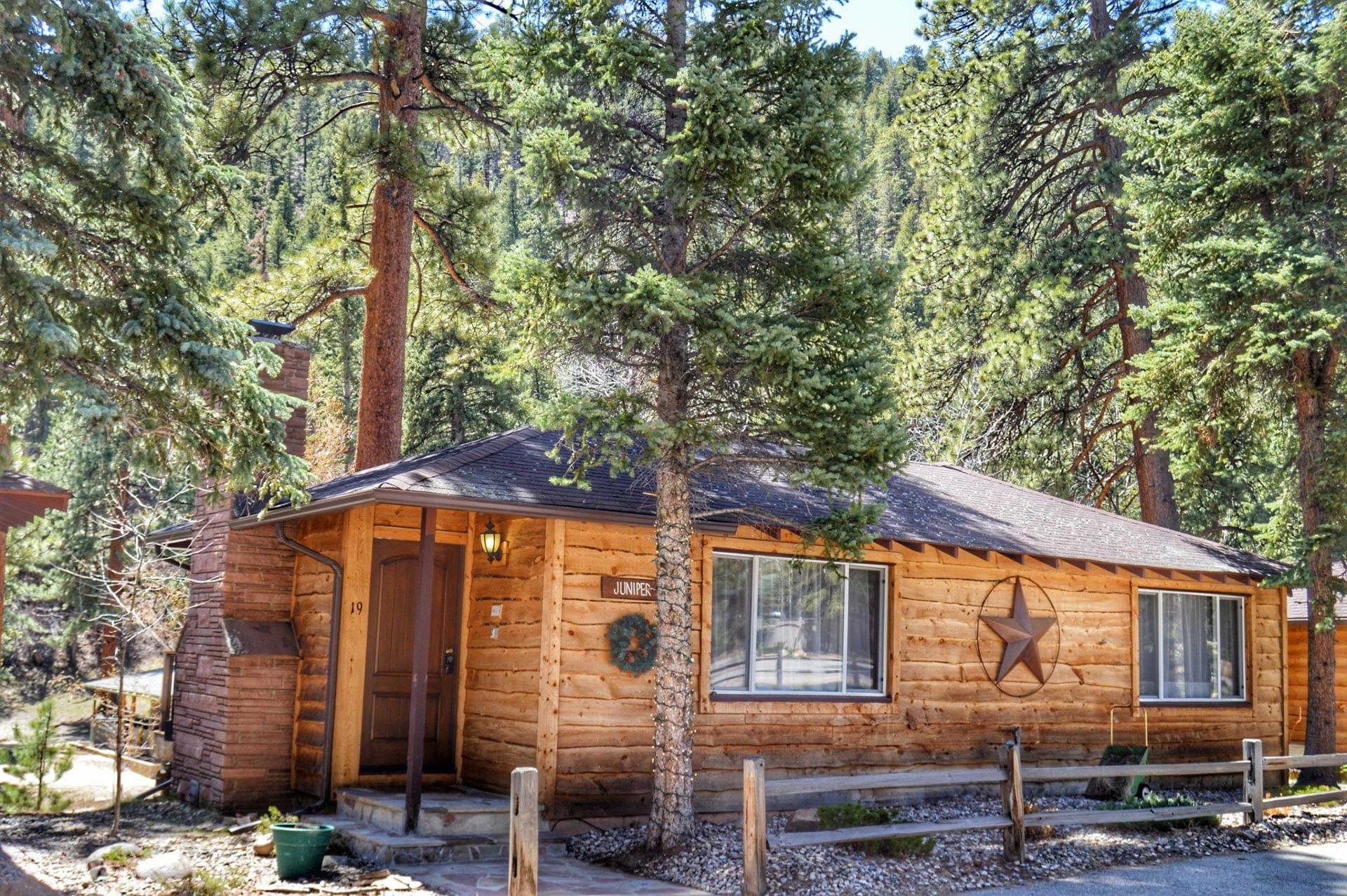 Located on what used to be within the original boundary of Rocky Mountain National Park, The Inn on Fall River offers the stunningly beautiful scenery natural to the area and cozy cabins from which to enjoy. Guests can choose from the five Fall River cabins or the three Classic cabins.
Each rental rests along the banks of Fall River and features a private hot tub on the river, a fully equipped kitchen, a fireplace, a full bathroom, with one, two, and three-bedroom options. Book year-round online.
Pine Creek Cabins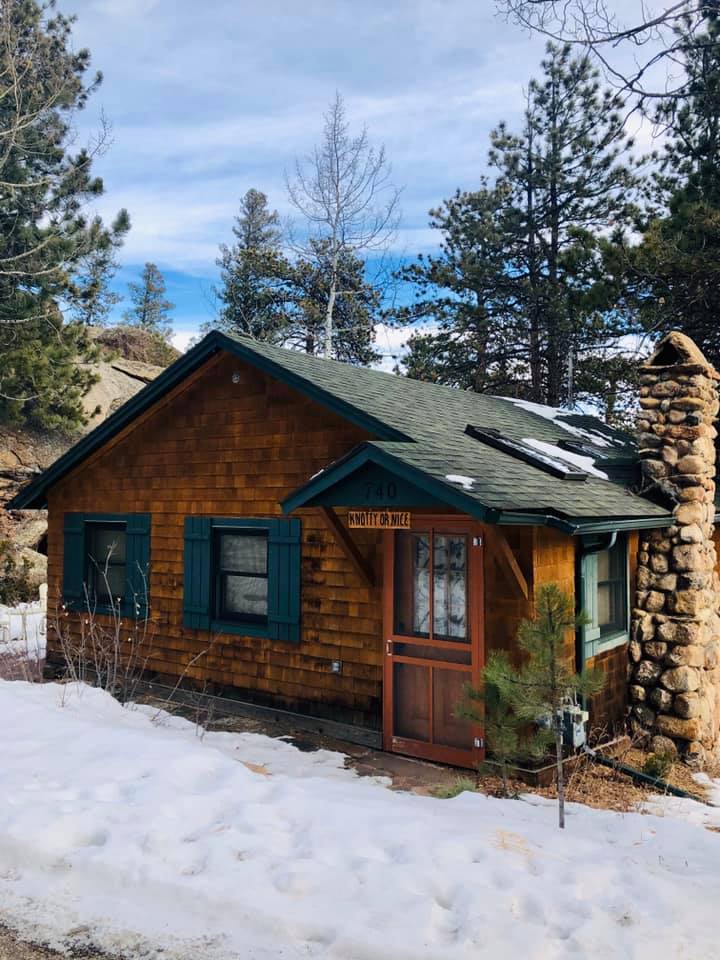 Pine Creek Cabins offers private, self-catered, fully equipped cabin rentals throughout the town of Estes Park. Enjoy modern updates and décor that make a stay in one of their cabins comfortable but still with plenty of mountain charm.
Cabins feature (not all) private hot tubs, private locations, a wood-burning or electric fireplace, scenic views, and walking distance to downtown Estes Park, plus pet-friendly options are available. Book your rental year-round.
Note that you will need to bring your own food and personal toiletries.
Riverview Pines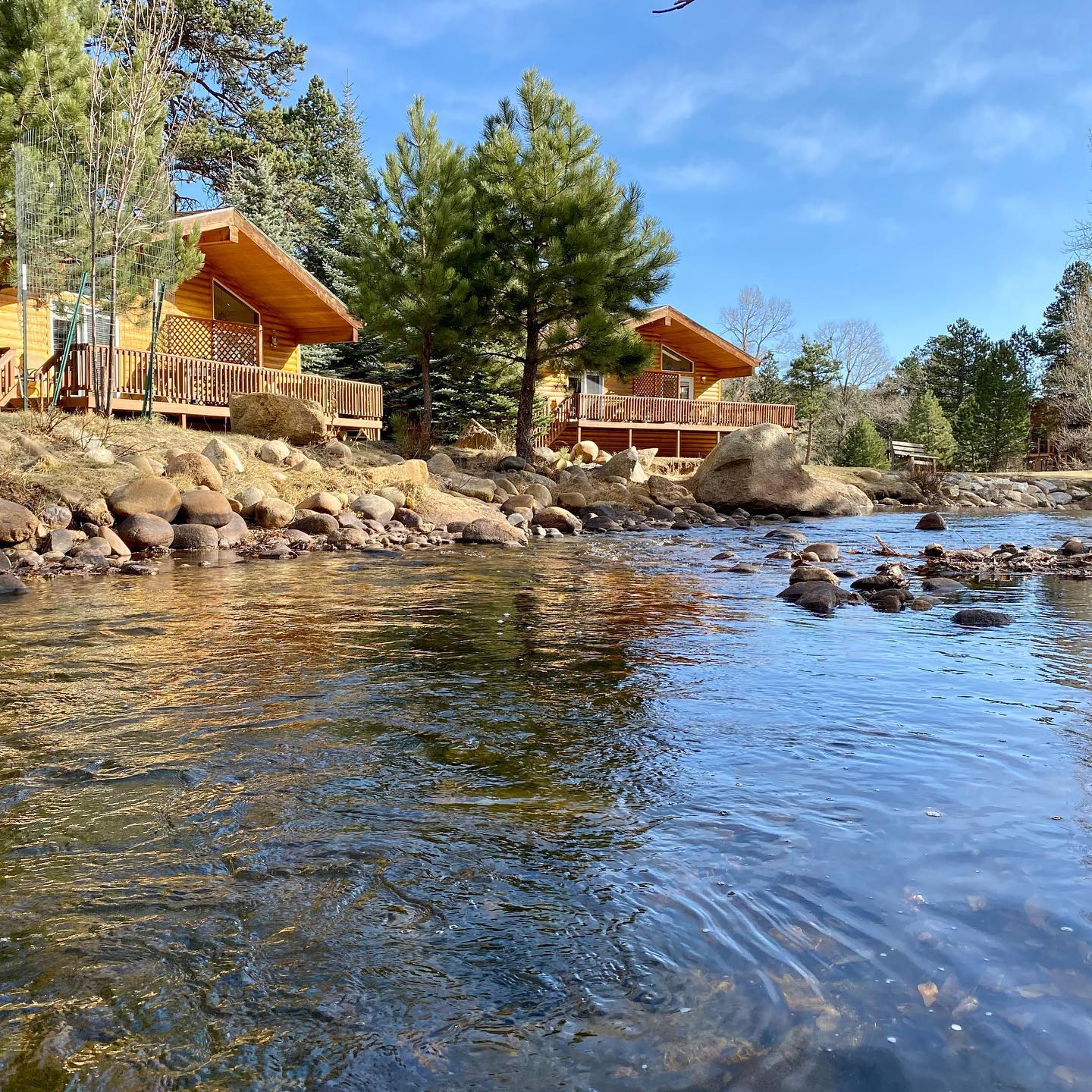 Resting on four acres of land along the Fall River, Riverview Pines is a short three miles to the Fall River entrance to Rocky Mountain National Park and nearby downtown Estes Park. Guests of the cabins will enjoy property features such as fishing, shuffleboard, outdoor games, a hot tub, and common areas with picnic tables and grills.
Guests can choose between one and two-bedroom duplex cabins. The updated modern cabins feature finished decks overlooking Fall River, bathrooms, full kitchens, living areas, fireplaces, and jetted tubs. Year-round reservations can be made online.
Rockmount Cottages by the River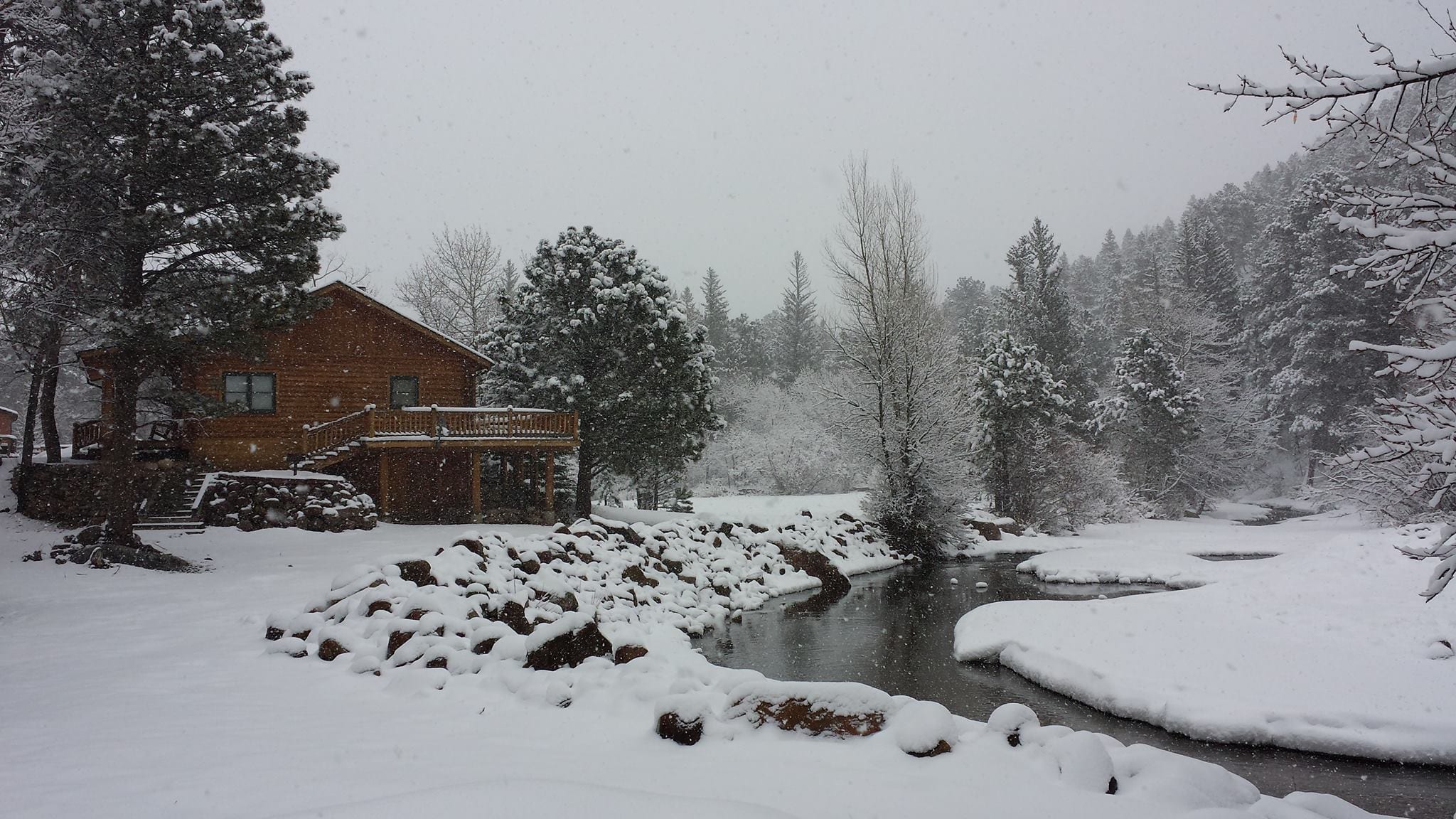 The Rockmount Cottages by the River is located just one mile from the south entrance to Rocky Mountain National Park, with part of the beautiful Big Thompson River running through the 15-acre resort. A haven for outdoor enthusiasts, the cabin/cottage resort provides modern, updated cabins for those who want to "rough it" with today's modern amenities.
Choose from 20 cabins and cottages, each with a flat-screen T.V., Wi-Fi, outdoor picnic area with grill, bed linens and towels, fully equipped kitchens, bathroom, and most with a stone fireplace. In keeping with the rustic cabin look, each accommodation is finished in knotty pine and mountain décor. Property amenities include a community fire pit, fishing, playground, and picnic shelters.
These cabins are not pet-friendly. Year-round reservations can be made online.
Idlewilde by the River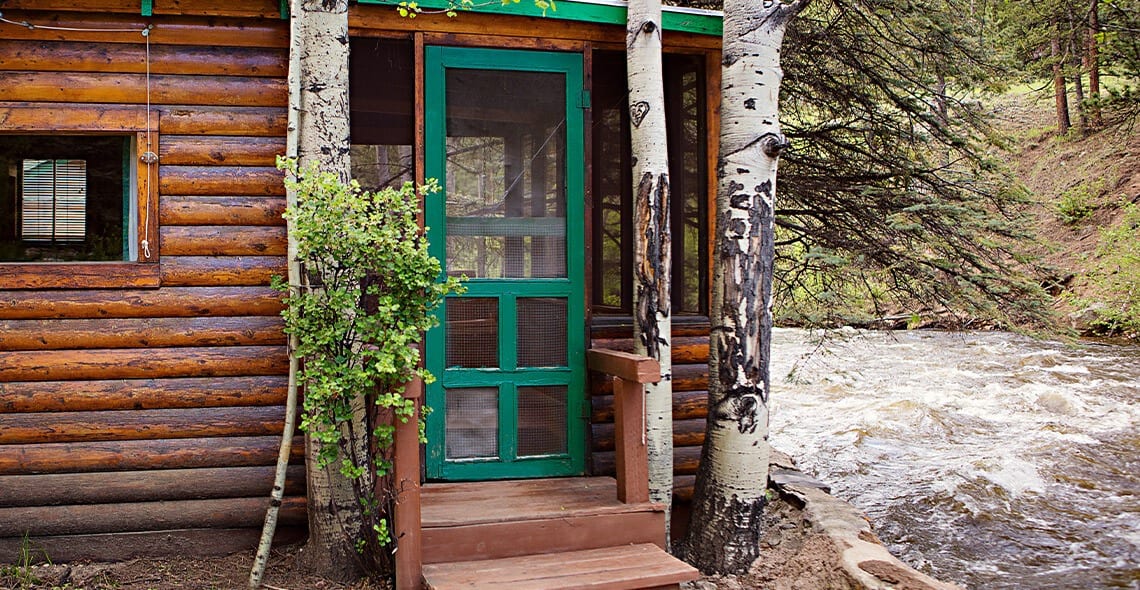 Located on the banks of the Big Thompson River, the cabins at Idlewilde By the River offers beautiful scenic rentals in the heart of Estes Park. Find peace and solitude with one of their fully furnished 13 cabin rentals. Feel at home with living and eating areas, full kitchens, ample outdoor space, and access to the outdoor hot tub.
Note there is not a daily maid service provided, and this property is not pet-friendly. The cabins are seasonal and can be booked ahead of time online.
So, what are you waiting for? Discover some of Northern Colorado's most scenic landscapes with a stay in one of these cabins for rent near Fort Collins.