Resting in the shadows of Pikes Peak, the southern Rockies most popular mountain peak, Colorado Springs is the hub for outdoor adventures and city life. Complete your Rocky Mountain experience with these cabins to rent near Colorado Springs.
With its proximity to several state parks, Pikes Peak, the Royal Gorge Bridge, plus several other recreational sites like Eleven Mile Canyon, Colorado Springs provides easy access to some of Colorado's best outdoor destinations. While the city itself is somewhat dense, its surrounding metro area provides a quiet mountain escape that isn't far from the city.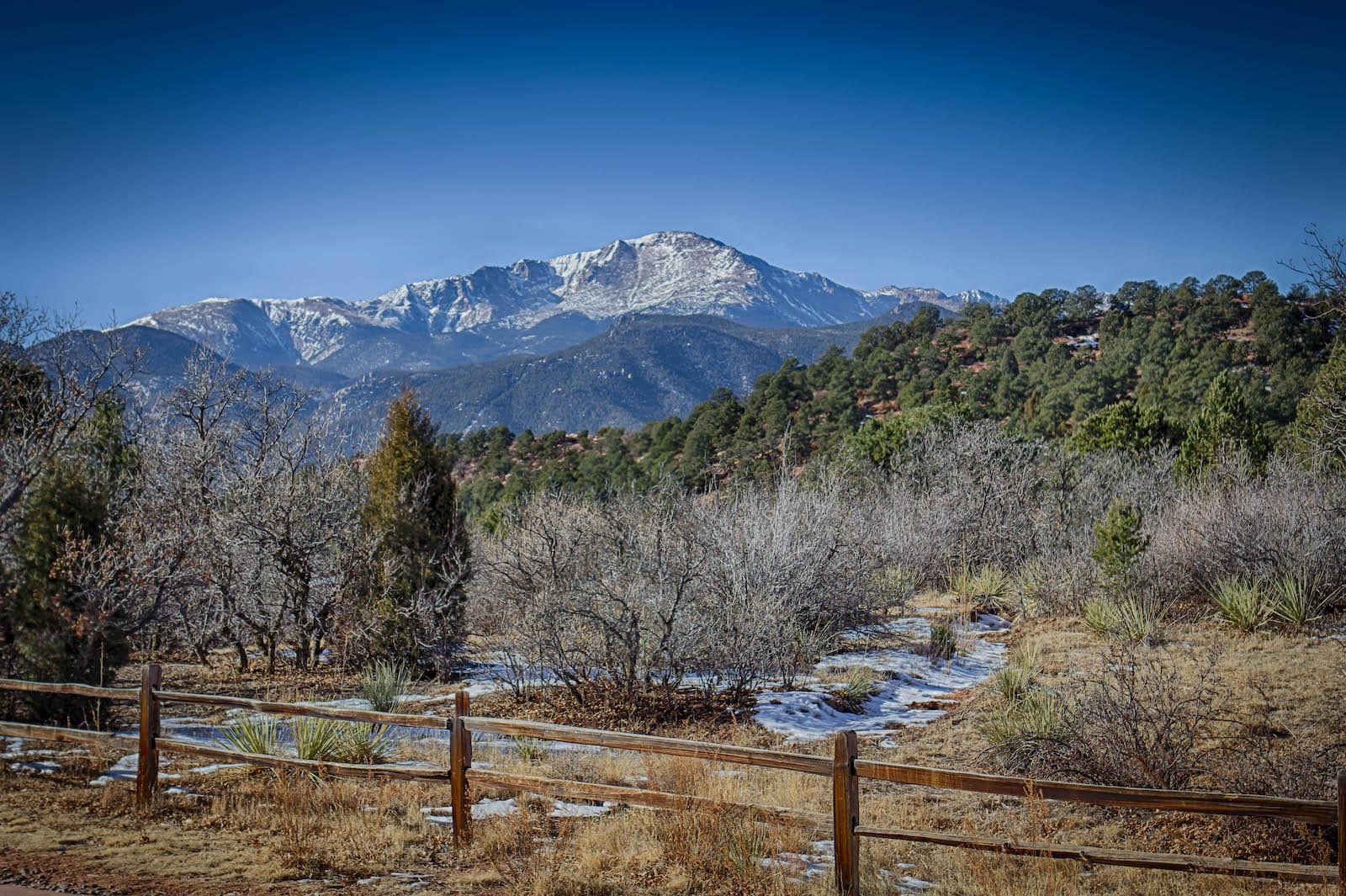 Book your stay in one of the many cozy cabins to rent, from rustic and basic to luxurious and modern, there are a variety of cabins and cottages to choose from. We'll explore the nearby towns of Old Colorado City, Manitou Springs, Green Mountain Falls, Woodland Park, Divide, Lake George, and even one spectacular cabin down in Cañon City.
This section contains referral links. If you click through and take action, we may receive a commission, at no additional cost to you. 
Cabins in Old Colorado City
Old Colorado City is one of the most historic neighborhoods in Colorado Springs. The beautiful downtown streets of Old Colorado City are prime for strolling, any time of year. It's located on the west side of town before Manitou Springs. Cabins here provide the closest access to Colorado Springs.
Fountain Creek RV Park
Open all year, come check out the Fountain Creek Camper Cabins. Located in Old Colorado City, just minutes from the Red Rock Canyon Open Space, the Fountain Creek Campground offers a nice central location for exploring all destinations nearby. Beyond the campsites, they provide camper cabins to rent.
These family-style cabins are basic and feature a microwave, refrigerator, T.V., an outdoor deck, and a picnic table.
Goldfield RV Park
Located three miles from the Garden of the Gods, the Goldfield Camper cabins are located in Old Colorado City at the Goldfield RV Park. Enjoy walking to walk to shops, restaurants, and more right from your cabin. The park provides clean restrooms, laundry, and Wi-Fi during your stay.
Choose from three different camper cabins, each with air conditioning and a Queen-size bed.
The Timber Lodge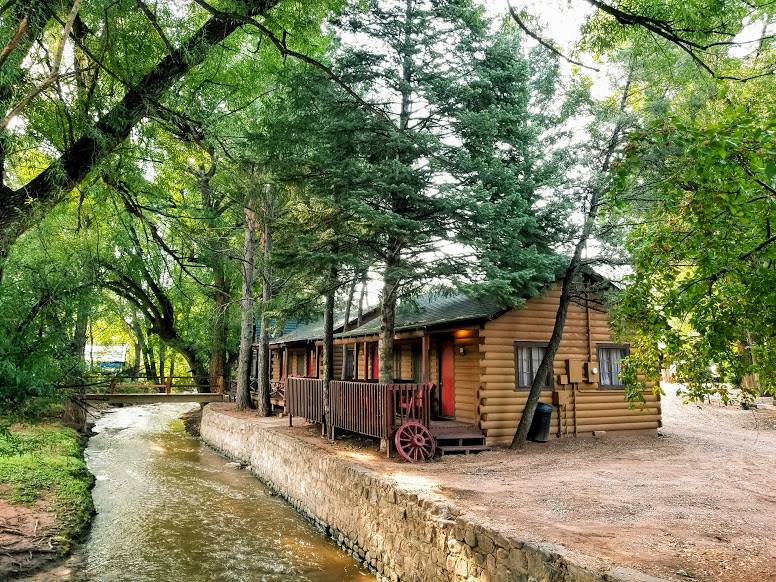 Nestled between Colorado Springs and Manitou Springs, the Timber Lodge rests on three acres of land with Fountain Creek running through. The park area features a heated pool, playground, BBQ pits, and picnic tables for all to enjoy. The cabins showcase rustic exteriors and beautiful pine paneled interiors with all the modern amenities you enjoy at home, including TV, Wi-Fi, and air conditioning.
Choose from 24 different cabins including, duplex cabins, A-frame cabins, and stand-alone cabins, with 14 of them equipped with a full kitchenette. Each cabin is stocked with linens and towels, so no need to bring your own. Year-round reservations can be made online.
Cabins in Manitou Springs
The first town west of Colorado Springs charming Manitou Springs. This resort-like town holds a lot of tourist attractions, including Cave of the Winds, Manitou Cliff Dwellings, and the Pikes Peak Cog Railway. Its downtown is lined with colorful shops, galleries, and restaurants. Book a cabin in Manitou Springs and you'll love your temporary home base.
Town-N-Country Cottages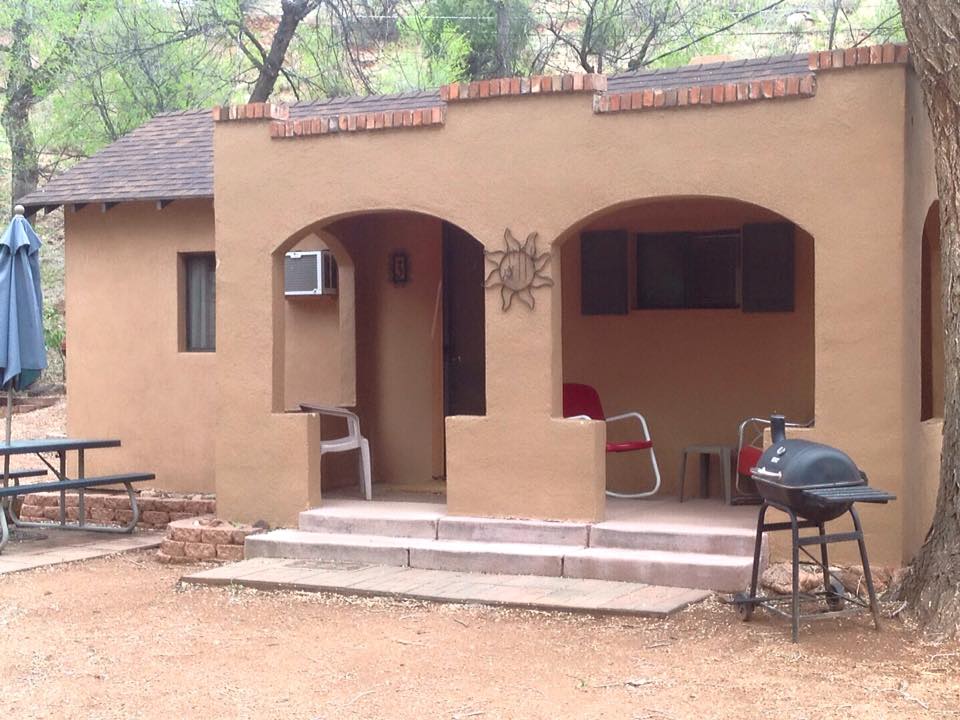 Enjoy year-round accommodations in Manitou Springs at the Town-N-Country Cottages. Resting on three acres of land with beautiful views of Pikes Peak, the cottages are an easy one-mile walk to downtown Manitou and the nearby Garden of the Gods.
The property offers amenities including a heated swimming pool, hot tub, playground, covered pavilion, and seasonal gas fireplaces. Choose from 10 adobe-style cottages with one, two, and three-bedroom options. Each cottage includes a private bath, linens and towels, a full kitchen, Queen-size beds, Wi-Fi, and air conditioning.
Sanctuary of the Rose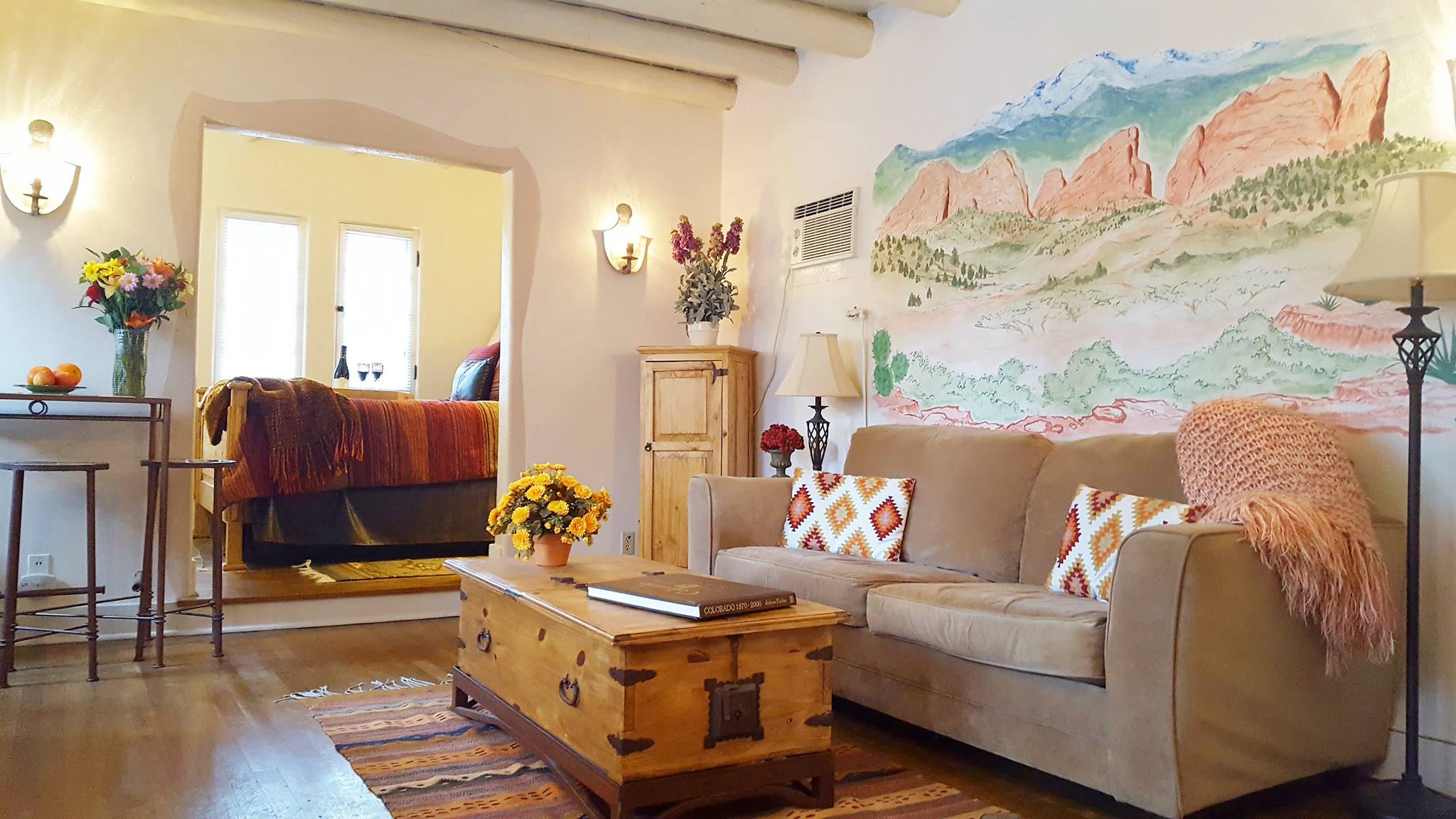 For a tranquil experience in the mountains, visit the Sanctuary of the Rose. The cute adobe guesthouse is decorated in southwestern décor and features a kiva gas fireplace, hardwood floors, kitchenette, full bath, and a private outdoor patio overlooking the mountains.
A unique feature of this guesthouse is the outdoor labyrinth, which is made with Colorado river rocks and two large ponderosa pines that outline the center. Enjoy a walk around the labyrinth for a peaceful and tranquil experience in the mountains.
Cabins in Casade and Green Mountain Falls
After you pass Manitou Springs you begin your journey up Ute Pass via Highway 24. The first community you pass is Cascade, which is the gateway to the Pikes Peak Highway. If you continue west past Cascade, you'll climb higher and higher on your way to Woodland Park. There are two little villages hidden off the pass, Chipita Park and Green Mountain Falls. A cabin here will put you within reach of everything in the Pikes Peak region.
Lakeside Cottages at Pikes Peak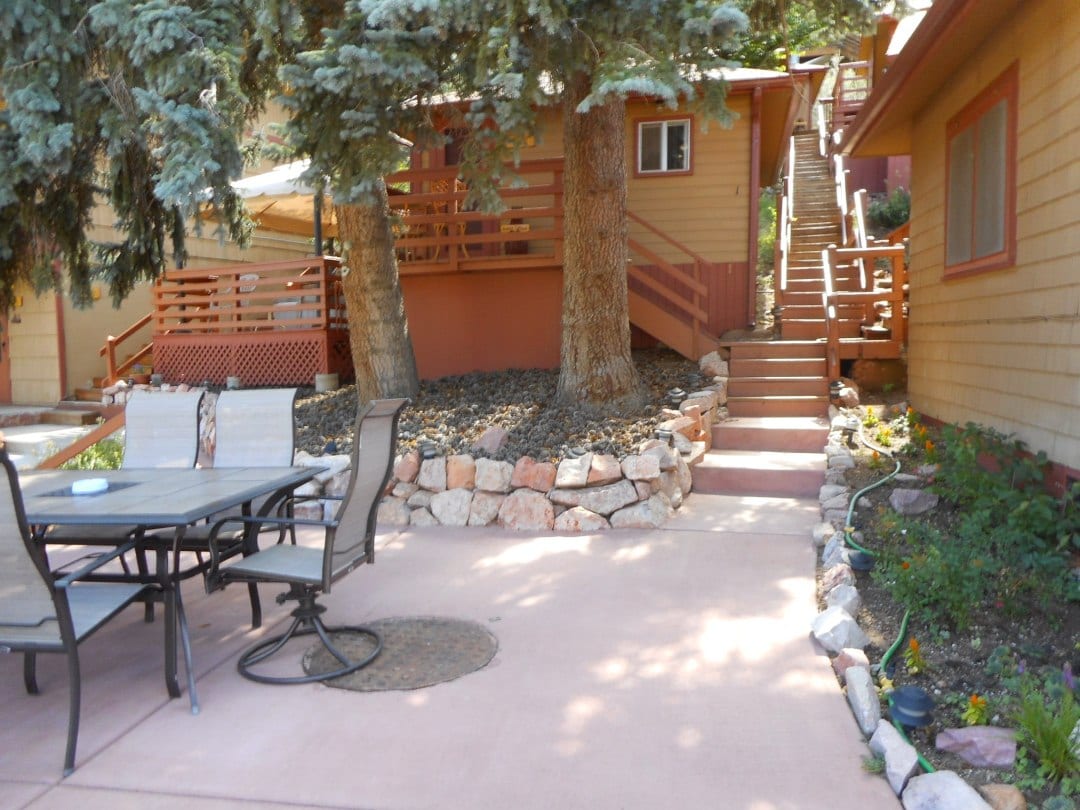 Nestled in the small town of Green Mountain Falls (15 minutes west of Colorado Springs), beneath the towering Pikes Peak, the Lakeside Cottages offer cozy cabins to rent near Colorado Springs. Choose from nine distinct fully furnished cabins that include dishes, cooking utensils, linens, a microwave, T.V., and Wi-Fi.
Each cabin varies in size with smaller two-person cabins up to larger five-bedroom rentals. Enjoy other unique amenities including, a fireplace, an outdoor deck, and a hot tub with some cabins. Check availability on their website as some cabins are available year-round and some are seasonal.
Lone Duck Campground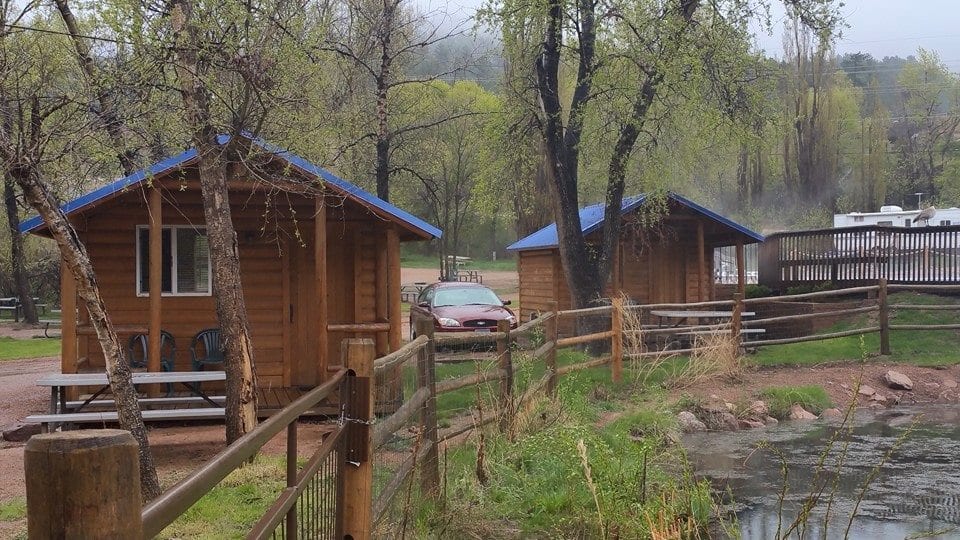 The Lone Duck Campground is a seasonal campground nestled amongst a mountain valley and tickling stream at the base of Pikes Peak. The campground features showers, campfires, a heated pool, a stocked fishing pond, a playground, and an on-site convenience store. In addition to the campsites and RV hook-up sites, the property also offers cabins for rent.
The updated cabins feature rustic-style details, one bedroom with a double bed and bunk bed, a microwave, refrigerator, and outdoor space with a fire pit and picnic table. The cabins overlook the pond for beautiful views.
Cabins in Woodland Park, Divide, Lake George, Cripple Creek
Thirty minutes west of Colorado Springs sits the picturesque mountain town of Woodland Park. Nestled at 8,465 feet, it offers a true Rocky Mountain experience with several wonderful vacation getaways. Another ten minutes west on Highway 24 sits the tiny town of Divide at the top of Ute Pass. It's a gateway to the Mueller State Park, just a few minutes south.
Finally, if you continue west past Divide you'll reach Lake George within the Eleven Mile Canyon and gateway to South Park!
Historic Triple B Ranch
Located in Woodland Park, the Historic Triple B Ranch provides a western-style vacation set amongst a genuine dude ranch. Families love to come for the horseback rides, the pool, hayrides, archery, and more, plus the chance to live the cowboy lifestyle.
The historic horse ranch offers everything from all-inclusive ranch vacations to cabin rentals. Their cozy cabins are available to rent with a minimum of a three-night stay. Newly remodeled, each cabin provides modern touches while still preserving its country charm. There is no T.V. or phone in the cabins but are available in the lounge area.
Choose from 11 individual cabins, with the smallest sleeping up to two and the largest sleeping up to 13. In-cabin amenities include a fireplace, kitchen or kitchenette, outdoor space, and scenic views. The cabins are available to rent year-round.
Pikes Peak Resort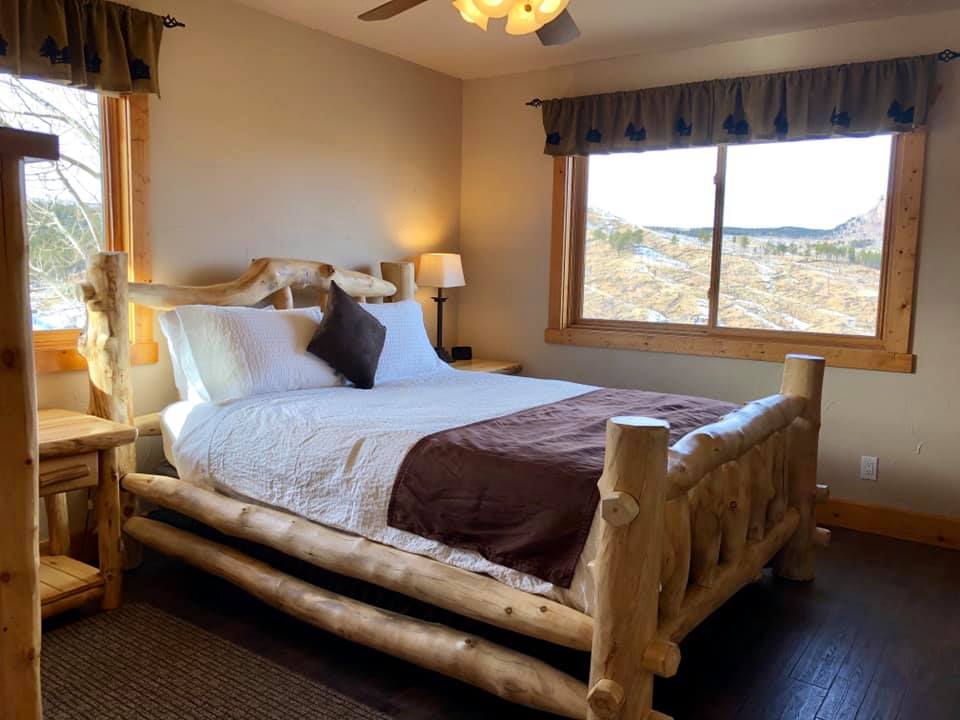 Find where luxury and the outdoors meet at Pikes Peak Resort near Woodland Park. Located on a 160-acre ranch within the Pike National Forest, the Pikes Peak Resort provides secluded mountain cabins for rent.
Choose from five cabins, with one, two, and three-bedroom options. These exceptional accommodations feature private outdoor hot tubs, surrounding mountain views, and updated details and furnishings for a comfortable stay. In-cabin amenities include a fireplace, T.V., Wi-Fi, a full kitchen, campfire pits, and spacious living areas – all dressed up in modern mountain décor. Reservations can be made year-round.
Bristlecone Lodge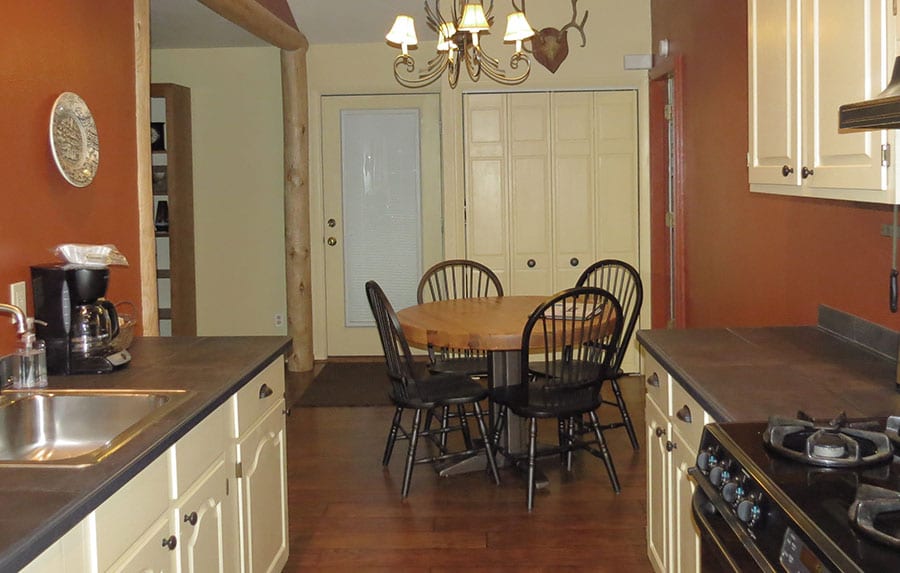 Located in Woodland Park, the Bristlecone Lodge offers guests a variety of accommodations including, tiny homes, an RV park, and several cabins. The property provides its guests with a warm breakfast every morning, an on-site hot tub, and is close to many shops and restaurants in the area.
Guests can choose from one-bedroom and two-bedroom cabin suites. The four one-bedroom cabins feature a King-size bed, a Queen-size pullout sofa, a living area, a full bathroom, a kitchenette, and a shared porch. The one two-bedroom cabin is larger with an upstairs and downstairs and features a private yard. Reservations can be made online.
Mueller State Park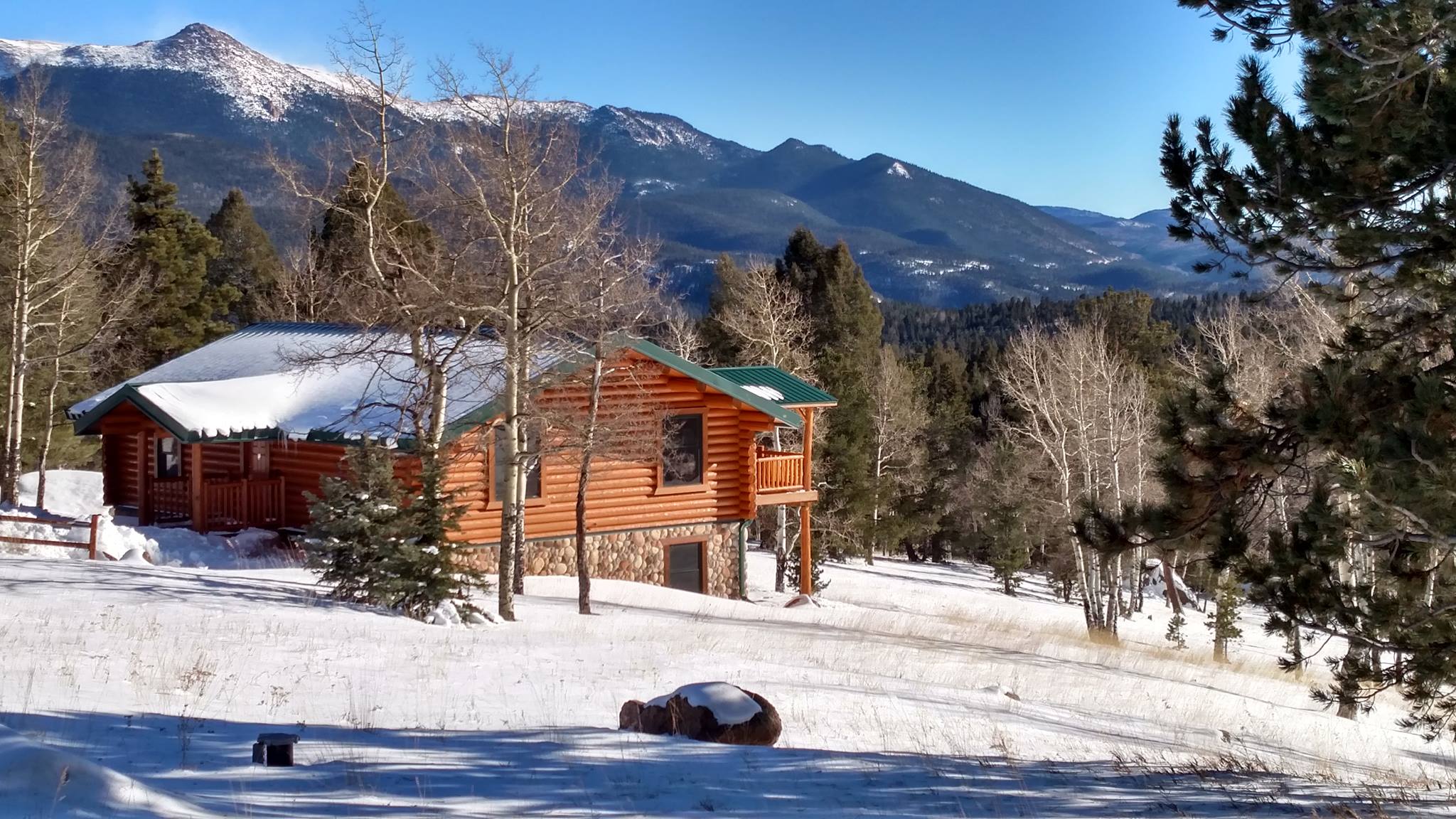 Mueller State Park spans 5,000 acres of lush meadows, dense forests, and unique rock outcroppings, all nestled on the west side of Pikes Peak. The park offers plentiful campsites and modern facilities along with three furnished log cabins to rent.
The cabins feature a fully equipped kitchen, bathroom, gas fireplace, outdoor deck, and BBQ grill. Nestled within the meadows and forests, the cabins provide guests with scenic views of Pikes Peak from their front door. Guests can choose from a two, three, or four-bedroom cabin.
Be sure to bring with you, personal toiletry items, food, and a hairdryer. Reservations can be made year-round at Colorado Parks & Wildlife website.
Lost Burro Campground
Located in Cripple Creek, the Lost Burro Campground provides an authentic mountain outdoor experience. Surrounded by green pines and aspens, the campground's scenic landscape offers guests a serene atmosphere for their vacation.
If camping isn't your thing, they have a one-bedroom cabin with a sleeping loft, a large-screened porch, and basic modern amenities.
Mountain River Lodge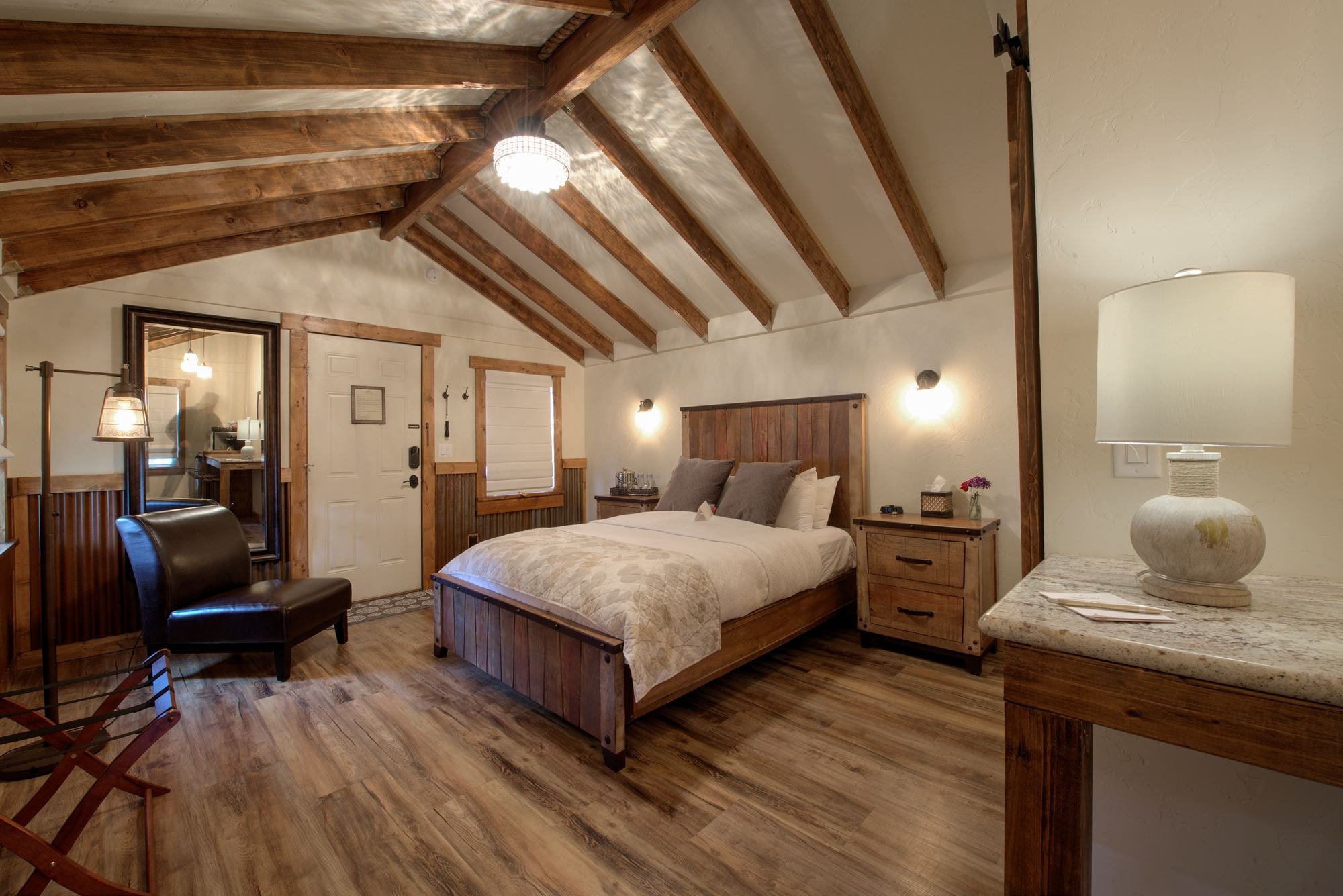 Discover chic cabins to rent near Colorado Springs at the Mountain River Lodge. Located at Lake George, the historic Mountain River Lodge is a destination for both families and couples looking to enjoy the outdoor lifestyle Colorado is known for.
Choose from single or family cabins, all of which are newly renovated with luxurious details and furnishings. The single cabins feature either one Queen-size bed or a King-size bed, each accommodating up to two people, plus a private bath. The family cabins are a bit larger, sleeping up to seven guests, and feature a kitchen and a spacious living area.
Enjoy special amenities such as pillowtop beds, plush linens and towels, and heated toilet seats. Reservations can be made at moutainriver.com.
Cabins in the Royal Gorge area
A stunning hour-long drive southwest of The Springs leads you to Cañon City, the gateway to the Royal Gorge. This whitewater capital is home to the Arkansas River and a big historic district. The impressive local canyon boasts a world-class suspension bridge high over its bottom, which was carved by the mighty Arkansas River. Consider staying nearby in some cabins for a one-of-a-kind holiday.
Royal Gorge Cabins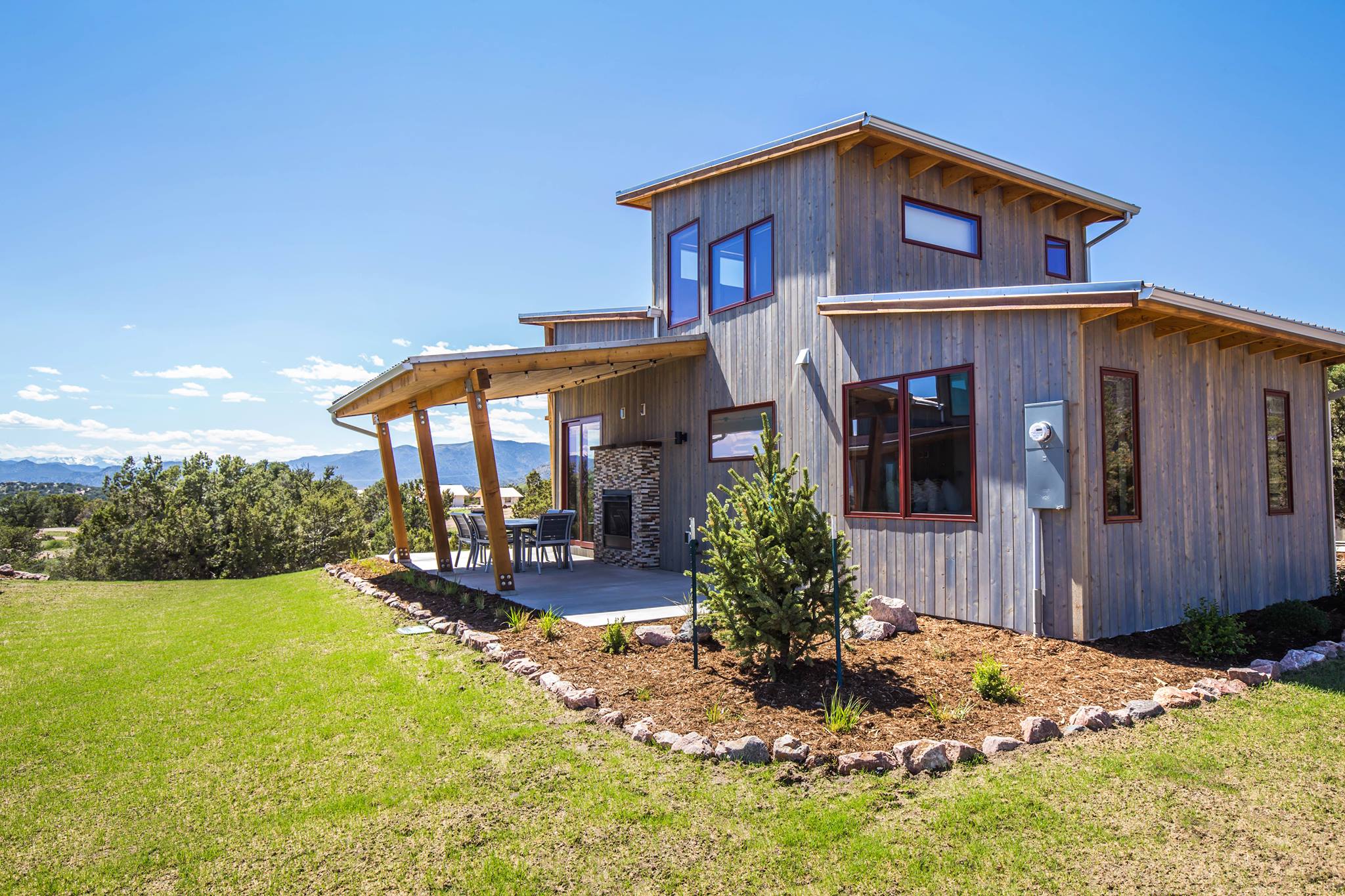 Where mountain luxury meets the great outdoors, the Royal Gorge Cabin offers an exceptional mountain retreat just an hour from Colorado Springs and 10 minutes from the Royal Gorge Bridge & Park area. While they offer a variety of accommodations including, glamping tents, their cabins are the premium choice if you are looking for a lavish vacation.
Guests can choose from the single king one-bedroom cabins or the double king two-bedroom cabins. Enjoy updated modern furnishings, mountain views, a full kitchen, a fireplace, exceptional bathrooms, and a large private patio. Year-round reservations can be made online.
Start exploring the Pikes Peak Region and beyond with these cabins to rent near Colorado Springs.