For most who live in Denver, a weekend retreat to the mountains is a common practice. Well, it's easy to do just that and find your home away from home with one of the many cozy cabins to rent near Denver.
Denver offers a great mix of the city life and outdoor life. With its proximity to the foothills and as the state capital, Denver serves as the hub for both cultural activities and outdoor adventures. But despite being one of the best places to live in Colorado, there's always a need to escape from it all!
From rustic mountain retreats to luxurious log cabin homes, there is plenty to choose from. Complete your Rocky Mountain experience with these cabins to rent near Denver.
This section contains referral links. If you click through and take action, we may receive a commission, at no additional cost to you. 
Deer Creek Cabin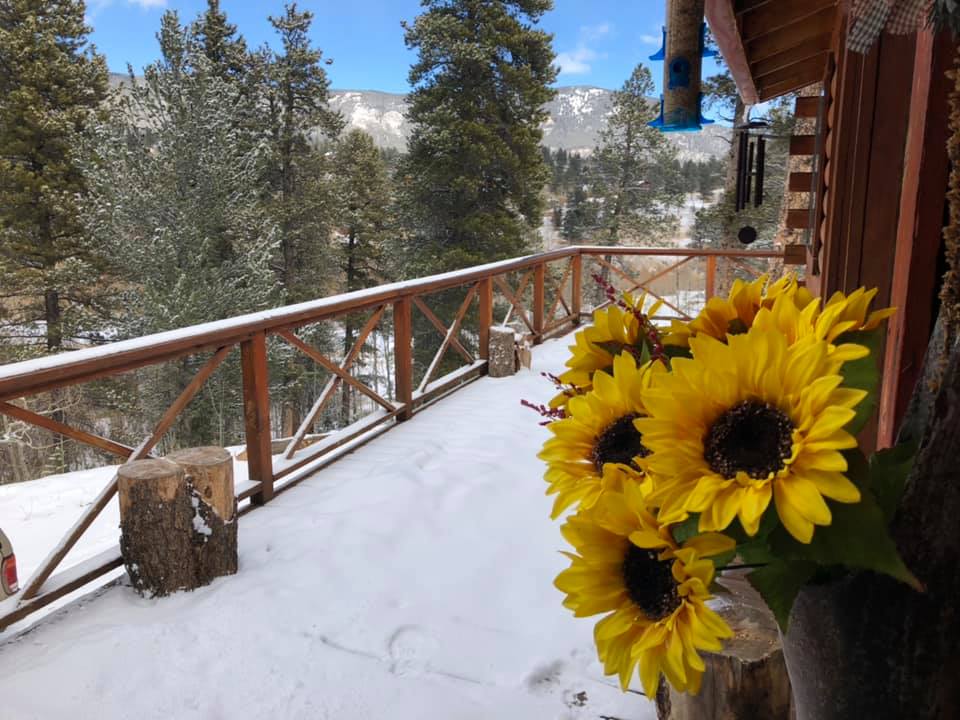 Located near Bailey, CO, just 45 minutes southwest of Denver, the Deer Creek Cabin is a secluded log cabin nestled in the Deer Creek Valley. Enjoy easy access to multiple hiking trails, a community fishing pond, horseback riding, white water rafting, and more. In town, Bailey offers its guests several art galleries, a brewery, a few restaurants, and local shops.
The two-bedroom cabin is equipped with a master bedroom with a Queen-size bed, a full bed in the second room, a full kitchen, a private deck with scenic views, a bathroom, T.V., free Wi-Fi, and an outdoor hot tub for evenings spent staring at the night's sky. The cabin is pet-friendly and comes with all linens, towels, and toiletries for your convenience. Guests can rent year-round.
1412 Clark Rd, Bailey, CO 80421 | 970-912-1100
Check prices, availability or book Deer Creek Cabin
Glen-Isle Resort Lodge and Cabins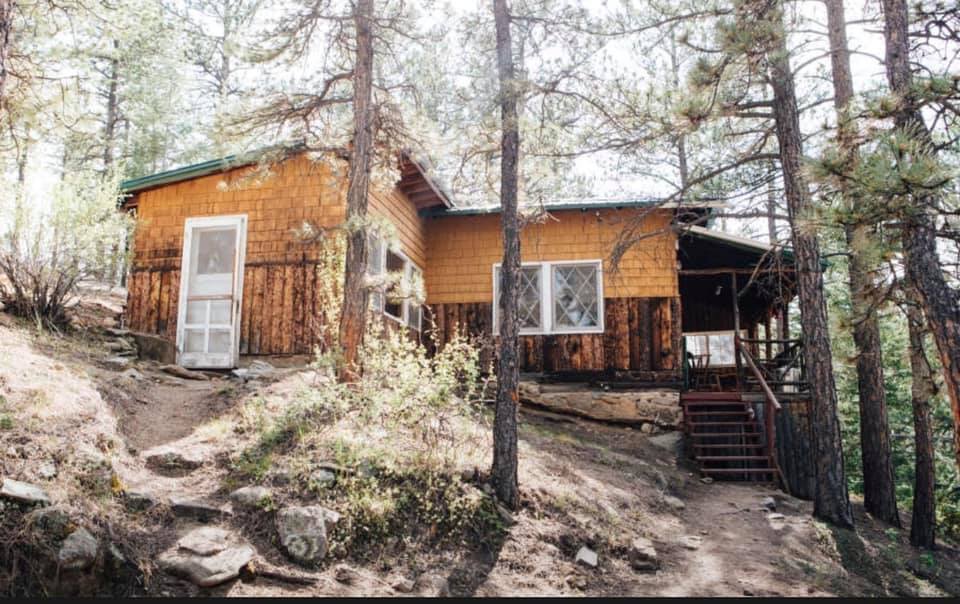 Named "the last resort," Glen-Isle Resort is the only resort left standing along HWY 285 that exclusively serviced the railroad. Glen-Isle Resort started its operation in 1901 in Bailey and has continued to serve its guests as a place of tradition and history.
What began as a resort for weekend getaways for those well-to-do residents who lived in nearby cities such as Denver, the Glen-Isle Resort continues to be a refuge for those looking for a little peace and quiet in the mountains. Nestled within the Pike National Forest, guests enjoy convenient access to hiking and biking trails right from their front door.
Choose from 14 historical cabins, sleeping anywhere from two people up to ten. Each cabin offers its own unique mountain-décor and rustic style while still offering the modern conveniences of home. Enjoy updated bathrooms, modern furniture made with natural details, a warming fireplace, and an outdoor space, with most featuring a private patio. Most cabins are equipped with a full kitchen, and some cabins can be rented together for a larger set-up. Year-round reservations can be online.
573 Old Stagecoach Rd, Bailey, CO 80421 | 303-816-0790
Check prices, availability or book Glen Isle Resort
Bauer's Spruce Island Chalets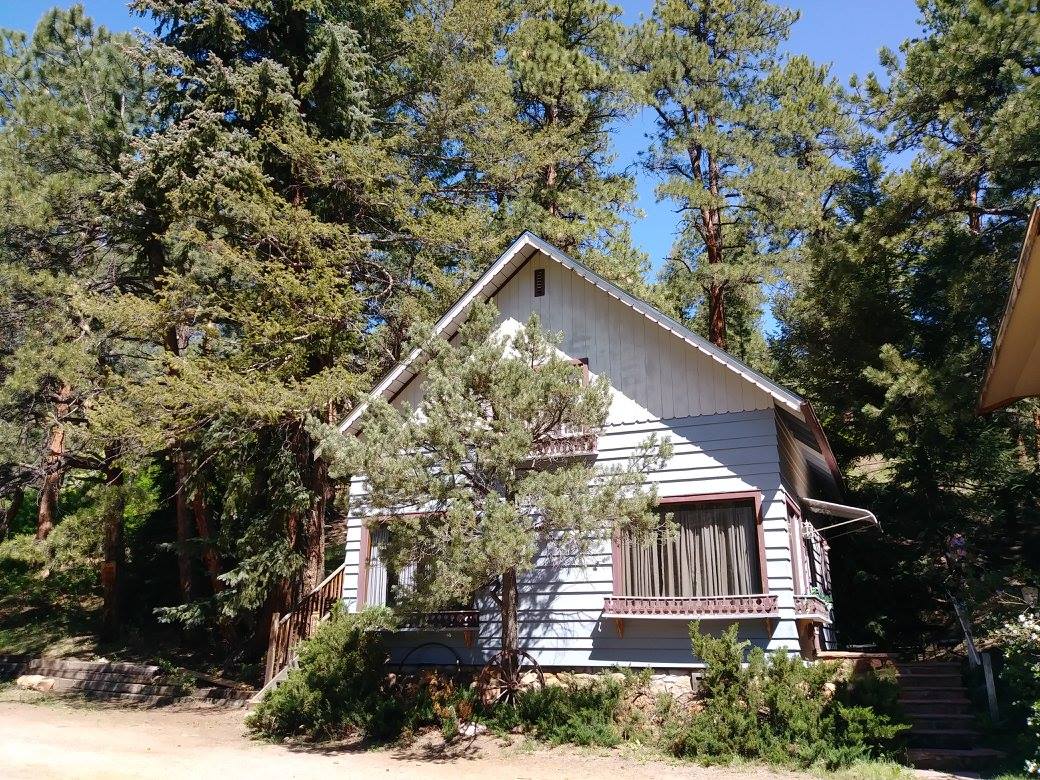 The Bauer's Spruce Island Chalets is a small family-owned resort that offers cozy chalets and cottages for rent near downtown Evergreen. The accommodations range in size from small studios to one, three, and four-bedroom cabins. Each is fully furnished and equipped with a full kitchen, living area, full bath, and some with a fireplace.
Enjoy the property's playground, volleyball court, picnic tables, and the nearby pond for fishing. Online reservations are not available, and rentals are only available on a monthly basis. Call 303-674-4757 to make your reservations. For online information, it's best to visit their Facebook page.
5937 S Brook Forest Rd, Evergreen, CO 80439 | 303-674-4757
Colorado Bear Creek Cabins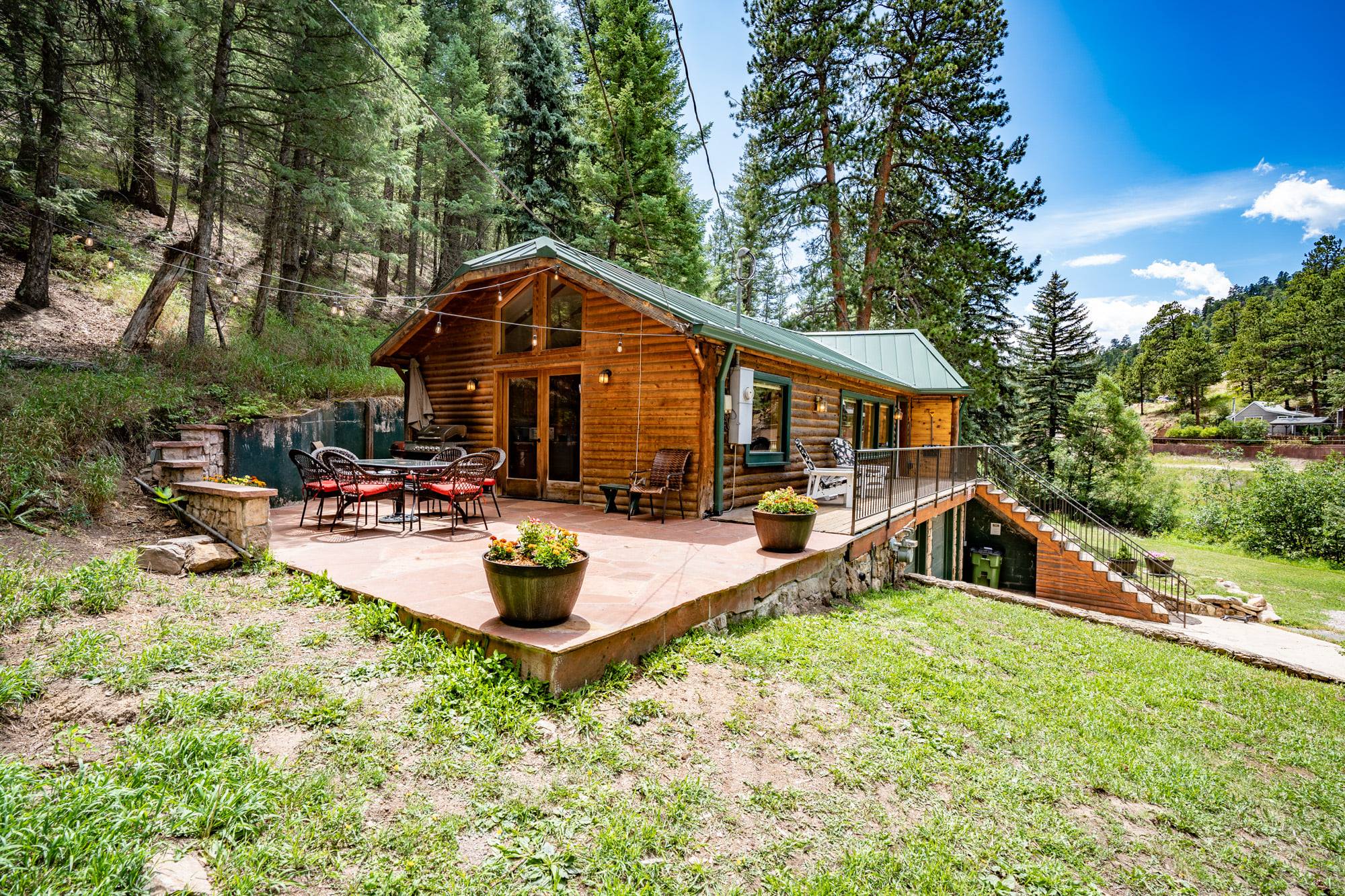 Create your luxury mountain getaway with a stay at the Colorado Bear Creek Cabins in Evergreen. Resting on the banks of Bear Creek, the cabins are conveniently located near downtown Evergreen, 30 miles from Denver, making for the perfect weekend getaway to the mountains. Guests enjoy direct access to fly fishing at Bear Creek, a plethora of outdoor activities at nearby Evergreen Lake, and many trails ideal for hiking and biking.
Surrounded by a rustic outdoor setting, the cabins are offered in a variety of options including, the Creekside Duplex Cabins, Creekside Mountain home Cabin, and the Creekside Log Home Cabin.
The Duplex Cabins are equipped with a full kitchen, one Queen-size bed, one twin bed, a full bath, a fireplace, and an outdoor deck. Enjoy unique details such as log-beam walls, a handcrafted pine headboard, and scenic views. The Creekside Mountain Home cabins offer all the same amenities but with a larger layout of two or three-bedroom options. All accommodations include modern details such as Free Wi-Fi and a T.V. and are pet-friendly. Reservations can be made year-round.
Golden Gate Canyon State Park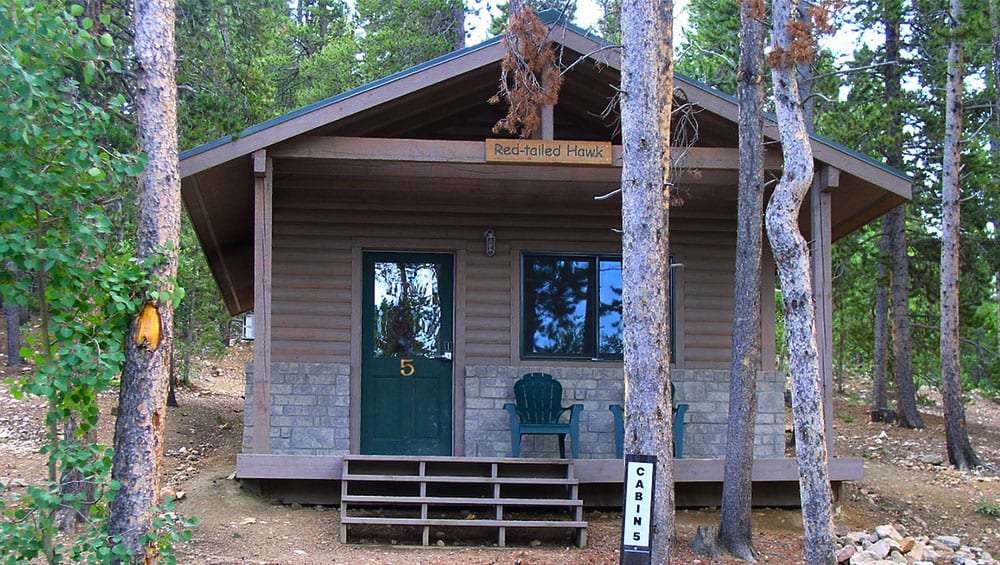 Located inside Golden Gate Canyon State Park are several cabins and yurts for rent. Situated amongst aspen groves and green pines, the cabins feature two bunk beds, one double bed, and one twin bed, sleeping up to six people. A few amenities accompany the cabins such as a natural gas heater, electricity, table, and chairs.
Running water, flush toilets, and showers are available at the Riverend's Ridge Campground. The yurts offer the same amenities and layout, just in a yurt format. Do note that there is no refrigerator and no cell phone or internet service inside the park.
There is a two-night minimum stay in both the cabins and yurts. Also, there is no bedding provided, only mattresses. Guests will need to bring their own sheets, blankets, pillows, etc. Reservations can be made at the Colorado Parks & Wildlife website.
Fireside Cabins & RV Park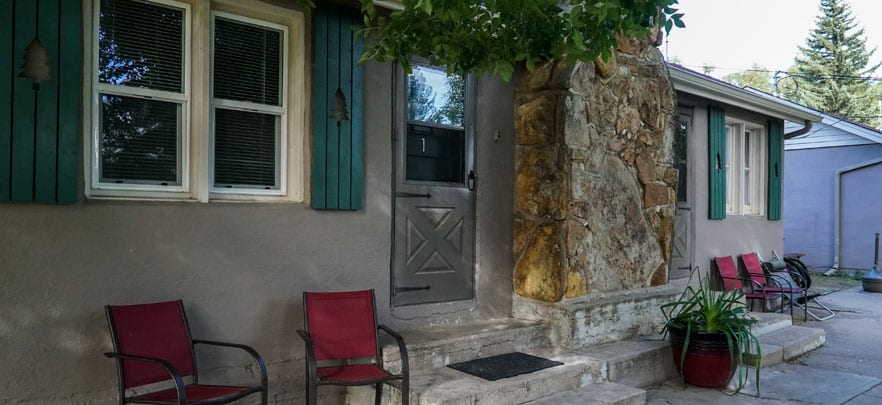 Located near the town of Loveland, Fireside Cabins and RV Park offers a quiet retreat near Rocky Mountain National Park and the Big Thompson Canyon. Guests enjoy updated and modern cabins with warming elements like artwork on the walls, fresh flowers, and comfortable bedding.
Choose from cabins with a kitchenette or ones without a kitchenette. Cabins feature one Queen-size bed, an electric log fireplace, a bathroom with a shower, heating and air, plus Wi-Fi. The cabins without a kitchenette still offer a mini-refrigerator, microwave, coffee maker, and toaster for your convenience. Reservations can be made online.
Find your cozy mountain retreat with these cabins to rent near Denver!