Pike National Forest is comprised of 1,729 square miles of land in the front range of the Rocky Mountains It contains most of the forest going west from Colorado Springs and is one of the closest national forests to Denver.
Highlights include the Deckers region southwest of Denver for trout fishing and campgrounds. There are many mountain passes within the forest, such as Kenosha Pass and the southern side of Guanella Pass.
Main Attractions
From Colorado Springs west, the Pike National Forest looms on either side. There are so many marvelous things to do in this heavily wooded region. These marvels are easy to reach from the Front Range, perfect for a two-night getaway
Activities: Biking, Boating, Camping, Fishing, Hiking, Hunting, Picnicking, OHV, Scenic Drives, Cross Country Skiing, Snowmobiling, Snowshoeing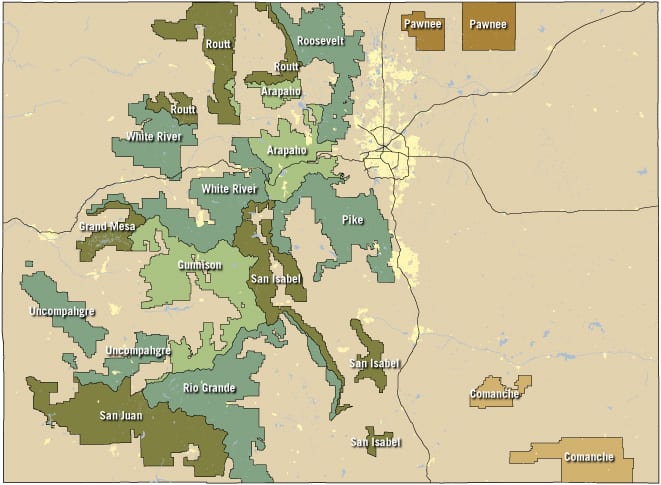 Map of 11 national forests and 2 grasslands.
Camping: With great proximity to both Denver and Colorado Springs, camping in Pike National Forest is convenient and exceptional. There are a lot of USFS Pike Campgrounds to choose from.
Cabins: These private cabins aren't managed by the Forest Service, however, they provide the perfect retreat for exploring the nearby Pike National Forest. They range from cozy primitive camper cabins to upscale and spacious mountain getaways.
Nearby Activities: Park County, located within the South Park basin, is an outdoorsman's paradise as fishing and hunting are prime in this part of Colorado. Blue ribbon fly-fishing and trophy elk hunting are reasons to visit the Pike National Forest each season. Antero Reservoir is a great place for boating and fishing, located just west of Hartsel. You can camp there too.
Spinney Mountain & Eleven Mile are two other popular places to boat and fish in the area, with access to the infamous 'Dream Stream', part of the South Platte River. Places like Cripple Creek and Woodland Park make great bases for exploring the nearby Colorado wilderness.
A beautiful overlook.

Pike National Forest Visitor Center on Highway 24.

Arkansas River Valley.

More valley views.

Pike NF near Deckers.

Manitou Lake near Deckers.

Details
Nearby Towns:
Motor Vehicle Use Maps:
Pike Campgrounds: Reservations
Website: fs.usda.gov/psicc
Latest in Pike National Forest