Lake George is tiny Highway 24 town known its world class trout fishing. Both Spinney Mountain and Eleven Mile reservoir call Lake George home.
The elevation of this unincorporated community is 7,992 feet. There's one commercial strip with a bar, general store, motel and Tumbling Trout fly-shop.
In addition to fishing, you can view petrified redwoods at the nearby Florissant Fossil Beds National Monument. Scenic driving is also an option in Park County, with trips through the historic Eleven Mile Canyon and the Tarryall Valley, both close by.
History
Established in 1891, Lake George was originally a railroad stop for the Colorado Midland Railway, which completed in 1887. The manmade lake beside town, Lake George, was originally created to supply ice to the railroad. It freezes over the winter.
At the turn of the twentieth century, the population was around 30. After 1900 some area farmers began growing high-altitude potatos. This kept the economy going after the railroad was torn up. By 1941 there were 100 people living in Lake George, which had become a hub for potato growing.
Main Attractions
Eleven Mile Resrvoir – A short drive from town, Eleven mile offers camping, boating and fishing. There's also five miles of hiking trails around the lake.
Spinney Mountain Reservoir – Small than neighbor lake Eleven Mile, Spinney Mountain is another awesome place to cast a line.
Accommodations
Things To Do near Lake George, CO
Federal Lands:
Scenic Drives:
State Parks:
Towns:
Popular Posts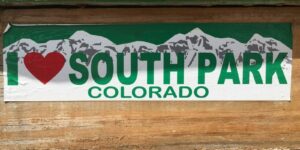 Lesser Known Aspects of the Small Towns in South Park, Colorado – South Park Colorado is a high alpine basin at 9,000+ feet elevation, nestled between a ring of tall mountain ranges. It's an expansive regional full of many colorful and authentic small…