Be in the center of it all, yet still, feel like a million miles away from everything when visiting the South Park area of Colorado. Fairplay is the basin's most populous town and offers the most in terms of amenities and accommodations.
You won't find any Marriotts or Comfort Inns in Fairplay, but you will find plenty of accommodations that offer unique charm and plenty of space to enjoy the outdoors. From dude ranches and glamping tents to haunted hotels and log cabin retreats, enjoy a true Colorado mountain experience and book your stay at one of these lodging options in Fairplay and the South Park towns of Alma, Hartsel, and Lake George.
Probably South Park's Best Places To Stay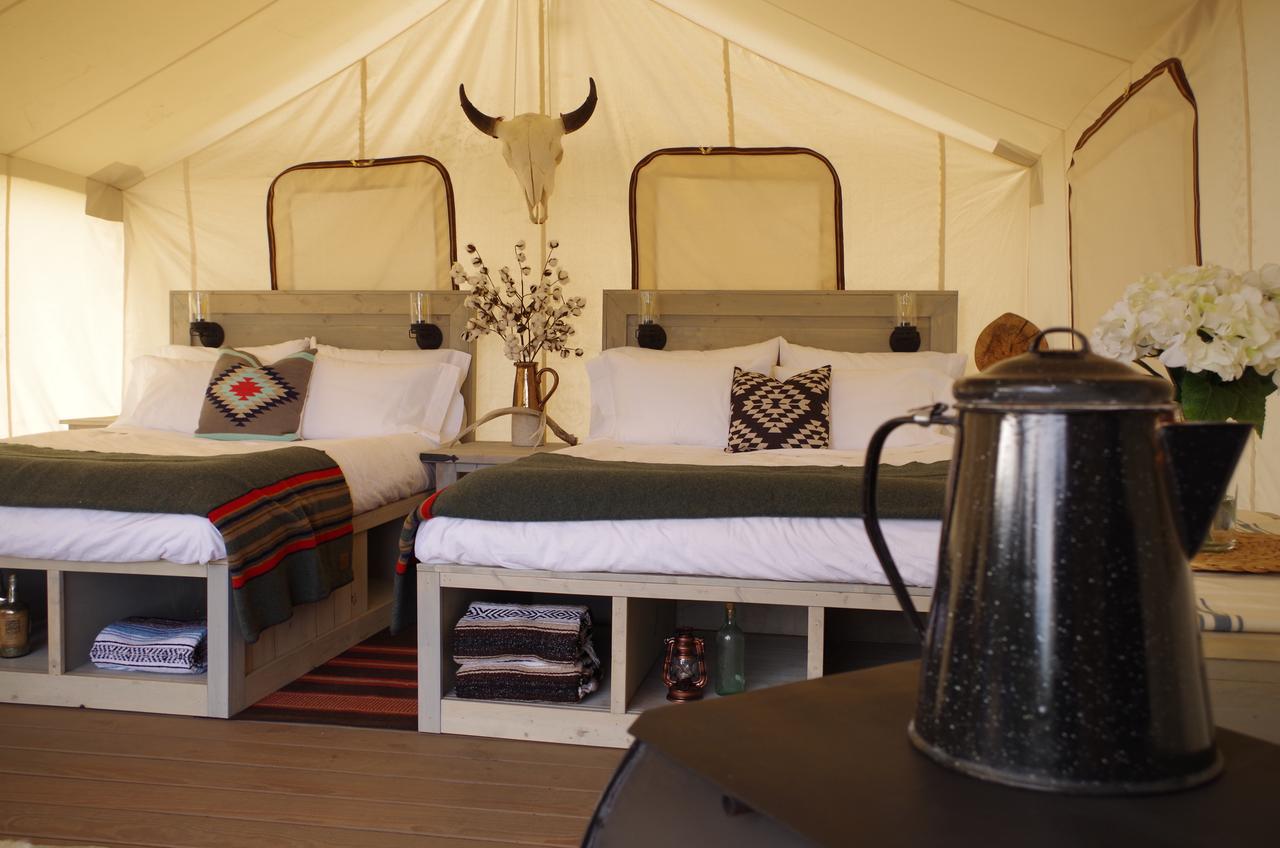 Surrounded by the majestic peaks of the Mosquito and Park mountain ranges and grounded by a colorful river valley, South Park seems to encompass all that there is to enjoy about the Centennial state. From scenic beauty and outdoor recreation to rich mining history and unique ghost towns, visitors can experience a little bit of everything.
Plus Fairplay and Alma make a convenient base for day tripping into Summit County, offering more affordable lodging for those looking to ski n Breckenridge.
This section contains referral links. If you click through and take action, we may receive a commission, at no additional cost to you. 
Here are our choices for the top hotels near Fairplay, CO, in no particular order:
LODGING IN FAIRPLAY
Riverside Inn Hotel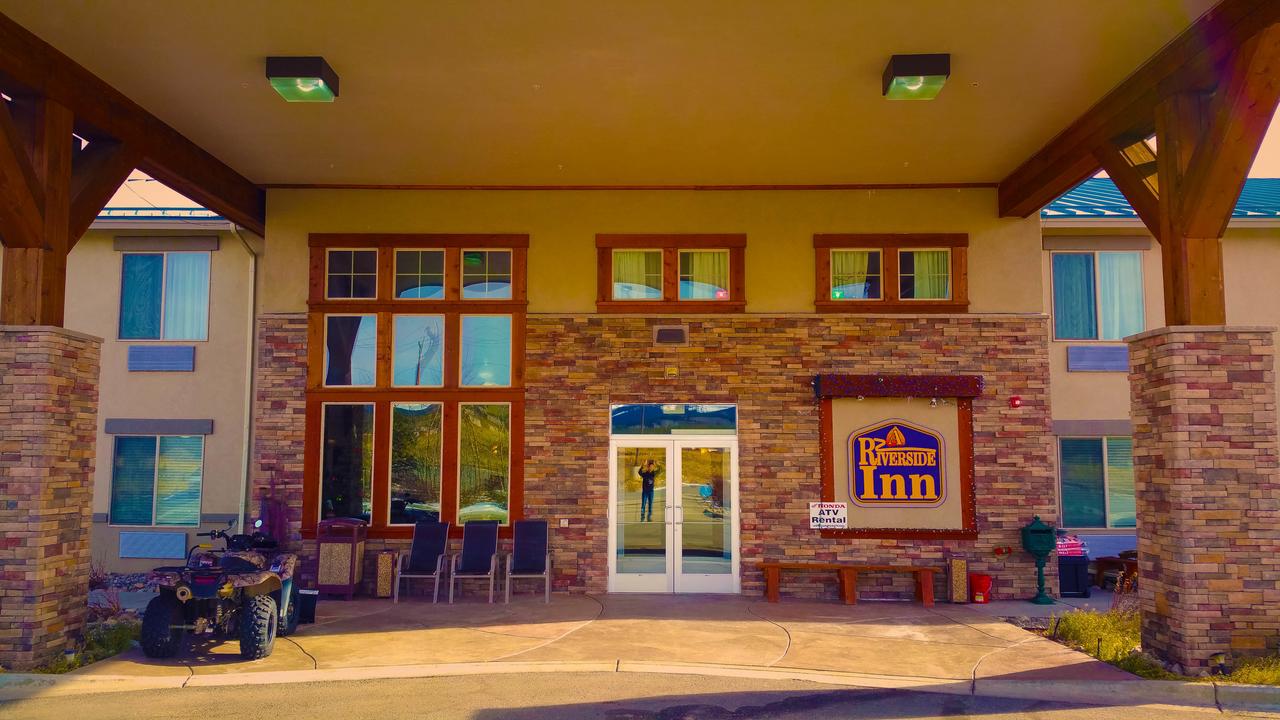 An affordable option with all the perks of a basic, modern hotel, the Riverside Inn Hotel is a great choice for one night and extended stays in Fairplay. Feel instantly warmed on a cold winter's day with their indoor fireplace and admire the mountain views as you make your way to your room.
While Fairplay is not a large town and is easy to get around, guests will enjoy the hotel's central location, close to all restaurants and other activities. The hotel also offers ATV rentals for those interested in exploring the area, most usually starting with Hoosier Pass nearby.
Amenities:
Complimentary continental breakfast
Mountain views
Plush linens
Convenient location
Business center & conference room
Free Wi-Fi
Guests can choose from rooms with a single Queen-size bed, two Queen-size beds, and one King-size bed. Every room is furnished with modern amenities, such as flat-screen T.V., free Wi-Fi, pillow-top beds, and comfortable oversized pillows. Upgrade your stay and book the Jacuzzi Spa Room, complete with all the basic amenities, including a mini-refrigerator, plus a whirlpool tub and custom shower. If you have larger groups staying together, they also provide adjoining rooms.
249 US Hwy 285, Fairplay, CO 80440 | 719-836-0600
Check prices, availability or book Riverside Inn Hotel
Hand Hotel Bed & Breakfast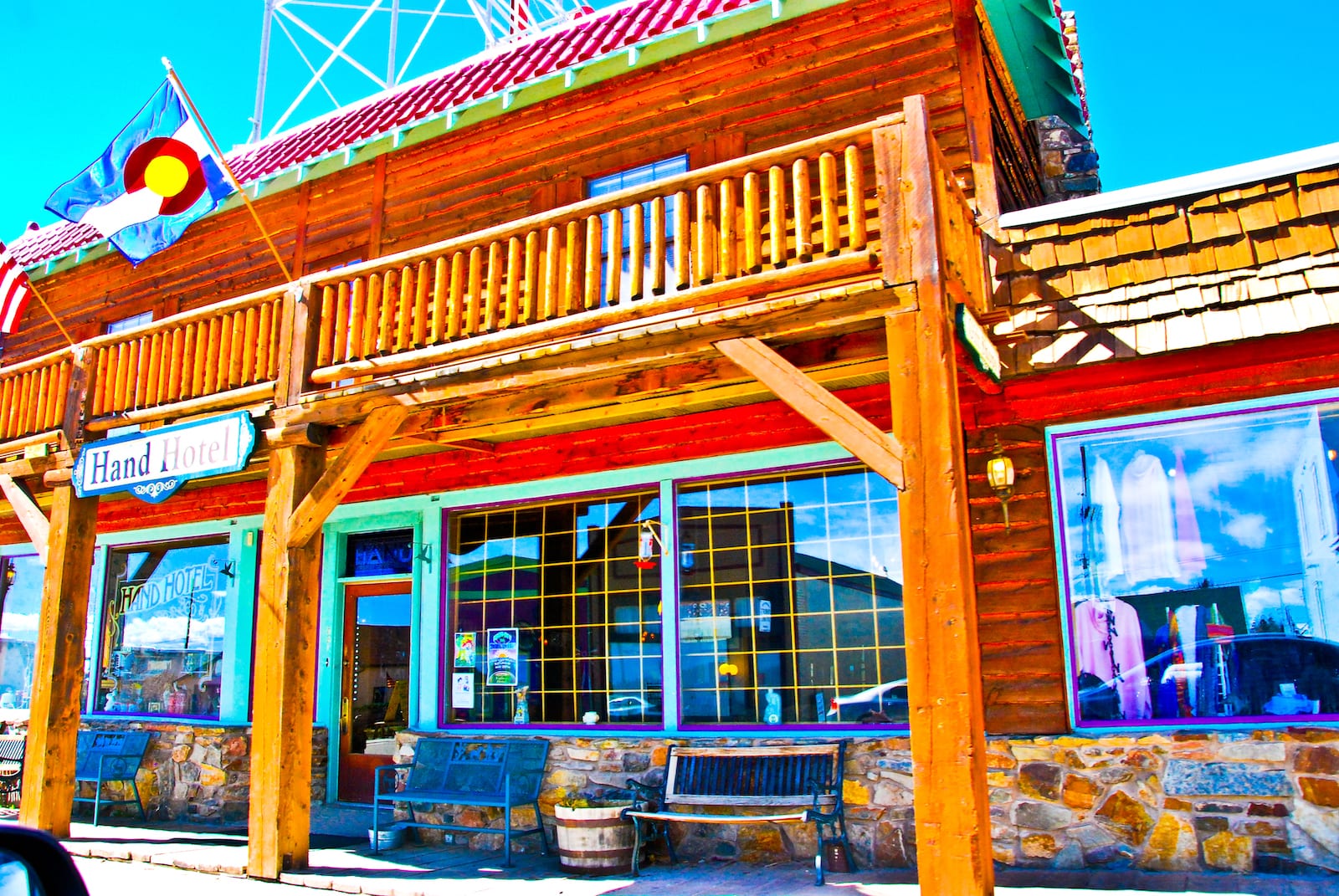 Overlooking the South Platte River on the edge of Fairplay, the historic Hand Hotel B&B offers a genuine western hospitality experience with a haunted twist. Built-in 1931, the historic hotel is a refurbished boarding house that seems to still carry its spirits of the past into the present, making for an unforgettable stay. Enjoy a complimentary breakfast as you enjoy the mountain views from their cozy sunroom before you start your day of adventures.
Amenities:
Free continental breakfast
Historic hotel
Mountain and river views
Pet-friendly rooms
Free Wi-Fi
Featuring 11 themed rooms, each is named after a local South Park legend or historical figure. Some say each of the rooms has its own friendly haunting spirit that greets guests during their stay. Rooms are cozy and each is outfitted with their own distinct décor and antique furnishings. Basic amenities include Wi-Fi, bathroom towels, and soaps.
531 Front St, Fairplay, CO 80440 | 719-836-3595
Check prices, availability or book by calling
American Safari Ranch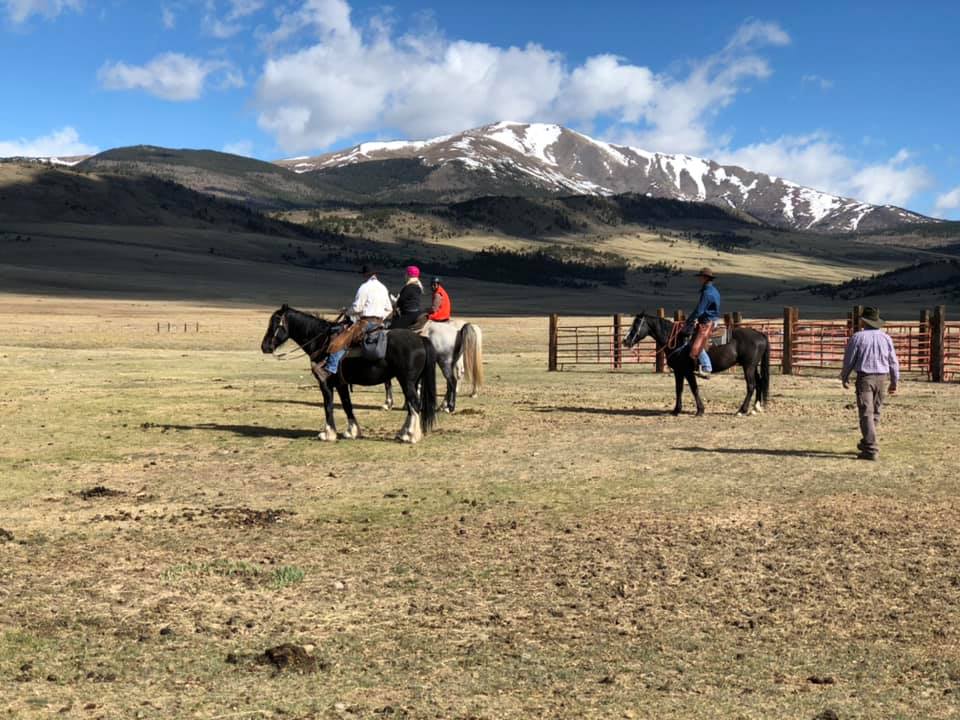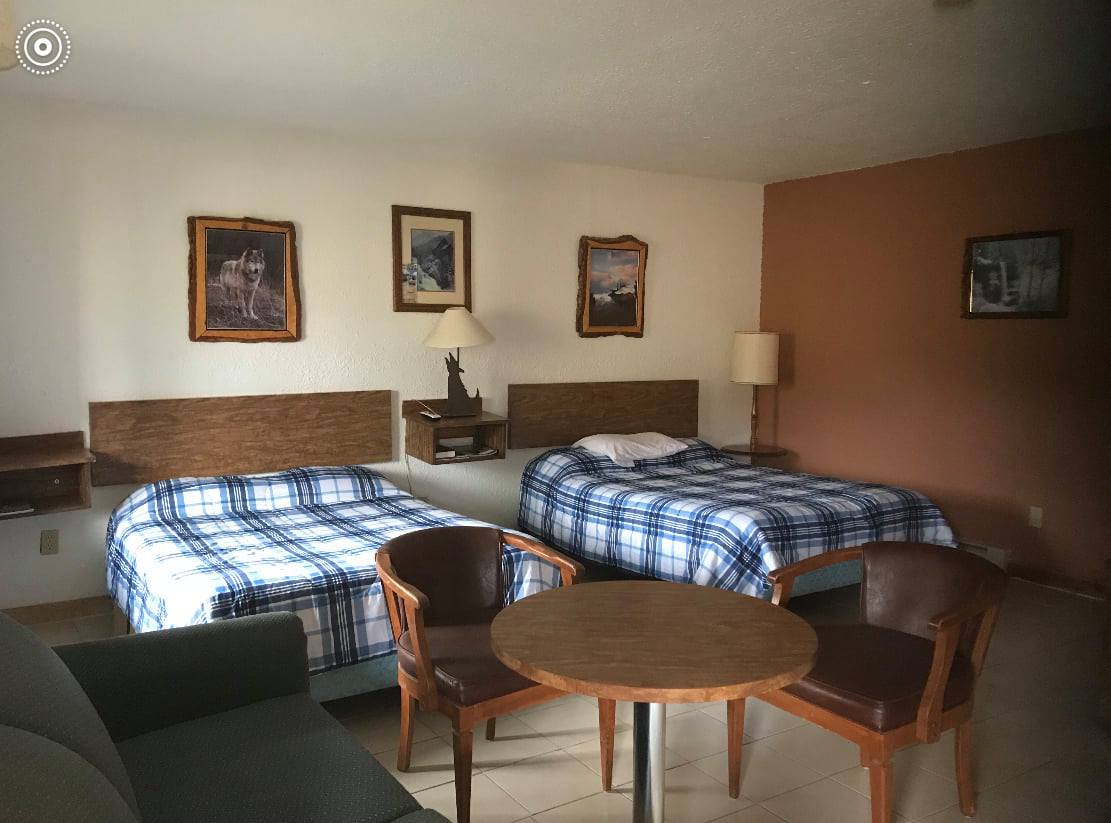 Live the authentic Colorado cowboy experience with a stay at the American Safari Ranch in Fairplay. Come with a large group or as a couple for a chance to live life on a ranch. The sprawling ranch offers plenty of space to explore, plus several lodging options if you wish to stay longer. And while the property is the premier Colorado horseback riding destination, guests can also enjoy big western cookouts and BBQs, ATV tours, and more.
Amenities:
Spacious ranch
Meals available for breakfast, lunch, dinner
ATV tours
Horseback riding tours
Choose from individual cabins or ranch-style lodge rooms. Each offers basic amenities and rustic mountain décor. The ranch-style lodge rooms come equipped with two Queen-size beds, perfect for a family of four.
The Western Inn Motel & RV Park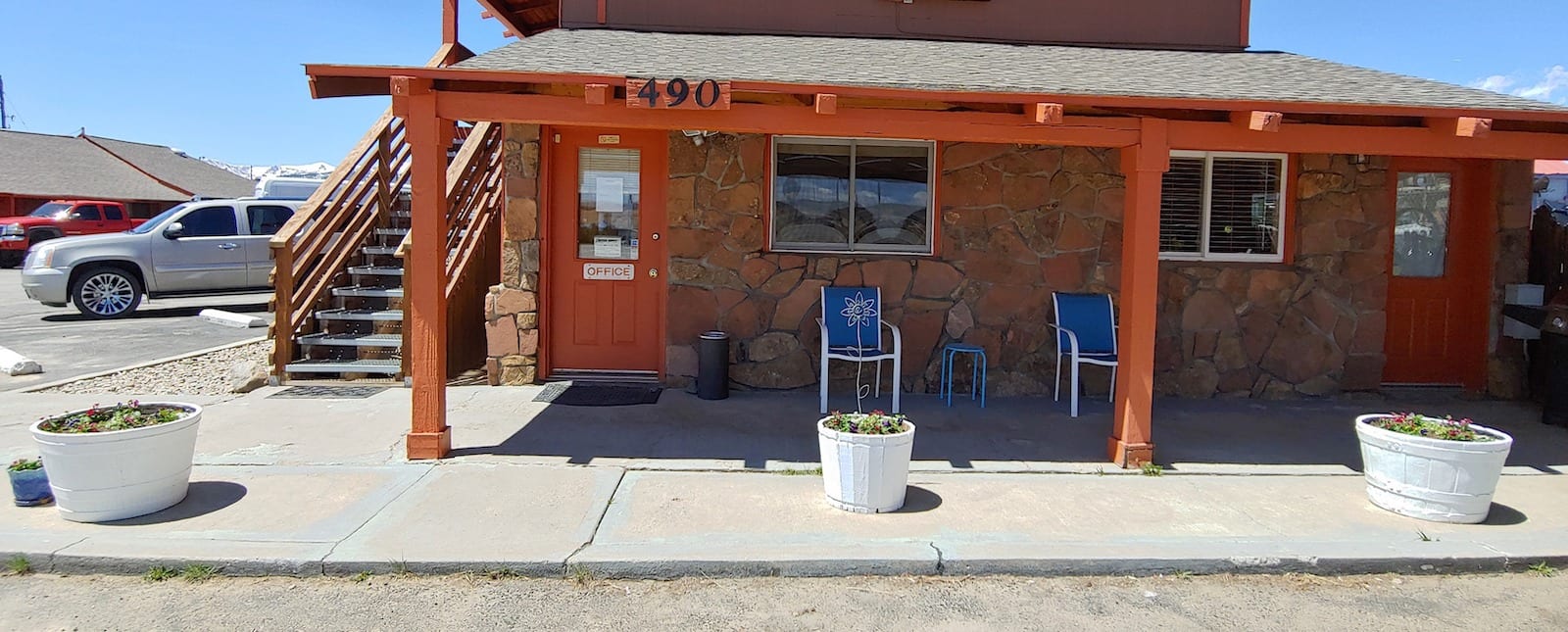 The no-frills Western Inn Motel is a reliable choice for those who just need to crash at night. It's easily accessed on Highway 285, a short walk to restaurants and Fairplay's historic downtown. Whether you're looking to visit Breckenridge Resort, 23 miles north, and save a few bucks on lodging, or discover the greater South Park region, this Western Inn Motel makes a fine base for both.
Amenities:
Continental breakfast
Hot tub
Wi-Fi
Motel-style rooms each come with a private bathroom, along with a television, phone, refrigerator, and microwave. Choose between the standard room with double beds, a kitchenette with a queen bed, or the bigger deluxe room, complete with a skylight, coffeemaker, and two queen-sized beds.
Each morning guests can fuel up at the continental breakfast, which features fresh coffee, juice, and rolls. There's a hot tub on-site with room for four.  Plus, pets are welcome with a very reasonable one-time fee and small refundable deposit.
LODGING IN HARTSEL
Hartsel Springs Lodge
If you are looking to explore all that Colorado has to offer, yet feel like you're miles away from it all, book a weekend getaway at the Hartsel Springs Lodge. Located in the town of Hartsel, about twenty minutes south of Fairplay, the Hartsel Springs Lodge is a 3,000-square-foot guest ranch that provides private access to horseback riding, fishing, and hiking adventures. Surrounded by wildlife areas, four mountain ranges, and near some of the best white water rafting, a variety of outdoor activities are all at your fingertips.
After your long day of adventures, cozy up to the fireplace at the lodge, have a relaxing meal in their dining room, catch a colorful sunset, or play some games in the Party Barn. The horse-friendly property encourages guests to bring their own horses for one-night stays or extended stays.
Amenities:
On-site dining
Private access to fishing, hiking, and horseback riding
Mountain views
Horse-friendly
Extended stays
The ranch offers six guest rooms in the main lodge, four cabins, and places for camping and RV parking. Each of the rooms in the main lodge either provides one Queen-size bed, one King-size bed, or a Queen-size bed plus pullout, sleeping up to four people. The cabins offer two bedrooms with a variety of sleeping configurations, a kitchen, a private bath, and a workspace.
24194 Co Rd 59, Hartsel, CO 80449 | 719-836-4473
Check prices, availability or book by calling
LODGING IN LAKE GEORGE
Tarryall River Ranch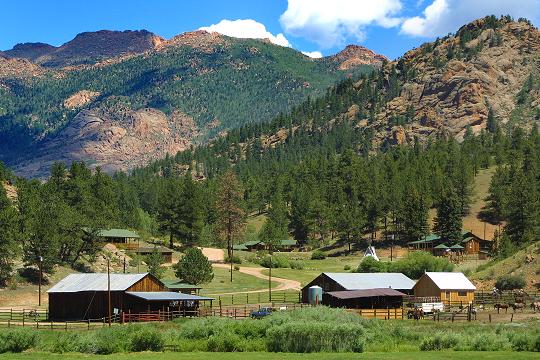 Experience life during the Old West at the Tarryall River Ranch in Lake George. While they offer exceptional lodging, the main attraction here is the recreational activities. Available May through September, bring the family for some horseback riding, fishing in the stocked Tarryall River, and games for the kids.
Designed to be a place for retreat and community, the ranch provides several common spaces, such as the Frontier Lodge. Built-in the early 1900s, the historic lodge includes a large common area, a community kitchen, a grand fireplace, and a large porch for taking in the mountain views around you.
Guests will also enjoy on-site family-style dining at the Waypoint Lodge. Dine indoors or outdoors and end the day gathered around the campfire on the scenic patio.
Amenities:
All-inclusive resort
Historic lodge
Pool and hot tub
Playground
Access to fishing, hiking, and trail rides
Petting zoo
Lodging options include several cabins and suites, each with comfortable beds, private baths, and a cozy living space with a warming fireplace. If you are staying a while, they also offer cabins with full kitchens. Cabins are updated with rustic mountain décor and are equipped with modern amenities to make your stay more comfortable.
27001.5 Co Rd 77, Lake George, CO 80827 | 800-408-8407
Check prices, availability or book Tarryall River Ranch
Mountain River Lodge
Resting on the edge of Lake George, the Mountain River Lodge is a luxury lodging experience in the heart of Colorado. The original property was an old motor court that was built in 1949, and with the 2016 renovations, guests can now enjoy luxury cabins, a historically preserved lodge, outdoor living areas, and access to some of the best fly fishing in the state.
Outdoor fun is right at your doorstep with proximity to the "Dream Stream" and a short drive to Eleven Mile State Park, plus next to miles of trails for hiking and biking.
Amenities:
On-site dining, complimentary breakfast
Mountain and lake views
Outdoor seating and fire pits
Convenient access to fishing, hiking, biking
Pet-friendly
Free Wi-Fi
Choose from cabins that accommodate couples, families, and larger groups. Each is a well-appointed space with all the updated luxuries, modern amenities, and chic mountain style that makes a stay here so special. In-room amenities include high-end linens, custom tile bathrooms, heated toilet seats, a mini-refrigerator, and microwave, plus in-room fly fishing rod holders.
8122 US-24, Lake George, CO 80827 | 719-748-1353
Check prices, availability or book Mountain River Lodge
Black Tree Resort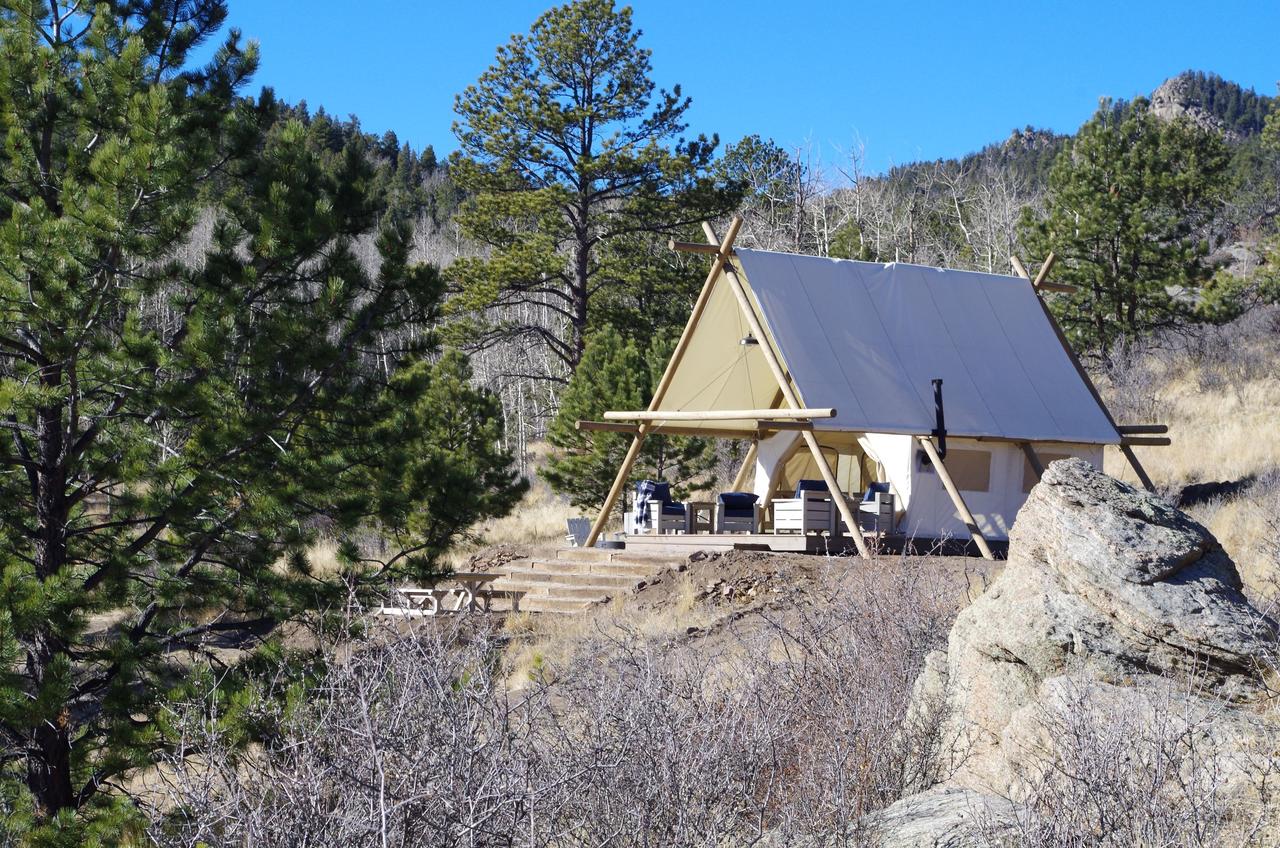 Find a bit of luxury amongst the rugged outdoors with a stay at the Black Tree Resort. Glamping at its finest, the Black Tree Resort offers gorgeous fully furnished wall tents spread throughout their sprawling property. With a focus on reconnecting to nature, they offer customized adventures for families, couples, and groups.
Enjoy convenient access to multiple outdoor activities such as hiking, biking, horseback riding, fishing, and more. And rest easy knowing a fresh Colorado cuisine is delivered for breakfast, lunch, and dinner.
Amenities:
Daily breakfast, lunch, dinner
Access to multiple outdoor activities
Luxury furnishings
Golf cart to get around camp
Outdoor seating and fire pits
Choose your outdoor experience by staying in one of their glamping tents, each perfectly spaced for your individual experience. Inside, guests will find hand-crafted furniture, two Queen-size beds, a dining table, a wood-burning stove, and a cozy Pendleton blanket. Outside, guests will find a covered deck with seating, a fire pit with Adirondack chairs, and your own golf cart to get around. Separate from each tent is a private bathroom with toiletries and key access.
8463 Co Rd 92, Lake George, CO 80827 | 719-748-0172
Check prices, availability or book Black Tree Resort
That's a round-up of the top hotels around Alma, Fairplay, Hartsel, and Lake George. Have a pleasant stay in sunny South Park!