Welcome to the city of parks, Thornton, Colorado! This northern metro city by Denver makes a great spot for those looking to make the most of the Mile High City while still being within an easy drive of Boulder, Fort Collins and Northern Colorado's recreation.
Thornton, CO is known for its 230 acres of preserved open spaces. Another thousand acres are allotted to developed parks and recreation areas. A fast-growing tourism spot, Thornton boasts of being a future-oriented city. If you're ready for an ecstatic Thornton adventure, we've complied the three top places where you can stay while in town.
Probably Thornton's Best Hotel Accommodations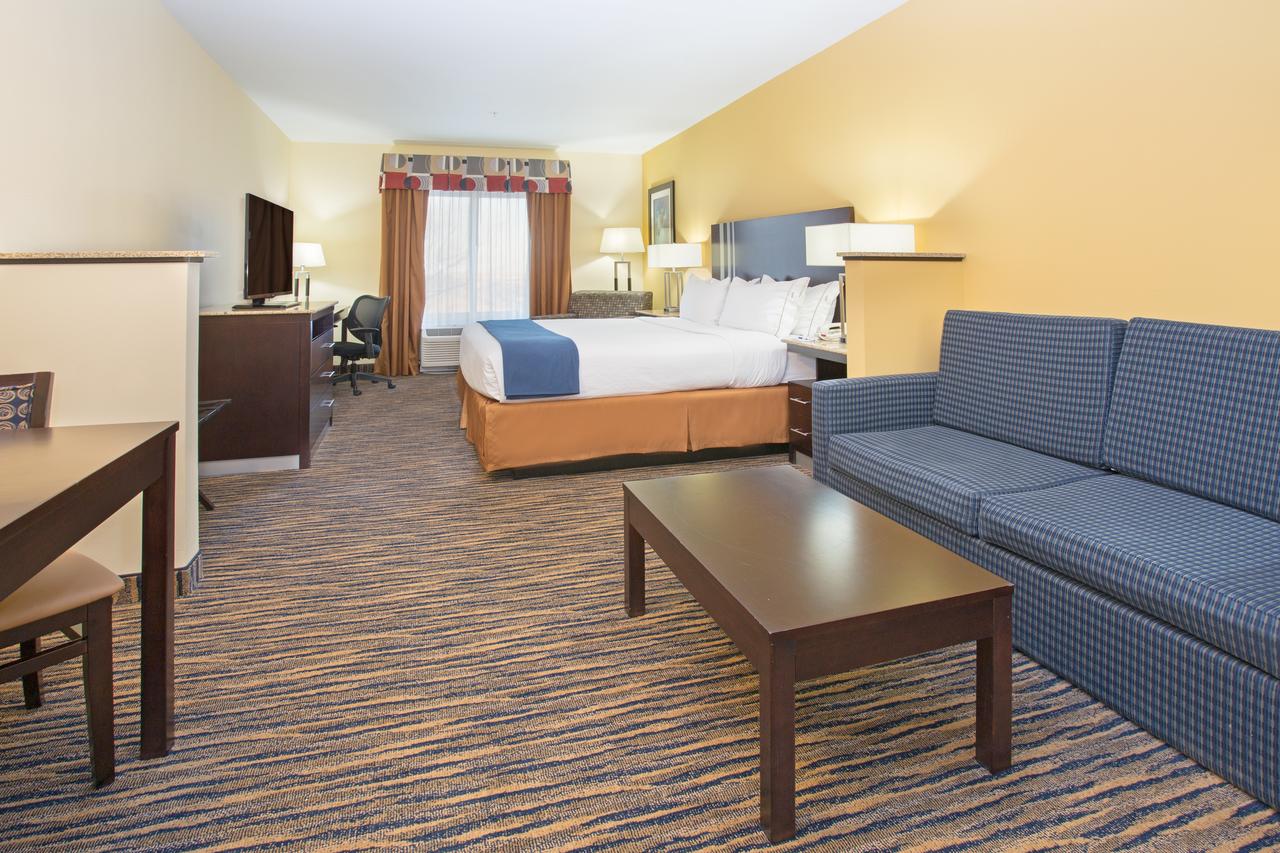 If you're a golf fan, you can check out the town's various golf courses including Todd Creek Golf Club and even a Springvale Park Disc Golf Course. For swimming and sports, the Carpenter Recreation Center has a wide array of courts and studios for sporting activities. They also have swimming pools and saunas.
To up the ante, you can check out Mid-Air Adventures—a 12,000 square foot obstacle course with giant swings, rock climbing, and indoor zip lines. This location is open to amateurs and beginners. The staff will be able to teach you how to traverse every course. They even have activities for kids!
This section contains referral links. If you click through and take action, we may receive a commission, at no additional cost to you. Rates listed below are subject to change.
Here are our choices for the top hotels in Thornton, CO, in no particular order:
DoubleTree by Hilton Hotel Denver – Thornton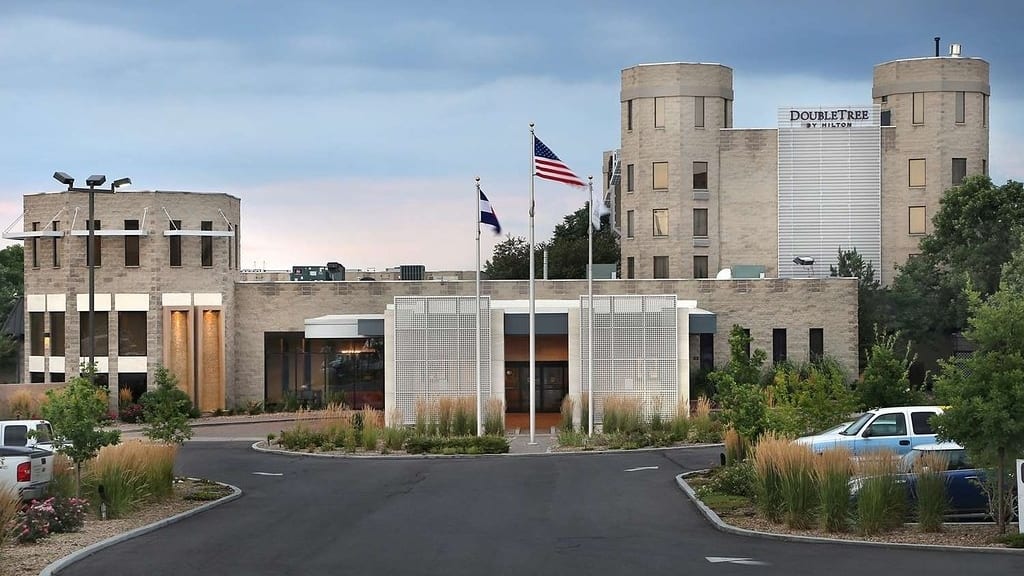 Boasting of deluxe amenities, DoubleTree by Hilton is arguably the best hotel in town. Creating a balance for business and leisure features, DoubleTree caters to all types of travelers. They also have an airport shuttle service.
Since the hotel is on the border of Denver and Thornton, there are a lot of places you can explore. The dramatic views of the Rockies can be seen from the suites. Plus the hotel itself is shaped like a bad ass castle. Who doesn't want to return to their castle gates each night.
The hotel's spacious rooms are also known for their modern aesthetic. In the rooms, you'd have everything you need for your stay, including comfortable beds, work areas, sitting areas, TV, microwaves, iPod docking station, private bathroom, and heating.
If you need to take a breather from your room, the hotel has many lounges, including their on-site bar where you can work and eat. For a more formal setting, the hotel has a 24-hour business area. They also have meeting rooms and conferences spaces. For relaxation and fitness, they have an indoor pool, a swimming pool, jacuzzi, and gym.
Holiday Inn Express & Suites Denver North Thornton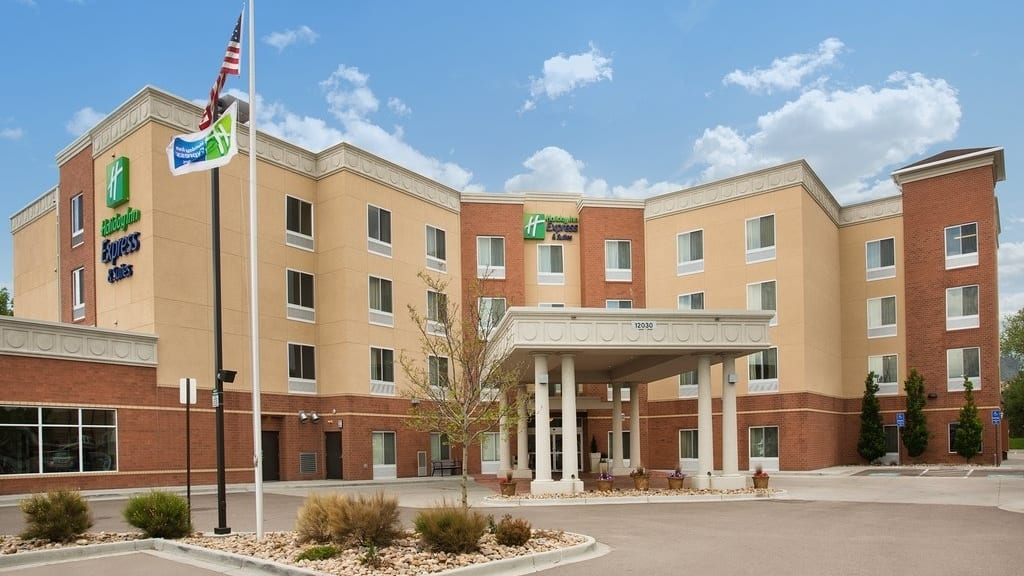 This charming accommodation offers the most flexible features and services in town. If you're checking in early, they can provide you with luggage storage as you spend your early hours touring the town. They also have 24-hour reception and express check-in/out.
The Holiday Inn Express has 85 spacious guest rooms, with various configurations. Whether you're backpacking solo, going on a romantic getaway, or touring Thornton with your family and friends, the hotel has different options for everyone. It also helps that the hotel is pet-friendly.
The rooms have a nice and clean finish, with minimal furnishings. Each room is equipped with high-speed WiFi, work desk, beds, and for larger suites, a separate space for the couch and dining area.
The other feature that most guests have loved about this hotel is the massive and delicious breakfast offerings. They have a buffet that includes fresh coffee, scrambled eggs, sausages, bacon, and more. There's also a kid-friendly menu.
This newly renovated property (2019) is also praised for its pool. Most hotels have smaller pools that just feel like a mandatory feature, but with Holiday Inn Express Thornton, it can be the highlight of your stay. They have an indoor pool, a heated pool (for those who just need a soaking experience), and whirlpool. For a clean, comfortable, and stress-free vacation, stay at a Holiday Inn Express!
Candlewood Suites Denver North – Thornton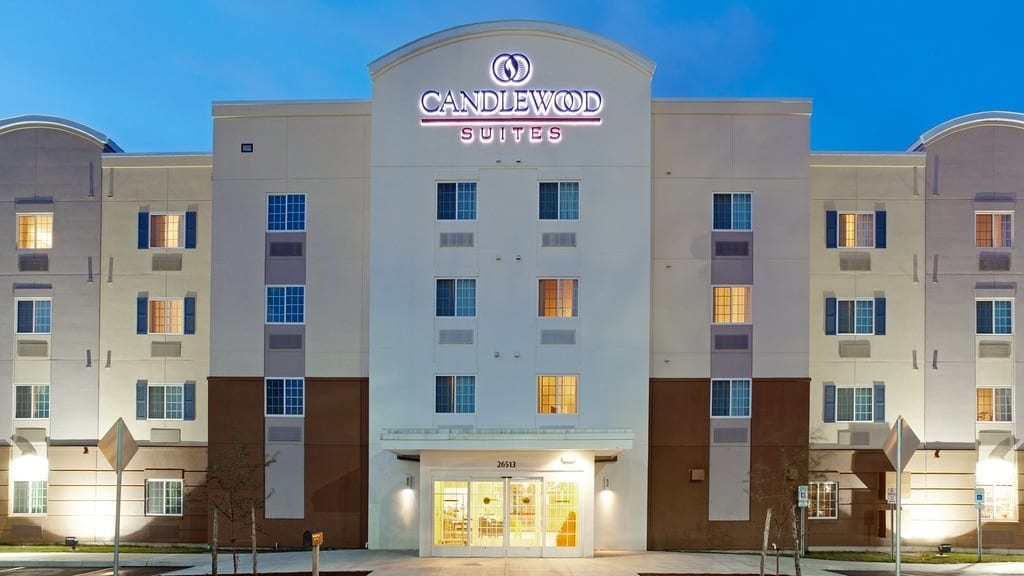 This 3-star accommodation is perfect for couples and families. If you're the type of traveler who prefers an apartment-type of setting where you can have a full kitchen, Candlewood Suites is the perfect place for you.
Not only is the property pet-friendly, but they also offer special discounts for military personnel and those who are booking for an extended stay. Since the property offers apartment-type suites, they have one of the most varied room options.
They have the budget-friendly standard rooms and studio suites. Each room has air conditioning, coffee/tea maker, desk, flat-panel TV, wired Internet and WiFi options, daily newspaper, telephone, kitchenette, and daily housekeeping.
The hotel has a nice neutral ambiance that makes it easy to feel at home. They also have wide-open areas throughout the hotel where you can play with your children, have a BBQ grill, and relax.
And just in case you forgot to pack a thing or two, the hotel also has very unique services like the Candlewood Cupboard® and the Lending Locker. In the Cupboard®, you'll have access to all types of breakfast items, beverages, frozen entrees that you can cook in your room. And all these come with "the honor system."
The Lending Locker is a feature that allows you to borrow anything. From board games to a blender, access everything you need without having to buy an emergency item that you will only use once. For a home-like experience, book at Candlewood Suites today!
Now that you've got the best picks of hotels, the next step is to plan your incredible Thornton retreat!