Nestled on the bank of the Arkansas River, the town of Salida is an outdoor enthusiast's paradise. The area offers a variety of historic and charming lodging options with everything from retro-style roadside motels to beautiful mountain chalets.
With access to the Collegiate Peaks, the roaring Arkansas River, and Browns Canyon, plus nearby Monarch Ski Resort, visitors have almost everything they need, no matter what time of year, for exploring some of the best of Colorado.
For those who enjoy a night out on the town or admiring art galleries, Salida is home to an impressive arts district and the largest downtown historic district in Colorado, with many shops, galleries, coffee shops, and restaurants. But Salida's charm doesn't stop there. So, start planning your mountain getaway today and book one of these hotels in Salida.
Probably Salida's Top Hotel Accommodations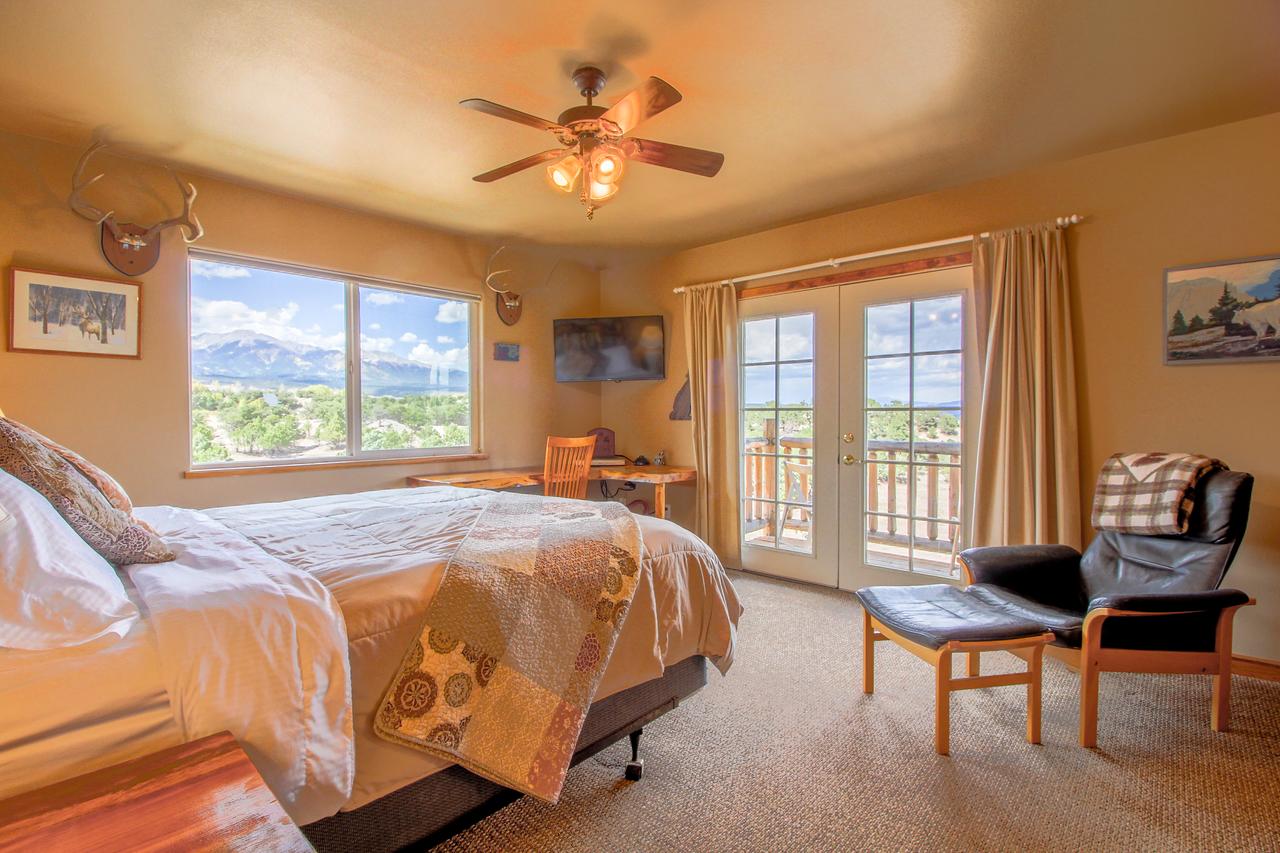 In the winter come ski the quiet slopes of Monarch Mountain Resort, located only twenty miles west of town on Monarch Pass. This resort features terrain for everybody at a much more reasonable price than the other big-name resorts.
Winter recreation like snowshoeing, cross-country skiing and snowmobiling within the San Isabel National Forest is available. In the summer there are more activities to discover in the wilderness surrounding Salida.
Salida is home to some great festivals, like the annual whitewater bash FIBArk in June. It's the oldest whitewater festival in the United States, so reserve your hotel well ahead of time. With the amazing Arkansas River right in the heart of downtown, you'll have fun just exploring the streets and enjoying recreation in town, or in nearly any direction from town.
This section contains referral links. If you click through and take action, we may receive a commission, at no additional cost to you. 
Here are our choices for the top hotels in Salida, CO, in no particular order:
Silver Ridge Lodge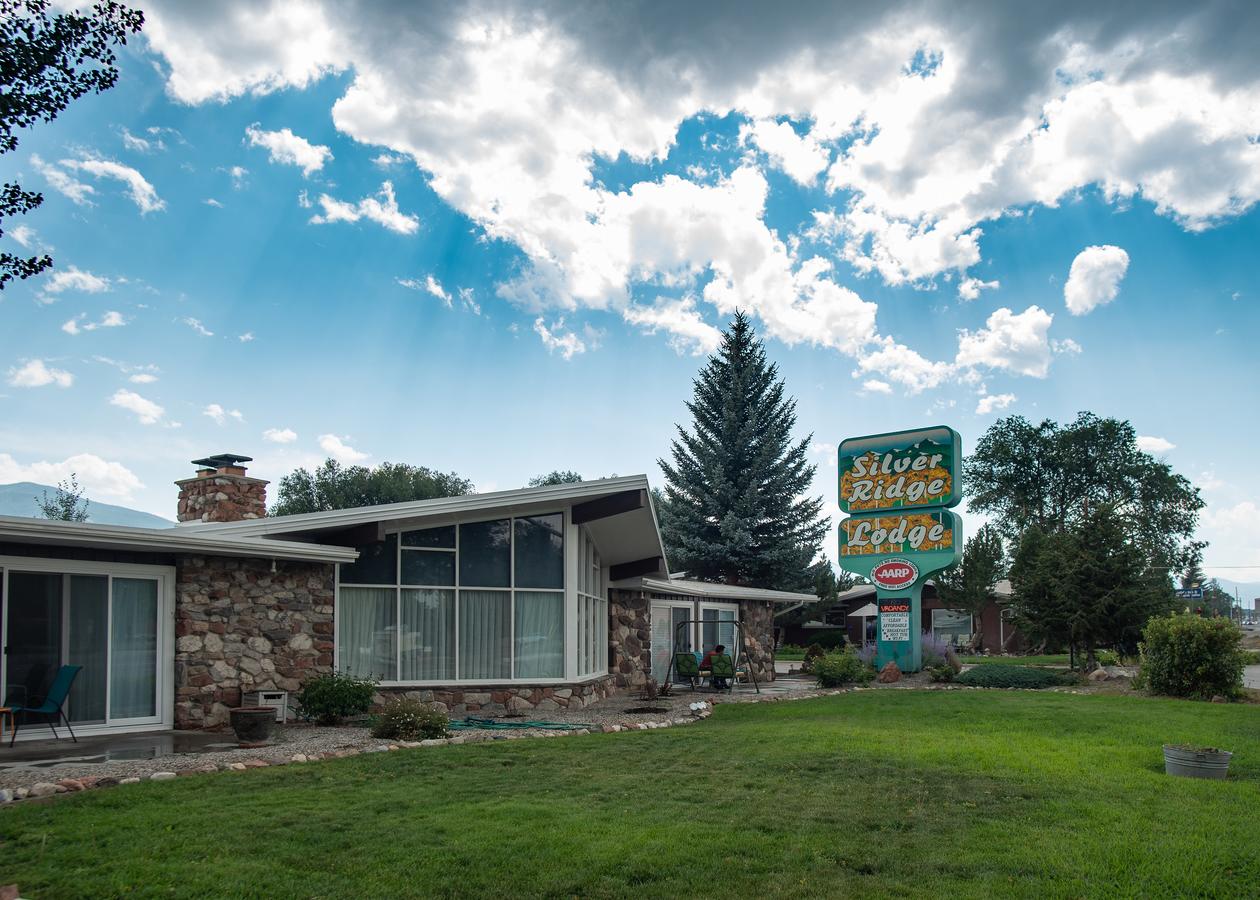 For the basics at a budget-friendly price check in to the Silver Ridge Lodge. Its unfussy rooms, reasonable rates, and central location make it a great choice when staying in Salida. Built-in the 1960s, the Silver Ridge Lodge provides a classic hotel setting with a fun and retro throwback to what travel was like 60 years ago. Relax after a long day in their outdoor hot tub or enjoy a sunset on their rooftop sundeck.
Amenities:
Free continental breakfast
Outdoor hot tub
Outdoor garden sitting area
Rooftop sundeck with 360-degree mountain views
Free Wi-Fi
Choose from three room types, one Queen, two Queen, or one King, plus five larger suites. All guests will enjoy free Wi-Fi, microwave, refrigerator, and cable T.V. in each of the rooms and suites. The suites provide a little extra legroom with a seating area, sofa, and additional sleeping accommodations for up to six people.
Unique features include floor-to-ceiling windows, accent stone walls, and retro-style details from its 1960s design.
545 W Rainbow Blvd, Salida, CO 81201 | 719-539-2553
Check prices, availability or book Silver Ridge Lodge
Browns Canyon Inn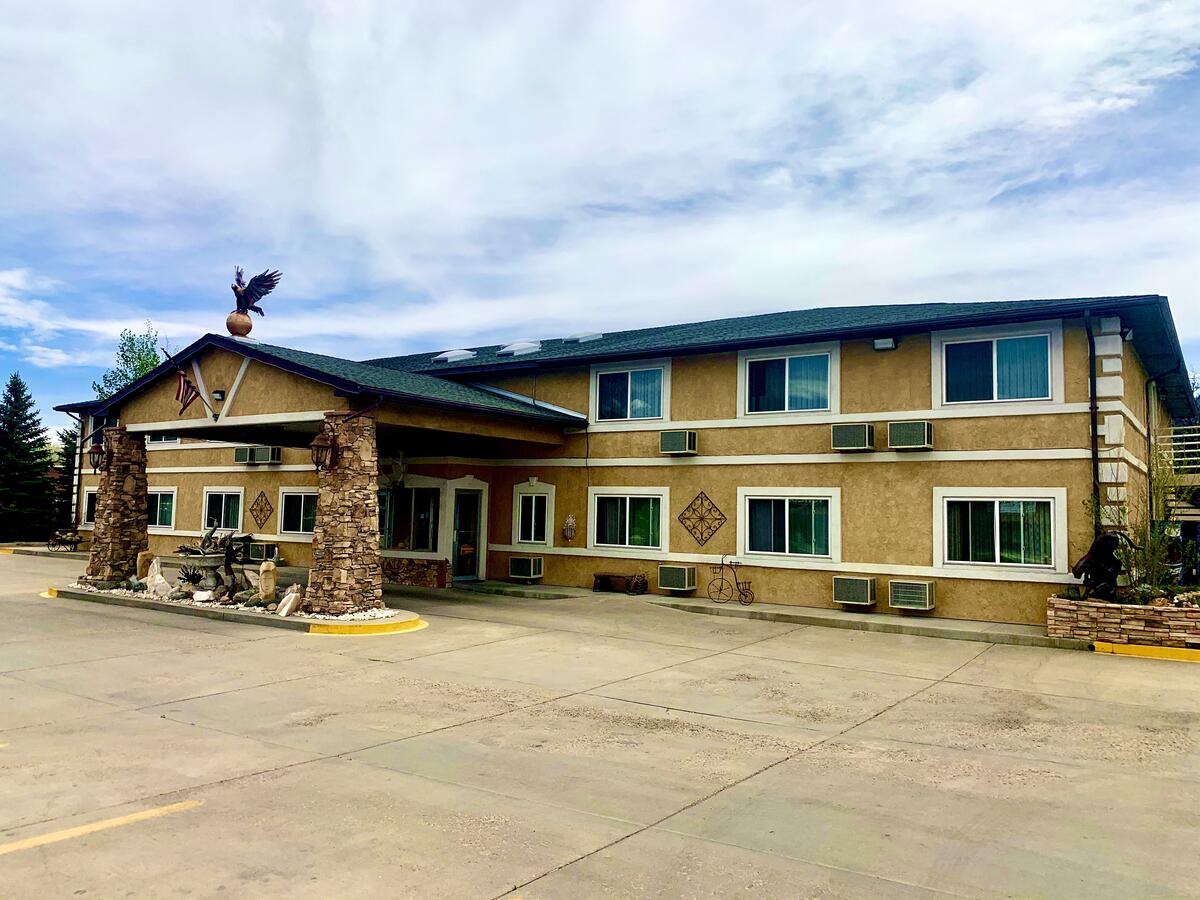 For another budget-friendly option in a convenient location along HWY 50, Browns Canyon Inn is a great choice. But this isn't just another hotel in Salida. Its unique décor is what sets it apart from the others in town.
From the decadent lobby to the artful walls in each of the rooms, you won't find accommodations like these anywhere else. Beautiful woodwork, painted mountain scapes on the wall, and delightful mountain décor make this one of the best hotels in Salida.
Amenities:
Free continental breakfast
Outdoor hot tub with pergola
Limited pet-friendly rooms
Free Wi-Fi
Guests can choose from one or two Queen bed accommodations. Each features your basic modern amenities, including a coffee maker, free Wi-Fi, flat-screen T.V., and a mini-refrigerator. But the best room features are the lovely painted artwork on the walls and the intricate woodwork details that provide a cozy mountain atmosphere.
407 US-50, Salida, CO 81201 | 719-539-6651
Check prices, availability or book Browns Canyon Inn
Salida Inn & Monarch Suites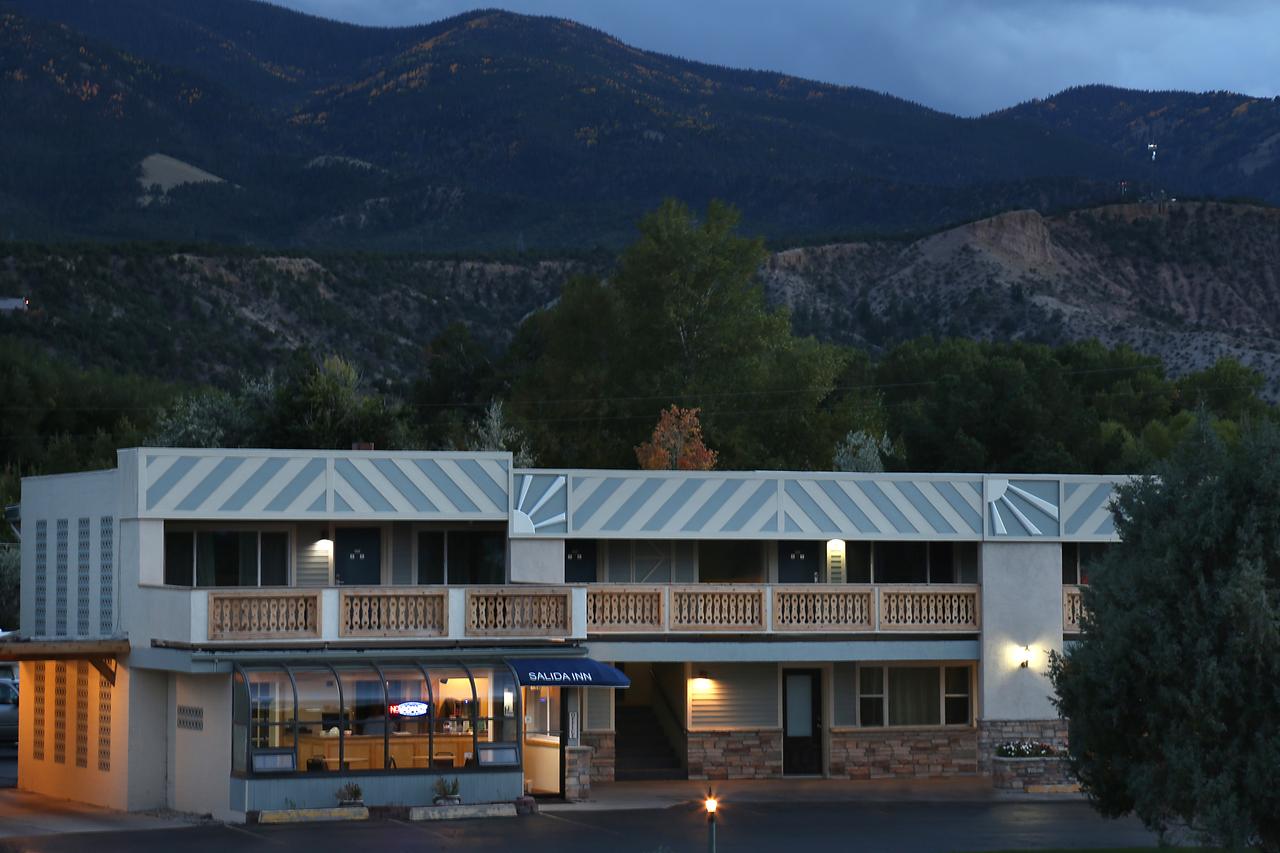 Salida Inn & Monarch Suites is a 1960s-inspired roadside motel that offers a glimpse into the past with updated modern features. The hotel's recent renovations combine today's modern designs with earthly touches that make for a comfortable and delightful stay. Enjoy its accessible location along HWY 50, across from the Salida Hot Springs Aquatic Center.
Amenities:
Free continental breakfast
Outdoor hot springs hot tub
Outdoor pool with mountain views
Outdoor BBQ, fire pits, and garden area
Complimentary cruiser bikes
Pet-friendly
Free Wi-Fi
Enjoy updated, clean and modern rooms that offer just enough space to rest and relax. Choose from a variety of accommodations including, Queen and King options, two mini-suites, a deluxe Queen or King cottage, and a two-bedroom family cottage. Mini suites feature additional space with a sofa seating area, large refrigerators, and a desk/workstation. Cottages feature a fireplace, a full kitchen, and separate bedroom areas.
7310 West Us Highway 50, W Rainbow Blvd, Salida, CO 81201 | 719-539-2528
Check prices, availability or book Salida Inn & Monarch Suites
Manhattan Hotel Salida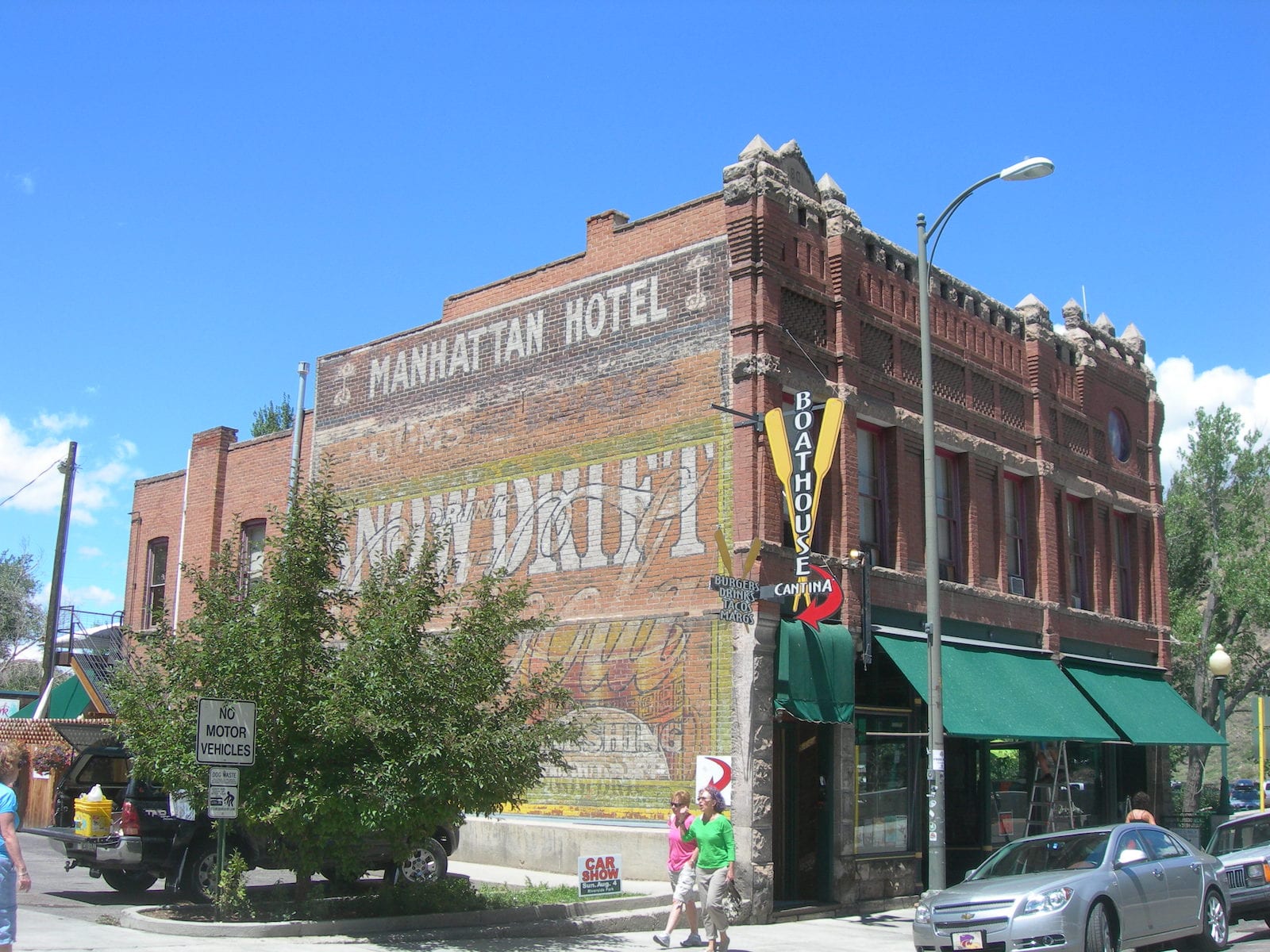 Located in downtown Salida, the Manhatten Hotel Salida is the only boutique hotel located on the bank of the Arkansas River. Established in 1900, its historic nature is part of its charm and what makes a stay here so special. The hotel rests on the second floor above the Boathouse Cantina Restaurant, overlooking the river.
Similar to a VRBO, they offer a virtual check-in/check-out process, making arriving and leaving a breeze. Breathe in fresh mountain air from your private balcony or enjoy colorful sunsets from the rooftop hot tub and sauna deck. Enjoy walking to local restaurants, art galleries, and shops – all just a stone's throw away.
Amenities:
Spa deck with hot tub and sauna
Downtown location
River and park views
Virtual check-in/check-out
Free Wi-Fi
The hotel offers six distinct guest rooms, five with two Queen beds, and one King suite. Each room features unique details such as exposed brick walls, colorful modern furniture, large windows, some with private balconies, and beautiful views.
Blue Coyote Ranch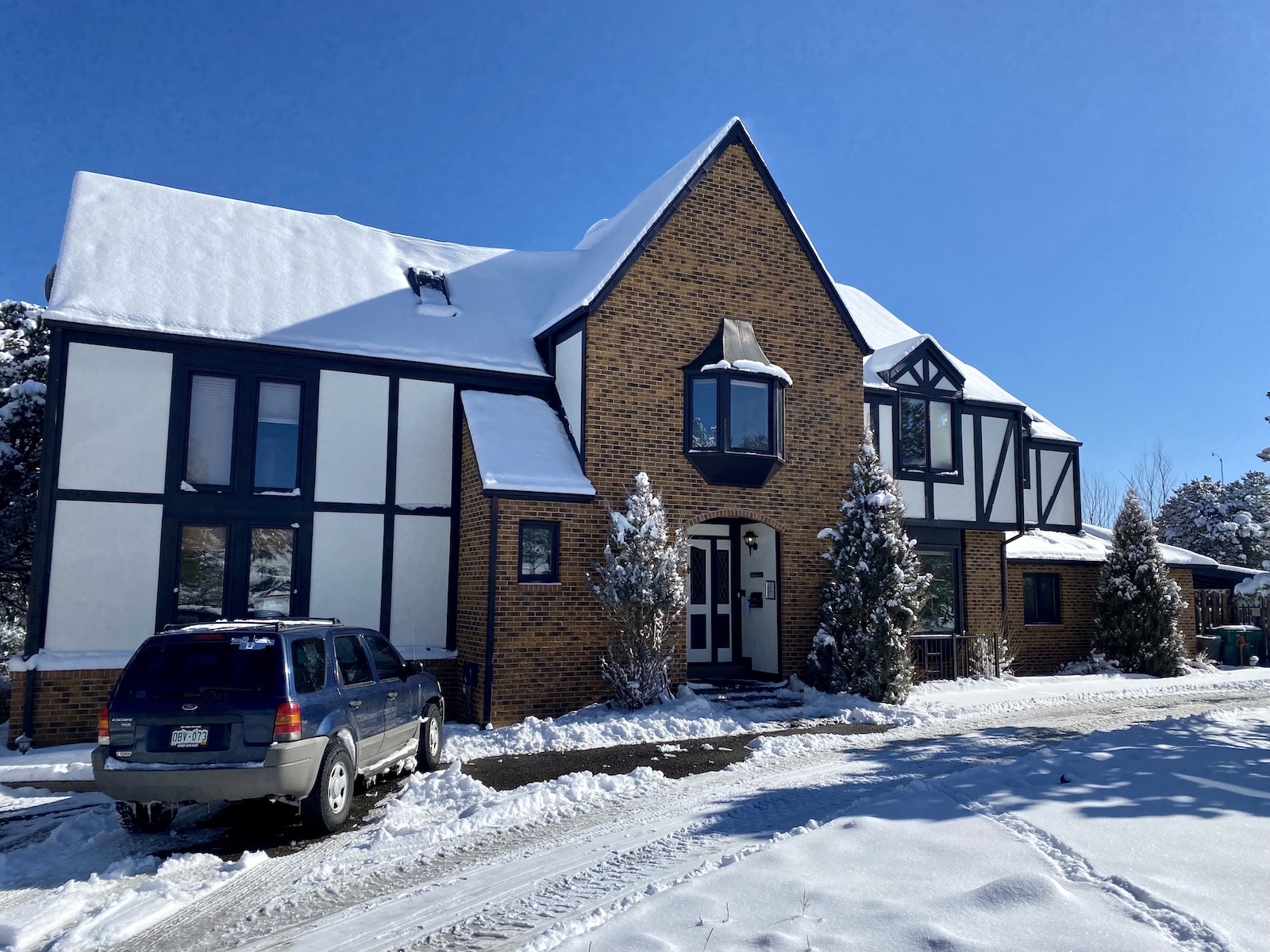 Sitting on 33 acres of pristine piñon pine forest and pasturelands, Blue Coyote Ranch is the perfect place to relax and enjoy the outdoors. The property has hotel-style rooms in the inn as well as cabin rentals – all units are within walking distance of one another and perfect for group getaways. Only 5 minutes from downtown Salida, you're just a quick trip from restaurants, shops, and activities.
Blue Coyote Ranch uses a self-service model, which is a hybrid of a vacation rental and hotel. Although the property does not have a traditional front desk, caretakers and owners live on-site and are always available for the needs of guests.
A unique amenity they offer is an on-site horse stable for those traveling with horses. Enjoy access to the barn with box stalls, a fenced-in area for security, and two pastures for exploring.
Amenities:
Outdoor deck with hot tub for inn guests
Communal extra large propane fire pit
Mountain views
Private mountain estate
On-site horse stables
Pet-friendly in cabins
Free Wi-Fi
The Inn at Blue Coyote Ranch is a Tudor-style mansion and features large indoor and outdoor common areas. Enjoy in-room amenities such as electric fireplaces, hot tubs, mountain views, mini-refrigerators, flat-screen T.V.s, and more.
The cabins sleep up to six people and feature two baths, a warming fireplace, mountain views, a great room with vaulted ceilings, and a full kitchen. The cabins are a short walk from the Inn.
6720 Paradise Acres Rd, Salida, CO 81201 | 719-539-2002
Check prices, availability or book Blue Coyote Ranch
Mountain Motel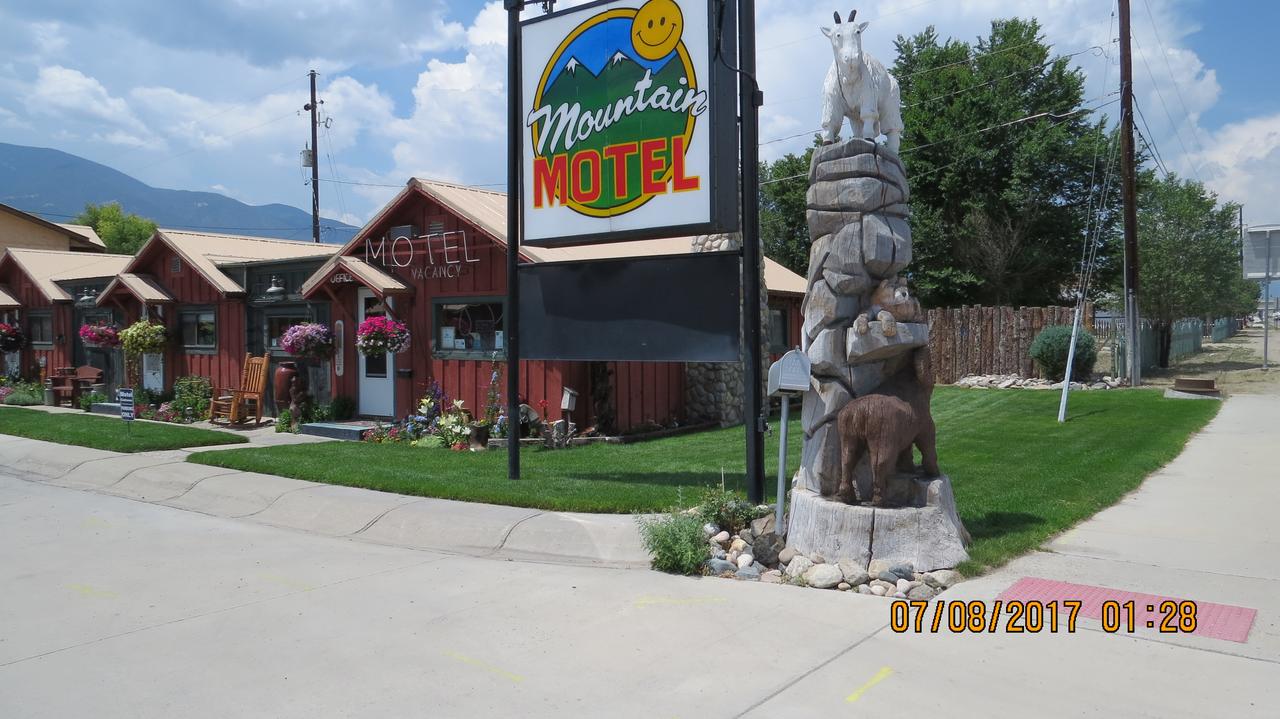 For fun and quirky at a reasonable rate, the memorable Mountain Motel is a great choice. The locally family-owned Mountain Motel has been in operation since 1947, as an iconic roadside motel. Providing affordable mountain lodging in Salida, the newly renovated motel features a mountain retro style with unique furniture, fixtures, and décor.
Amenities:
Private balconies available
Historic hotel
Common lounge area
Scenic views
Pet-friendly
Free Wi-Fi
While the motel offers modern amenities, its style certainly is anything but, with details and features reminiscent of lodging dating back to the 1950s and 1960s. Choose from three different cottages, five rooms, and one studio.
All rooms include flat-screen TVs, a refrigerator, microwave, flatware, luxurious linens, a full kitchen or kitchenette, and mountain views. Be sure to ask about accommodations that include an outdoor private balcony.
1425 E Rainbow Blvd, Salida, CO 81201 | 719-539-4420
Check prices, availability or book Mountain Motel
Amigo Motor Lodge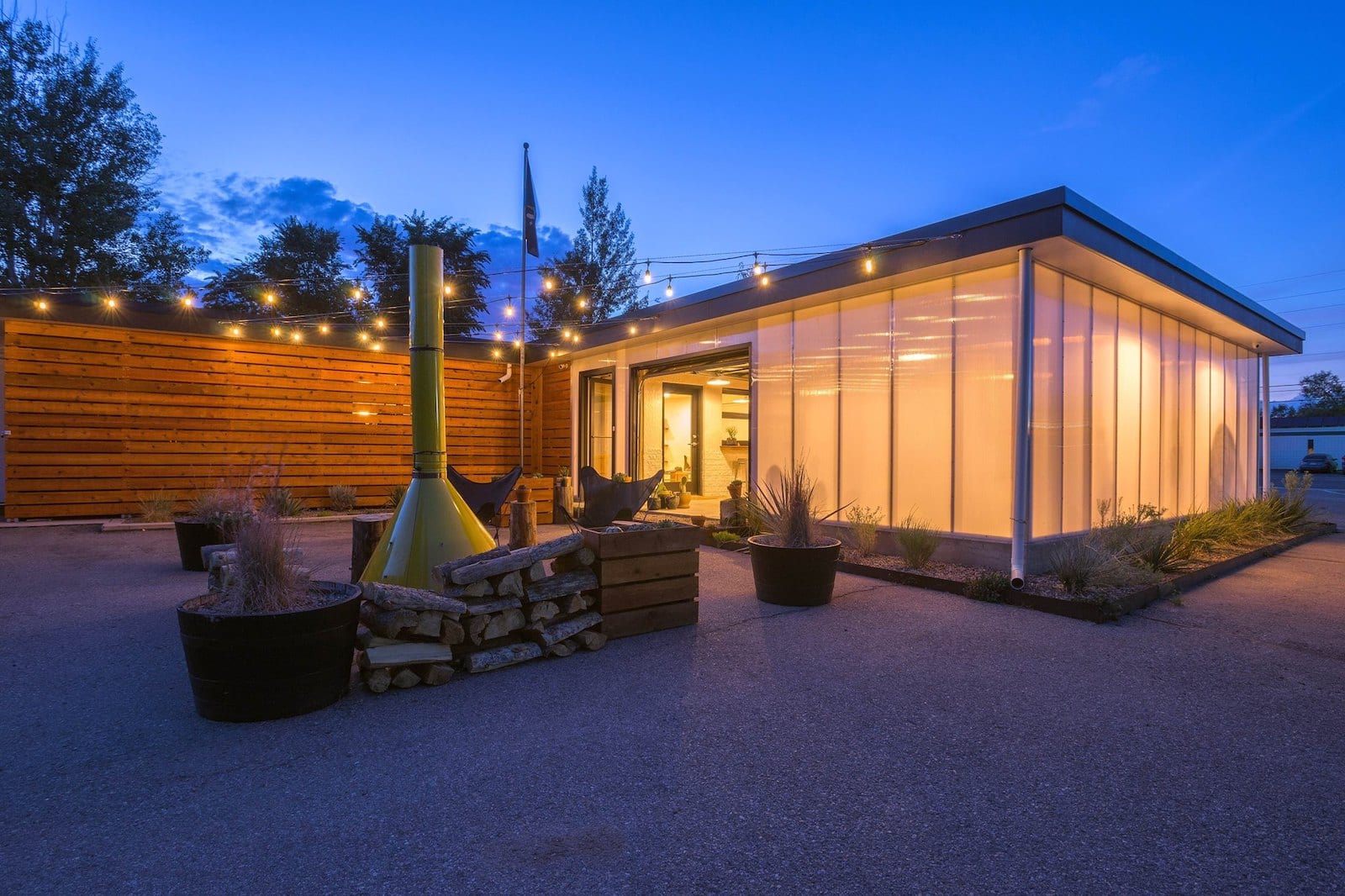 Modern, bright, and luxurious describe the elevated motel experience at the Amigo Motor Lodge. Don't let the description of "motor lodge" sway you. The 50s motel rooms and property lend themselves to a sublime experience.
Luxury features include Tuft and Needle mattresses, Baltic birch bed frames, concrete countertops, and unique art and furnishings that make your stay an Instagramable moment.
Amenities:
One mile from downtown Salida
Newly renovated rooms
Outdoor patio with chiminea
Pet-friendly
Free Wi-Fi
Guests can choose from their basic rooms including a jing, double queen, and a deluxe jing room. Or for those who are looking for a truly unique experience book one of the airstreams. Choose from larger ones with queen-size beds, bunks, and large dinettes. The smaller airstreams feature a queen-size bed, dining nook, and one with a private deck. Each of the airstreams uses shared bathrooms.
7350 US-50, Salida, CO 81201 | 719-539-6733
Check prices, availability or book Amigo Motor Lodge
Mountain Goat Lodge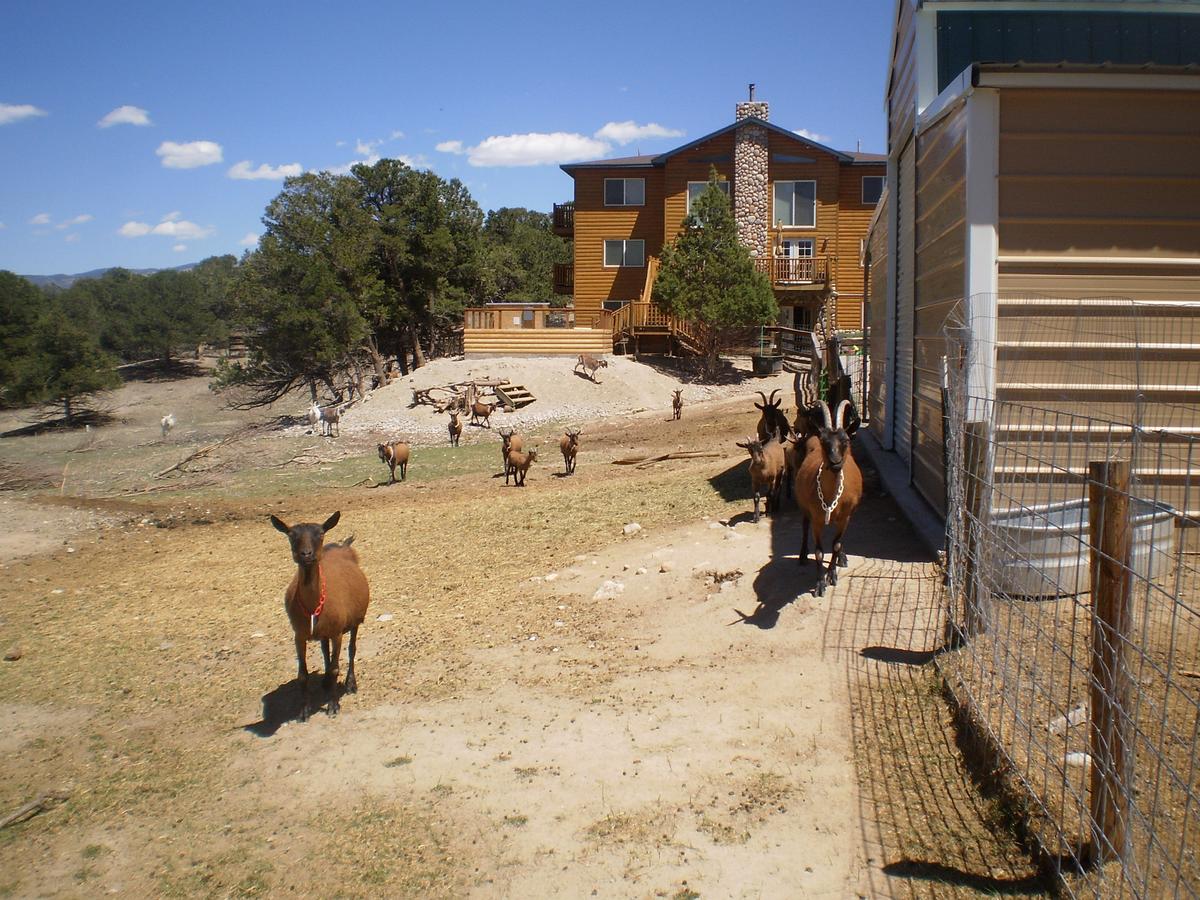 Located six miles from downtown Salida, off HWY 285, the Mountain Goat Lodge is the ideal mountain escape. Nestled within 20 acres of expansive pastures and a working farm, at the base of the stunning Sawatch Mountain Range, guests not only enjoy beautiful views but the benefits of the local farm.
Guests can visit the resident goats that wander the property, which provide them with the milk, yogurt, and cheese they use for their daily homemade breakfast. The breakfast is made fresh daily using farm-fresh eggs, fresh goat milk, and cheeses, all to start your day off right!
Guests can take a tour of the farm for a chance to meet the goats and learn about the farm's operations. Plus, be sure to sign up for their goat yoga classes or one of their cheese-making classes for a truly unique experience.
Amenities:
Fresh daily breakfast
Spacious property
Farm tours
Mountain views
On-site farm store
Pet-friendly
Free Wi-Fi
Each of their cozy rooms features its own private balcony with mountain views, flat-screen T.V.s, a mini-refrigerator, fluffy bathrobes, and a rustic King-size bed. For something a little different, book their vintage two-bedroom trailer home, a retro-style camper, or one of the tipis. And for those who want to stay in town, they offer a charming one-bedroom condo in downtown Salida.
9582 US Hwy 285, Salida, CO 81201 | 719-539-7173
Check prices, availability or book Mountain Goat Lodge
Thomas House Bed & Breakfast
For a cozy and comfortable bed and breakfast in the center of town, book your stay at the Thomas House B&B. Since 1992, the Thomas House, an 1880s railroad boarding house, has provided guests with relaxed surroundings and warm hospitality.
The house is decorated from floor to ceiling with historic memorabilia, quilted accents, and antique furnishings. The daily breakfast is served in the common dining area and always features homemade muffins, eggs, bacon, warm waffles, plus biscuits and gravy.
Amenities:
Excellent location
Daily breakfast in the dining area
Historic property
Outdoor hot tub
Free Wi-Fi
Each room in the house comes with a private bathroom, daily breakfast, basic modern amenities, and its own distinct décor. Choose from several suites and rooms, plus the spacious Buffalo Peaks Cottage, complete with a custom king-size bed, full kitchen, and plenty of room to spare. The two rooms share a common sitting area with a kitchen with one of the other suites.
Circle R Motel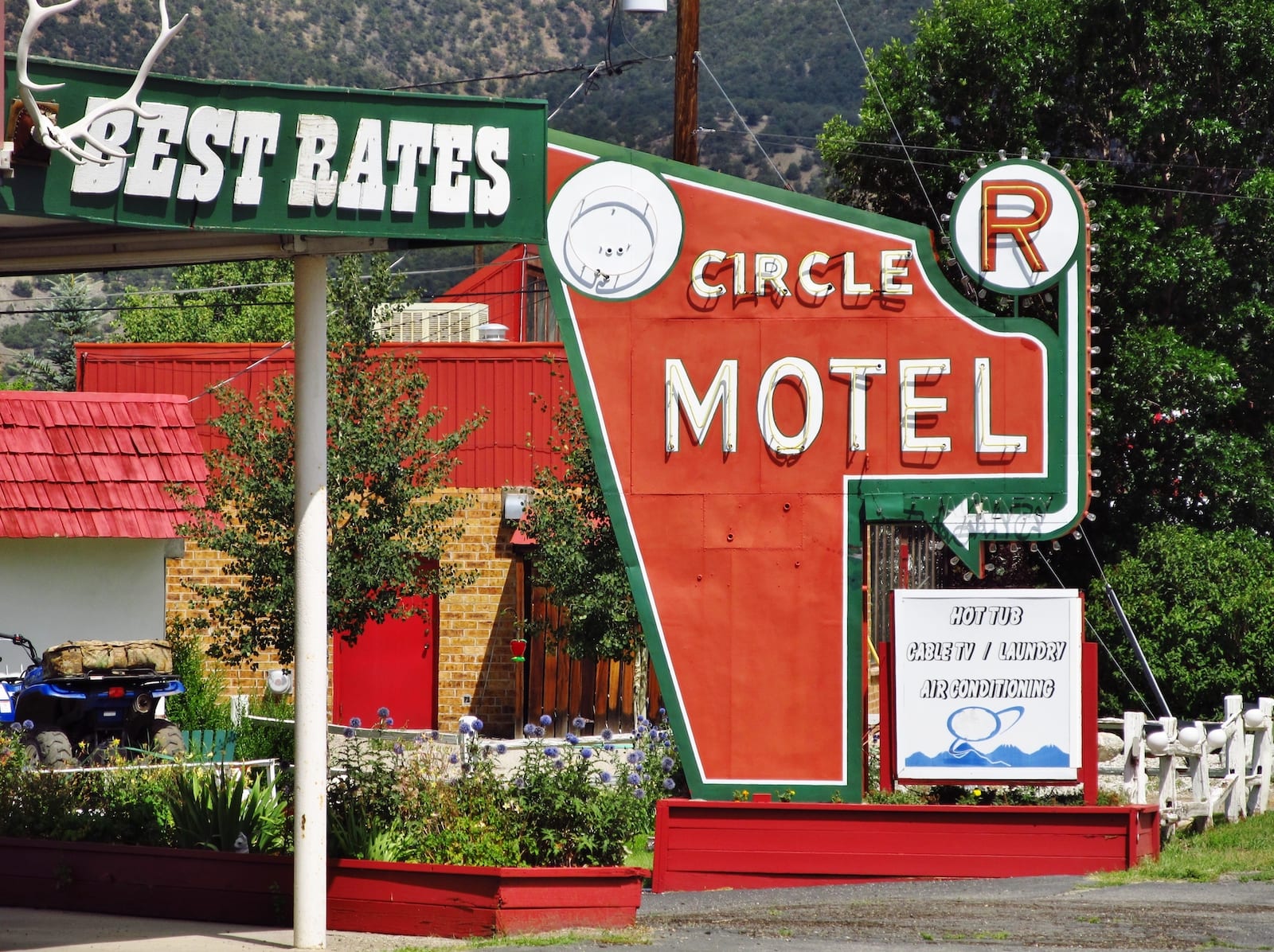 Feel like you've stepped back in time with the 1950s-inspired motel, the Circle R Motel. This mid-century charmer has been brought back to life with its recent renovations in 2016. Its Art Deco charm can be seen from the roadside with its large sign, nostalgic gas-pump stations (used now as electric car chargers), and inside with the vintage car front desk.
Amenities:
Convenient location
Organic coffee and grab 'n' go breakfast
Free electric car charging station
Outdoor hot tub with pergola
Dog-friendly rooms (upon request)
Free Wi-Fi
Comfortable rooms at an affordable price, guests can choose from rooms with two double beds or a King-size bed. All rooms feature flat-screen T.V., mini-refrigerator, microwave, and aromatherapy bathroom products.
304 E Rainbow Blvd, Salida, CO 81201 | 719-539-6296
Check prices, availability or book Circle R Motel
That's a roundup of the best hotels in Salida, Colorado. Have a blast exploring all of Chaffee County's gems.