Whether you're looking to stay in town or on the mountain, Telluride offers a wide range of hotel accommodations to meet your alpine adventure needs. Live the life of luxury with a stay in one of the lavish mountain ski-in, ski-out resorts, or cozy up in one of the quaint bed and breakfasts in town.
Tucked away in a magnificent box canyon, the town offers one of the most scenic locations in all of Colorado. The San Juan Mountains hover over the historic downtown, offering natural sights that soothe the soul. Plus there's a range of lodging to fit all budgets and preferences. Find your favorite accommodation with our list of top hotels in Telluride.
Probably Telluride's Top Hotel Accommodations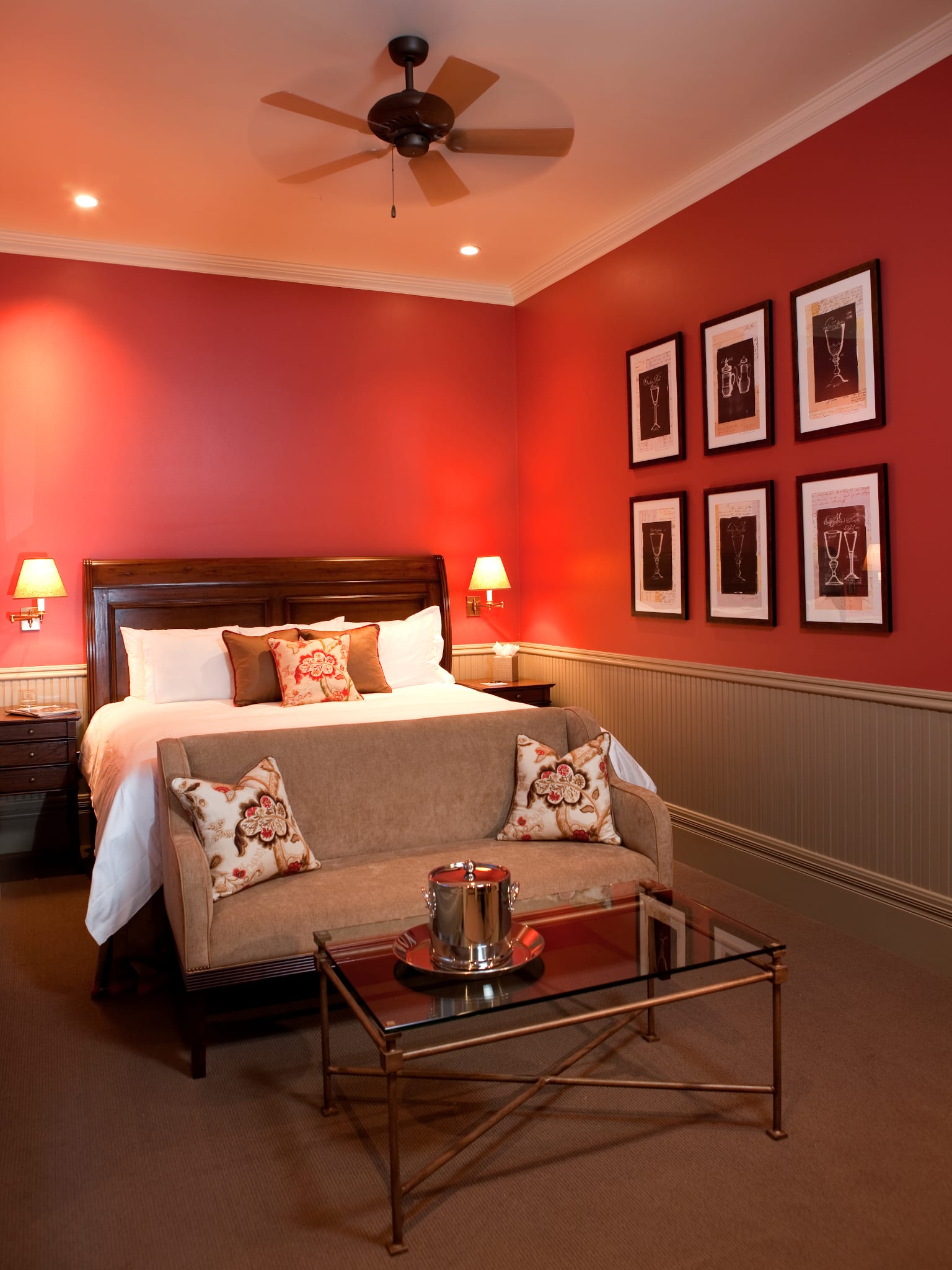 The town of Telluride is loaded with things to do. In the summer it boasts some of the top hiking trails around, which start only minutes from town. They lead to a myriad of places within the San Juan National Forest, including several mesmerizing waterfalls.
In the winter, nearly all visitors come to shred its epic slopes. Telluride Ski Resort is one of the best destinations for downhill skiing in the country. And there are plenty of unique accommodations to serve all the tourists.
This section contains referral links. If you click through and take action, we may receive a commission, at no additional cost to you. 
Here are our choices for the best hotels in Telluride and Mountain Village, CO, in no particular order:
The Peaks Resort & Spa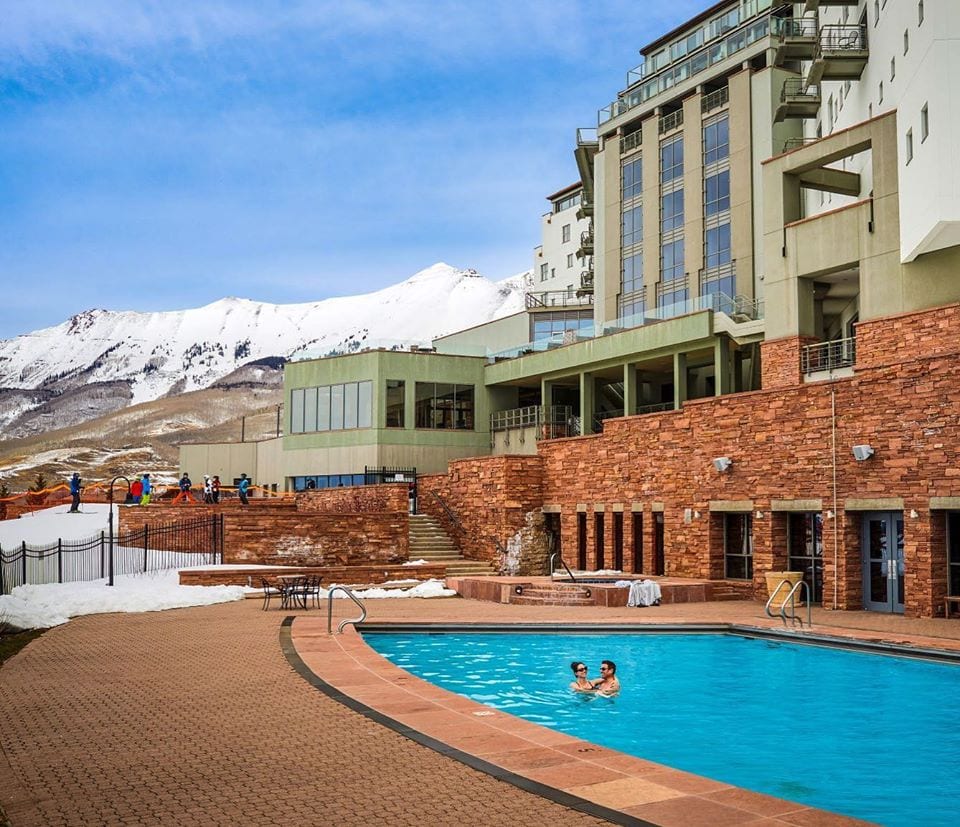 A luxurious retreat at the base of Telluride Ski & Golf Resort, The Peaks Resort & Spa is a ski-in/ski-out hotel located in Telluride's Mountain Village.  This all-season resort offers access to a wide variety of outdoor activities, including mountain biking, hiking, golfing, fly fishing, skiing, and snowboarding.
Take in the beauty of the San Juan Mountains and enjoy opulent living with a stay at The Peaks Resort and Spa.
Amenities include:
Business center
Fine dining on-site with Altezza Restaurant
Fitness center
Indoor & outdoor pool
Spa facility
Tennis courts
Offering an array of accommodations including cozy rooms, suites, and luxurious penthouses, there is something for everyone's travel needs. Or choose from their residential vacation rentals, like the See Forever Village, where guests can take advantage of stunning mountain views, peace, and quiet away from the main resort, but still have access to all amenities.
136 Country Club Dr, Telluride, CO 81435 | 970-728-6800
Check prices, availability or book The Peaks Resort & Spa
Hotel Columbia Telluride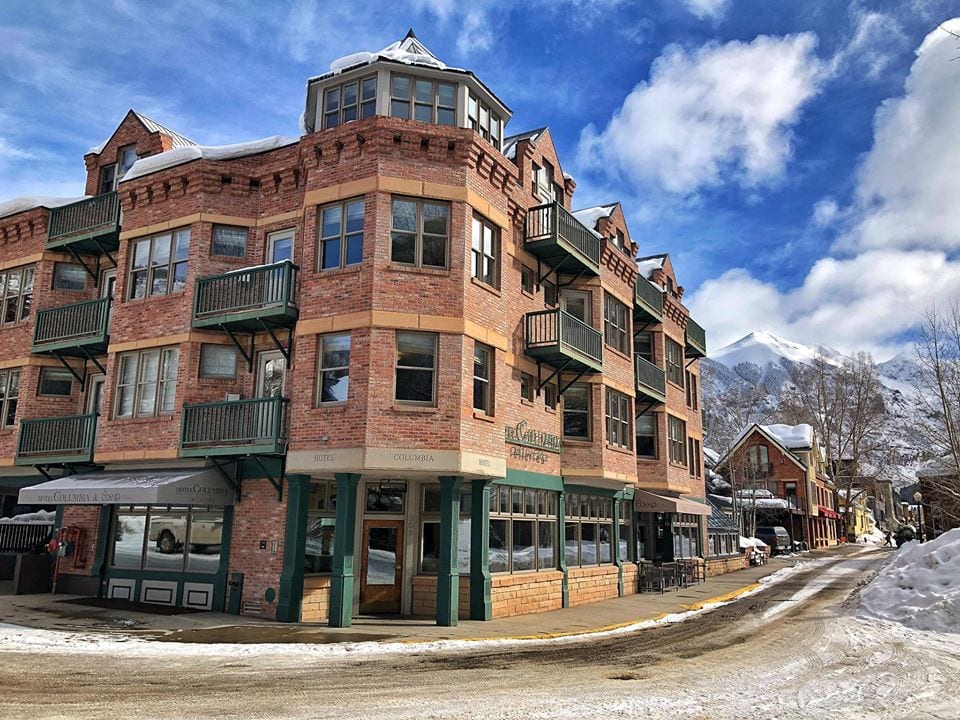 Ideally located at the base of the San Miguel River and the Telluride Ski Resort, the Hotel Columbia is found in a premier location for those looking to enjoy all that Telluride has to offer. Not only can guests take advantage of easy access to the gondola, but also be within walking distance of all the shops, restaurants, and adventures that await you.
Amenities include:
On-site dining with the Cosmopolitan
Fitness center
Ski lockers & boot warmers
Complimentary gourmet breakfast
Concierge service
Complimentary cruiser bikes
Discover rooms and suites that are welcoming with modern, yet timeless mountain lodging. Most accommodations include one-bedroom suites with ample space or splurge with the spacious King Superior room, a Deluxe One-bedroom suite, or the beautiful Telluride Suite.
301 W San Juan Ave, Telluride, CO 81435 | 877-686-4834
Check prices, availability or book Hotel Columbia
Inn at Lost Creek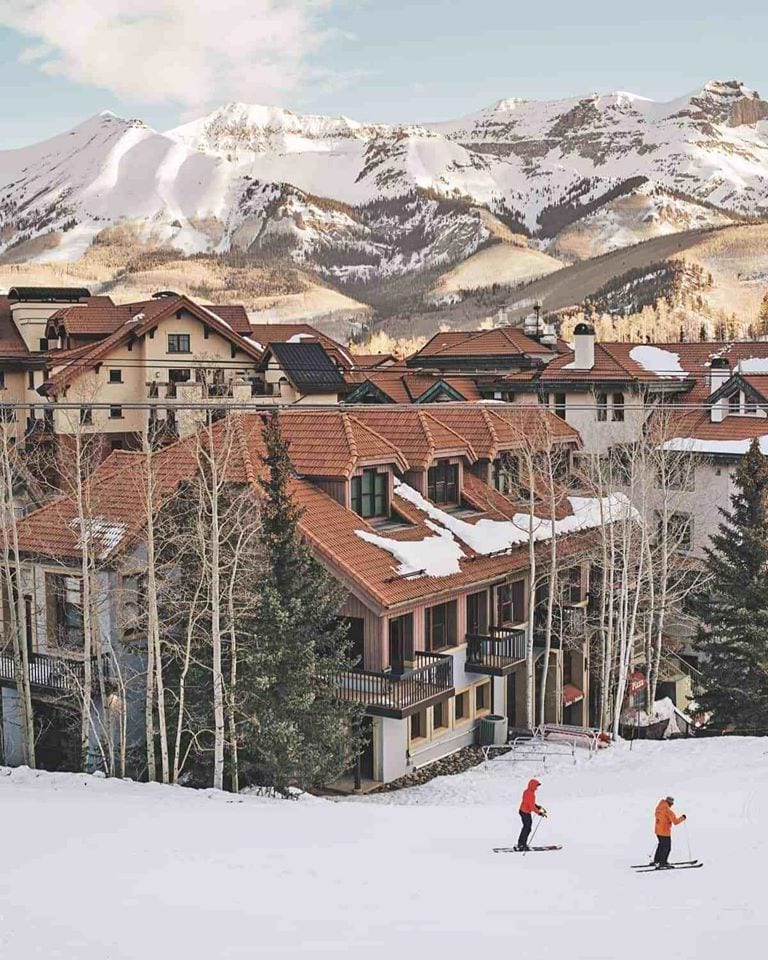 Located in Telluride's Mountain Village, the Inn at Lost Creek is a smaller-scale ski-in/ski-out inn with big amenities. Feel the hospitality and attentiveness of a quaint inn, but also enjoy the amenities of a big resort. Direct access to Village Express (Lift 4) and Chondola (Lift 1) makes for one of the best ski-in/ski-out options in town.
Owned by the ski resort, book your hotel room along with your ski lift ticket as well. In the summer, enjoy convenient access to hiking trails and the Telluride Golf Club.
Amenities include:
Business center
Fine dining on-site with 9545
Fitness center
Indoor pool
Rooftop hot tubs
Complimentary breakfast buffet
Concierge service
Spa at the Peaks
Golf valet
With just 27 suites and five studios, guest size is kept small and never feels over-crowded. Offering mostly suites, their rentals feature unique décor with natural stone, one-of-a-kind art, and hand-crafted furnishings. Enjoy a kitchenette, in-suite laundry machines, a fireplace, and private Juliette balconies to take in the beautiful mountain views.
119 Lost Creek Ln, Mountain Village, CO 81435 | 970-728-5678
Check prices, availability or book Inn at Lost Creek
Madeline Hotel Telluride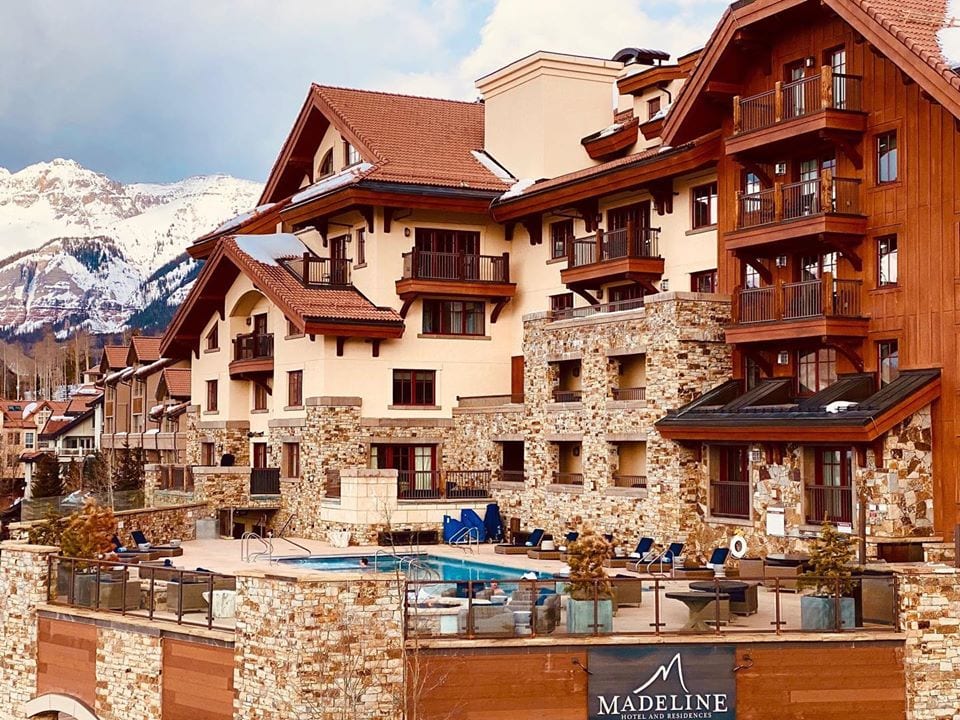 As a luxury mountain resort, the Madeline Hotel Telluride provides the best in class when it comes to accommodations, hospitality, and amenities. From the inside, out, and from top to bottom, the Madeline offers stunning features, lush interiors, and the ultimate in luxurious surroundings.
When it comes to amenities, there is plenty to keep you busy when not on the slopes, providing everything you need all on-site. Plus, with its location at the base of the Telluride ski resort, guests will enjoy premier ski-in/ski-out access.
Amenities include:
Ski valet
Business center
World-class spa
Indoor open-air pool
Pool and fitness center
Two on-site restaurants
Wine bar
Ice rink
If you are planning to stay for an extended period, the accommodations at the Madeline Hotel are idyllic. Choose from spacious suites, classic guestrooms, and residence rentals for your Telluride mountain experience. Accommodations are fully decorated and furnished with modern sophistication, rich details, and plush surroundings.
568 Mountain Village Blvd, Telluride, CO 81435 | 855-479-3469
Check prices, availability or book Madeline Hotel Telluride
Fairmont Heritage Place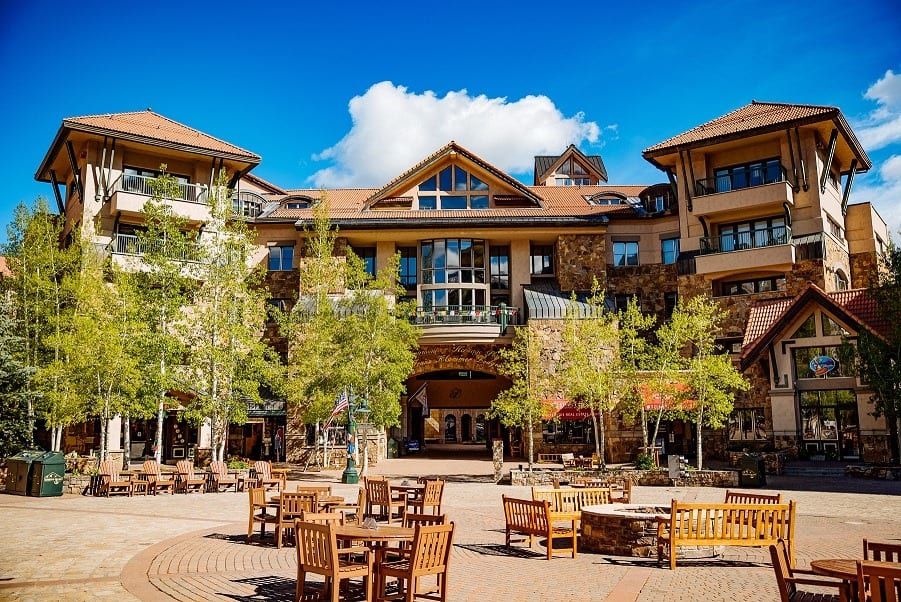 Luxury living at its finest in the heart of Telluride's Mountain Village, the Fairmont Heritage Place is the ultimate vacation adventure in one of the world's most sought-after destinations. This Colorado mountain-style lodge features a residential experience coupled with a dedicated staff and the amenities of a world-class hotel.
Situated at the base of Telluride Ski Resort, guests enjoy convenient access to the gondola, skiing, golf course, and many other area activities.
Amenities include:
24-hour concierge service
Private spa
Outdoor heated pool and hot tubs
Game room
Business center
Ski and golf valet
Pre-arrival grocery shopping & delivery
Complimentary cocktail hour
Offering beautifully appointed two and three-bedroom residences, guests are guaranteed plenty of space and a comfortable home base to rest their heads at night after an adventurous day on the mountain.
567 Mountain Village Blvd, Telluride, CO 81435 | 970-728-3318
Check prices, availability or book Fairmont Heritage Place
Lumière with Inspirato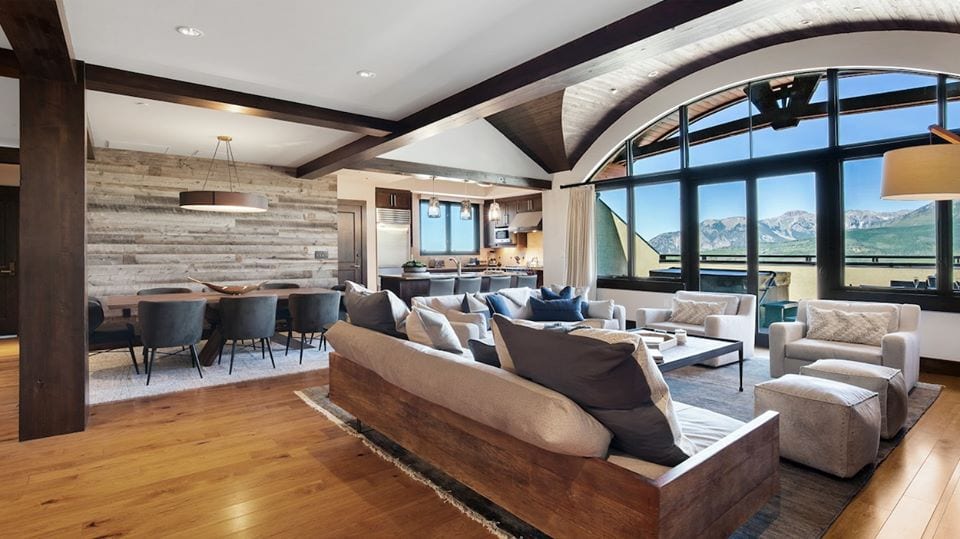 A boutique-style hotel nestled within the picturesque Mountain Village of Telluride, Lumière with Inspirato offers excellent ski-in/ski-out accommodations and premier hospitality and concierge service. From personalized adventures to Black Tie ski-in/ski-out services, there is no request too big for its guests.
Discover easy access to the mountain, but also its proximity to some of the best Telluride restaurants and eateries. Or enjoy your apres-ski experience at their on-site restaurant, Bijou Wine Bar & Lounge.
Amenities include:
Fine dining on-site with Bijou Wine Bar & Lounge
Fitness center
Outdoor pool, hot tub, warm plunge, and cold splash pools
In-room massage services
Black Tie Ski concierge
As a true luxury, full-service residential hotel, the accommodations include 18 one, two, three, four, and five-bedroom layouts. For those who do not need the spacious suites, the hotel offers several Studio Deluxe units. Featuring Colorado-style décor, suites and rooms offer dark wood furniture, hardwood floors, large windows with mountain views, and original artwork sprinkled about.
118 Lost Creek Ln, Telluride, CO 81435 | 970-369-0400
Check prices, availability or book Lumière with Inspirato
Camel's Garden Hotel & Condominiums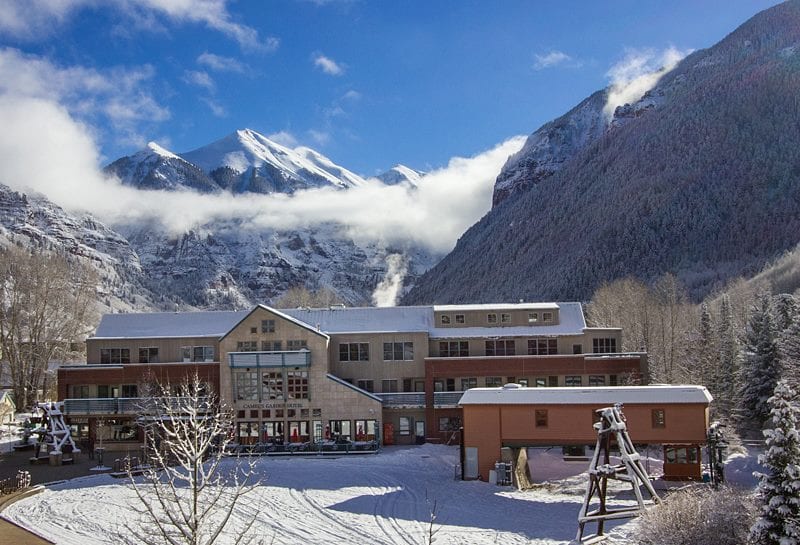 As the only hotel in town on the Gondola Plaza, Camel's Garden Hotel offers Telluride's only hotel with a full-service spa and the only hotel in town with a ski-rental, retail, and valet shop.
Amenities include:
Valet ski-storage
The on-site restaurant at Oak
Award-winning AVEDA Telluride Spa
Hot tub with mountain views
Complimentary continental breakfast
Indoor heated parking
Offering the highest level of comfort and personal service, Camel's Garden Hotel features beautifully appointed rooms, suites, and condominiums that offer balconies, fireplaces, luxurious bathrooms, and custom furniture pieces.
New Sheridan Hotel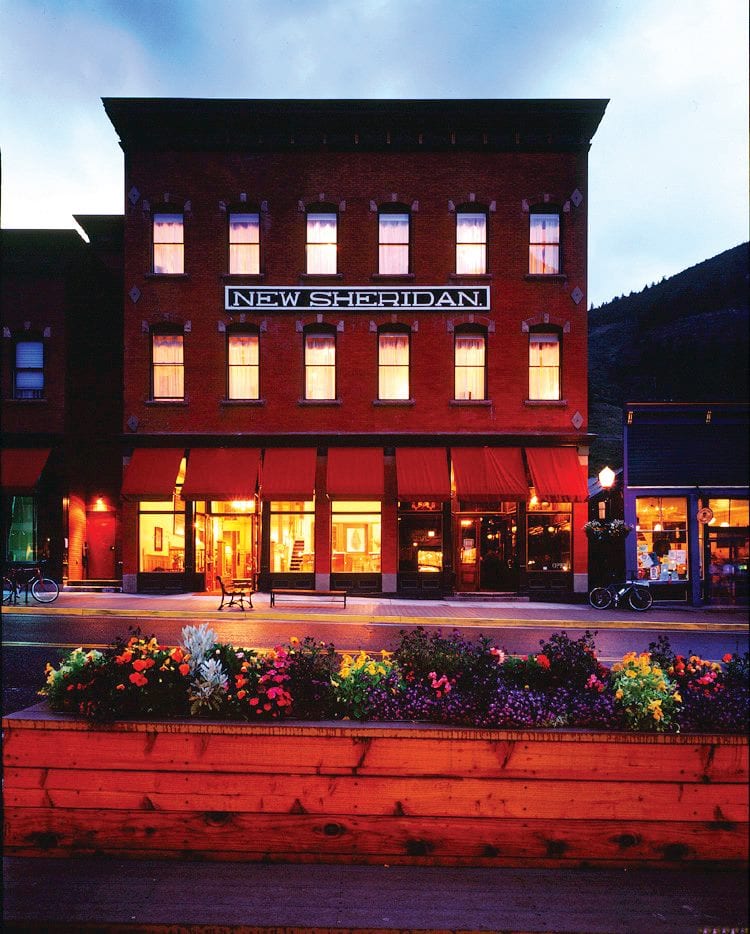 Nestled in the heart of downtown Telluride, the New Sheridan Hotel is a historic hotel that offers plenty of charm and character you won't find at any of the ski resorts. Enjoy quick access to the San Miguel river trail, the gondola, and lift 8 – at the base of the mountain.
Perhaps one of the hotel's most unique features is its on-site restaurant, the Chop House – one of the top places in town. Plus, the Parlor is available for a more casual dining experience, and in the summer patrons enjoy the rooftop bar offering 360-degree views of the town. Be sure to grab a seat at the hotel's Historic Bar, which has been serving drinks to guests and locals since 1895.
Amenities include:
Access to 8750ALT fitness gym
Ski lockers and boot dryers
On-site bar and restaurant
Discounts on dining and outside Telluride adventures
With only 26 rooms and suites, each varying in size and layout, guests will enjoy exceptionally decorated Classic Victorian style features, all furnished with modern amenities.
231 W Colorado Ave, Telluride, CO 81435 | 970-728-4351
Check prices, availability or book New Sheridan Hotel
The Victorian Inn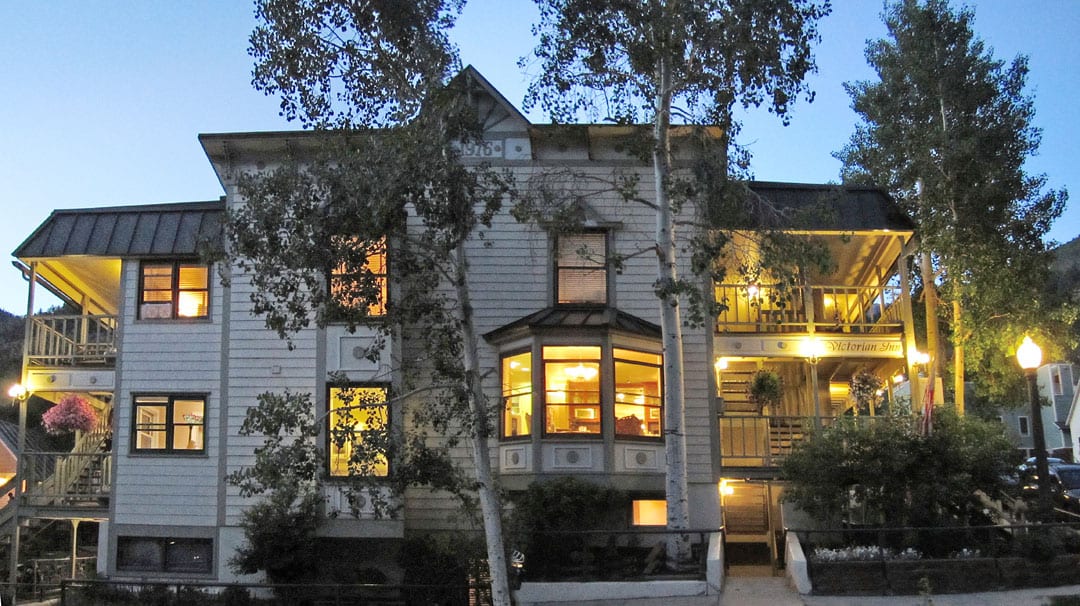 The Victorian Inn offers a downtown spot right next to the gondola for easy access to the mountain. This budget-friendly option features affordable rooms with plenty of amenities and unique charm, with a location that can't be beaten.
Amenities include:
In-room ski racks
Dry sauna
Free continental breakfast
On-site laundry facility
Outdoor hot tub
Choose from a variety of rooms and suite layouts, plus for those who desire more space and are looking to indulge on their vacation, the Cozy Cottage is available to rent. Rooms and suites are designed with simplicity in mind with your classic modern amenities.
401 W Pacific Ave, Telluride, CO 81435 | 970-728-6601
Check prices, availability or book The Victorian Inn
The Hotel Telluride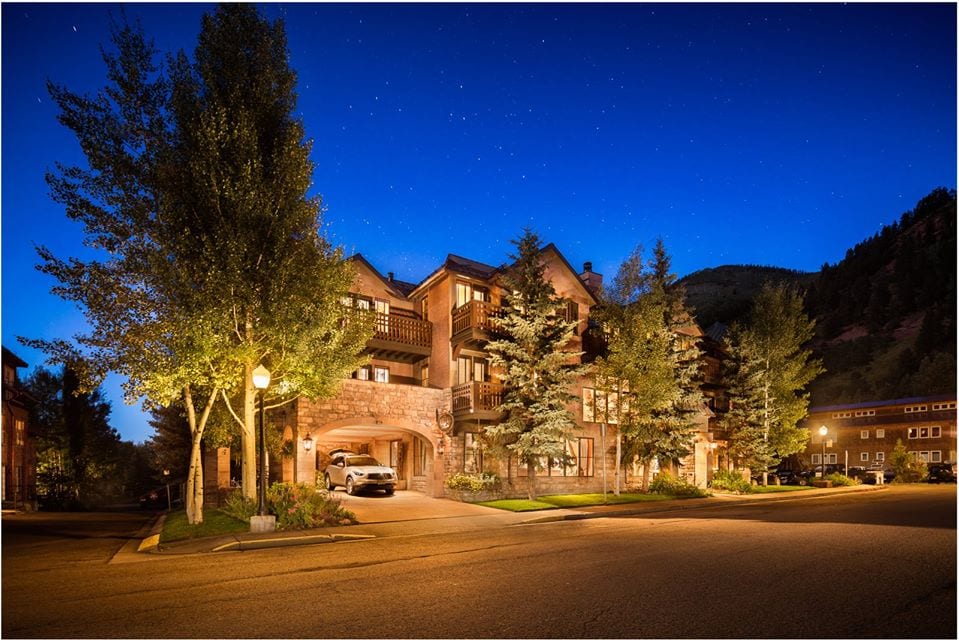 Nestled in the heart of the historic downtown, The Hotel Telluride provides premier hospitality and accommodations in town. Just steps away from the area's best restaurants, bars, and shops, the Hotel Telluride features some of the best beds in town and high-end furnishings.
Guests will enjoy a complimentary shuttle that provides access to the Gondola, where mountain adventures await both, in summer and winter.
Amenities include:
Fine dining on-site
Spa facility
Outdoor hot tubs
Concierge service
Complimentary bike cruisers
Fitness center
Laundry facilities
Complimentary ski/snowboard valet and storage
Discover uniquely designed mountain-style rooms and suites at The Hotel Telluride. Room features include a private balcony or deck, kitchenette features, plush spa robes, and luxurious custom-made Hotel Telluride-embroidered Harbor linens – all so comfortable you may never want to leave your room.
199 Cornet Ln, Telluride, CO 81435 | 970-369-1188
Check prices, availability or book The Hotel Telluride
Dunton Town House
For a more elevated bed and breakfast look and feel, stay at the Dunton Town House in downtown Telluride. Originating from the late 1800s, the Dunton Town House is thoughtfully decorated using a combination of custom furnishings, antiques, and other unique pieces of art.
Found along one of Telluride's most picturesque streets (Oak Street), guests will enjoy easy access to the gondola and the town's main street.
Amenities include:
24-hour concierge service
High-end furnishings
Excellent location
The bed and breakfast offers five distinct bedrooms, each with en-suite bathrooms, exquisitely finished European custom furnishings, and king-size beds.
210 S Oak St, Telluride, CO 81435 | 877-288-9922
Check prices, availability or book Dunton Town House
Thanks for checking out our favorite hotels in Telluride! Enjoy your stay in this stunning San Juan Mountain town.