Experience Colorado mountain living on cloud nine in the highest incorporated municipality in the country. Leadville features a slew of top hotels to accommodate travelers to Lake County.
At nearly 10,200 feet Leadville is a true Rocky Mountain town. It's located just under 2 hours from downtown Denver, tucked away 23 miles south of Copper Mountain and I-70.
Because of its location away from the busy interstate, it seldom receives the tourist traffic you'd find in Breck or Vail. Instead, you can relax from the crowds and stroll a little wider on the sidewalk in one of the state's nicest historic districts.
Probably Leadville's Top Hotel Accommodations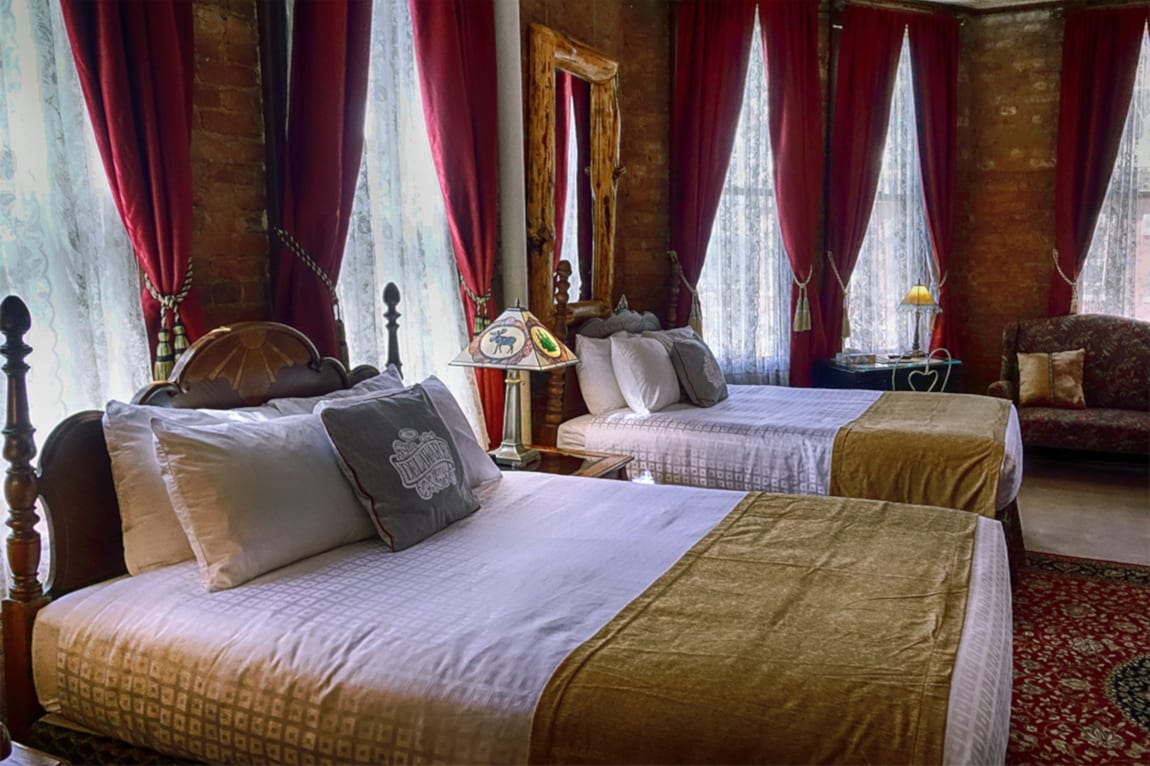 Leadville is a top tourist spot for those seeking adventure. The Leadville Colorado & Southern Railroad is an exciting ride that will bring travelers north along the Arkansas River. Soak in the views of Freemont Pass and the two tallest peaks in Colorado: Mount Massive and Mount Elbert.
Wintertime brings ski tourists looking to escape the bustle and save a few bucks at Ski Cooper. This small locals' favorite ski area is found only 10 miles north of town. Surrounding the town is the untamed wilderness of the San Isabel Natural Forest.
Back in town enjoy niche shops, restaurants, and hotels lining Leadville's impressive historic district. While shopping downtown swing by Melanzana for unique handmade in Colorado outdoor apparel. Better understand Colorado's mining history with a trip to the National Mining Museum, also downtown. It showcases the National Mining Hall of Fame.
This section contains referral links. If you click through and take action, we may receive a commission, at no additional cost to you. 
Here are our choices for the top hotels in Leadville, CO, in no particular order:
Grand West Village Resort – a sanctuary in the woods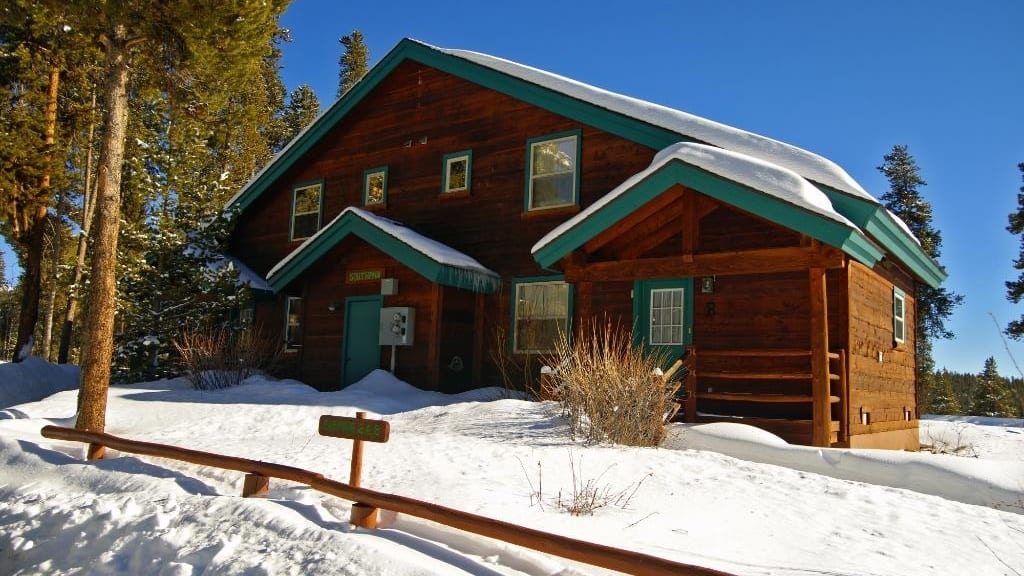 Grand West Village Resort showcases a tranquil environment with wooden-inspired decor. Tucked away within the epicenter of high country recreation, it's the perfect destination for any summer or winter trip.
During summer, the resort features a lot of activities like whitewater rafting, fishing, jeeping, hiking, horseback riding, mountain biking, and rock climbing. Meanwhile, in the winter, enjoy extraordinary skiing, snowboarding, and snowmobiling. Dog sledding and ice fishing are other unique escapades you can experience nearby Grand West Village.
As for the accommodations, if you're the type of guest who enjoys nature, this is a fantastic place to be. You can wake up with the smell of the pine forest surrounding the resort. They also have cabins and condos that suit all kinds of travelers. Each cabin has a unique taste and can accommodate from two people to about two families.
Their Woodrose Residence 9A has four bedrooms and three bathrooms. This one has two master bedrooms, so it's suitable for large groups or two small families. The cabin is complete with all of the house amenities (kitchen, sofa, large dining table, smart HDTV, and a gas fireplace).
If you want to create a new annual out-of-town family tradition where everyone can do a tech detox, this is the place to be.
Delaware Hotel – grandeur from centuries ago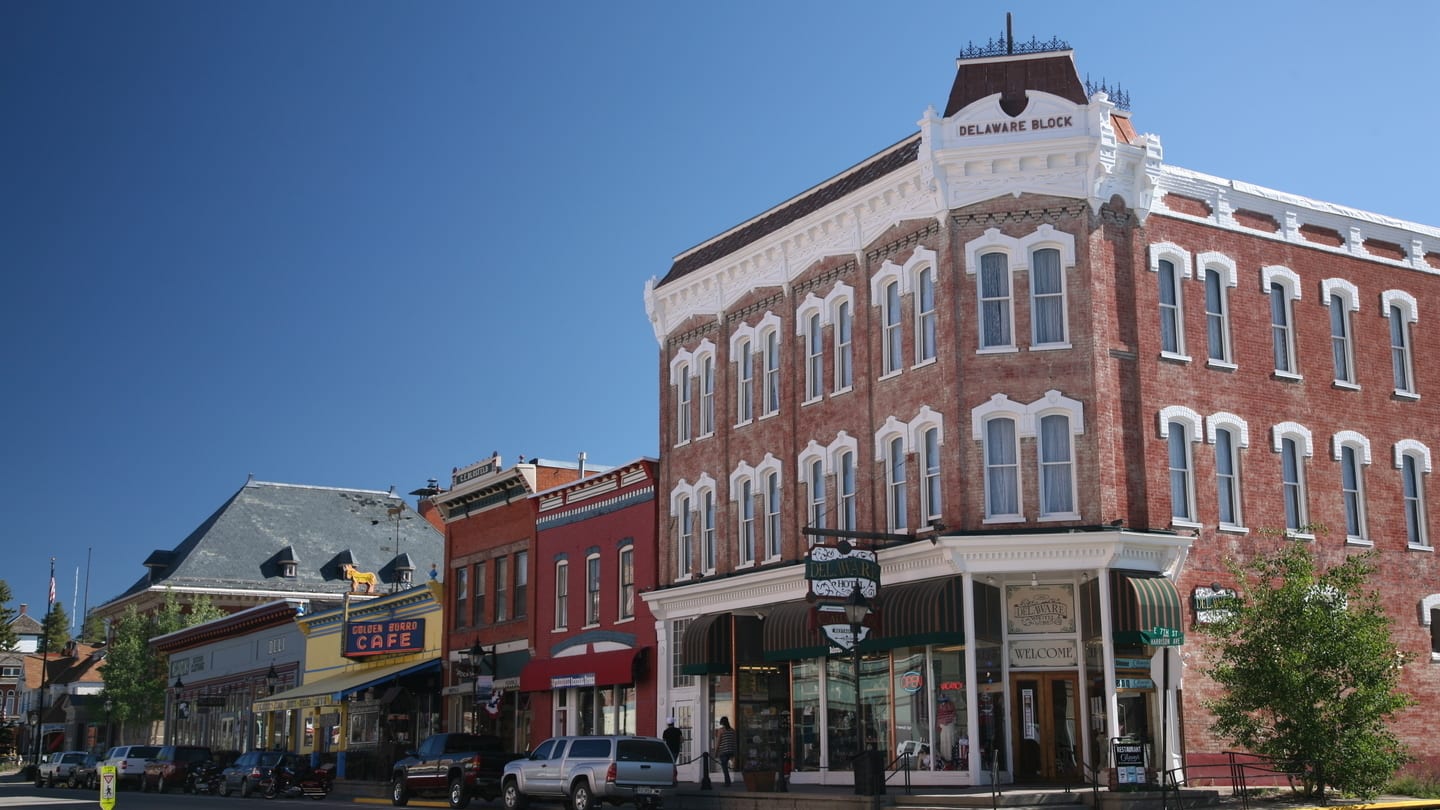 If you'll be traveling to Leadville to explore more of the downtown and you need close access to the central pubs and shopping areas, the Delaware Hotel is the best option. The history of the town is deeply embedded in this hotel. "The Crown Jewel of Leadville" was founded by three wealthy brothers who came to Leadville back in 1880.
Since Leadville was another gold mining town centuries ago, Delaware Hotel used to be a favorite accommodation for the rich and famous people at the time. Some of those characters include the famous Butch Cassidy, Houdini, and John Phillips Souza.
The original architect of the Delaware Hotel is George King. He was inspired by the French Mansard design when he built this hotel. The handsomely finished rooms are still preserved today.
People should expect a unique charm in the hotel, preserved like it was just built yesterday. There are no swipe locks for your room, but you'll experience art and culture every step of the way. From their corridors to their glass-fronted furniture pieces, staying at Delaware Hotel makes you feel like royalty during the Wild West era.
Delaware Hotel also features the warmth of the friendly Colorado region. One of the compliments of previous customers of the hotel was the service of the hotel staff.
Columbine Inn & Suites – your home in Leadville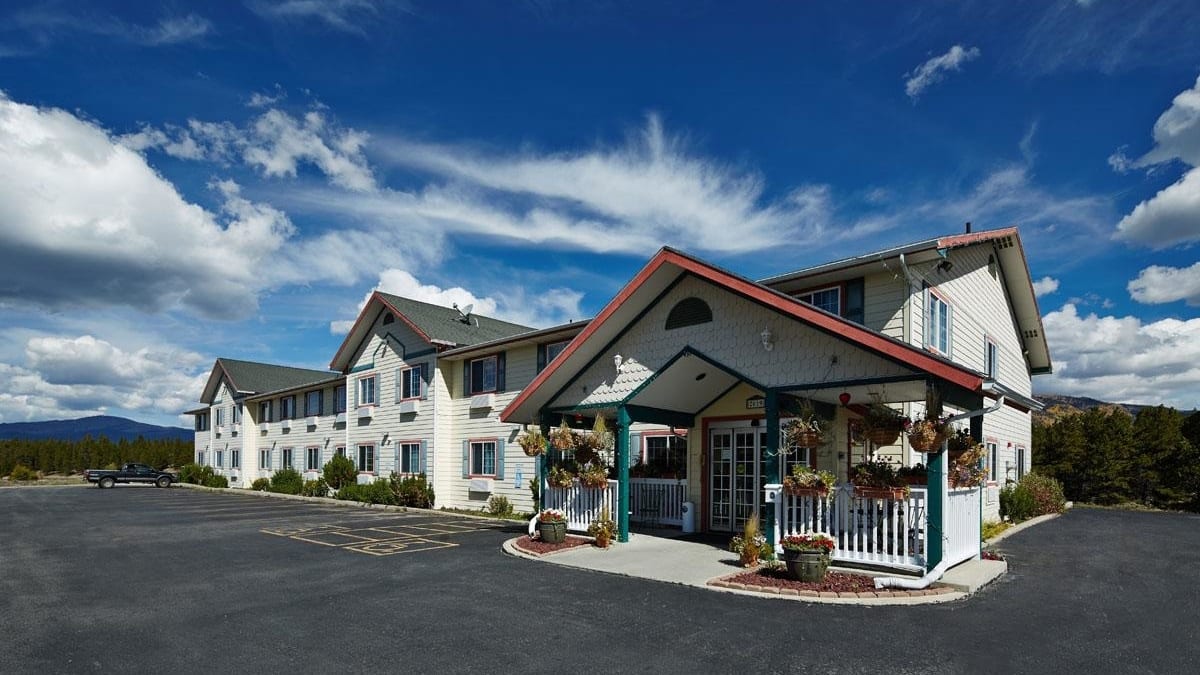 Columbine Inn & Suites is "Your home in Leadville". Now, let's say you don't really want to go back to memory lane and you just want to enjoy the activities and adventures in Leadville, you can stay at Columbine Inn & Suites. It's an easy-to-find location in Leadville, and it will give you access to the main tourist attractions in town.
The inn is just 10 miles away from the Ski Cooper Ski Area and is accessible to other locations like the Vail Ski Area, Mount Elbert Hiking Trail, Mt. Massive Golf Course, Aspen, Turquoise Lake, and Twin Lakes, and nearby fishing locations.
The common area is warm and welcoming, and they will be able to offer you amenities like WiFi and continental breakfast. The two-level property is somewhat straightforward as an inn, but what stands out in this location is the 360 view of Leadville. Every corner of the inn is a reflection of Leadville's fantastic scenic surroundings.
During summer, guests can even enjoy the wildflowers growing just around the inn. In winter, the slopes of the mountain ranges covered in white snow can be photographed from across your room.
Inn The Clouds Hostel & Inn – local Leadville love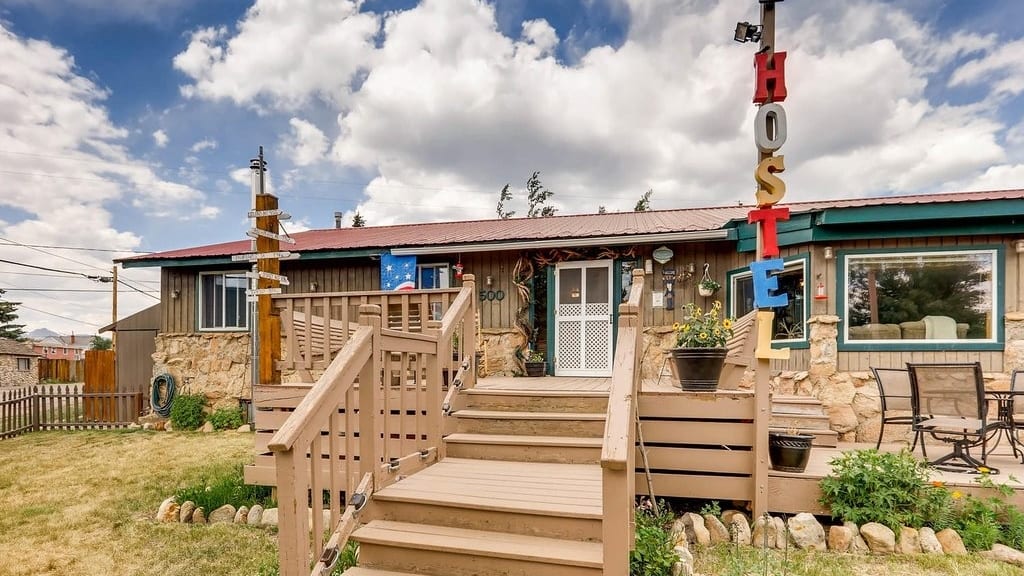 As the name implies, Inn The Clouds Hostel & Inn will give you that top view of Leadville. This quirky inn was founded by the witty man Wild Bill who, one day, just decided to build "Leadville Hostel," on April 1, 1999. Yes, an April Fool's Day.
Though it started as a pun, Bill and his wife Cathy loved the inn very much and continued to provide priceless service to those visiting town. Unfortunately, Bill passed away in 2015. Cathy continued to run the inn for another three years until it was time to find someone else to lead.
Now, Inn The Clouds Hostel & Inn is owned by Lelis & Charity Gonzalez. They wanted "to preserve the culture and spirit of the Leadville Hostel but at the same time, put our own stamp on it." That's why they also upgraded the name.
Inn The Clouds Hostel & Inn has different types of accommodations including private rooms with private baths, dorm rooms with shared bathrooms, remote rooms, and other large group deals. Each room is filled with bright decor, comfortable bedding, and essential amenities. Guests can also use the inn's kitchen so they can cook and bring groceries for their trip.
Tiny House Leadville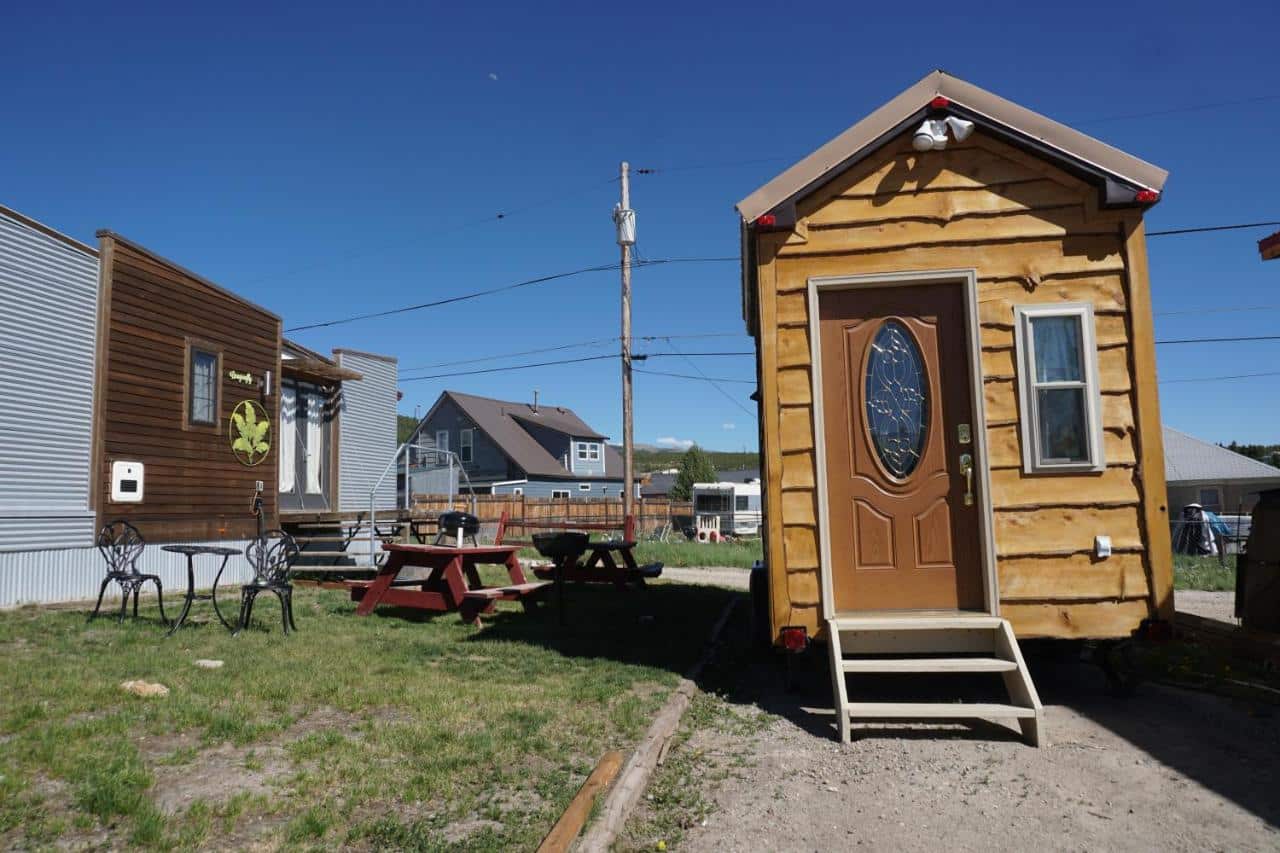 This is one of the coolest and most unusual hotel accommodations in Leadville. Tiny House Leadville is located right downtown, so you're within walking distance of all the terrific shopping and dining on Harrison Avenue.
Choose from a variety of Tiny House Siestas (on wheels but parked permanently), all of them unique inside and out. Although tiny and technically RVs, they all are hooked up to electricity, water, and sewer. So you'll get running water and flushing toilets.
Some of these abodes have a loft bedroom, so expect you may have to ascend a ladder or steep staircase to reach your bedroom each night. But others do offer a 1st-floor bedroom. There's even a 3 bedroom model and pet-friendly tiny home. It's all part of the tiny house experience and a great way to see if living in only a few hundred square feet is for you.
Spend the weekend in the highest incorporated town in Colorado. Thanks for checking out our list of top Leadville hotel accommodations!