November is an exciting month for festivals in Colorado. Most ski resorts begin opening and recreation shifts to winter activities. Fun events include the Denver International Wine Festival, which features world-class wine and food.
Due to COVID-19, the upcoming events for the next several months are subject to cancellation or postponement. Please double-check the event's official website for the most accurate, timely information on whether an event is happening.
2021 Annual November Festivals in Colorado
Date: Sat-Sun, September 11 – November 13, 2021
Address: Denver
About: The 13th Floor Haunted House is Denver's legendary and most horrifying Halloween event. If a night of fright is on your agenda, this is the place for you.
Date: Mon-Fri, November 1 – December 24, 2021
Address: Outlets at Castle Rock, Castle Rock
About: Head to the Outlets at Castle Rock from beginning November to December for great shopping deals and holiday festivities.
Date: Wed-Sun, November 3-14, 2021
Address: Denver and Colorado Springs
About: Back for its 44th year, the Denver Film Festival showcases hundreds of full-length films, music videos, and shorts at multiple locations across the city.
Date: Fri-Sun, November 5-7 & 19-21, 2021
Address: Denver and Colorado Springs
About: This Christmas-themed event is held over two weekends, the first of which is at the Colorado Convention Center and the second at the Colorado Springs Event Center. Explore the more than 450 and 250 booths, respectively, of arts, crafts, and gifts from local vendors. Santa will be on-site at both locations, so bring the kids!
Date: Fri-Sat, November 5-13, 2021
Address: Denver
About: All of Denver comes alive with creativity each November for over eight days as it collectively celebrates the city's creative neighborhoods, museums, galleries, and all-around artistic vibe.
Date: Sat-Sun, November 6-7, 2021
Address: Colorado Convention Center, Denver
About: The Snowbound Festival of the Rockies is an immersive experience for winter adventure enthusiasts of all ages, where you can find buy lift tickets and merchandise, meet athletes, enjoy delicious food and live music.
Date: Saturday, November 13, 2021
Address: City Park, Denver
About: Back for its 13th year, the Denver Veterans Day Run is both an in-person and virtual 5k and 10k event that directly benefits Colorado Vets.
Date: Saturday, November 13, 2021
Address: Georgetown
About: Home of one of the oldest and largest bighorn herds in the entire state, enjoy wildlife programs, children's activities, hikes, music, crafts, and more at this festival.
Date: Saturday, November 13, 2021
Address: Colorado Springs
About: With over 40 tables and 30 vendors boasting records, CDs, LPs, cassettes, 8-tracks, and more, if you love music and the sound of vinyl, this is a must-attend event.
Date: Tuesday-Sunday, November 16-21, 2021
Address: McNichols Civic Center Building, Denver
About: Showcasing emerging, local, and national designers, the 5-day Denver Fashion Show includes two workshops and three fashion shows.
Date: Thursday-Sunday, November 18-22, 2021
Address: Denver (multiple showings across Colorado)
About: An annual film tour following skiers and snowboarders and they take on the snow. From backyard hills to mega mountains, this tour kicks off the winter season with a bang!
Date: Friday-Wednesday, November 19-December 23, 2021
Address: 1515 Arapahoe St, Denver
About: 20th year for the month-long Christkindl Market in downtown Denver. Experience old German tradition with authentic cuisine, live music, holiday drinks, and an artisan marketplace.
Date: Friday-Saturday, November 19, 2021 – January 1, 2022
Address: Durango
About: Aboard the Polar Express Train Ride, you and your family will be swept away into an elaborate holiday fantasy, complete with hot chocolate, a light show, holiday music, and, of course, Santa.
Date: Friday-Saturday, November 19, 2021 – January 8, 2022
Address: Denver
About: A stroll through the Denver Botanic Gardens is a delightful way to celebrate the holiday season. The Blossoms of Light extravaganza is a twinkling and breathtaking way to spend a winter evening.
Date: TBD 2021
Address: Colorado Springs
About: With the purpose of cultivating awareness, empathy, and a deeply connected community, the Rocky Mountain Women's Film Festival is a 3-day celebration of women and others who are often unseen, unheard, and misunderstood.
Date: TBD November 2021
Address: Colorado Springs
About: 13th annual big beer festival that raised $70,000 for charities at a previous year's event. It features more than 80 Colorado brewers.
Date: TBD November 2021
Address: Evergreen
About: Community arts festival showcasing handmade gifts along "Main Street" inside Evergreen High School.
Date: Wed-Fri, November TBD 2021
Address: Denver Marriott Westminster
About: 16th annual celebration of international food and wine.
Go To December Events
Latest in November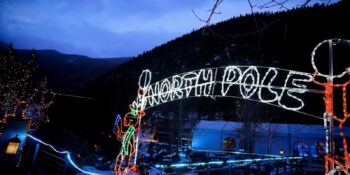 What Christmas would be complete without hot cocoa, a trip to the North Pole, or a…
View our events blog
Related Activities
Search for upcoming performing arts, rodeos, and sports that aren't listed under events.