With summer in full swing, July is loaded with festivals. Kick things off with a July 4th fireworks show at one of dozens of venues. Then take you're pick from events happening every week through this prime travel season.
2018 Annual July Festivals in Colorado
Date: Sat-Sun, June 10-11, 17-18, 24-25, July 1-2, 8-9, 15-16, 22-23, 29-30 2017
Address: 650 W Perry Park Ave, Larkspur (between Denver & CO Springs on I-25)
About: 41st season, the Renaissance Festival is held over 8 weekends in June, July, August with medieval events for all ages. It's held 10am until 6:30pm each day, rain or shine. Parking is free, no pets.
Date: Thur-Mon, June 23-July 4, 2017
Address: Greeley
About: 95th annual Stampede features PRCA rodeo, live country music, monster trucks, a demolition derby, carnival, roller derby, fireworks and one of the largest Independence Day parades in the nation.
Date: Fri-Sat, June 30-July 1, 2017
Address: Glenwood Springs
About: Second annual festival featuring the best breweries, cideries, distilleries and wineries from across the West. Live music and local food adds to the celebration.
Date: Fri-Tue, June 30-July 4 2016
Where: Downtown Steamboat Springs
About: 114th Annual Cowboys' Roundup Days is a truly western celebration of Independence Day. Concerts, a parade, rodeo, fireworks, pancake breakfast, and other activities highlight this six day extravaganza.
Date: Fri-Tue, June 30-July 4, 2017
Where: Paonia
About: 71st annual Paonia Cherry Days Festival showcases Paonia's delicious cherries. This four day, five night fest includes local business booths, music concerts, 5K run, rodeo, talent show, skill contests, pancake breakfast, downtown parade and live performances.
Date: Mixed days, June 30-August 13, 2017
Where: Boulder
About: 60th season showcasing Shakespeare's wonderful plays. It's held on varying days throughout the week on the CU campus.
Date: Sat-Tue, July 1-4, 2017
Address: Collbran
About: Centered around a CPRA Rodeo, events include a parade down Main Street, horseshoe tournament and various games, merchants and food vendors.
Date: Sat-Mon, July 1-3, 2017
Address: Denver
About: 27th cultural celebration of visual, culinary and performing arts.
Date: Thur-Sat, July 6-9, 2017
Address: Westcliffe
About: Four day bluegrass festival featuring over fifteen bands. Pet friendly camping is available next the fairgrounds. It generated $53,090 for area charities in 2016.
Date: Fri-Sun, July 7-16, 2017
Address: Gunnison
About: Weeklong festival showcasing three days of western rodeo competitions, live music and vendors. Event claims to be the "Granddaddy of Colorado Rodeos", since 1900.
Date: Mon-Sat, July 7-16, 2017
Address: Crested Butte
About: Week of wildflower festivities including over 80 hikes, alpine yoga classes, 4×4 tours, garden tours, photography, art & cooking classes, medicinal classes using botanical ingredients, planting wildflowers at home, birding and butterflies.
Date: Sat, July 8, 2017
Address: Breckenridge
About: 12th annual summer beer festival with over forty breweries, live music and local vendors.
Date: Sat, July 8, 2017
Address: Riverside Park, Salida
About: 21st annual beer festival held on the banks of the Arkansas River, featuring more than 70 breweries, 200 beers and live music.
Date: Sat-Sun, July 8-9, 2017
Address: Steamboat Springs
About: Photographers love how balloons light up a colorful sky. The rodeo portion has contests including dipping the balloon into Bald Eagle Lake.
Date: Sat-Sun, July 8-9, 2017
Address: Telluride
About: Sixth annual rock and roll fest featuring killer musical acts.
Date: Fri-Sun, July 14-16, 2017
Address: Clement Park, Littleton
About: Since 1994, this festival has brought Irish culture, music, dancing, food, activities and entertainment together in Denver area. Pets not permitted.
Date: Sat, July 15, 2017
Address: Castle Rock
About: 14th annual single day event showcasing more than two dozen wineries and over 180 choices of Colorado wine.
Date: Sat-Sun, July 15-16, 2017
Address: Evergreen
About: More than 100 artists gather for this community fine arts and crafts festival, now in its 38th year. Summerfest kicks off Arts Alive Evergreen, a ten day showcase on visual and performing arts.
Date: Sat-Sun, July 15-16, 2017
Address: River Run Village, Keystone
About: Tastings available from over 300 international wines. Special events include wine seminars and jazz concerts.
Date: Sat-Sun, July 15-16, 2017
Address: Snowmass Village
About: 10-12 mile endurance challenge around the hills of Snowmass. It's designed with 20-25 obstacles by British Special Forces. Prices go up the later you sign up.
Date: Sat-Sun, July 22-30, 2017
Address: Durango
About: 82nd annual Fiesta Days, established in 1935, features Queen Contest, Rodeo, Petting Zoo, 4D Barrel Jackpot, Team Roping Slack, BBQ/Pie Auction/Street Dance, Slack, Parade and various local vendors.
Date: Thur-Sun, July 27-30, 2017
Address: Winter Park
About: Four day event featuring athletes in slopestyle, enduro racing, air downhill, cross country, and pond crossing events. Events held in Winter Park Village.
Date: Fri-Sat, July 28-29, 2017
Address: Denver
About: Sample from over one hundred craft beers and forty-five breweries.
Date: Fri,Sun, July 28-30, 2017
Address: Evergreen
About: "The best jazz festival anywhere", says the Evergreen Jazz Festival. Venues include the Elks Lodge, Lake House, Stagecoach Sports Grill and Evergreen Christian Church.
Date: Fri-Sun, July 28-30, 2017
Address: Planet Bluegrass Ranch, Lyons
About: 45th annual Rockygrass music festival featuring three days of bluegrass concerts along the banks of the St. Vrain River. Camping is available, either at the festival, at Meadow Park, a 5 minute walk, or at Olson Campground, a 10 minute walk or free shuttle. Fishing and tubing are fun river activities.
Date: Sat, July 29, 2017
Address: Millenium Harvest House, Boulder
About: 9th annual beer fest and rooftop party, with 100% of proceeds benefiting 100% Safehouse Progressive Alliance for Nonviolence.
Date: Sat-Sun, July 29-30, 2017
Address: Cheesman Park, Denver
About: 5th annual art fest invites more than one hundred national, juried artists and craftmans to showcase their work around Cheesman Park.
Go To August Events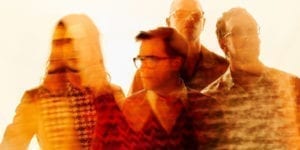 Weezer/Pixies on July 31, 2018 at Fiddler's Green (affiliate) - Hear tracks off Weezer's 2017 11th studio album, Pacific Daydream and Pixie's 2016 Head Carrier at Fiddler's Green in Denver. 49% off! $20 ($39.45 value) for one general-admission lawn ticket, $25 ($42.85) for select rows in sections 201 or 205...
Some event related activities
Search for upcoming performing arts, rodeos and sports that aren't listed under events.