April brings an end to the ski season at most resorts. As warm weather melts away the snow, recreation shifts to summer activities. Exciting events include the Taste Of Vail which is Vail's largest food and wine fest.
2018 Annual April Festivals in Colorado
Date: Wed-Sat, April 4-8, 2018
Address: Vail Village
About: 28th annual Taste is the largest food and wine festival in Eagle County.
Date: Saturday's during April ski season, 2018
Address: Gondola Square, Steamboat Springs
About: Now in its 19th season, it's a free concert series held at the base of the mountain. The series features a mix of music genres with many big name acts having performed. The concert runs from 3:30-5pm.
Date: Tue-Sun, April 4-9, 2017
Address: Aspen
About: 26th year celebrating one of the continent's best short film festivals and Oscar-qualifying showcase. International short films are defined as 40 minutes or less.
Date: Sat, April 15, 2017, 10am-11:30am
Address: Gondola Square, Steamboat Springs
About: 37th annual event features homemade sleds constructed only using cardboard, glue, string, water based paint, duct tape and masking tape. It's a race down Headwall in this hysterical end to the season.​
Date: Sun, April 16, 2017, 1pm
​Address: Gondola Square, Steamboat Springs
About: Tenth annual event features skiers and riders attempt to cross a pond at the base of the mountain. Judged on distance, outfit creativity and crowd response. A free Bud Light concert follows at 3:30pm.
Date: Fri-Sun, April 21-23, 2017
Address: Durango
About: Three days of concerts showcasing bluegrass bands from around the country. Special events include a Durango-style barn dance, Saturday night Celtdown, and music in local restaurants and bars. Headquarters is in the historic Strater Hotel.
Date: Thur-Sun, April 20-23, 2017​
Address: Carbondale
About: Four day Carbondale film festival with traveling events throughout the year.
Date: Thur-Sun, April 27-30, 2017
Where: Fruita
About: Four day celebration of mountain biking featuring seminars, competitions and a giant expo, now in its 22nd year.
Go To May Events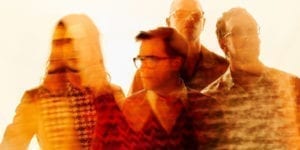 Weezer/Pixies on July 31, 2018 at Fiddler's Green (affiliate) - Hear tracks off Weezer's 2017 11th studio album, Pacific Daydream and Pixie's 2016 Head Carrier at Fiddler's Green in Denver. 49% off! $20 ($39.45 value) for one general-admission lawn ticket, $25 ($42.85) for select rows in sections 201 or 205...
Some event related activities
Search for upcoming performing arts, rodeos and sports that aren't listed under events.