April brings an end to the ski season at most resorts and with that a whole lot of festivities. As warm weather melts away the snow, recreation shifts to summer activities. Exciting events include the Taste Of Vail which is Vail's largest food and wine fest.
2022 Annual April Festivals in Colorado
Date: Saturday's March 5 – April 10, 2022
Address: Gondola Square, Steamboat Springs
About: Free concert series now in its 23rd season, held at the base of the mountain. Several concerts are held over the course of the ski season. The series features a mix of music genres with many big-name acts having performed.
Date: Fri-Sun, March 11-May 15, 2022
Address: Northglenn, Lone Tree, Arvada
About: Now in its 33rd season, the Phamaly Theatre Company presents The Spitfire Grill with its disability-affirmative performance ensemble in Northglenn, Lone Tree, and Arvada.
Date: Saturday, April 2, 2022
Address: Denver
About: Taking place annually, Collaboration Fest Denver is an event where local brewers work together to create truly one-of-a-kind beers. An event for adults 21+, beer aficionados can learn more about the craft, upcoming brewery trends, and try some unprecedented flavors.
Date: Sat-Sun, April 2-3, 2022
Address: National Western Complex, Denver
About: Showcasing more than 20 manufacturers, 50 vend0rs, and 20 operating layouts, the annual Rock Mountain Train show has something for every train lover. There is even a junior engineer program for children.
Date: Tue-Sun, April 5-10, 2022
Address: Aspen
About: One of the continent's best annual short film festivals and Oscar-qualifying showcases. International short films are defined as 40 minutes or less.
Date: Wed-Fri, April 6-9, 2022
Address: Vail Village
About: 30th annual Taste is the largest food and wine festival in Eagle County.
Date: Thur & Sat, April 7 & 9, 2022
Address: Denver
About: Annual competition where women compete for scholarships, prize packages, and the chance to represent Colorado at the Mrs. America national pageant.
Date: Sat, April 9, 2022
Address: Gondola Square, Steamboat Springs
About: 40th annual event features homemade sleds constructed only using cardboard, glue, string, water-based paint, duct tape, and masking tape. It's a race down Headwall in this hysterical end to the season.​
Date: Sat-Sun, April 9-10, 2022
Address: Boulder County Fairgrounds, Longmont
About: An annual event celebrating all things Scottish, the Colorado Tartan Day Festival is free to attend and great for the entire family. Activities at the festival include a parade, face painting, combat demonstrations, and live music.
Date: Sun, April 10, 2022
​Address: Gondola Square, Steamboat Springs
About: Annual event features skiers and riders attempting to cross a pond at the base of the mountain. Judged on distance, outfit creativity, and crowd response. A free Bud Light concert follows.
Date: Thur-Sun, April 21-24, 2022
Address: Carbondale
About: Four-day Carbondale film festival with traveling events throughout the year.
Date: Fri-Sun, April 22-24, 2022
Address: Durango
About: Three days of concerts showcasing bluegrass bands from around the country. Special events include a Durango-style barn dance, Saturday night 'Celtdown', and music in local restaurants and bars. Headquarters is in the historic Strater Hotel.
Date: Sat-Sun, April 23-24, 2022
Address: Lafayette & Longmont
About: A free 2-day event with over 30 artists showcasing original pieces at sixteen studios in Longmont and Lafayette. Some of the artwork on display include paintings, sculptures, glass, ceramics, and mixed media.
Sun, April 24, 2022
Address: Golden
About: A popular event where local guilds and artisans can celebrate their craft. Free to attend, metalsmiths, woodworkers, weavers, painters, and potters as well as other artists will be selling their handcrafted items.
Date: Fri-Sat, April 29-May 1, 2022
Address: Durango
About: 3-day annual wine festival showcasing hundreds of craft wines, spirits, and beers. The Walk-About Durango is a wine tasting held Friday and the Grand Tasting starts Saturday afternoon.
Date: Fri-Sat, April 29-May 1, 2022
Address: Hotchkiss
About: A 3-day camping event that offers a myriad of activities including excursions, live music, hiking, and mountain biking. Great for the family, dogs included, guests will enjoy camping under the stars, sipping cider, listening to live music, and spending time in nature.
Date: Fri-Sat, April 29-May 1, 2022
Address: Karval
About: Held annually in late April or early May, Karval plays host to the annual Mountain Plover Festival. The only event of its kind in the US, and you're likely to spot not only plovers but also prairie dogs, big-horned owls, and other migratory birds.
Go To May Events
Latest in April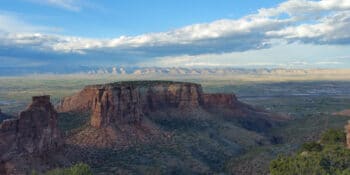 By April in Colorado springtime has made itself known throughout the front range and even into…
Read more event articles
Related Activities
Search for upcoming performing arts, rodeos, and sports that aren't listed under events.