By February the Rocky Mountains are a winter wonderland. Celebrate the season and keep spirits high by attending a winter festival. There are many fun events to choose from, with most catered around winter recreation.
2022 Annual February Festivals in Colorado
One of the longest-running festivals in Colorado, The Winter Carnival in Steamboat Springs, going for more than 100 years. February is notorious too as the snowiest month of the year, so take advantage of a weekend gateway.
Date: Fri-Sat, December – March & June-September, 2022
Address: Telluride
About: Taking place at The Peaks Resort & Spa, Ty Gallenbeck puts on a 75-minute magic performance that makes guests question the known.
Date: Thur-Sun, February 2-5, 2023
Address: Lamar
About: Held in February during the annual migration, this festival is the perfect place to brush up on your birding knowledge with fellow enthusiasts.
Date: Sat, February 5, 2022
Address: Lake City Ice Park
About: Men's and women's top-roped and lead speed competitions in secluded Lake City.
Date: Wed-Sun, February 9-13, 2022
Address: Downtown Steamboat Springs
About: In its 109th year, Steamboat's Winter Carnival is a widely popular event complete with ski races, ski jumping, ice sculptures, fireworks, a shovel race, and street events.
Date: Fri-Sat, February 11-12, 2022
Address: New Foundry Plaza, Downtown Loveland
Website: Two-day event held around Valentine's Day, featuring the Loveland Sweetheart Classic 4-mile race. Other highlights include a beer tent, tunnel of love, laser show, kids' activities, and other romantic festivities.
Date: Fri-Sun, February 18-20, 2022
Address: Lake Dillon, Silverthorne
About: All are welcome to enter this ice hockey tournament sponsored by Pabst Blue Ribbon, with over $10,000 in cash prizes. It's followed by the Apres Ice Party.
Date: Sat-Sun, February 19-20, 2022
Address: National Western Complex, Denver
About: The largest swap meet in America, the 43rd annual Colorado Motorcycle Expo is great for those looking to buy new bike components, check out numerous competitions, and be surrounded by other motorcycle enthusiasts.
Date: Sat-Sun, February 19-20, 2022
Address: Silverton
About: The annual Silverton Skijoring event touts itself as the city's biggest winter party. A lesser-known Nordic sport that combines water skiing, horse racing, and snow skiing, Skijoring is when a horse (or motorcycle) tows a person on skis through a set of obstacles while the clock ticks down.
Date: Fri-Sat, February 25-26, 2022
Address: Manitou Springs
About: Carnivale kicks off with CarniBall on Friday night, followed by the 25th Cajun Gumbo Cook-Off and a parade downtown.
Date: Fri-Sun, February 25-27, 2022
Address: Steamboat
About: Festival showcasing national, regional, and local bluegrass and acoustic roots music.
Date: Sat, February 26, 2022
Address: Exdo Event Center, 1399 35th St, Denver
About: 10th annual festival, Bourbon Street comes to the Mile High City, live music, DJs, games, and free beads.
Date: Cancelled for 2022
Address: Dillon Town Park, 120 Buffalo Street, Dillon
About: Professional ice artists create dazzling displays every winter in Dillon. It's lit up at night for a spectacular attraction in popular Summit County. It's held all winter long, cold weather pending.
Date: Cancelled for 2022
Address: Downtown Cripple Creek
About: 13th year of ice sculptures in casino-friendly Wild West Cripple Creek.
Go To March Events
Latest in February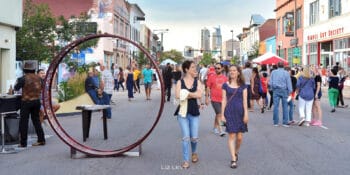 A cool, hip city like Denver is bound to have some fun, art-related nightlife. Probably the…
Read more event articles
Related Activities
Search for upcoming performing arts, rodeos, and sports that aren't listed under events.