August is another full month of festivities all summer long. It's an ideal time to visit Colorado. NedFest is a giant outdoor music festival and the Telluride Film Festival is one of the biggest film fests in the country.
Due to COVID-19, the upcoming events for the next several months are subject to cancellation or postponement. Please double-check the event's official website for the most accurate, timely information on whether an event is happening.
2021 Annual August Festivals in Colorado
Date: Mixed Days TBD, early June-mid September 2021
Where: Littleton
About: Twenty-one years and counting for this favorite summer outdoor concert series. Shows take place regularly on Sundays, some Saturdays, and July 4th.
Date: Sundays, June 6-September 26, 2021
Address: Highland Square, 32nd Avenue, Denver
Great farmer's market with handcrafted goods and locally grown produce. Go hungry because there is plenty of homemade food for sale, fresh and ready to eat.
Date: June – July 2021
Address: Boulder
About: Six weeks of symphonies, orchestras, and other classical music. It's held at the historic Chautauqua Auditorium, now in its 43 years.
Date: Sat-Sun, July 3-August 1, 2021
Address: 124 Eureka St, Central City
About: Annual summer series featuring numerous stage productions of famous operas, held at the Central City Opera House.
Date: Weekends Sat-Sun, July 3-August 22, 2021
Address: 650 W Perry Park Ave, Larkspur (between Denver & CO Springs on I-25)
About: On its 44th season, the Renaissance Festival is held over 8 weekends in June, July, August with medieval events for all ages. It's held from 10 am until 6:30 pm each day, rain or shine. Parking is free and no pets are allowed.
Date: Thur-Thur, June 24-August 4, 2021
Address: Vail
About: Orchestras from around the world perform in the vibrant Vail Valley during the peak of the summer season.
Date: Mixed days, June 25-August 15, 2021
Where: Boulder
About: 64th season showcasing Shakespeare's wonderful plays. It's held on varying days throughout the week on the CU campus.
Date: Fri-Sat, June 25-August 28, 2021
Address: Howelsen Hill Rodeo Grounds, Steamboat Springs
About: Every summer on Friday and Saturday evenings, PBR rodeo cowboys compete in the Yampa Valley.
Date: Thur-Sun, July 1-August 22, 2021
Address: Aspen
About: Summer season packed full of concerts, classes, performances, and a myriad of programs that attract over 100,o00 music lovers annually.
Date: Sat, July 3, 10, 21 & Aug 14, 2021
Address: River Run Village, Keystone
About: 7th annual weekend of free concerts and dozens of local food and craft vendors.
Date: Fri-Sun, July 30-August 1, 2021
Address: Elk Avenue, Downtown Crested Butte
About: 48th season, this festival attracts artists from all over the globe. Expect spectacular art, lively entertainment, and delicious cuisine. There are demonstrations from artists and chefs, plenty of activities for the kids, and an art auction.
Date: Fri-Mon, July 30 – August 9, 2021
Address: Vail
About: A premiere experience brought to you by artist-in-residence, Calvin Royal III, and BalletX where many extraordinary dancers, artists, and musicians come out to perform each summer.
Date: Sat-Sat, July 31-August 7, 2021
Address: Hotchkiss
About: 115th annual western extravaganza with a slew of activities including rodeo events.
Date: Sun, August 1, 2021
Address: Shelly/Quinn Fields, Idaho Springs
About: Featuring the local and visitor favorite band RapidGrass, the Idaho Springs Town Party is a one-day music festival that combines great music with a stunning scenic backdrop.
Date: Thur-Sat, August 5-7, 2021
Address: Downtown Breckenridge
About: Over 100 of the country's top artists descend on Main Street in Breck for one of America's most celebrated art events.
Date: Thur-Sun, August 5-8, 2021
Address: Pagosa Springs
About: 70th season since 1951, events include archery, BBQ competition, boxing, Colorado State Fast Draw Championships, live music, livestock auction, Junkyard Jamboree Car Show, Salida circus, skateboarding. There's also a kid's and a ranch rodeo. Vendors will on-site selling food, gifts, and games.
Date: Fri-Sun, August 6-8, 2021
Address: Planet Bluegrass Ranch, Lyons
About: 31st year enjoying three days of concerts on the Saint Vrain River. Food and alcohol are sold on-site and outside food and drinks are permitted, excluding alcohol. Camping is popular around the festival, either at the festival grounds or under the cliffs at Meadow Park. The event kicks off with the Folks Songwriter Showcase, where a juried group of artists from around the world compete for a spot in this year's lineup.
Date: Friday-Sun, August 6-8, 2021
Address: Benson Park, Loveland
About: Invited artists present over three days their sculptures in Benson Park, including a silent auction and chance to take home other souvenirs, now in its 37th year.
Date: Sat, August 7, 2021
Address: Town Park, Olathe
About: Spend a fun summer Saturday devouring the town's famous sweet corn and listing to groovy live music.
Date: Sat-Sun, August 7-8, 2021
Address: Keystone
About: Over 30 microbreweries, mountain music, and home cooking come together in River Run Village for the 24th straight year.
Date: Sat-Sun, August 7-8, 2021
Address: Woodland Park
About: Over 70 artists ranging from painters to woodworkers, metalworkers, jewelry artists, and pottery enthusiasts show up to present their crafts to the public to enjoy and purchase.
Date: Wed-Sun, August 11-15, 2021
Address: Durango
About: Like other state and county fairs, visitors will experience livestock competitions, homemade food competitions, 4-H project displays, and garden variety events
Date: Fri-Sun, August 11-15, 2021
Address: Maloit Park, Vail
About: The only multi-city adventure race for children ages 6-14 that is tailored to the natural landscape of the host city.
Date: Wed-Sun, August 11-22, 2021
Address: Boulder
About: Twelve-day un-juried festival of arts featuring a variety of performing and visual arts including theater, dance, puppetry, and cinema.
Date: Thur-Mon, August 12-16, 2021
Address: Red Rock Amphitheatre, Morrison
About: A multi-day event that showcases the works of Mozart, Walker, Bartok, and Tchaikovsky in a beautiful outdoor setting.
Date: Fri-Sun, August 13-15, 2021
Address: Telluride
About: 44th year celebrating America's destination jazz event, snuggled in the San Juan Mountains.
Date: Fri-Sun, August 13-22, 2021
Address: Littleton
About: Ten-day "homecoming" celebration inviting anyone who was born or has ever lived in Littleton to return home for a big party. Even those who've only visited Littleton are welcomed with open arms.
Date: Sat, August 14, 2021
Address: Boulder Bandshell
About: Boulder Opera showcases two evening performances at Boulder Bandshell in Central Park. It's free to attend, but registration is limited, so sign up ahead of time.
Date: Sat, August 14, 2021
Address: Amphitheater at Las Colonias Park, Grand Junction
About: Back for its 5th year, the annual Wüffstock Music Festival, hosted by the Roice-Hurts Human Society, is a celebration of food, drinks, live music, and of course, canines.
Date: Sat-Sun, Aug 14 – Sep 5, 2021 (Alice in Wonderland live shows)
Address: Denver
About: Now in its 32nd season, the Phamaly Theatre Company presents a modern take on Alice in Wonderland with its disability-affirmative performance ensemble in Denver.
Date: Wed-Sun, August 18-22, 2021
Address: Telluride
About: Rejoice in all aspects of this fungus for the 40th year. Events include lectures, forays, performances, workshops, parades, movies, cooking, and food.
Date: Thur-Sat, August 19-21, 2021
Address: Palisade
About: 52nd year, enjoy four days of enjoying Palisade peaches. Last year's festival topped more than 15,000 people from around the world.
Date: Fri-Sun, August 20-22, 2021
Address: La Veta Pines RV Park
About: A three-day event that showcases refurbished vintage trailers and RVs.
Date: Sat, August 21, 2020
Address: Breckenridge
About: 15th annual summer beer festival with over forty breweries, live music, and local vendors.
Date: Sat, August 21, 2021
Address: Lafayette
About: 22nd annual peach fest showcases world-famous Palisade peaches. Taste peach pies, cobbler, and smoothies. Arts and crafts, antique dealers, artists, along with food and drink vendors. Live music, child activities, and live entertainment throughout the day.
Date: Sat, August 21, 2021
Address: Nottingham Park, Avon
About: Come out for live music, fresh craft beer, food trucks, Colorado sun, and fun activities in the Vail Valley. Plus there is a 5K run to help you prepare for the extra calories later.
Date: Fri-Mon, August 27-September 6, 2021
Address: Pueblo
About: Widely popular eleven-day event with parades, live music, rodeos, carnival, livestock, horse show, and hundreds of vendors selling everything from Indian Tacos to handcrafted jewelry.
Date: Sat-Sun, August 28-29, 2021
Address: Saguache
About: Come by this free festival honoring Native American songs, dances, and cultures. A myriad of indigenous tribes come together for this annual summer pow wow.
Date: Sat-Sun, August 28-29, 2021
Address: Durango
About: 22nd annual San Juan Brewfest featuring live music and over fifty breweries at Buckley Park, in downtown Durango.
Date: August 28-30, 2021
Address: Estes Park – Bond Park
About: 14th annual art event held over three weekends at three different venues, showcasing various creations from Colorado artists.
Date: August 2022
Address: Leadville
About: Features a weekend of activities, food, and recreation held on the first full weekend in August. Events include burro races, Motorcycle Rodeo, historic contests of individual mining skills, a gun show, a softball tournament, street fair, and live entertainment. More highlights include the Boom Days Parade and a car show.
Date: TBD 2021
Address: Downtown Fort Collins
About: Three-day festival celebrating the story of Ireland. Soak in the Irish ambiance with food, music, and drinks.
Date: TBD 2021
Address: Hotchkiss
About: Head out to Hotchkiss for a weekend of farm-fresh food, paired with local valley wine and plenty of live music and western activities.
Date: TBD 2021
Address: Purgatory Resort, Durango
About: Celebrate a bounty of wild mushrooms with a mushroom dinner, guided hunt, and culinary showcase, all paired with wine.
Date: Canceled for 2021
Address: Steamboat Springs, Avon, Golden, Denver
About: This is a unique women's professional bike race that occurs in four Colorado cities. Watch the live-action and then enjoy the Colorado lifestyle.
Date: Canceled for 2021
Address: Boulder
About: Beer festival combined with Boulder lifestyle activities, yoga, lawn games, and food vendors.
Canceled for 2021
Address: Durango
About: Attend one of two weekends on an epic, one-of-a-kind blues train, roundtrip from Durango to Silverton.
Date: Canceled (permanently)
Address: Nederland
About: Outdoor music, arts, and microbrew festival canceled for its 21st season.
Date: Canceled (possibly forever)
Address: Lambach Park, Monument
About: Full day of bluegrass jamming out in downtown Monument.
Go To September Events​
Latest in August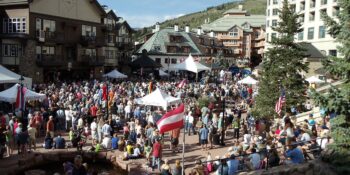 Toast the autumn season at an Oktoberfest festival! A proud German tradition since 1810, Munich's Oktoberfest…
View our events blog
Related Activities
Search for upcoming performing arts, rodeos, and sports that aren't listed under events.